Intro: This is a guest post by Lucy. 
Summer is the ideal time for fishing, hiking, campfires and family vacations. Camping is a perfect way of accomplishing all these exciting activities. Campgrounds usually provide a wide range of activities to do as you camp such as swimming, hiking, sports and other forms of family fun. Nonetheless, what you might not realize is the fact that camping is more than just a good way for spending time as a family, but it's also beneficial to your own health.
It is important to keep in mind the fact that camping doesn't always mean that you should sacrifice taste or quality for convenience. As such, in case you have camping or hiking on your agenda, then mapping out your camping nutrition needs is very important. As a matter of fact, there is plenty to consider besides grabbing a water bottle or an energy bar. Below is a comprehensive list of 10 ideas for camping food:
Pre-made Breakfast Sandwiches
If you are psyched on saving your time while camping , then this meal is perfect for you! You can make these sandwiches quite easily from the comfort of your own kitchen the night before taking off for camping and then stash them in the cooler. Some ideas include: bacon, ham or sausage alongside cheese and egg. Veggies and cheese will serve great for the vegetarians. If you prefer making biscuits from scratch, then you can either do this home or over the compact stove. Wrap up all these babies in an aluminum foil and then freeze until needed.
Breakfast Burritos
Breakfast Burritos are a great choice, regardless of the time of day. Breakfast Burritoss can be pre-made while at home and then frozen before using them. Alternatively, you can fire up your compact stove, sauté all your favorite fillings, and then wrap up all the goodness. If you are pre-making breakfast burritos, wrapping them in an aluminum foil shall allow you to drop burritos into the fire for an fairly easy heating option.
Fire-roasted Veg or Meat
This is yet another meal that is easy to prepare while at home. Just chop your veggies ahead of time. You can think of sweet or the regular potatoes, cauliflower, zucchini, squash, onions, peppers, cabbage, carrots, celery, tofu, fish, garlic or meat of your own choice. Do not forget your pepper, salt and any tasty fresh herb. Wrap in an aluminum foil and pop in the cooler on your way to your camping site.
Hot Dogs
It does not get easier than this in case you want best food to take camping! Just fire up the stove, grill or fire and the roast up the hot dogs. If you are a vegetarian don't worry because most stores have vegetarian hot dog versions available (and it's quite tasty). Add in chips and baked beans and don't forget mustard and the ketchup.
Cold Noodle Salad
This easy take on the Asian foods will certainly leave you salivating. If you are spending the whole day around the tent or you want a quick lunch, ensure that you try this one out. Just cook your soba or udon noodles according to guidelines on the package and then whip up the dressing. As a recipe, you should use 3 tablespoons of tahini, 1 tablespoon of the soy sauce, 2 tablespoons of the rice wine vinegar, 2 tablespoons of the fresh ginger, one tablespoon of sesame oil, and pepper and salt to taste. Throw in a quarter cup of the vegetable broth then toss together noodles, 1 diced red pepper, 1 cucumber, 1 tomato, 1 cup of cilantro, a quarter cup of scallions or chives, and a tablespoon of the sesame seeds. This is a refreshing pick-me-up meal during the summer heat.
Sweet Potato and Black Bean Tacos
Need we say any more? This simple food idea for camping is easily adaptable. Warm up the tortilla, slather with the refried black beans, and then sauté your favorite meat and vegetables. Top up with cilantro, lettuce, salsa, parsley and goat cheese .
Oatmeal or Breakfast Grains
This is another great choice for a breakfast camping food. Oatmeal packets are easy to bring along and together with walnuts or almonds pack, you get the punch to help you going through the long day. Having fresh fruits on the side or in a bowl shall send you all through the day.
Couscous with Clementines, Olives, Chickpeas and Dates
Sounds good? This is simply because it is one of the best food to take camping. Couscous is very delicious for breakfast or lunch and you can adapt the recipe according to your own tastes. Do you want to omit or even add something? Then, why not try it out? Other options include the sautéed butternut squash, cranberries and herbed goat cheese.
Nachos
Try this delicious food ideas for camping if you are short on time. One of the favorite meals is sautéed butternut squash or the sweet potato, tomatillos, zucchini, red pepper or yellow crookneck squash, and the pinto or black beans. Add on the raw onions, your preferred salsa, shredded cheese, and the homemade guac. You should crumble up the tortilla chips and then snack on that.
Who doesn't like waking up and enjoy a great meal while camping? The above list gives you great food ideas for camping that are worth considering any time you go out for camping.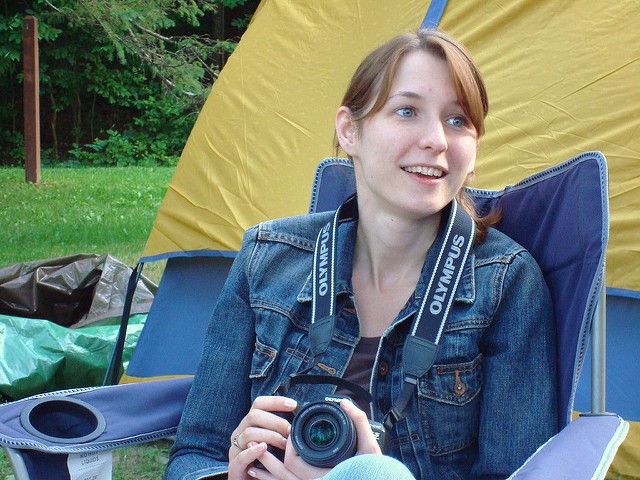 Lucy is camp editor at getcampingwild.com. She grew up in a suburb of Oklahoma and She has been camping her entire life. Camping in the wild is a way of life for her.
***
Want more Tips? Check out this post I wrote, My Favorite Travel Gear for great clothes and gear to bring and wear while camping.
Our Favorite Electronics for Traveling the World lists the technology we use to capture and document our life on the road. Whether traveling abroad or to a campground, the electronics you use in either scenario need to be able to with stand the demands of an active lifestyle.
***
** Plan on traveling soon or making a purchase from Amazon? Please consider using the links on our resource page. At no cost difference to you we will earn a small commission to help keep this site running. Thank you so much for this thoughtful gesture.