Welcome to the Vagabond Way, aka, Tiff and Chris. Thanks so much for checking out about us. Who are we and what makes us different –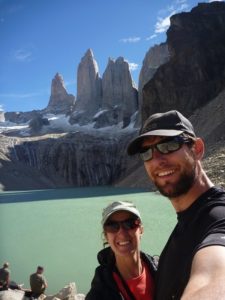 Chris and I both originate from western New York State. We met at Buffalo State College, where we each earned our bachelor degrees. I am one year and two days younger than Chris so even though I was on track to graduate from college early, I had one more semester than Chris. For my last semester of college I was going out to Northern Arizona University to finish my degree. I already had the experience of moving west and couldn't wait to go back. Even though we had only been dating a little over a year, Chris and I moved out to Arizona together.
That was the start of our travel life together.
Since that time we have paid off all our debt and been moving and working around the world in different ways for over a decade!
We run this site because we want to help inspire others to create a life that is meaningful to them.
Growing up, neither of us came from families with money or much reason than to think our life would be much different than the stereotypical path of an American: work really hard, buy a house, buy a car, have lots of debt, have kids and if you're lucky we might be able to retire when were 65.
As we started to carve our way through bills, rent and paying off our school loans, and wondering what we were going to do with our life, we made two very clear goals:
Pay off all our debt
Travel the world
It has been the best decision we ever made.
Over a decade later Chris and I have been together for 13 years, (9 years of those as a married couple), traveled to over 30 countries, worked abroad, lived and traveled over 54,000 kms around Australia in an 1989 Mitsubishi Van, climbed trees higher than Niagara Falls, traveled over land more than 12,000 kms across ten southern Africa and had many more adventures.
This is what we love to do. It's our life's passions.
We hope to provide YOU with the inspiration to follow your dreams and gain a deeper meaning of the world around us. It does not matter if you travel around the world or in your own back yard, we are all connected…and what one of us does affects us all.
Currently we are working on unique Wildlife Guide Books as well as a free photography e-book with some of our favorite photos! Please sign up below to make sure you know when this will happen.
Sign up below to get individual posts delivered to your inbox:
 Subscribe in a reader
We also love social media and post a photo almost daily! Like our facebook, twitter, Instagram, pinterest, google+ pages to not miss out on current adventures of life on the road!
Thank you SO MUCH for stopping by. With all the websites on the internet, we do sincerely appreciate you checking out ours and becoming a part of this growing travel community. If you ever have any questions or if there is anything we can help with, please contact us or drop a line to me at tiffany@vagabondway.net.
In case you want to know a little more, check out these posts below:
Vagabond Way – (our very first post ever!)
Blissful Living on Gili Trawangan Island, Lombok – this gives you an idea of the type of posts we like to write
My Favorite Travel Gear – helpful post if you need good travel gear advice
Financial Case Studies with Nora Dunn – this gives some insight into how we have created and fund our lifestyle
In April, Loons Return – example of published work for Northern Woodlands – I do love loons!
Bread and Puppet – The Circus Show VT – whether abroad or state side, we try to find unique events
Resource Page – if you're using one of these services, please use our links as a way to help show your support