This week, let's go to Bako National Park together in Borneo Malaysia!
To orient us, first let's get the map out.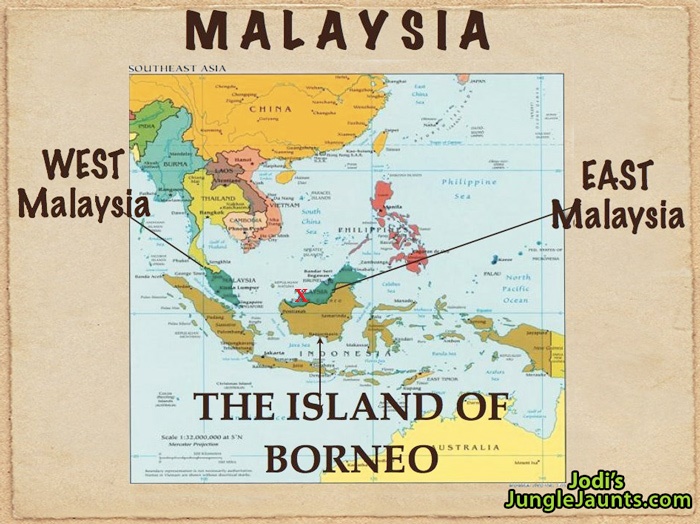 We are on the island of Borneo, specifically near the Red X, which is by Kuching, the capital of that region.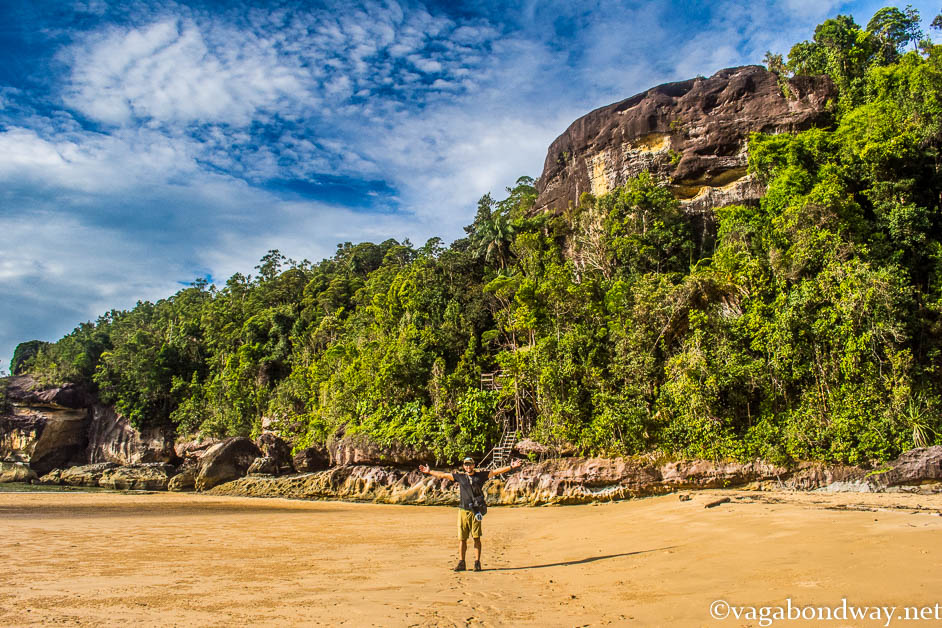 Welcome to Bako National Park!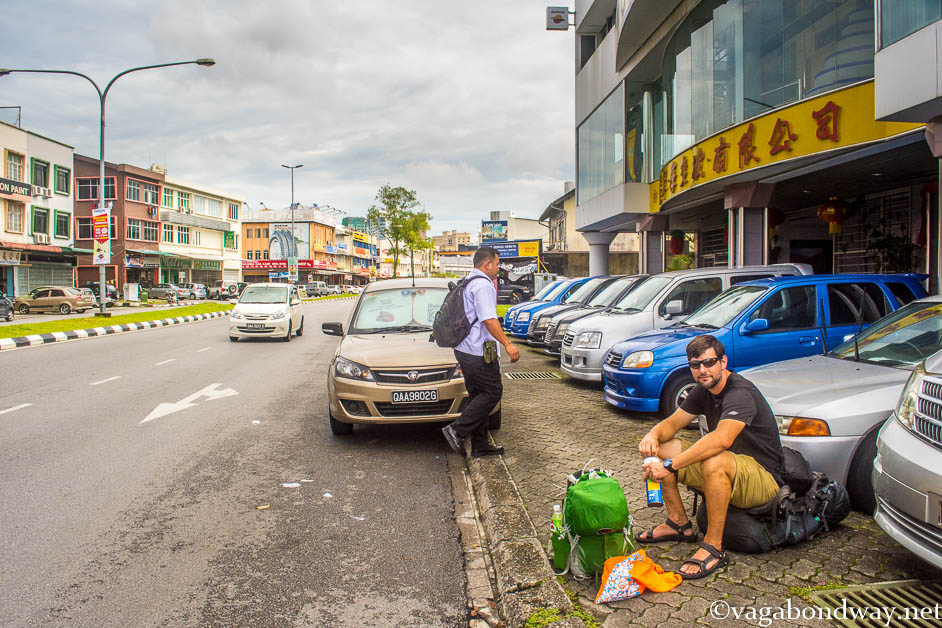 But first, just to back up a little, we needed to wait for the bus.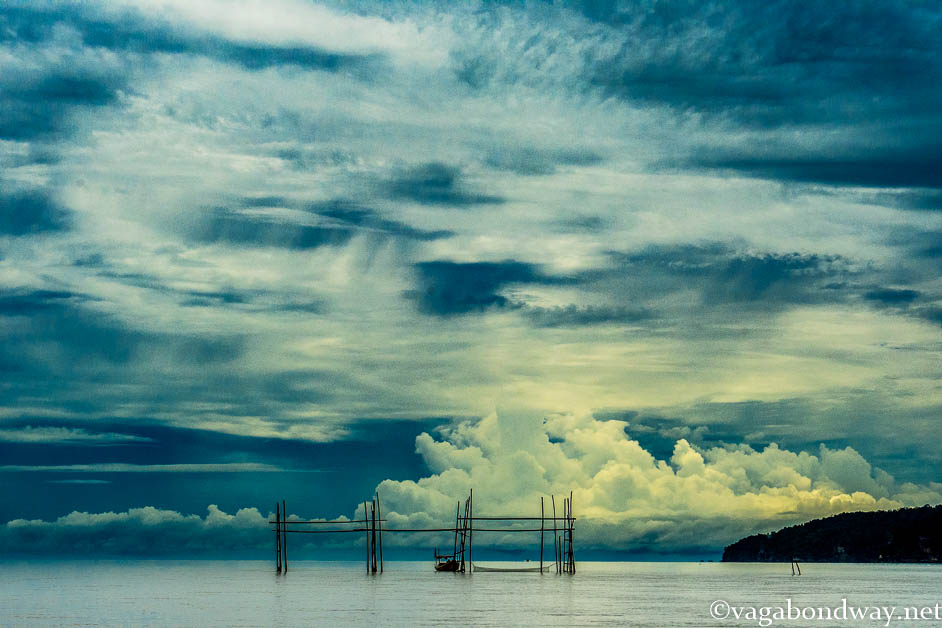 After the bus, we then need to take a boat past these fishing traps to get to the park entrance.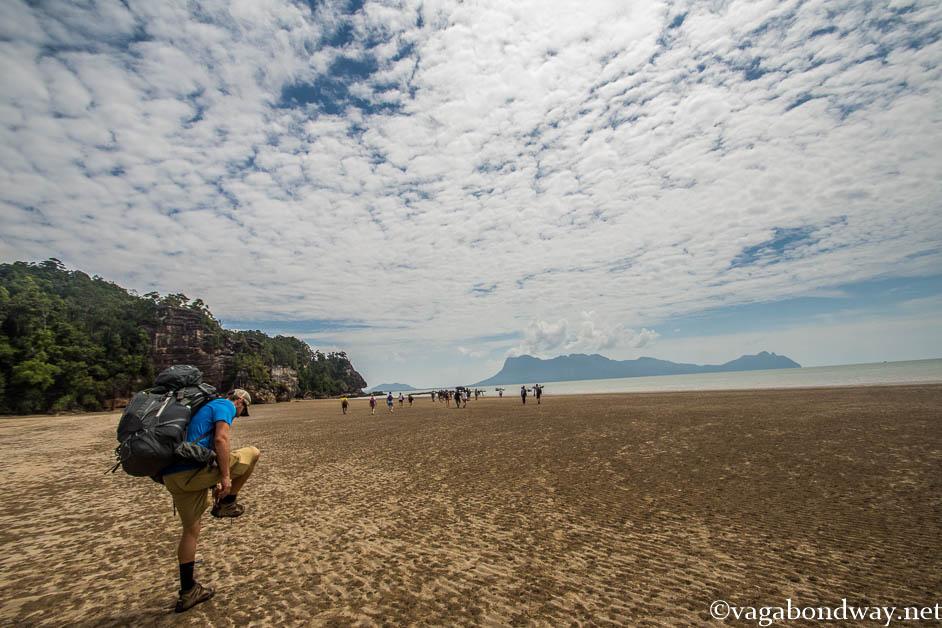 At low tide, it's necessary to get your feet wet and jump in and out of the boat.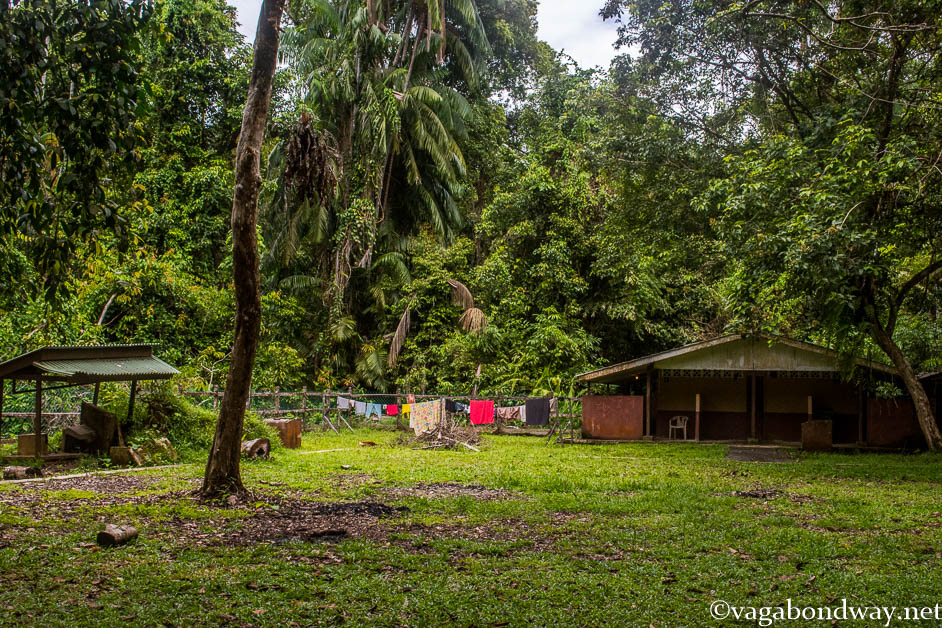 Since all the accommodations was full, we finally used the camping gear we've been lugging around. But, we are not allowed to set our tent up until after 6:30 pm and must take it down by about 7:00 am. We must also never leave our tent unattended, otherwise the macaque monkeys will come over and have their version of shopping spree as they tear through all our stuff.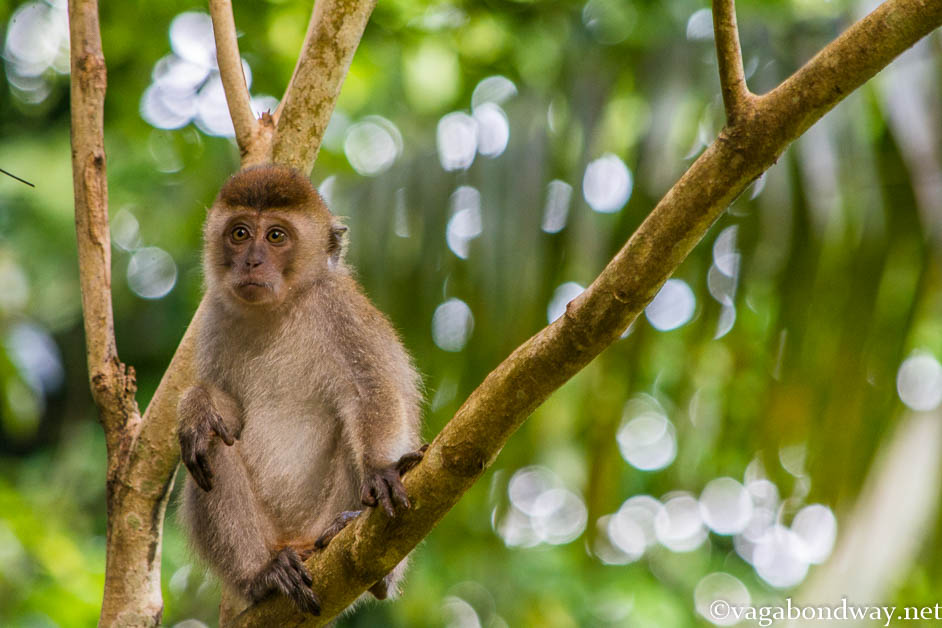 We're watching out for you little cheeky macaque monkey!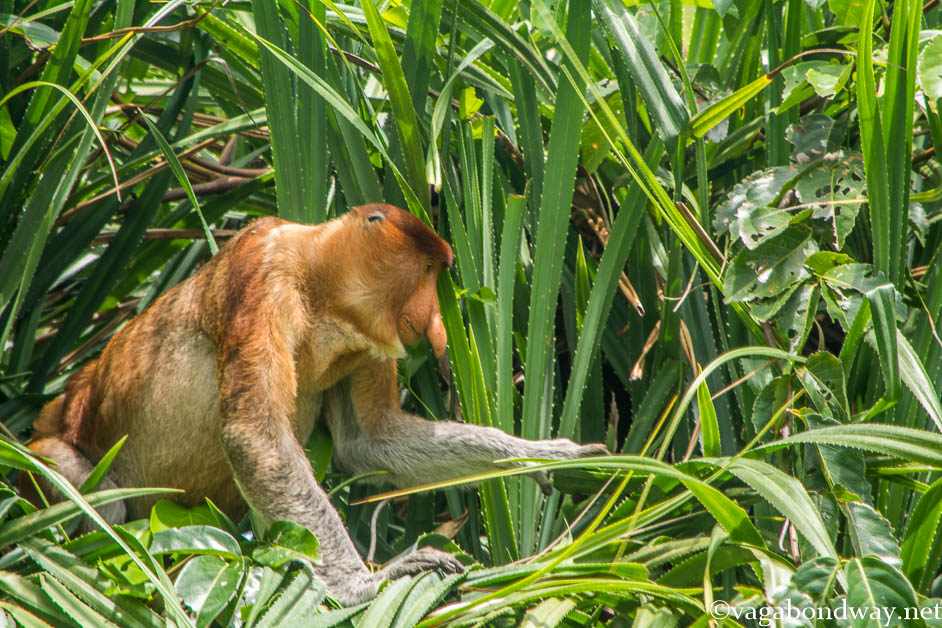 But this monkey was one of the main reasons we went to Bako National Park, to see the proboscis monkey.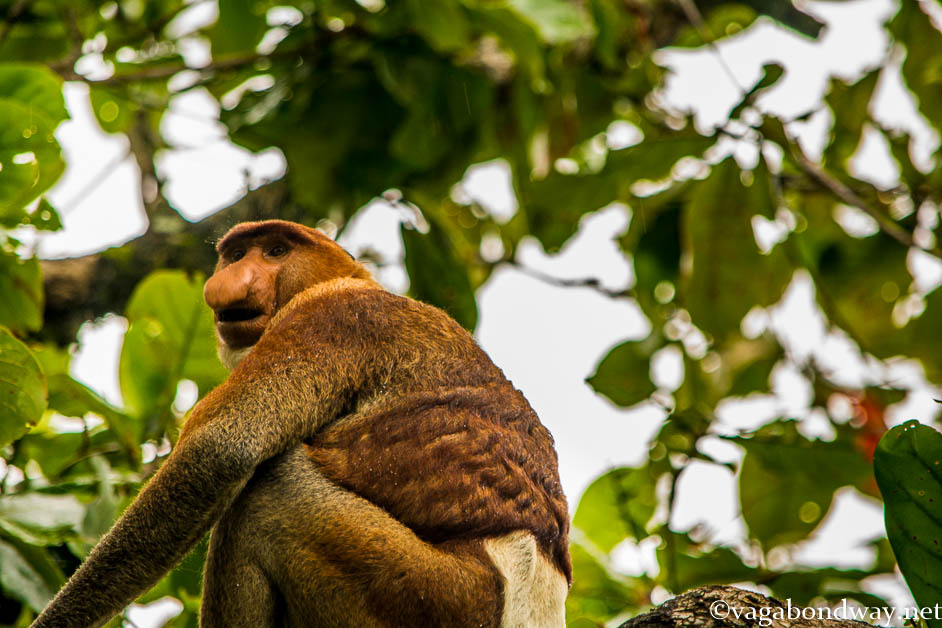 And yes, proboscis monkeys really have big noses like that. In the proboscis monkey world, the bigger the nose the more attractive.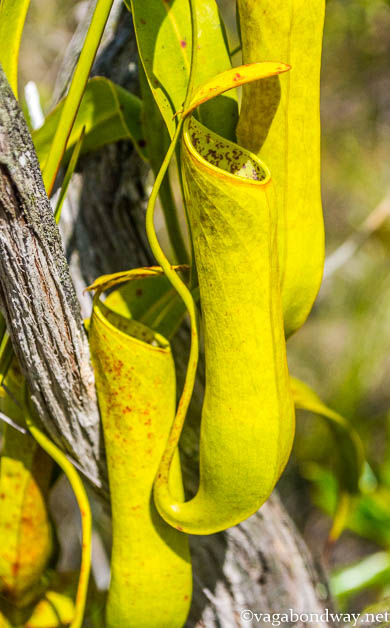 There are a lot of other cool reasons to be here as well, like these pitchers plants. Pitcher plants are the ones that eat insects! Meat eating plants – not something you get to see every day!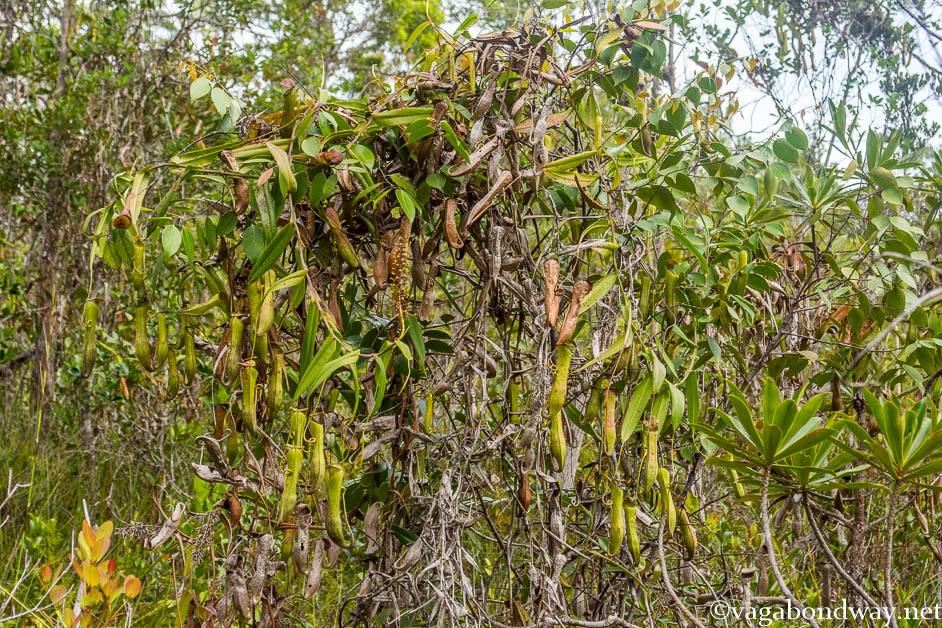 All those plants hanging there are just waiting to eat meat, mostly insects. Life in the rain forest is hard.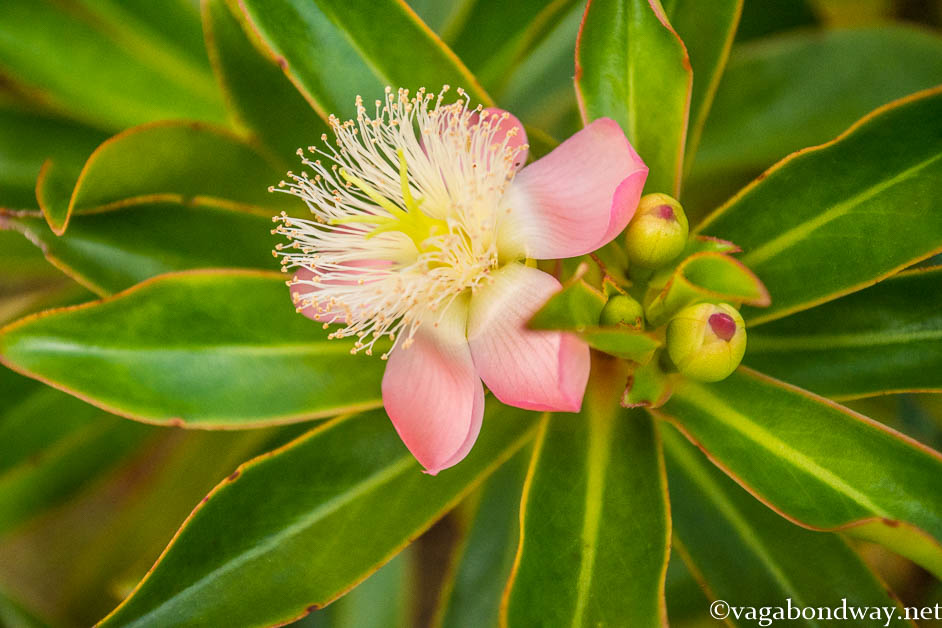 There was also non meat eating flowers that just looked pink and pretty!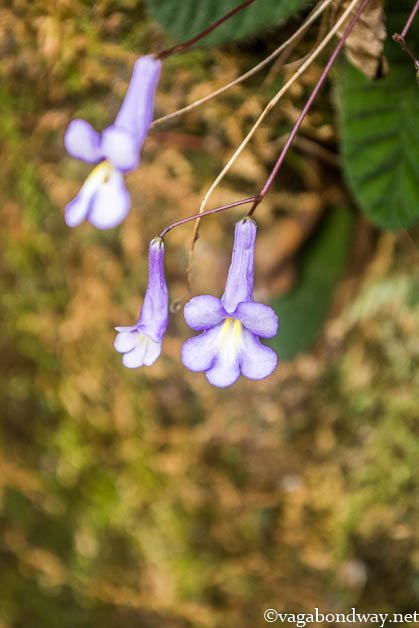 And little delicate purple ones that clung to shaded rock cliffs.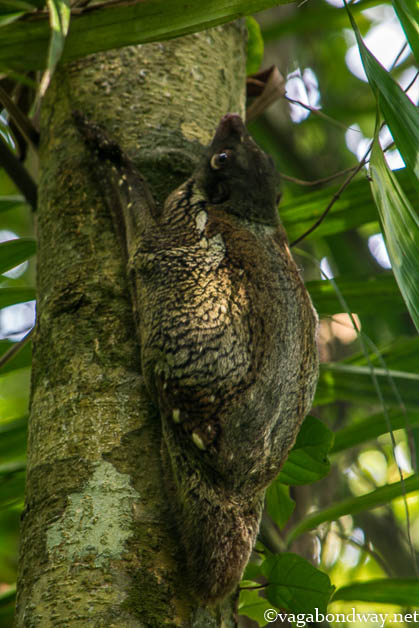 Difficult to spot, and especially in the daytime, we saw this flying lemur.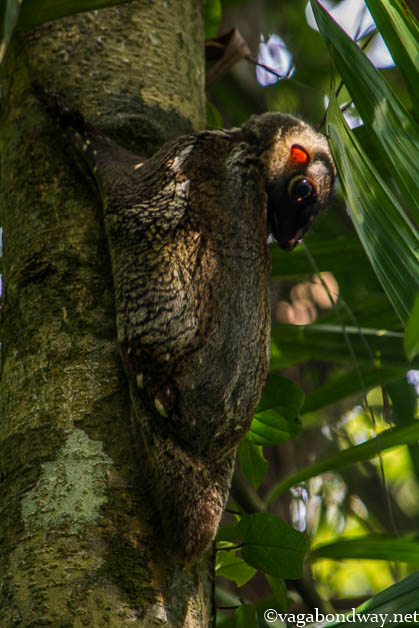 Although hard to tell in this pic, this female was about 25 feet up in the tree. Protected underneath her belly, she was also hiding a baby.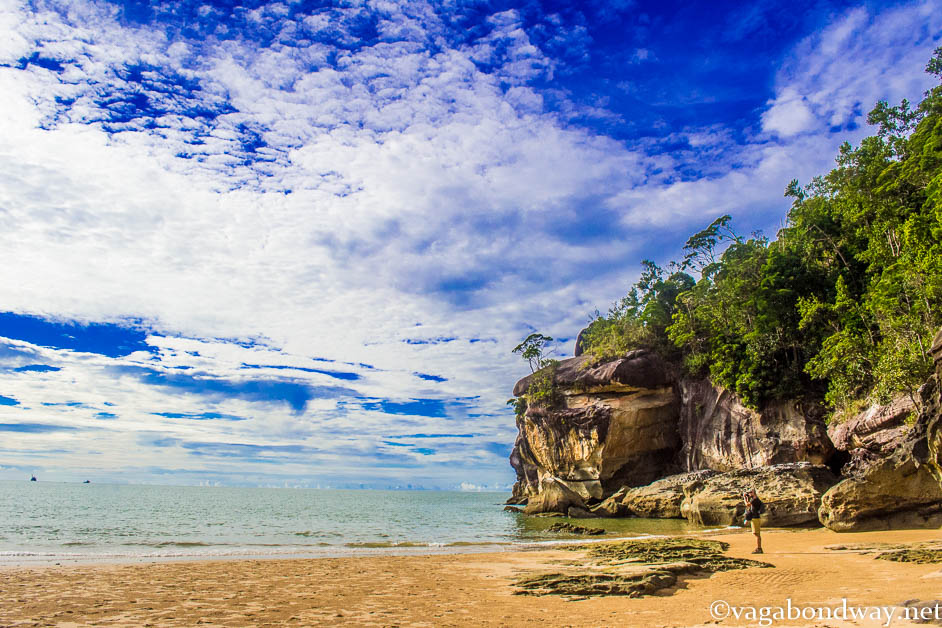 Hot and sweaty,  after a few hours of hiking, we arrived to Teluk Pandan Kecil Beach where I almost didn't want to walk across this exposed area because it was that hot. But we did anyway in the name of photography.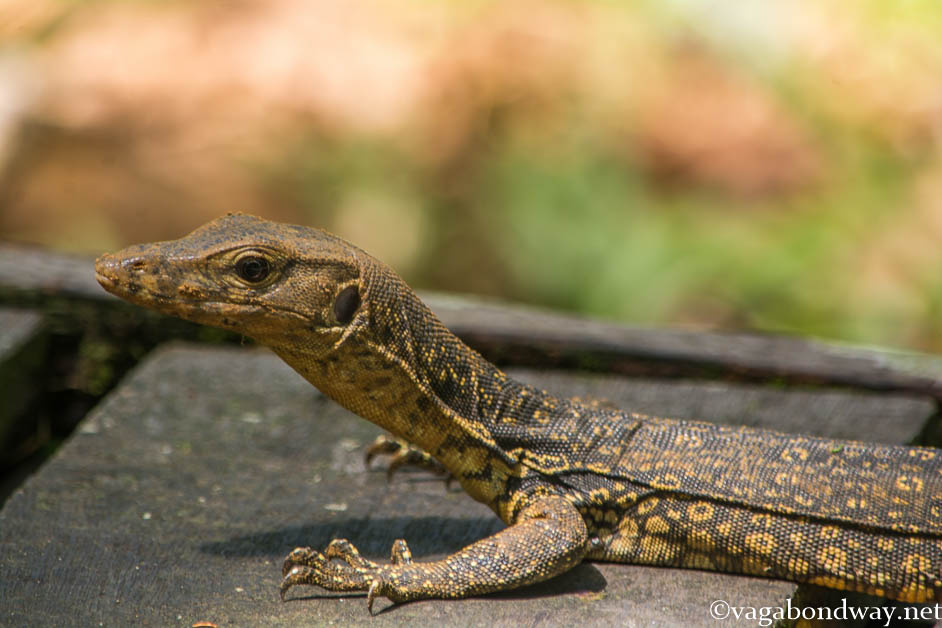 Always on the lookout for wildlife, this juvenile monitor lizard was making good use of the sun along the boardwalk around the park.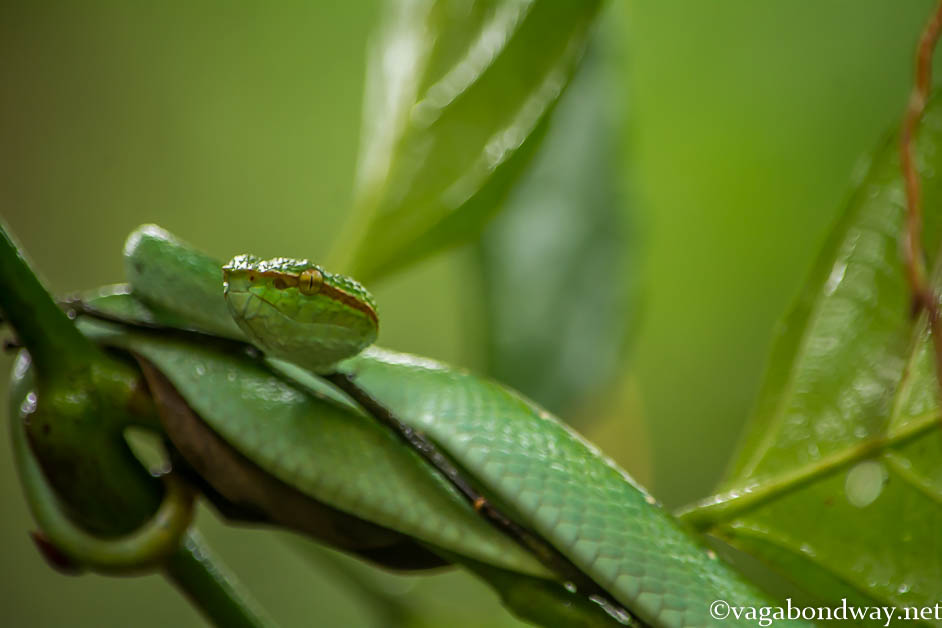 We also saw a waglers pit viper resting in a tree around the park.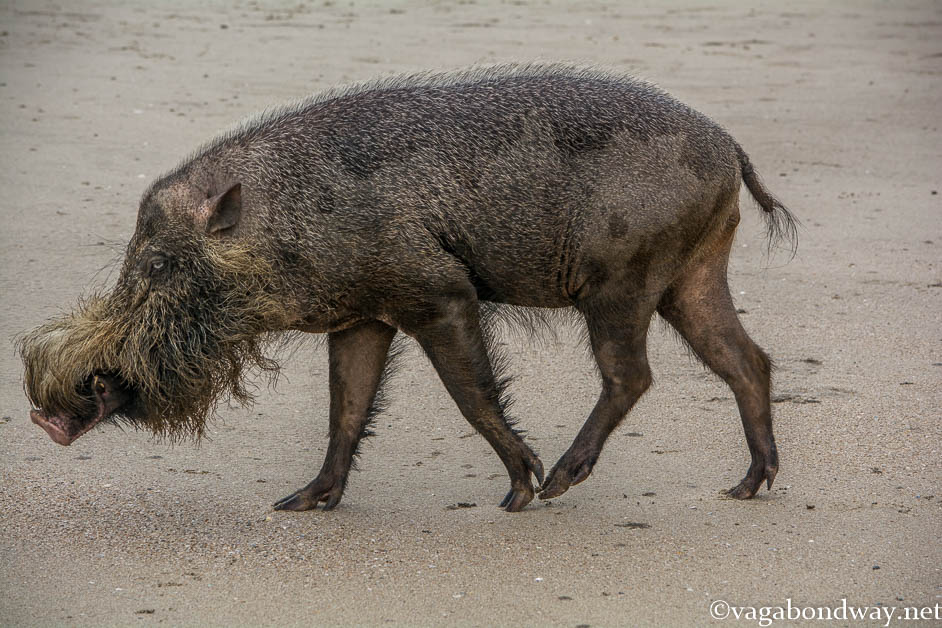 Bearded pigs casually strolled along the beach…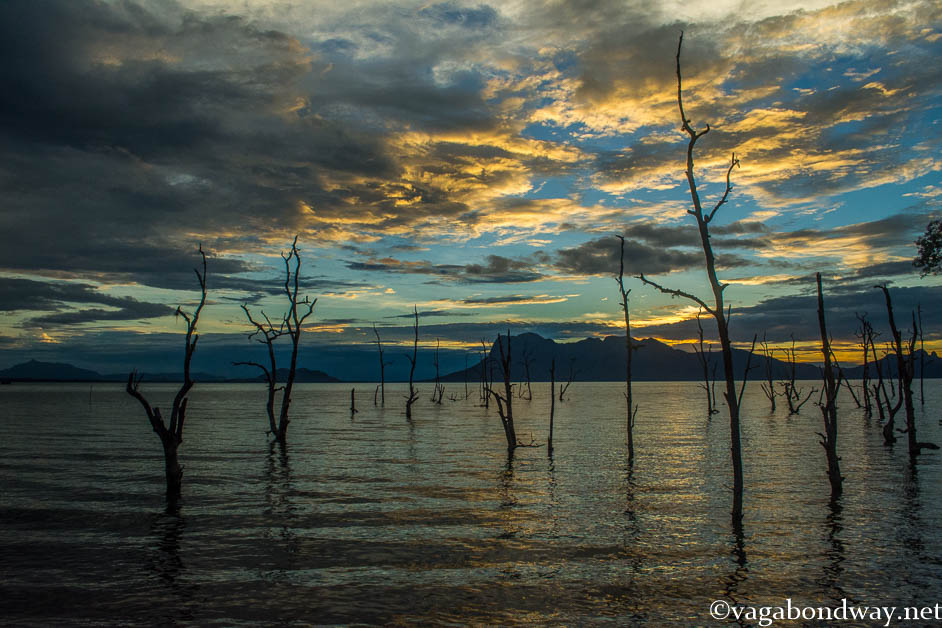 …as we watched the sun drop down behind the mountains.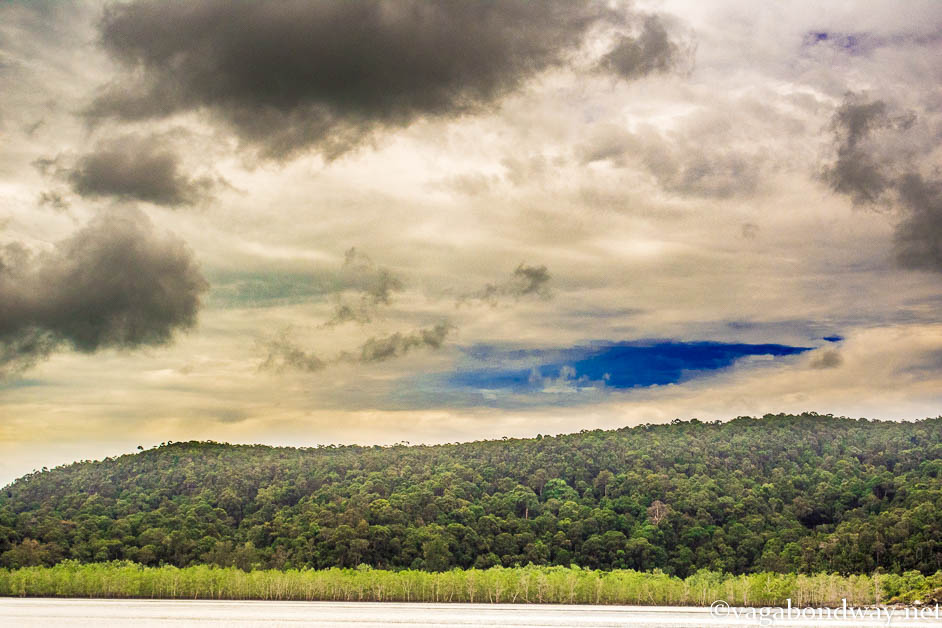 After much excitement over the quality wildlife sightings we had, we gleefully cruised back to the transport point.  The difference of the tree line really showed itself. In the foreground we can see the heavy sediment filled water, adjoined by the light green mangrove swamp trees as mixed forest trees coat the hill sides.
Our time at Bako National Park was filled with meeting nice people, hiking, sweating and having some of the best views and photo opportunities of the rare, found only in Borneo, proboscis monkeys. Thanks so much for coming along with us. Man – this traveling thing is awesome!
***
If you go:
Check out the Bako National Park website. If you want to stay overnight in the park, BOOK EARLY! Currently they are doing a lot of maintenance on the accommodations in the park, which means what's left fills up fast! (And this park has been doing "maintenance" some of their trails for two years, so who knows how long this maintenance will last either.)
To stay over night (in any of the nationals parks in Sarawak) you will need to book ahead here. Alternatively you can call the booking office at Tel: (+6) 082 248088. No matter what, you have to book ahead and the sooner the better.
We actually used our tent to camp one night. We really wanted to go to Bako and there was no other way because everything was booked out for over three weeks. It was hot in the tent. The second day it rained, but, then there was a no show from another guest, so we got a hostel room which was a score!
Be aware of time. You have to take a boat to get to the park. The boats run from 9 am and the last boat is at 3 pm. So if you are only going for the day, get an early start to make the most of it! Tip: you can get a take away from the canteen if you think you might be out hiking the trails at lunch time.
This is not a swimming park and in fact we saw a 6 foot crocodile gliding along about 200 feet off shore. There is a small-ish river with waterfall you can get in, but visitors are advised not to swim at the beach.
The canteen had decent food. It was serve yourself style so you just go along a line of food, pick what you want and then pay. It was nice and I liked being able to choose what I wanted and the amounts. Plates were around $16RM.
Entrance fee to the park is $20RM foreigner. Return boat transfer is $40RM pp.
Bus $3RM pp. Whichever bus you are taking, most likely you can except a mini bus to come about 15 minutes before and offer to take you for $5RM. This might not be a bad idea. When we got on the bus it was packed with a group of students and we actually had to stand most of the bus ride. On the way back we took the mini bus.
In Kuching, we stayed at Marco Polos and loved our stay there. We also checked out the facilities and heard from other travelers they enjoyed their stay at Singgahsana Lodge.
***
What's the craziest animal you've seen in a National Park?

***
*Announcement! We're starting a new series on the site called My Story. What kind of traveler are you? How long have you been traveling? Do you maximize your vacations? Have you been able to take time off work? We want to hear from you and share your story! Please email: tiffany@vagabondway.net for more details. 🙂 
** Plan on traveling soon or making a purchase from Amazon? Please consider using the links on our resource page. At no cost difference to you we will earn a small commission to help keep this site running. Thank you so much for this thoughtful gesture.