I love keeping track of our budget. I have been writing down a monthly budget for over ten years. In a closet at my sisters house I have a stack of folders with all the different years worth of budgets. They have evolved over the years from tiny yellow pieces of paper, lined paper, computer paper and then I started using the back sides of cool travel maps we would pick up from our travels.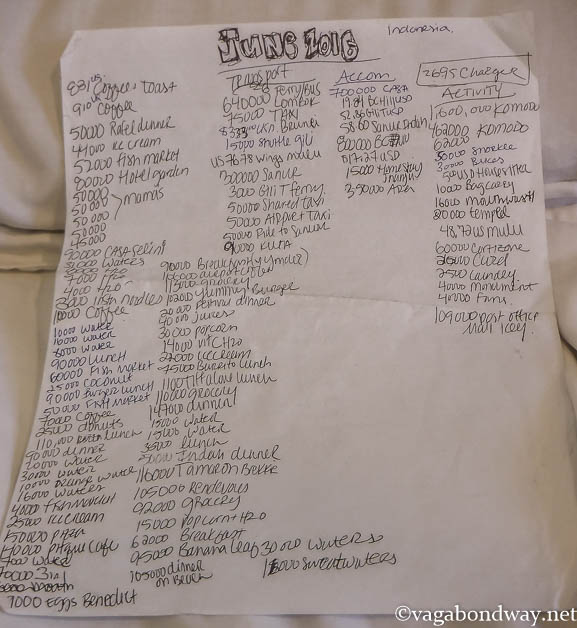 My budget keeping did get us to be the featured couple in the book Live and Work from Anywhere by Nora Dunn. If you have not had a chance to check it out, the book compiles a bunch of resources for you to learn how to work anywhere. It show cased a single traveler, couple (yours truly!) and a family. It was a cool read if you would like to check it out.
Aside from that book, I really have not done anything with all our budgets. The budget, is something people are always wondering about and something I'm always talking about. So my goal is to try and do better and breaking it all down to show each months of travel. What I really mean is it's Chris' job now – hehe. Chris' brain works so much more streamlined and analytical. Plus, despite my love of budgets, I'm really not that good with math. My third grade niece is actually faster at multiplication than me.
However, something neither of us is very experienced with is excel. I've had a few jobs where I needed to use it to get by, which I did. On those rare occasions I'd give myself a gold star. When I watched my friend, who is a business manager use excel, I realized I knew nothing.
Assessing this lack of excel knowledge we knew we'd have to teach ourselves some skills, but luckily for us on this current trip I got a really bad cold. The so bad kind of cold where snot is just dripping uncontrollably out of your nose. Yeah. Gross. So we had to extend another day in Brunei, which of course was our most expensive hotel. But, fortunately this happened on the last day of the month. So as I went to sleep early in the day Chris was just starting to watch video tutorials on how to use excel. Hours later when I awoke in the afternoon, he had figured it out. See, there is always a silver lining and for the first time ever we got the budget recorded with excel. Yes! Success!
So a few notes on our thoughts on how we look at the "budget." When I say budget, mostly I mean we record every thing we spend. Depending on where we travel, what type of trip, what the goals are our budget can fluctuate a lot. A lot of our travels and for this trip, we are aiming for $50 a day for the two of us. In our past travels, this has been attainable because we were either sleeping out of our van, camping or staying in budget guest houses. In southeast Asia, we feel we will be able to stick to this budget most of the time. When we can't that's ok too.
Out motto for a budget still rings home some of the words my dad said to me which was, "Do the things you know you will regret not doing." If we might be in one place only once in our life and there is something very cool that we want to do, we are gonna do it. The trick as long term travelers is to not get sucked into inadvertently doing everything you think you want to do. For instance, when we were in Queenstown, New Zealand, the adventure capital of NZ, there were signs and banners and postings everywhere for all these must do adventure activities. We could go sky diving, bungee jumping, white water rafting, horse back riding, quad bike riding, hiking, mud baths, climb a glacier, etc, etc. Each one of those activities was super expensive. So, for us, the thing we really wanted to do was hike a glacier and we choose Franz Josef. At that point we had never hiked a glacier before, I think we paid the $275 NZ per person at the time. I know – killer – but the current cost is $379 NZ pp low season. But we don't regret it – because now we can say we climbed a glacier in New Zealand. And it didn't blow the budget because we aren't climbing glaciers every day. By being selective and picking a few things we really want to do, we could keep living comfortably in New Zealand for a year as opposed to getting low on cash and feeling stressed seven months in.
Our goal isn't to travel the cheapest. Oh my gosh, if we really wanted to we could cut our costs down probably in half without much difficulty. But I don't think that is the point of traveling. If we've come all the way over here I want to try that really weird green thing, or that drink that seems to have jello floating around in it or whatever else is different than what is back at home or walk on the worlds highest tree canopy.
Whether we are traveling or living at home, our goal is to live a frugal lifestyle. This in turns allows us to afford many things. That's the bottom line.
So…drum roll please….oh wait…we don't have any drums, but we do have Chris standing next to a yoda made out of legos….
…our grand total for 30 days in Indonesia was $1612.56 USD. You can check out this excel sheet HERE for a breakdown of all the costs. Not too bad considering a few factors:
Indonesia is one of the more expensive Southeast Asian countries to visit
we paid more than normal for our beginning lodging (our first night was $28 and we paid that again our last night.) One of our rules of travel after a big, long international flight is to try to ensure we have a decent place to rest the first couple days. You know, hot water, comfy bed and almost always we are able to find a place that includes airport pick up in this price, which it did. So we think those things are worth it when we're just getting over jet lag.
we also paid more and stayed longer than we expected in Flores. Our room was $25 a night and we were just so tired and jet lagged at the start of this trip, we stayed three more nights than we originally thought.
included in this month was our plane tickets to Brunei which were $330
And that was the month. Wow – have we already been in Southeast Asia a month! It seems like we've been gone for ages, but nope, it's really only a little over a month.
Also big shout out and thanks for all the sharing *love* from the Blissful Living on Gili Trawangan – that post has 985 shares and counting on facebook! Thank you all so much! If you like social media or are just not sure what the heck it all is, you can check us out on Twitter, Pinterest, Instagram, Google+, YouTube, LinkedIn and you can sign up for the newsletter – it will come out once a month. Thank you for being a part of this travel site! 🙂
If you have any questions about the budget, this trip or what my favorite cookie is, always feel free to ask. Otherwise we hope you are some how, some way working towards your dreams and we'll see you out there!
***
Some budget tips for Southeast Asia we've been using:
Agoda is the big winner for bookings so far in Southeast Asia, hands down. Sometimes it is even cheaper to book with Agoda than pay at the accommodation. When we do that, then we are also usually paying ahead with our rewards credit card and earning Agoda rewards points. Triple win!
As soon as you get settled wherever you are, go out and buy the biggest jug of water you can carry. This will bring in the savings.
We still usually don't order drinks with meals. It's pretty much accepted to always walk around with water, so the majority of the time we just drink water.
You might not like this for your style, but we haven't bought much beer since we've been over here. Hey, those will definitely increase the budget!
Always try to find a place that includes breakfast. Even a little toast is enough to get you started for the day.
We usually just hand wash our clothes. Once in a while we'll pay for laundry or go to self pay machine.
Typically, if something is 6kms or under, we walk. We do a lot of walking when we travel like this.
This post below shows another look into our budget mindset of crunching numbers.
Does anyone else keep a monthly budget? What are some ways you have found to save money?
***
* Announcement! We're starting a new series on the site called My Story. What kind of traveler are you? How long have you been traveling? Do you maximize your vacations? Have you been able to take time off work? We want to hear from you and share your story! Please email: tiffany@vagabondway.net for more details. 🙂 
** Plan on traveling soon or making a purchase from Amazon? Please consider using the links on our resource page. At no cost difference to you we will earn a small commission to help keep this site running. Thank you so much for this thoughtful gesture.