We've heard from her once and we'll hear from her again, Nora Dunn's latest book has hit the web!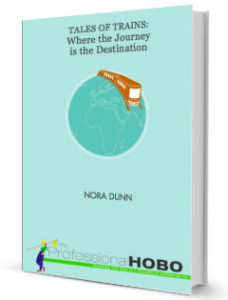 Have you ever dreamed of traveling by train, staring out the window, being lulled to sleep by the gentle rocking? Or do you imagine train travel to be rough going with coffee constantly spilling all over yourself? Well wonder no more. Whether you plan to take an actual trip by train, or you're an arm chair traveler looking to take a journey through words, Nora's book will take you there.
Nora is the well known expert behind The Professional Hobo.  Not only is Nora a financially savvy travel guru, she is also a well seasoned train traveler. She took part in the Ultimate Train Challenge – a grueling 25,000 kilometers of train travel over 30 days straight! So what does a train traveling writer have to say? Let's talk to Nora Dunn and find out:
When and how did you start your love of train travel start?
My (slightly evangelical) love of train travel started as a child, when I took the train 400 miles to the US from Canada to visit my grandparents every summer. I played cards in the dining car with my Mum, rattled over the Niagara Falls bridge, and roamed from car to car watching the world go by on the outside of the train.
Although it was rarely the fastest way to go, it was cheaper and easier than flying (given a somewhat obscure route and destination), and it sure beat the bus.
Train travel sounds pretty fundamental in the start of your long term travels. Does train travel go well with your belief of slow travel?
Although my love of slow travel has more to do with staying in one place for a while than it does with the actual pace of getting there, indeed train travel has been fundamental to my full-time travels (which I began in 2007).
I embarked on my full-time travel lifestyle by embarking on the train across Canada, riding west from Toronto to the coast. Later, I took trains through a handful of Asian countries, before landing in Australia and really taking my love of trains to task by riding 16,000kms of Aussie rail in the space of a month, 11,000kms of which I did in 11 days – straight.
For me, after reading the section on traveling in gold class in Australia, the journey felt like a dreamy bubble of time in the universe. Did you meet anybody on the trains who seemed to be riding them to escape? Or was it mostly a variety people getting from point A to B?
One of the things that amazed me about my Australian train adventures, was how varied the passengers were. There was a couple moving across the country, commuters traveling part of the way (getting off at remote outposts only accessible by train for work), students on vacation, brothers celebrating a recent graduation, backpackers on a round-the-world trip, and (especially in gold class) lots and lots of older folks for whom taking the train across Australia was a lifelong dream coming true.
What is the biggest appeal of train travel for you?
There's something magical about train travel; the pace, watching the landscape change (and zoning out as the world goes by), the luxury of space and being able to walk around, and observing the people from all walks of life who take the train – for business, pleasure, and otherwise. And I love taking overnight trains, waking up and watching the world go by…from my bed.
Did you notice big cultural differences between train travel in separate countries? Likewise, were there small things that remained the same about traveling by train no matter what country you were in?
Yes, and no. When I did the Ultimate Train Challenge, I careened through over 10 countries in under a month. Going to sleep in Spain, waking up in France, and disembarking in Switzerland, the biggest difference I noted was that of language. Moving further east into the Czech Republic, Hungary, Ukraine, and eventually Russia, the differences were more notable in comparison to western Europe: the facilities were generally a little less plush, and cultural and linguistic differences became more apparent. I'll never forget being awoken from a dead sleep at 1:30am enroute to Ukraine, having my passport taken from me by (what I hoped was) an official, then returned to me with an immigration form – all in Cyrillic – that I was expected to fill out in my middle-of-the-night stupor. Thank goodness a French/Russian lady in the neighbouring cabin knew just enough Cyrillic to fill it out for me. This lady was an example of something that remains the same no matter what country you travel through: the kindness of others.
What was the process of writing this book like? Was it a big walk down memory lane? Did you find you had to corral yourself to keep focused and not stare out the window daydreaming you were still on a train?
For the most part, I took diary-style notes in a notebook as I was experiencing each train journey. I used them to write many-an-article for my website and for other publications, but I craved a more thorough anthology of some of the more epic train journeys I did – which is how Tales of Trains: Where the Journey is the Destination came to pass.
And for the record, yes, despite all this furious note-taking on trains, my eyes wandered more than a few times and I (quite happily) lost hours just looking out the window.
I enjoyed your use of narrative throughout the book. To not give too much away for any readers looking to get your book, in a few words, describe the first thing that comes to mind when you think of:
Australia and The Ghan:              Only Three Days?
Beijing:                                              Again…
Moscow:                                           Frightening Digital Detox
What is your favorite comfort item you like to have with you on a long train trip?
While I'm window-gazing (my favourite train pastime), I need a soundtrack. I love listening to music while relaxing on trains.
What is the next train trip you hope to take?
In the same way I tend to let my destinations choose me, I also let my train journeys do the same. I have designs on experiencing some of the trains in India (including the Toy Train to Darjeeling), the Blue Train in South Africa would be a trip down luxury lane, and I'd like to take the train the other way across Canada – east from Toronto.
More imminently however, I'll be taking a few more trains in Spain, as I cruise from Madrid to the south coast this summer to visit some friends.
Thanks so much for talking with us today and sharing your love of trains with readers.
If you want to indulge in some dreamy travels by train, check out Nora's book (on sale now for a limited time!) Because as the title of the book implies, sometimes, the journey is the destination.