Hanging out in a pool on the Gili Islands, we met this awesome couple from Australia who are also traveling around Southeast Asia for a year. Please enjoy this guest post by Rebekah Dawson.
Krabi Town is the gateway for those seeking access to the Andaman Coast and all the beautiful islands that lay in this idyllic patch of sea. More than just a transport hub, Krabi's mountainous landscape and jaw-dropping views makes for some of the top free hiking in Thailand.
The two Krabi hikes we did were Ngorn Nak Nature Trail and the staircase to Tiger Cave Temple.
The thing about these two Krabi hikes (like many others in southern Thailand) is that they are no longer than a few hours. This makes it is easy to incorporate one of these hikes into your schedule.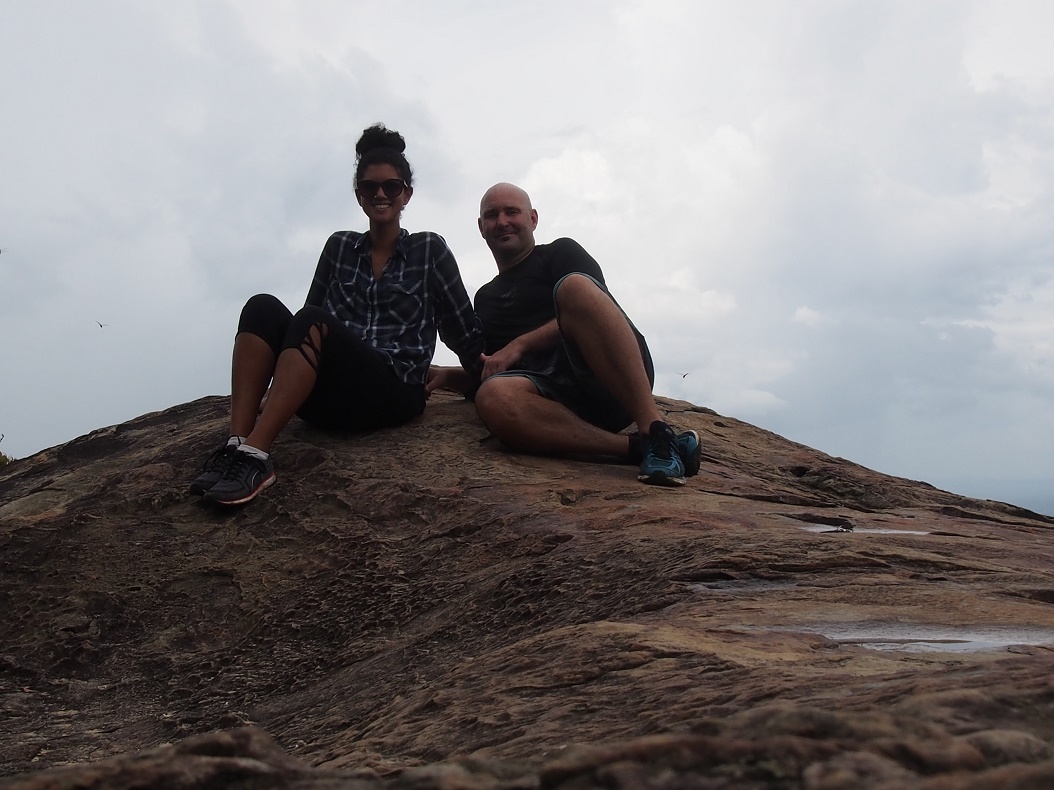 The best cure for your post-hike hunger is a plate of Thailand's finest food, available at one of two night markets that Krabi Town has to offer here. Krabi has some great places to eat and enjoy the local food.
Ngorn Nak Nature Trail – Krabi Hikes #1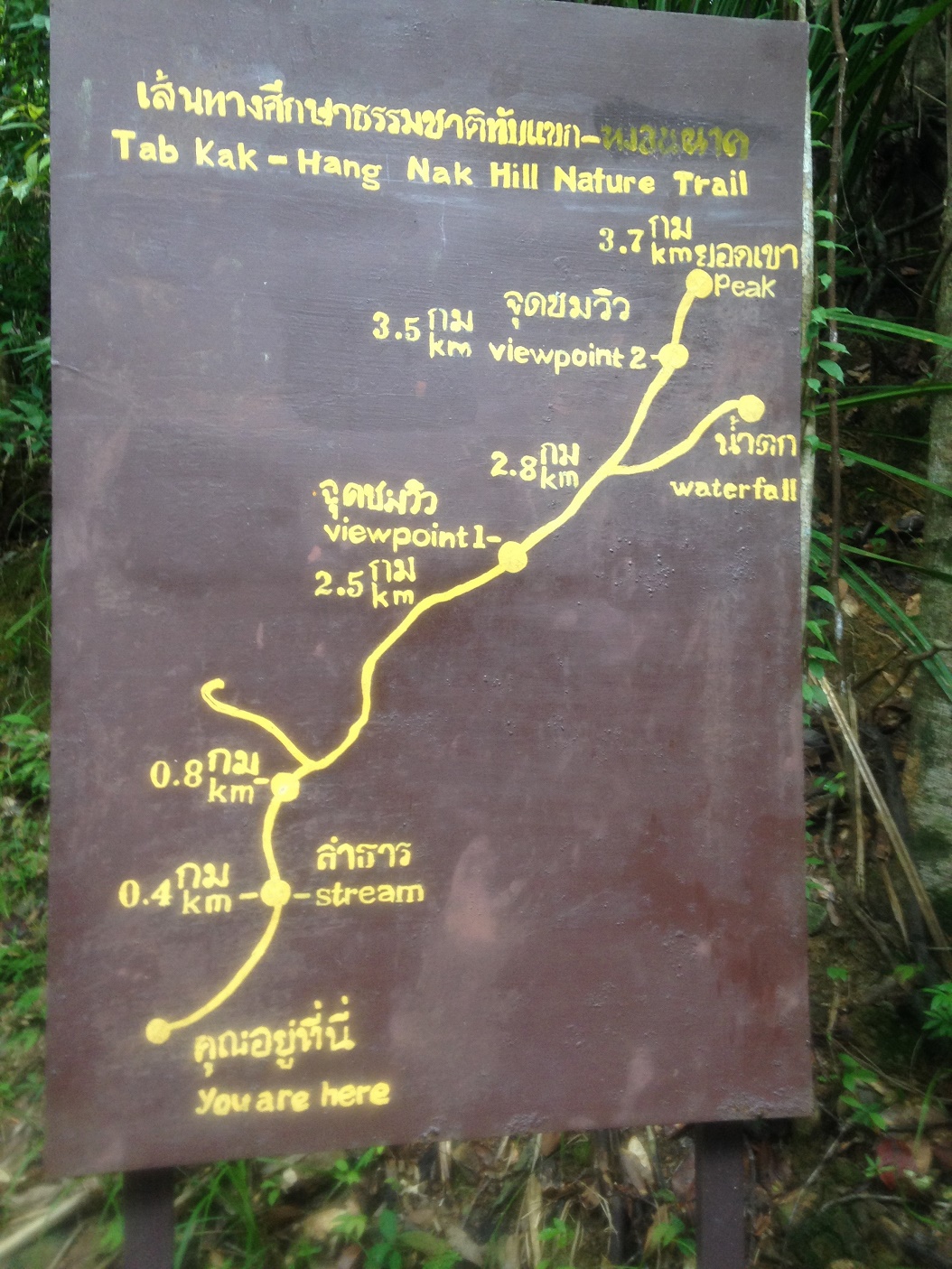 Synopsis
The hike to the top of Ngorn Nak is laborious and challenging, but when you get to the top you'll have completely unadulterated views of the Andaman Coast. There is truly nothing like it. The track is a steep climb on a wide well-worn path, that will have you using your upper body to get up tree roots and rocky formations. This track could easily be done in the wet weather, albeit with extra caution. The drive from Krabi Town to Ngorn Nak Nature Trail itself warrants the hire of a scooter; you'll be winding around some towering limestone monoliths and wondering whether you are in fact, not dreaming.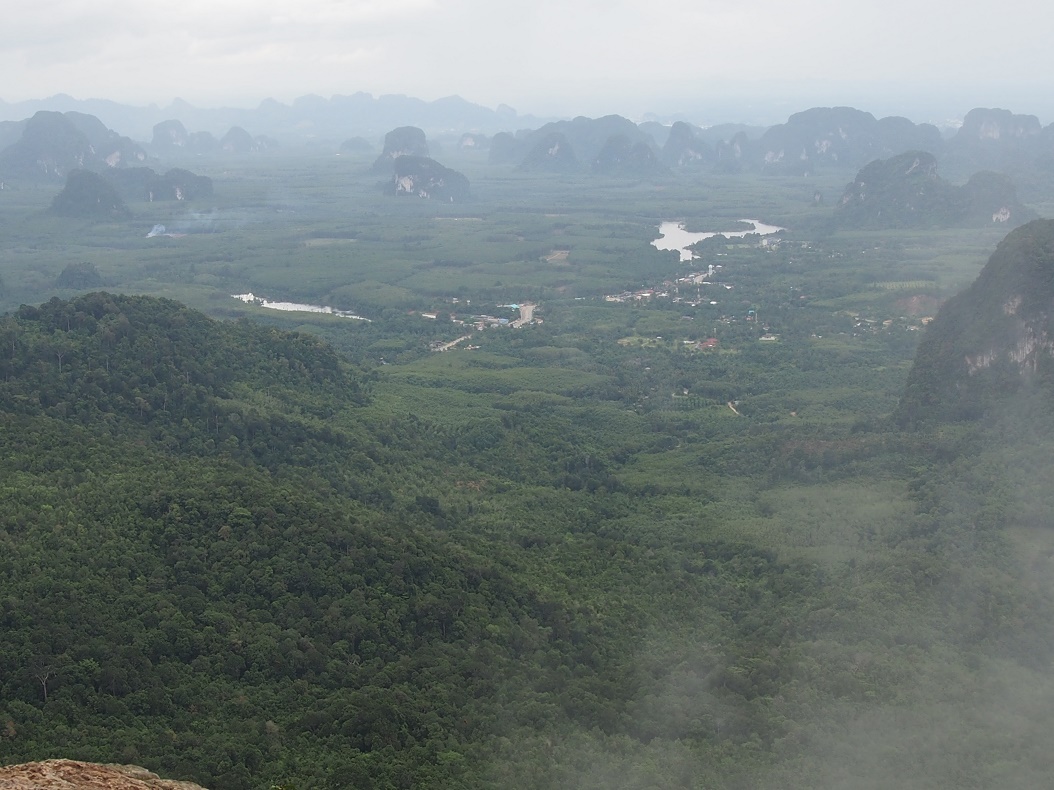 What you need to know:
Distance: 3.7-4km each way
Duration: 2 hours up to the top, about 1 hour on the way down.
Elevation: 442m
Cost: FREE/optional tip for rangers
Difficulty: 4/5
How to get to the start of trail: Get on a scooter and head towards Phuket from Krabi Town/Ao Nang. For a while you will be able to follow the signs to the Ngorn Nak Nature Trail. From then you might need to follow maps.me or Google maps to get there. Not sure how much a taxi would cost to get out here, but it wouldn't be cheap. Some more details can be found on the link at the bottom of this section.
Ease of getting to trail: Moderate-difficult
Ease of following trail: Easy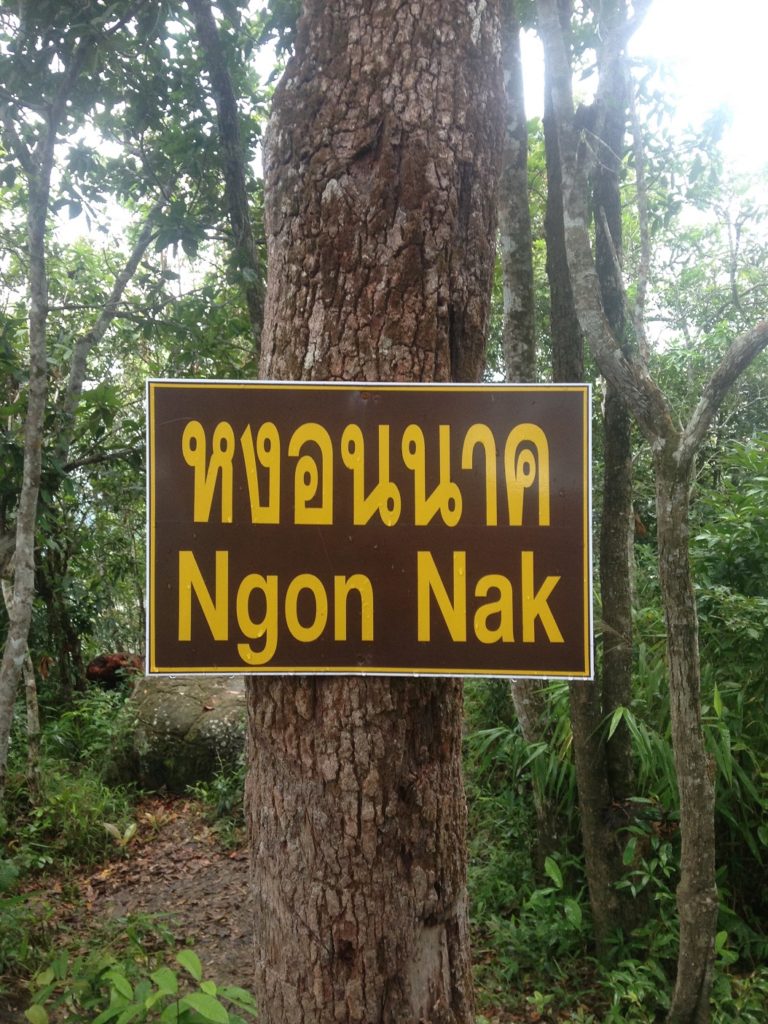 Wildlife spotted: ONE side profile of a white-handed/lar gibbon was spotted; however, their vocalizations were heard throughout the trek. Their call can be likened to a car alarm, so if you hear this sound, you are in the midst of this glorious species.
Overall experience rating: 4.5/5
Useful links: http://www.seekrabi.com/krabi/hiking/krabi-things-to-do-climb-hang-nak-mountain-hiking/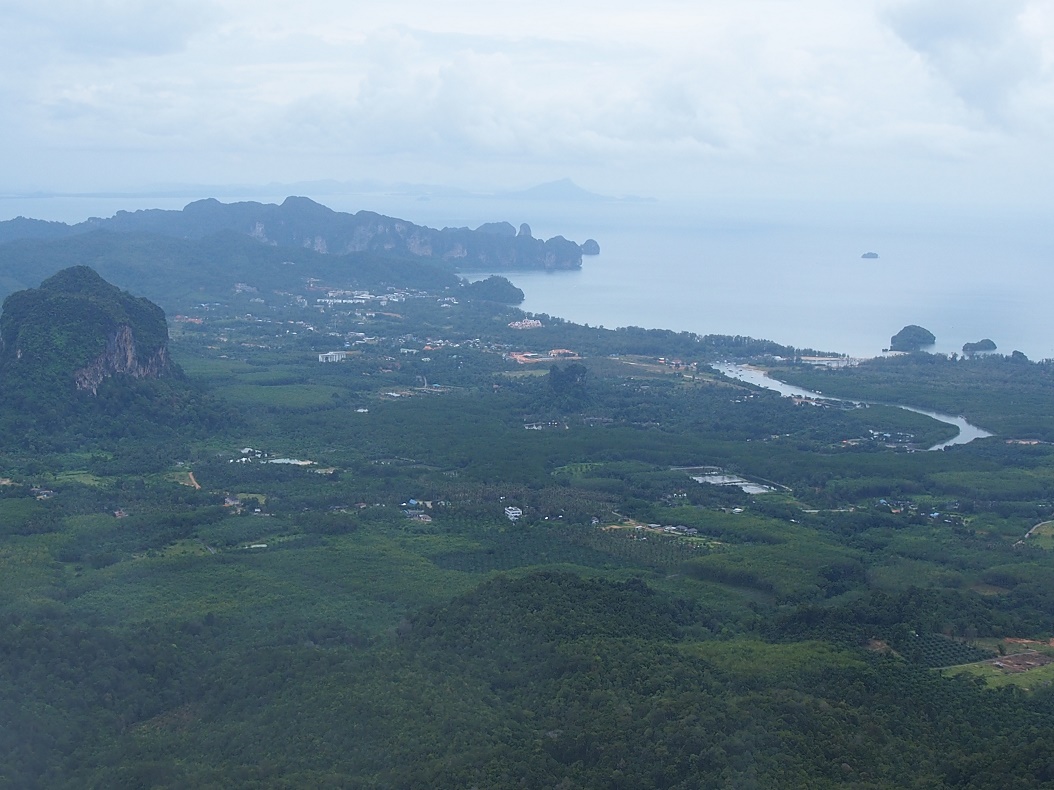 Tiger Cave Temple/Wat Tham Suea – Krabi Hikes #2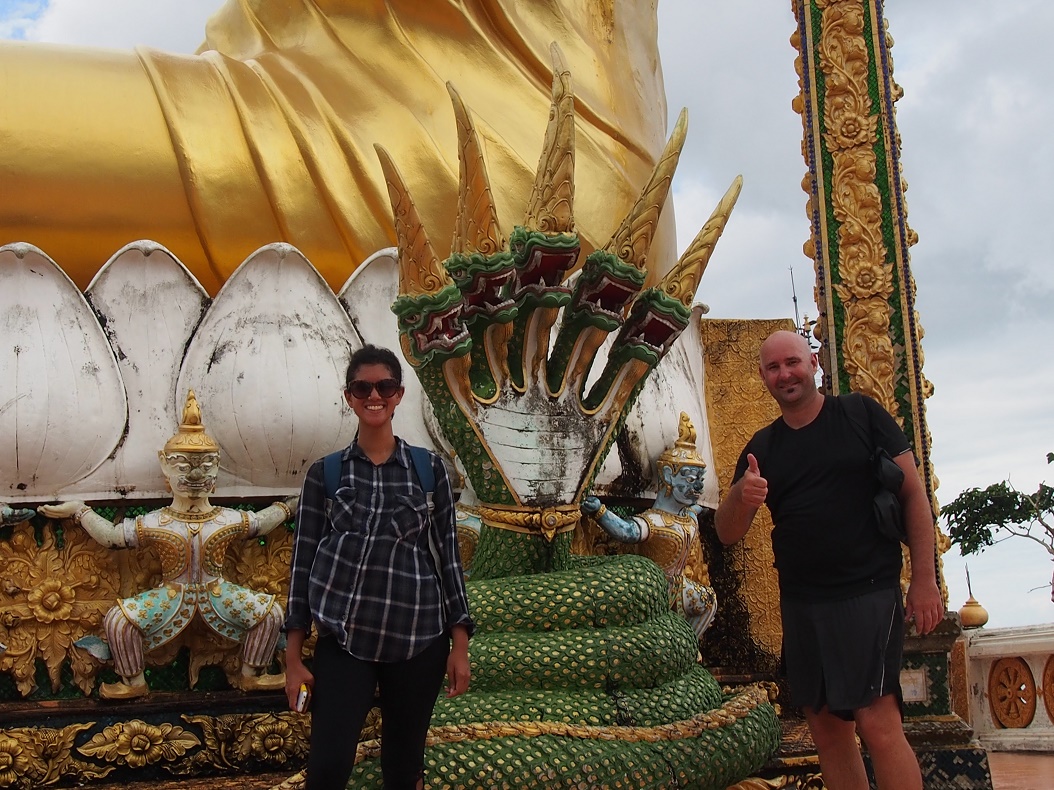 Synopsis
Not a nature trek, but 1,237 very steep steps to the top of a beautiful limestone outcrop. The staircase to the top is surrounded by rainforest and hundreds of macaques. When you reach the top you are greeted with a welcoming sea breeze and awe-inspiring views of Krabi Town, it's surrounds, and the Andaman Coast, while standing eye-level with many other karst outcrops. If that isn't enough for you, the beautiful temple on the top is believed to have once had a tiger call it home.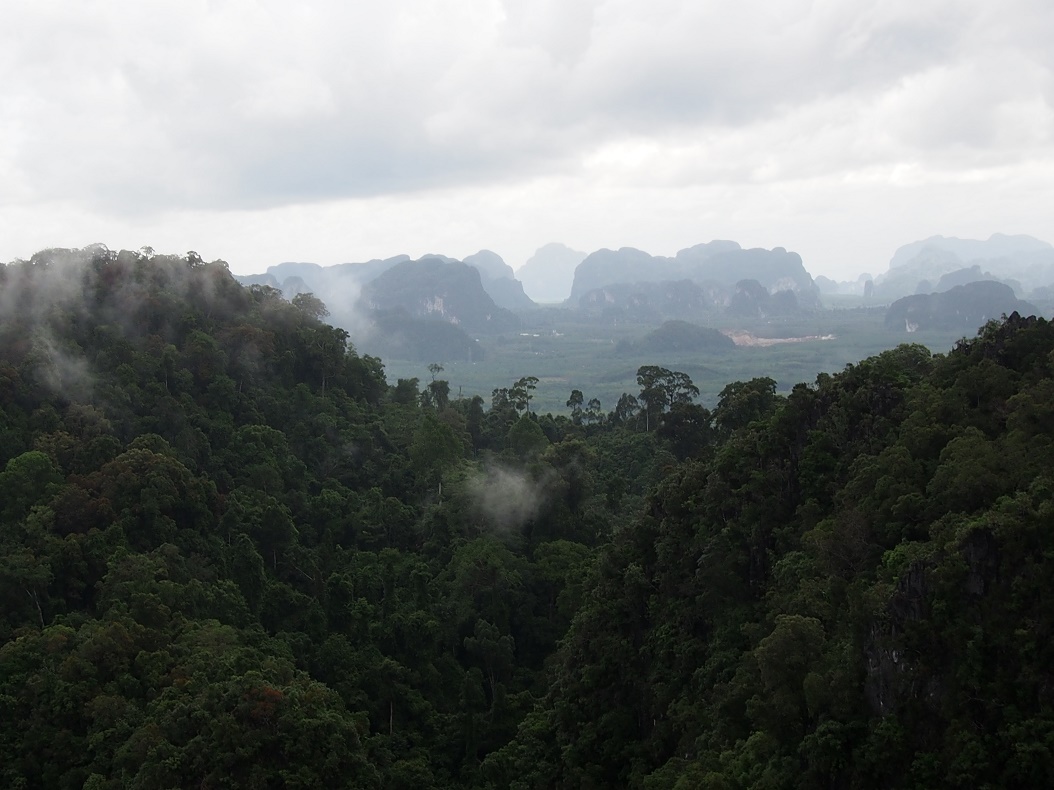 What you need to know:
Distance: 1,237 steps (can't provide distance as we didn't turn on Strava!)
Duration: 10 mins – 1 hour, depending on your fitness (took us 30 mins, with MANY stops)
Elevation: 278m
Cost: FREE/optional donation to Buddhist monks who maintain the grounds
Difficulty: 2.5/5
How to get there: You have three options if coming from Krabi Town. You can either get a songthaew to the Big C (ask your accommodation what is a reasonable price to pay for it), then walk for about 10 minutes from there (Travelfish provides a good description of the songthaews that go here from Krabi Town). Or, if renting a scooter it is only about 5 kms out of town, and is very easy to find. Your best bet is to ask someone from your accommodation or the place you rent the scooter from to give you directions to the Wat Tham Suea. Once you are on the road there, you will notice large signs pointing you in the right direction. Alternatively, you could also do this as part of a tour, or catch a taxi straight there. If you are headed here from Ao Nang, it will be about a 20-30 min scooter ride.
Ease of getting to trail: Easy
Ease of following trail: Easy
Wildlife spotted: MACAQUES! You have been warned – they are particularly aggressive here. Do not carry food in your bags, in your hands, or eat near the macaques at the base of the temple.
Overall experience rating: 4.5/5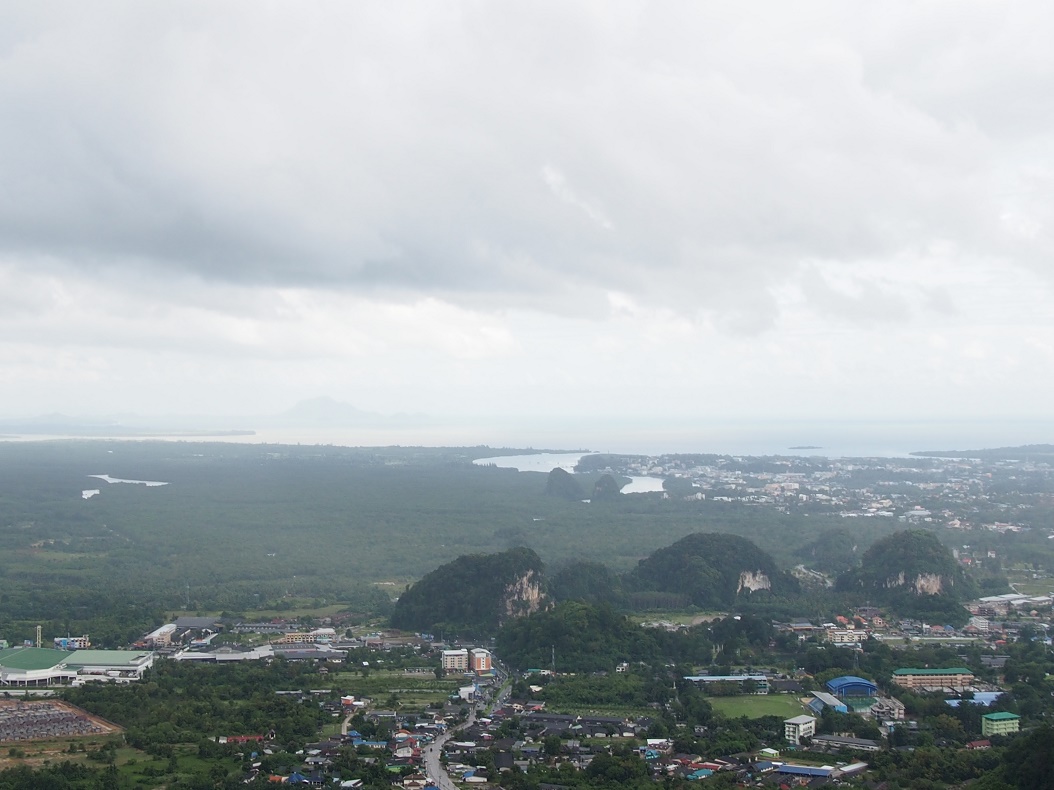 Free hiking can be such a great way to help your budget and body when you are traveling long term. These Krabi hikes are not always mentioned in Southeast Asia as much as they might be in other places, so it pays to ask around. Locals are almost always more than willing to give you information on things to do in their home area. So get out there and find some hikes today.
TIP: Also check out this post with links and resources on hiking in SE Asia.
***
About author: Rebekah Dawson
A lover of all things travel, Bek, and her partner Dave, left Perth, Western Australia with nothing but a camper trailer and a 4WD, about a year ago. Since leaving home they have spent nine months exploring the top end of Australia, before commencing the overseas leg of their open-ended adventure. The last few months have seen them visit the Gili Islands, Peninsular Malaysia, and southern Thailand, with twelve more months of Asia on the horizon before they intend on returning to Australia. Bek and Dave met the creators of Vagabond Way during her first week abroad, and haven't stopped discussing all things travel with them since.
***
** Plan on traveling soon or making a purchase from Amazon? Please consider using the links on our resource page. At no cost difference to you we will earn a small commission to help keep this site running. Thank you so much for this thoughtful gesture.