Traveling to Pacific Islands countries has been one of my favorite areas of the world to explore. The lush, tropical green often surrounded by turquoise water beaches creates a dreamy and warm existence. Chris and I spent a month island hopping around the friendly country of Vanuatu. Truth be told, I had never heard of Vanuatu until we went there. What I found was welcoming country with rich traditions that capture the soul. It's a country that despite modernization and the influence of the internet, is clinging to its traditions with a fierce grip. It's for this reason, as people (myself included) find out about Vanuatu, an unceasing curiosity builds to find out more about this place, it's people and it's culture.
By good fortune, Chris and I happened to be there during the time the different villages on the island of Tanna were celebrating the Tolka Festival. The Tolka Festival happens only every four years and there is no fixed date. When it's ready, the festival will begin and usually lasts three to four days. For a visitor, lining up your visit to the festival may be a once in a life time experience. When we were at the festival we met a man who had been trying to attend for 12 (12!) YEARS! He first visited Vanuatu, learned about the Tolka and then went back twice prior times hoping to catch the celebration. He made two trips prior only to wait, and wait, and hope, and wait, and eventually have to get a plane and go back home as the start of the festival kept getting postponed. We felt happy for him his efforts finally brought him to the actual festival. (In case you are unfamiliar with why the Tolka (also spelled Toka) Festival can be so impressive check out this post I wrote.)
I share this mans story not to discourage, but to put in perspective, there is no guaranteed plan one can establish to see the festival. It's island time and when the chiefs and elders feel the festival is ready to start, that's when it will start. But there are some things, as a visitor to the country with limited time, that you can do to help give yourself the best chances of catching the Tolka Festival.
Most nationalities are given a 30 day tourist visa on arrival (always check and double check entry requirements for yourself!) My biggest tip if you want the best chances to catch the Tolka Festival: stay for as long as you can. As we started hearing about the uniqueness of the festival and decided we'd like to try and go, we altered our travel plans. We changed one of our internal Vanuatu flights (for free), waited and through our actions were rewarded with the luck of catching the festival.
We spent a month traveling around three of Vanuatu's eighty some islands, always asking the locals for the latest updates on the festival and tried our luck based off what we heard.
I can share what I know and here is a ONE MONTH GUIDE to Vanuatu in the hopes of offering some great aspects we enjoyed about the country as we tried our luck to attend the festival.
What to Prepare
First, you can check out this post I wrote entitled, Vanuatu is Where? This will help give an overview of the country, and if you are not familiar, at least show you where it is one the map. 😉 
Then, figure out what will be your travel style. Will you bring camping gear or will you be staying in hotels, small guest houses and bungalows? We stayed in a few hotels in the cities and then camped the rest of the time. If you are really keen on engulfing yourself in the Tolka Festival, you will want to bring camping gear for this trip. The festival we attended happened in the middle of the forests, in a spot that became specially designated for the Tolka. I would guess, if you asked, locals would figure out a way for you to stay in someone's home, but having your own camping gear will give you more options, freedom of choice and be comfortable sleeping with your own things. If you need any tips, I wrote this post highlighting all our Favorite Travel Gear. If nothing else, I would strongly recommend bringing a sleeping sheet
.
.
There are no crazy precautions you need to take prior to going to Vanuatu. Packing list is a pretty standard island country list. But I will say this, PACK LIGHT. Chances are pretty high you will fly between some of the islands and strict luggage weights are enforced. Be forewarned.
2 pairs shorts (ideally zip off pant style)
1 pair pants (if you don't have zip offs)
4 quick dry T-shirts
1 long sleeve shirt
1 warm fleece/jacket
Rain gear (including pants, I still can never believe how many people travel without a good rain jacket and pants. Bring these!)
swimsuit
1 quick dry towel (invest in a quick dry towel, regular towels for traveling are gross)
hat and sunglasses
sandals
sturdy sneakers or mid-weight hiking boots
first aid kit and include emergency script of something for travelers diarrhea
warm hat (I always travel with a hat. Staying up late on a volcano – it can get windy!)
electronic items you think you must have
toiletries
sarong (for picnics at the beach!)
camping gear (or not)
sleeping sheet
sunscreen and bug repellent
Other Formalities
All the usual steps you should be doing for any trip:
copies of your passport
copies of your flight information (important: although no one ever checked, make sure you have a printed itinerary showing your exit flight out of Vanuatu)
multiple bank cards – TAKE NOTE – on smaller islands you will have to pay CASH for a lot of activities and accommodations. Make sure you will be able to with draw enough cash from ATM's before you go off to smaller villages. For instance, if you fly into Efate but only stay there one day before going to a more remote island, make sure you have a high enough limit to withdraw enough cash or have multiple cards so you can ensure you have access to enough cash before leaving the only ATM that may be on the island
emergency cash
SAVE ALL YOUR BANKING RECEIPTS – during our time there, we experienced a banking error. We debited money from our account and then went to check our online banking. The screen told us $600 additional had been debited from our account. We never took out the $600. It was a very frustrating time as we had a lot of difficulty calling international, we went to the bank to report the error, we questioned if there was any way we accidentally forgot or mistakenly pushed buttons spitting out the $600 and we just walked away from it in the ATM machine. Eventually we exhausted everything within our power that we could do. Luckily, because we followed the steps of having multiple cards and always having extra money when traveling, it did not affect our trip. We just had to go on and either the $600 would come back to us or not. Eventually, about five months later, we got a notice that all parties involved had a chance to review their records and there had been a banking error. The $600 was put credited back to our account. This story serves as a good reminder of the Three Banking Rules:

save ATM receipts
have multiple cards
have extra cash available when you plan a trip in case things come up
What to Expect
Vanuatu is not a densely populated country and most people live rural. The largest city and capital is Porta Villa with a population of around 45,000.
As you venture out to explore the islands you should expect: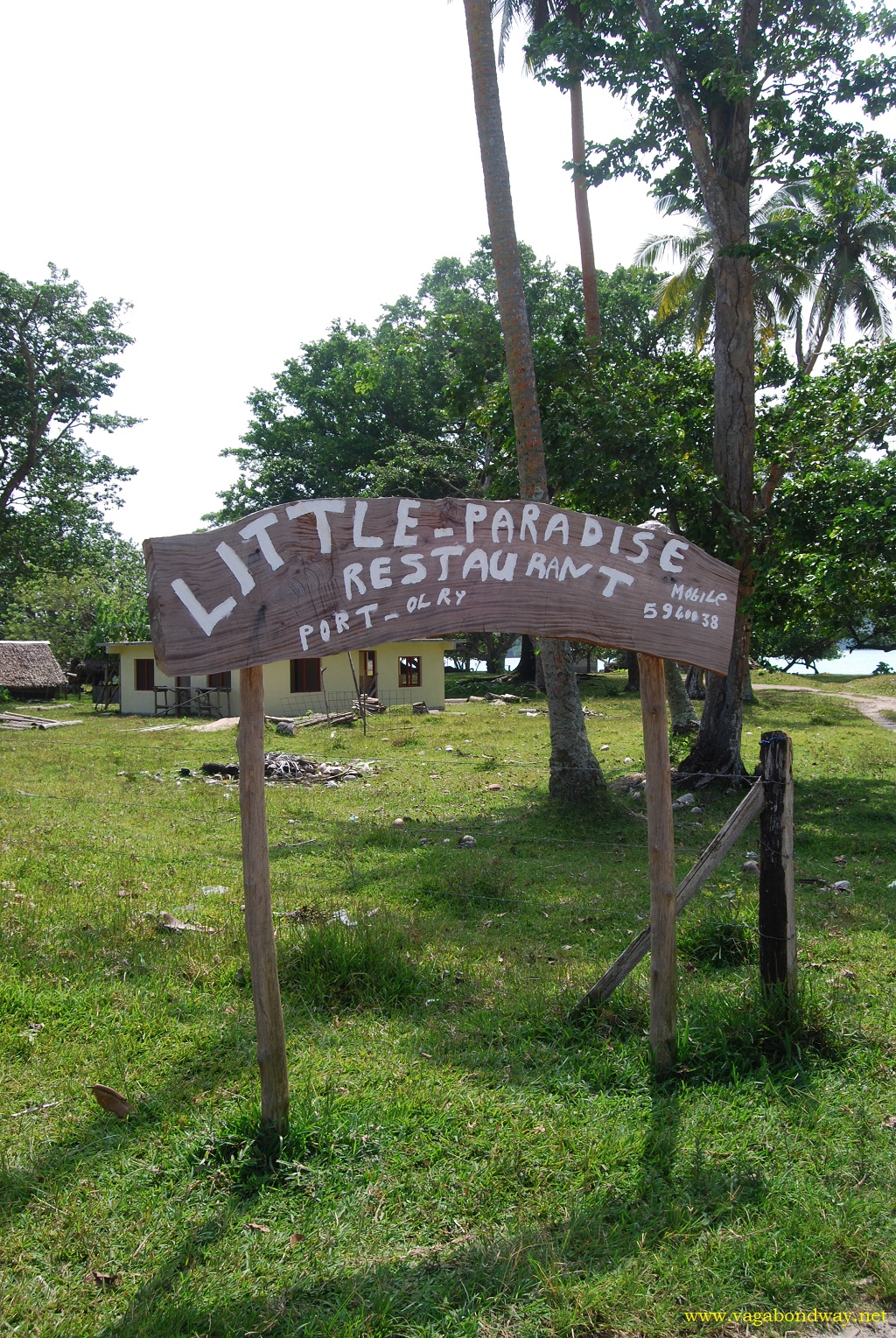 Things might be a little different than back home. You might be eating at the only restaurant in a town that is in someones home.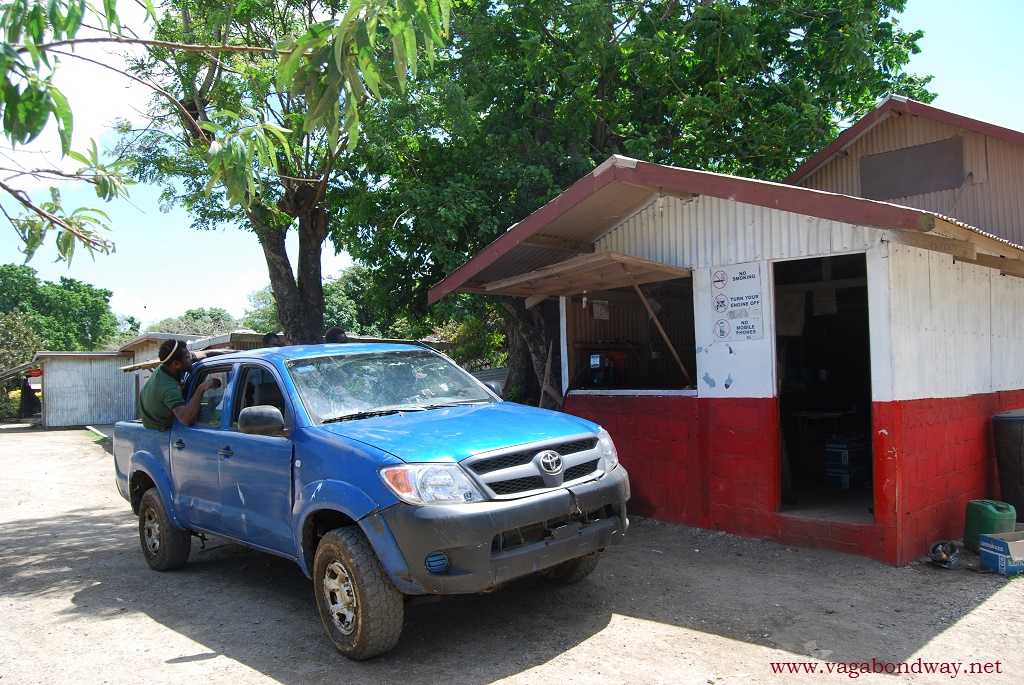 This might be what your taxi looks like filling up at a gas station.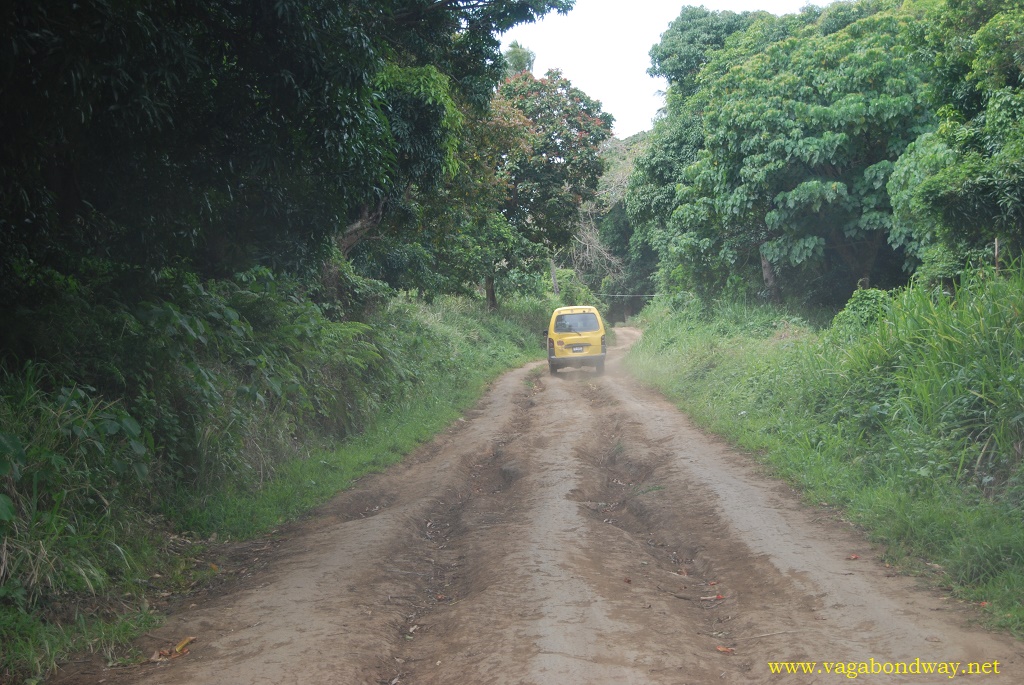 Heavy seasonal rains make road conditions extremely rough. Trucks and high clearance vehicles are the main form of transport. Transportation is expensive for everyone, local and tourist alike.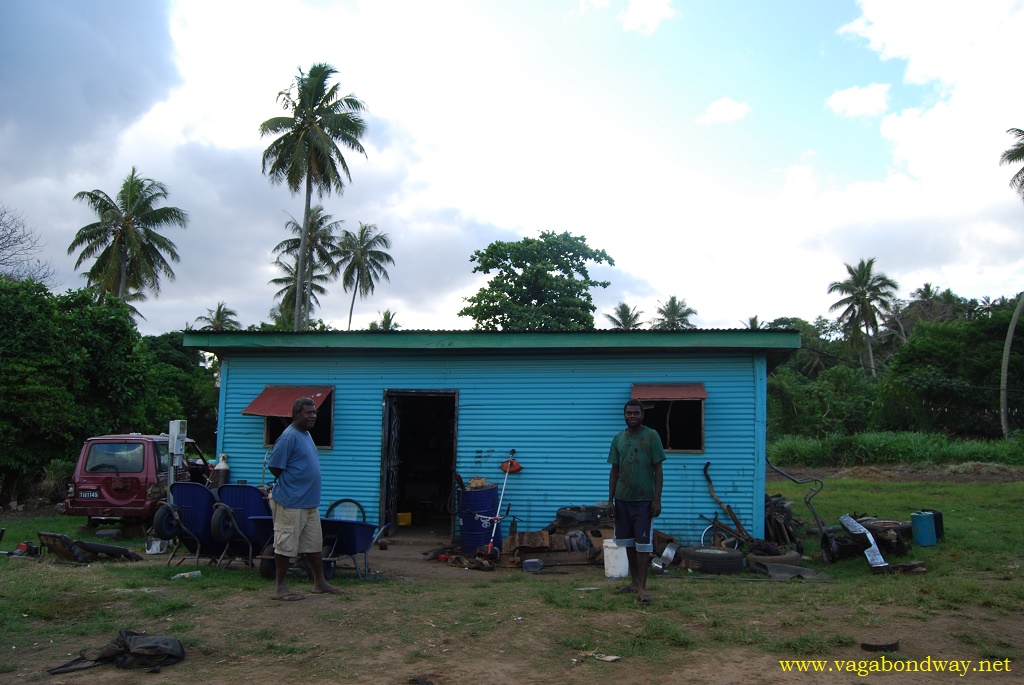 The roads are so rough on vehicles and getting parts into the islands is very expensive. This is a local mechanic shop where they will do everything they can to repair and patch together vehicles and keep them running on the islands.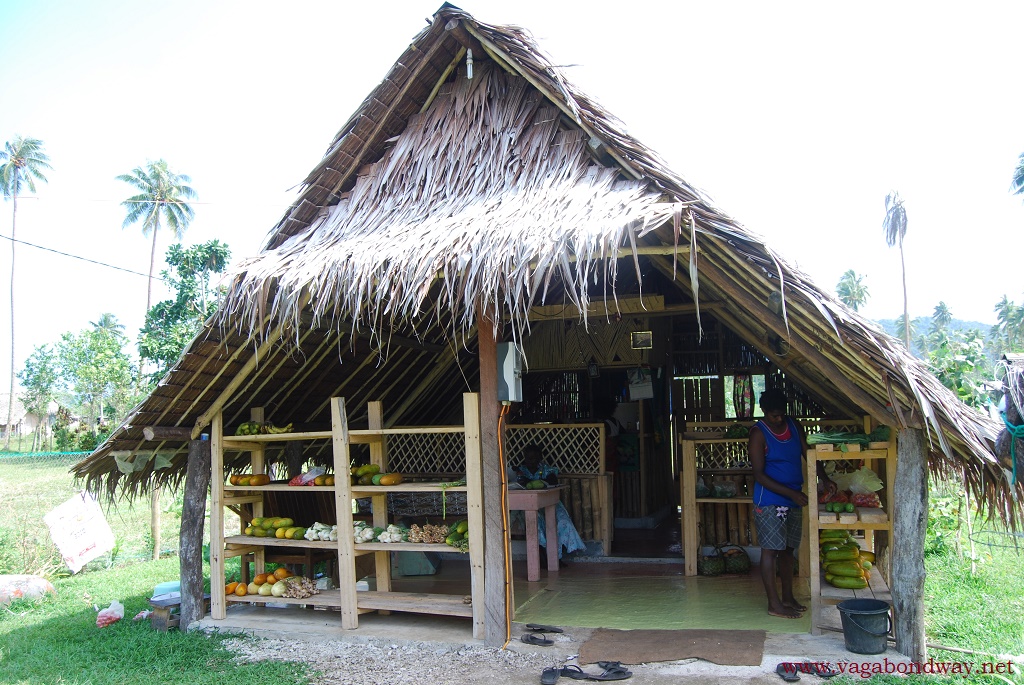 Stores won't have as much variety as you probably are used to as home. On the islands you will be eating seasonally like the locals do.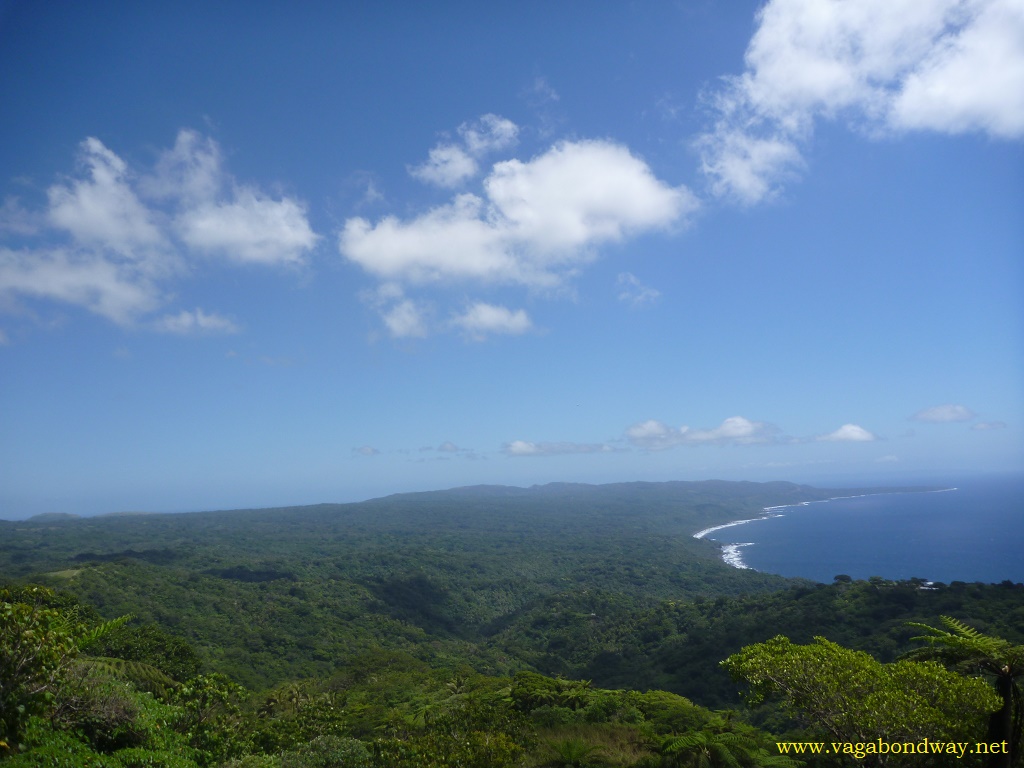 But Vanuatu is a lush, beautiful, welcoming and safe place to travel. So read on to keep planning your next adventure!
One Month Vanuatu Guide
Here is how we spent our month in Vanuatu. There are so many variations you could do (and other islands we want to go back to!)
Efate – the main island home to the capital, Port Villa
Day 1 – Flew to Vanuatu and had a great stay at City Lodge.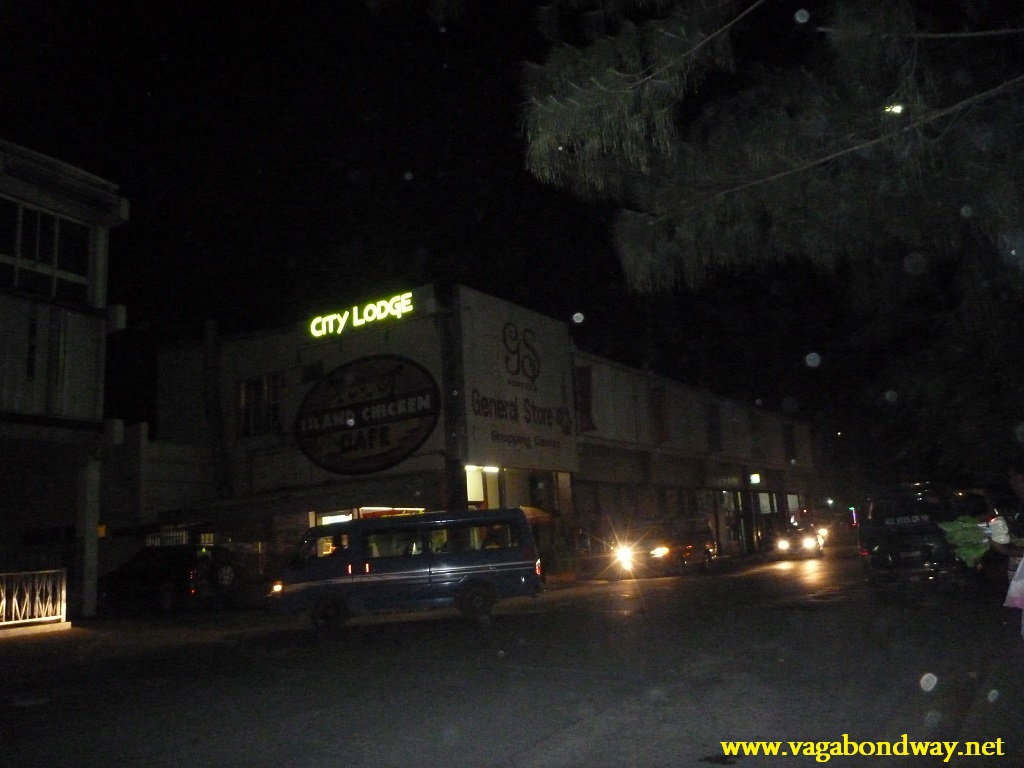 Day 2 – Had our ATM fiasco (read above) and dealt with that
Day 3 – Figured out booking airline tickets and explored around Port Villa. We walked around to a couple different booking agents and then just went to the Air Vanuatu office directly. It was the easiest, same price and then we knew for sure we were getting the exact info.
Espirito Santo – a northern island home to one of the world's most famous deep dive, The Wreck of the SS President Coolidge
Day 4 – Flew to Santo and stayed at Unity Park Motel. A basic hotel right in town and offered some of the best value. There was also a kitchen here so guests could cook their own meals.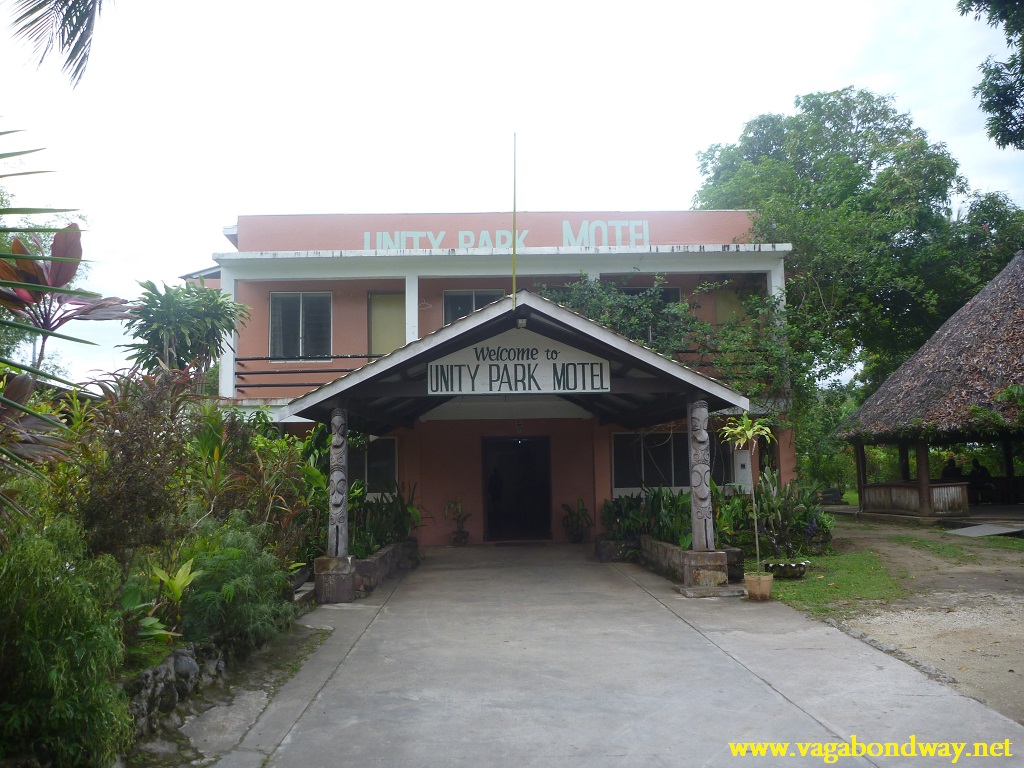 Day 5 – Went snorkeling at Million Dollar Point, the point where at the end of WWII, the United States Army dumped millions of dollars worth of military equipment into the water. Why? They couldn't transport all the equipment back to the United States, nor did they want to leave the equipment there where it could potentially get into the hands of enemies. So, they put weights on the pedals and drove everything over the point. Over time, a coral reef has grown on the machinery creating the unique Million Dollar Point to snorkel all around in.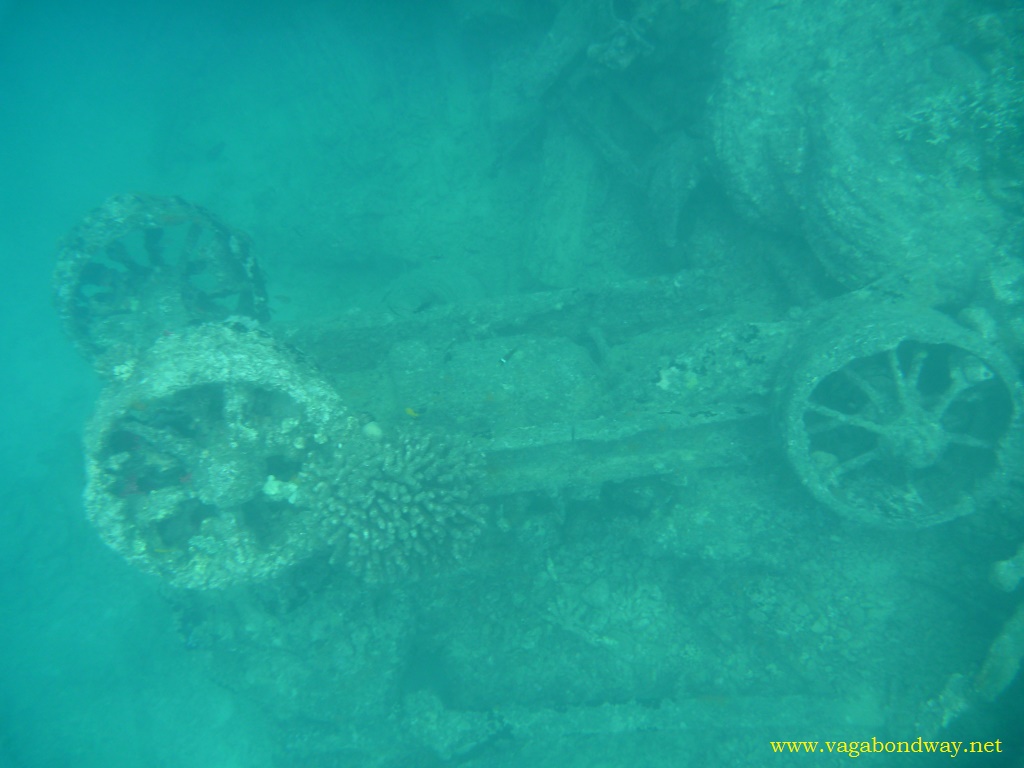 Day 6 – Organized transportation and moved more north up the island and stayed at Lonnoc Beach.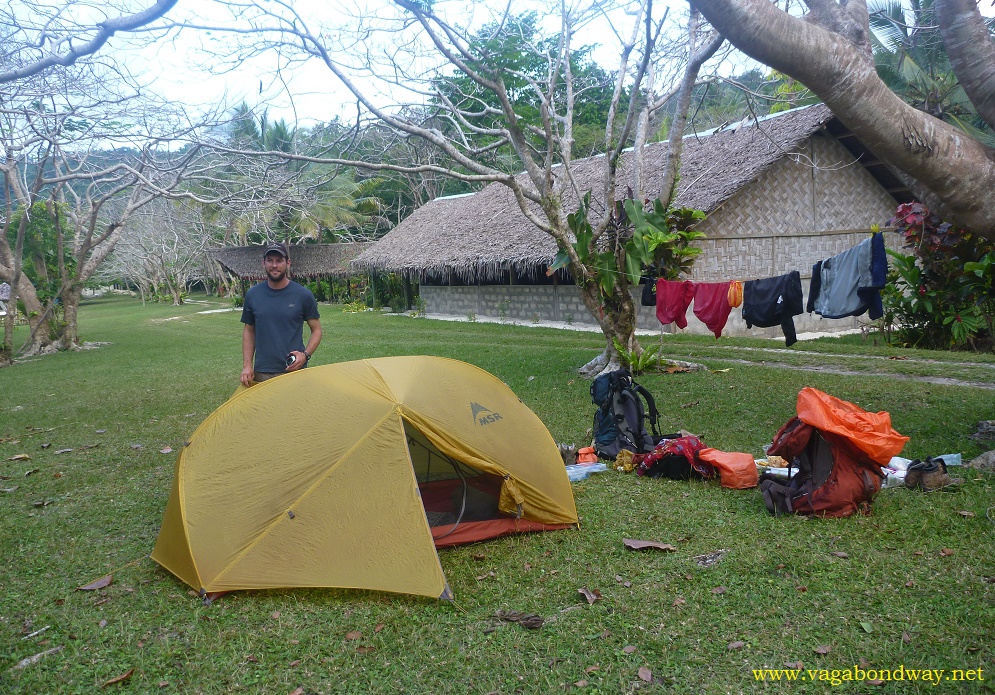 Day 7 – Kayaked and snorkeled in the aqua blue waters. One of the things I love about being in the South Pacific is the warm water! You can swim nearly all day.
Day 8 – Hung out at Champagne Beach, which is rated one of the world's top beaches because of it's white sand and clear waters. But where were all the people?! It was amazing to have the whole places almost to ourselves.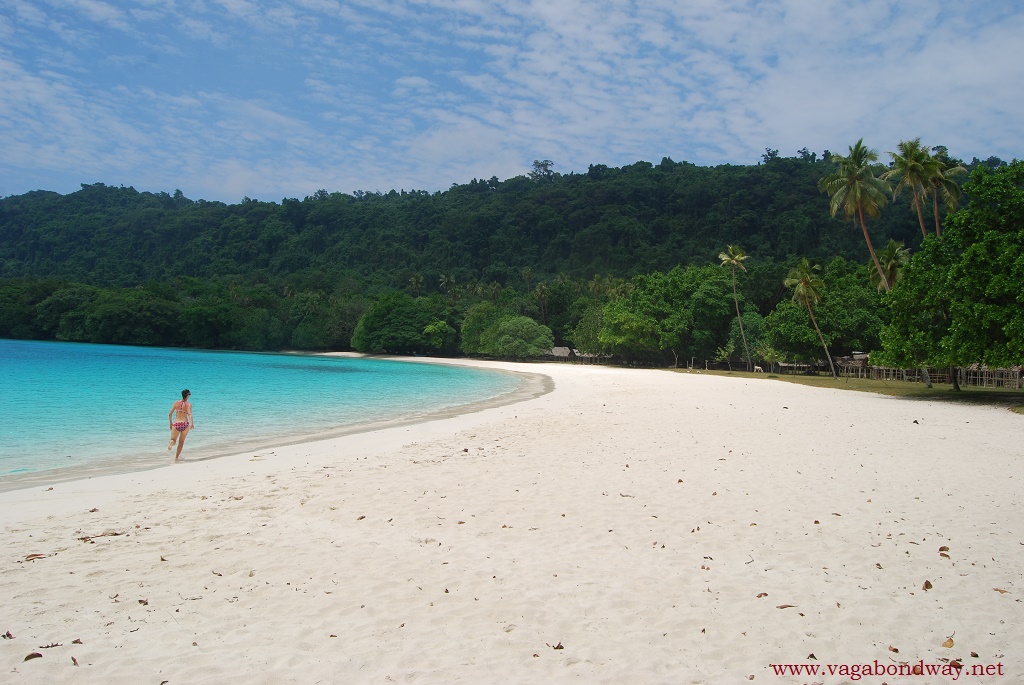 Day 9 – We met some folks with a yacht and they invited us to kayak out to them and have lunch. Sweet! We still think back on their generous offer.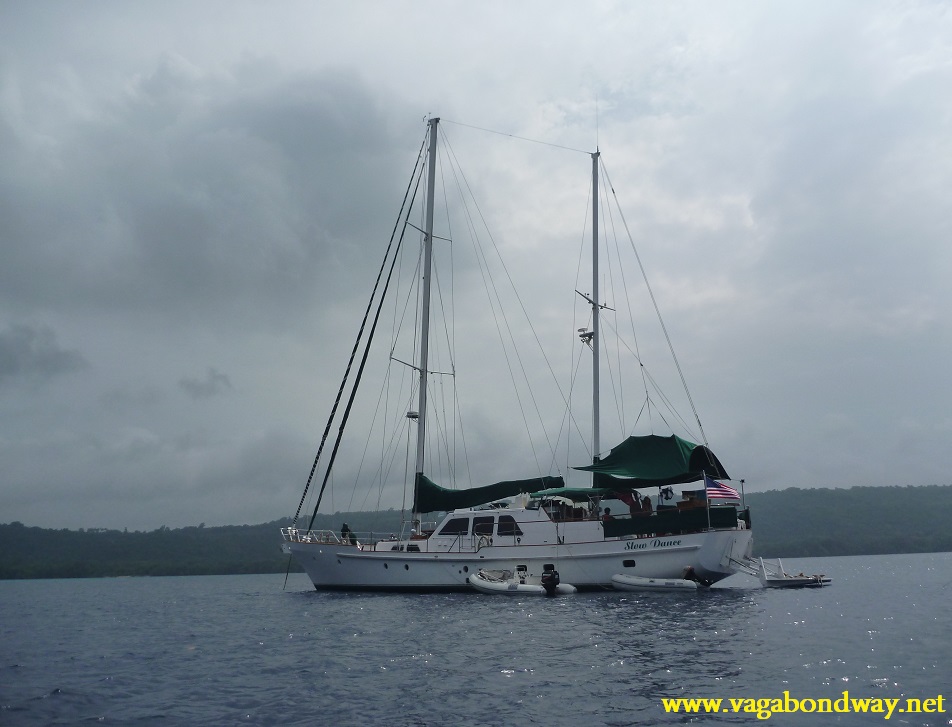 Day 10 – Kayaked to Elephant Island and didn't die.
Day 11 – Had a lunch of crackers and peanut butter and had transport organized through Lonnoc to travel north to Port Orly.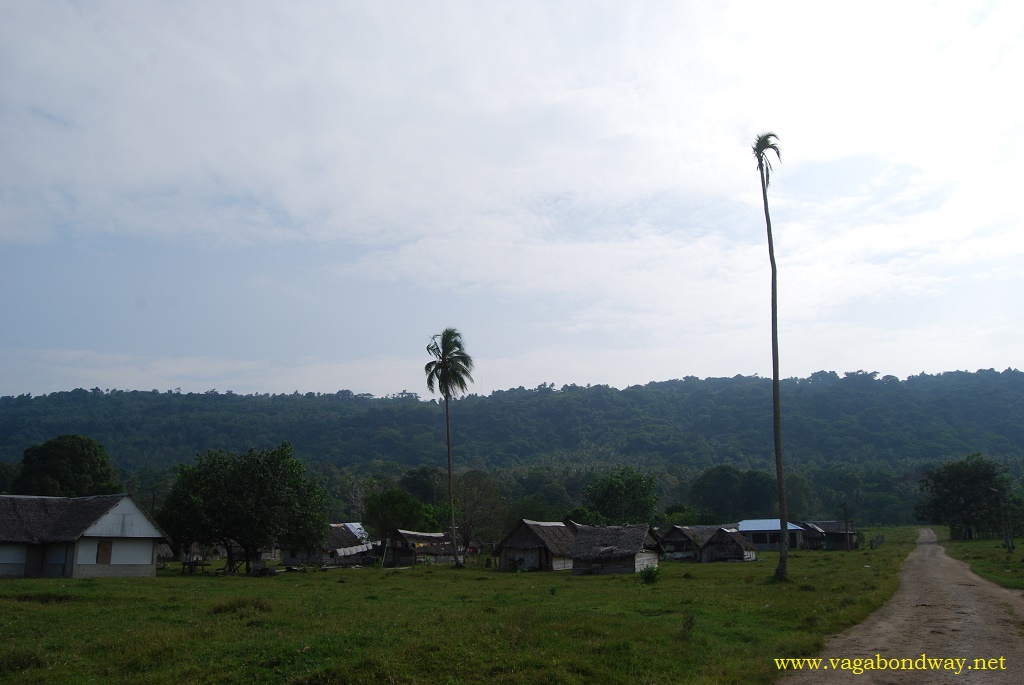 Day 12 – A mostly French speaking town, the locals were so welcoming to visitors. The town only has electricity for certain hours in the day, if the coconut generator is not broken. Most people do not have refrigerators and if they do, it's shared among multiple families. We met several families and learned about how hard they work harvesting and making coconut oil.
 We were glad to went to Port Orly to experience the town and headed back to Lonnoc. One of the greatest ways to pay a compliment to the local people you were staying with is to return. The Lonnoc folks were so happy to have us back. Across the road was a tourism school that had a small restaurant. We had been going there to help spread our travel dollars around and support the school. Once we came back the lady welcomed us even more and I got to help make lunch with her. It still was one of my favorite experiences.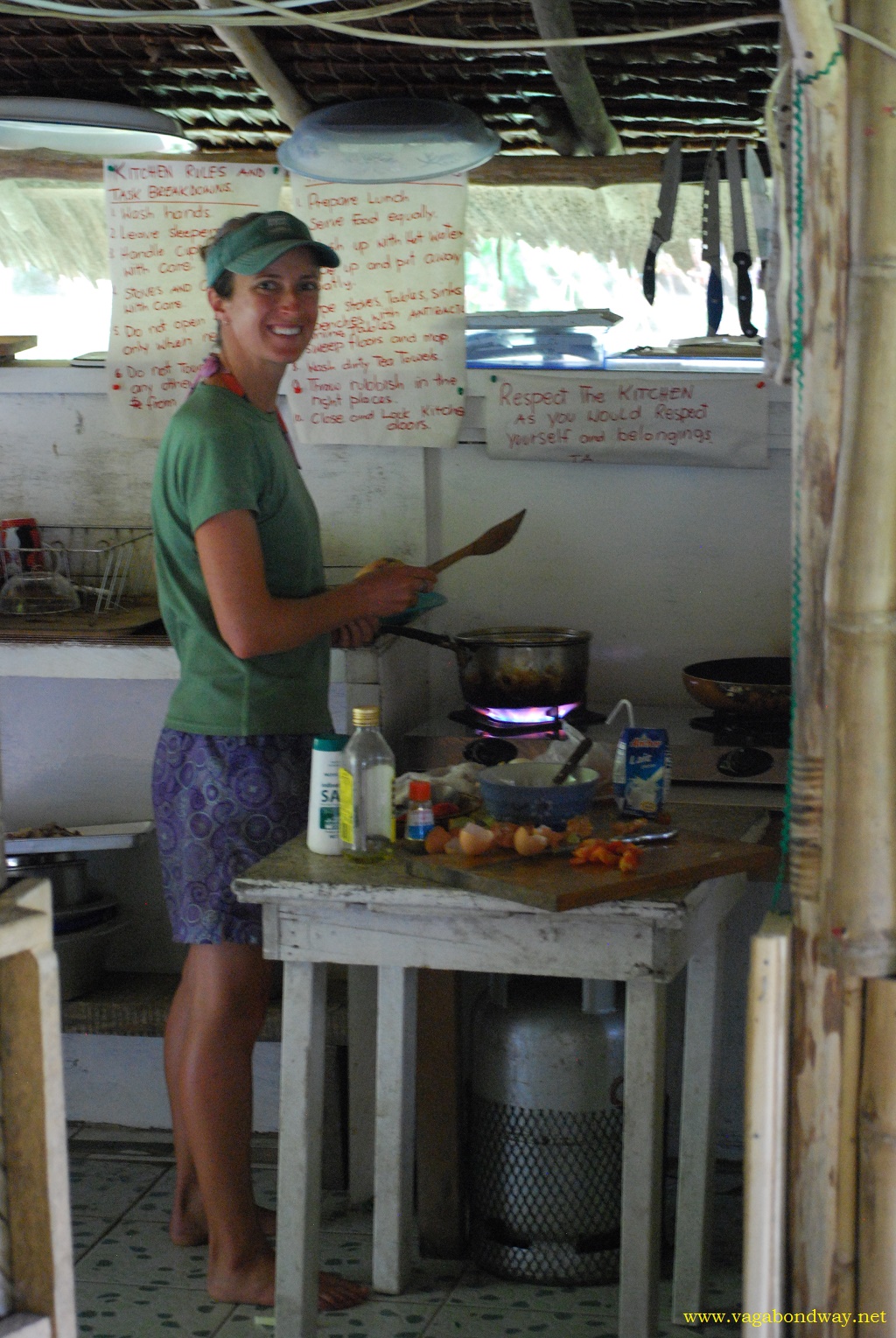 Day 13 – We shared a ride with some other Lonnoc guests and went to a Blue Hole. Crystal clear water rises to the surface through layers of limestone and coral producing the 'jewel' like quality of water. It is so clear (and cold!) but so worth the dip!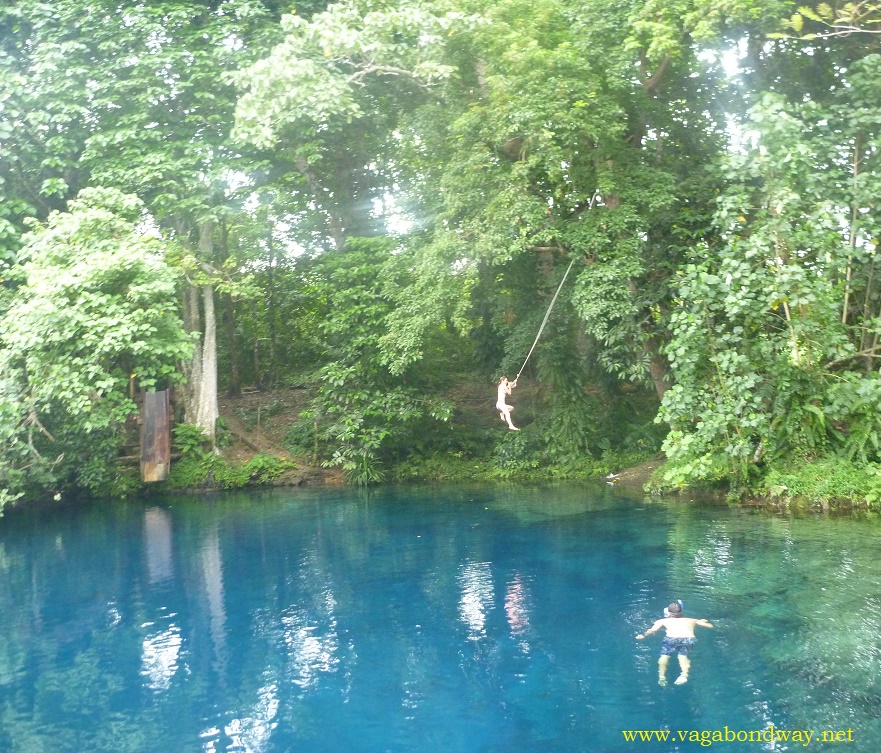 Day 14 – Went back to Unity and went crazy over the ability to buy fresh fruit and veg at our leisure. In my journal I wrote, "Went to the shops and markets four times!!!"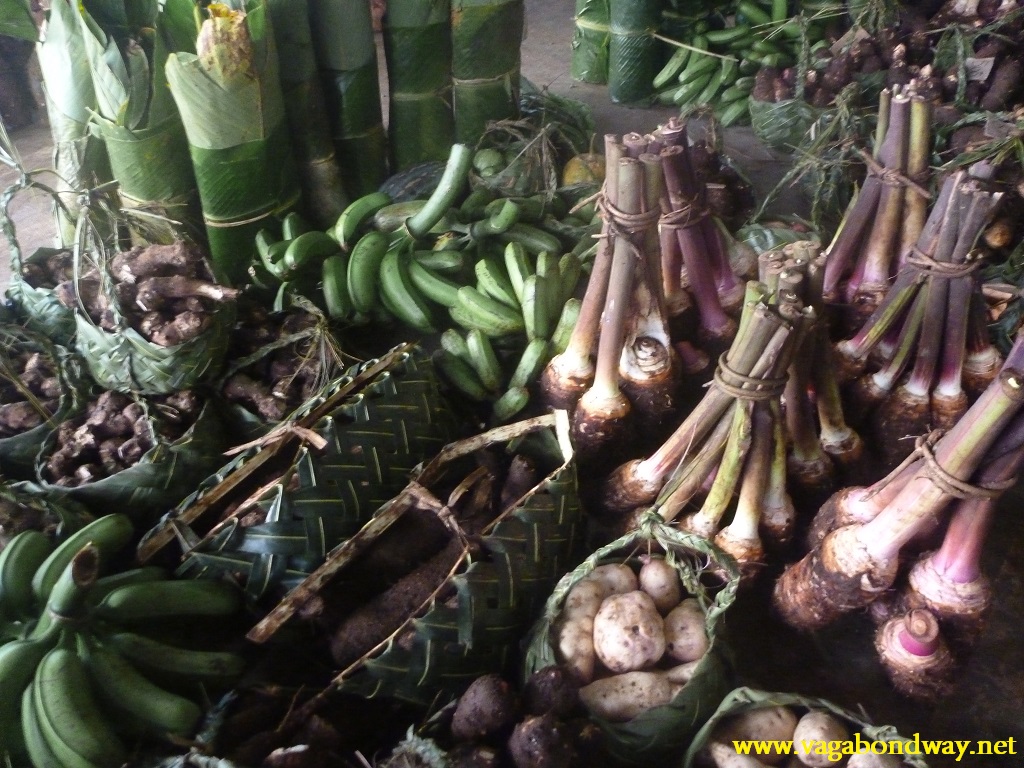 Day 15 – Dove one of the worlds most famous wreck dives with Allen Power Dive Tours, The Wreck of the Calvin Coolidge. During the second World War the ship was serving as a troop ship. As she was coming in to Santo and was not far from shore when a mine hit the engine room. Captian Henry Nelson knew he was going to loose the ship ran her aground and ordered the troops to abandon ship, but leave their belongings. He did not think the ship would sink. It did. When we went diving we got to hold a rifle under water that has probably been sitting there since around 1942.
Day 16 – With hiking, caving, village life experience, bouldering and swimming we signed up for a day trip to Millenium Cave. Definitely best on a sunny day, it was an action packed experience.
Day 17 – Hand washed all our clothes and then walked to Million Dollar Point but it was super windy and no good for snorkeling. Disappointing but it was good exercise and did get to interact with some school kids as we walked past.
Tanna – a southern island, home to Volcan Yasur, one of the world's most accessible volcanoes. 
Day 18 – Flew to Island of Tanna and found a taxi van to take us toward the small town. Got stuck and all the passengers had to get out and help push – Welcome to Tanna.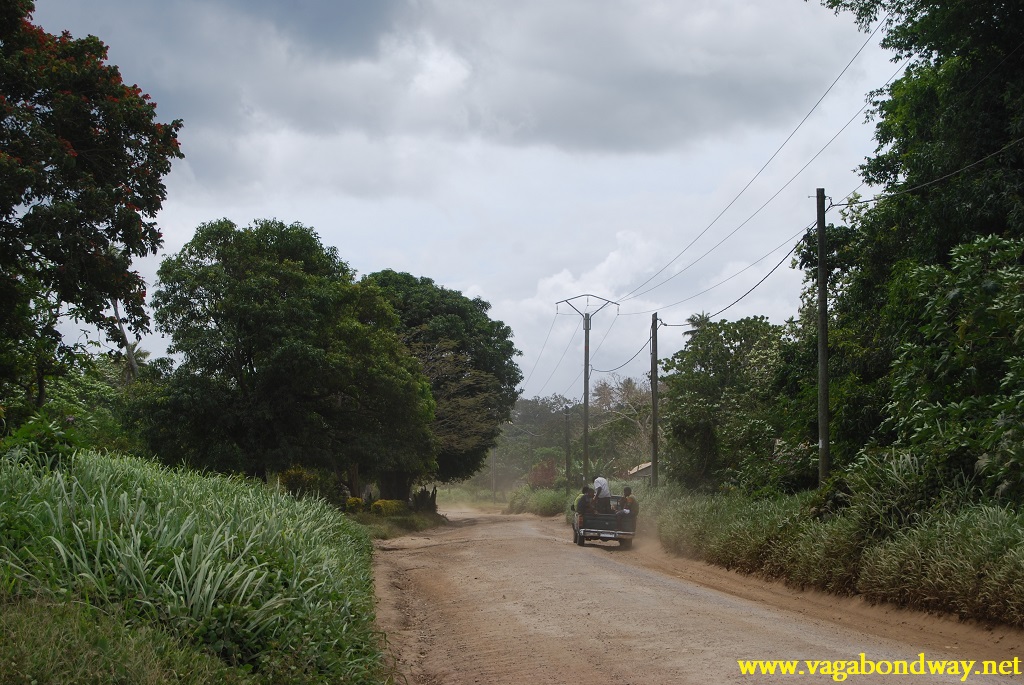 Day 19 – Went to giant Banyan Tree, which is being claimed as the largest banyan tree in the world. Sam, our guide told us all about village life as it took us a good two hours to walk in and around this tree. We got to swing out on vines and climb around this massive tree about the size of a soccer field.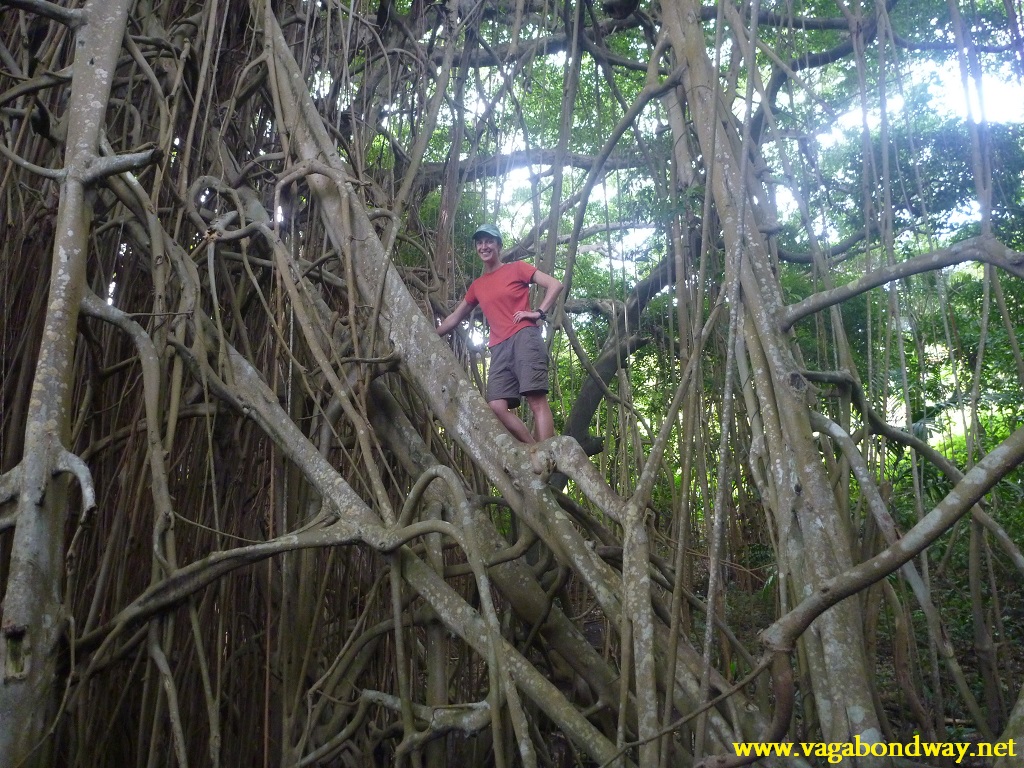 Day 20 – Traveled over the mountains to east side of island.
Day 21 – Walked this beach in the morning and had a sleep in the afternoon.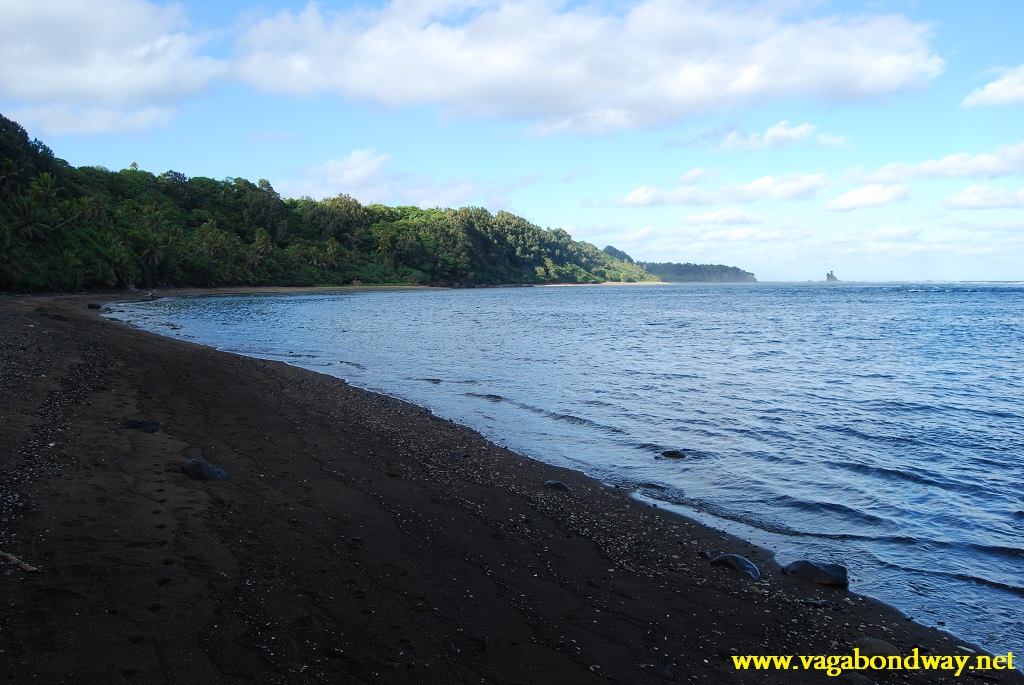 Day 22 – Walked to Port Resolution which also has accommodation and is a stopping place for yachts.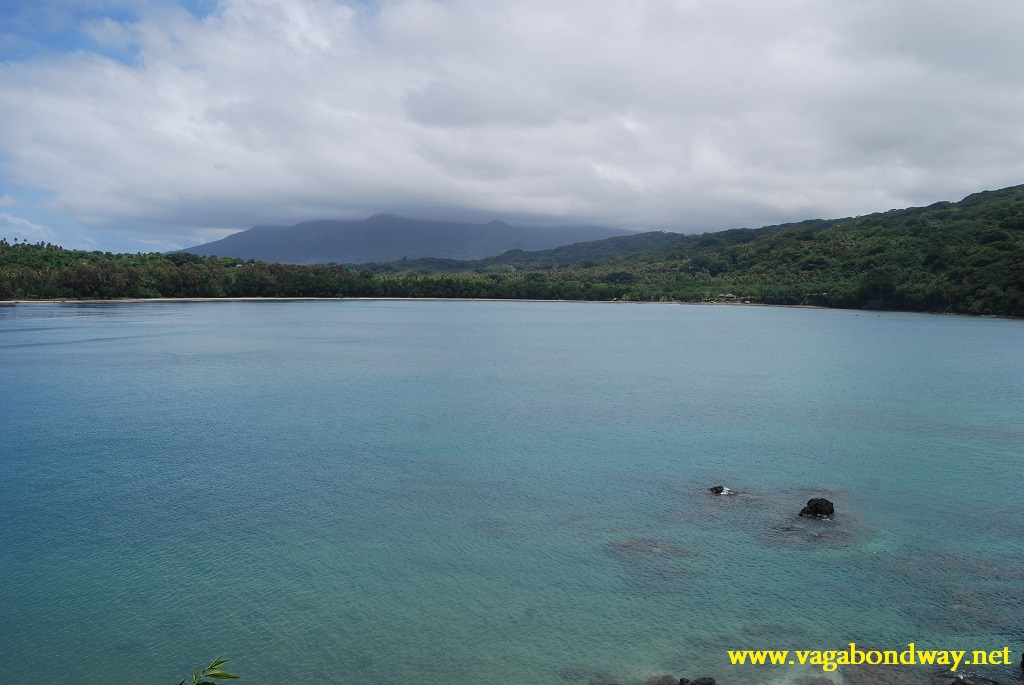 Day 23 – Moving up the road, we wanted to sleep closer to the Yasur Volcano. There is nothing quite like sitting outside our tent at night and looking up to sparks of red lava lighting up the sky. We feel asleep to the rumbling sounds of the volcano.
Day 24 – Our host was not much help in trying to get us to the Tolka Festival. Walked around talking to different hosts and found Jungle Oasis Bungalows to be great in helping us get from point A to point B. When traveling, if you are not satisfied with the assistance someone is providing you, look around until you find someone who you feel good doing business with.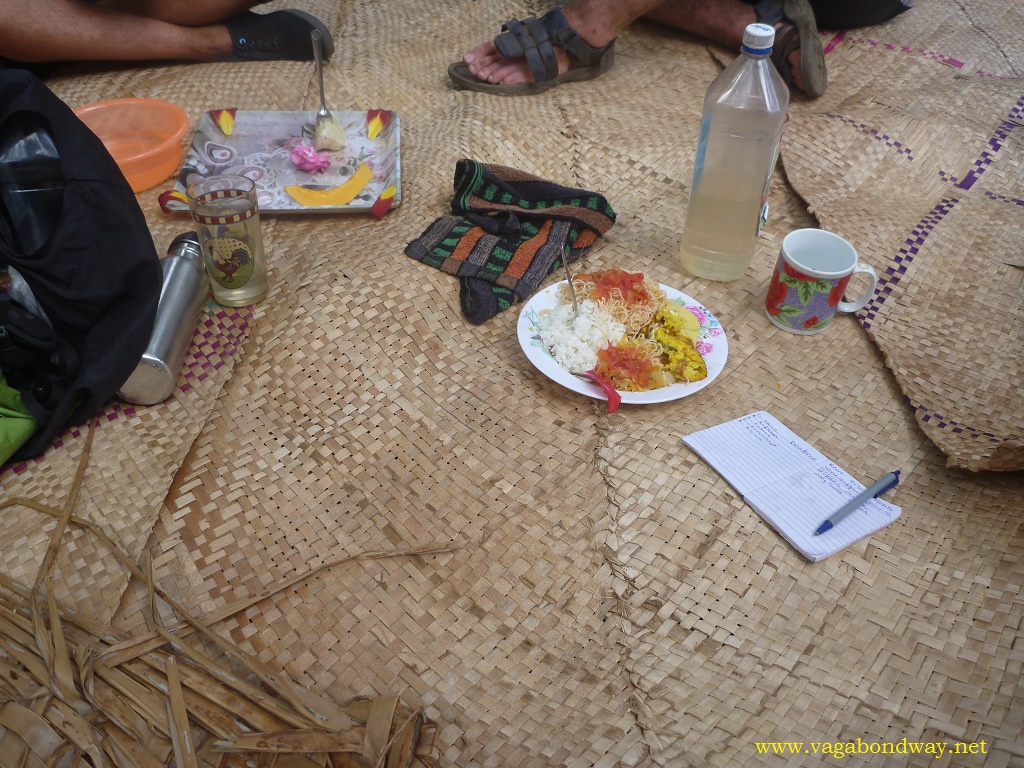 Day 25 –  We were up at 4 am waiting for transport really hoping it comes. An hour and a half later the truck finally comes. We were on our way to the Tolka Festival! Photo above is delicious food the ladies carefully prepared just for us as guests to the Tolka.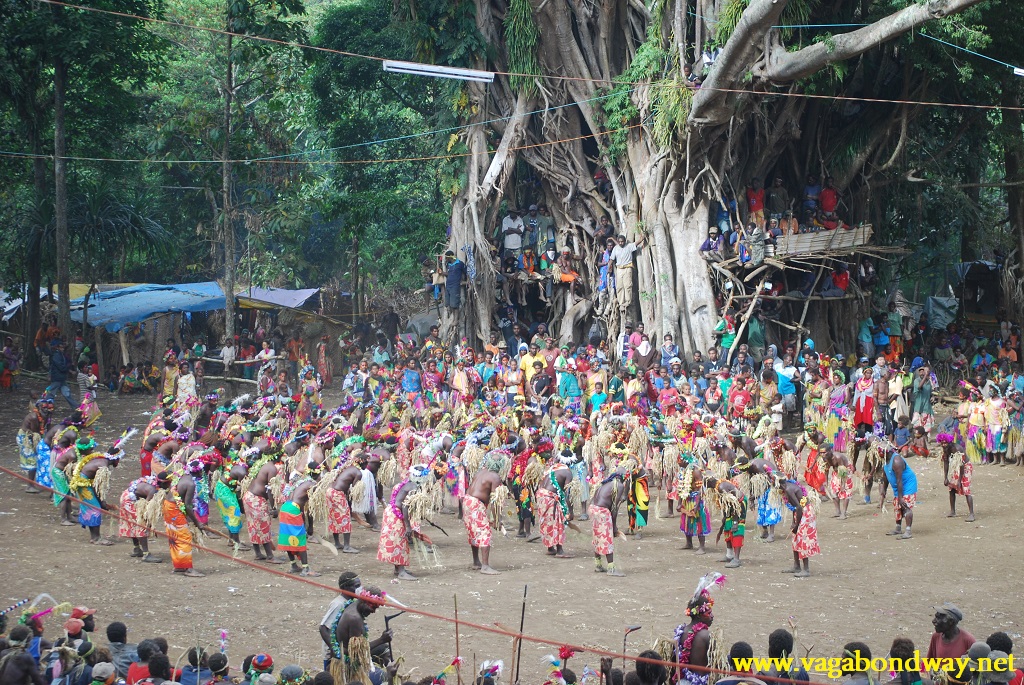 Day 26 – Stayed up most of yesterday/today – we've lost track and the days are blurring. The Tolka Festival happens around the clock. People are awake and dancing, sleep for a few hours and then get up again. One of the biggest dances is happening and our guide comes to wake us up. It's 4 am again. (I wrote this post that goes into more detail about the Tolka Festival.)
Day 27 – Up early again and bid fair well to the Tolka Festival. It's straight to the airport and back to Efate.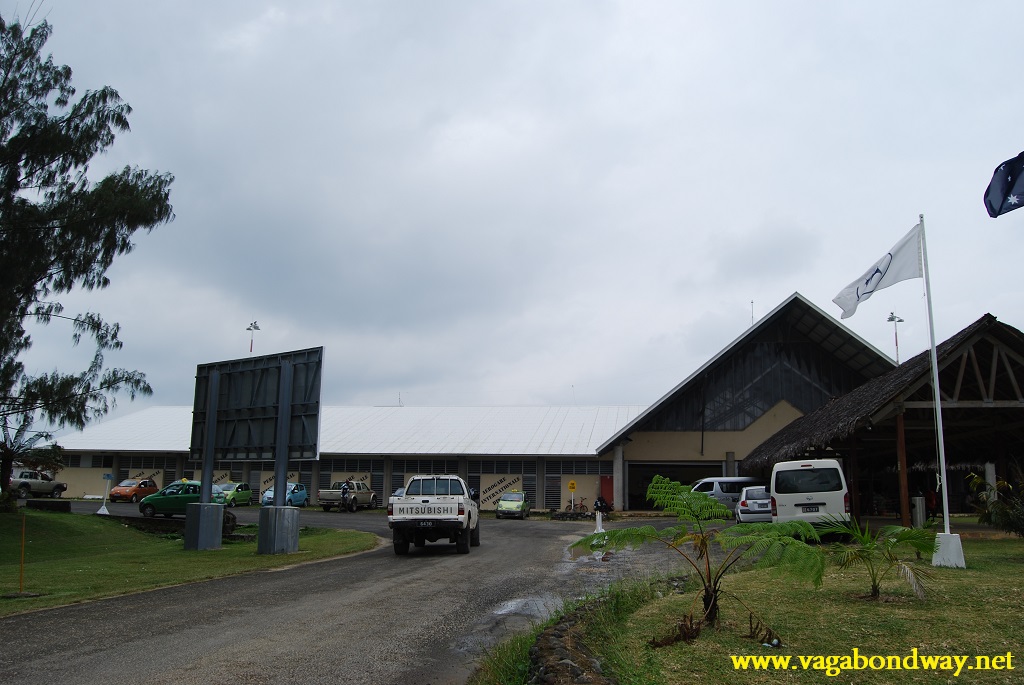 Day 28- Our last full day in Vnauatu we found Hideaway Island makes for a good day trip if you want to go swimming and snorkeling.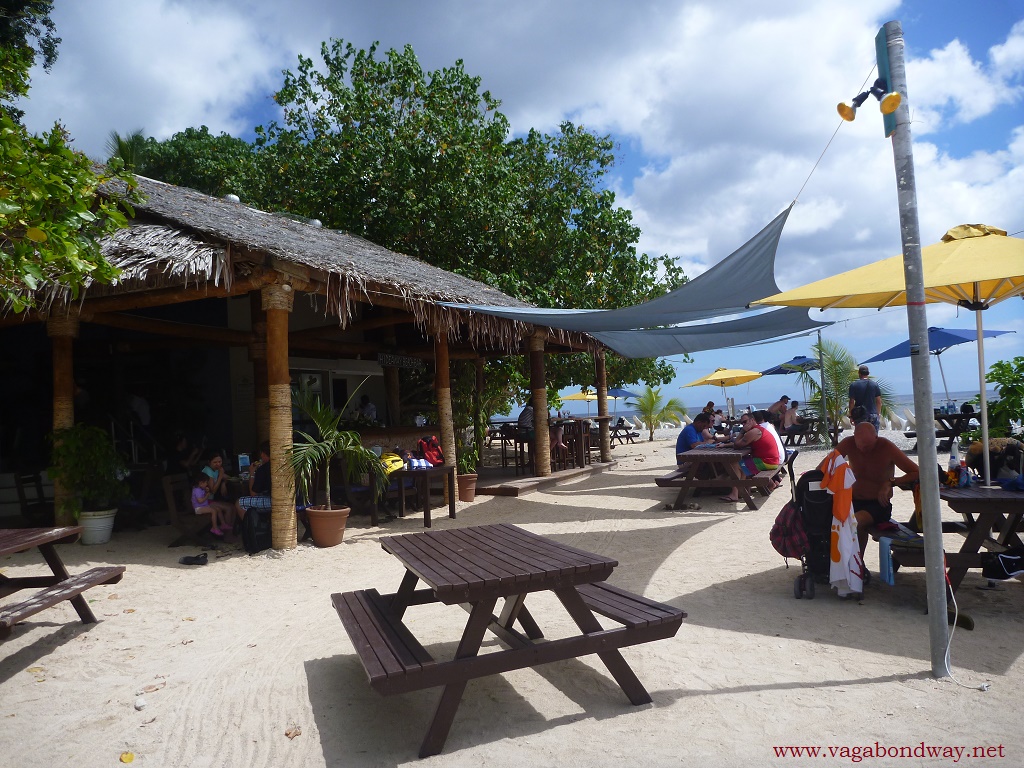 Day 29 – Said goodbye to Vanuatu and Flew to Fiji. (So far I wrote one story on Fiji: From Mold to to Sun in Fiji.)
There is no pin pointing down an exact date for the Tolka Festival. I have been sending emails out asking what information folks can pass on. I get responses like this, "Dear Tiffany, Thanks for your inquiry. At this time we believe the Tolka Festival will happen some time in October 2016." Or looking online from this site I have read others experiences, "For a traveler intending to witness this extraordinary festival this erratic schedule makes planning for a trip a complete nightmare. Even while I was already on the island the beginning was postponed by yet another day twice. Because of this I was unfortunately not able to stay for the entire duration of the festival, yet the one day that I did attend has edged itself into my memory like few other experiences I have had in recent years."
Ways to increase your chance of actually catching the Tolka Festival:
Ask (almost) everyone that you see what they know. Starting dates, times, etc are all subject to change.
Don't get frustrated or make judgments. If you hear one thing from person A and something different from person B, they each are probably sincerely telling you what they believe to be true. And maybe person B just had more up to date information. News can travel in a spotty manner on the islands.
Bring some books. You might be waiting. For hours. For days. Who knows. This is island time and that is just the way things go…so go with the flow.
Learn how to play dice. Dice are really small, light weight and easy to pack. Learn how to play a few games and then you can take up opportunities to interact with locals. (Remember all that potential waiting you might be doing?) If you can, bring dice sets to give away as gifts. It could be the highlight of someone's month and you might be surprised how good it makes you feel too.
Keep asking everyone you see, locals and other tourists, what they know, what they've heard. When is the Tolka actually starting? How can you get there? What do you need to bring? How much does it cost? When is it happening again?
Hopefully you will make it and to be prepared:
have extra memory cards for your camera. Bring way more memory cards than you possibly think you will be able to use up. You will want to take so many photos.
charge your batteries!!! When we were there, they had a generator and we could pay to have our batteries charged. Even though we had spares, we didn't want to take any chances so we paid to keep all our batteries charged.
nice to have snacks, but most likely you can buy them there too
have small change on hand to buy meals. When we were there, they had a designated spot for 'tourist food.' Our guide explained that all it means is the ladies that cooked all our meals were extra careful when preparing food, washing vegetables, etc. He said they know our stomachs are not used to everything their stomachs are and they don't want to see any of their guests get sick. So extra care was put into preparing all our food, which was delicious and we never got sick.
bring toilet paper and hand sanitizer. Ok, the bathroom was a hole in the ground three stick walls around it. I think it's fair to say it won't be your favorite bathroom. But – whatever – you are at the Tolka! Just deal and it will be ok for your time there.
try to avoid the last day -or- be emotionally prepared. Unless it's changed, on the last day, as part of their tradition and culture, a bunch of pigs are put in the middle of a circle of people and then clubbed to death. We left before this part happened but later met up again with some other travelers who had stayed for this part of the ceremony. They said they really did not enjoy being there at all to watch that part and would have rather not. So. I'll leave it at that. If you think you may not enjoy this, just talk to your guide and make sure you have transport arranged so you can leave the festival before this part of the ceremony takes place.
Links not mentioned above:
From Tanna Airport, the main town is Lenakel. We found a taxi to give us a ride and we stayed at White Beach Bungalows. I still remember how nice Veronica was. She made us simple meals that tasted so wonderful. This location is about 1 km from town. As such we had a very nice and quiet stay there. If you don't want to pay for a taxi or think you would not enjoy the walk, go into town a little further.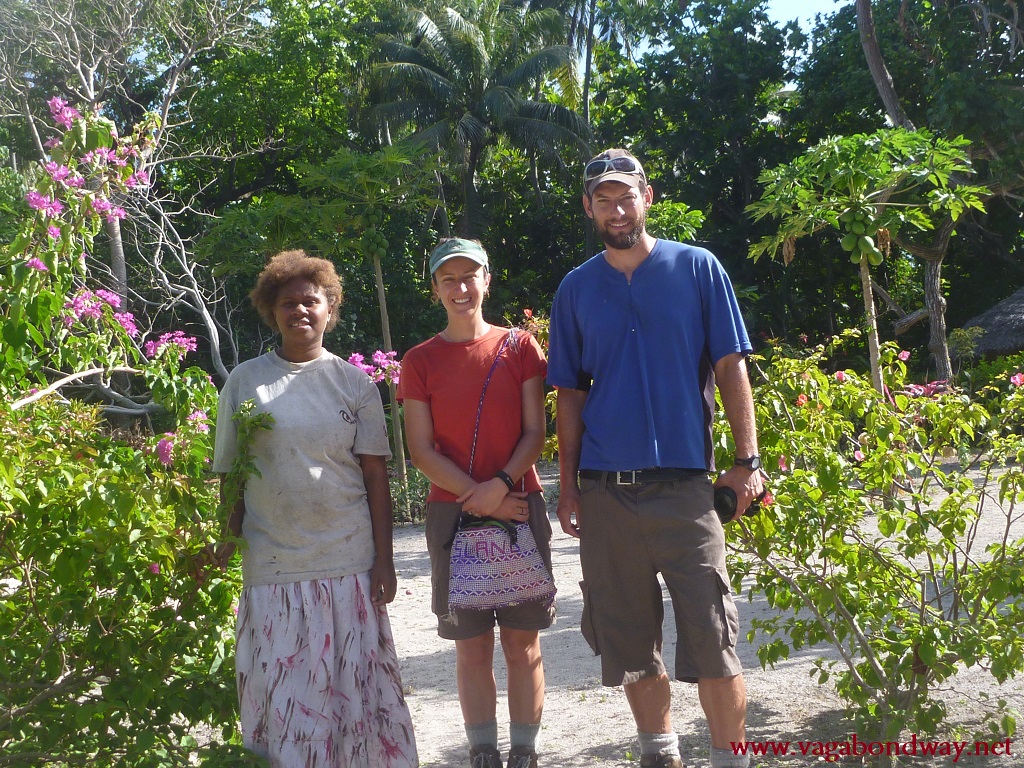 I *think* the other place in town that looked nice and we would have stayed at was Alofa Beach Bungalows. As we did not stay there, I can not speak to it, but I am almost positive this is the same place we checked out as another potential option.
Crossing over the island we first stayed down by Port Resolution at Sunrise Bungalows. The view was beautiful.
Jungle Oasis Bungalows was awesome in helping us get to the Tolka. We heard great things from the travelers who stayed with them as well. If I were going back and wanted to be by the volcano, this is where I would stay.
This was our experience for attending the Tolka:
our transport was set up through Jungle Oasis Bungalows (which by the way, please remember the Tolka's location may be different. We chose to stay by the volcano until we had figured out what to do because we thought it was cool to be able to say, 'We were just camping under a volcano.' Your travel style may be different than ours and you might enjoy staying closer to Lenakle.)
We had our taxi (truck) driver take us to the Tolka where we went way up into the forest. We went to some guys house (one room thatched hut) and were told to leave all stuff there – it'd be safe. Which is was. (Always carry your passport in your money belt on your body.)
We followed man through forests, over streams, up and down eroded paths until we started to hear a faint thunder. As we kept walking we realized this was hundred of pounding feet as we came upon hundreds of people dancing in the forest.
We eventually had to leave, walked a sorta long way to get our bags and go to the main area of the Tolka.
People showed us where we could set up our tent and we were basically given boundaries of where we could and couldn't go so we wouldn't get lost or separated from our group. Now, sitting at home reading this I might have thought it was a bit over bearing to for locals to say, "Don't lose the tourists." But it's happened before and once it gets dark and there are hundreds and hundreds of people, many all in costume and so many things looking the same (tree, people, fence, pig pen, food stall, tree, people, fence, etc) So, I would say we were extremely well guided. I just remember our guide checked in to make sure no one was hungry, thirsty, needed anything and most of all, let us ask any and all questions. He sat at length to explain so many aspects (too much to cover here) about their lives, culture, belief, relationships, religion, the festival. When traveling there are often so many "amazing instagram" moments. Yet often the ones I think of most are the simple, non-glamours shots. Us sitting cross legged on a thatched rug with grubby feet in the forest listening to a man tell us how wearing western people's clothes has impacted their lives. These are the moments I think back and reflect on. These are the moments that cause me to pause in my day and wonder how that man and his family are doing. These are the moments that have me think about my place in the world. These are the moments I travel for.
Anyway…moving along…
There was basically grand stand seating, all constructed out of tree limbs and such and we could climb up them and look the performance area.
And then we just watched. There was so much dancing. Male dancing. Female dancing. Mixed. Sometimes we understood what was going on, sometimes we didn't.
One thing, if you have a bandanna, bring it. You may want to cover up your mouth and nose if you are there for a while. It was so dusty. All those people's feet stomping around in the dirt kicked up an incredible amount of dust.
And lastly, be thankful and gracious you are privileged enough to be there. Vanuatu is one of the most welcoming and inclusive countries we have ever traveled to. Our experience only led us to the kindest, most honest and sincere people we have ever met.
And that's my best tips and advice. There is no guarantee start date of the Tolka Festival. Do what you can to increase your chances of seeing  it in person, but if that is the sole reason you go to Vanuatu you will be disappointed. That would be a terrible shame because no matter what, they country is so unique and has so many other aspects to soak in. So I would stay as long as you can, with as flexible of an itinerary as you can.
In travel and in life, there is no magic formula to have it all go perfectly smooth the way we want. Sometimes a bit of research, a leap of faith and a lot of luck is what will land us the big rewards of life. Best of luck and no matter what, with the right attitude, you won't be disappointed. Happy Travels.
***
If you go:
Tell us! Seriously. If anyone out there is able to attend, please tell us how it went. I hope you can tell how much we loved Vanuatu and we still have so much we'd love to see ourselves. We would love to hear your experiences.
These are the other posts I have wrote about on Vanuatu so far: Toka Festival, Sam and the Banyan Tree in Vanuatu, Vanuatu is Where and Volcan Yasur.
If you have more info on the Tolka Festival, please let me know at: vagabondwaytravel@gmail.com. I will give you credit (of course!) and add it in as an update to this post for everyone's benefit. 🙂