Hanging out in a pool on the Gili Islands, we met this awesome couple from Australia who are also traveling around Southeast Asia for a year. Please enjoy this guest post by Rebekah Dawson.
The island of Langkawi in Malaysia, is not the place you'd usually associate with hiking, let alone free hikes up mountains with world class views. This is because the two tallest mountains on the main island of Langkawi, Gunung Raya and Gunung Matcincang (also called Mat Cincang), can be summited for free.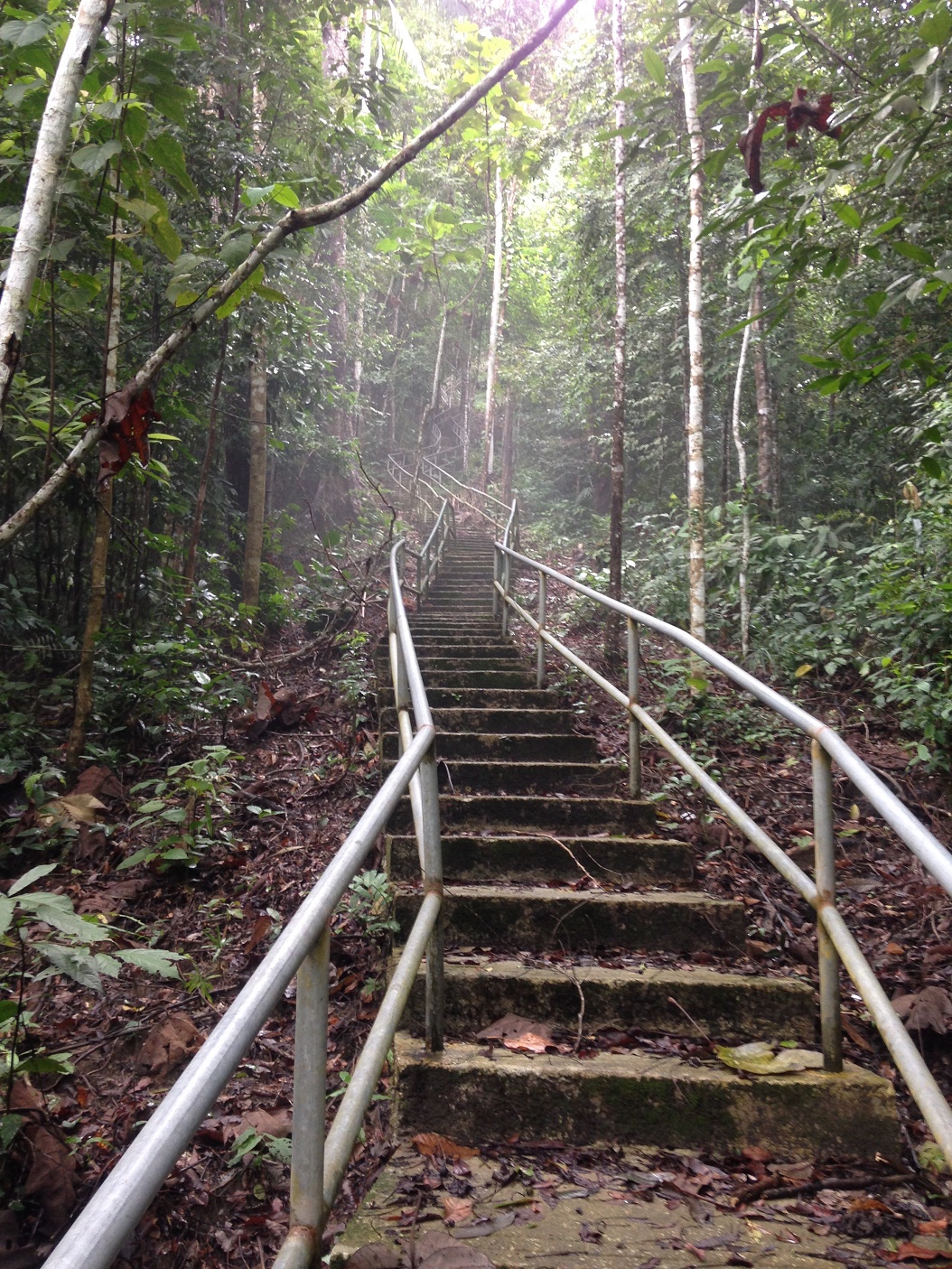 Although Gunung Raya is the tallest mountain (Gunung = mountain in Bahasa Malaysia) on Langkawi, Gunung Matcincang offers better views of the geopark, and is a much better climb to the top.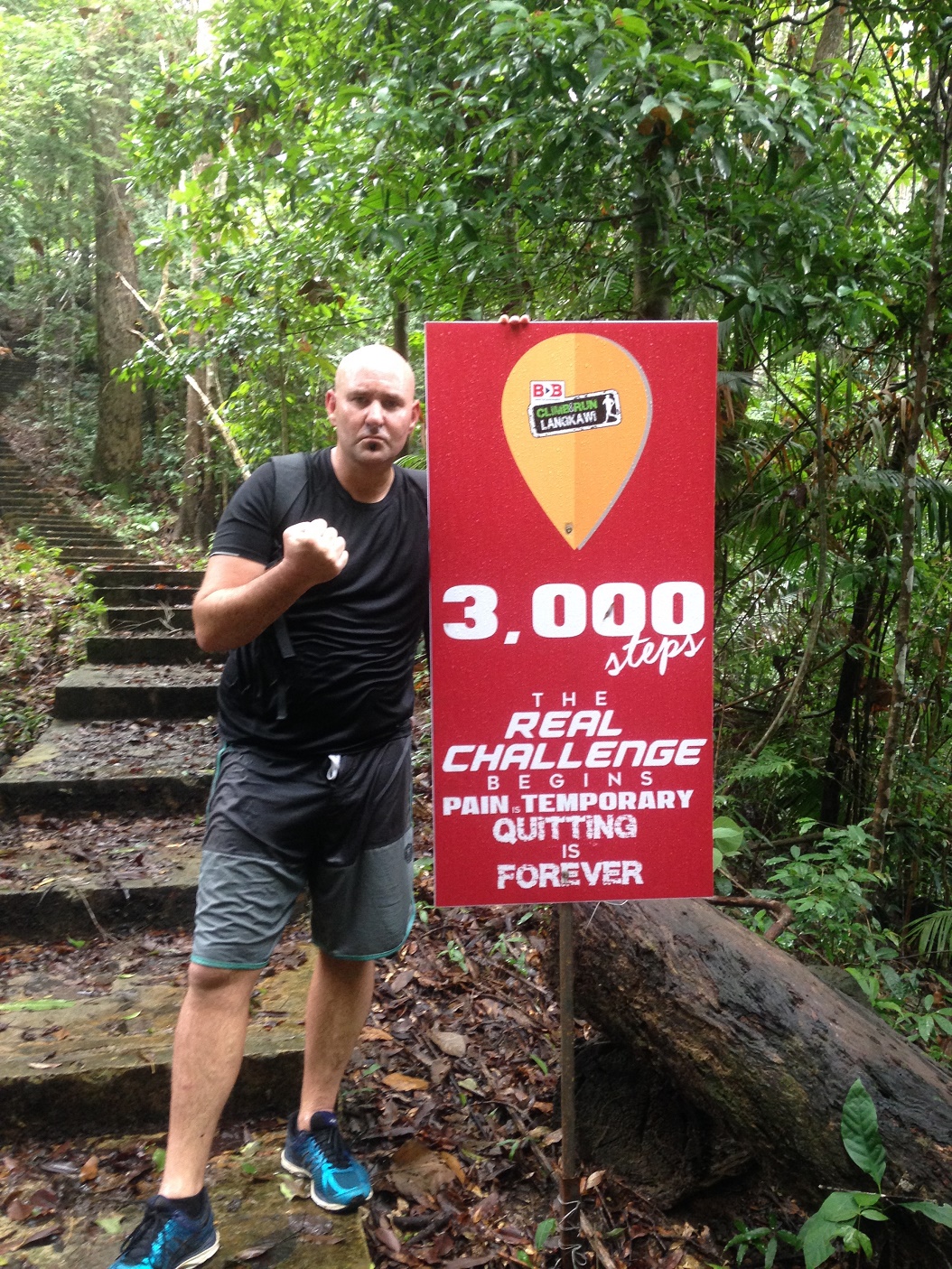 These two hikes, while both amazing, couldn't be more different. Gunung Matcincang is a hard, all-over-body workout, that requires the use of both the upper and lower body to climb to the top. The difficult ascent toward the summit point of Gunung Matcincang takes you across a series of ridges that'll reward you unspeakable views and some soreness for days to come. In contrast, the trek to the top of Gunung Raya is comprised of 4,287 concrete steps through primary rainforest. Although more sterile than its rugged counterpart, Gunung Raya is still a great workout, and the views are amazing. Unlike Gunung Matcincang, the summit of Gunung Raya is accessible by car, giving Gunung Matcincang another gold star. The best thing about both trails is that you'll most likely get both of these trails to yourself, as most people aren't on Langkawi to climb mountains.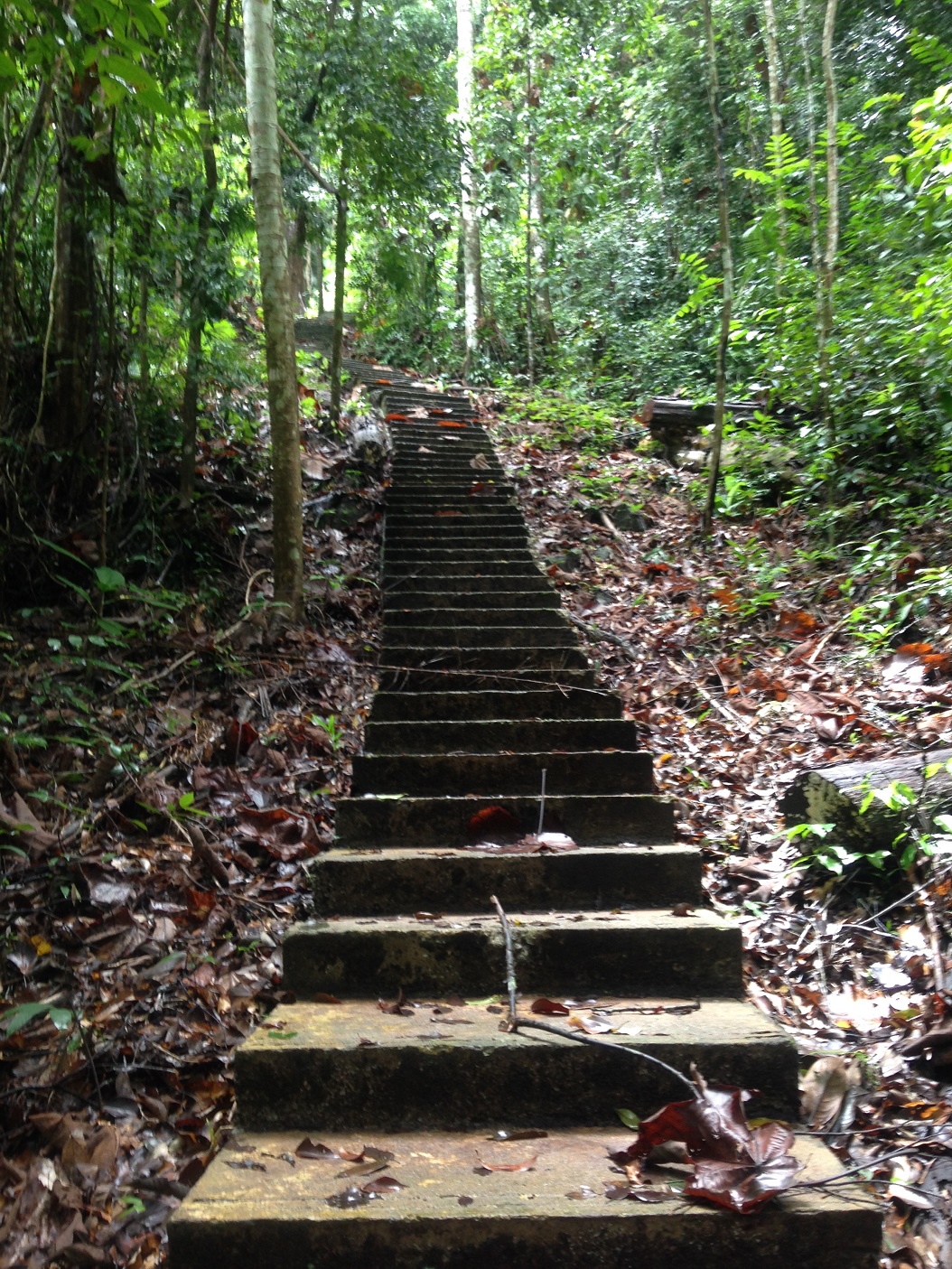 These mountains hikes, their views from the summit, and their anonymity thus far, make Langkawi a hiker's destination. If you intend to do both, do Raya first and Matcincang second, so as to not be disappointed. The steps of Raya are a great workout/training exercise to take on before Gunung Matcincang. Another thing to consider, if choosing between both, is that Gunung Matcincang SHOULD NOT be attempted after a decent deluge given the questionable foot holds for making the final ascent.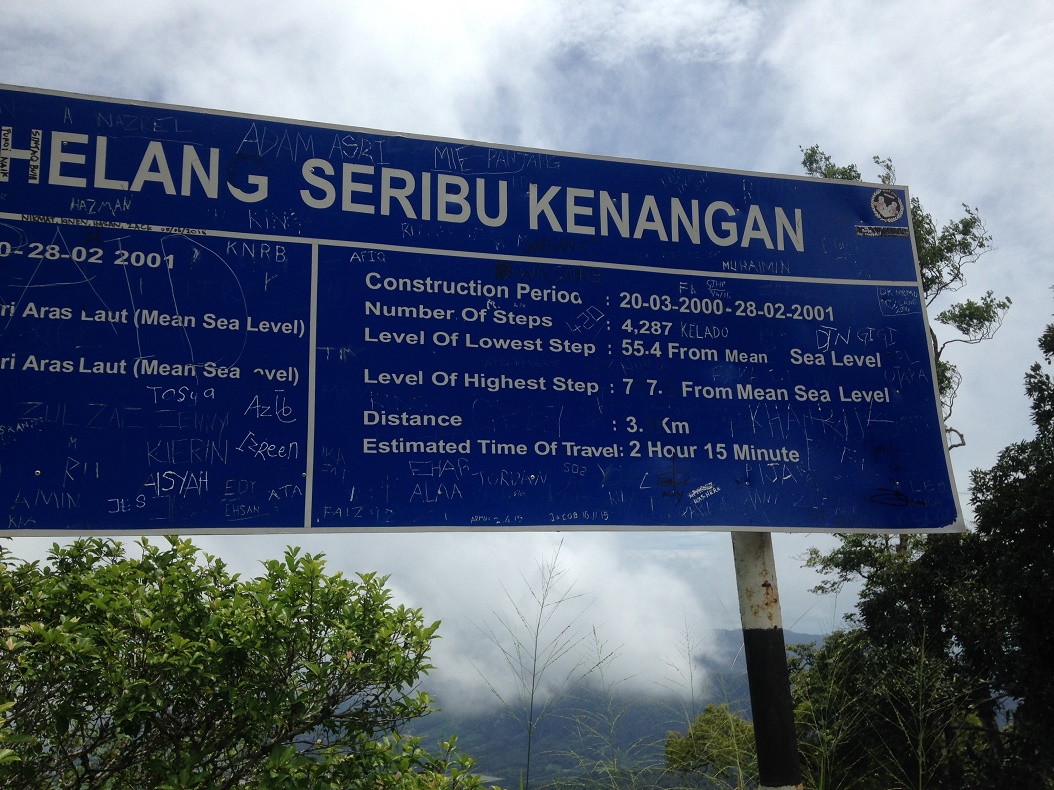 Both Langkawi hikes are best followed up by finding the night markets (one every night at a different location around the island) – and filling up on cheap local treats!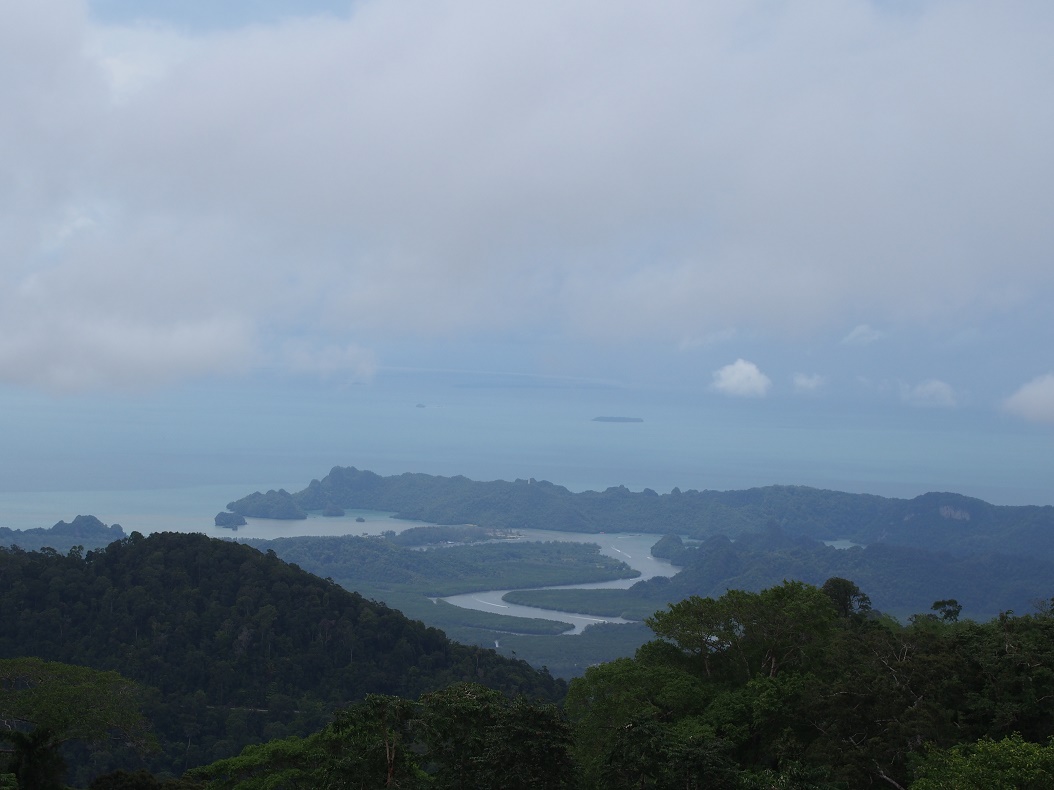 GUNUNG RAYA
(photos above are from Gunung Raya)
Synopsis
The trail to the top of Gunung Raya begins in a park/picnic area in the middle of the island, and is no less than 4,287 concrete steps from one end to the other. The trail is steep, but not ridiculously so, and the concrete steps are wide and well constructed. The staircase is also bordered by railing in many places, which makes it a safer option  if it's a little rainy. The path is completely enclosed by primary rainforest, making it very cool and bearable while taking on this thigh master of a trek. We didn't see any large mammals or reptiles on the stair portion of this walk, but we encountered some beautiful insects. Once you get to the top of the stairs, take a left turn and follow the road until you see the way to the highest view point. You can take an elevator to an even higher viewpoint in a tower for about RM20 per person. Admission includes cups of tea and coffee.
What you need to know
Distance: 3.1km (bottom of staircase to view point)
Duration: 2-2.5 hours up, depending on fitness, 1 hour down
Elevation: 881m
Cost: FREE
Difficulty: 4.5/5
How to get there: Follow GPS to Lubok Semilung Recreational Park, or catch a taxi there. Walk down the path till you get to a blue sign saying 'Tangga Helang Seribu Kenangana'. This is where the staircase begins.
Ease of getting to trail: Moderate with GPS/interactive maps, difficult without, unless catching a taxi.
Ease of following trail:  Easy
Wildlife spotted: Macaques, dusky leaf monkeys (both primates were seen beside the road at the top), many species of ants (make sure you watch your feet, as they are all over the path), leeches (although none on ourselves)
Overall experience rating: 4/5
Useful links: https://www.langkawi-insight.com/langkawi_00006e.html
GUNUNG MATCINCANG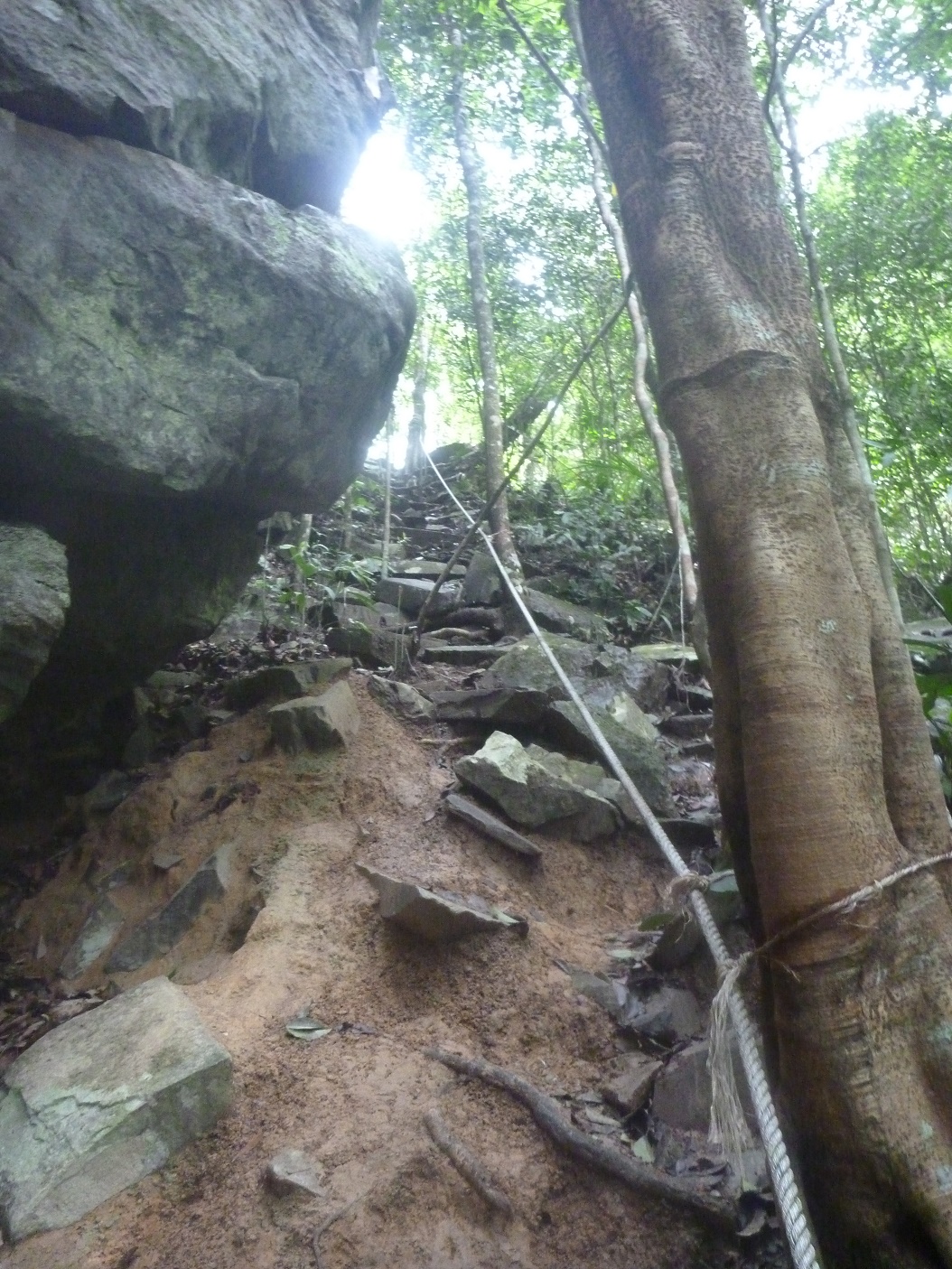 Synopsis
This trek is by far one of Langkawi's best kept secrets and possibly one of the best kept secrets of Peninsular Malaysia! You'll be wondering how this was actually free! We would definitely fly back to Langkawi just to do this trek again.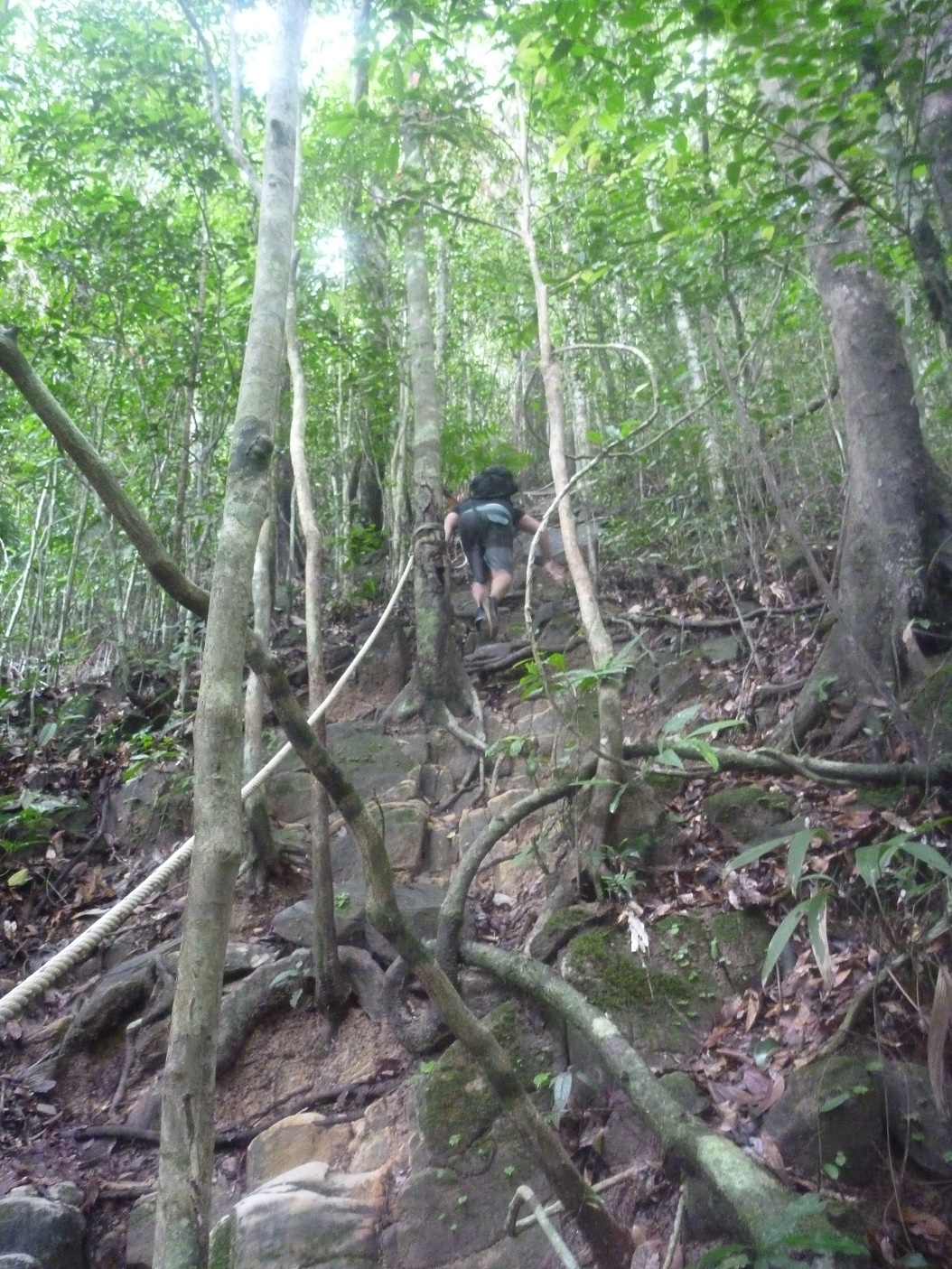 The trail starts at the top of Seven Wells, and for the first kilometre you are on flat or undulating terrain on a well worn path. The trail is marked by some plastic tape on the trees, and some arrows. Eventually, you'll start to make the climb up, and will notice a sign that says U-turn on it, don't make the turn, but follow the track to the left. Then you will get to a series of ropes. Once the ropes start, continue to follow the ropes for a good while up rocky outcrops, over streams, until you get to the top – a green sign with the words 'Gunung Mat Cincang (701M)'. You may think that you are approaching the top multiple times before you actually do, this is because you are climbing up multiple ridges, rather than just summiting one single peak. This hike is not for the faint hearted. And, you will have to use your upper body to climb up several sections of the track. If you are an acrophobe, it may not be the best idea, unless you are in the business of facing your fears! How high will you be, do you ask? You will be higher than the steepest cable car in South East Asia!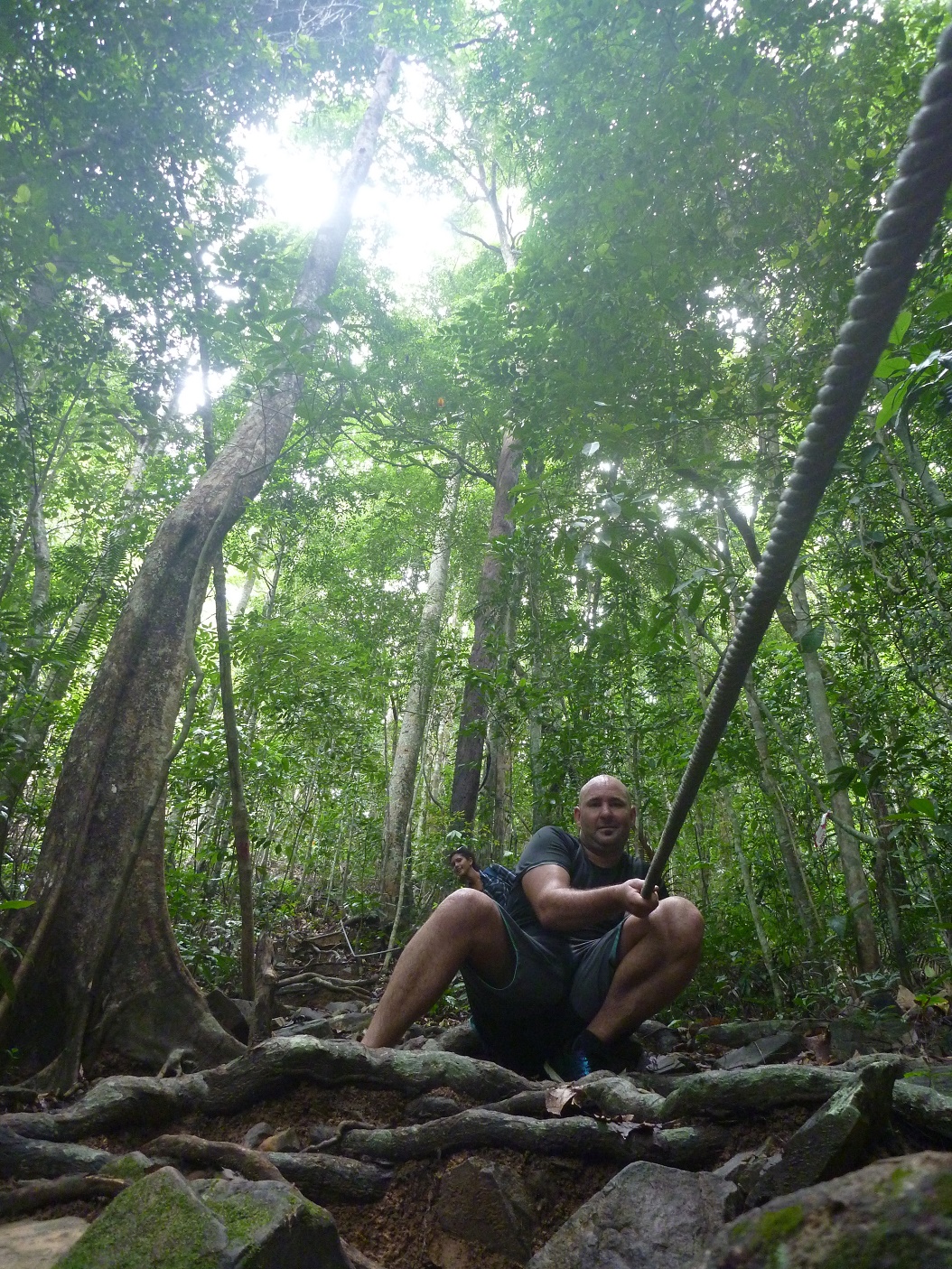 In spite of this, it is a fun and challenging hike that leads you to the best views of the 99 islands that make up 'Langkawi'.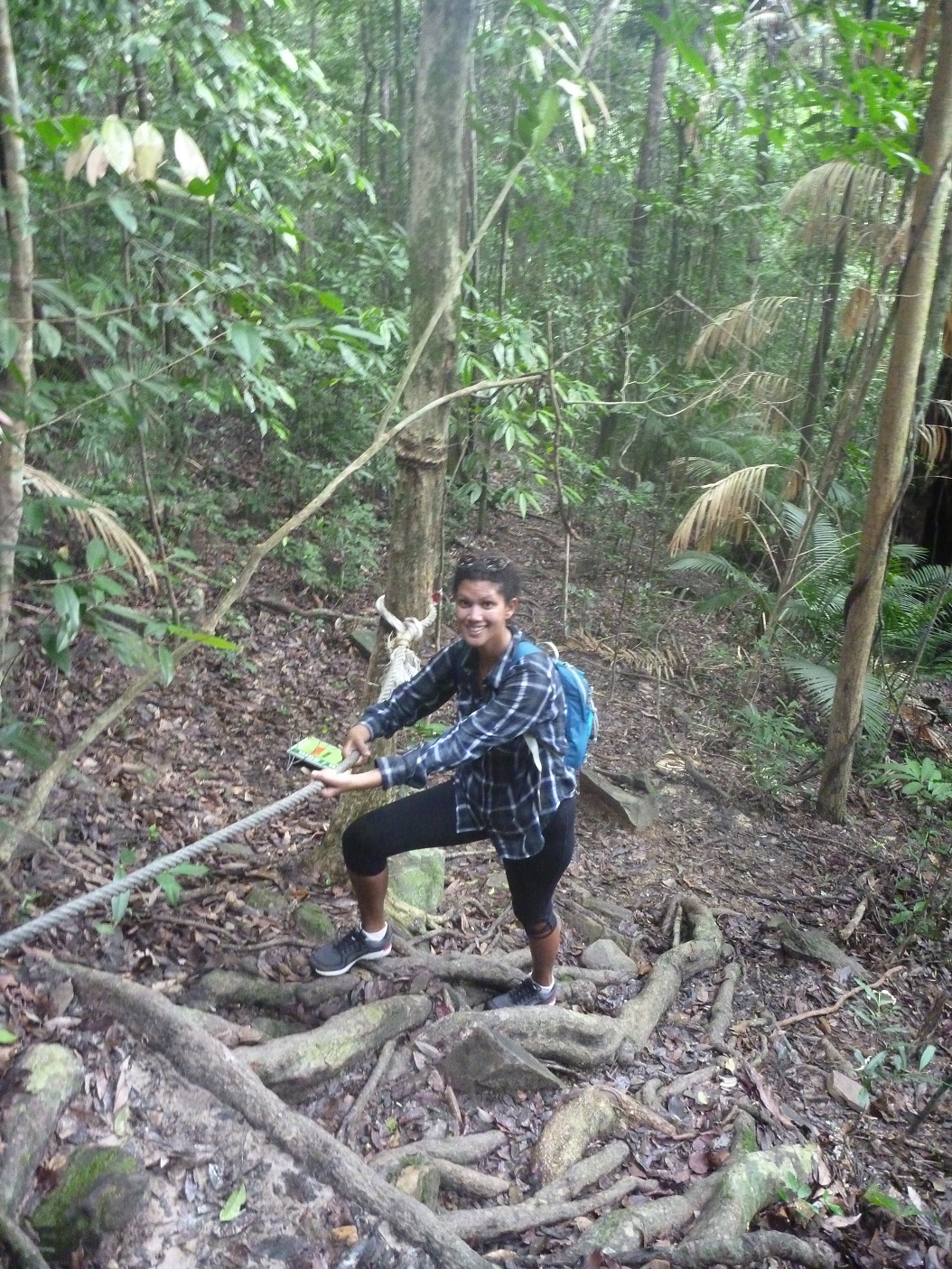 Make sure you bring your bathers for a dip at Seven Wells after your climb to the top of Gunung Matcincang!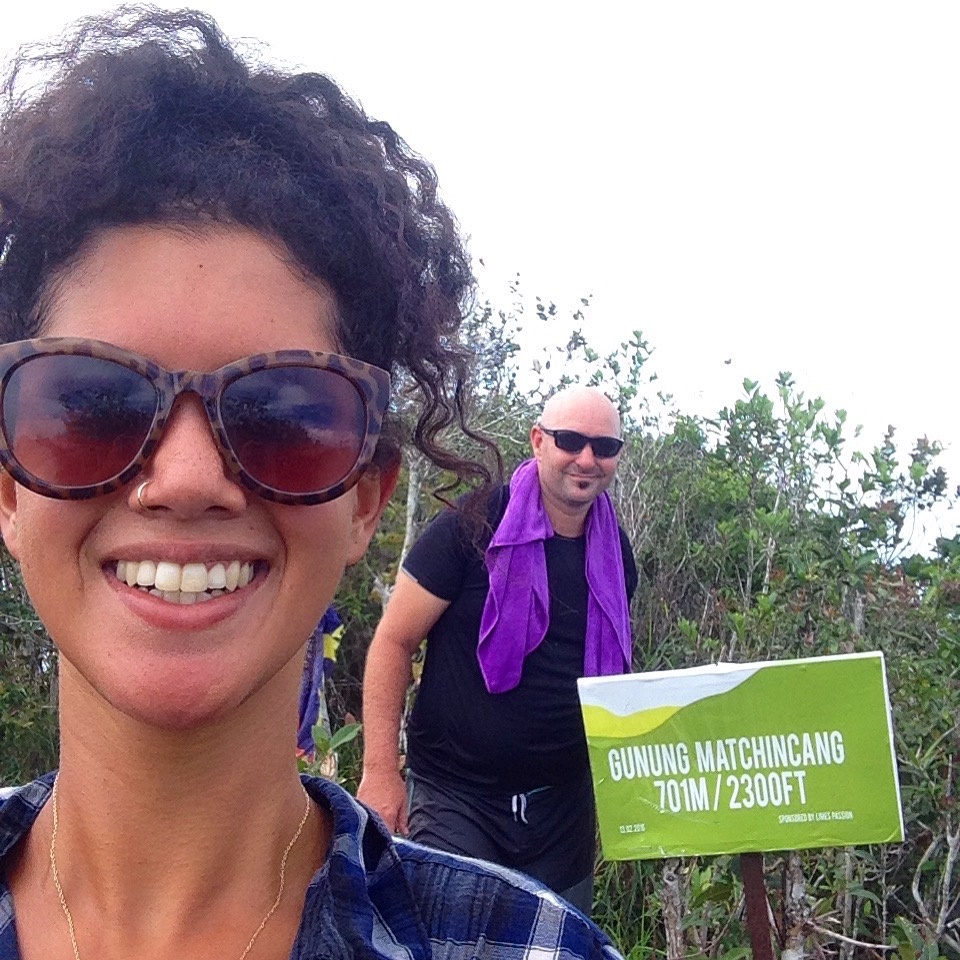 What you need to know
Distance: 3km each way, plus climb to Seven Wells
Duration: 2-3 hours to top, 2 hours to bottom
Elevation: 850m
Cost: FREE
Difficulty: 4.5/5
How to get there: Trail starts at Seven Wells (when you are at Seven Wells, cross the body of water at the top end to get to the picnic bench to start the trail). To get to Seven Wells by scooter follow the signs from Pantai Cenang, or use a GPS app. If without a scooter get a taxi to Seven Wells (a popular tourist spot on Langkawi).
Ease of getting to trail: Easy
Ease of following trail:  Easy
Wildlife spotted: Macaques, dusky leaf monkeys
Overall experience rating: 5/5
Useful links: https://www.langkawi-insight.com/langkawi_000071.html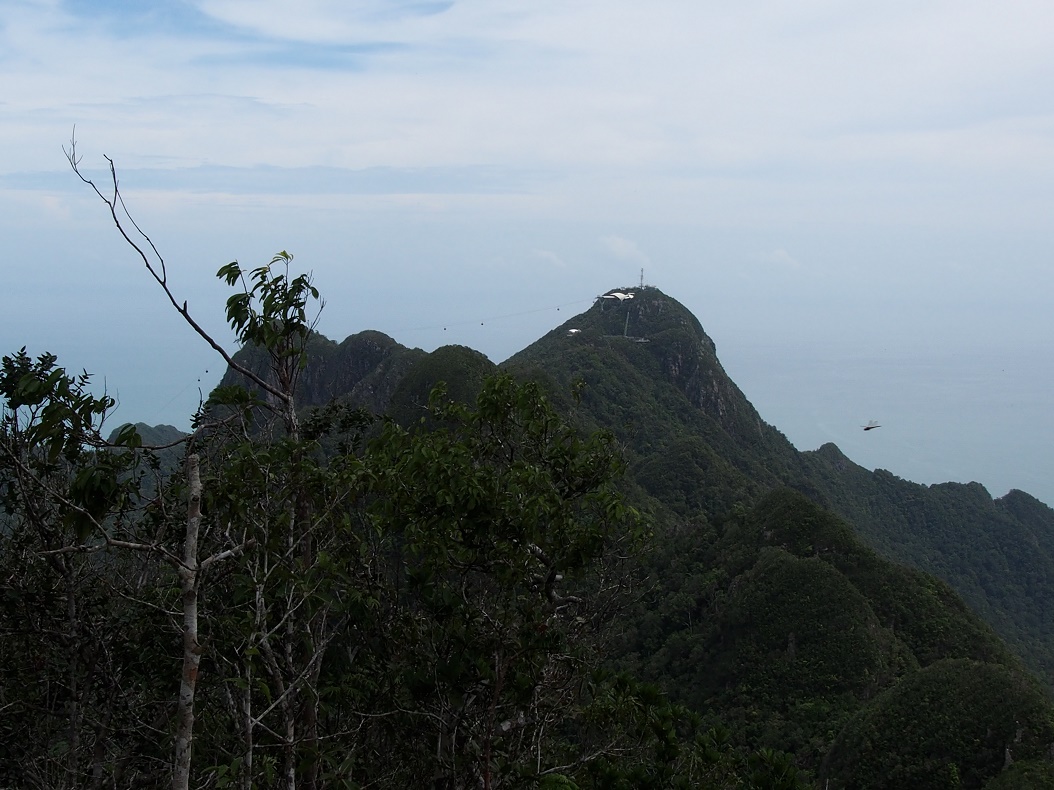 For us, we thought these free Langkawi hikes were awesome. They got our heart pumping, showed us some cool sites and animals and gave our wallets a break. Days like this help make long term travel possible. I hope you get a chance to go to Langkawi and enjoy these hikes for yourself.
***
What's been one of your favorite free hikes?
***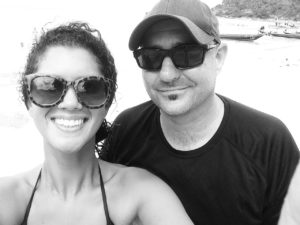 About author: Rebekah Dawson
A lover of all things travel, Bek, and her partner Dave, left Perth, Western Australia with nothing but a camper trailer and a 4WD, about a year ago. Since leaving home they have spent nine months exploring the top end of Australia, before commencing the overseas leg of their open-ended adventure. The last few months have seen them visit the Gili Islands, Peninsular Malaysia, and southern Thailand, with twelve more months of Asia on the horizon before they intend on returning to Australia. Bek and Dave met the creators of Vagabond Way during her first week abroad, and haven't stopped discussing all things travel with them since.
** Plan on traveling soon or making a purchase from Amazon? Please consider using the links on our resource page. At no cost difference to you we will earn a small commission to help keep this site running. Thank you so much for this thoughtful gesture.