Great news to share everyone! I won third place in the Independence Travel Writing Contest! Yahoo!
You can leave a comment and read the other winning entries here.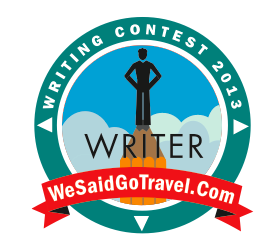 Below is a quick snippet from the We Said Go Travel site:
Over fourteen hundred writers from over seventy-five countries have written about their experiences and transformations all over our planet in the last five contests.
 AND THE WINNERS ARE:

First Place Winner:  

Second Place Winner:
Third Place Winner:
*     *     *
Thank you everyone for all your positive support, kind words and encouragement along this writing path. This was such good news to get on a Monday!
Regular post will be out tomorrow. In the mean time if you want, click here to check out the winning entries. Thank you all again!