What if I told you one of our all time favorite restaurants had a table top with grass, ripped Winnie the Pooh sheets as shade covering, a jumbled mess of 20 some odd old crutches, a headless baby nailed to the wall and a moving chandelier?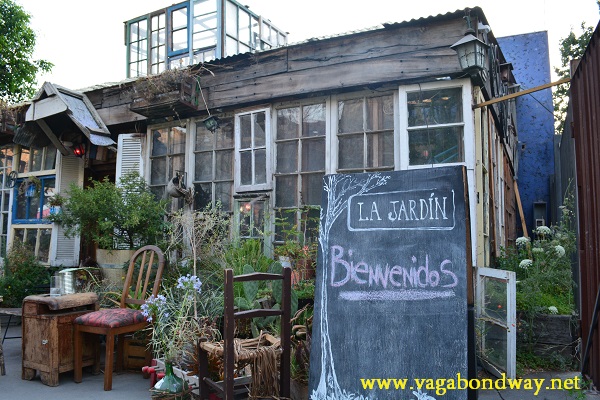 Welcome to La Jardin – The Garden.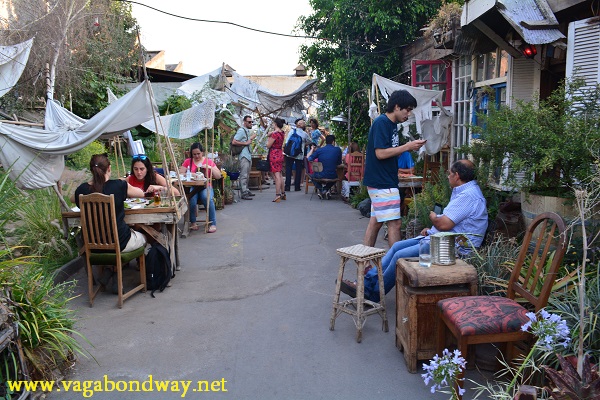 There were lines into the street waiting to eat at The Garden.
Instead of making their guest wait in the street, they created a huge waiting and bar area in the middle of the restaurant.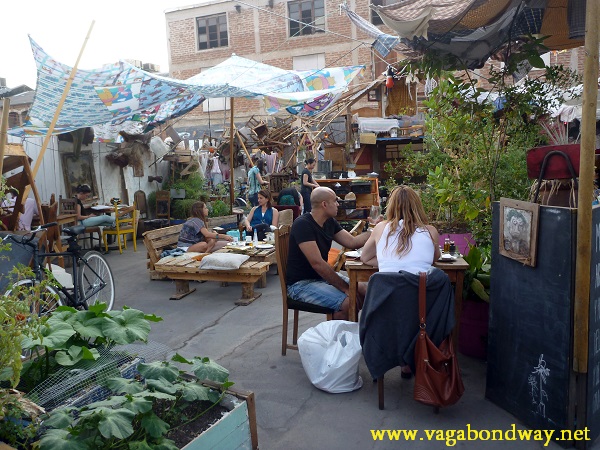 We ate there twice and each time the place was packed.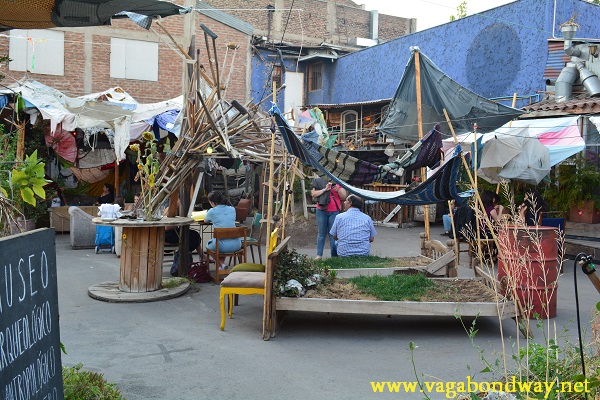 The grass beds were a big hit.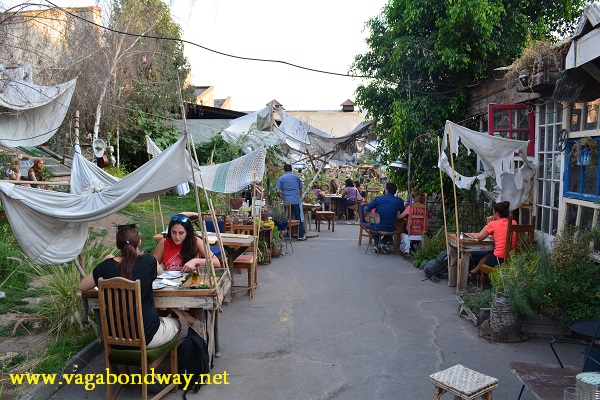 I'm sitting on the right in the orange shirt.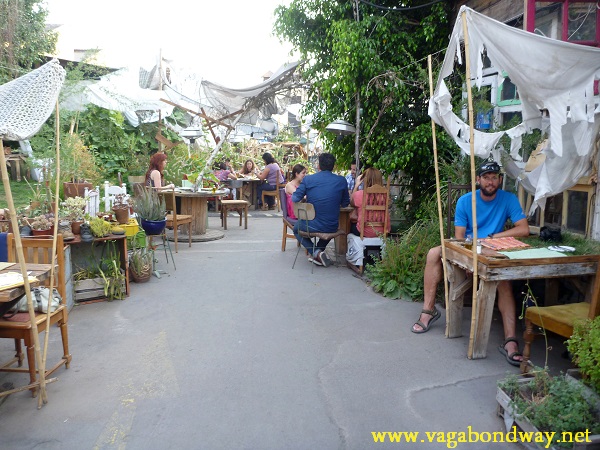 This was one of the main walkways.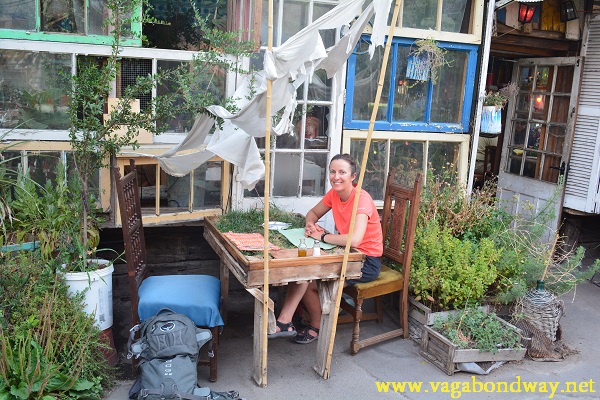 See the grass growing on our table?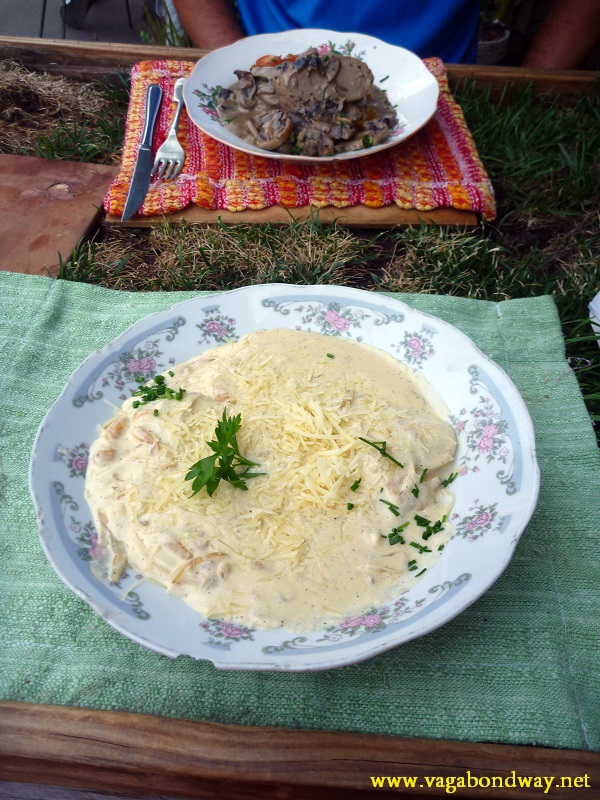 I had one of the best pasta dishes I have ever eaten. I wrote it all down in Spanish and the rough translation is: really good pasta and really good steak for Chris.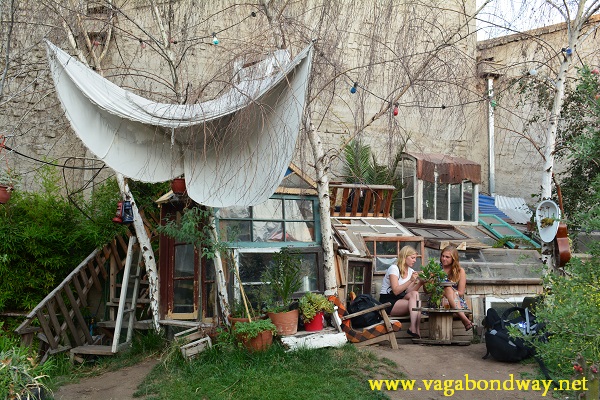 Backpackers waiting for their next flight or bus out of town.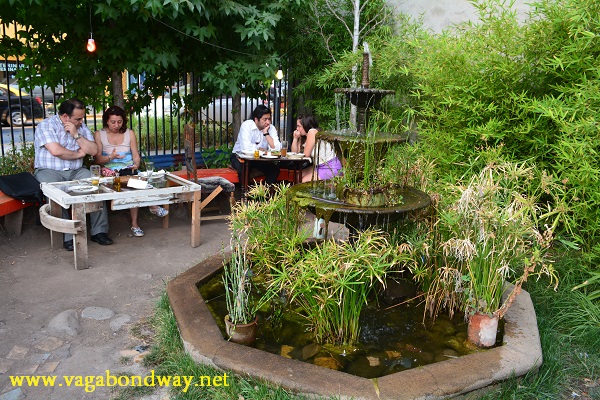 Locals too. It didn't matter – everyone wanted to eat at La Jardin.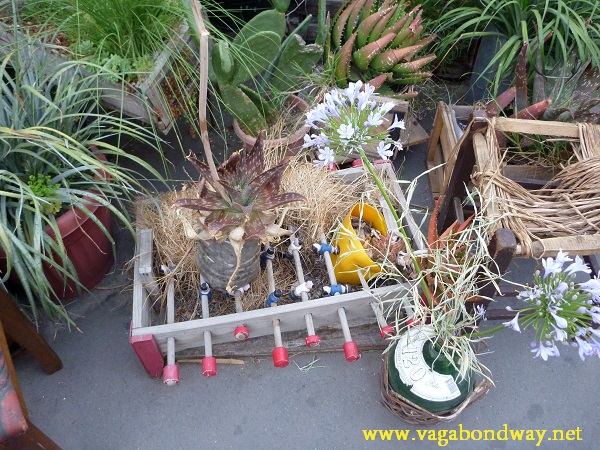 There were so many little nooks and crannies to explore.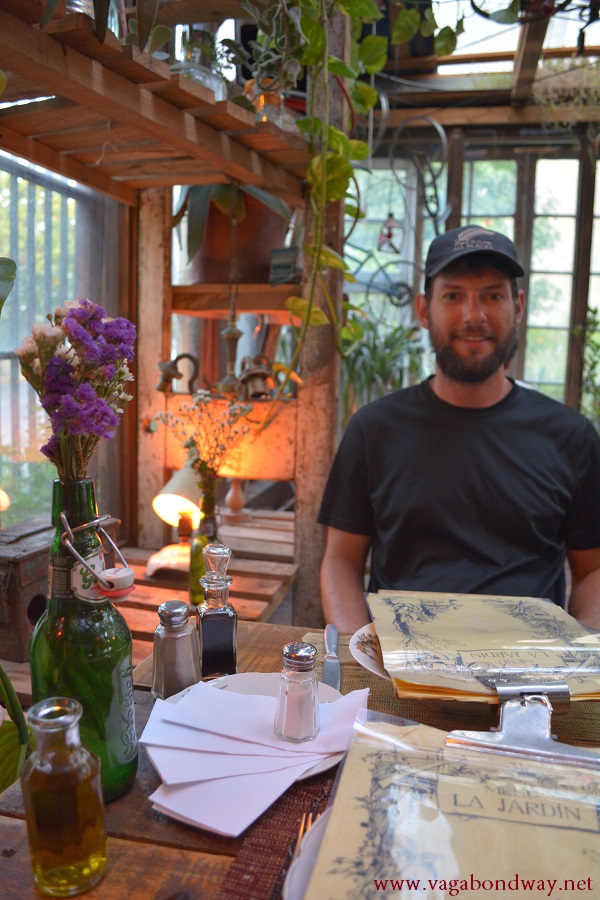 The second time we went we ate inside.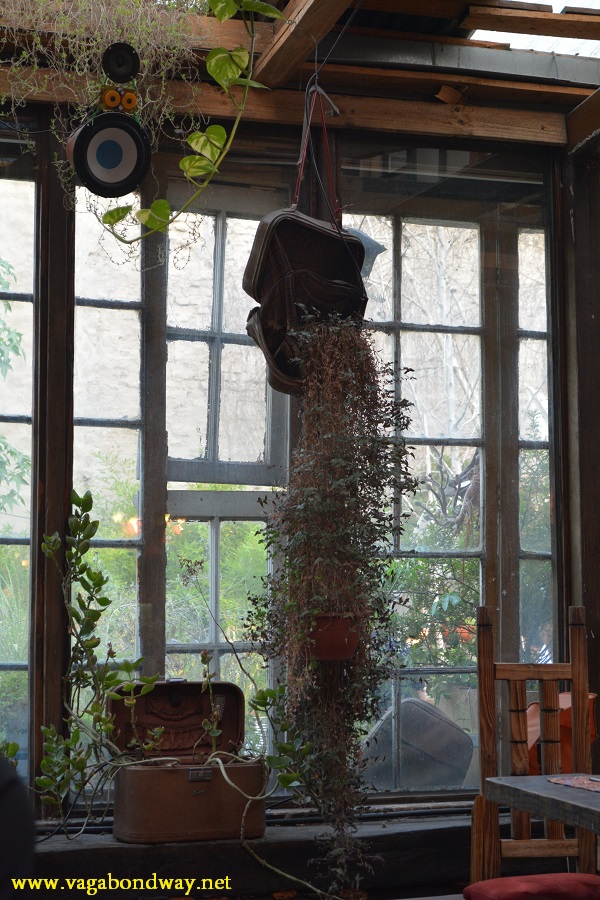 Plants were growing out of all sorts of things.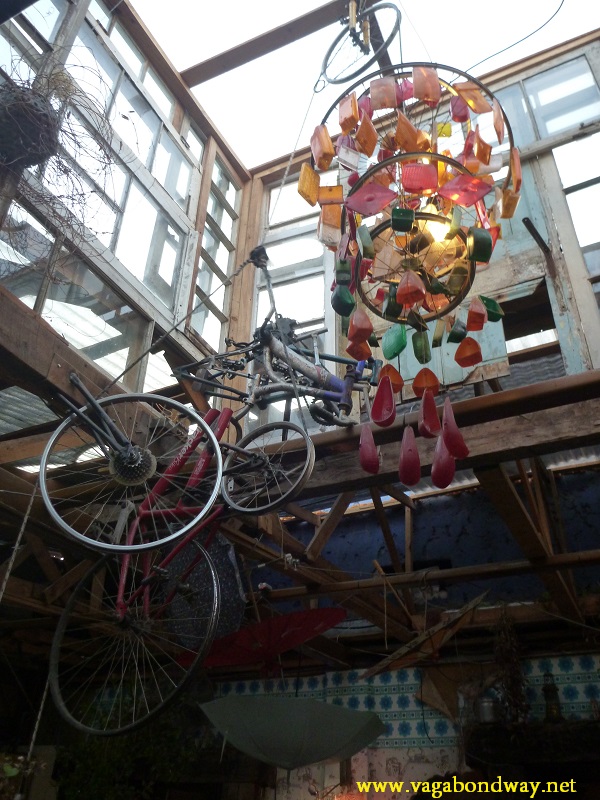 This entire chandelier moved and the bicycle wheels spun around.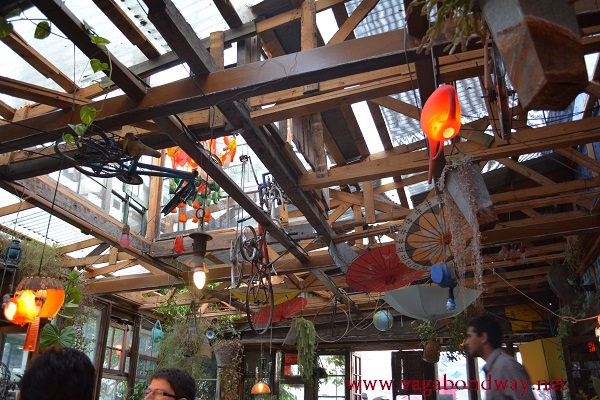 So many random things hanging from the ceiling – look at the orange broken watering can that was a light cover now.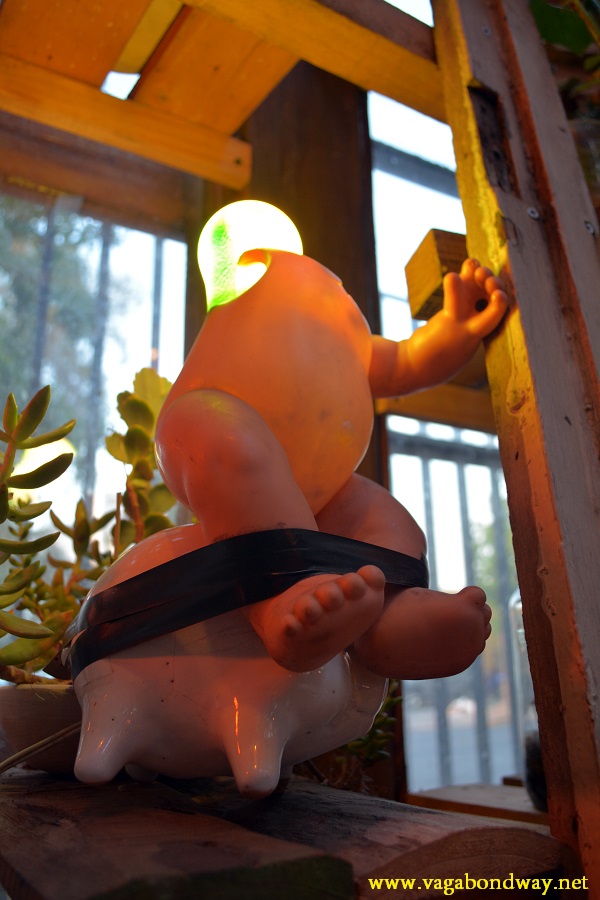 One of our favorites:
Headless baby duct taped to a piggy bank and nailed to the wall.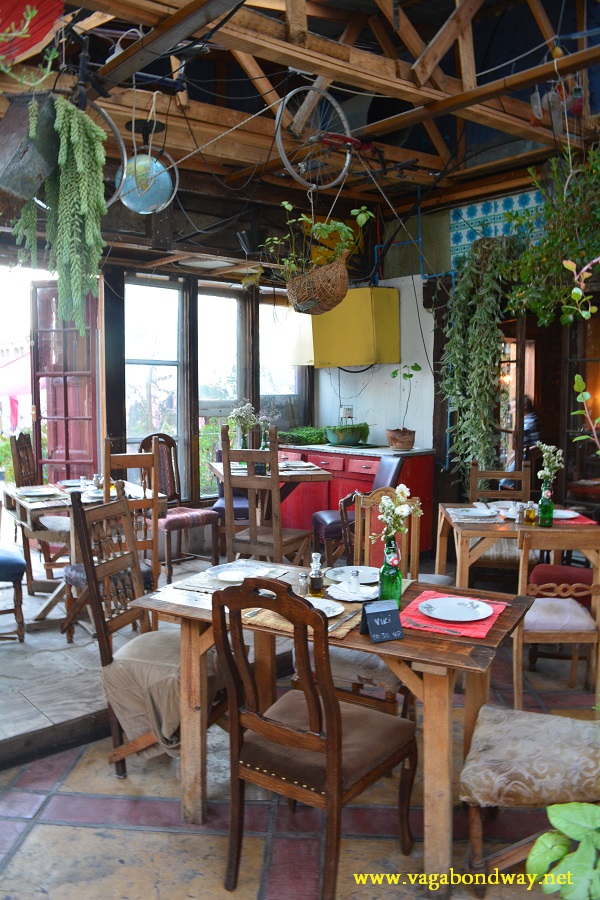 The tables were so cozy and random. Look at the corduroy jacket used to make a chair cover on the left.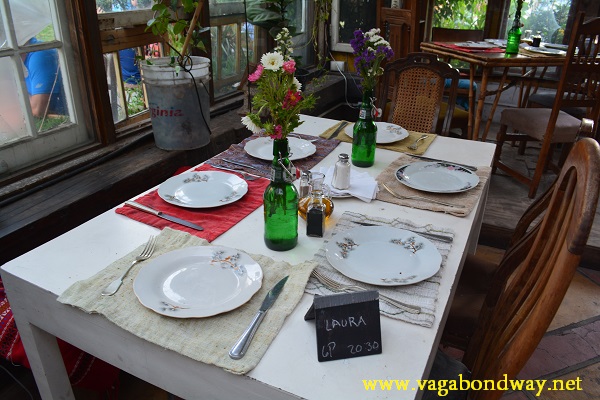 I love when I go to a place where everything is mismatched, yet goes together.
Our amazing dinner which was a mushroom dish and more steak for Chris.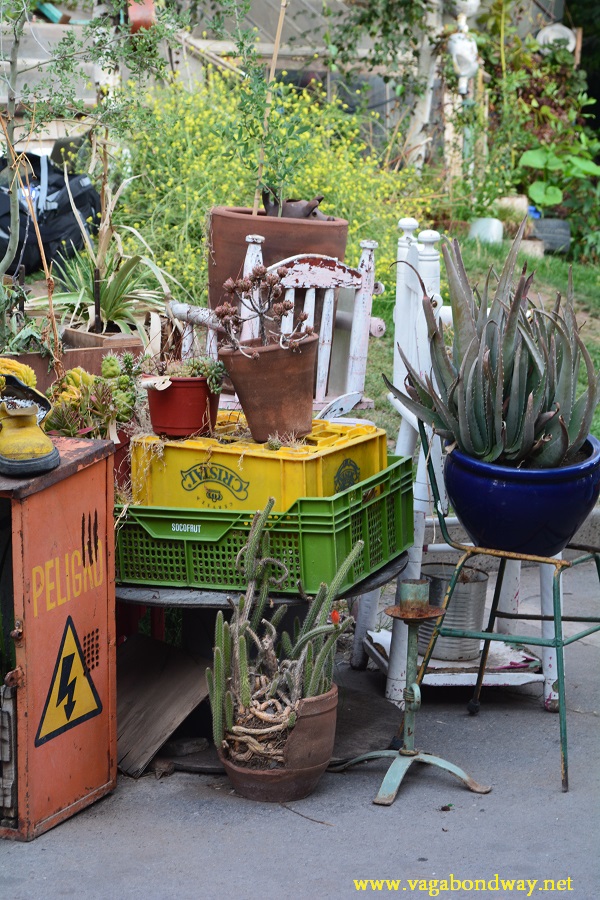 You got some junk laying around? Take some inspiration from  La Jardin – turn it  into funky art and serve yourself amazing food at the same time.
*   *   *
If you go:
Bilbao 497, Providencia, Santiago, Chile
Phone: 02-2230667
Try to go early, around ~5pm to get table if you don't have a reservation.
Go as many times as you can.
We stayed at Beach Hostal which we loved! I wouldn't hesitate booking the maximum amount of nights you think you'll need. They book up fast and it was hard to find a similarly priced hostel nearby. The place was so clean and comfortable, we'd recommend it without hesitation.