Jet lagged and weary eyed, Chris and I landed in Labuan Bajo in the Flores region of Indonesia. In case you have no idea where that is, it's ok, I had to look too at first to know exactly which island it was. See the red arrow on the map below: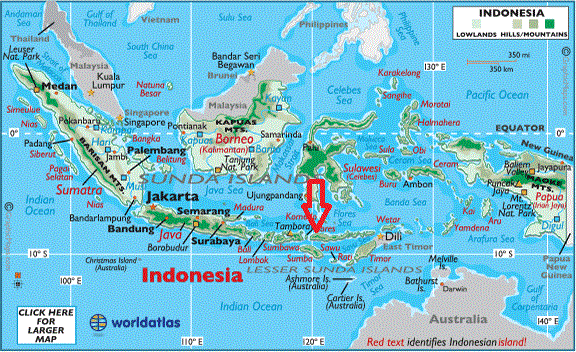 If you have ever wanted to try living on a boat, Labuan Bajo is a great place to do so. While you're enjoying boat life you can also see komodo dragons and hopefully swim with mantas! What?! Labuan Bajo is a quickly developing ocean side town is one of the main starting points to hop on a boat to go exploring.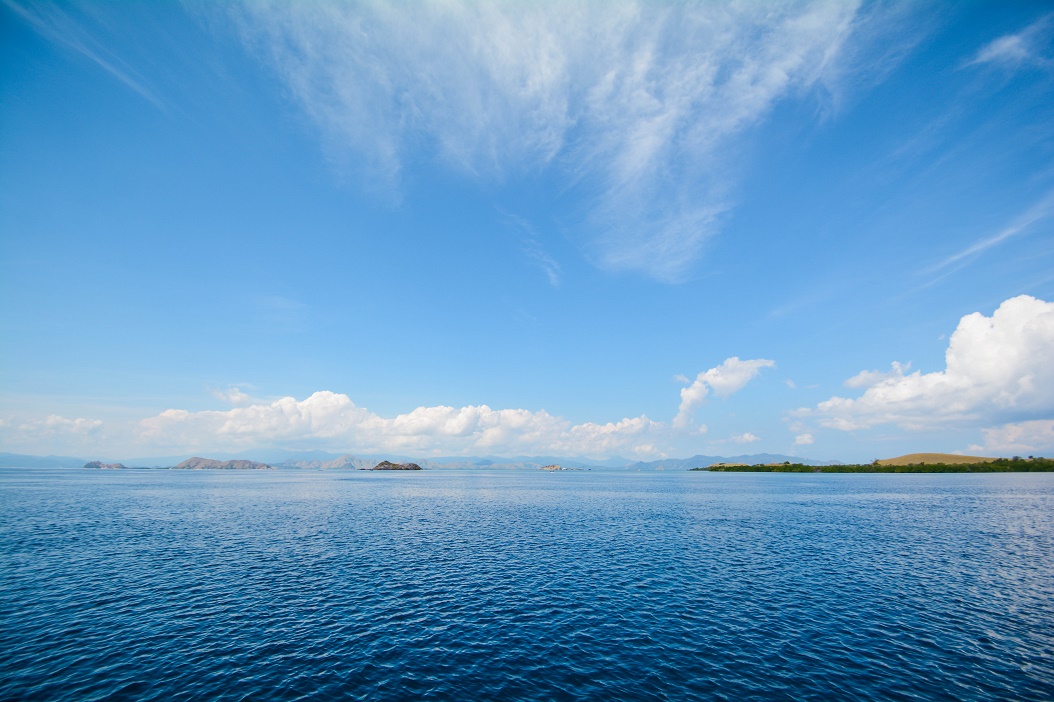 The Nusa Tenggara region is a great place to cruise around on a boat. The calm, shallow-ish waters are dotted with islands. Once we had mostly slept off our jet lag, we hopped onto a two day live aboard boat to go looking for komodo dragons and mantas.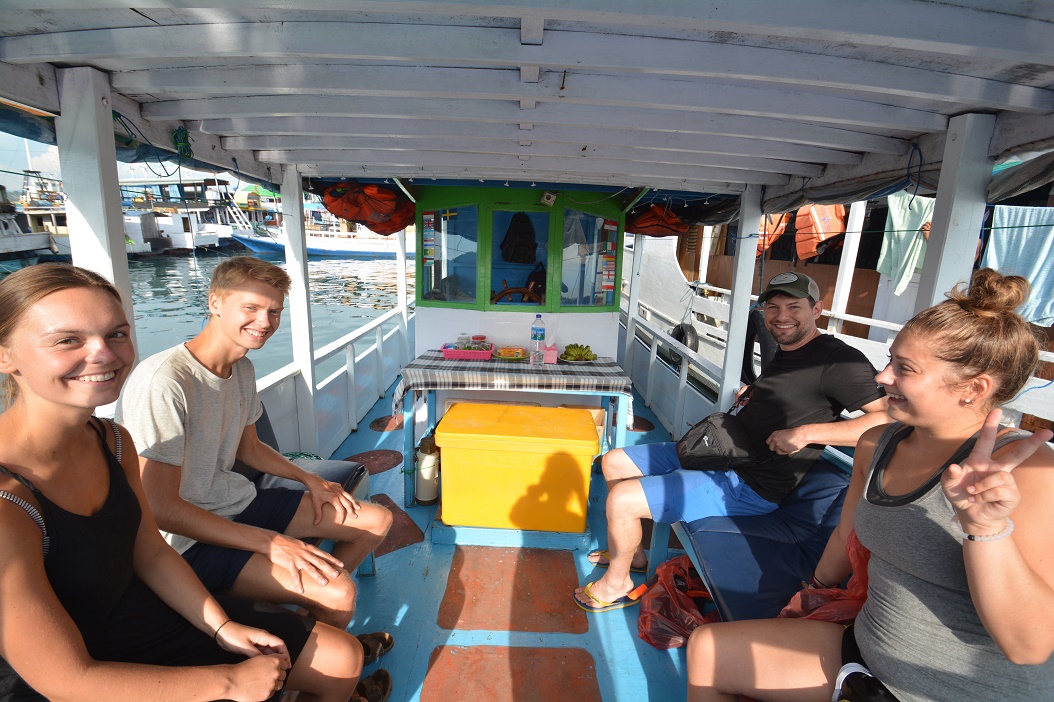 Of the five people in our group, Americans dominated, hehe. There was me and Chris, a recent graduate from Chicago and two more from Denmark.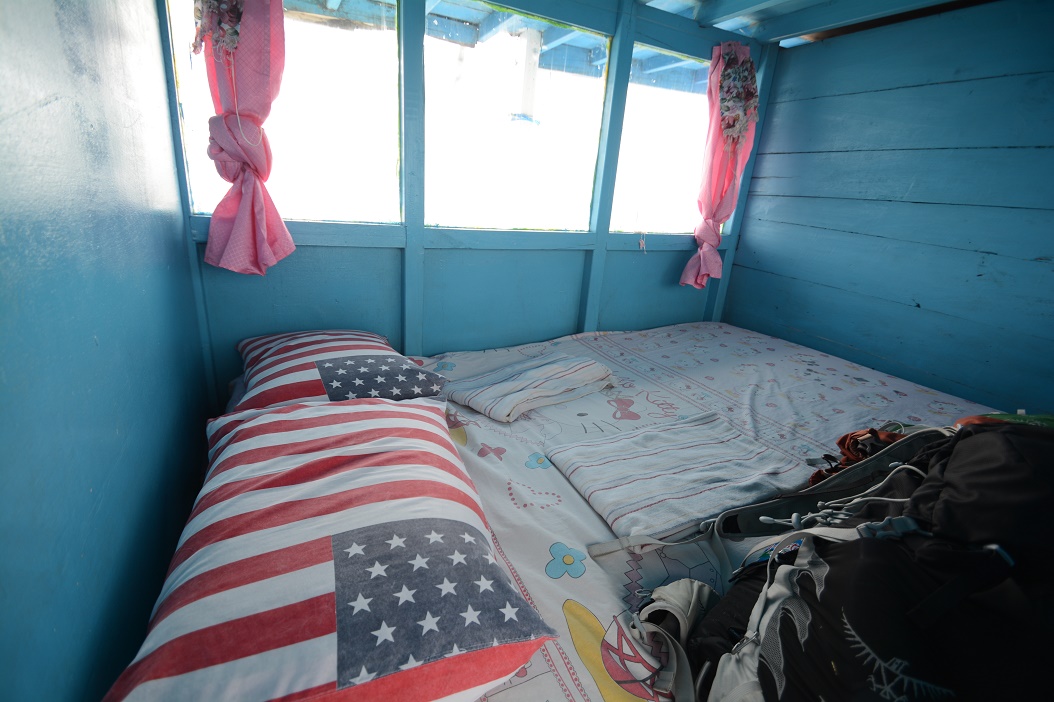 We "checked in" to our room, which I thought was ironic because they used USA pillow cases. It's like they knew we were coming. 🙂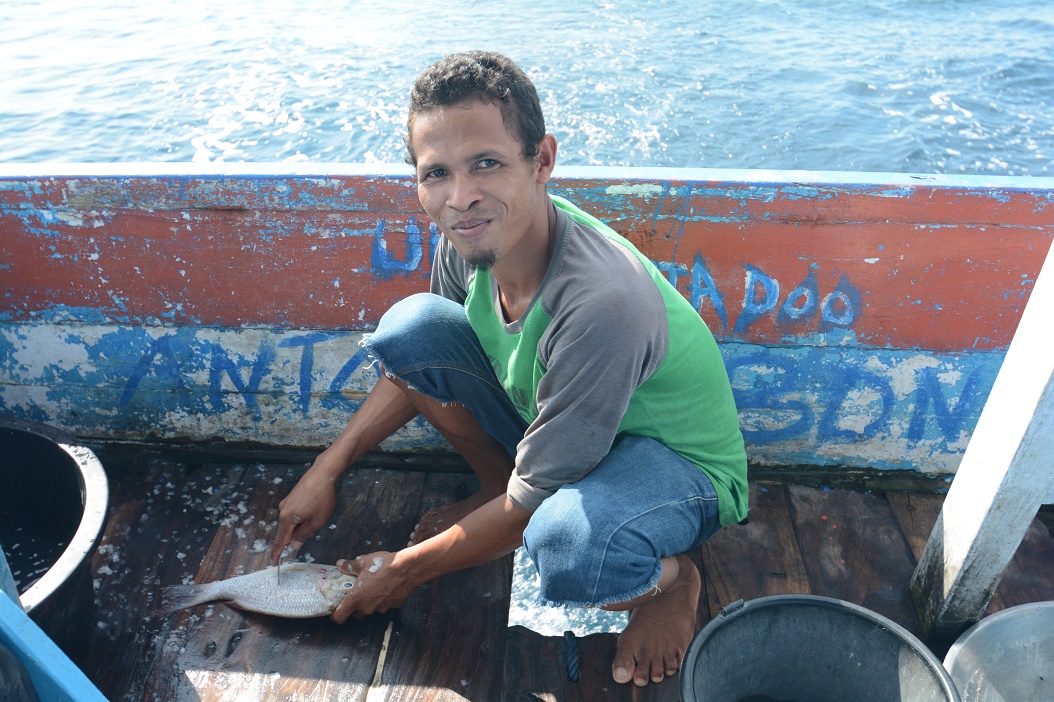 After a while I started walking around the boat and found Lukas, the cook, hard at work preparing freshly caught fish.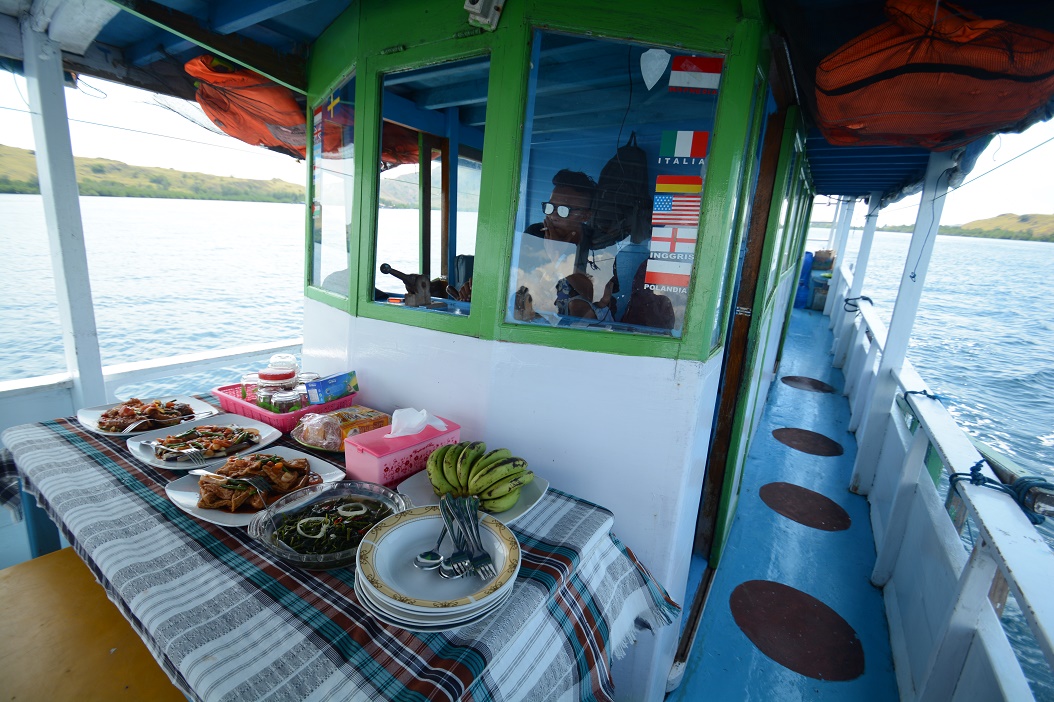 Our eyes lit up to see this as our lunch spread.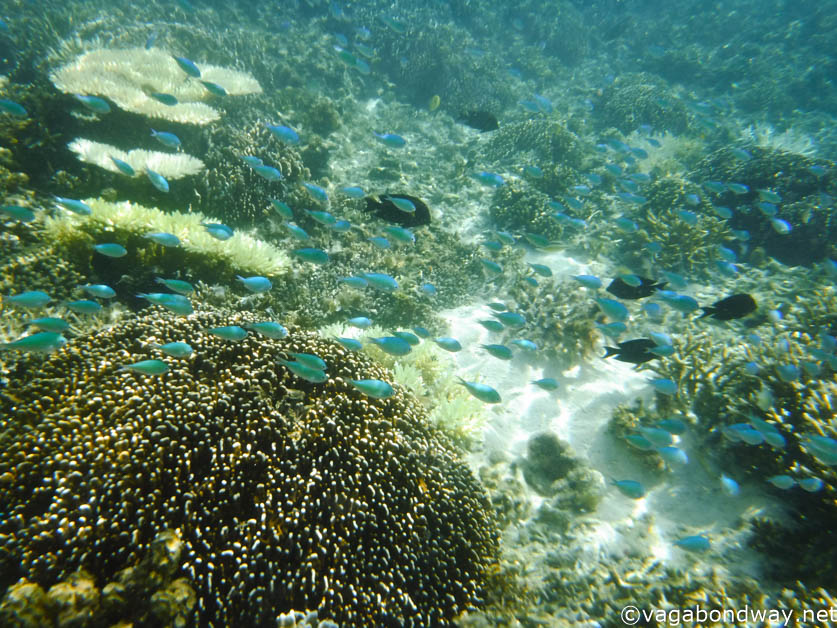 The first day was all about snorkeling. These turquoise blue waters are so warm and clear. The only thing to say is I can only hope and ask the Indonesian government to step up and have a garbage plan for their country. There is so much trash in the ocean and a lot more on land. As more and more people come to visit these islands, the impact and pollution is only going to get worse. Over time if the reefs, the fish, the wildlife cannot be conserved, tourists will have little reason to visit these areas.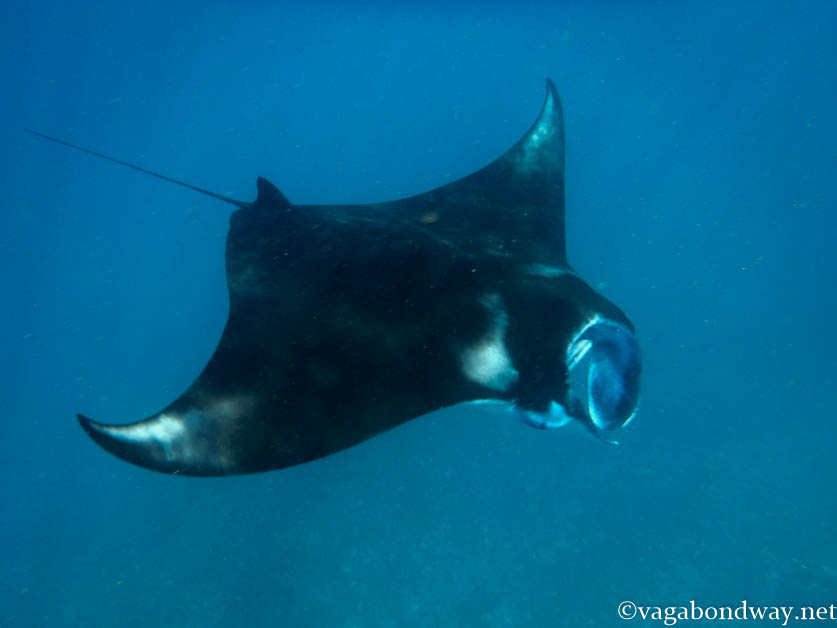 Trash aside, oceanic wildlife still abounds and we jumped into the big blue ocean to drift with the current and swim with mantas!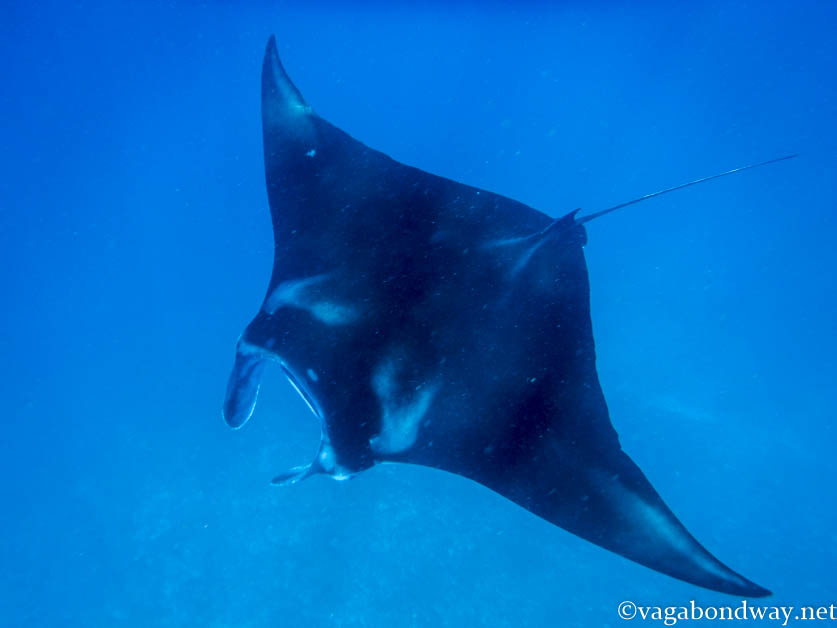 Our guides told us the current was strong in this particular area the mantas were feeding. We were to jump in the water and just go with the flow. I was the first one to jump in and when I popped up from the water the boat was already a good fifteen feet behind me. I guess the current was moving! But so we went all our little bobbing heads as rows of mantas cruised past us.
If you have never swam with mantas, oh my gosh, what an experience! These guys are just gentle giants of the sea. Feeding mostly on plankton, they seemingly fly through the oceans waters feeding. We were so fortunate to also swim with these guys on Lady Elliot Island along the Great Barrier Reef in Australia. You can see some more manta ray pics and videos here if you would like.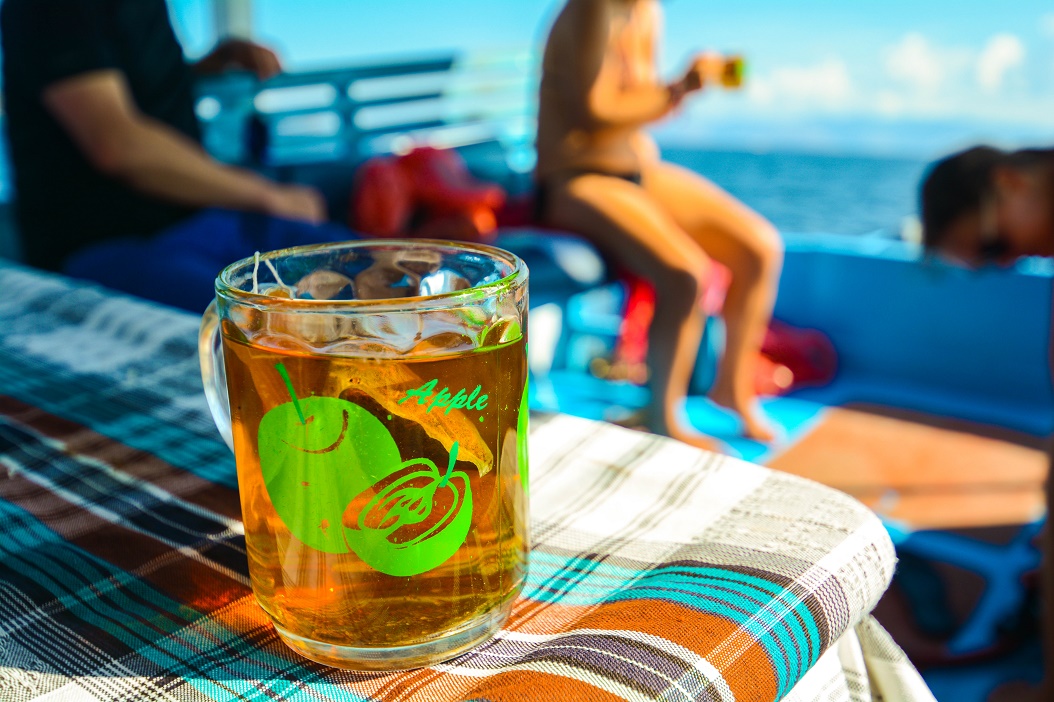 After getting dropped off and picked up a couple of times, it was time to get back on the boat and continue to our next snorkeling spot. One of the best things about life on the boat was tea time!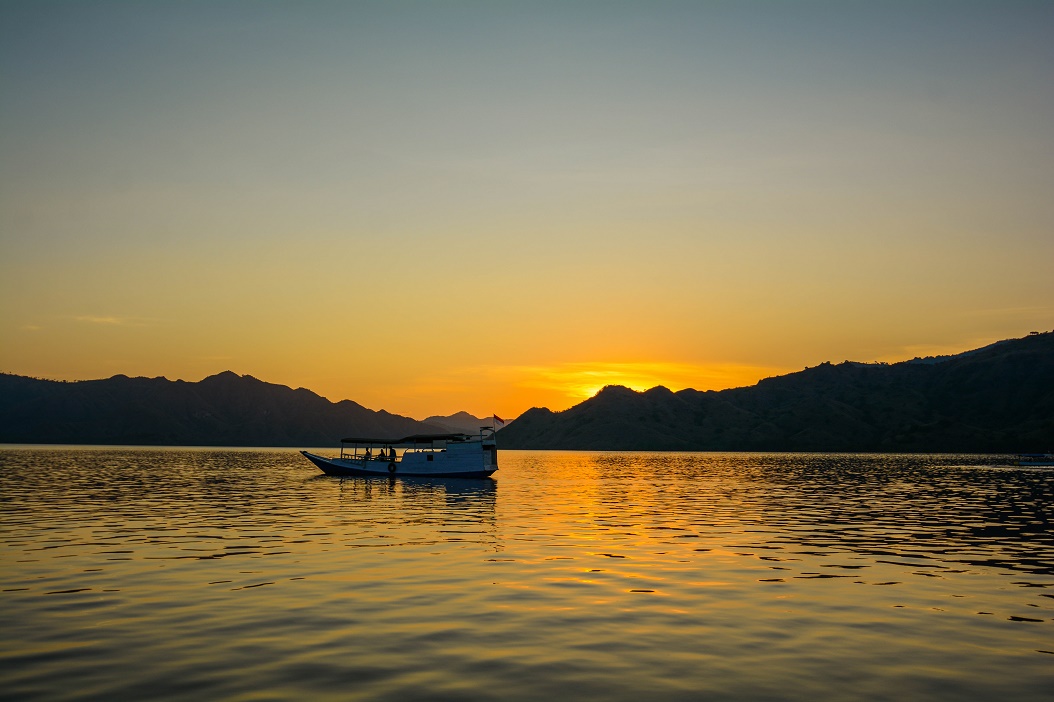 As evening approached we headed to our sleeping spot and the guys dropped anchor. We looked around to our beautiful home for the night and watched the sunset.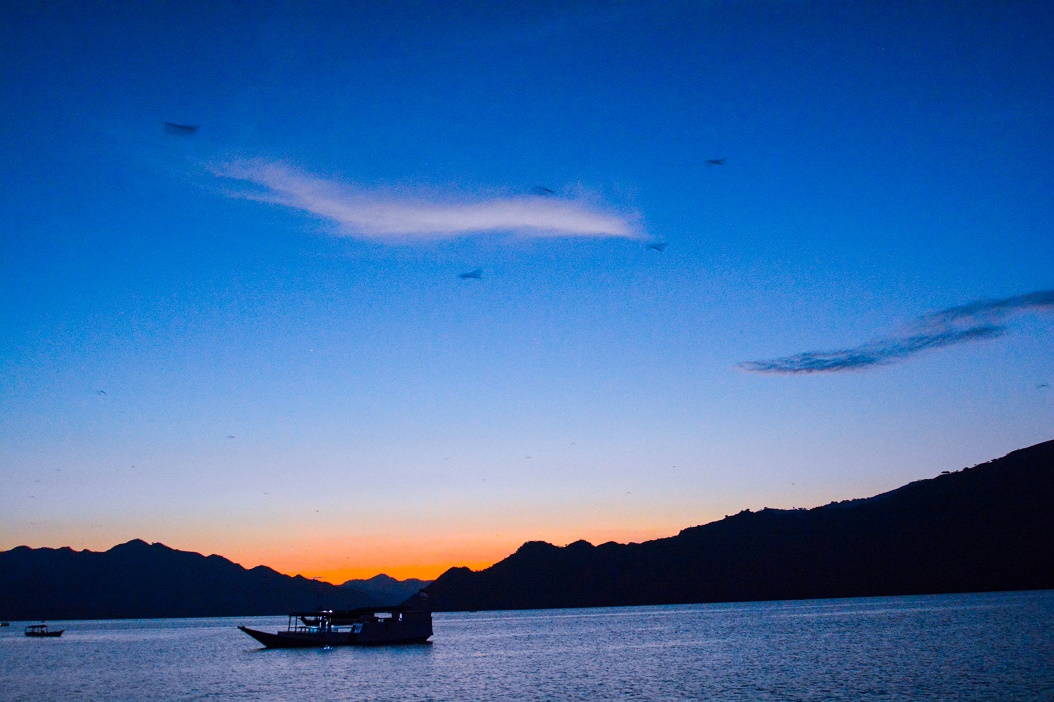 Our group talked about various opinions on the global issues of income inequality, crippling school systems and racial concerns while we watched thousands of flying foxes embark on their nightly foraging. The little black, blurry specs in the photo above are flying foxes, which are fruit bats. In the cultural exchange we also learned about Denmark's version of Halloween. In the olden days they used to take a cat, a real cat, and put it in a wooden box filled with candy. They would hang it similar to like a pinata and then hit it with wooden bats until the candy fell out. Our young friends told us they definitely do not use real cats any more because it's way too inhumane. You know, these are just the things you talk about out on a boat out underneath the stars. 😉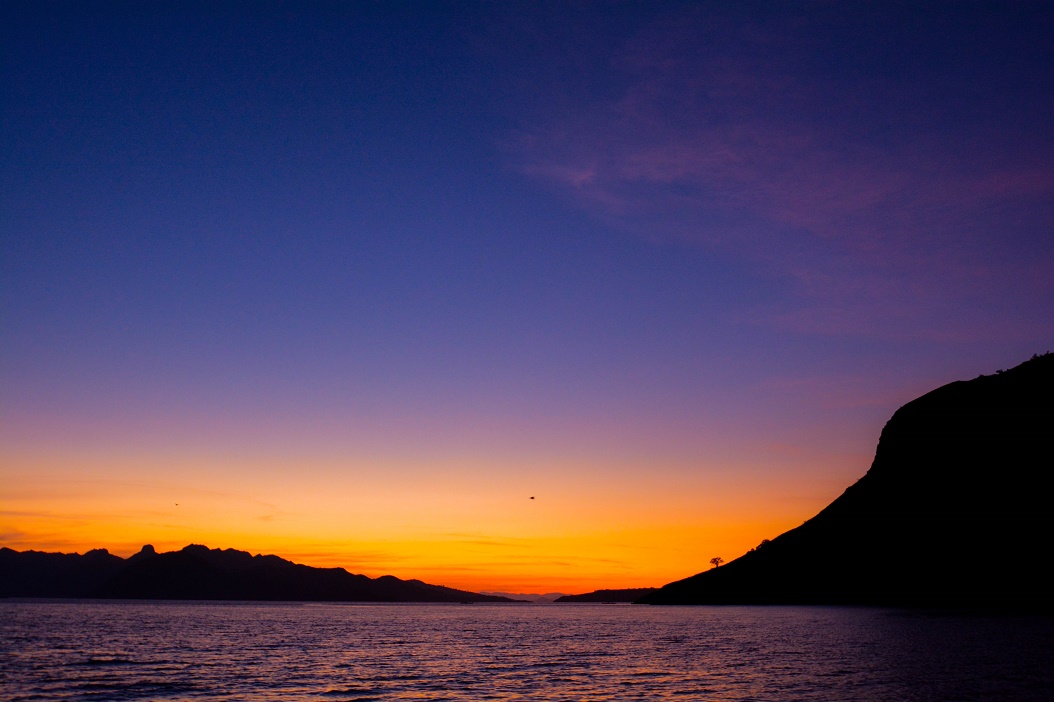 Greeting the day with this sunrise, the flying foxes made their way home hanging in the mangroves. We ate banana pancakes for breakfast on our way to Komodo National Park.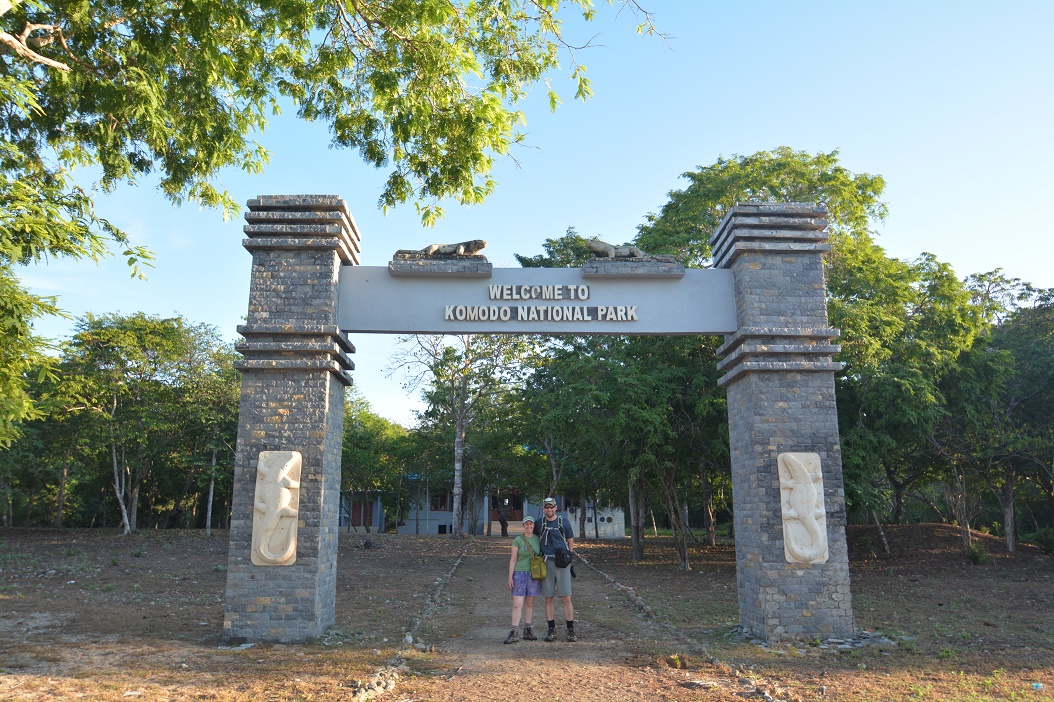 One of the reasons actually visiting Komodo National Park is so cool is because out of the whole entire world, komodo dragons are only endemic to a few islands in Indonesia. This is an an endangered animal, who naturally only lives in one spot on the entire planet.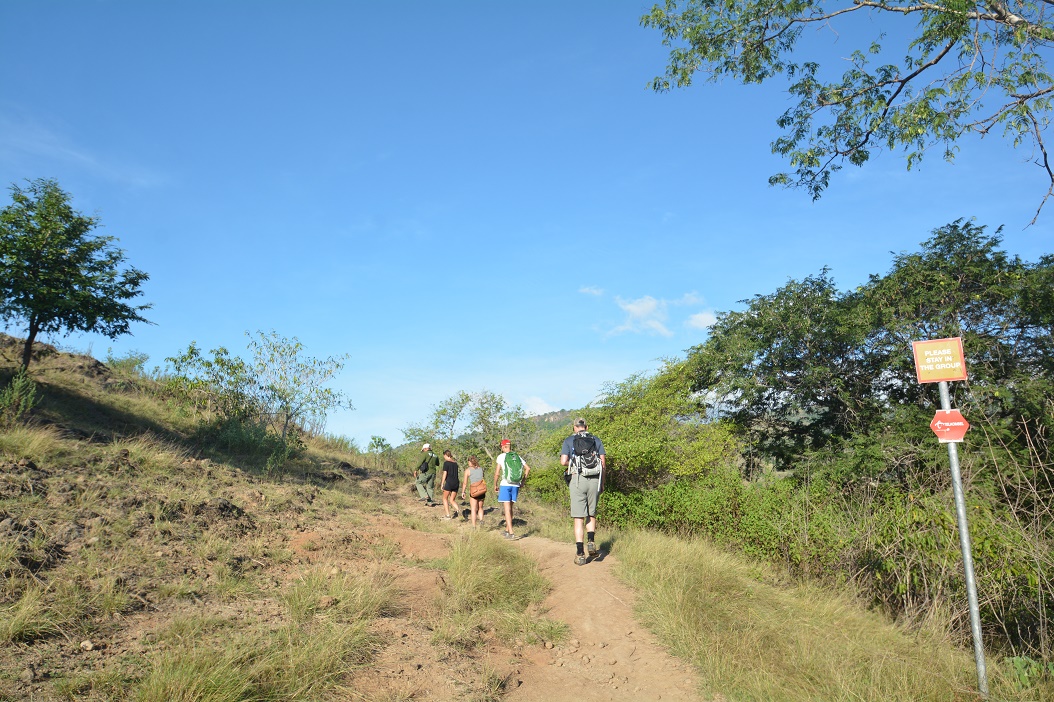 It is mandatory to go hiking with a local guide. This is us looking for dragons and it's a little hard to read, but the sign to the right says, 'Please stay in the group.' Yes, this is not a place you'd want to lose anyone.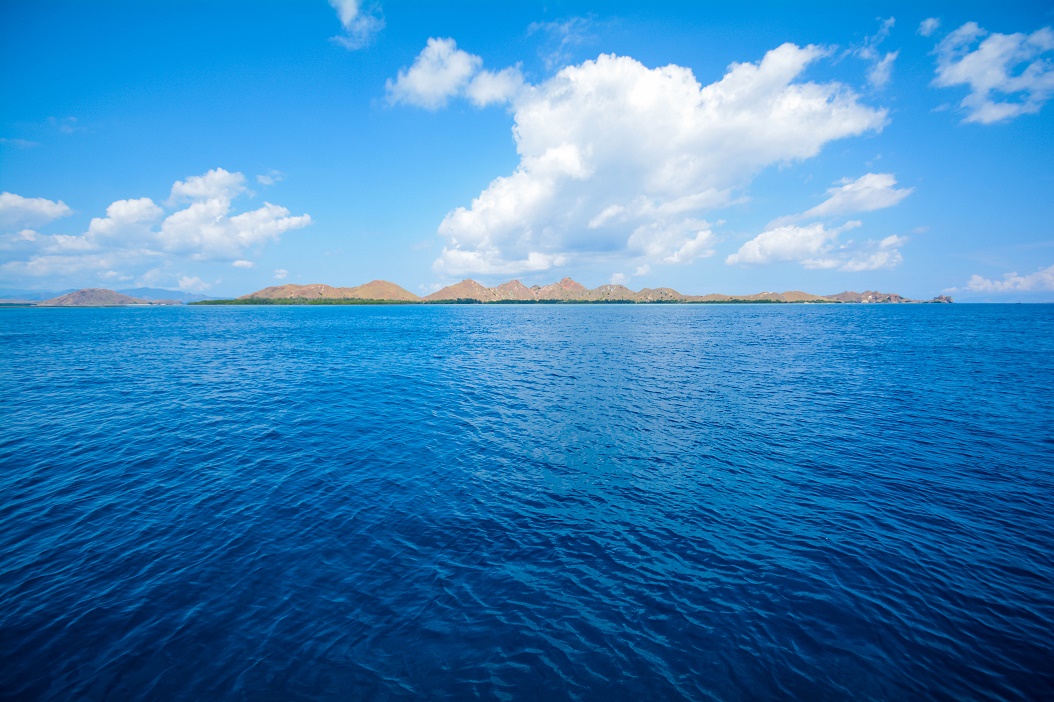 Leaving Komodo Island, we kept sailing along to make our way to Rinca Island,  one of the other island homes of the komodo dragons.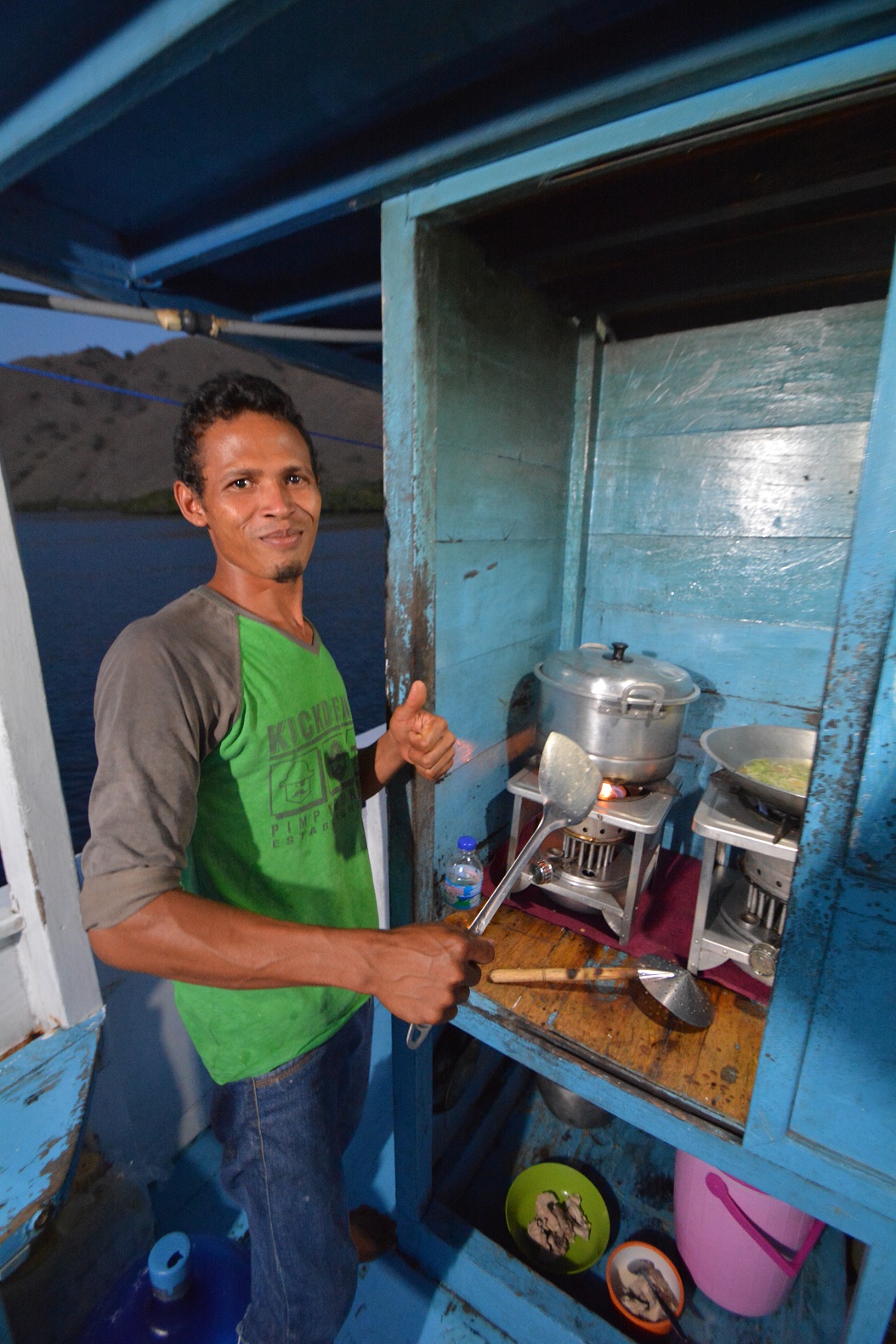 Lukas kept working away making our last lunch for us.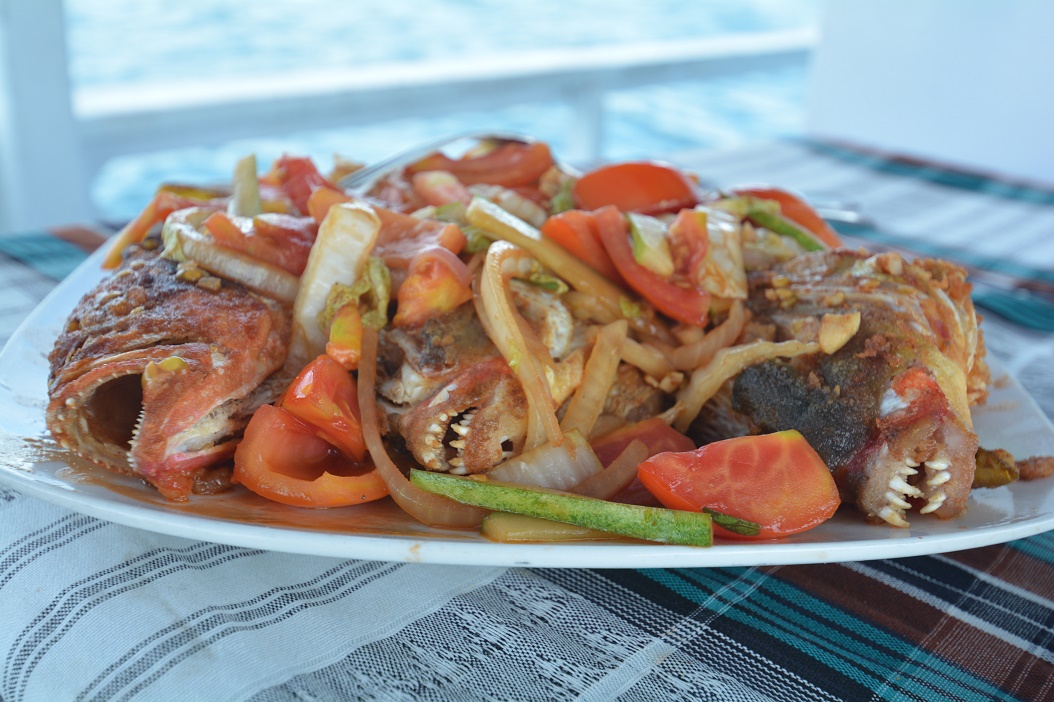 Let me tell you, the food on the boat did not disappoint.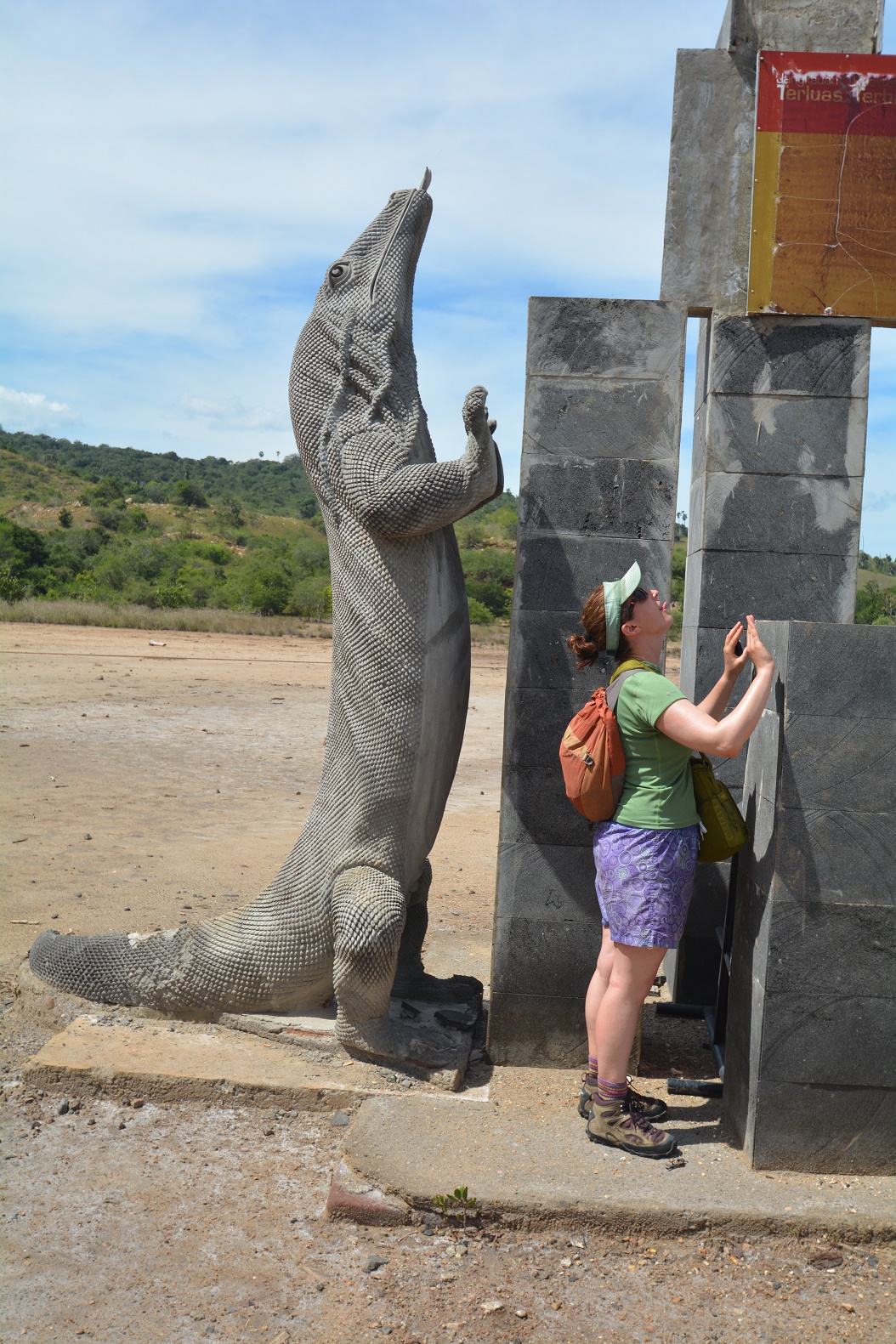 In the hopes of seeing more dragons, I channeled my inner komodo.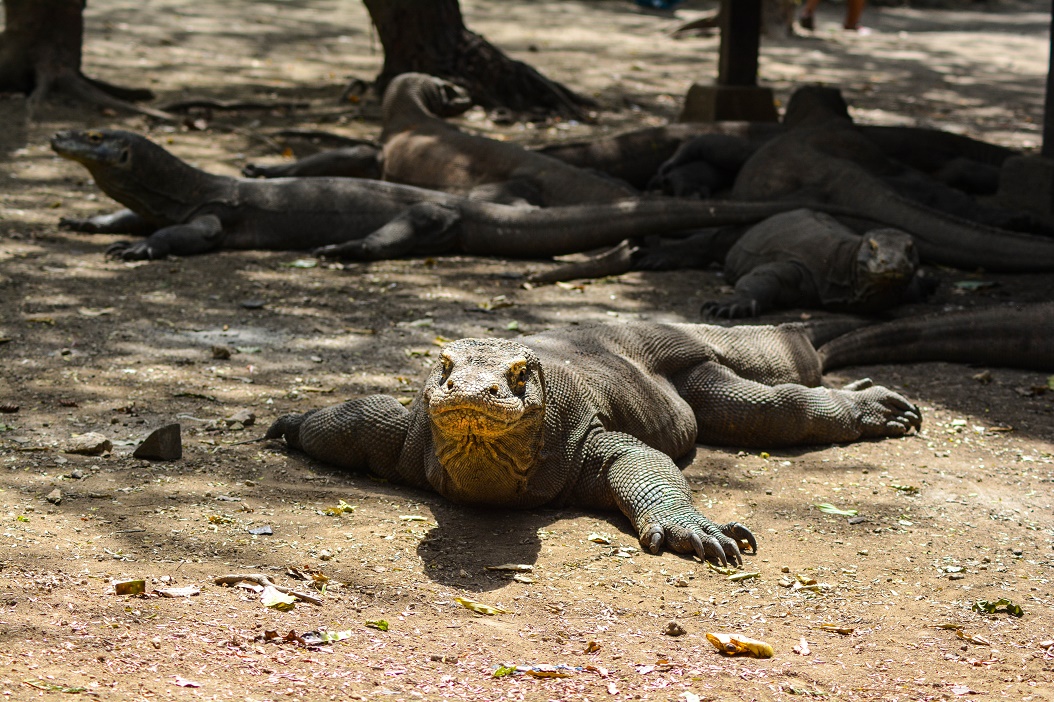 And we were not let down! Usually visitors have a better chance of seeing more komodos on Rinca Island. They tend to hang around near the shade of the park quarters.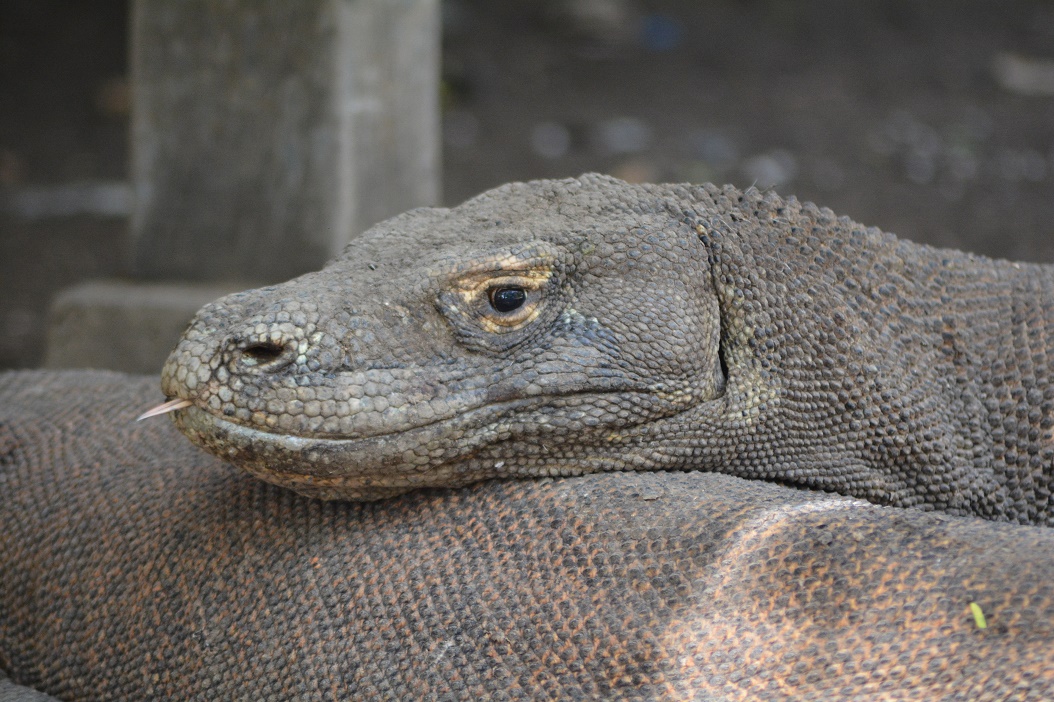 Man, the jaws of a komodo dragon! Would not want to have any parts of my body in there!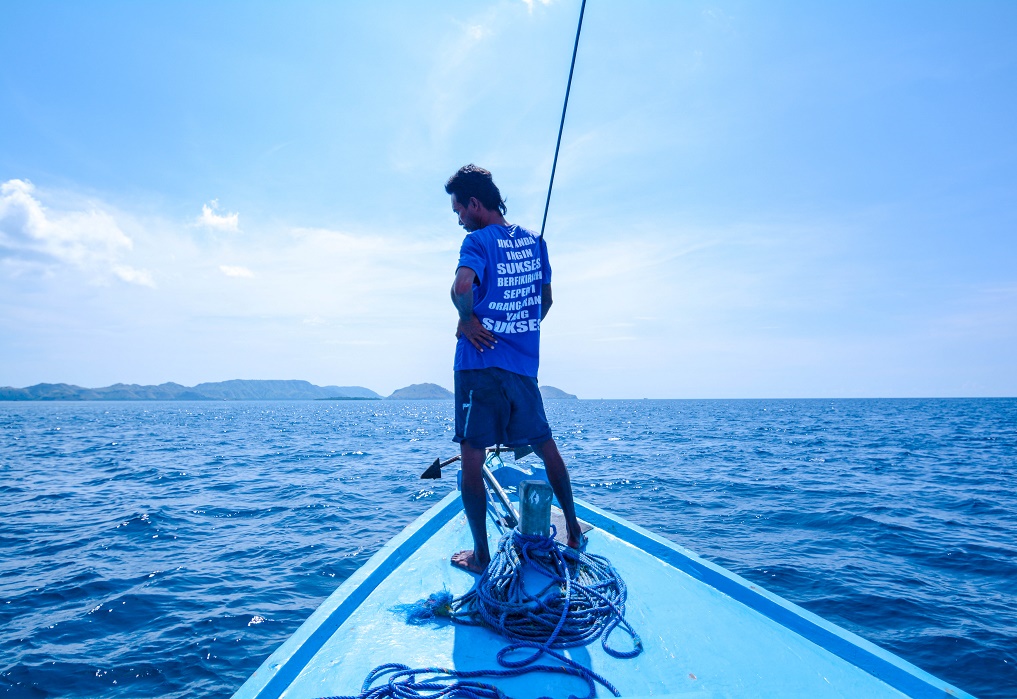 I love this picture of Thomas, the mechanic, also spelled 'mekanik,' at the front of the boat. After two days on these beautiful, blue ocean waters, we made our way back to Labuan Bajo.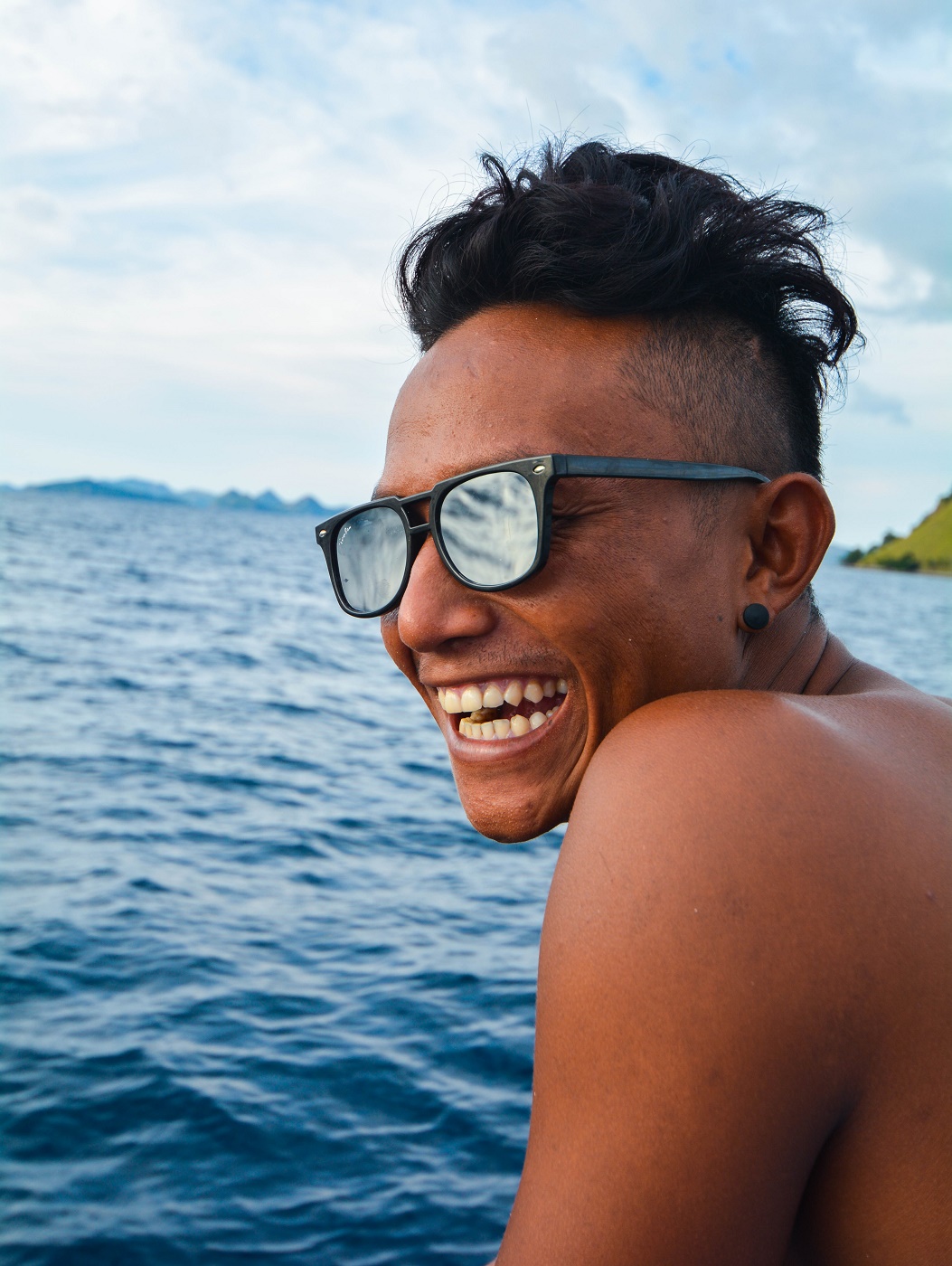 Spending time on a live aboard boat can be so much fun! This was the captain, also spelled 'kapten' Marcel, enjoying the fresh breeze as we made our way back to the harbor. If you are prone to sea sickness or not sure how you will react to sleeping on a boat, this is the perfect spot to give it a try. In many parts of Indonesia, you hear a lot of noise. There are cars, scooters, deliveries. On the ocean, we experienced calm, rhythmic waves, the splashing sounds of jumping fish, 'chirping' noise of the flying foxes. I  hope the Indonesian government and people can move forward in a sustainable way to host tourists and preserve their world class natural beauty. This is a trip I may just want to repeat in twenty years.
***
If you go:
We flew to Labuan Bajo from Denpasar, Bali on Garuda Indonesia. Although there are other airlines like Tiger Air and Lion Air, all our research led us to believe Garuda Indonesia was the best one to go with. We booked online and paid $170 USD for both of us.
Airport transfer: $70,000 IDR
We stayed at Casa Selini and booked it through Agoda. So…a note on accommodation in Labuan Bajo. This is a fast growing tourist destination. Buildings are getting thrown up all over the place.  At one point we contemplated moving and had a look at other accommodations, but in the end felt like Casa Selini had the best overall value. There are a lot of grubby places you can stay in Labuan Bajo. There are some nice places you can stay, but you will also have to pay a lot more for them. Our second choice accommodation would have been Manta Manta Homestay.
Casa Selini had air conditioning, private bath, a decent breakfast included and wifi that worked for $350,000 IDR or about $25 USD per night. A lot of places say they have wifi, but don't necessarily always work. This was a bit more than we wanted to pay, but after comparing the other options, we still stayed there. Info: Soekamo Hatta No 7, Telo: 0385 41136 email: marilena.travel@gmail.com
Almost anywhere you stay in Labuan Bajo, bring ear plugs. Some reviews complain of the noise, but all over Labuan Bajo it's loud. If you are looking for a relaxing beach town to zen out in, this isn't it. We heard lots of great reports from divers and the water activities all seemed to get great reviews, so go here for that and live on a boat if you can.
For booking the live aboard and our transport out of town, Ficko was our guy.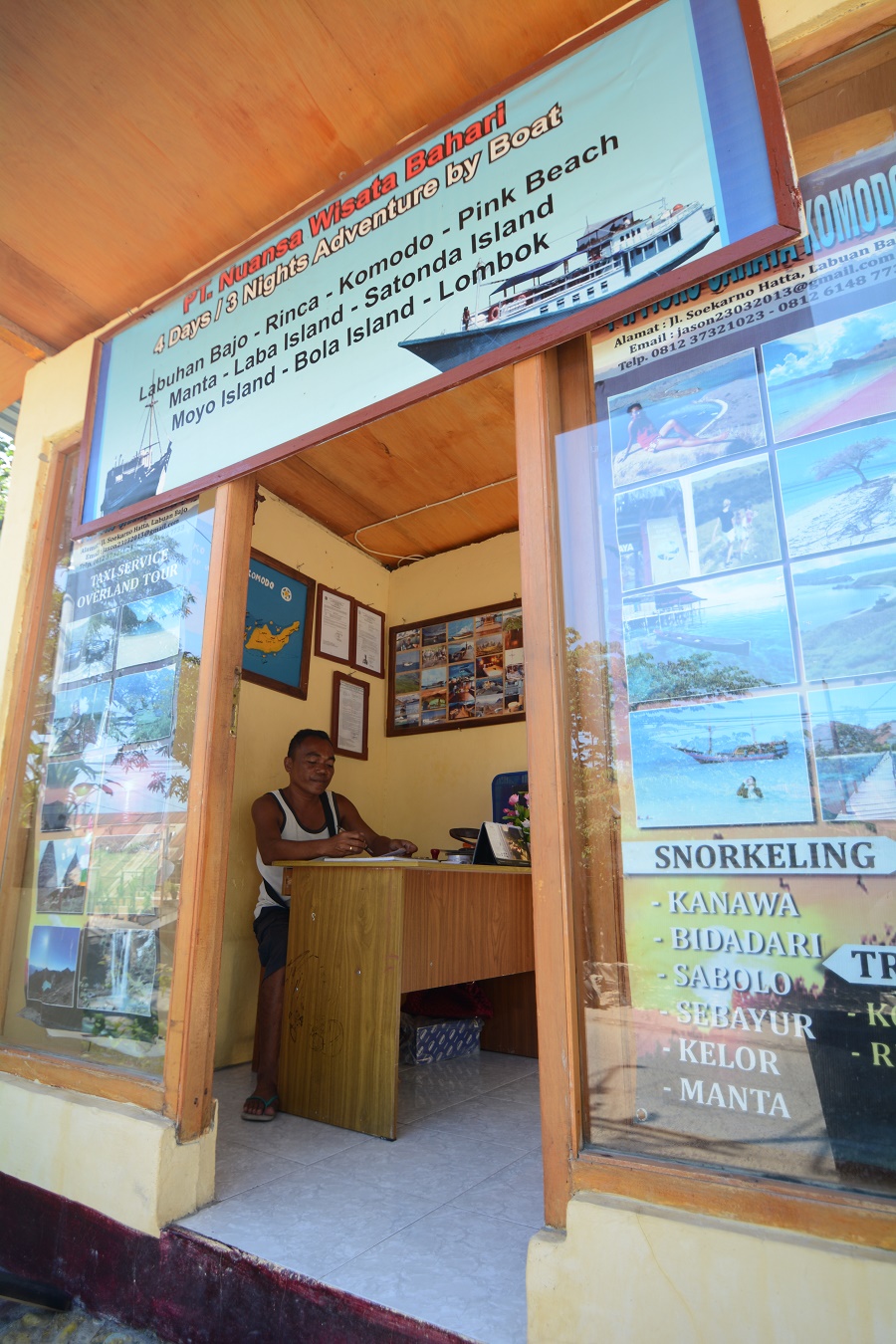 The streets are lined with agency after agency after agency. We walked around talking to different people and just made a connection with Ficko. You can find his office along the main drag. Phone number 081237321023
We booked a few things through him, so we were able to barter the cost of activities down. For 2N/3D live aboard, the advertised price was $1,000,000 IRD pp. We paid $800,000 IRD pp.
All tourists pay the park fee directly to the park. You will pay most of it on Komodo (if your itinerary brings you there first, otherwise it's the reverse) and then a guide fee and trekking activity fee on Rinca. It will vary slightly based on exactly how many people end up in your group as the office will just split up the guide fee on the spot with your group, but figure it will be around $280,000 IRD pp. Feel good about paying this. This money is important for both the conservation and protection of the park, as well as providing jobs to the people from the local villages.
We left Labuan Bajo and took a ferry-bus-ferry-bus combo to Lombok. It is about a 24hr+ trip  and was cheaper than flying. We liked it because it did provide a look over more of the land. Bring toilet paper and lots of hand sani. Advertised price was $350,000 IDR and we paid $320,000 IRD.
From the final bus point destination of Mataram, we went to Sengeggi. It was only the two of us at the bus station and there were not any other local buses departing at the time. We paid $100,000 for two of us to go directly to our hotel in Sengeggi. If you were able to share with more people, this should cost you less.
Have you ever spent time living on a boat? Where would be one place you'd really want to have that experience?
***
* Announcement! We're starting a new series on the site called My Story. What kind of traveler are you? How long have you been traveling? Do you maximize your vacations? Have you been able to take time off work? We want to hear from you and share your story! Please email: tiffany@vagabondway.net for more details. 🙂 
** Plan on traveling soon or making a purchase from Amazon? Please consider using the links on our resource page. At no cost difference to you we will earn a small commission to help keep this site running. Thank you so much for this thoughtful gesture.