There is so much to do in New York City at any time of the year. It's not labeled the city that never sleeps for no reason. Chris and I both grew up in Western New York. When we started traveling and told people we were from New York, they almost always assumed 'the city.' We'd be like, 'No, we're from western New York.' Then people would usually get the deer in head lights look on their face as if we had just said we were from another planet.
To be fair, especially for foreigners, New York State can be a tricky state to understand. First, most people have no idea how BIG New York State is! When we've told people it takes us about seven hours to drive across parts of the state, they just stop in their tracks and are like, "Say what?!' New York State is ranked 27th largest state by size at approximately 54,556 miles squared. A lot of people only see or hear about New York City (also abbreviate NYC) and do not realize approximately 60% of the rest of population lives in either Upstate, Western or Central New York. Chris and I were in our early 20s and still had never even been to New York City. So finally we went, slept on a the floor of my uncles tiny hotel room. We were college age poor, less travel savvy (we fretted about so much about time, missed dinner with my uncle -this was the time before we had cell phones), parked our car way outside the city and took a bus in because we were so worried about driving into the city. I just remember being really upset in Central Park because Chris could roller blade faster than me. We had gone back a few other times for the day, but had otherwise not stayed in the city again.
We have always wanted to see New York City at Christmas time so this year, older, wiser and having saved for this trip, we went back. So many of the shops and storefronts get elaborately decorated for Christmas and we wanted to see it for ourselves. I think age and experience have made New York City a less intimidating place for us to visit. Some of the worries and stereotypes of the city we have not found to be true. Some of those being: it's so expensive, it's dangerous or the driving is terrible. Driving in and out of New York City was a breeze and everything about this trip was hassle and stress free.
Here is a full break down of our big picture plan, intenery and budget for our three days in New York City. You can use this information to plan your own trip and easily swap activities in and out that are to your liking.
Four Steps to Create a Big Picture Plan
1.) Pick the Area you Want to Stay In
New York City itself covers a large area and its five boroughs exist in approximately 305 miles squared. Narrowing down the area that has the things you want to see and do will greatly help diminish any overwhelming aspects of trying to pick 'the best' place to stay in the city. For us, we knew we wanted to be near Central Park, the Natural History Museum and be within about a mile or so walking distance to Times Square. After searching around online Chris found Park79 Hotel and it was perfect for us. We paid under $100 per night (as you'll see in the budget, taxes did push it a bit over $100) to stay in this nice, secure, quiet, private bath room with a super comfy bed!!! (Side note, all I have been doing is talking about how comfortable the bed was!) Budget tip: We used a mobile device to book through Expedia and got an extra 10% off! So we got our Expedia points, an internet promo, an extra 10% off and double points on our Barclays Mastercard.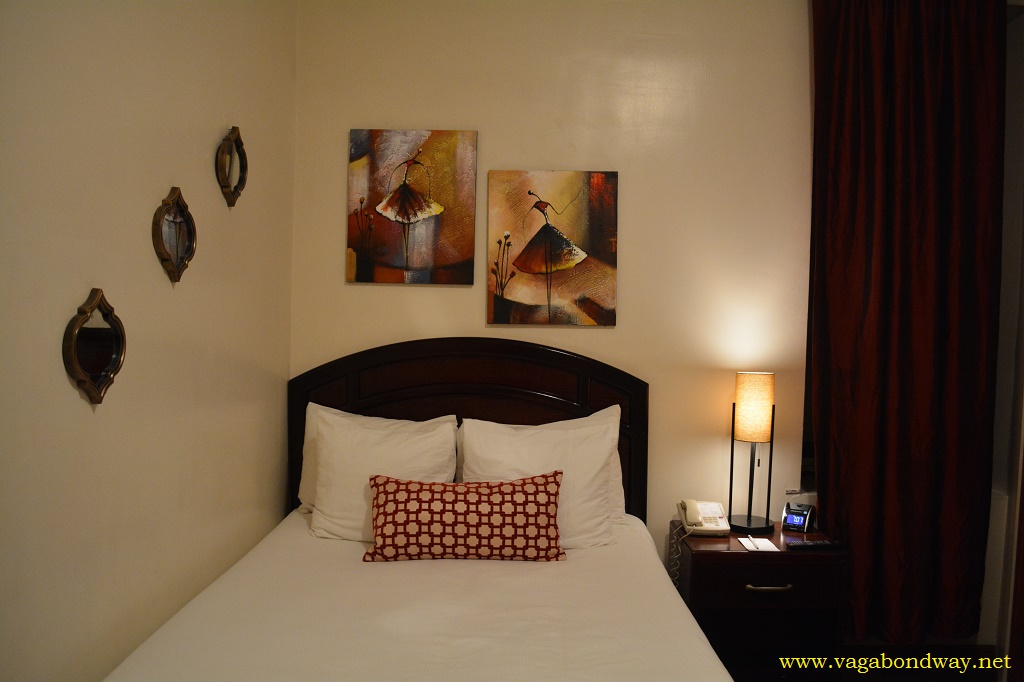 We got discounted parking to keep our car the Natural History Museum parking garage. It was nice to park the car there because if we needed to, we could still access our car. Some parking garages you turn the keys over to the staff and they park your car. The museum parking was easy and we didn't blink an eye about leaving our car there.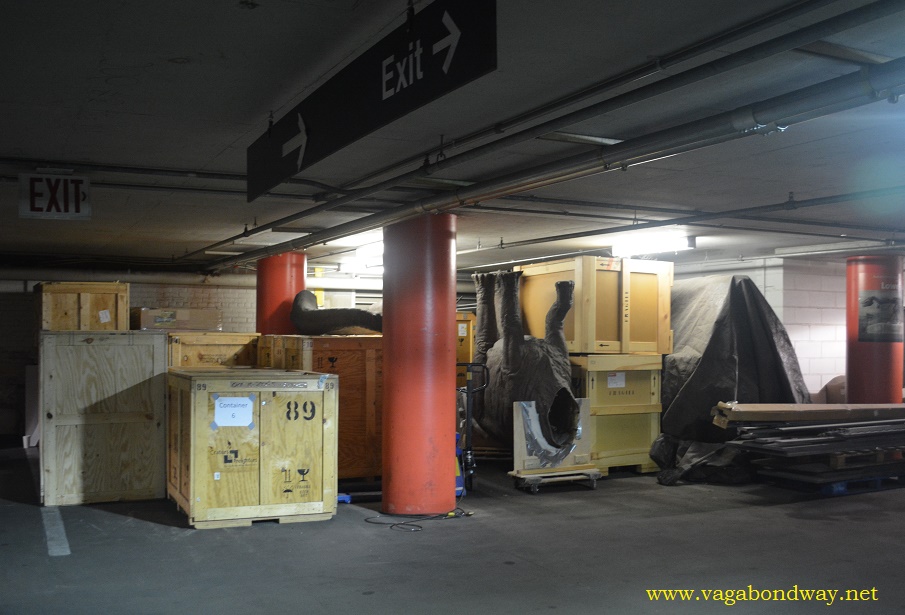 All we had to do was park, exit the museum grounds, cross the street, walk two doors down and we were at the hotel. Very easy. Oh and bonus of parking underground at the Natural History Museum, you never know what you might see stored in the corner.
2.) Decide on a Few Things you Want to Do
For years we have wanted to go to New York City at Christmas time. We wanted to see the store fronts, the Rockefeller Tree, Christmas markets and just in general, be around the festivities. As an infrequent visitor to New York City, for us walking around and seeing the sights is fun in and of itself. Giving ourselves the time to just stroll into some stores or stop for a coffee when we felt like it was something we put on our to do list.
3.) Set a ballpark Budget
We don't go to NYC that often, so if there was something we really wanted to do, we allotted the money to do it. When we were deciding the things we might like to do, we picked out activities that ranged from $0, $18 and $100. We find it helpful to set upper limits of what we'd like to spend and then that helps narrow our energy to activities/events that will fit within that. For instance, we wanted to track down the awesome pizza places some of our facebook followers suggested. Since we didn't want to pay more than $25 pp for dinners out, this fit in perfect with our goal. Budget tip: In restaurants, at least if it's just Chris and me, we usually only drink water to save money. Drinks are so expensive when dining out and unless it's a social event, we'll stick with water.
4.) Have Fun Exploring the City
New York City is an awesome city to wander around in. It's quite amazing actually and commendable to the NY Police department and all parties involved. Now of course you always have to trust your gut, make smart decisions and something bad can happen to you anywhere, but to be able to casually walk around a city at essentially any time of day or night means someone is doing their job. When we got out of the Broadway show and were walking back to our hotel around midnight, in other cities we may have taken a taxi or at least put our nice camera away. But in New York City, we were just two more people walking down the street, taking photos, having a nice time in the the city that never sleeps.
To that, here is what we did:
Three Day Itinerary to New York City
We spent the night before our trip about two hours outside NYC in Stroudsburg, PA. By doing this we had an unhurried morning at the hotel (because we wanted to make sure we missed any rush hour traffic) and had an easy transition into the city by about 12:30 pm. This also worked out extremely well because our parking rate was based on a 24 hour period. So when we had to leave the city, we could have a leisurely morning exit, go out for awesome NYC bagels and not rush for check out. We pulled out of the parking garage about 12:00 pm thus maximizing our paid rate.
Day 1
Leisurely wake up.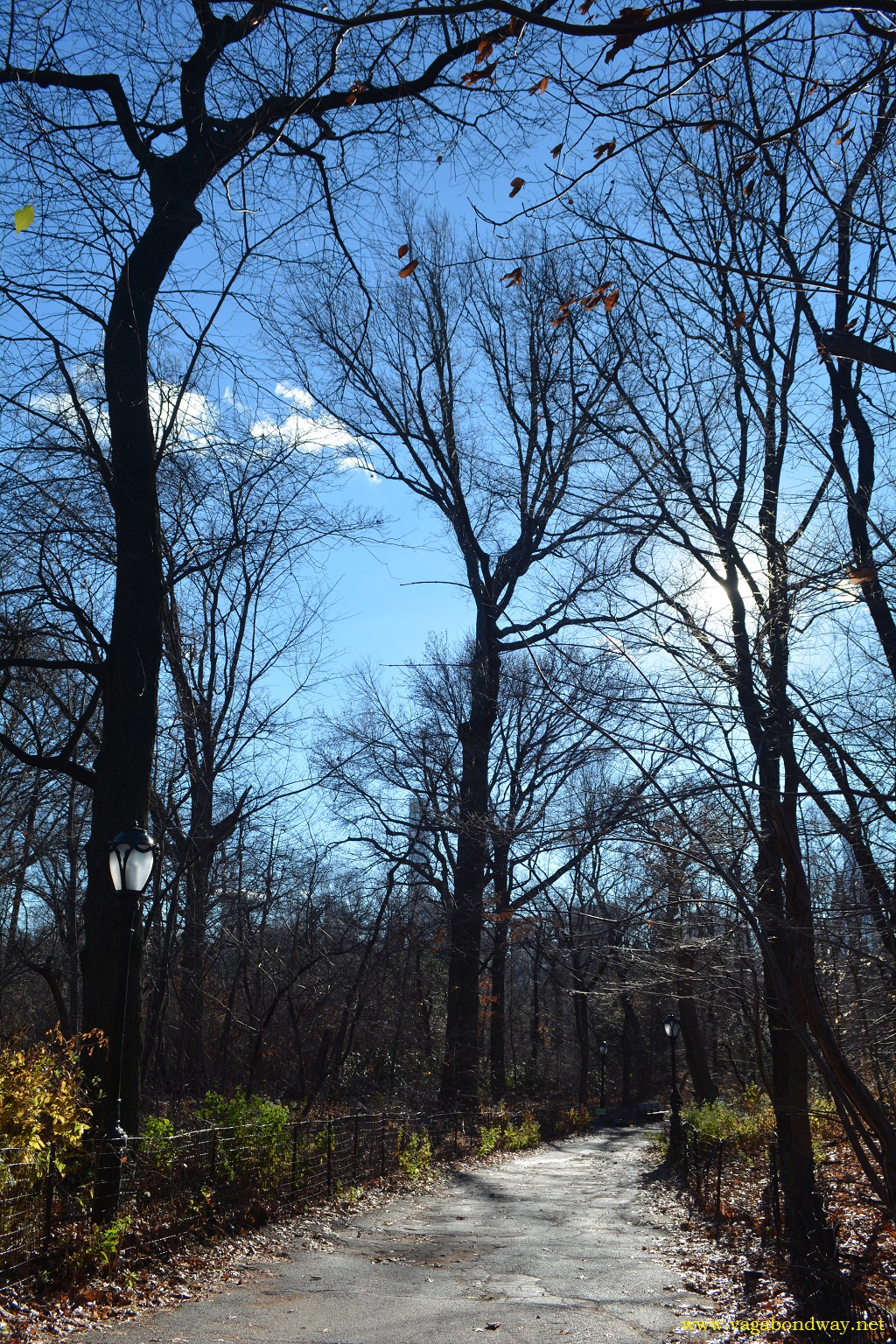 To help ease into city life, one of the first things we did was stroll through Central Park.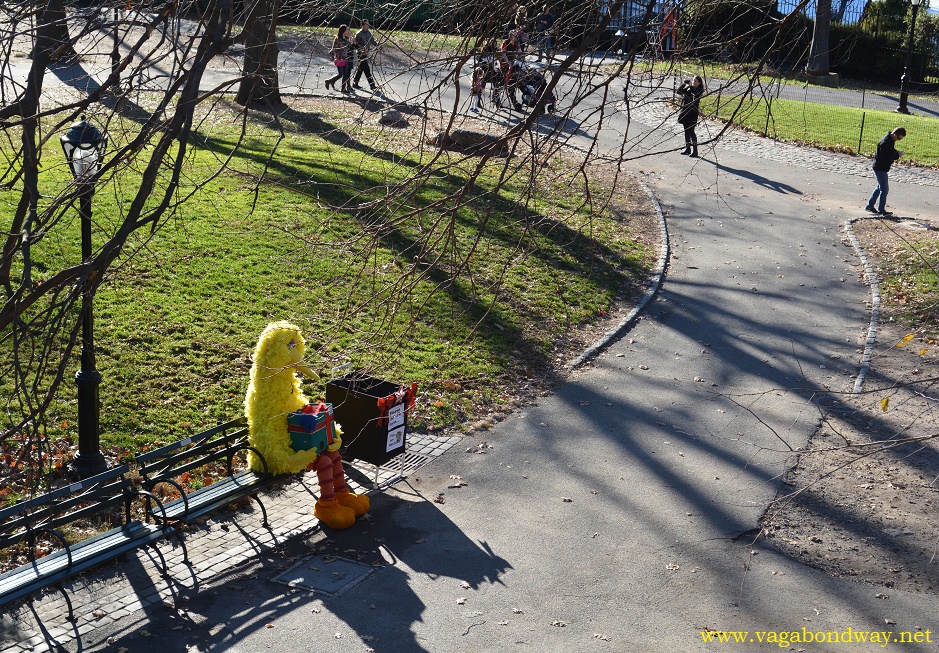 This was when we when saw a lonely bird big sitting on a bench. But he found some friends soon enough!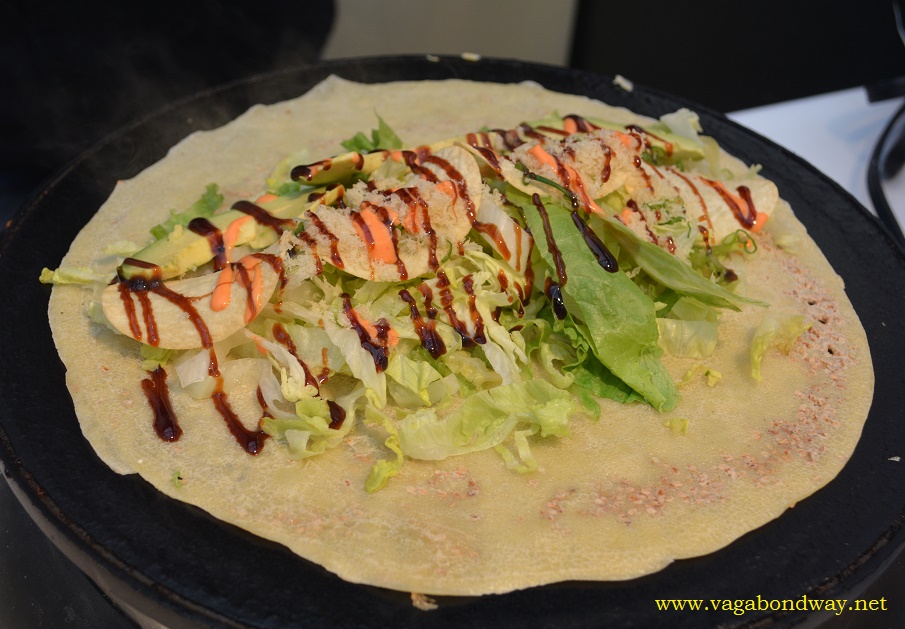 One thing we really wanted to see was the Christmas markets and eat some tasty food.
Steve of Vegushi made me this amazing wrap right before my eyes at the Winter Village at Bryant Park.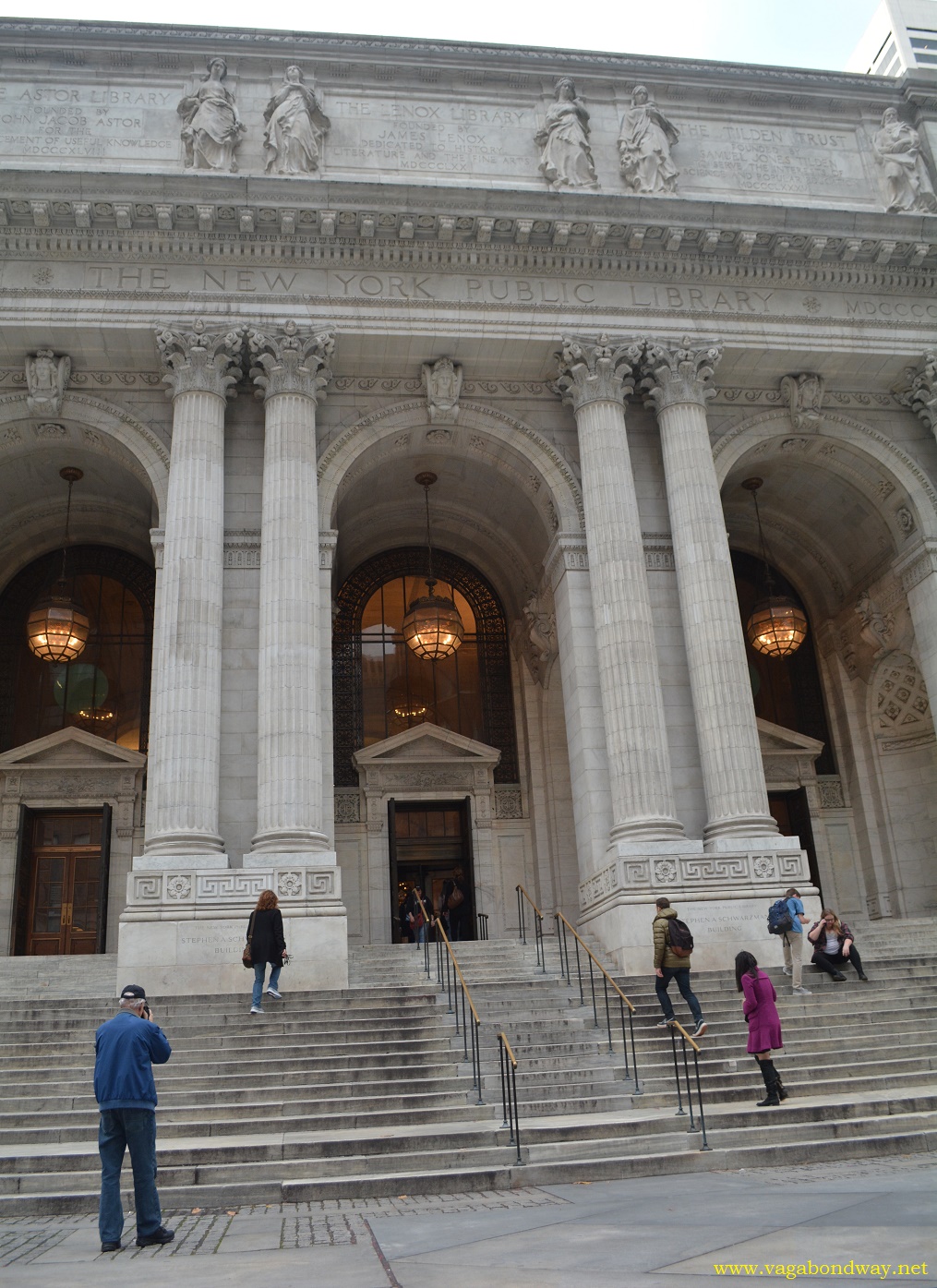 The New York Public Library is the second largest library in the US (behind the library of Congress) and fourth largest in the world.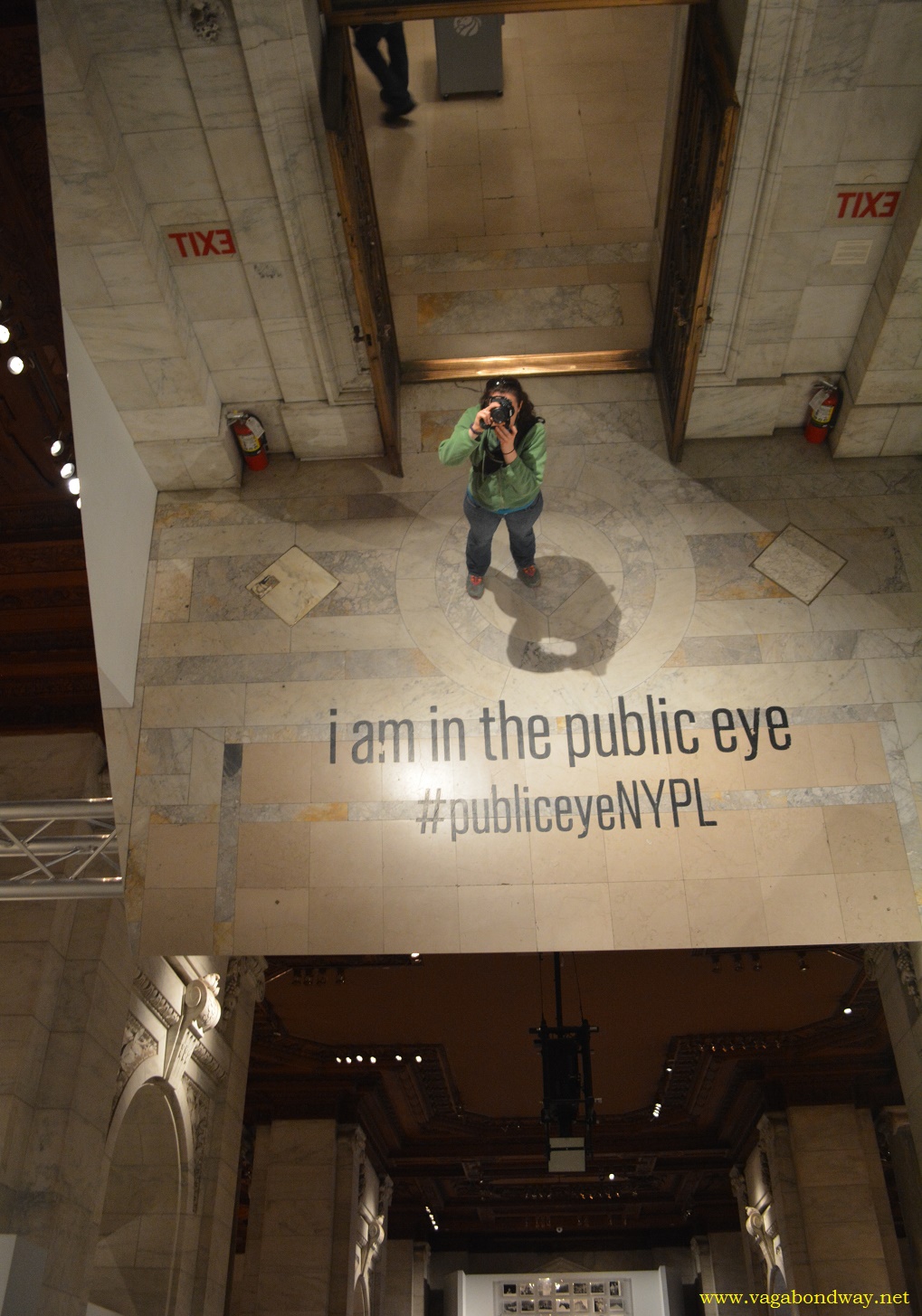 There are usually several exhibitions on display (often for free) and the architecture is beautiful.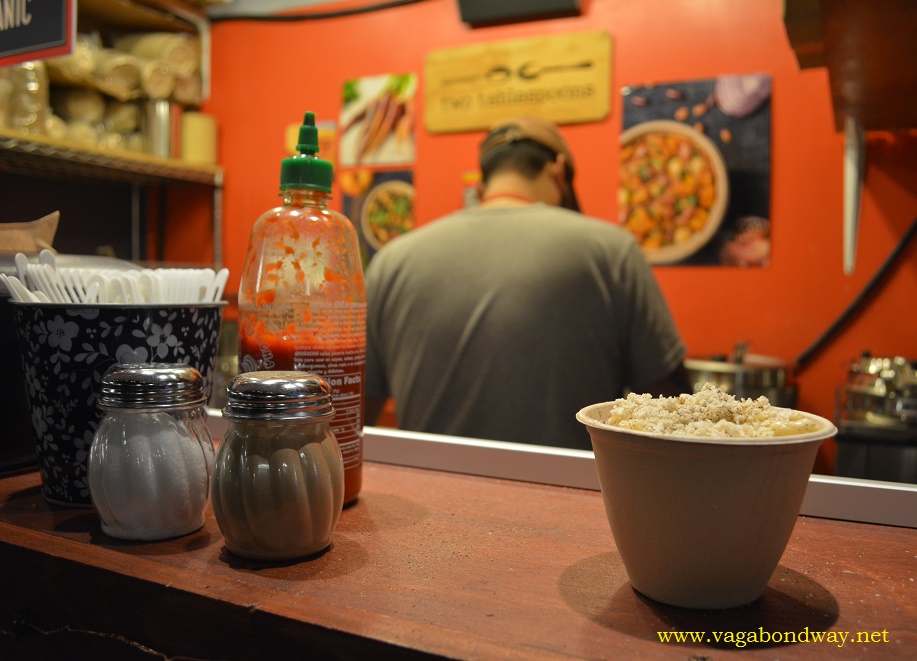 We went to more markets to find dinner like my hot mac and cheese with goat cheese and herbs. So delicious! You can read more about food in markets in this food lovers guide to holiday pop ups or check out the Markets of New York City.
Day 2
Leisurely morning. So much of the time we have to get up and go in the mornings. When we have the choice, we like to have our down time in the morning.
Chris had looked online and saw that tickets to the pedestal were selling out fast for the Statue of Liberty. So we booked tickets ahead of time and good thing we did. By the time we took the subway and got down there, tickets to the pedestal had been sold out. We could have still gotten tickets to go to the island and see the statue, but we wouldn't have been able to go into the statue at all. We wanted to try and go all the way up to the crown, but those tickets were sold out about a month in advance – so plan well in advance if that is something you want to do!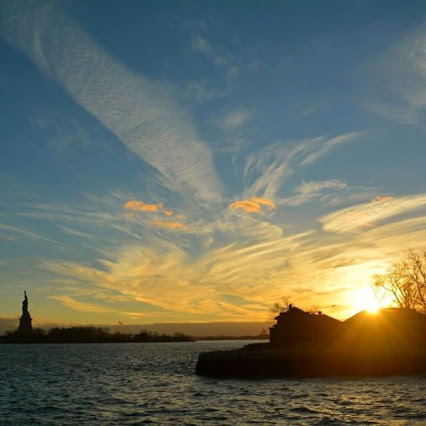 Going to the Statue of Liberty is something we have wanted to do for a long time. We could not have gotten better weather on the day we went!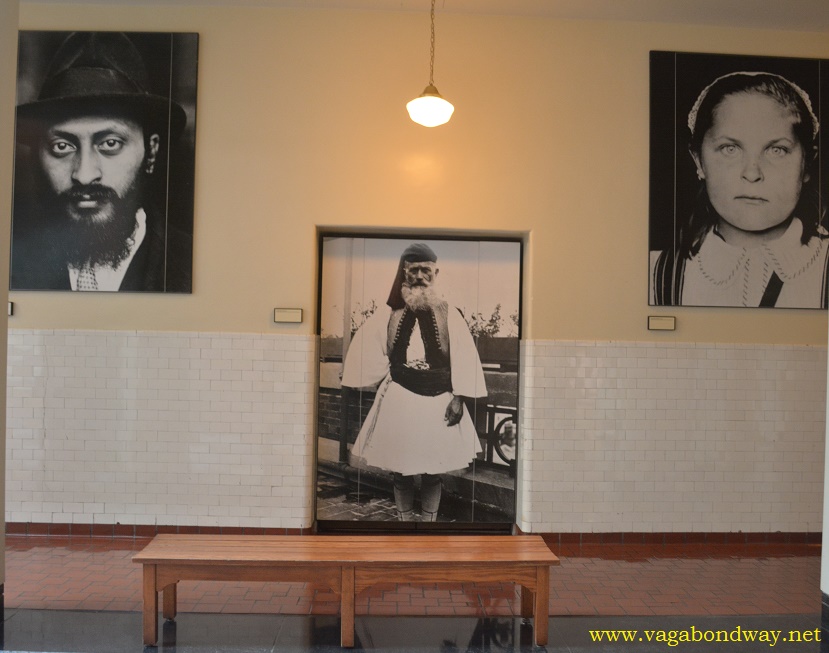 One thing about traveling, there is always so much to learn both abroad and in ones own country. The museum ended up doing a great job through pictures, displays and a movie conveying the emotion and hardship of what it was like to be an arriving immigrant. Often times immigrants had worked and saved for over three years to be able to even afford a ticket for passage over to America. Getting to 'The Lady' was still only part of the journey. They had to undergo rigorous screening and always have fear in the back of their minds: they might be rejected and sent back to wherever they came from, even if it broke up a family.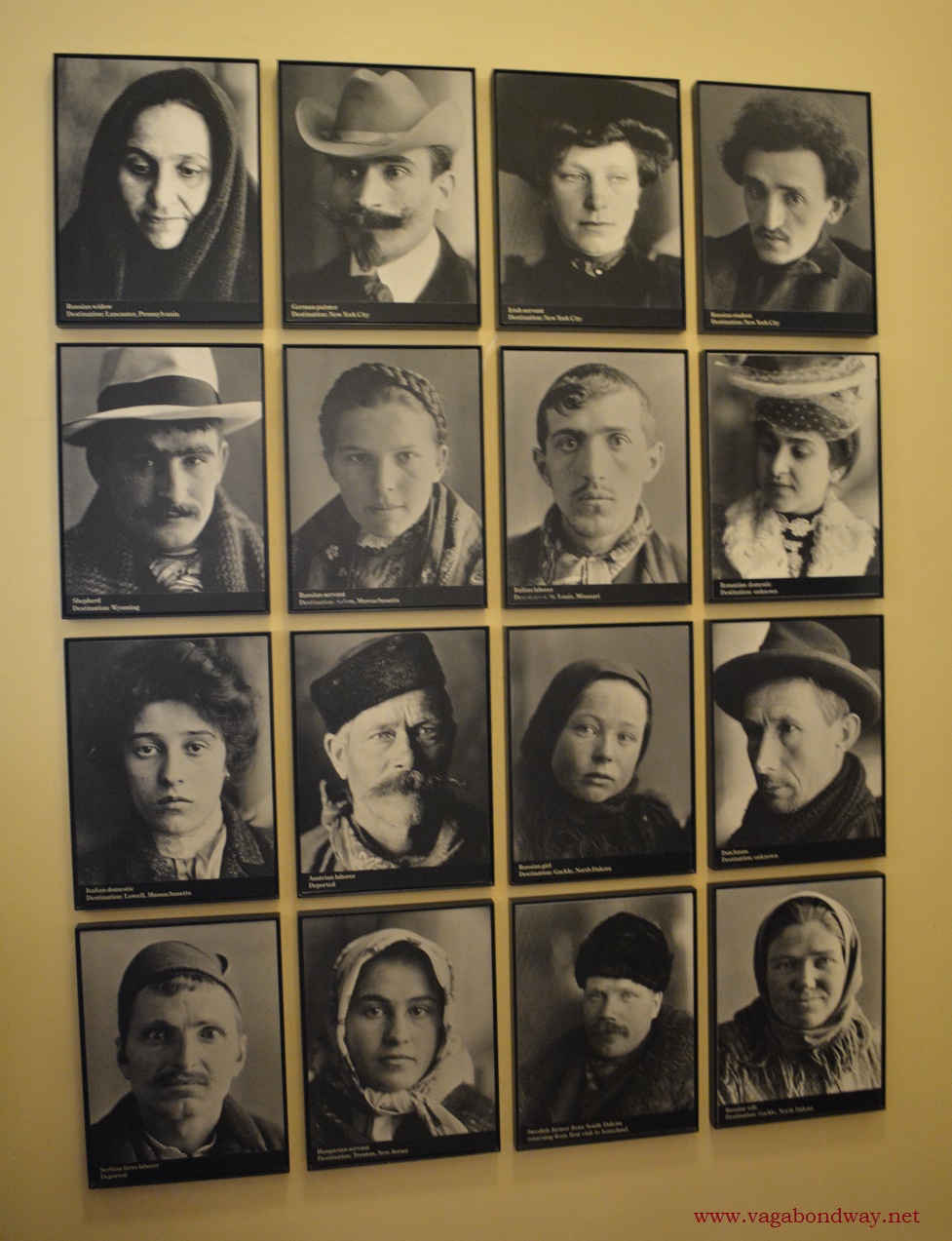 Your ticket price includes the ferry ride, entry around the Statue of Liberty and to Ellis Island. It does not cost extra to gain access to the pedestal, but only a limited number of people are granted access each day and you must book this ticket. We ended up spending a good half day there. If you are making the effort to go, try and give yourself enough time to go through everything. On both sides of our grandparents history they immigrated from Poland, Czech Republic, Yugoslavia and other parts of Europe. I felt a great sense of empathy and compassion to try and imagine the feelings evoked through the photos.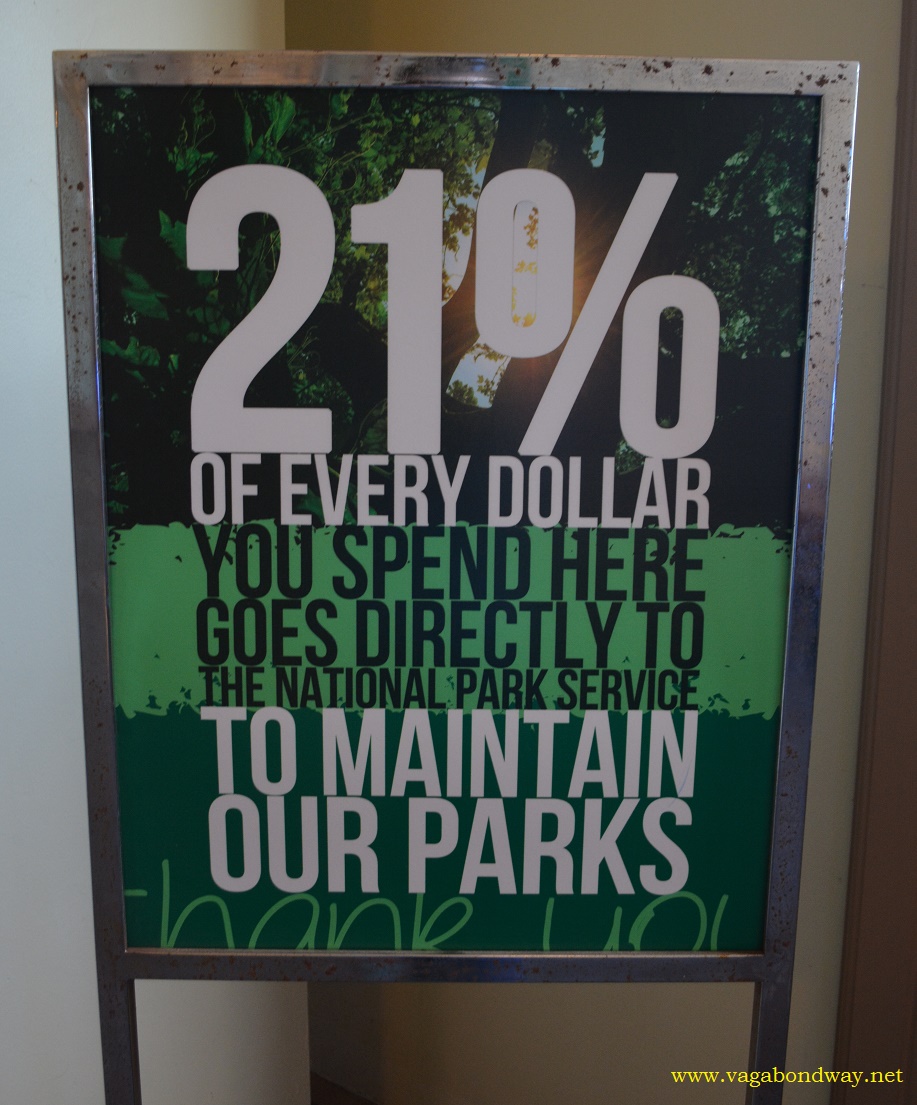 Also, worth mentioning, the island was a great place to have lunch. Unlike so many other places the National Parks Service did not jack the prices up and we paid $9.95 for a veggie burger and fries and same for Chris who got teriyaki chicken and organic veggies. The kitchen used almost all organic veggies and 21% of every dollar you spend goes back to the park. We were really happy we ended up eating lunch on the island.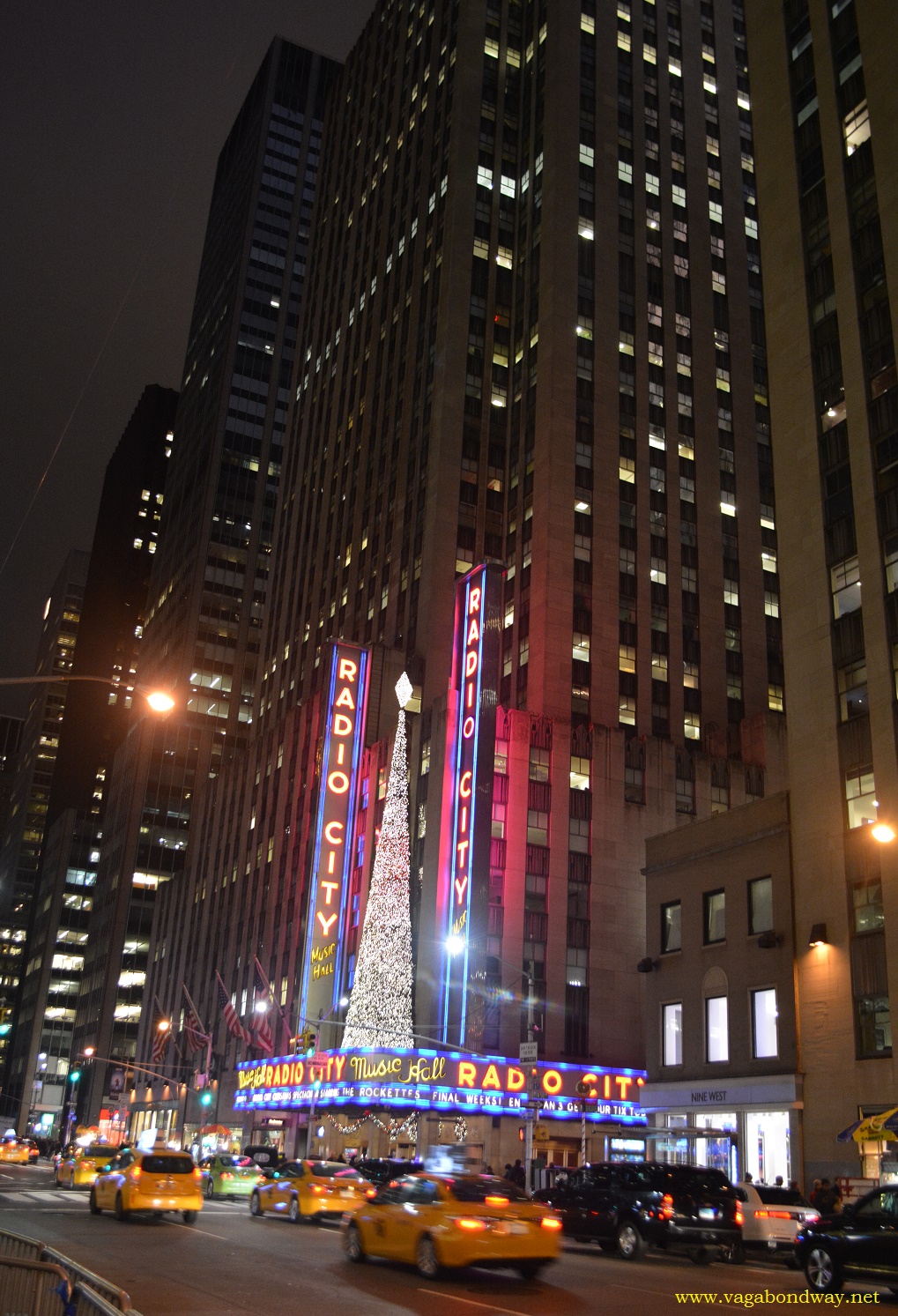 By the time we had finished exploring the Statue of Liberty and Ellis Island, it was dark and we took subway back up to Times Square area to check out the action.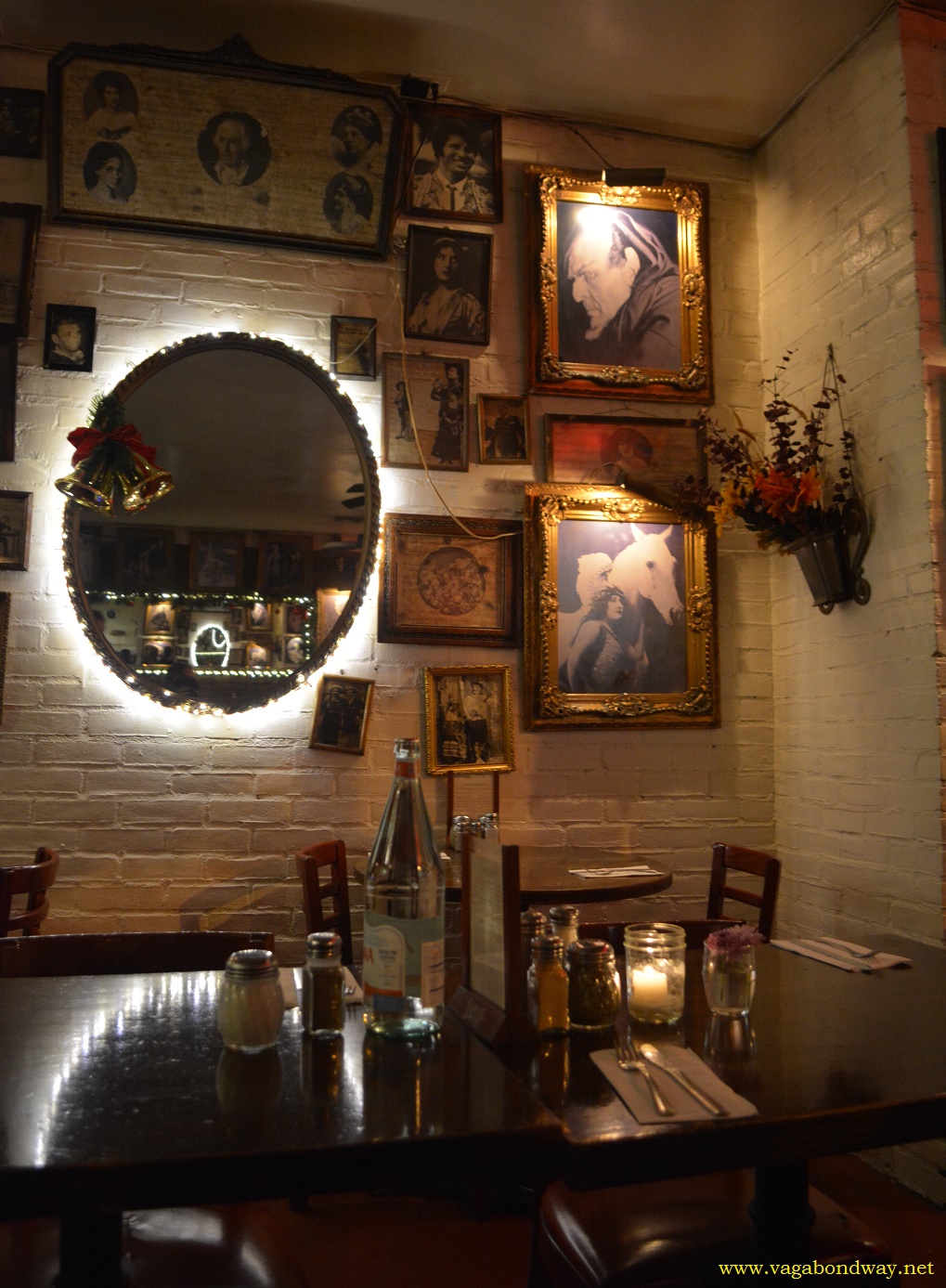 We tried the pear, arugula and fig pizza with truffle dressing at Don Giovanni Ristorante which was so outstanding. We would definitely recommend this restaurant.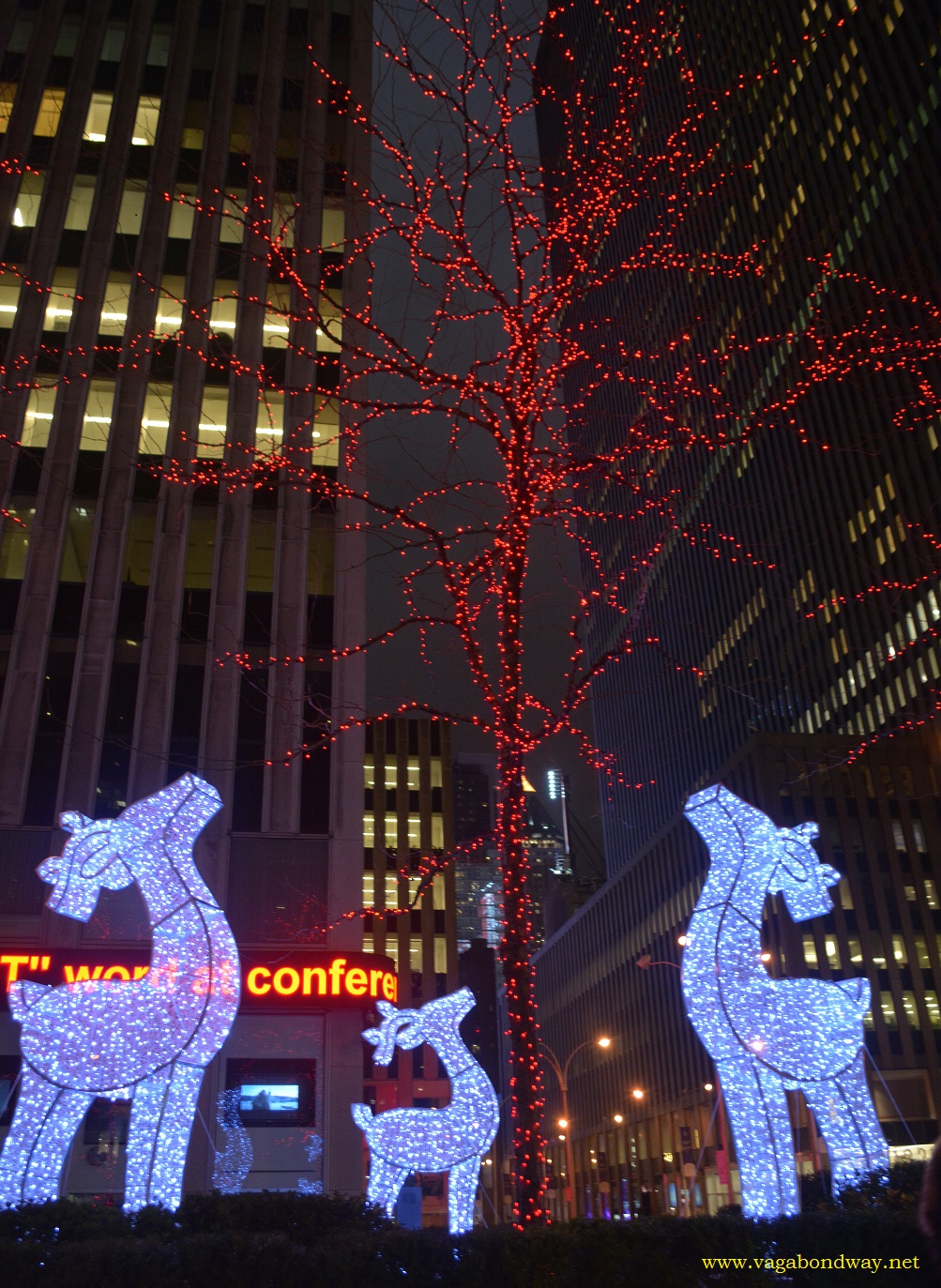 Well fed and ready to go again, we kept on street walking around the Rockefeller Center and called it a night.
Day 3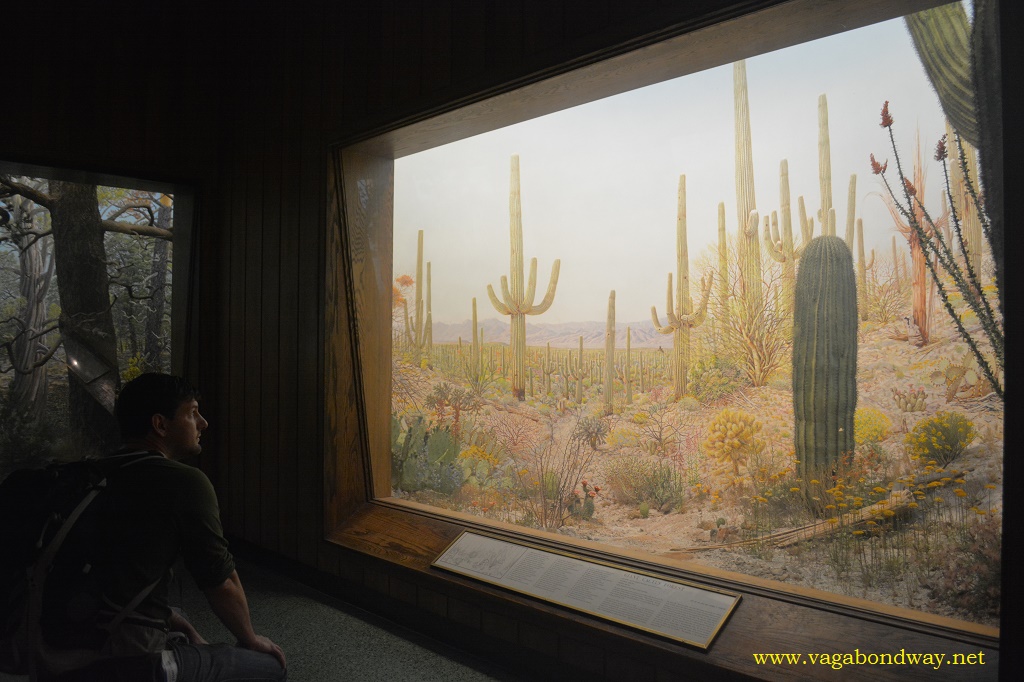 When we are in cities, we love checking out museums and spent half day at the American Museum of Natural History. They have some of the best dioramas and viewing them excites us to think of places we have yet to go and offers fond memories on the places we have been. Above Chris is reflecting on the time we lived in Arizona.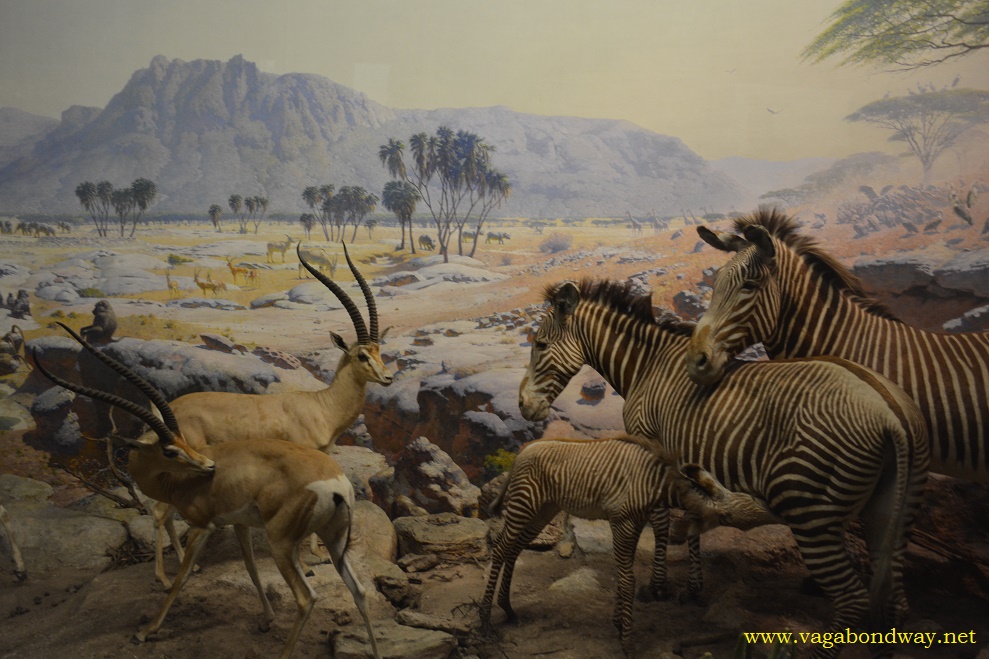 One of our favorite sections was the North American and African animal sections. Just for fun we kept track of how many animals in the displays we had and hadn't seen. For North America we had seen 20 animals and not seen 14 of the animals they had selected. For African animals, we had seen 44 animals and not seen 7. With gratitude we reflected how at this time last year we were just dreaming of seeing a lion in a tree or the Serengeti with our own eyes. Now we walking through this African animal section having seen the majority of the animals.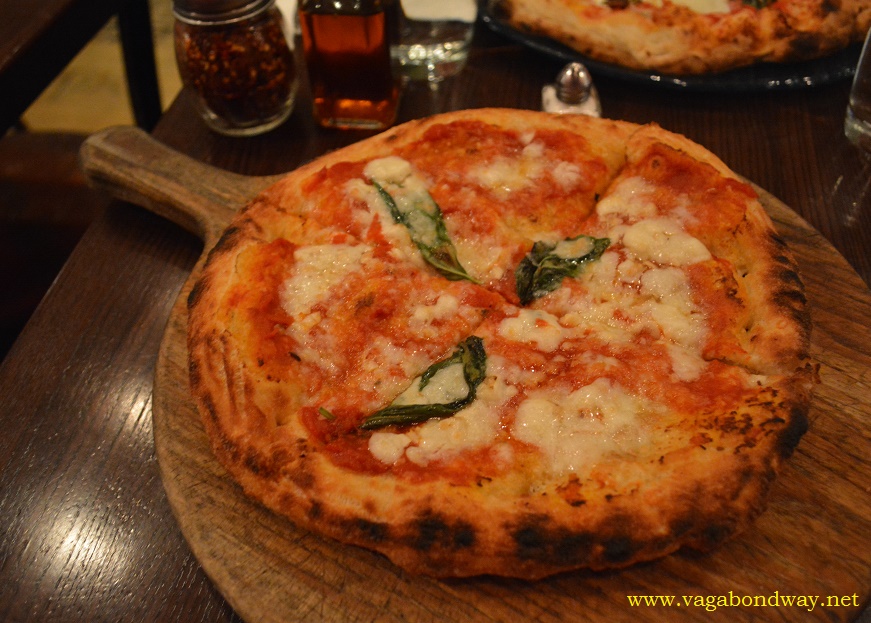 Knowing we were going to try our luck for a Broadway show, we had an early dinner at Don Antonio to beat the crowds. I hate waiting a long time in restaurants. Whenever we can, we will go on the early side to beat the rush. Plus, we had places to be! The house specialty pizza was a lightly fried pizza dough, signature sauce, imported buffalo mozzarella and basil. The pizza had a stand alone taste and was a definite recommendation!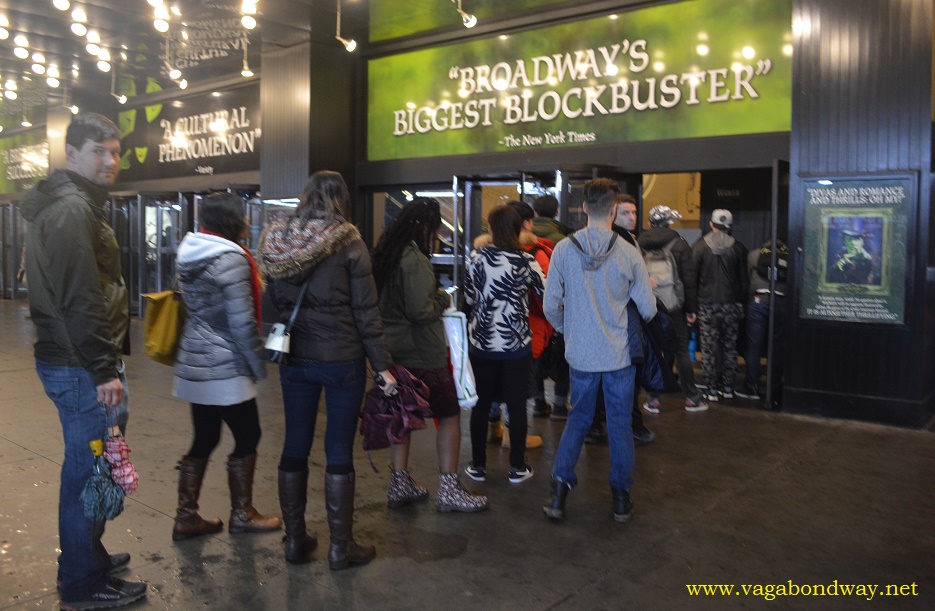 Trying our luck, we stood in line to put our names into a lottery drawing (Budget Tip: you can read about rush and lottery tickets HERE) for cheap tickets to see the Broadway Show Wicked. We didn't win, but we ended up paying the money to go anyway and so glad we did! It's not that often we are just hanging out in New York City and have the opportunity to watch Broadway Shows on Broadway. The sets, costumes and performers were, just as you'd expect, spectacular.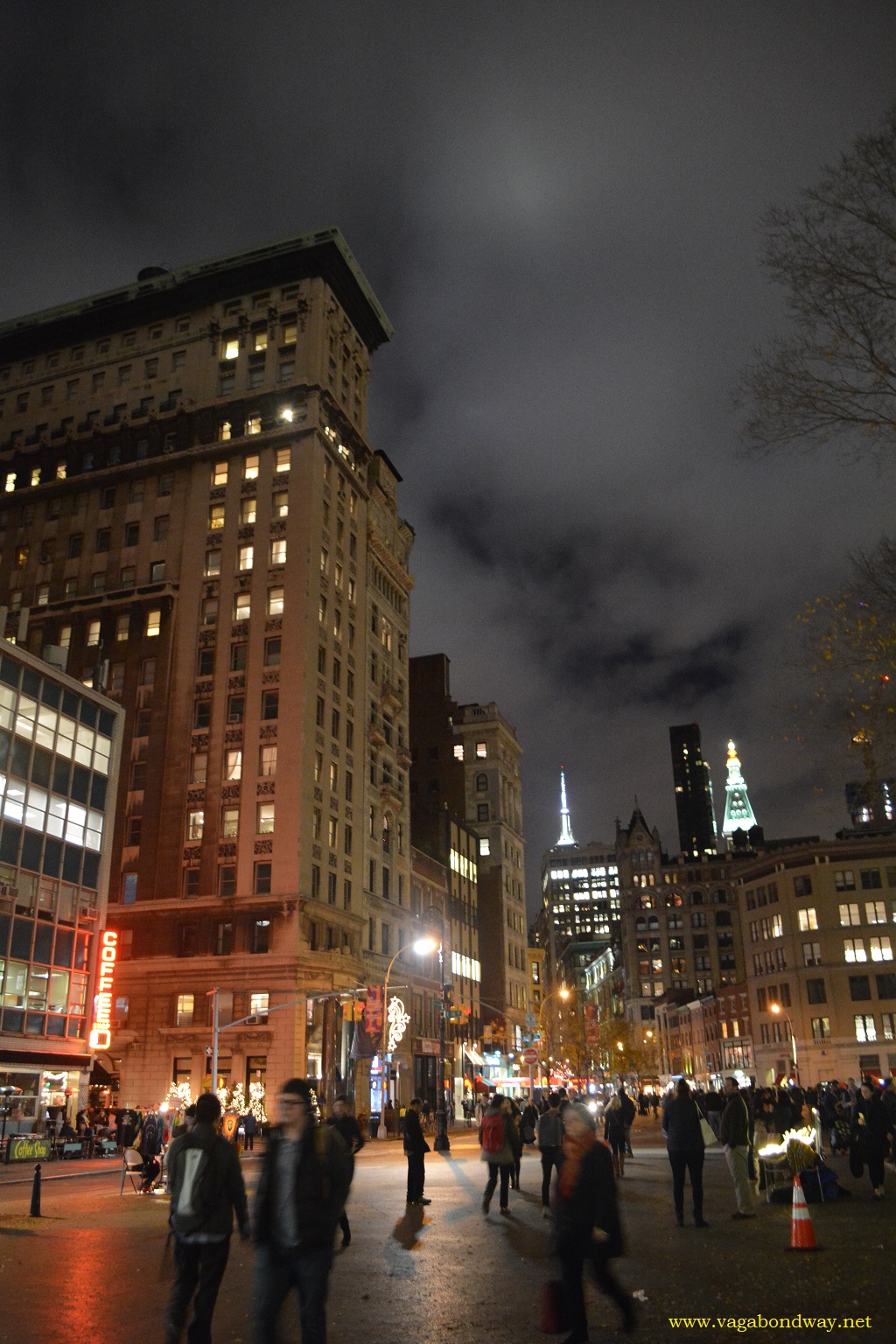 Enjoyed cool clouds as we walked the streets of NY back to our comfy hotel.
Day 4
Because we had given ourselves plenty of time with our parking, we were able to sleep in after being up so late from the Broadway Show and leisurely check out of the hotel. We put our stuff in the car and then got some awesome NYC bagels for breakfast. We walked back to our car and drove out of the city hitting no traffic or fuss and headed back to Vermont.
Budget
A note on the budget, we could have easily spent either more or less in New York City than what we did. Yes NYC can be expensive, but that's also because you are probably going to do things you wouldn't normally do at home, on an every day basis. For instance, we don't spend $200 every day to go see a show on Broadway. BUT – it's  not every day we get a chance to do this, so we're gonna spend the money. Or look at our parking cost. Yeah it stinks to pay~$100 to park our car. But if you take a look around and find out that a lot of parking costs on average $50 a day and we paid $30 a day to park in a nice spot, it felt like a deal and just what you pay if you want to go. Whenever I hear people say, 'Oh, NYC is SO expensive,' just to put in perspective, there are a lot of places where it costs $100 a night to stay in a hotel, VT especially is a state with high hotel bills. Chris found a great internet promo and the relaxation, unstructured time and comfortable bed was worth the money. We did not want to do any couch surfing, sleep on floors, stay with friends, cook our own food or eat crackers and peanut butter for lunches while we were in NYC. The things we did are things that we felt would recharge us and help us feel good about our trip. We were feeling pretty burnt out from working hard and had saved the money to treat ourselves with a few days in the city. 🙂
Day 1
Hotel = $113
Parking = $30
Transport = $21 (toll and subway)
Food = $47
Activities = $0
Total = $211
Day 2
Hotel = $113
Parking = $30
Transport = $12 (subway)
Food = $75.50
Activities = $38
Total = $268.50
Day 3
Hotel = $113
Parking = $30
Transport =$0
Food = $58
Activities = $233
Total = $434
Total Cost for NYC for 2 people = $ 913.50
Daily cost per person for NYC = $152.50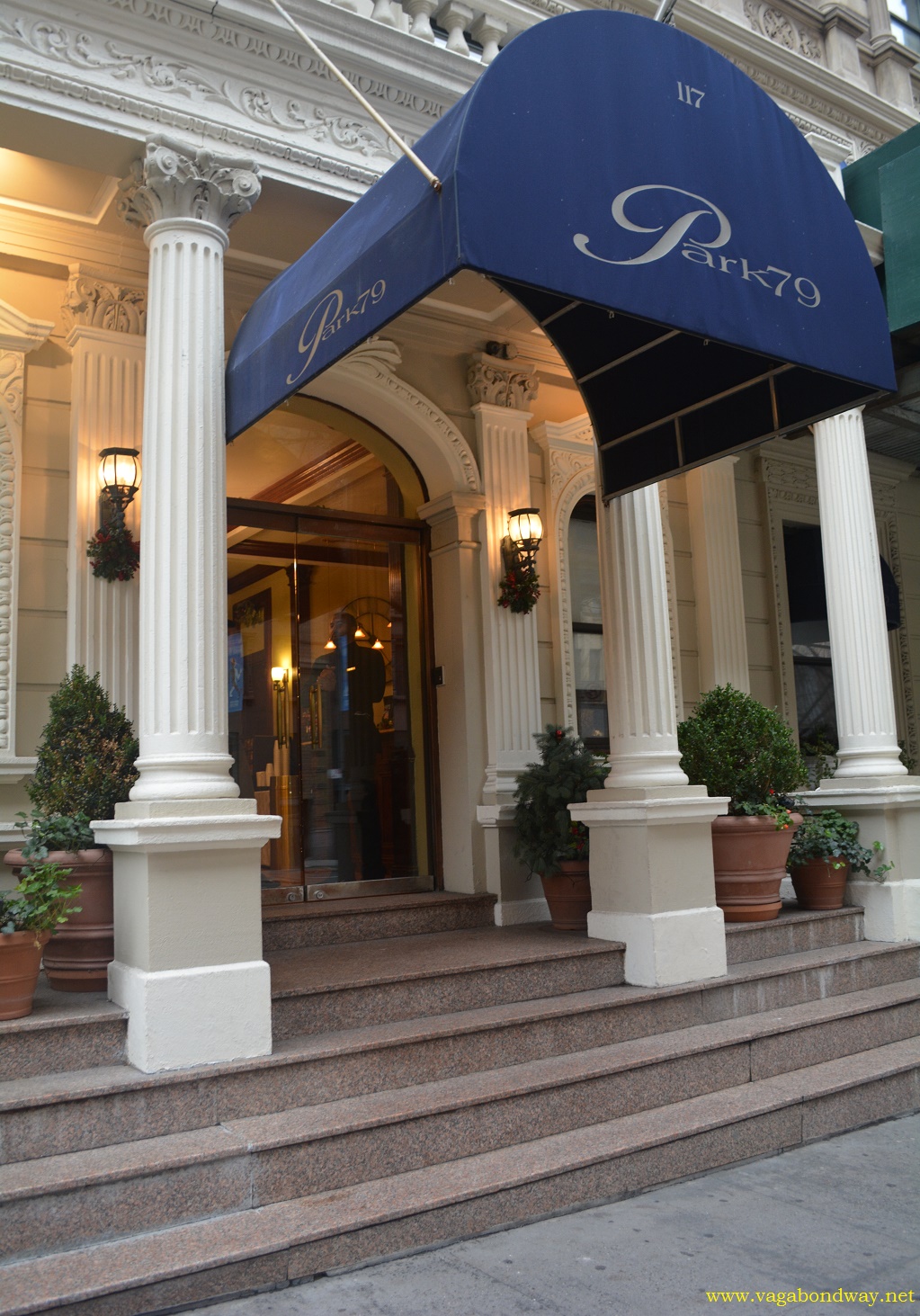 Chris and I love travel in the way it allows you to think about life from other people's perspective. I have always day dreamed about living in the city for a while and having a nice front entry. For a few days I got to live that dream as you can see in the photo above. I thought about my friend Betty who grew up in New York City and does not have a drivers license. Given the cost and difficulty of owning a car in the city, I pondered if would I have ever gotten my license or learned to drive if I lived in the city? After walking around all those sky scrappers, I reflected on some of the guests from 'the city' that have come up to stay at the lodge Chris and I manage in Vermont. If I spent most of my life walking around these piers of concrete and then went to a 27,000 acre forest in Vermont, I would probably ask the Innkeeper if a bear might eat me if I walked around the pond too.
Travel can take place in many forms and take us many places. But one thing travel consistently does is, open our eyes to people who are just like us but live differently. No matter who we are or where we grew up, we all share Maslow's Hierarchy of the same basic needs of food, water, shelter and safety. Sometimes it just takes a few days of pounding the pavement to remember that.
*     *    *
If you go:
All links are dispersed in their pertinent areas above! Enjoy your trip and please do let us know how it goes! Happy Travels.