Niah Caves National Park in Malaysia, Borneo is home to the oldest modern human remains that have been discovered in Southeast Asia. This claim seems to quietly surprise the visitors that make their way to the park. In the small museum, located across the Sungai River near the park headquarters, behind a glass case, sits a replica of what is believed to be the first human skull unearthed in this area making Niah Caves one of the most important archaeological sites in the world.
I didn't quite get this vibe prior to going there. In fact, other tourists we had met said the locals advised them to skip Niah Caves. "Go to Lambir Hills," they said, "there's a nice waterfall for you to swim in." For Chris and myself we were like, "No way! You have to go to Niah Caves!" The cave is so spectacular, the boardwalk takes you through amazing rock formations along the way to one of the largest cave entrances in the world. If you have more time, you can go on a super adventure hike with ropes and ladders to the summit of Bukit Kasut.
I hope to write more on the adventure hike, because that is worthy of it's own entire post, but for now, here is why we thought Niah Caves was so awesome and why it's worth a visit if you can. Located approximately 2 hours from Miri in Borneo, Malaysia, Niah Caves makes for a good one to three day visit. We spent two nights there and we wish we had spent three.
Once you are in the park, you pay a man $1RM to give you a boat ride across the Singai River to get to the caves. There's no swimming as crocodiles may be cruising through the waters. A 3.5 km walk, mostly on a dreamy boardwalk, weaves it's way through the forest past giant tapang trees to the cave entrance.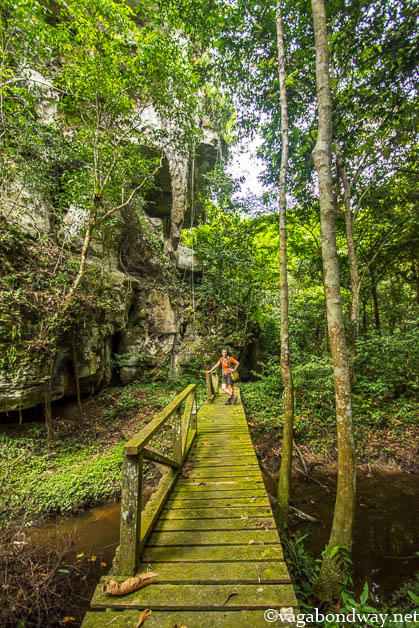 I would have gone to Niah just to walk on the boardwalk.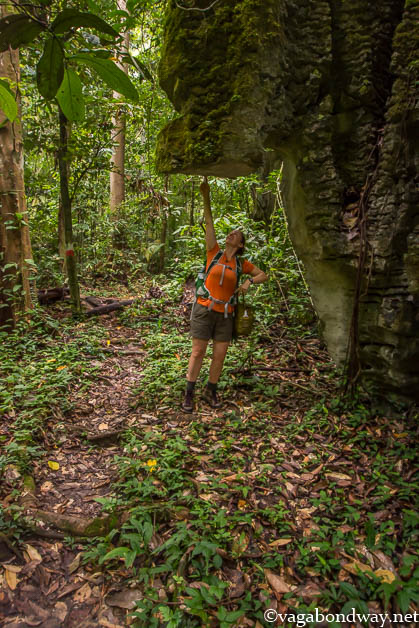 Unique stone formations jutted up from the forest floor, lichens hung off tree limbs and bright red centipedes gave contrast to the dense, green forest.
We came upon this first area of the cave. This was called Traders Cave and it was the spot where the bird nest harvesters would trade their collected nests for goods and services. This was cool enough, but then we kept walking and…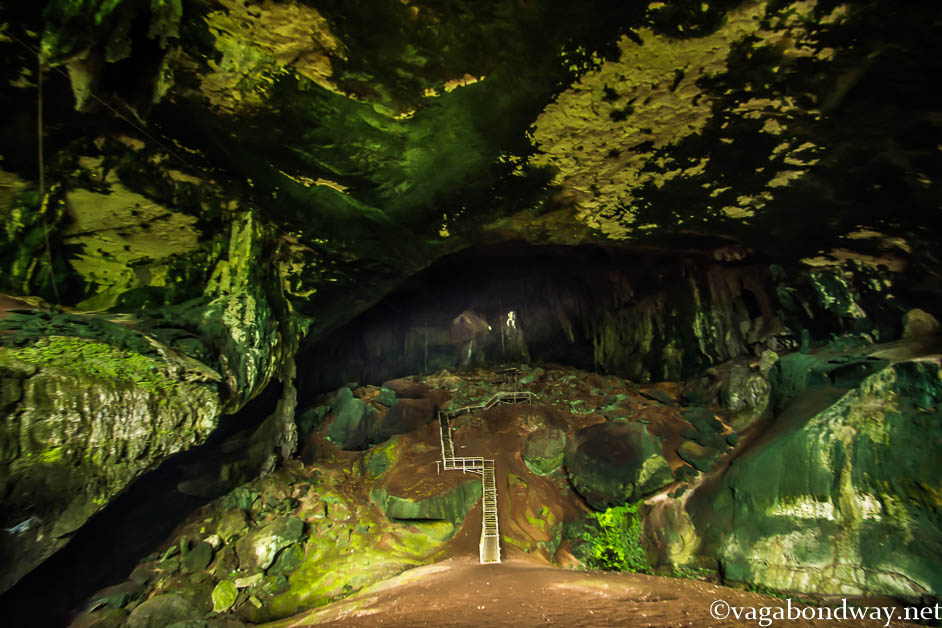 …and whoa – look at this cave!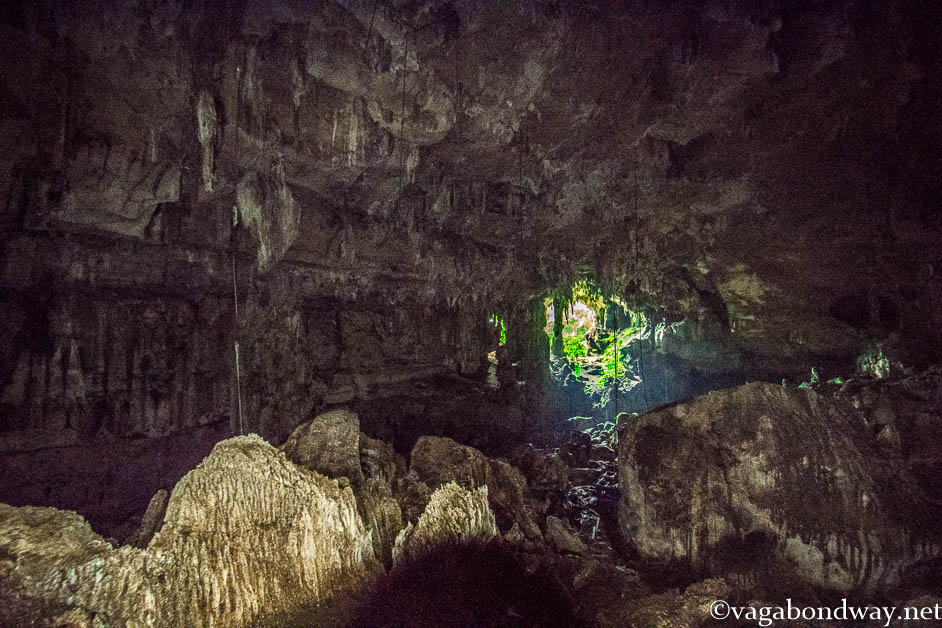 We just had no idea that Niah Caves would be so cool.
The first time we walked into the large entrance of the cave, we didn't realize there was a little path to the left, so we just charged up the hilly area that was full of bat poo. So tip: hang to the left as you enter the main cave!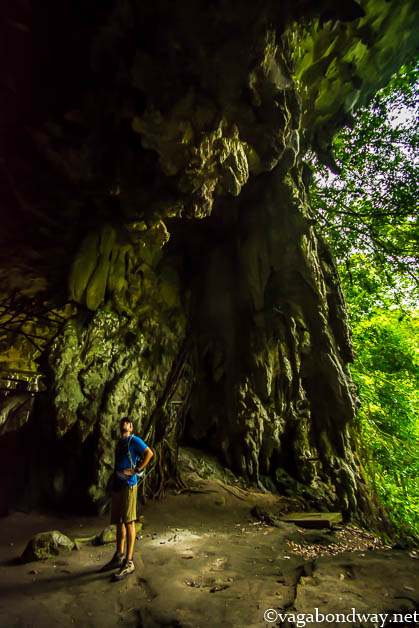 Going inside, we immediately realized the cave was bigger than we anticipated and would take more time to walk through the chambers than we thought.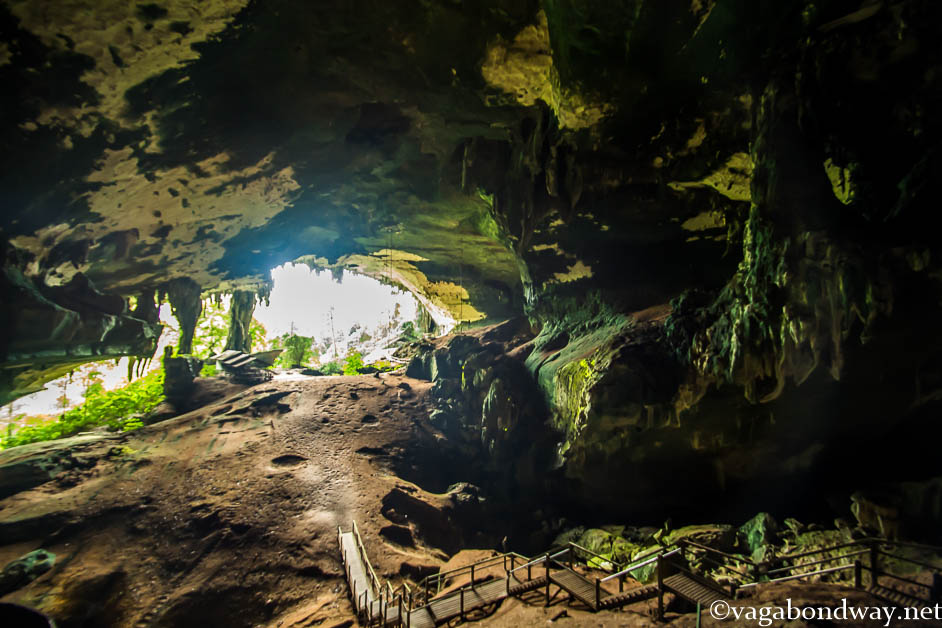 Not only was the cave huge and impressive…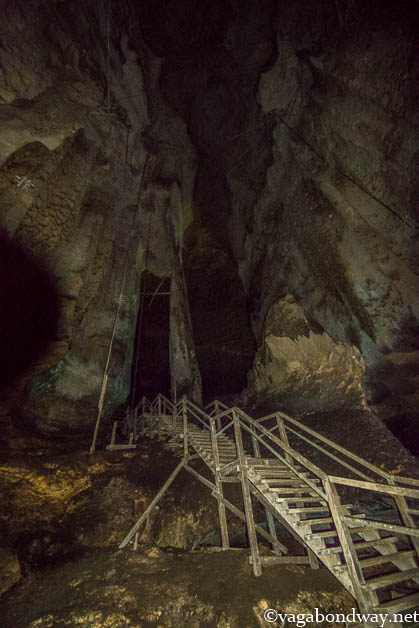 …wooden platforms brought us down into the depths of the cave.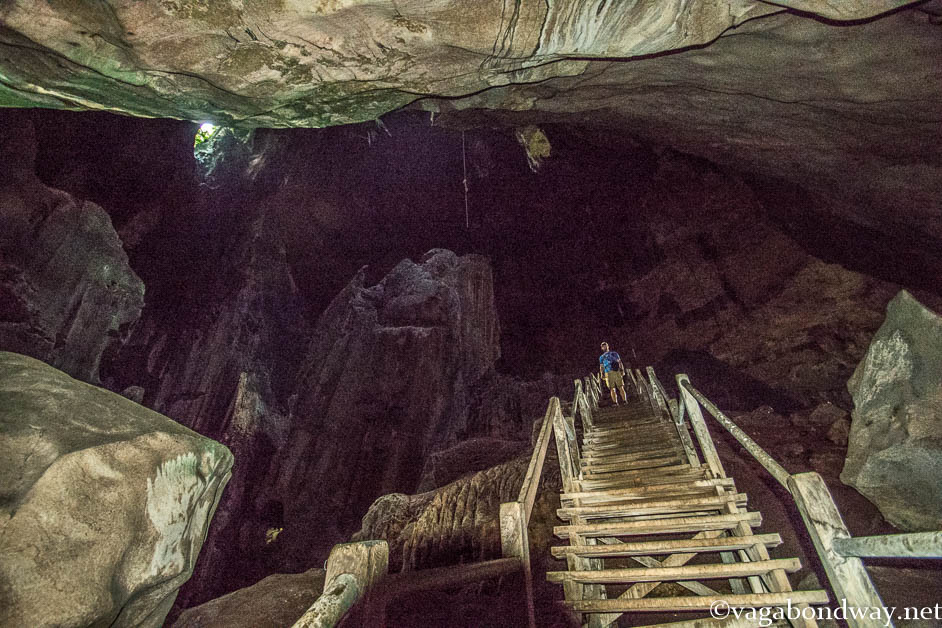 For some reason, and I know it's not quite like this in the movie, but I felt like I was going down into Scar's lair from the Lion King. For a while walking around in the caves I couldn't stop singing "Hakuna Matata." This tidbit is irrelevant, but none the less, this is part of my memory of walking through Niah Caves.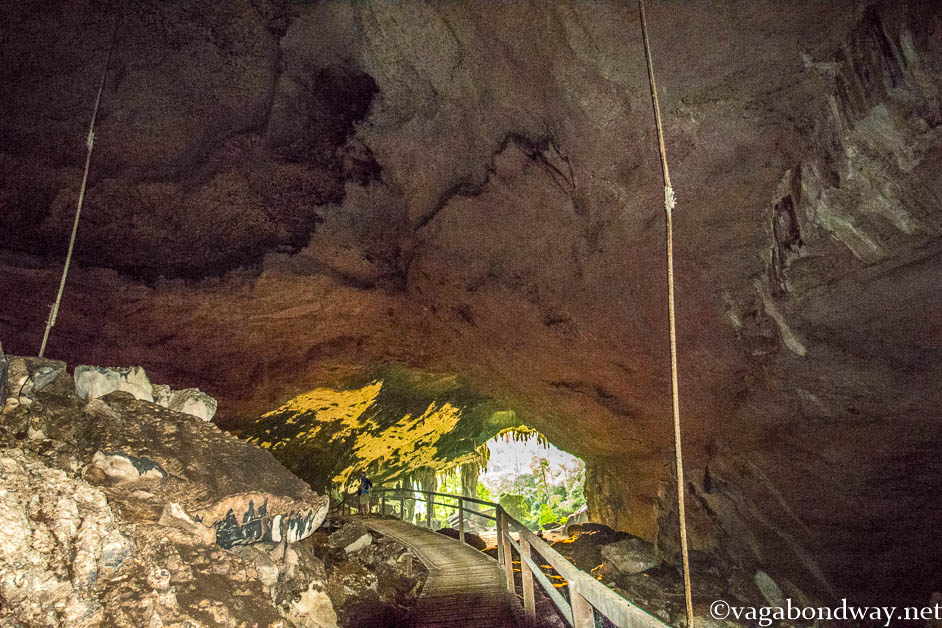 Do you have any guesses as to what these wooden poles are used for?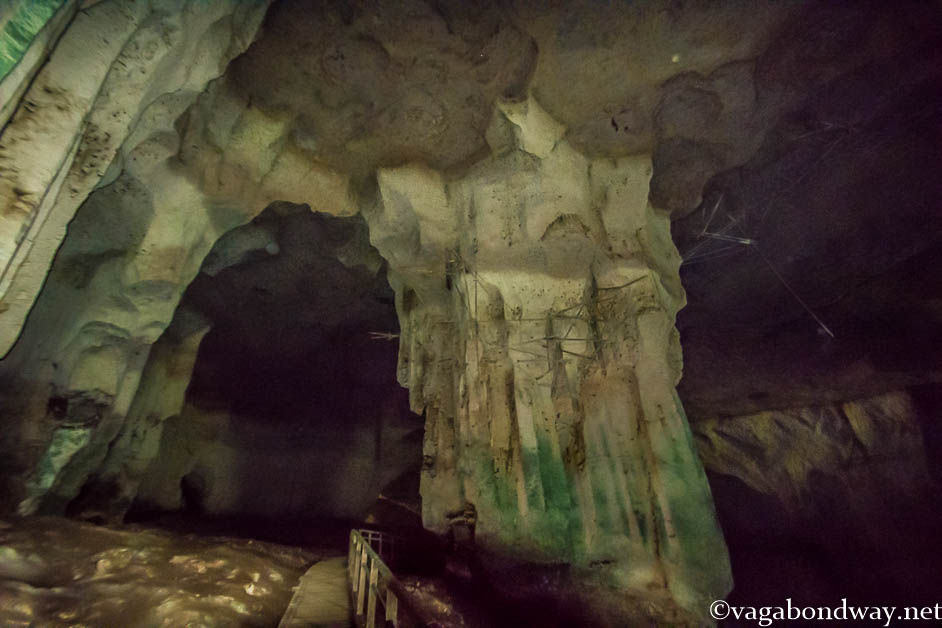 These wooden poles, some of which go up about 70 feet/21 meters, are what bird nest collectors free climb up.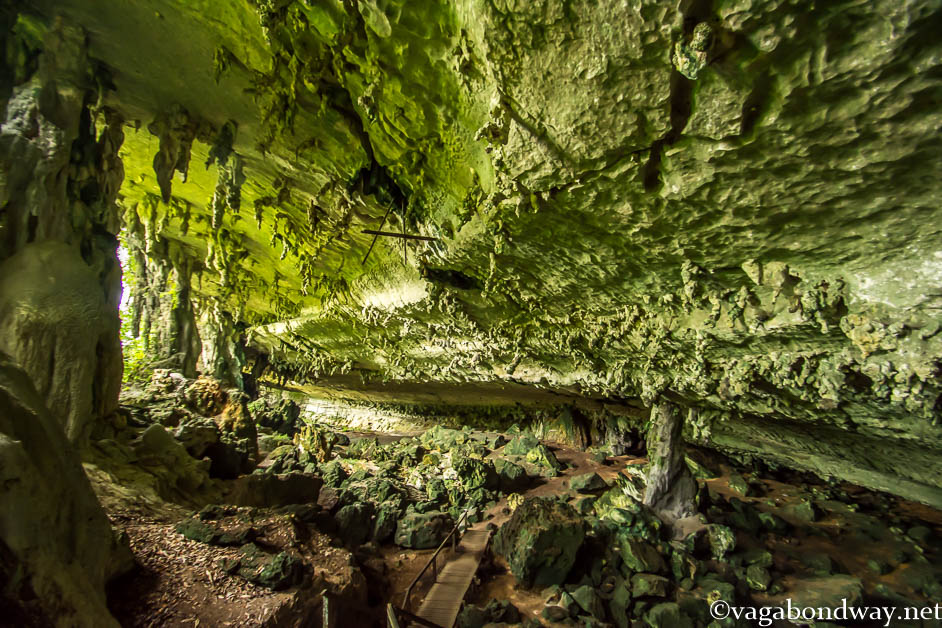 Swiftlet swallows make their home in the caves. Their nests are constructed from their saliva and are collected to make Birdsnest Soup. I don't see the appeal of this, but this has been a tradition for hundreds of years and harvesters will risk their lives scaling these poles to collect the nests. Nest harvesting is supposed to be regulated now to ensure not too many are nests being taken, but I was skeptical of how tightly this was managed.
On the plus side, swiftlet nests can now be "farmed." We have not seen this in action, but I guess they use pcv pipes along the side of someone's house. The swiftlets will live there and then the nests can be more sustainable to harvested. Farmed nests are not as good as authentic cave harvested nests, but at least this helps reduce pressure on local cave populations.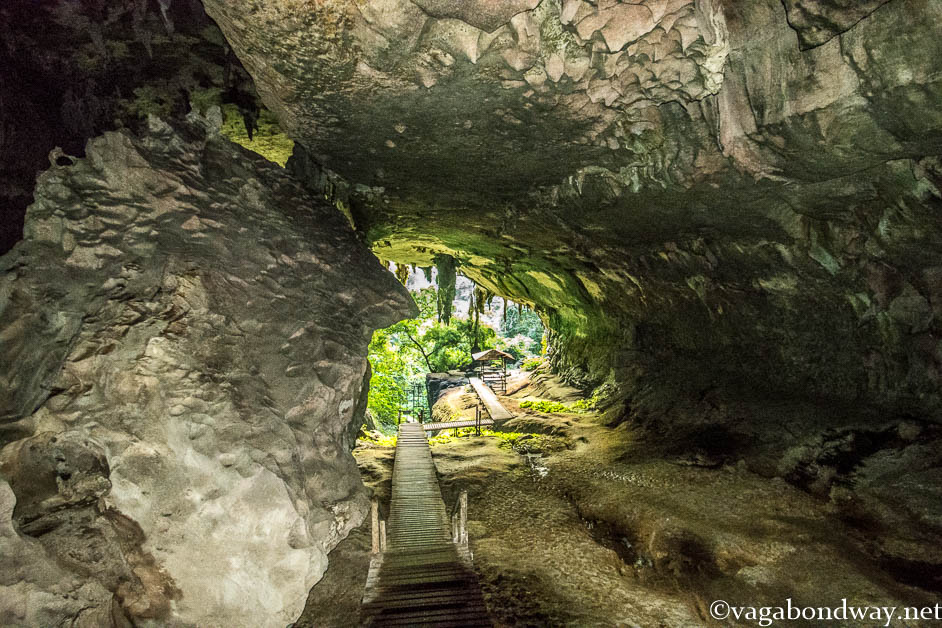 We kept walking through long corridors of Niah Caves and were continuously surprised throughout our wanders.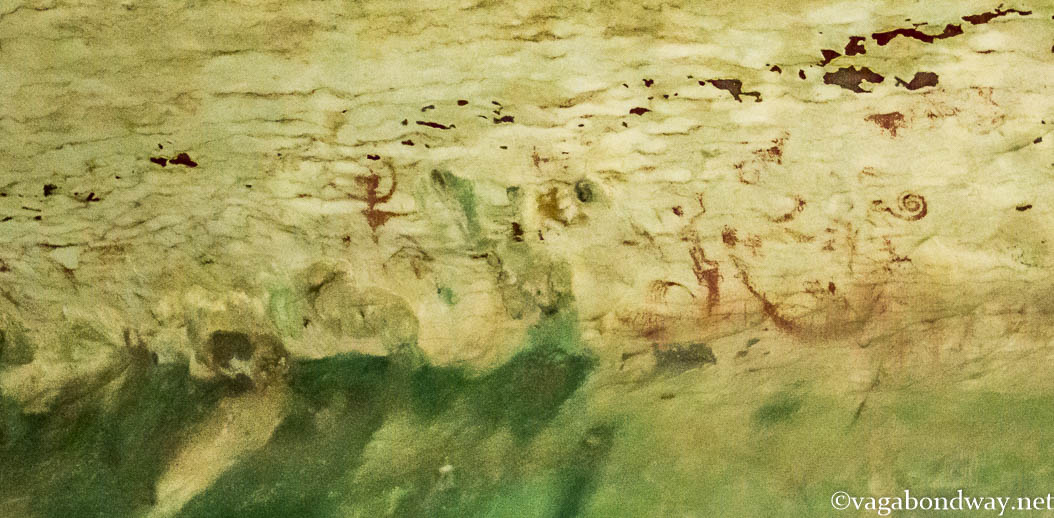 Continue walking further, you will get to Painted Cave. Dating back to around 1AD to 780AD, these paintings depict boat journeys of death into the afterlife. Although faded and difficult to see through the chain link fence that serves as a barrier, it was fascinating to look back into this history.
If you are near the Miri area and are able to go to Niah Caves, we thought it was well worth the effort. I loved being able to wander around the cave at my own pace and walk the boardwalks. If you are into rain forests, caves, history, plant life, insects and neat and pretty things, then make Niah Caves a stopping point on your itinerary.
***
If you go:
Check out the park website for Niah Caves. If you want to stay over night, you will need to book online here. You can register and then select the park you want. My online payment with credit card did not actually work when I first did this for a different park. I found a park email or you can try skyping the booking office if needed. Niah Caves was not particularly busy and in fact we were their only over night guests one of our nights. But if you are traveling on a tight schedule or a holiday, better safe than sorry in the off chance a large group books.
Niah Caves is easily reached from Miri. From Miri, take local bus No 33A (I *think* sorry, double check that with your accommodation, they will know!) to the main bus terminal, ~$1.50RM. From there, you can hop on any bus going south towards Bintulu and say you are going to the Niah Rest Stop, cost $10RM.
At Niah Rest stop you will need to pay for a taxi to take you to the park. This was so straight forward. We got off the bus, one taxi driver approached us and said, "Niah Caves?" We were like, "Yes, $30RM?" And he said yes and away we went. As of 2016, the fare is set to $30RM and we paid the same to leave the park.
Niah Rest stop is a great place to grab lunch. There is a large food area where you can just walk up, point at what you want and take it away. There is also decent, free bathrooms there.
If you need to stock up on any food supplies, there is a large grocery store there too.
Entrance fee to the park, $30RM for foreigner.
You can either rent hostal bed for $15RM pp or rent the four bed hostal room for $40RM per night. We rented the room and this was fine. The sheets are clean and the facility is acceptable.
The canteen is not open regularly, so if you need meals there (there are no cooking facilities) go and speak directly with the canteen. It's also a good idea to mention if you would like meals ahead of time when making your booking and ask them to tell the canteen. They were pretty specific with times such as dinner would be at 5pm. We just ordered take away meals as we still wanted to be hiking at 5pm.
One of the only troubles we've had so far in our travels was a cleaning lady who made the mistake of throwing all our food away that was in the fridge. There was mouse/rat poop all over the hostal, so we put all our food in the fridge as precaution for our two nights there. The second day, the lady emptied the fridge, wiped the poo off the top of the fridge and turned it off. When we went to the office to report of the mistake (and we do not think it was malicious or intentful) but there was just no fixing it. The food was gone. And since we didn't order breakfast ahead at the canteen our last morning, we had no breakfast or food left at all. The office was just at a complete loss of how to handle this situation. Also, when we first checked in they sent us to the wrong room. We entered and the room was totally messy with half eaten food left all over. We went back to the office and they were like, "Oh sorry, we gave you the wrong room key." With all of these errors, we were their only overnight guests. There were other things that I could go on about that showcased poor management from a park perspective as well (garbage on ground, ect). So Niah Caves, we really loved your park, but there was some areas for improvement with the management and organization. We wish we well as you can hopefully polish up your skill in regards to customer service, picking up garbage throughout the park and motivating your team, because you have a really awesome park!
You have to take a very short boat ride across a river to get to the hiking and cave trails, $1RM per way, per person.
***
In Miri, we stayed at three different places. Next Room Backpackers, My Homestay and Silverwood Inn.
Next Room Backpackers – had the nicest rooms, but the men's bathroom was kinda gross. Ladies bathroom was fine.
My Homestay – nicest kitchen facility to use and super nice bathrooms, but the rooms were cell like and not appealing.
Silverwood Inn – the folks there were really nice and you had a private bathroom, but the rooms were pretty grubby. Unless you are very used to and comfortable with lower end backpacking, I couldn't recommend this place, although the staff was very nice.
So it was a toss up and I would go with either Next Room Backpackers or My Homestay.
Enjoy your time at Niah Caves if you can go! Have you been in other caves? Do you have another cave that sticks out in your memory?
***
*Announcement! We're starting a new series on the site called My Story. What kind of traveler are you? How long have you been traveling? Do you maximize your vacations? Have you been able to take time off work? We want to hear from you and share your story! Please email: tiffany@vagabondway.net for more details. 🙂 
** Plan on traveling soon or making a purchase from Amazon? Please consider using the links on our resource page. At no cost difference to you we will earn a small commission to help keep this site running. Thank you so much for this thoughtful gesture. 
Life in Wanderlust