Welcome to Northeast Kingdom Food Tour Part 2! If you are just joining us be sure to check out last week's post telling more about how we decided to go on this food tour. For now we have to keep moving as half the day has gone by and we're barely 35 minutes from our home base!
We had just left the amazing Aldrich Library and had to take the dog for a walk. We went down the street past this mural. We were going to keep walking a little further but then we heard a dog barking in the distance and had that dog met Jess' dog then there could have been problems. So the situation was deemed unsafe to proceed and we had to stop walking and get back to eating.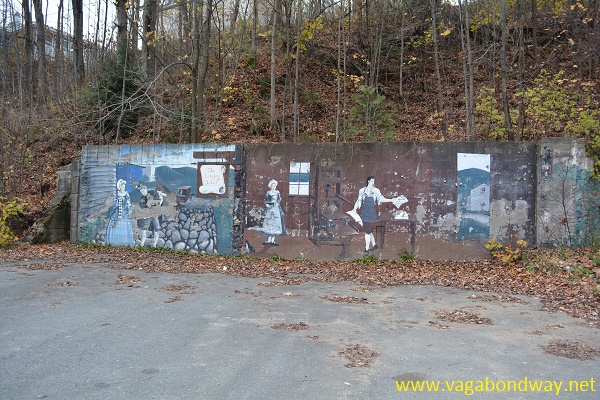 Our walk took us past Dylans back entry.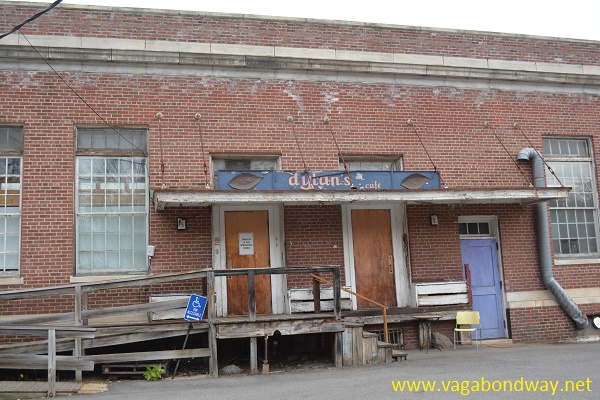 Dylan's was not looking so great from the back. Based solely from this photo I wouldn't think they were open.
To be fair, customers aren't supposed to go in the back entrance and it is pretty cool they are using this old post office building. Every time I see one of these older buildings become abandoned I feel sad. So way to go Dylan's on using and maintaining a neat, old building.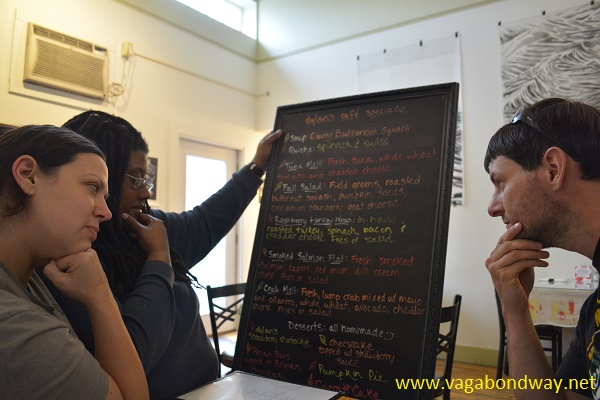 The waitress brought us over the specials board so we could all study the options.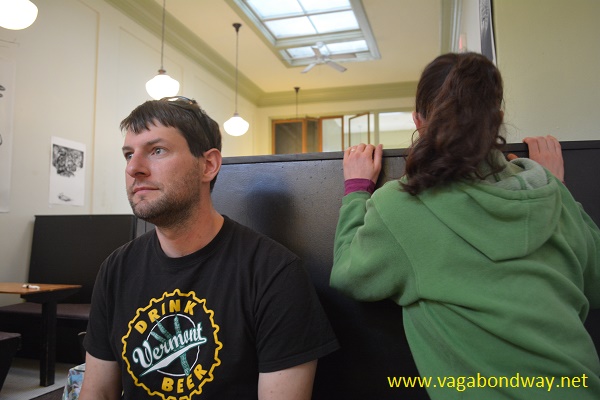 Our waitress must have been new – like really new. Aside from one other table that was already finished eating as we got there for a late lunch, we were the only ones in the restaurant and it took forever. Even waiting to get out waters. And our waitress forgot about us a lot, which means she forgot about every customer in the building. I will always remember my first day on my own as a waitress and it was really busy – I messed some stuff up. I sincerely hope she was having a bad day and emotionally distraught over something else.
That was me peering to see any hopeful glimpse of food, water or anything coming our way.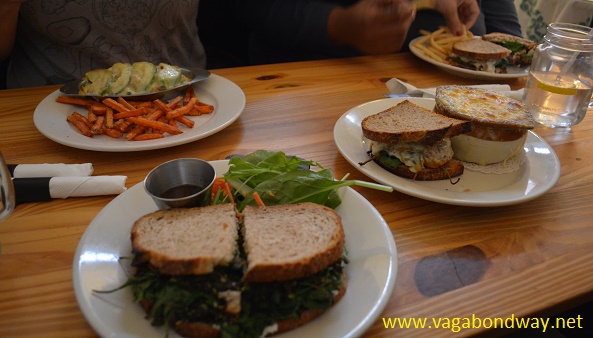 We did ask for carmelized onions, which take a while. So when our food did arrive it was delicious. Our waitress was nice, but not attentive at all which would have increased our dining experience tremendously.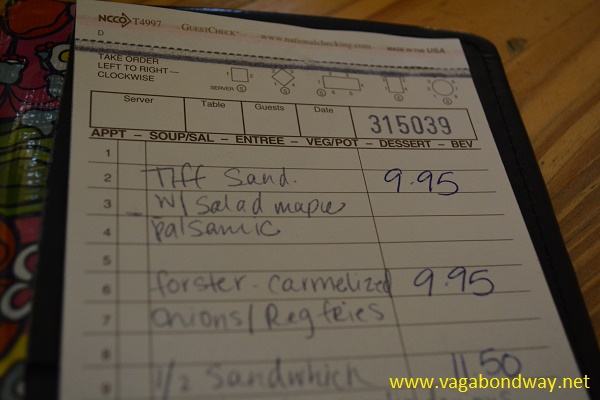 I got the 'Tiff sandwich.' There was just something about it – it called to me.
So would I eat again at Dylan's? Yes. The food was good and karma only knows we've had less than perfect days in the kitchen. The other thing and I don't have any great photos to show it, the whole cafe is full of local artists. The building itself is located next to the Catamounts Art Center and serves as the annex. Plus, looking around at the building, the overhead and maitenance costs must be rather high. It is definitely the type of a local business I would want to support and serves tasty, well priced food.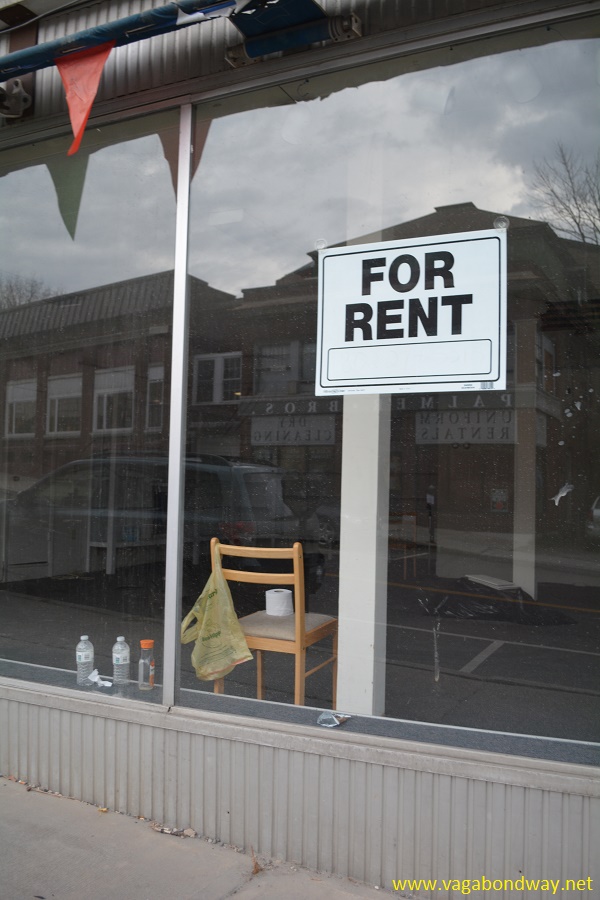 After lunch we knew we'd need a coffee and up the street a sign that said cafe caught our eye. We went up hill past perhaps one of the saddest looking store fronts ever.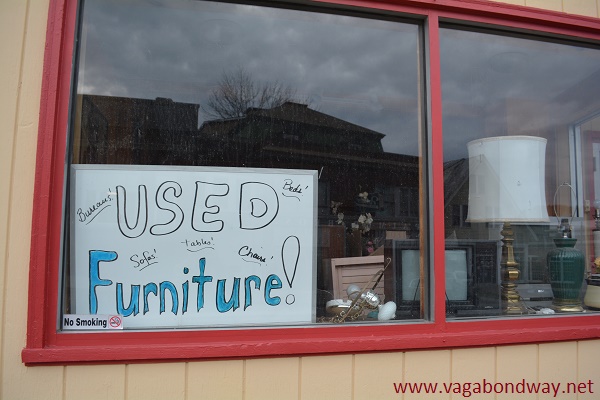 The next store front needed to call that artist girl from part 1!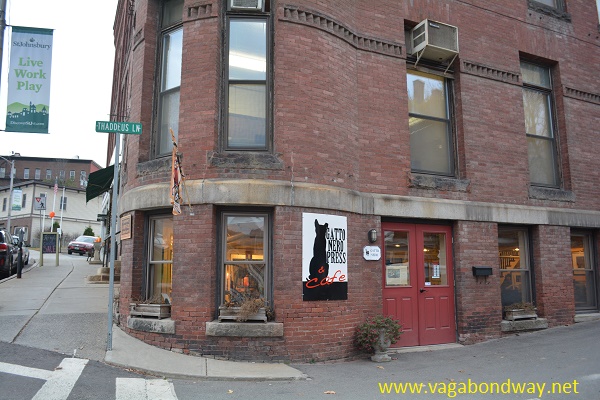 This is the store front that caught our eye – Gatto Nero Press. We had never heard of it or seen it until about an hour before.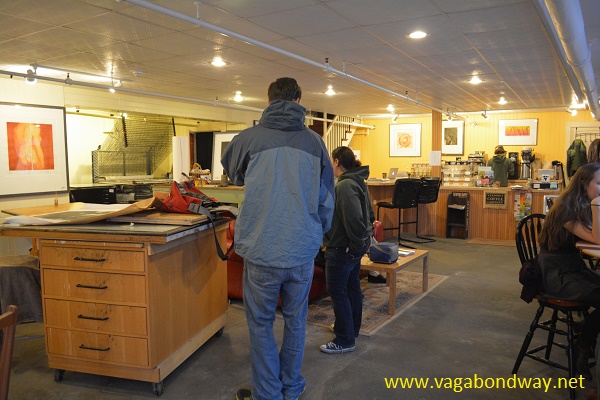 We step inside to find this bright, bustling yet relaxed artist studio and cafe.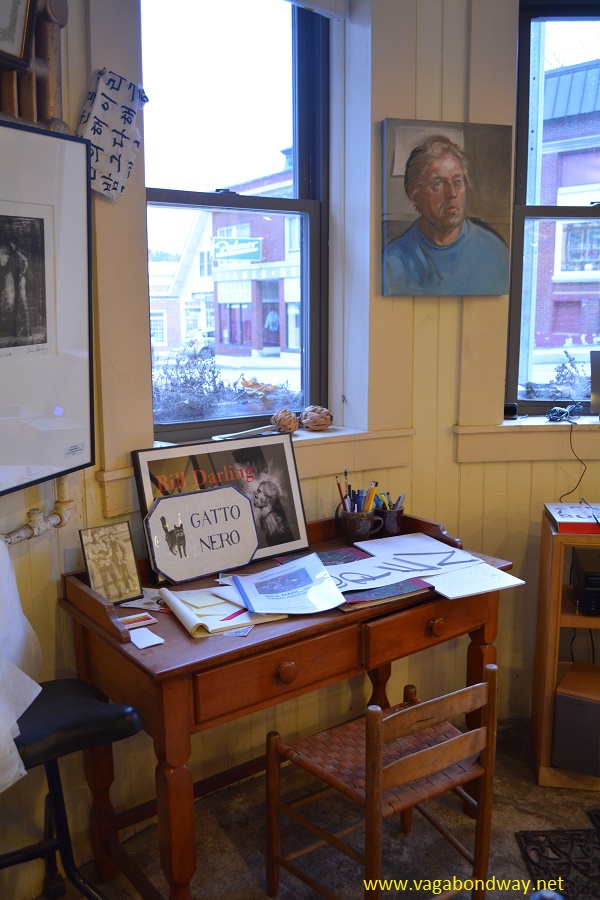 It was awesome.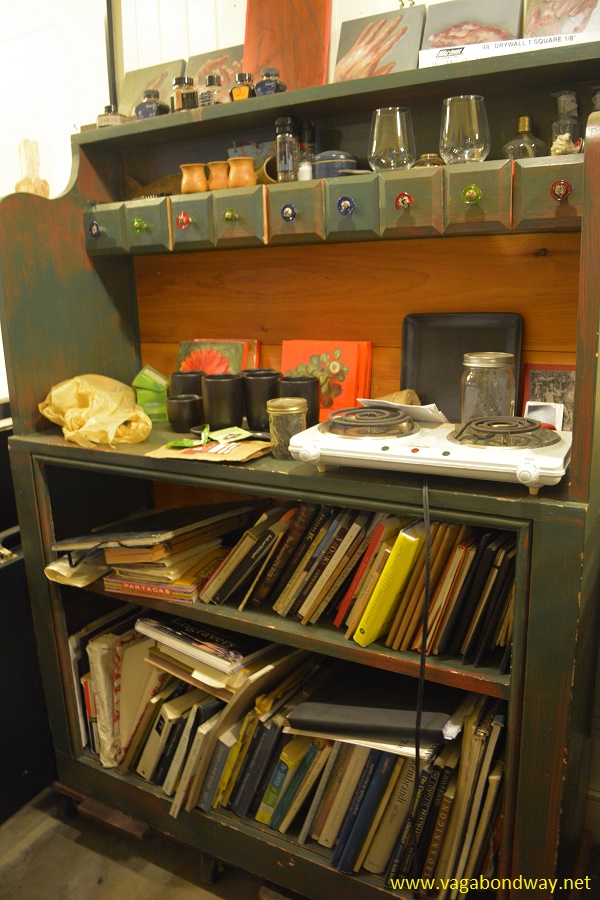 I asked, Bill, one of the artists and gallery owner if I could walk around and take photos.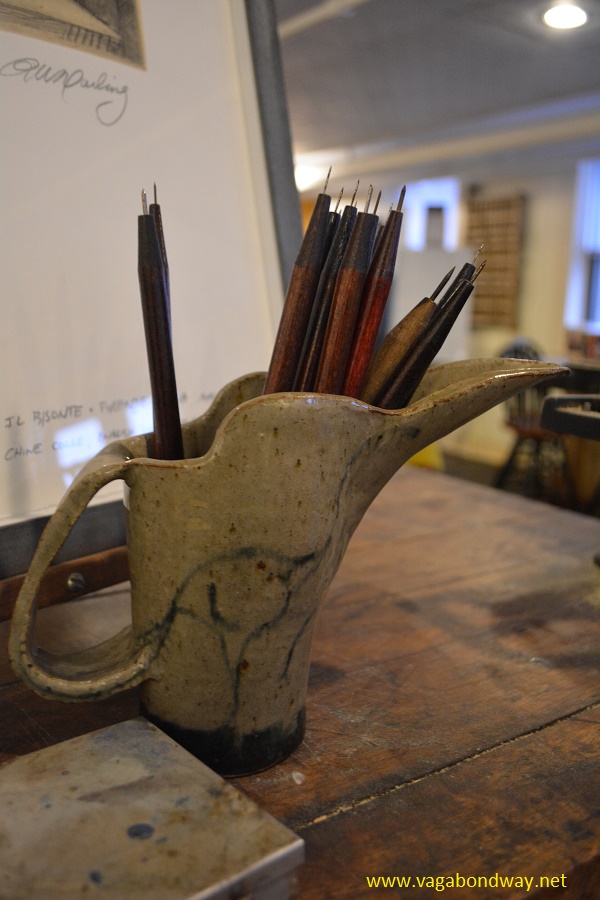 He happily said to snap away.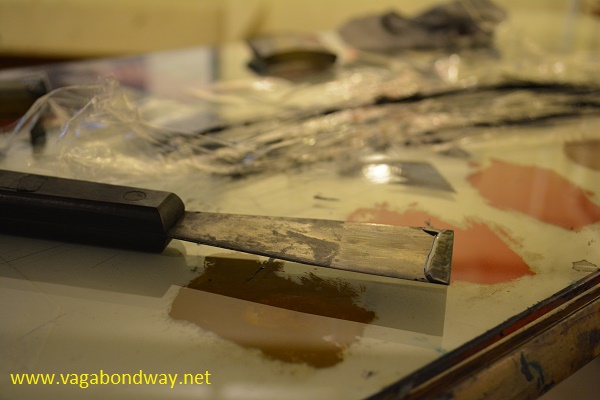 This photo is not just some snap shot set up for a picture – this the real life of a working artists.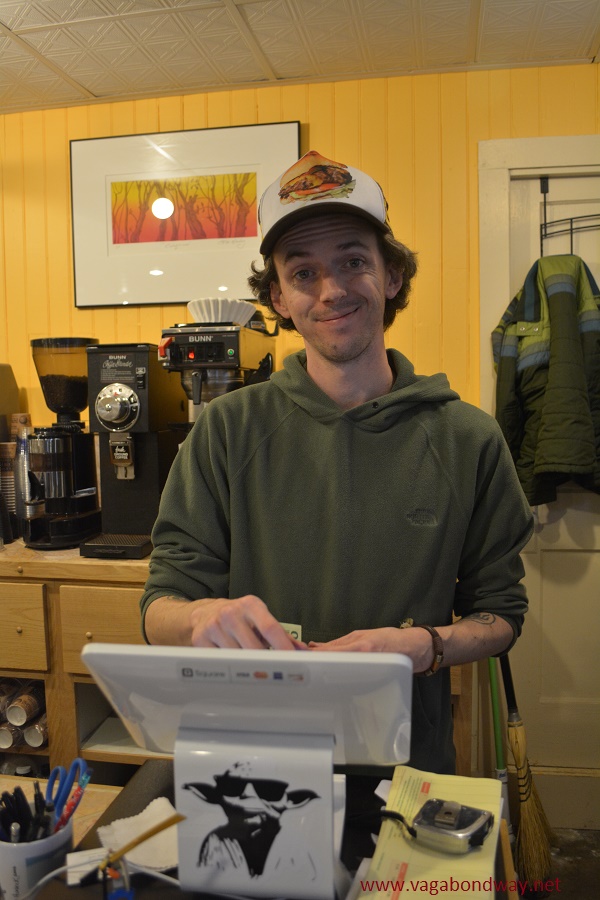 And there's the yoda – but – look at this guys hat! I love it! One of my favorite hats of all time and worn by one of the owners of the cafe part of the gallery, Matthew Laughton.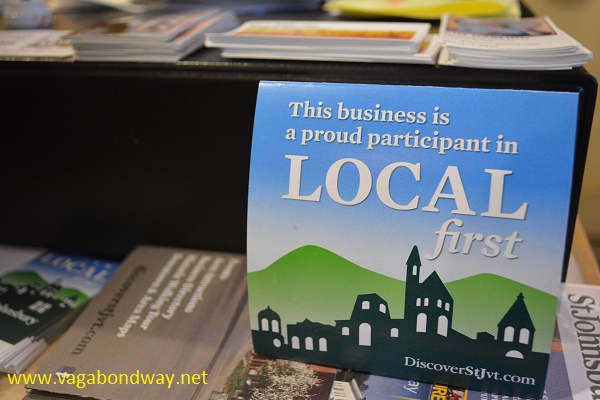 This business is a local first participant.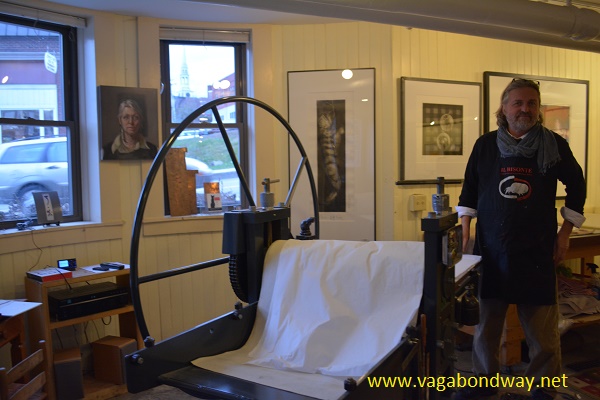 Remember that print in the Aldrich Library from Part 1? Here's Bill Darling. What a cool guy and neat shop he runs. Go buy his art!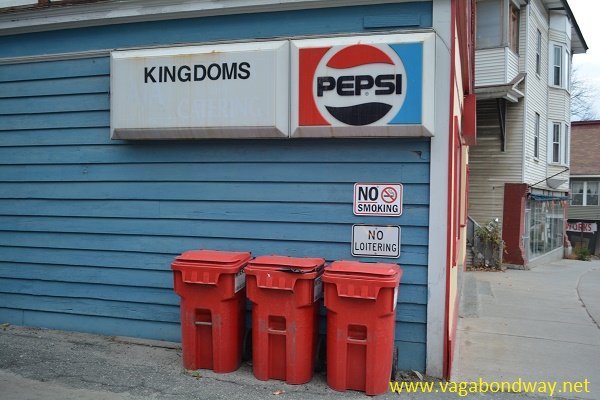 I just liked this picture.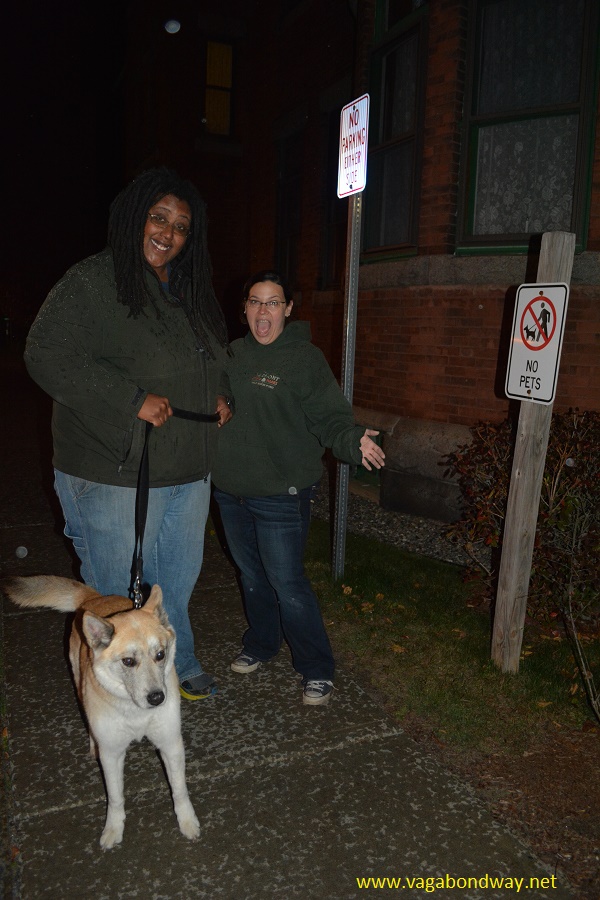 Then we went to Newport. We had a walk around town briefly before it got dark. We went on the dock by the water and as we walked back a sign said no one is allowed on the dock past 5 pm without a ship master. It was after 5 pm. I'm sure we were on a camera somewhere, but no one came running out there to yell at us. Thanks Newport.
Then in the photo above as you can see by that sign, we seemed to be breaking all of the rules in Newport. We didn't mean it Newport – it just happened that way.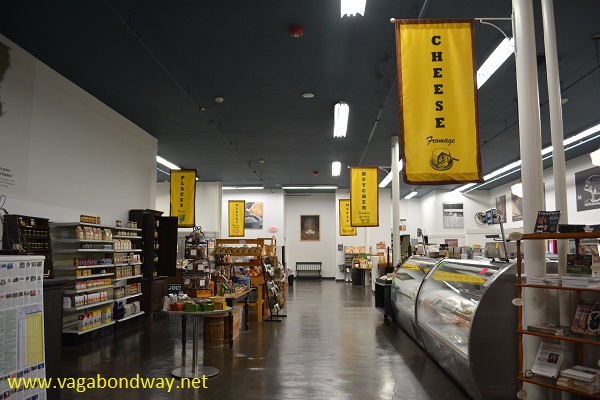 Our final stop for the day was the Northeast Kingdom (NEK) Tasting Center. The idea is great – a place for many different Vermont producers to sell their works. If anything the place is almost too new – so go there! It needs a well worn path down the middle and bustling people to help support these producers.
This was everyone's first reaction to trying chicken pate.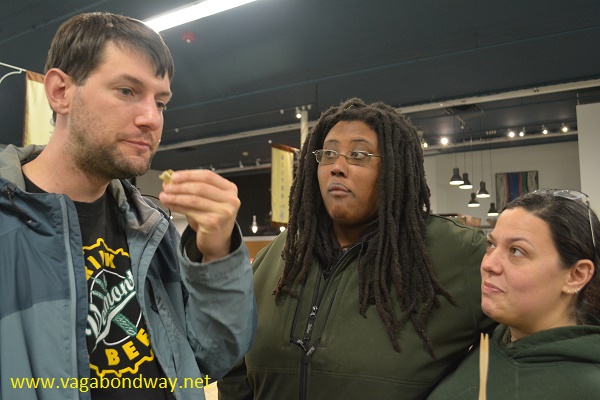 This was their second reaction: hmmm…it was not that bad.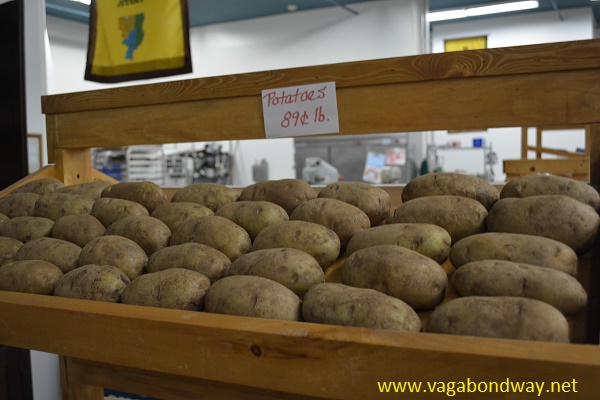 One thing I will say about the NEK Tasting Center – they had the neatest rows of potatoes I have ever seen.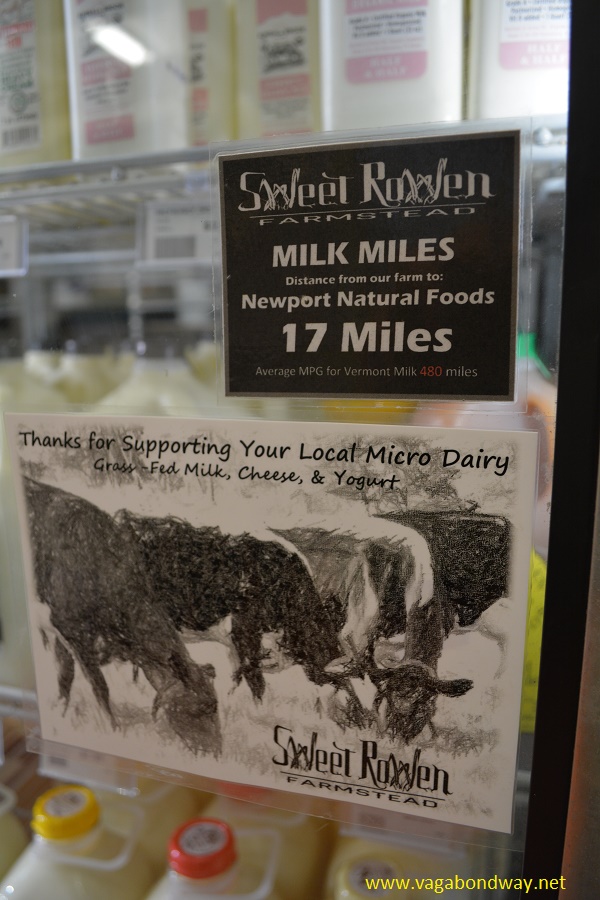 We also went next door to the Newport Natural Market and Cafe to stock up on bulk items (I love dried papaya!) and drinks for Shanell. This is an awesome shop with a lot of local products on offer. How can you beat getting your milk 17 miles from the source!?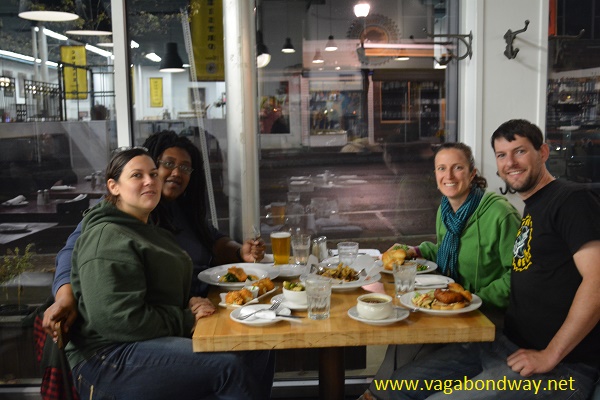 Final stop for the day was the Brown Dog Bistro which is attached to the NEK Tasting Center.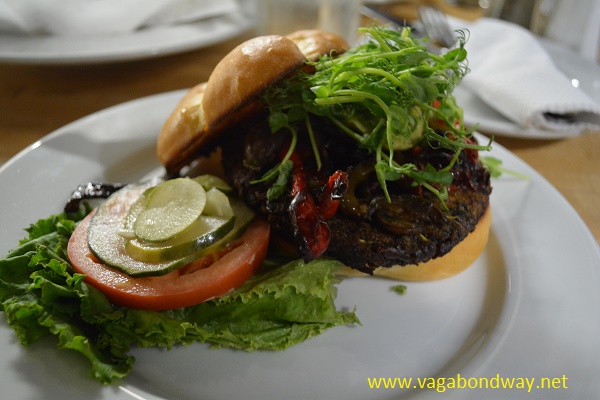 They offer great bistro food and I got this black bean burger.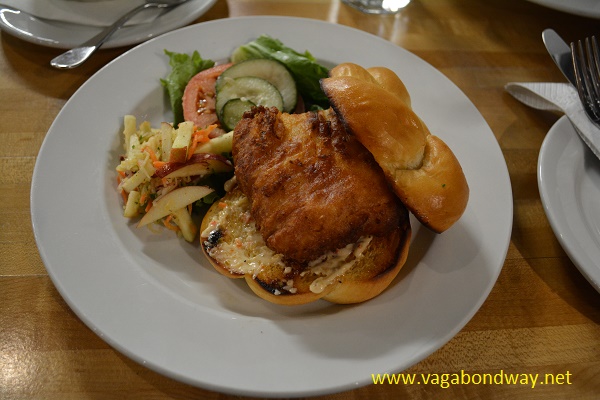 Chris got a fish burger.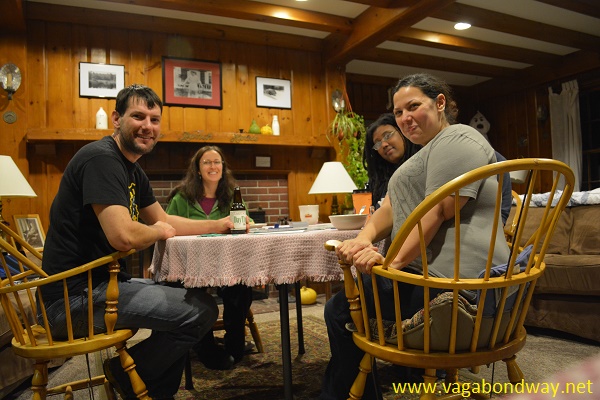 Then we had our final, end of night, round table discussion about how the day went.
Getting together with friends, loading up the car and going on our own Northeast Kingdom Food Tour was one of the most fun things we did all year. We found places we never even knew about, tried amazing local food and had a great time. We called this our own Northeast Kingdom Food Tour as a spin off from the Seven Days newspaper report. But really anyone could do this same thing anytime and call it Your Own Back Yard Tour. How many things are within an hour radius of your own home that you may have never visited. Whether one is thousands of miles from home or a hundred, we are reminded of the common traits we all share: the desire to be happy, laugh, enjoy good food and share with others our passions and dreams come to life as shown by these local business people.
*     *     *
If you go:
Dylans Cafe 139 Eastern Ave. St Johnsbury, VT 802-748-6748 Click here for their facebook page.
Catamount Arts 115 Eastern Ave. St. Johnsbury, VT 802-748-2600 www.catamountarts.org
Cafe at Gatto Nero Press and Gatto Nero Press. The space is shared and click here to read a great article describing how it came to be.
190 Eastern Ave, Suite 6, St. Johnsbury VT 802-748-2900
Northeast Kingdom Tasting Center.  150 Main Street, Newport, VT 802-334-1790 www.nektastingcenter.com
Newport Natural Market and Cafe 194 Main Street, Newport, VT 05855 802-334-2626 www.newportnatural.com
Brown Dog Bistro 150 Main Street, Newport, VT 05855, 802-334-1791 www.browndogbistro.net