The October budget brought some amazing culture, wildlife and cities. We spent the month traveling through Thailand and after being here it's easy to understand why so many people choose it as their introductory country to Southeast Asia.
All in all we will end up spending just under two months in Thailand and I feel like we have just scratched the surface. Thailand is a land for everyone from budget travelers to luxury seekers. It has mountains, rainforests, islands, ancient cultures and history, cities and modern life and everything in between.
Sitting back at home in my armchair reading about potential issues to be concerned about, I was not sure how much hassling we might receive or how easy it would be to get around. On all accounts Thailand proved to be an easy, welcoming and convenient country to travel through. Transportation was so well organized for major destination points they would literally put a sticker on you for where you were going. That way no matter what language you speak (remember Thailand has a lot of foreign travelers from all over the world that come here) you could point at your sticker and someone would point where you should go.
For the month of October we spent…drum roll please….oh wait we don't have any drums.
But we do have Chris getting peed on by a street art dog.
…we spent $ 1576.84.
This breaks down to $ 50.86 per day for two…
…and $25.43 per day per person.
Some highlights of the month include:
Experiencing Culture
Spending almost two weeks in Phuket, Thailand to experience the Vegetarian Festival or 9 Empire Gods Festival. We have never seen or experienced anything like this, so this was a really big highlight for us.
Enjoying Island Life
This being our first time in Thailand we were really craving to spend some time on islands. We wanted to be in the places with aqua blue waters and lush green vegetation all around it. One of our favorite places was Riley Beach, which is easily reached from Krabi either as a day trip or overnight. (Also check out this post for two free Krabi hikes.) What I liked to much about Riley Beach is unlike a lot of other beaches, Riley had a very large swimming area roped off so you didn't have to worry about being run over by boats. The day we were there was super choppy so it made for so much fun bouncing around in the waves.
Finding Amazing Budget Accommodation
We next got our island fill by spending almost a week in a bungalow with this ocean view! There was hardly any other guests staying at this place and we never had to share the pool once with anyone else. We stayed at Niramon Sunview Resort for $15 USD per night. To be honest, the bungalows were not our favorite. There were cracks in the floor, didn't like the bed and bathroom was so-so. But what we got was an unobstructed view of the ocean, one of the best pools we've ever had and a very quiet stay. The location and view made this place outstanding for that we decided to keep staying.
Experiencing Unique Cultural and Historic Moments in Time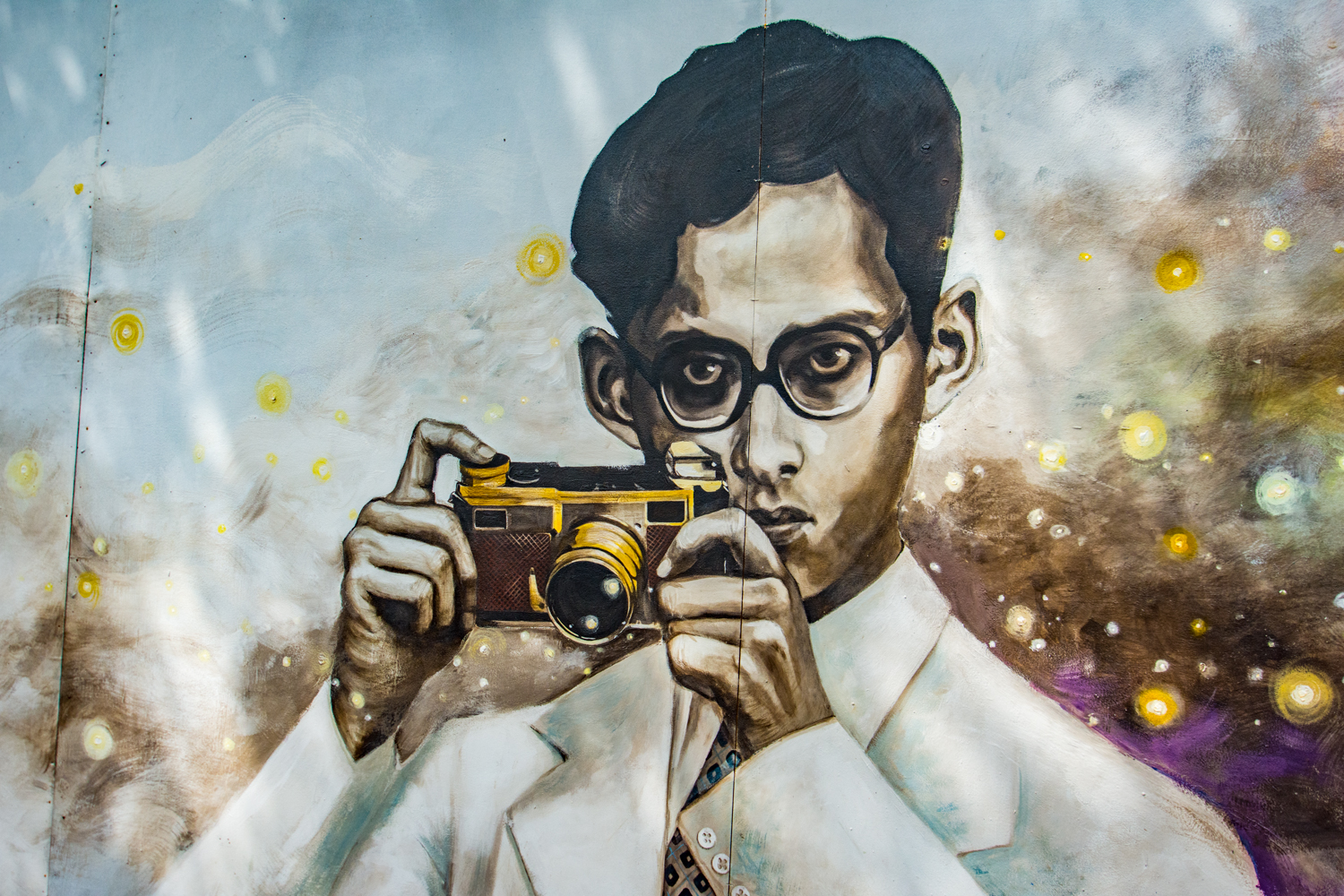 One thing I have not talked about on the blog yet is how we have been in Thailand during the passing of the King Bhumibol Adulyadej. The King of Thailand has been the longest reigning monarch in history. Covering a span beginning on 5 December 1927 until 13 October 2016, this is literally a once in a life time event. We have a friend who is very intrigued by cultures fly to Bangkok just to witness and be a part of this event. To the Thai people the King was like a second father to them. They loved their King and mourn him like family member. We were very honored and reverend to be here at this time. Showing respect and honoring the King was very important and the Thai people will wear black colored clothes for at least one year while they mourn him. Chris and I have been wearing our black clothes as many days in a row as we could. We were also given black ribbons to wear on our left shoulder and it was truly an honor to feel so welcomed as an outsider to experience and give our condolences for the country's loss.
And just enjoying Thailand!
And in the flash of an eye, that was October. I wrote this post a while ago and next thing I know now it's time to write November's budget post next. If there is one thing I have learned in these 33 years of being on this earth it's that life moves fast. So figure out both the actions and items that cause you to feel joy and those that don't. Because it would be a damn shame to confuse the two and waste your money on the wrong one.
***
** Plan on traveling soon or making a purchase from Amazon? Please consider using the links on our resource page. At no cost difference to you we will earn a small commission to help keep this site running. Thank you so much for this thoughtful gesture.