Penang Malaysia is on many travelers stopping list. Once you have been there it's easy to see why. Only a short distance from Kuala Lumpur it makes for a simple and great next destination. We spent a few days wandering around the streets and eating great food. If culture, food, art, nice places to stay and UNESCO World Heritage sites are things you enjoy, book yourself a ticket to Malaysia now.
Half the fun of being in Penang was simply wandering all the alleyways, knooks and crannies to see what art you would find. If you don't think you will make it there yourself or want a teaser (this post doesn't even come close to showcasing all the street art) then let's go on a little discovery tour together.
Commence operation:
Find Street Art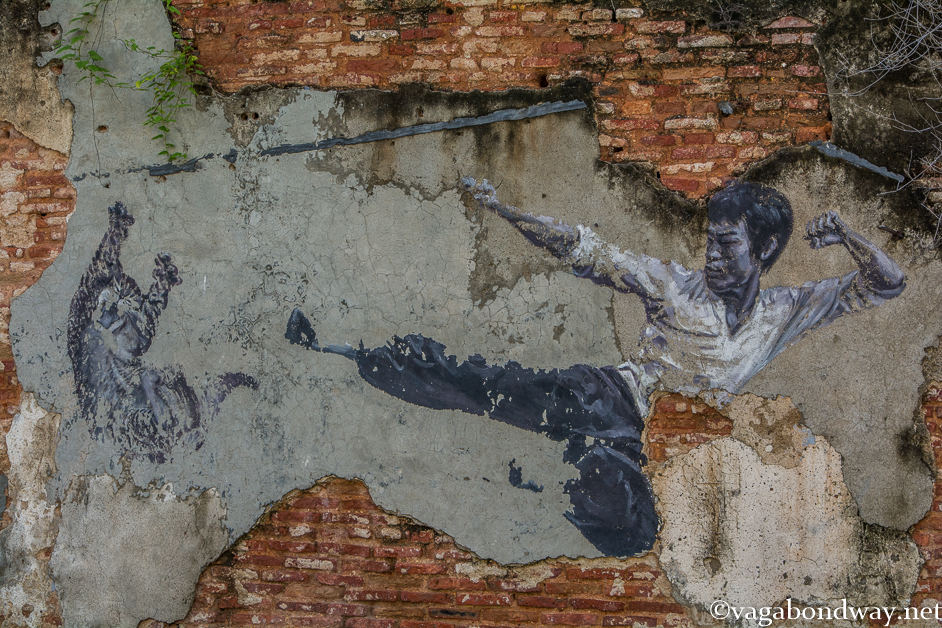 Street Art found!
Let's kick things off right with the infamous Bruce Lee painting. Actually, we didn't find this painting until the very last day. Chris loves Bruce Lee. He was getting so sad to think we'd miss finding it and then bamm! We went wandering down one more little side alley and there is was.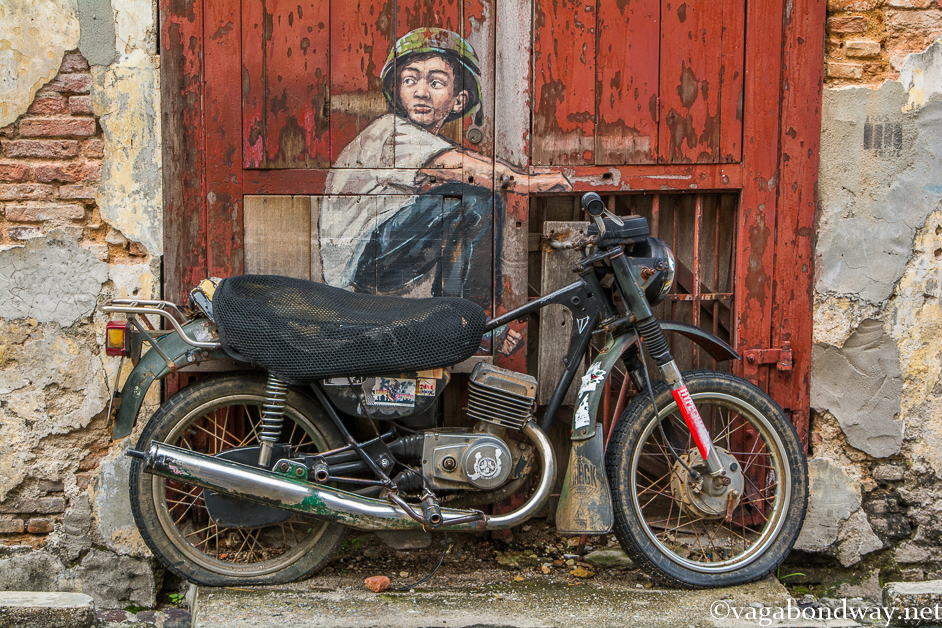 We also have to go over some safety warnings when walking around

.

Scooters will go ANYWHERE. I repeat: anywhere. There is no area off limits to someone on a scooter. They will go on sidewalks, into buildings, left and right, up and down any street. Scooters zip around everywhere. I almost got taken out by an old man trying to drive his scooter into his house on our first day there. In Asia you kinda become adapted to drowning out a certain amount of noise because it's so loud in the cities. We had just gone to Penang and I was standing on the sidewalk admiring some art. I could here this loud honking of the horn but just ignored it only to finally have the wheel touch my leg to get my attention. This older gentlemen, clearly annoyed, was trying to get his scooter into his house. He did eventually make it in and I didn't get ran over, but it was a close call.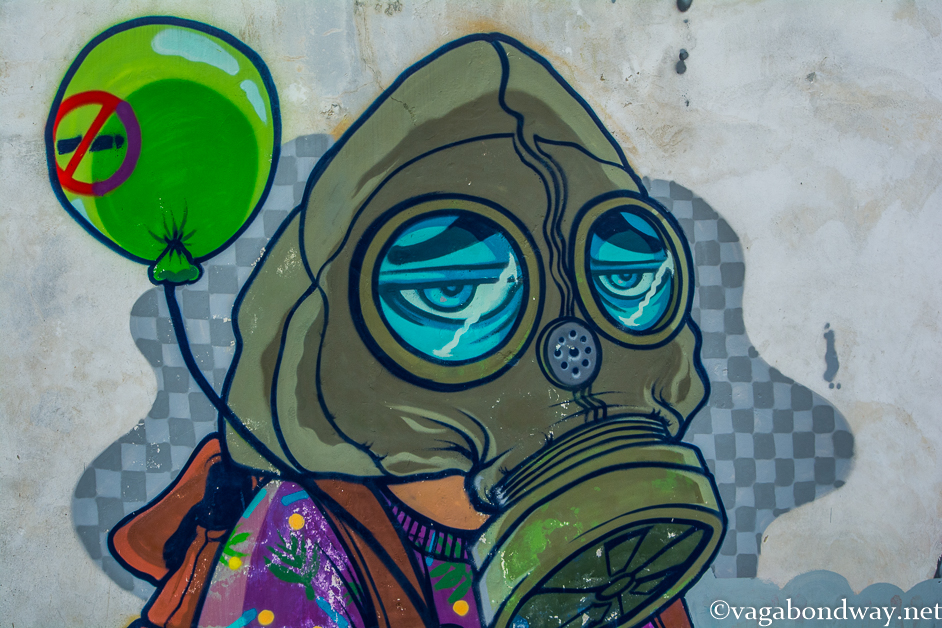 Optional safety gear: face masks.
It is accurate that in real life a lot of people wear face masks over here. We do sometimes when we're walking around in the city a lot. It does help make breathing easier.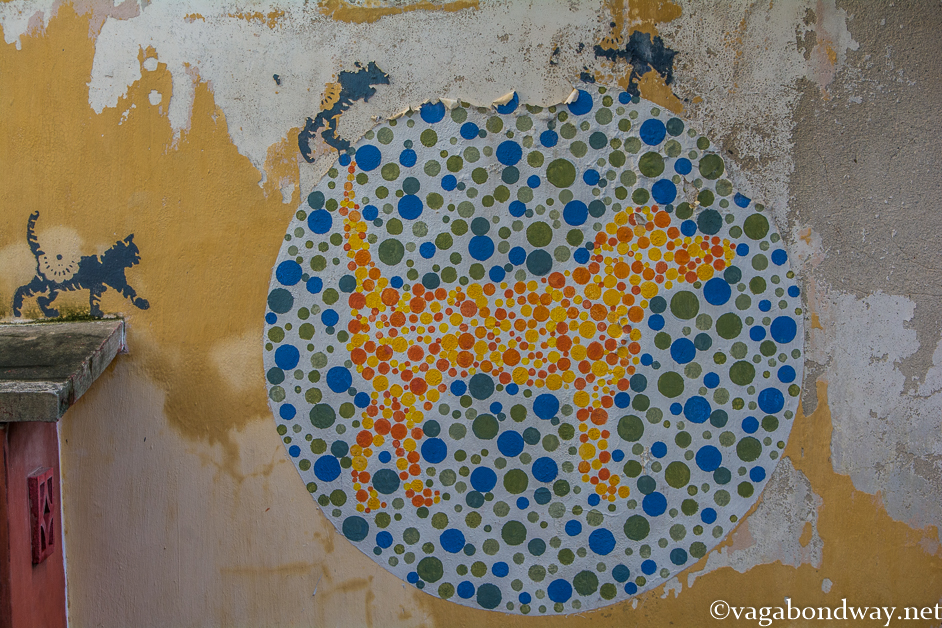 The next thing to be prepared for is to see lots of cats and dogs. There are a lot of strays which is always sad to see, but there are also a lot of people who just love and adore their pets. Cats and dogs will often be dressed up in sweaters as they are being walked down the street on a leash. I love seeing the well cared for pets.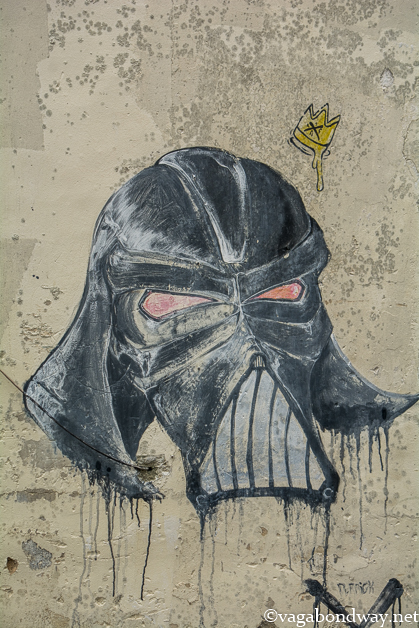 Keeping up with the times, we just went and saw the new Star Wars. It was fun. Tidbit of family trivia: do you know Chris' dad routinely dresses up as Darth Vadar for Halloween? It's the one costume he loves as he doesn't have to talk or dance and can just walk along behind in silence carrying a light saber. Like father like son.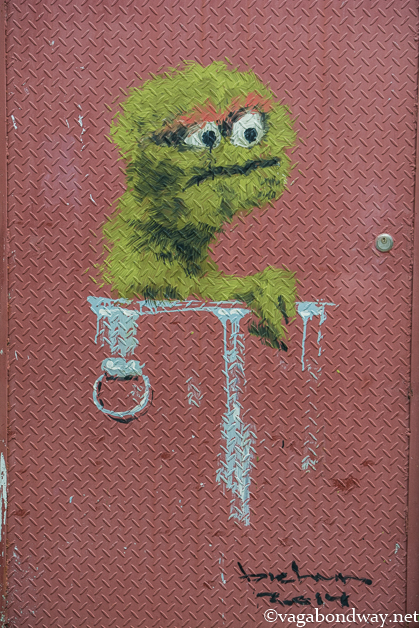 Now if all this walking is getting you hungry, don't despair and turn into Oscar the Grouch.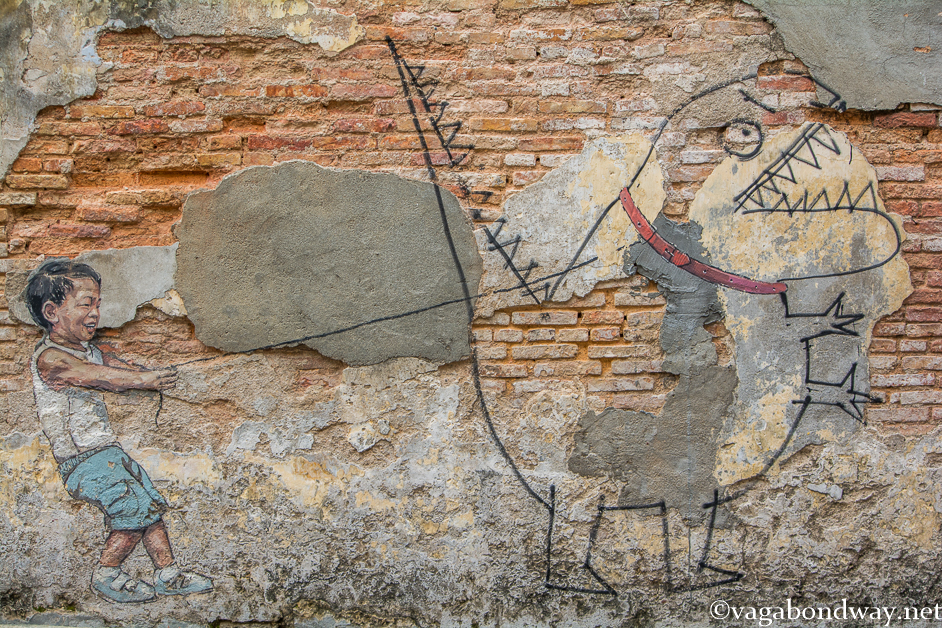 Control that inner rage.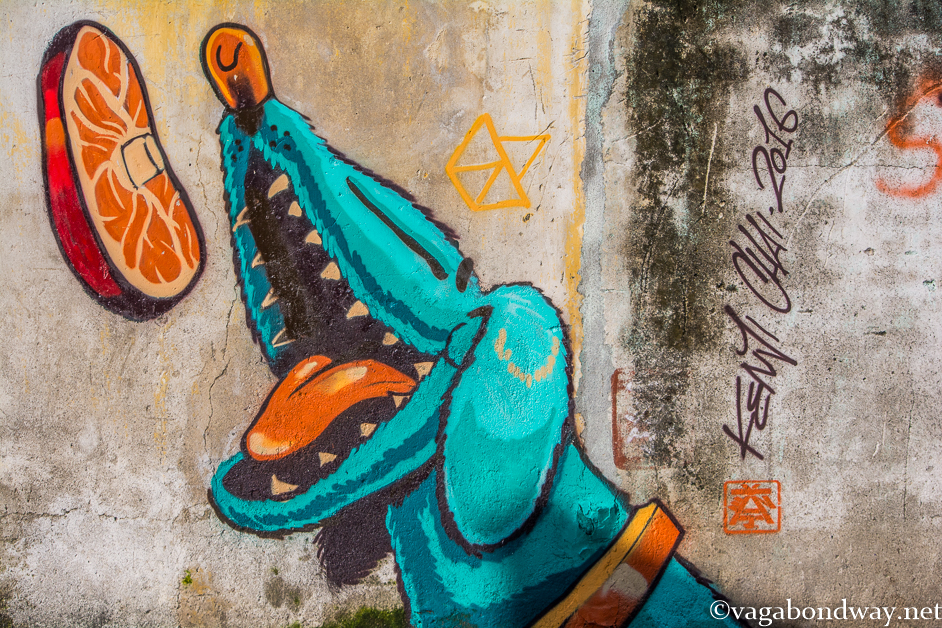 Good food is all around!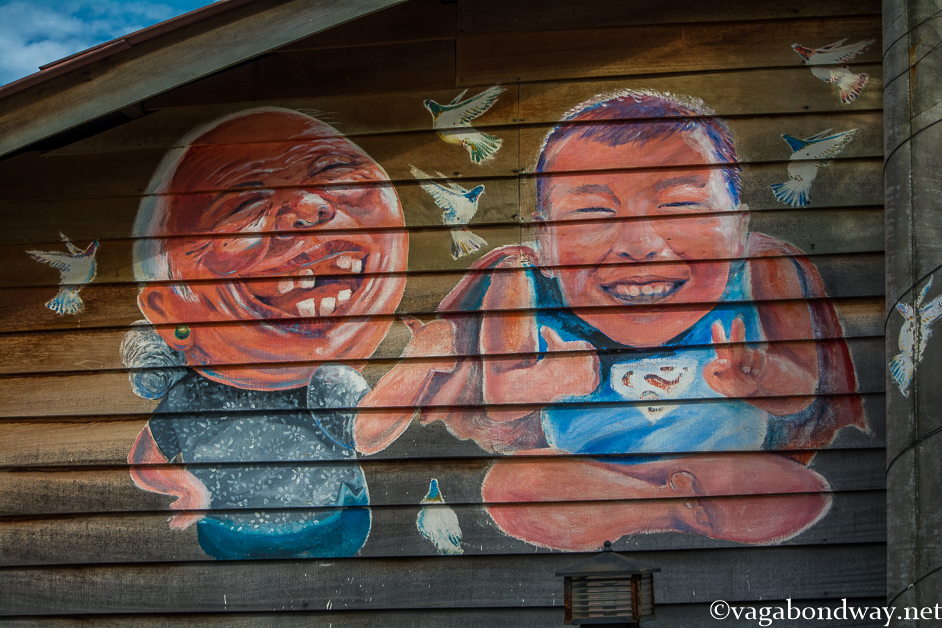 Penang has so many good restaurants everywhere! Everything from super low budget to fancy. We sampled a variety and on our last night went to a fine dining place. It's nice to treat yo' self sometimes! 😉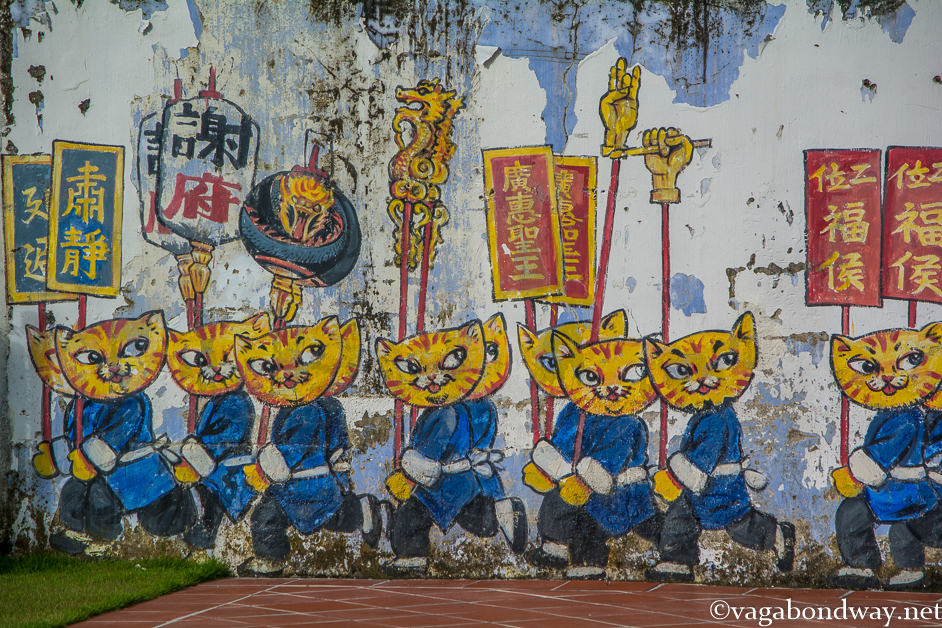 Now that you're fed and happy, it's time to get those marching feet back on and hit the streets!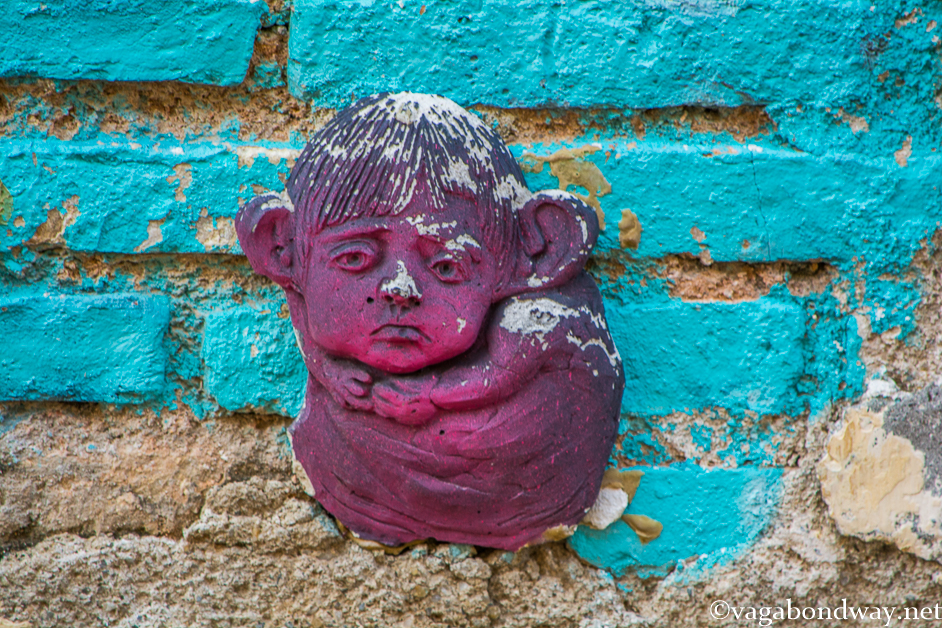 You wouldn't want to be feeling down like this little weird purple creature.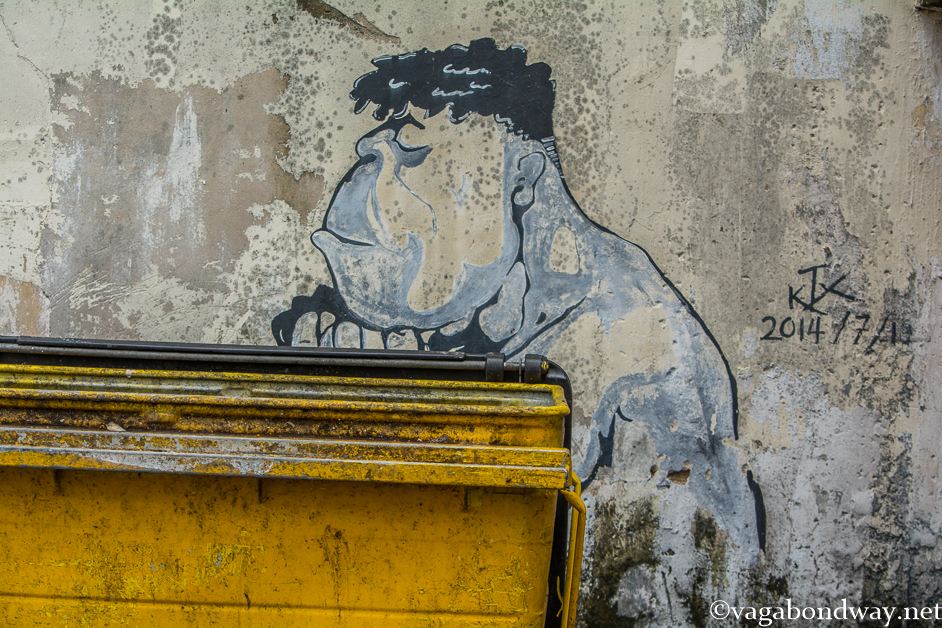 But maybe you'd want to be this artistic representation of The Thinker. (Just kidding – I have no idea the intent behind this painting. It's just me saying that.)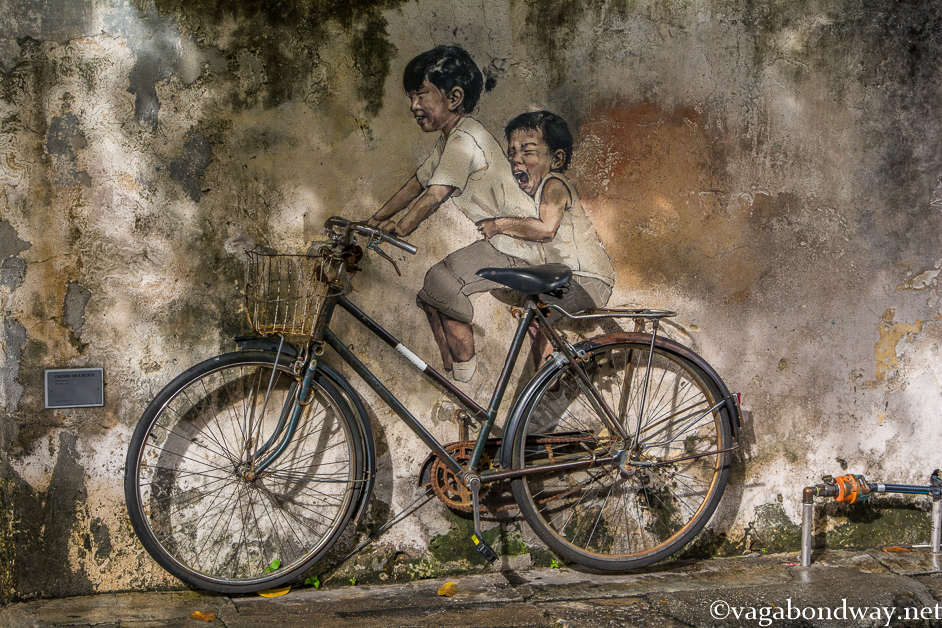 When your time in Penang is coming to an end, you may start to feel like the small child on the back of this bike and just want to cry.
But guess what?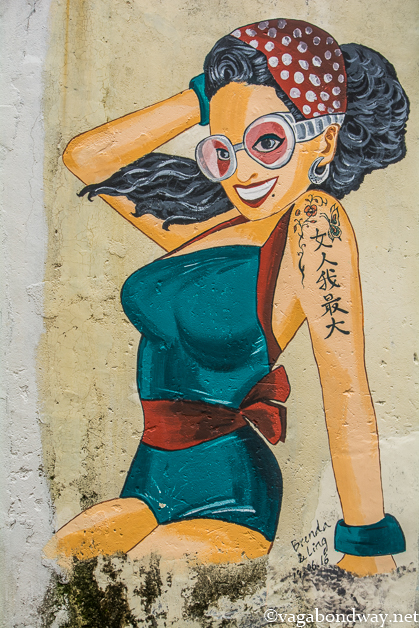 There's no reason to cry. You can always create a plan so you can come back.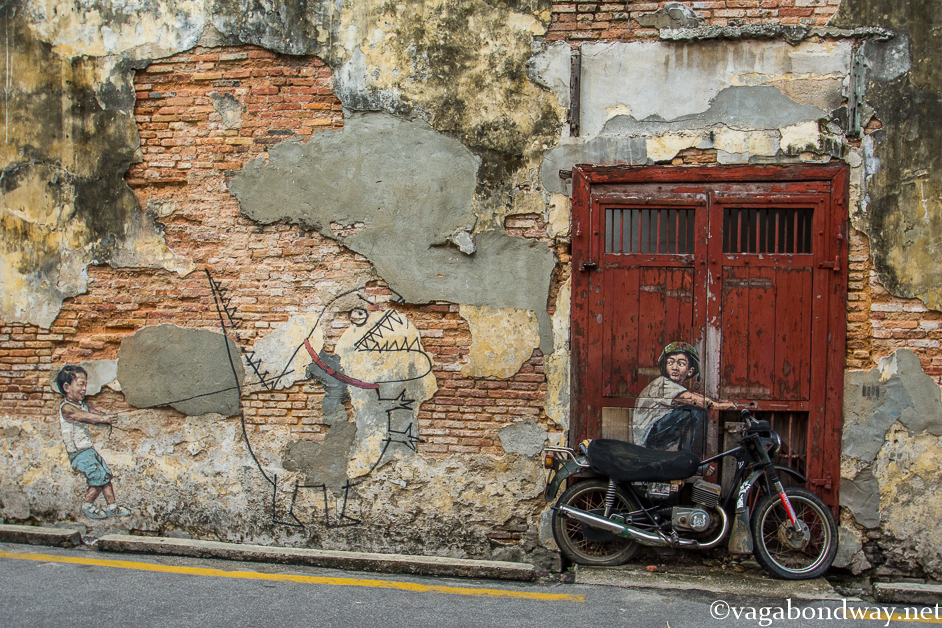 So control your inner beast.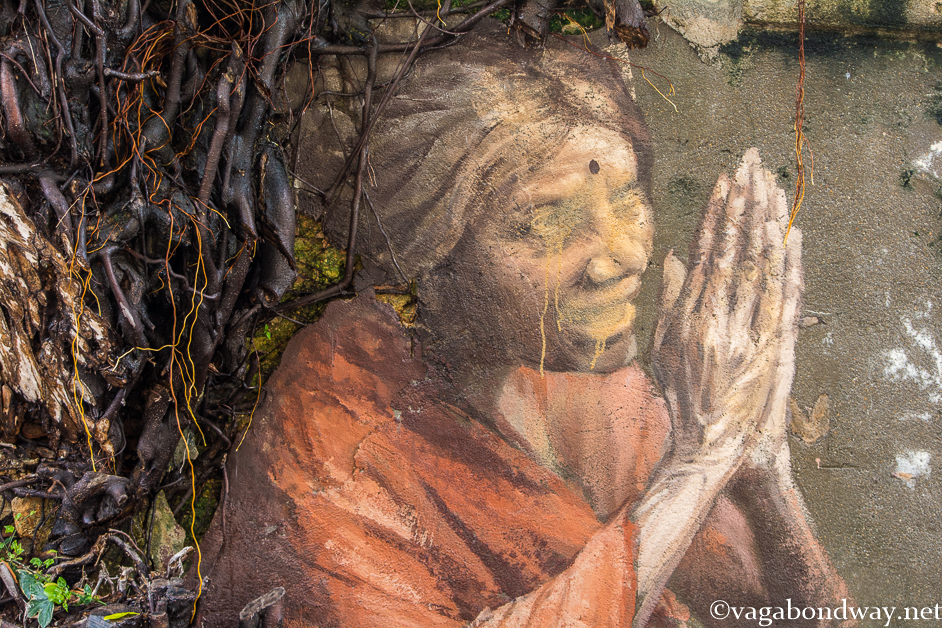 Put your hands together to ask for well wishes.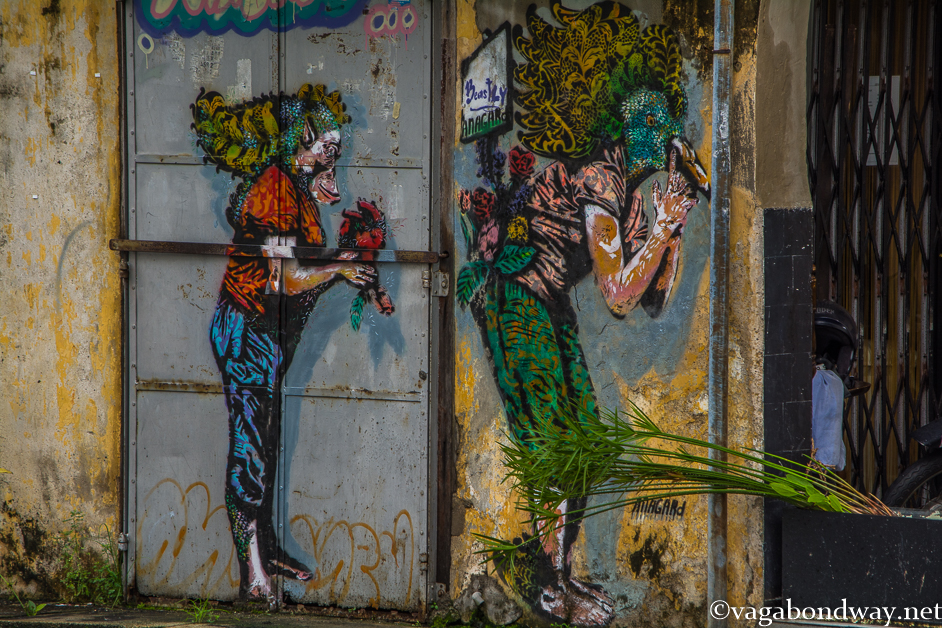 Take some action and before you know it you'll be on your way to traveling again to see your next weird, wonderful and wacky things.
***
If you go:
We loved our time in Malaysia and spent almost three months there!
If you are flying into Kuala Lumpur staying at The Hulo Hotel and Gallery. This is such a unique hotel and most likely you will not have stayed at any place quite like this.
Then you can book a bus ticket to Penang. As of 2016 this should cost you around $42 MYR pp.
In Penang we had a great stay The B Street Hotel. This location was so convenient so we could pop in and out of the hotel all day at our leisure.
For street art – just wander. Aside from the traffic Penang is a great place to wander.
For food – just eat. I want to still write a post on where we went, but just go anywhere. There are so many restaurants to please the taste buds.
For hiking – check out this post for free hiking info.
For tips on hiking – check out this post.
What else? Did I miss anything? If you go enjoy your time! We loved Penang and think most travelers would also enjoy a few days in the area!
***
What's one of your favorite cities for food?
***
** Plan on traveling soon or making a purchase from Amazon? Please consider using the links on our resource page. At no cost difference to you we will earn a small commission to help keep this site running. Thank you so much for this thoughtful gesture.