Camera in hand, I excitedly stepped onto the river boat. I knew in doing so I would have a chance to be a mere few feet from one of Africa's most dangerous animal –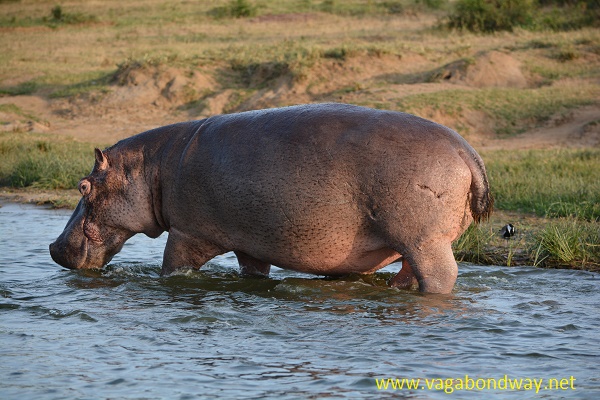 – the hippo.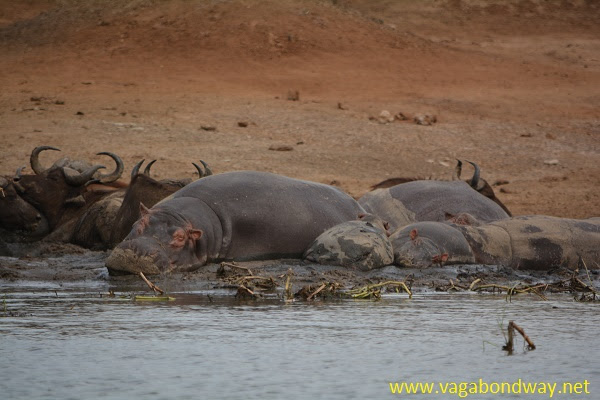 And boy did we see hippos.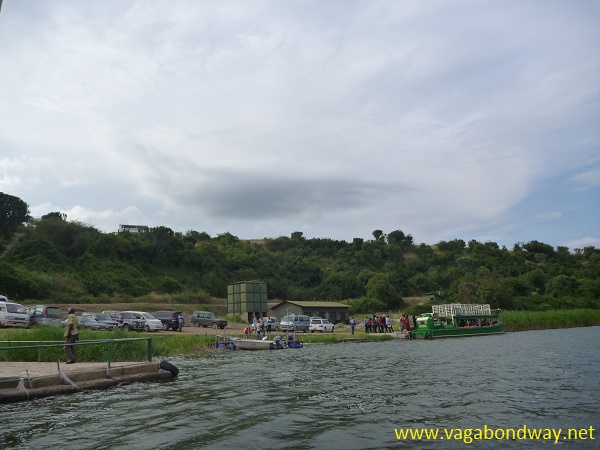 We were taking a river boat cruise in Queen Elizabeth Park set between the Great Rift Valley lakes George and Edward in Uganda, Africa.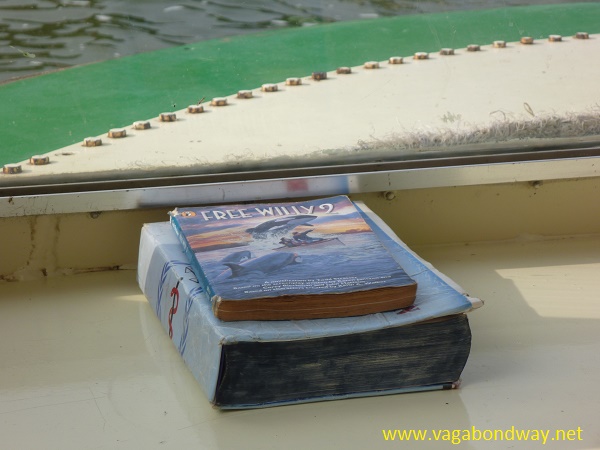 I thought it was hilarious that our captain had a copy of Free Willy 2 on the console of the boat.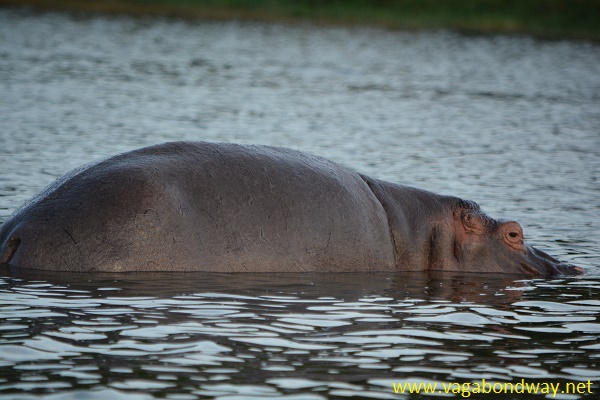 As we cruised along past their round, thick skinned bodies lounging in the water, the hippos couldn't be bothered by us.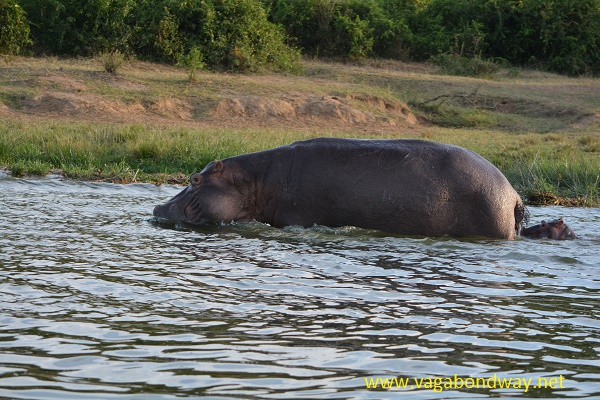 Even tho they can be such an aggressive animal, they can still be shy and have no interest in expending their energy to attack a boat.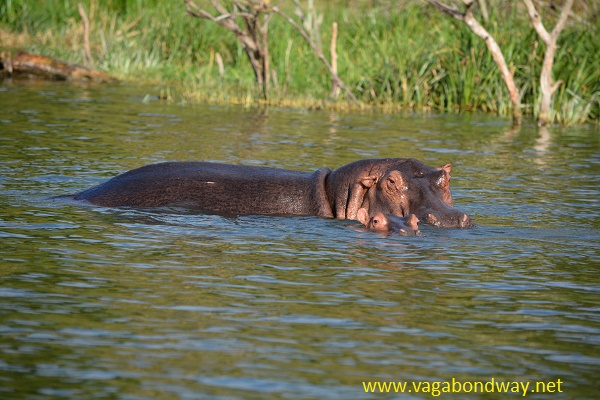 Especially when they want to put their energy into looking after their babies and the boat is not harassing them.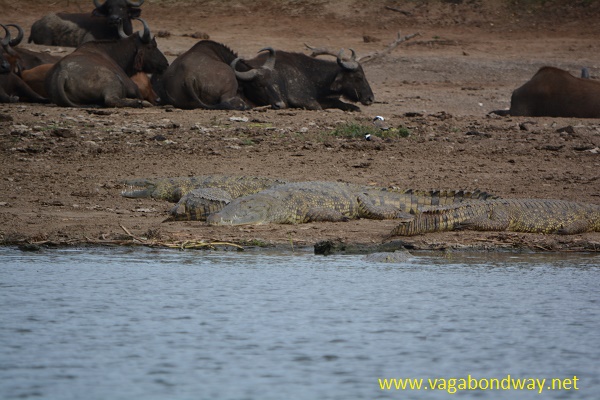 We passed by slumbering nile crocodiles resting on the banks.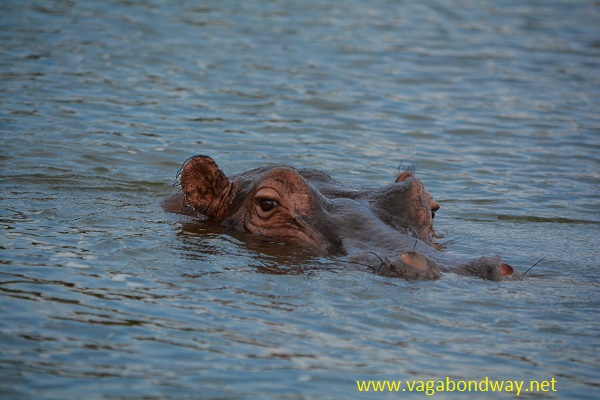 Puttered by the mostly submerged hippos we watched them as they watched us.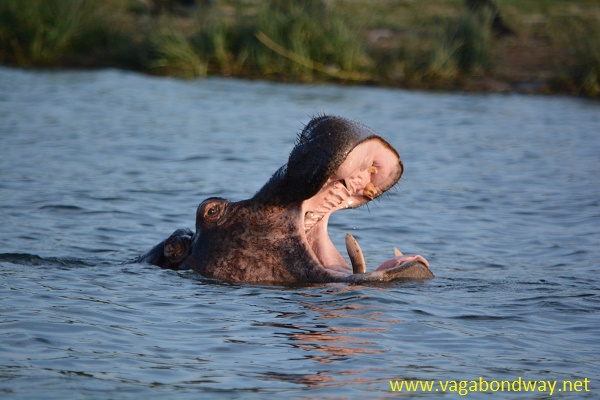 Sometimes we got lucky on and could get a look into their big mouths used for eating grasses.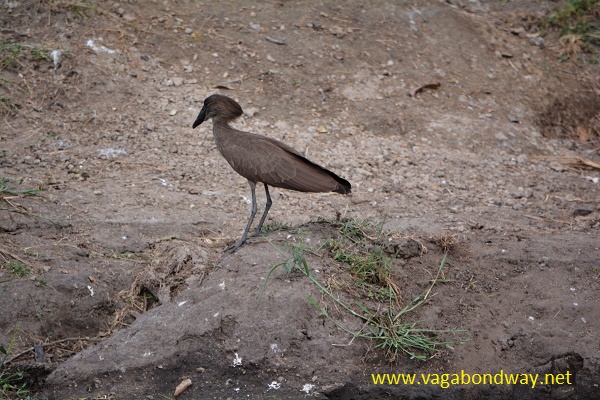 There was an abundance of bird life like this hamerkop (also called the hammer head) –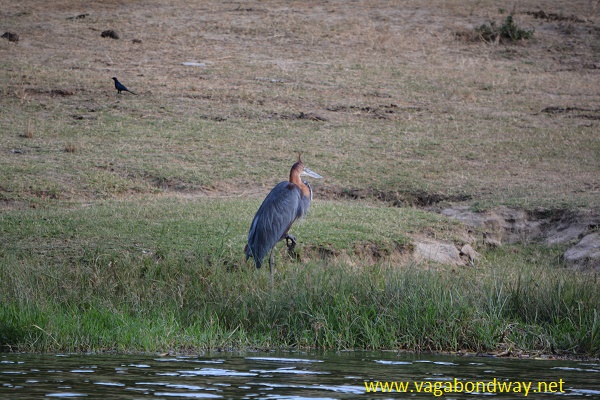 – goliath heron –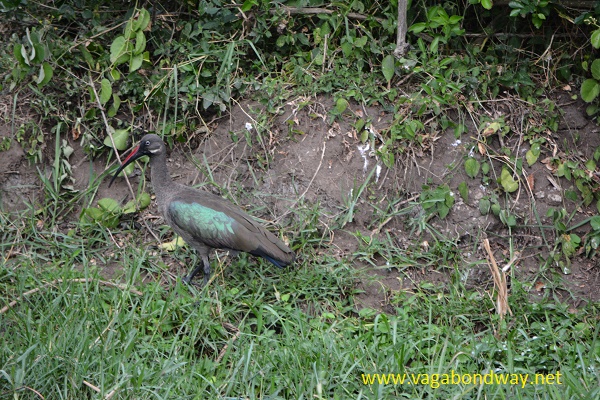 – hadada ibis –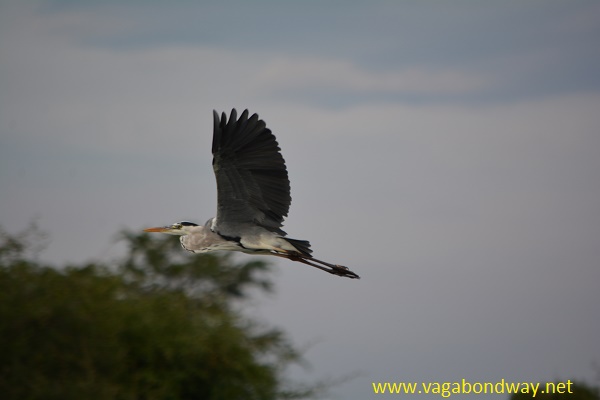 – grey heron –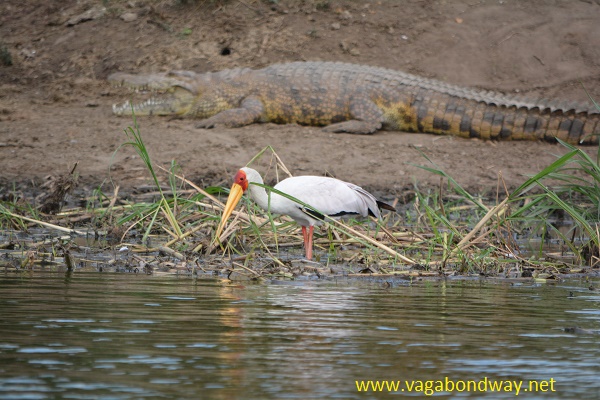 – yellow billed stork –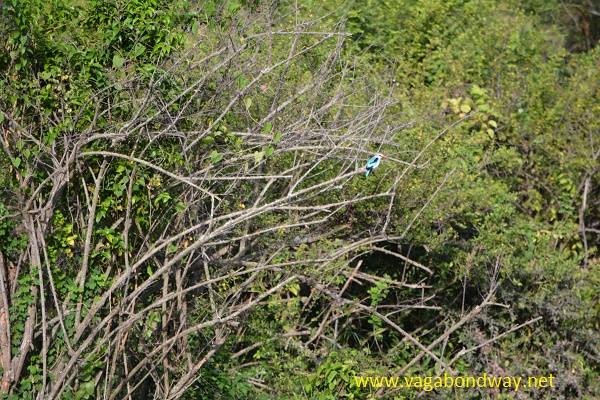 – and although this woodland kingfisher is small in this photo, it shows how bright and shiny blue they are.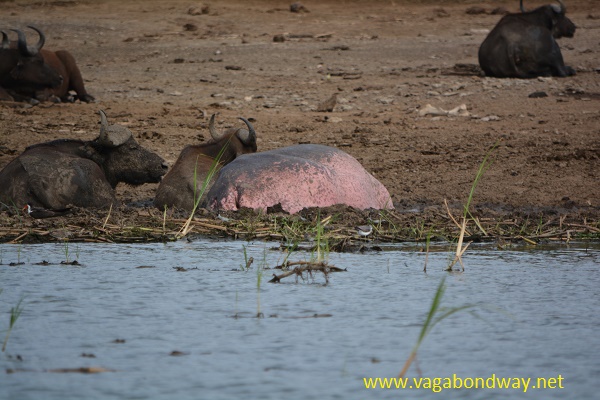 Notice how much lighter the skin of this hippo is – this is considered an albino hippo.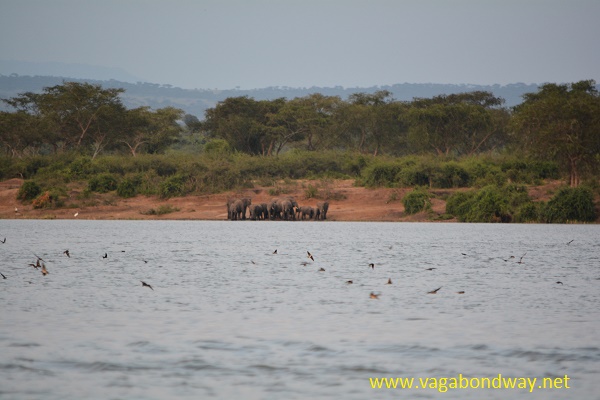 Along the river we had been watching herds of elephants on the hill sides.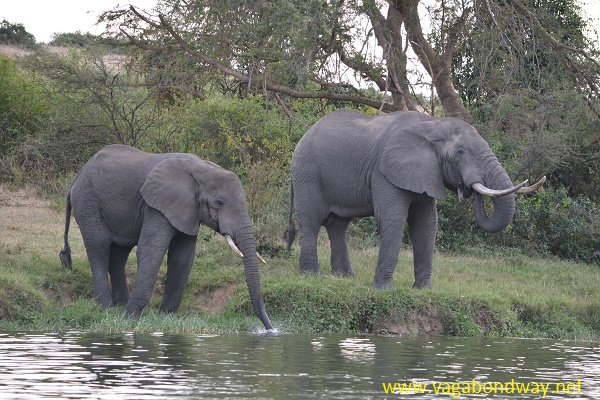 These two came down to the water for a drink.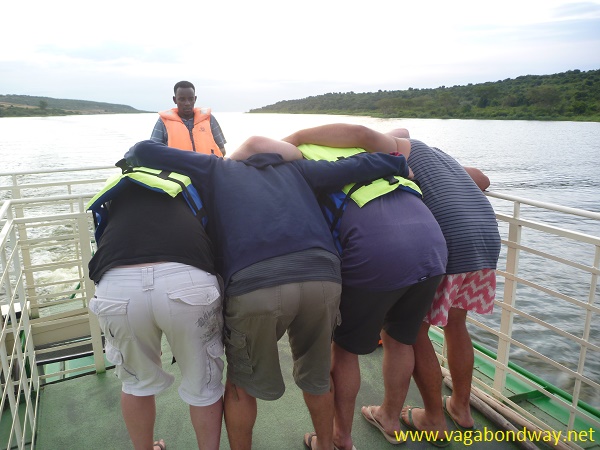 Boys are weird. I can't remember why they posed for a picture like this.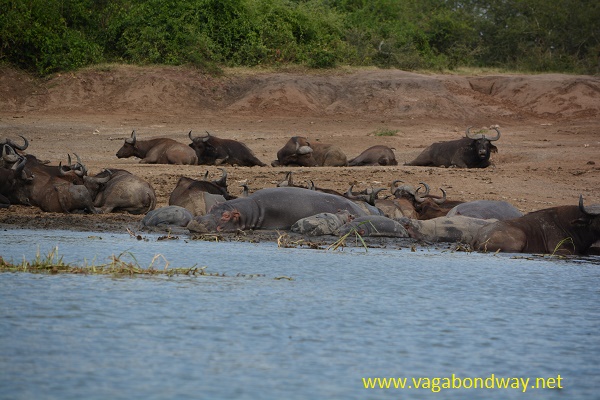 In Queen Elizabeth cape buffalo and hippos wallowed together in the mud. For the buffalo, the water provides extra security from predators. If a lion were to try and attack them, the buffalo can run into the water often deterring their predator.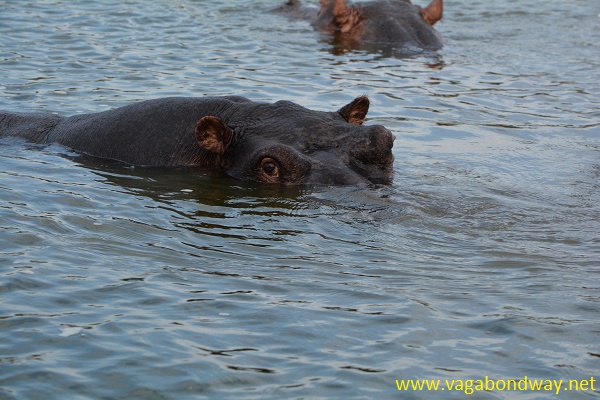 As the sun dipped behind the mountains we said good bye to the animals of the Kazinga Channel.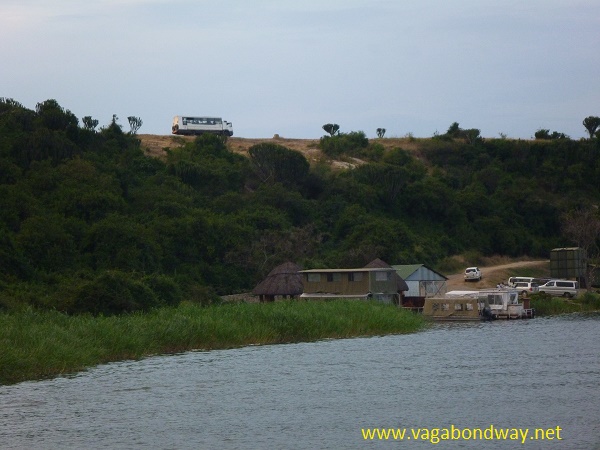 Waiting for us a top the hill, was John, our patiently waiting driver with the truck.
 The river boat cruise in Queen Elizabeth was one of the best ways to get up close to the wildlife in the park. What a way to spend an evening on the water with dozens of hippos, cape buffalo, elephants and crocodiles.
 *     *      *
If you go:
River Boat Cruise cost $30 USD
For overall big view pictures, it's better to be on the top level of the boat.
For close up shots, sit on the lower level, left hand side of the boat.