When we were telling people that we were going on safari at Kanha National Park in India looking for tigers, that statement produced a lot of comments and questions.
After we had such good luck to get pictures like this…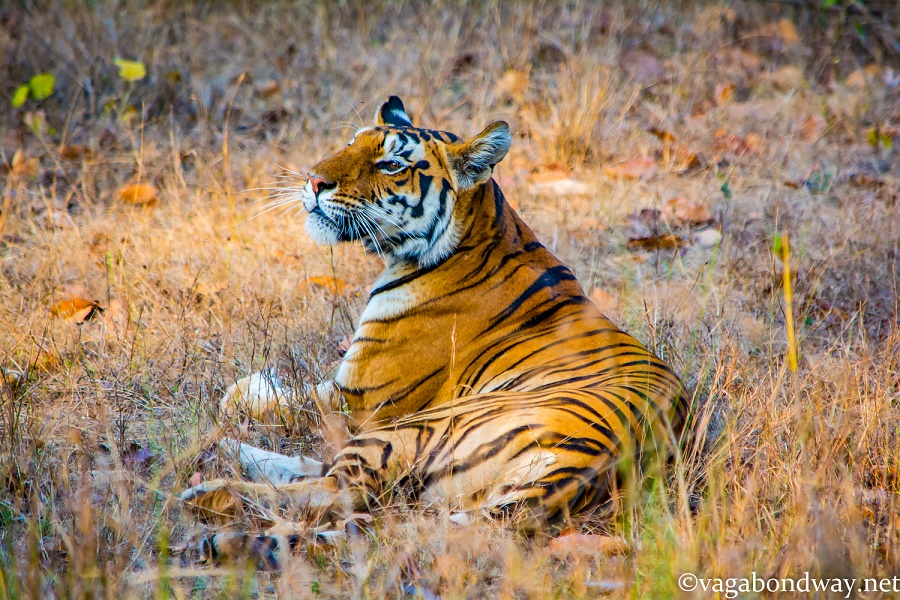 …I realized there was a lot left to the imagination of what going on a safari looking for tigers was really like.
How dangerous was it? Were we camping? How close do we get? Didn't the tigers try to attack us? Are those real wild tigers, I mean aren't they almost extinct? Don't tigers live in Africa?
So today, let's go on a safari together so we can all see what it was really like! If you literally are a boots on the ground reader and want to plan this yourself, please find all the booking details at the bottom.
First to orient, we are in northern India at Kanha National Park within the big red circle below.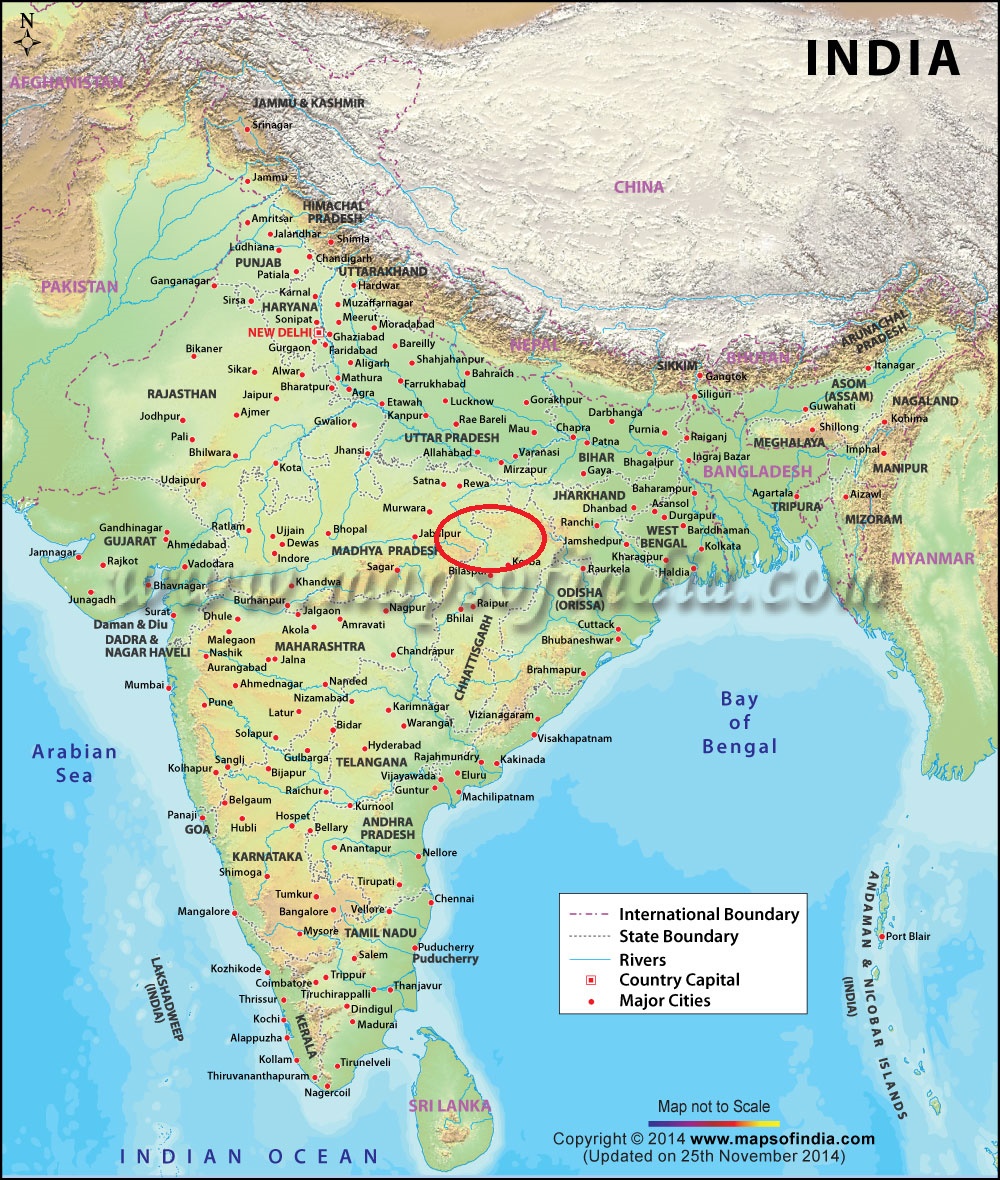 Worldwide there are six sub-species of tiger that have not yet gone extinct, there was nine. Worldwide, tigers can be found around Asia and China (check out this article by World Wildlife Fund for more info). The tigers we saw in Kanha National Park were the Indian race (P t tigris).
Getting to Kanha National Park
Jalbapur is the closest main city to get to Kanha. We stayed here two nights to transition out to Kanha. As independent travelers in India, it can be difficult to always get straight answers and know what's going on. It isn't necessarily that locals aren't willing to help you, it's that they barely know themselves.
What we knew was there were two direct buses to Kanha each day. We wanted the morning bus which multiple people told us multiple different times. We knew a bus would either leave at 6 am, 6:30 am, 7 am or 7:15 am from a place called Empire Talkies. Wanting to ensure we got the direct bus, we got to the bus stand at 5:45 am and then waited.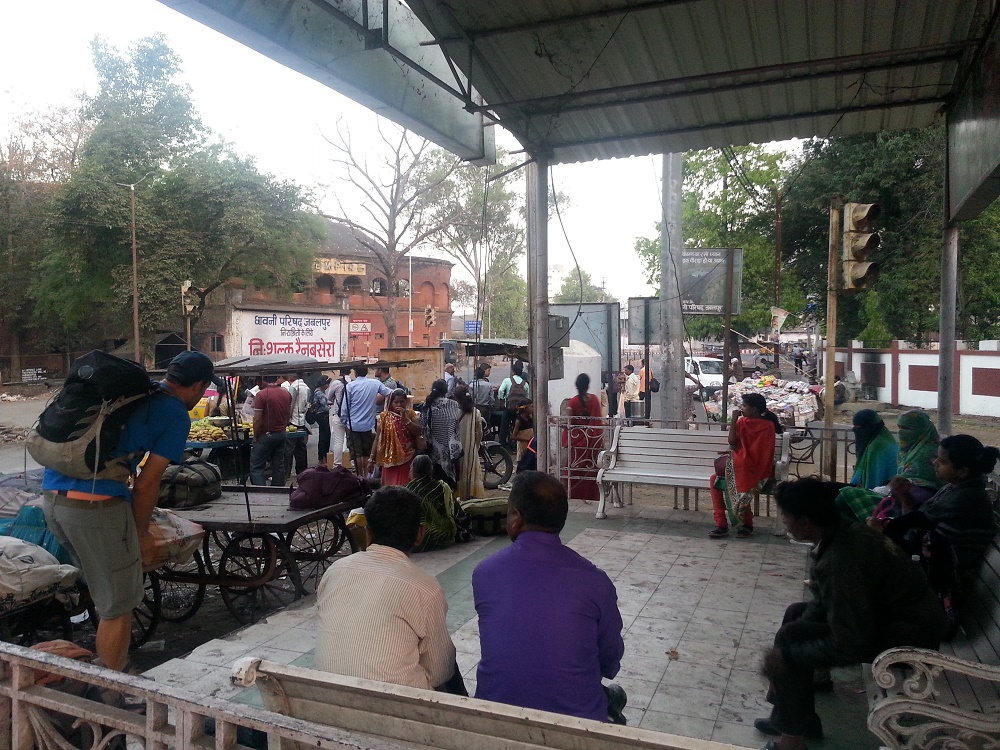 A man who seemed to be some sort of bus stop conductor confidently told us the bus would come at 7:15 am and at exactly 7:15 am, the bus came. A local man, probably about our age, nicely dressed in a purple button down shirt had made friends with us. He didn't speak great English but enough to gesture, "Me Kanha" (pointing at himself) "You Kanha" (pointing at us) "That bus" (pointing to the oncoming bus) as he ensured we got on the right bus. Another bus conductor man offered us the best seats on the bus and made sure we could sit together, for which we were very grateful.
After the bus conductor fed the monkeys along the way, we made it to Kanha at 12:30 pm, right on time.
Where we stayed in Kanha
Figuring out how to book these permits and where to stay was a whole other issue. Kanha National Park is one of the few parks where visitors can book shared safari seats or private safari. In other parks guests are only given one choice, which is to book a private jeep safari and the cost can be $50 upwards.
We didn't fully grasp how this permit business was all working out, so in all our initial emails with lodges, Pug Mark Resort was the only lodge that in their first reply of email, to tell us we had both options. Although Pug Mark rooms were a little bit more in price, they ultimately got most of our business for informing us of the shared safari option in the least confusing way. Thank you Pug Mark!
After we had booked Pug Mark, we also found out about Motel Chandon and their budget rooms. So we stayed with Motel Chandon for night when we first arrived too.
What our lodges looked like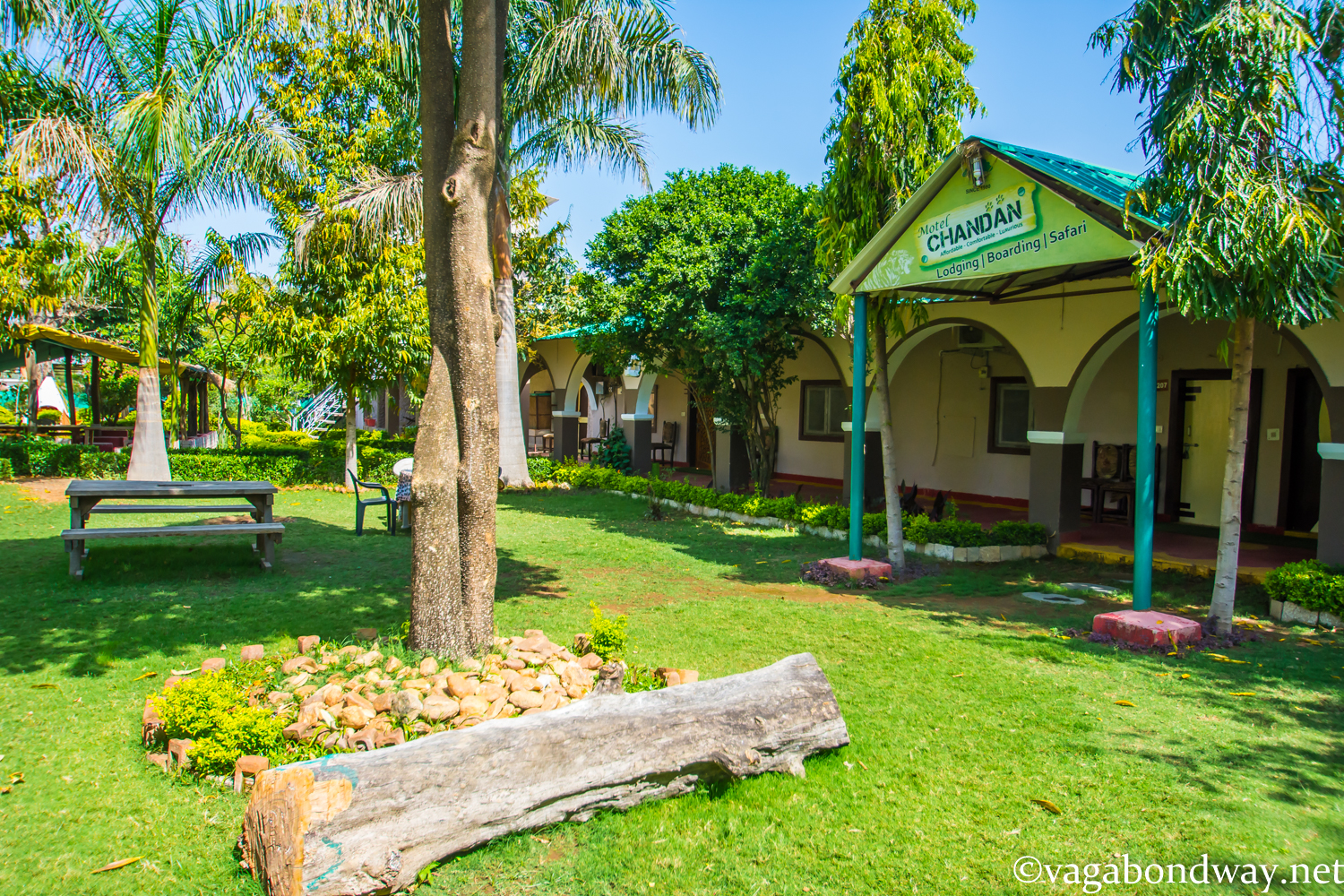 Our first night staying at Motel Chandon which had a lovely inner garden area.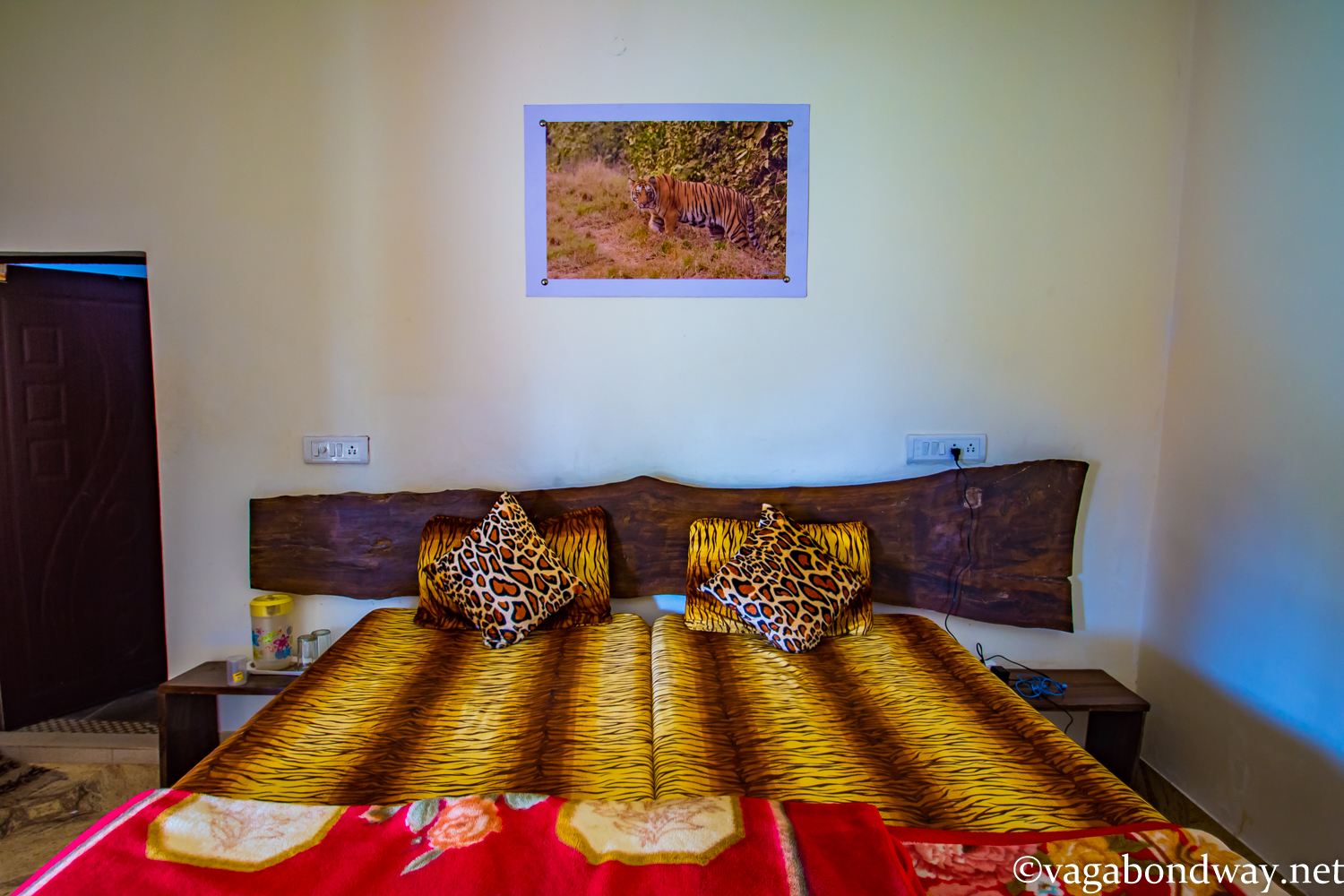 I loved the tiger themed things in our room!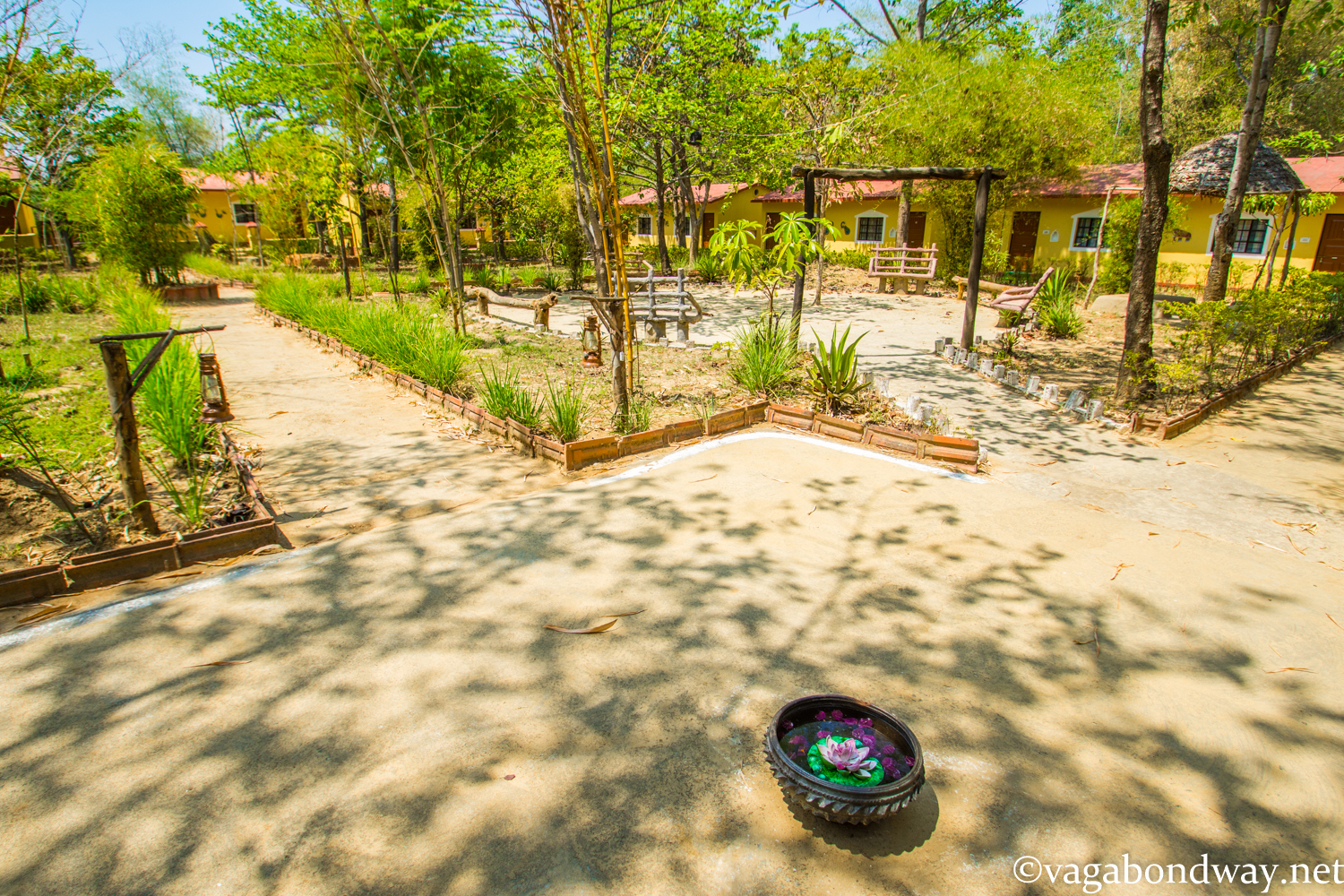 Pug Mark also had very nice inner garden area.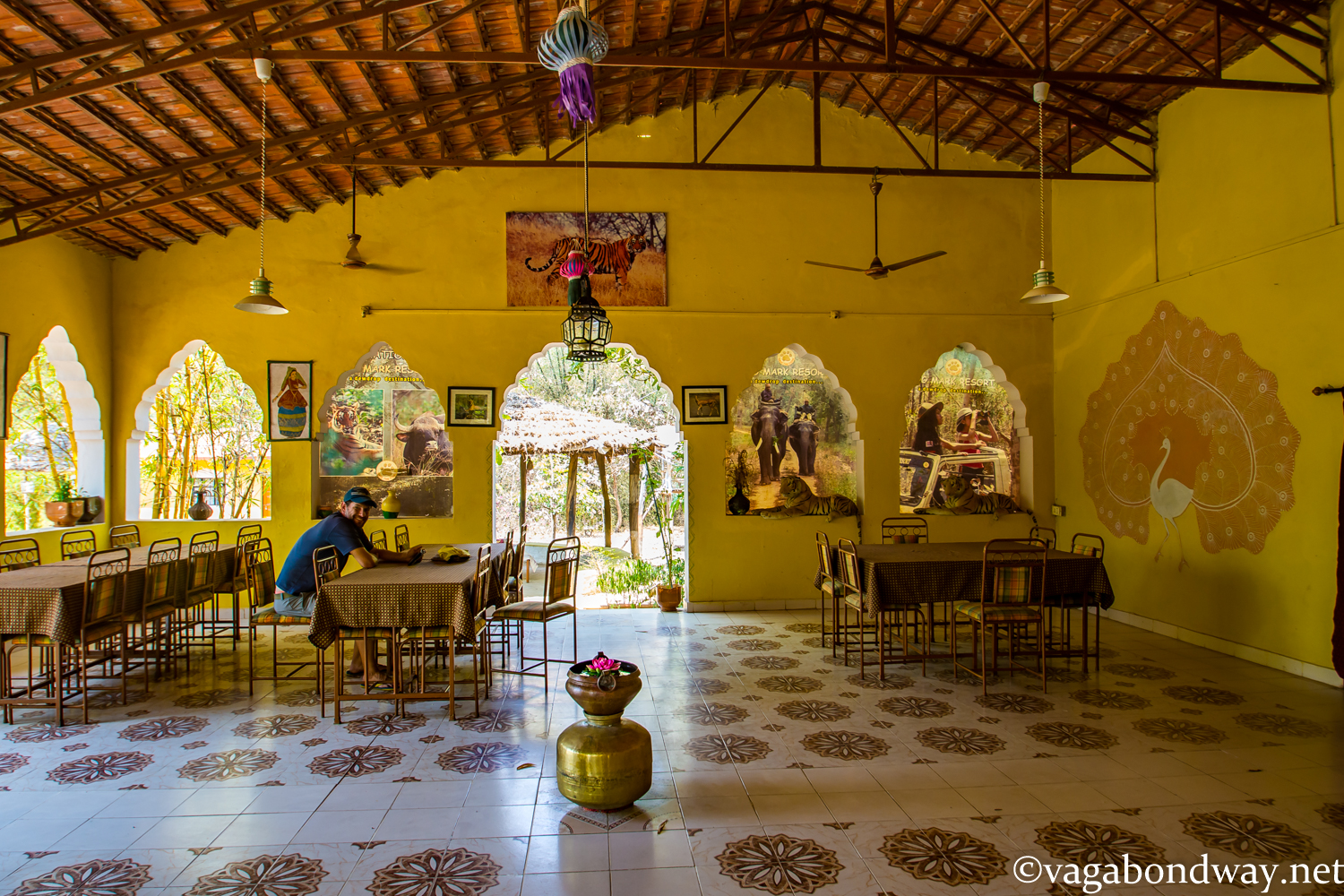 A beautiful Dining area.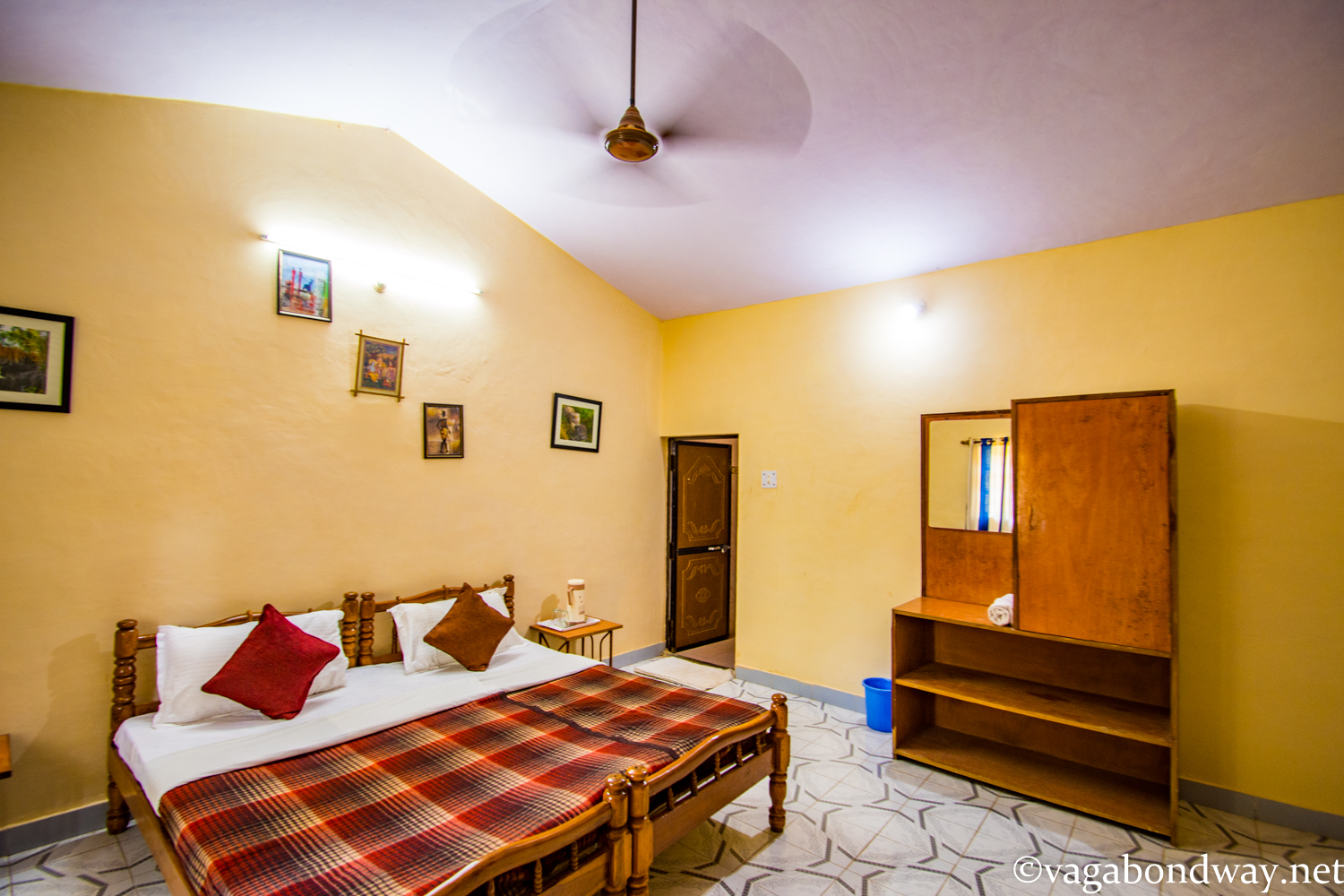 And nice big rooms as well. Both places were well built for the area and with the overhead fan, they stayed nice and cool despite the temperatures averaging 100F or 37 C. We never turned on any AC nor power AC fan.
What going on Safari looked like
Now…about the safaris. So entry into the park is strictly controlled. Kanha National Park is broken down into four zones: Kanha, Kisli, Mukki and Sarhi. Visitors have to book in advance which zone they would like to go to and what time. There are only two safari's a day except on Wednesday afternoon there are no safari's allowed. The park also closes in wet season from 16th June until 30th September also giving a long period of quiet time for the animals in the park.
There is a tiny walk that you can request to go on and pay for a guide near the gate, but otherwise there is no walking in the park. All guests are checked in and recorded at the gate and assigned to a park registered jeep, or what they call Gypsy, in addition to having a park guide.
The gates will open at exactly the time they are supposed to. Drivers will pull their cell phone out and look for the clock to turn to 6 am exactly and then the park guards will slowly start to open the gate.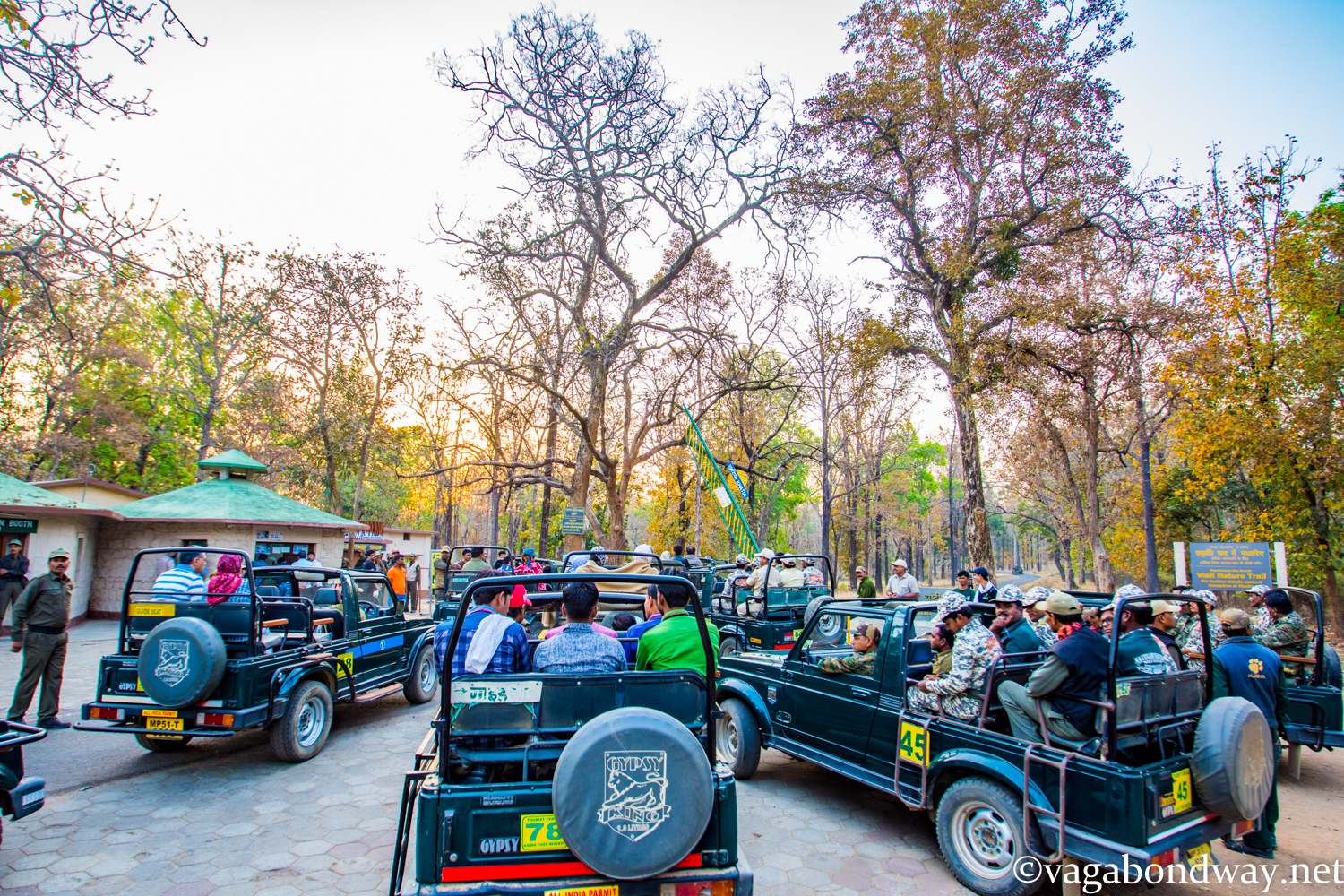 Jockeying for position into the park, the jeeps all hurry up so then they can drive 20 kmp into the park. With little expectation, this speed limit rule is followed, as all rules and wildlife etiquette guidelines are strictly followed.
Then let the driving safari begin! Almost every single driver we had drove very slow and carefully.  Some guides and drivers are more skilled than others, but everyone is after the same thing: to try and catch a glimpse of a tiger and see some other cool animals along the way.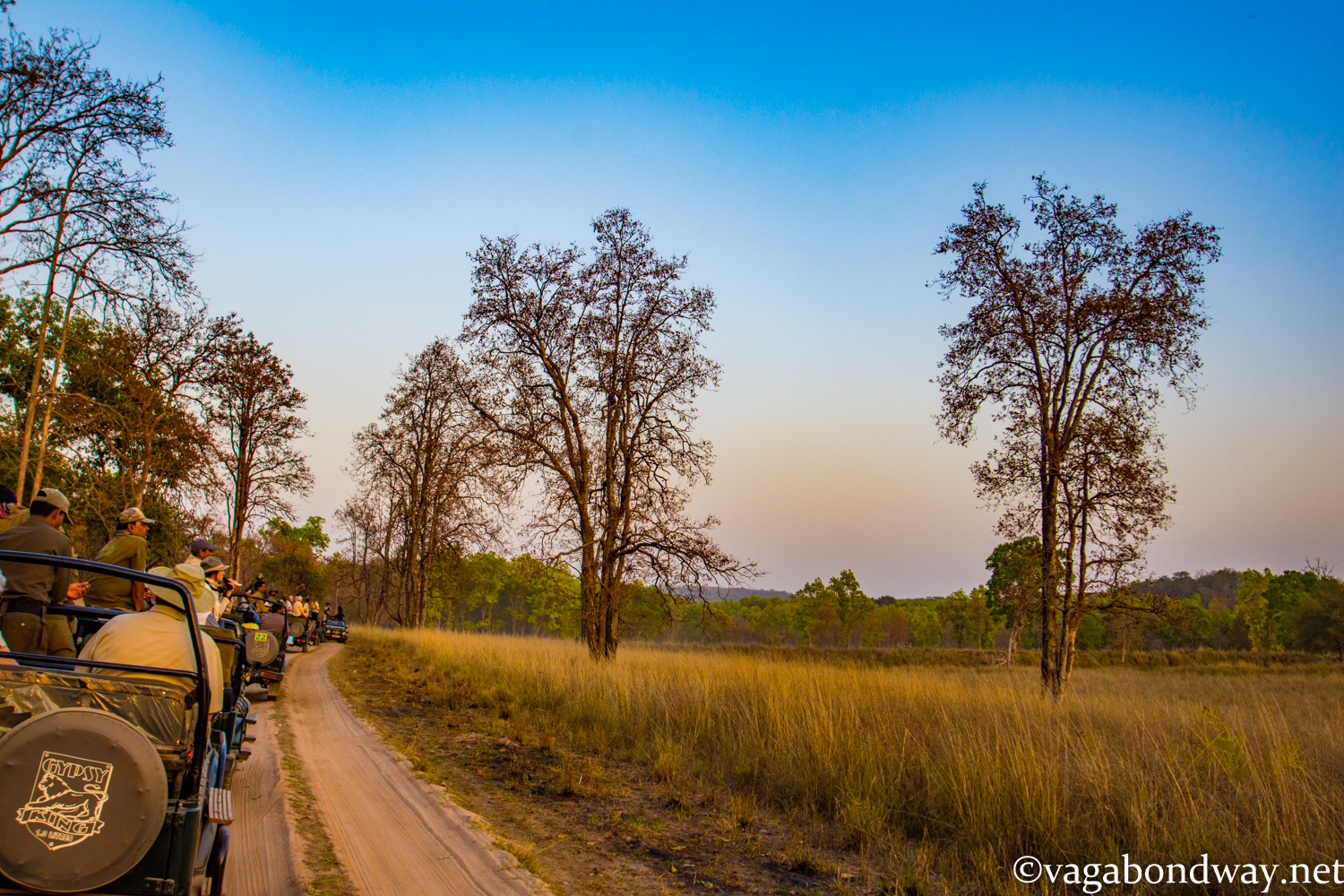 We had a big debate about whether or not to go shared safari jeep or private jeep. In the end we were so glad we went shared because the reality is, in most cases, even if you do see something, so do all the other jeeps whether you are private or sharing.
We actually met some nice new friends on the shared safaris and lucked out that we didn't have any loud people in our jeeps. But again, the thing was, most of the guides and drivers kept their guests quiet anyway while out there. If there was a good chance of seeing a tiger, everyone got the keep hush cue and just waited quietly.
Daily Routine
For safaris we were waking up at about 4:30 am. We have our own travel kettle (one of the absolute best things we've ever purchased) so we were enjoying a quick cup of coffee in our room.
We'd met Anil (if he hadn't come to our room first to make sure we were up) at 5:15 am and then walk over to the park gate. We'd check in at the office, wait to be assigned to a jeep and then off we'd go!
Walking back to the lodge, Anil would always greet us and ask if we'd like tea or coffee. We'd have lunch at 1 pm. Relax and avoid the heat of the day and then at 2:30 pm walk back over to the gate and safari!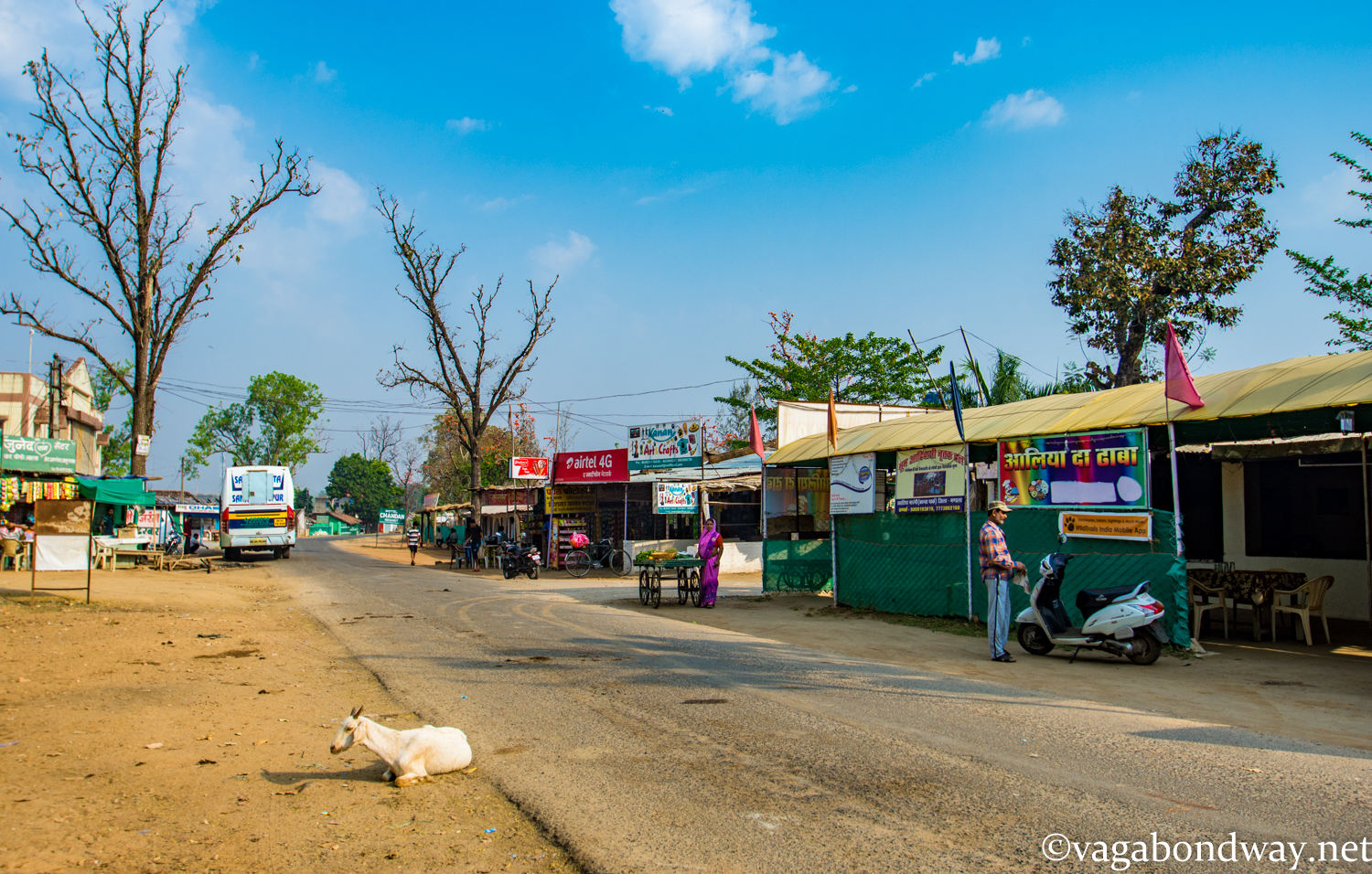 After the pm safari, we'd get a cold sprite, two ice creams and buy water from the shops for the next day. Dinner would be at 7 pm, shower, bed and repeat!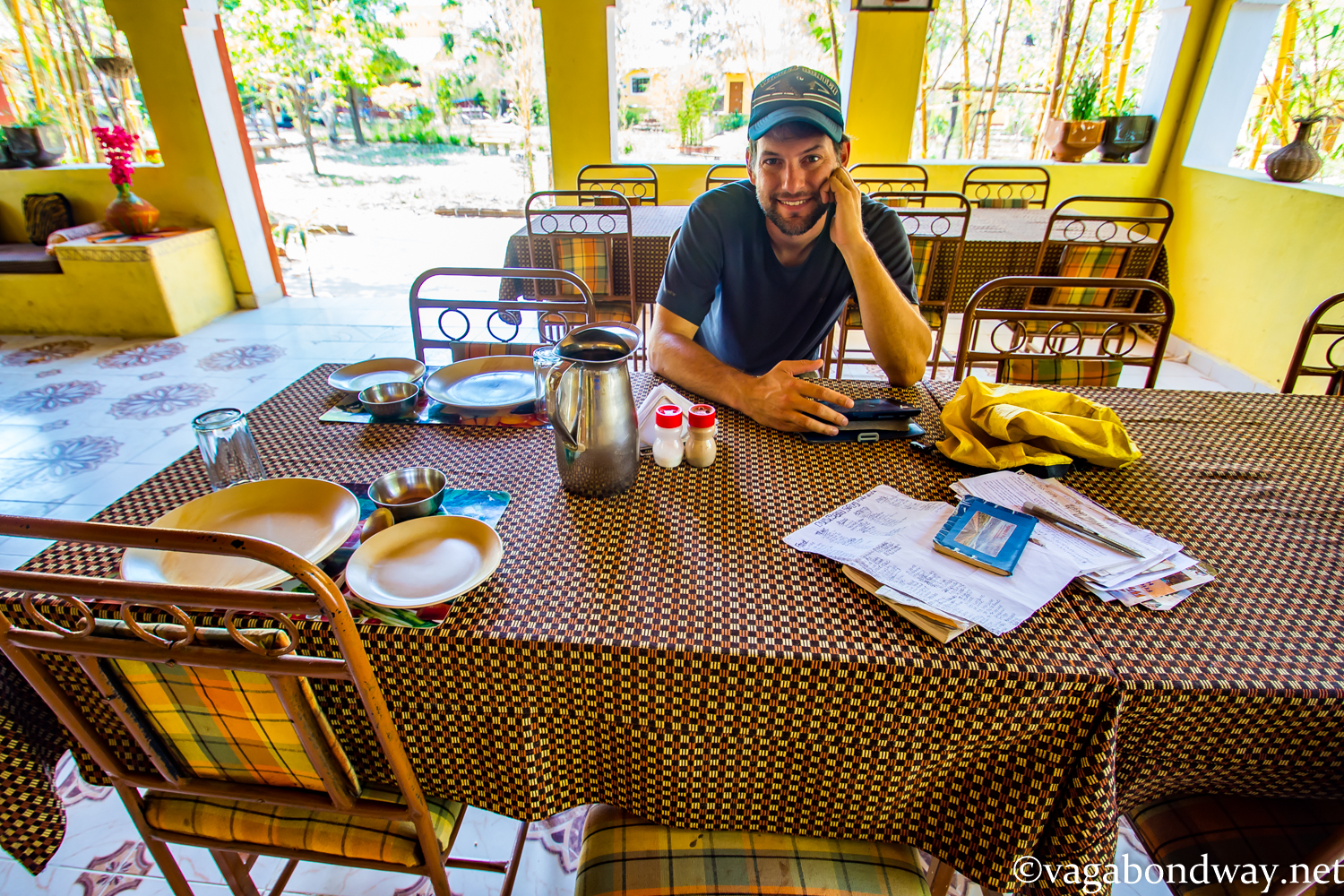 A habit we formed was we had our waiting for meal chairs, and then Anil would meticulously set the table and we'd move over to our eating chairs for our meals. He must have thought we were kinda odd because we literally ordered the same thing almost every single meal. Breakfast was a simple veg sandwich, lunch was fried rice and dinner was dalh – but it kept our stomachs from having any flare ups!
The Night Safari
On our first night in Kanha at Motel Chandon, we realized we had the option to go on a night safari.
One thing about traveling and one thing about India is it never fails to give us reasons to realize we should have asked more questions. Never in a million years did I think a night safari would be offered and that I should ask the question, 'Do you use a spot light?' We have been on tons of night safari's and night walks and the thing is, if you don't have a spot light, how are you ever going to look for anything?
So we went on a night drive, saw some bunnies in the head lights, had the engine turned off so we could hear just how quiet the forest was and repeated that cycle for three hours. I can't say I'd recommend the night safari.
The one bad thing that happened
There is always one thing from our India experiences that seemed to have left a sour taste in our mouth and this one was due to the park office's incompetence and self-interest. On our last afternoon we hadn't booked a ticket because we didn't know the bus schedule in advance. There is usually a good chance of getting a shared ticket if you just walk up.
To make a long story short, the park office completely lied to us. We asked for shared safari to which they said yes, we could go. We kept waiting for our jeep assignment, watched all the other jeeps leave, including our Canadian friends in a jeep completely to themselves, and then the park office told us they had no more shared jeeps left and we'd have to pay full price. We absolutely knew this was a lie (as we just saw our friends leave in a jeep alone) and confronted them that they were just trying to get us to pay full price. I think then it dawned on them we were the same two people that had been here all week, just went on six safari's and knew how things worked. But it was too late. All the jeeps were gone and the last chance had passed.
So Kanha Park Service, shame on you for that. That was our last memory of the park personal and that left a sour last impression of the office staff there.
Aside from that incident our experience was nothing but positive, so moving on.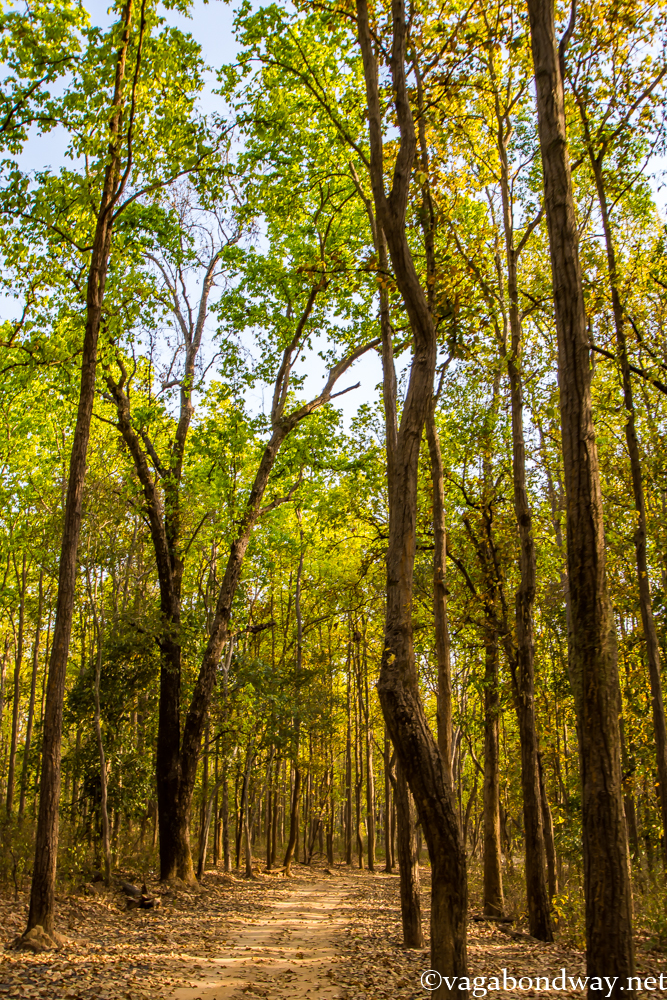 Safari's came to an end – What amazing sightings we had!
We could have gone again and again on safari. Some guests come and stay for two weeks, a month and just go on either one or two safari's every day. I could see us easily doing that. Searching for tigers can get addicting fast.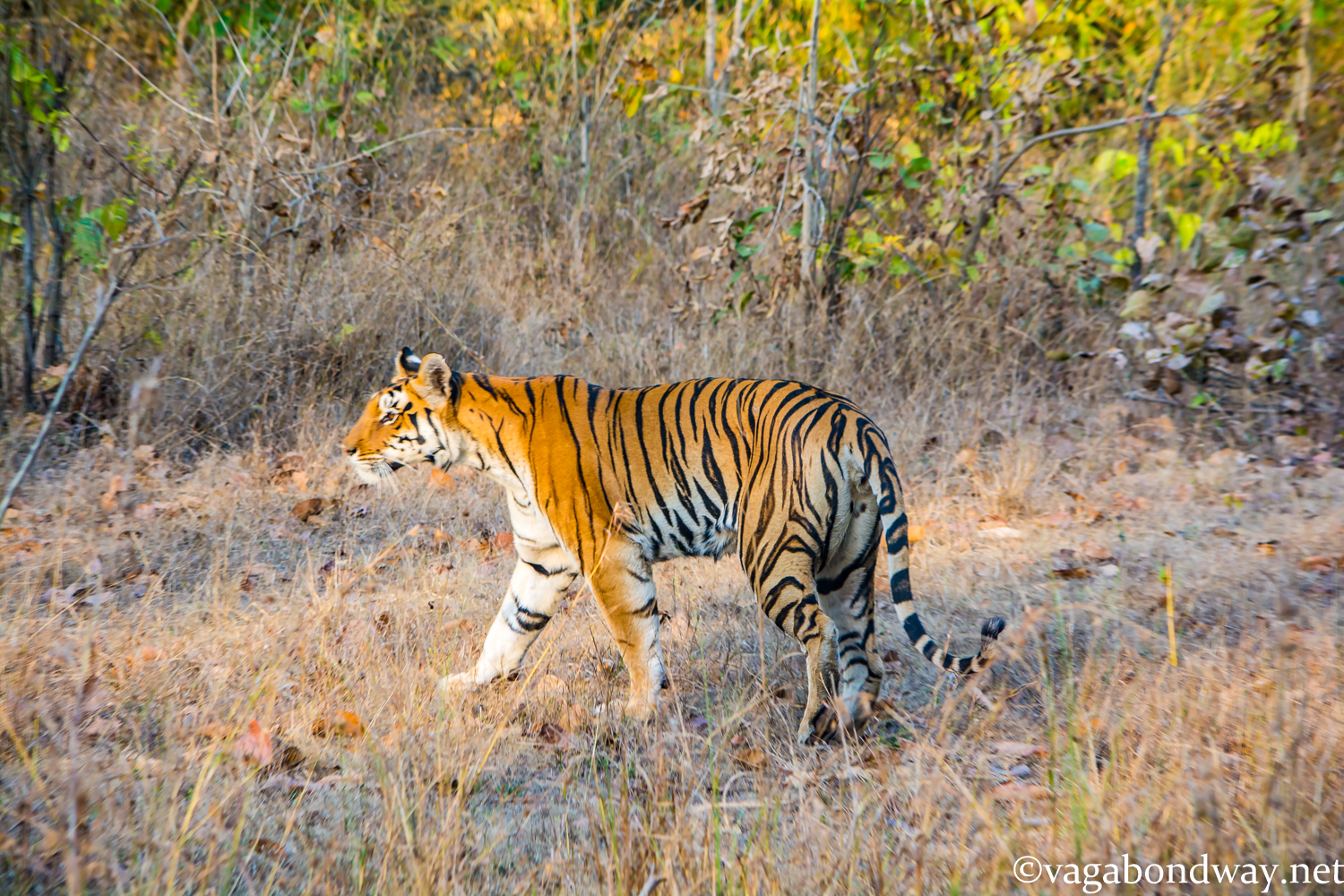 We just absolutely loved our time in Kanha so much! Everyone we met was so nice and welcoming. The park did seem to be well managed, the town had a sense of pride to it and the people were nice.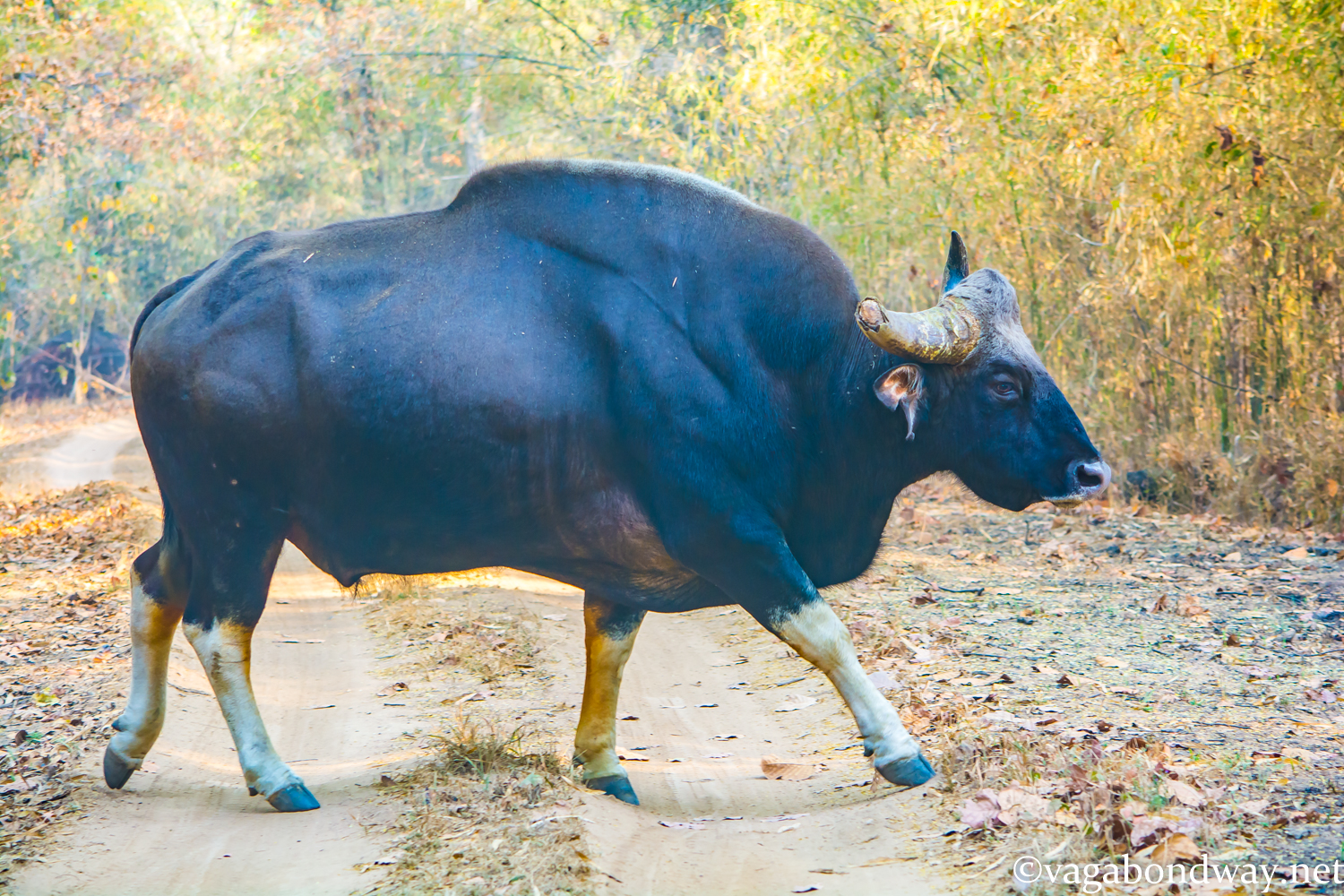 Going to any of these parks and making advanced bookings is always a bit of dice roll. For us, we were beyond thankful for the amazing time we had in Kanha. It went above and beyond in meeting any hopes we had.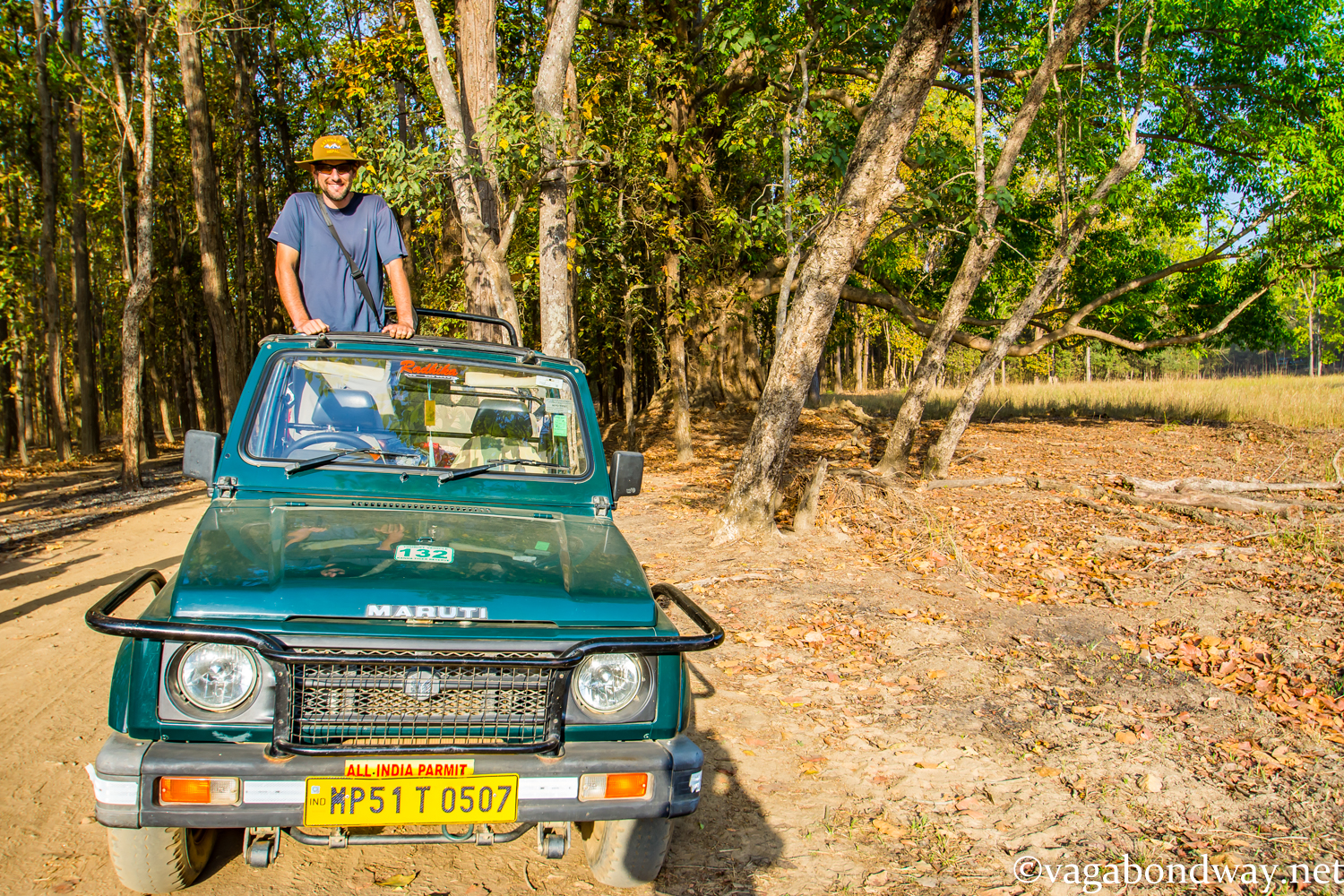 Thank you so much for coming on this safari. I hope your awe, appreciation and dedication to wildlife has increased based on these amazing sightings. I know mine sure has. Thank you Kanha National Park!
***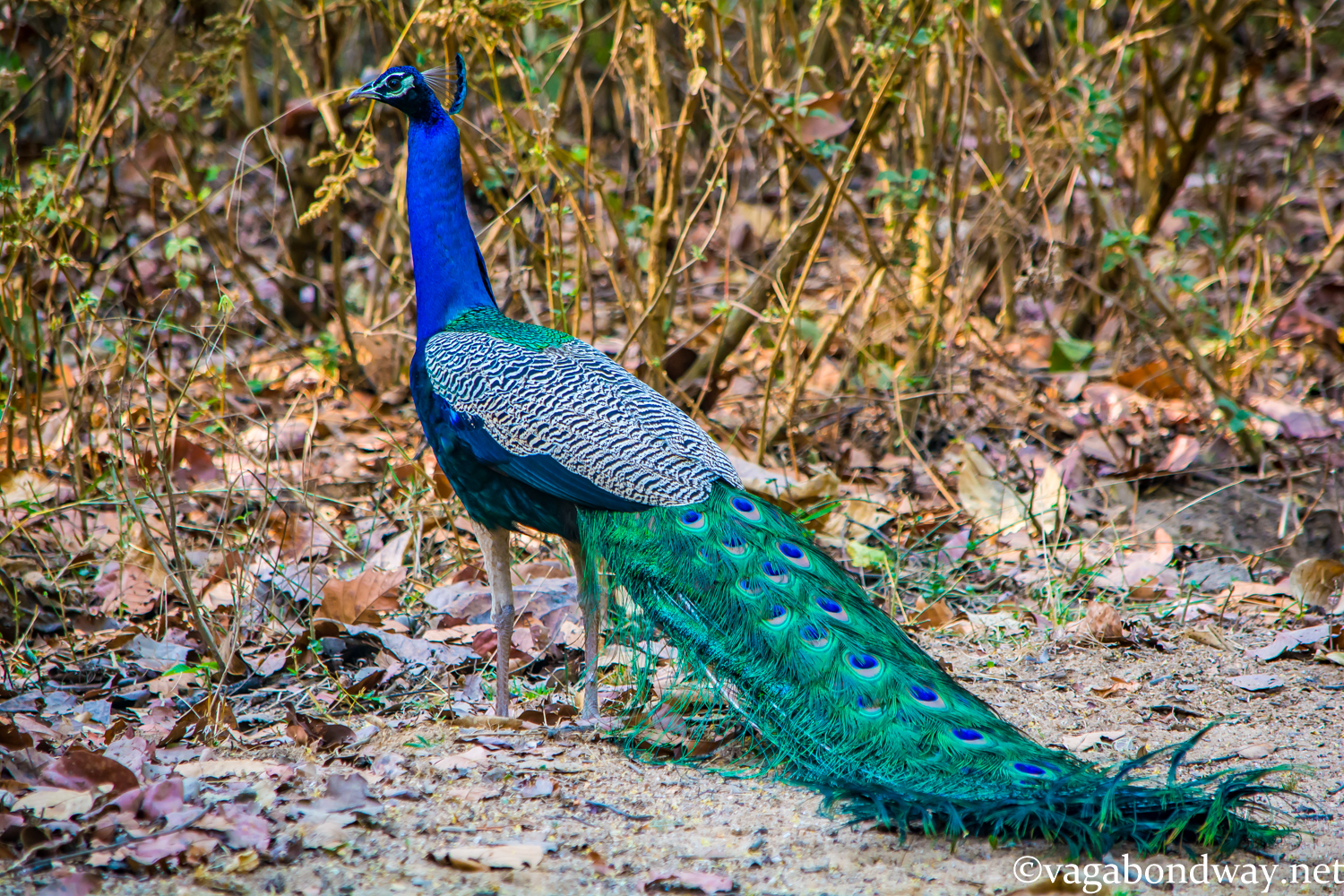 If you go:
Direct bus leave Empire Talkies in Jalbapur at 7:00 or 7:15 am and 12:30 pm. $160-180 IDR pp.
You can also take any bus to Mandala for about $90 IDR and then change buses there to Kanha for about $100 IDR. We did this on the way back and it went smoothly, but we were glad to take the direct bus there for the first time.
Private transport cost ranges between $2800-3500 IDR for pickup from Jalbapur to Kanha.
We stayed at Motel Chandon and Pug Mark Resort. Both are nice depending on what you want.
Motel Chandon is literally right at the bus stop and right in town. The facilities are nice there and we had no complaints.
Pug Mark is about a six minute walk away and feels a little more private and nice, yet still close to the entrance gate. The wifi also worked in our room at Pug Mark which was nice. Given that you do so much sitting for the safari's, we personally really liked having the short walks to the gate each day.
Take Note: If you are booking a place that is farther away and you want to do shared safaris, make sure they will drop you off and pick you up from the gate. Some of the other resorts are too far to walk to gate for shared safaris.
Meals are ordered from wherever you are staying.
TIP:  We put in our orders in advance as it can take a while to make food. This was great to do because after coming back hungry from safari, we never had to wait long.
There are little shops with basics like chips, drinks and water.
Which zones to book in Khana:
This is of course a bit of a personal preference, but generally speaking, Kanha and Kisli are the "best" zones in terms of having the highest chance of seeing tigers and other animals. We did all our safari's in Kanha and Kisli zones.
Mukki is supposed to be a good sighting zone, but it is father away so then your only option is to book private safari to get there. (By the time we wanted to book, all private safari's were booked out.)
Sarhi  had tones of availability most of the time, but we did not hear of anyone going there nor did it seem like there was much chance of spotting much wildlife in that zone.
You can look through the park service website here and the booking portal here. It's a great way to get an idea of what's available, but remember, foreigners cannot pay for the permits with their credit cards, bank etc. So that's why you  must find the place you want to stay and organize with them. Or just book a packed tour, etc.
It seemed the common thing to say the morning safari's are "better" but we had great safari sightings both in the AM + PM. The afternoon safari times are shorter, so yes, you are paying the same price for less time, but we had really good luck on both timings.
***
Did you like going on this safari?
What's one thing that surprised you about going on this safari?
***
Plan on traveling soon or making a purchase from Amazon? Please consider using the links on our resource page. At no cost difference to you we will earn a small commission to help keep this site running. Thank you so much for this thoughtful gesture.