Scooters are almost synonymous with Southeast Asia. In Ho Chi Minh, Vietnam alone there is an estimated 7.43 million motor bikes according to the department of transport. It's estimated there are around 37 million scooters in Vietnam and while only 2 million cars. Kids know how to ride a scooter before they know how to walk.
From a tourist perspective, watching scooters is a cultural experience. Watching almost every item imaginable get somehow, someway attached to a scooter and moved from point A to point B is a jaw dropping experience.
While in Hanoi, Vietnam we sat near a park for a few hours and got almost all of the shots in this post from just this one afternoon. Even after being in Asia for over eight months (I know – crazy!) we still look with amazement and admiration for everything the locals put on scooters.
So I thought today we could people watch together.
Let's set the scene – we have just been walking down a street with a sidewalk – what a treat. (If you want to see more of what I mean, check out this video of trying to walk down a side walk in HCM.) It's a busy, two lane road. On the other side of the road there are "pop up" barber shops, where literally a scooter driver pulls up and sets up a portable barber shop, a lady selling carpets and another selling hats. On our side of the street is a city park, surrounded by a tall fence. There is a lot of street noise, horns honking, accelerators rearing up and people talking either to each other or on phones as they drive by.
We decide to forgo our goal of making it to the Art Museum and find ourselves a spot to lean up against the park wall.
It's time to street watch. This is what we saw: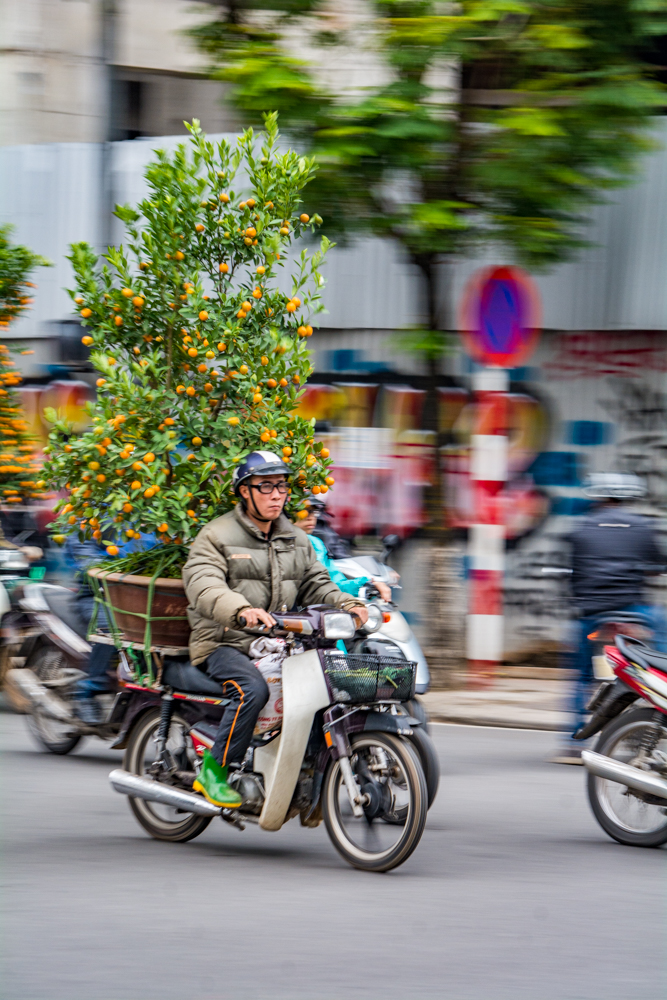 As we're walking, guys like this on scooter keep zipping by transporting these orange trees. It will soon be TET, which is the Vietnamese New Year. Chris was really into trying to get photos of guys on scooters with these orange trees.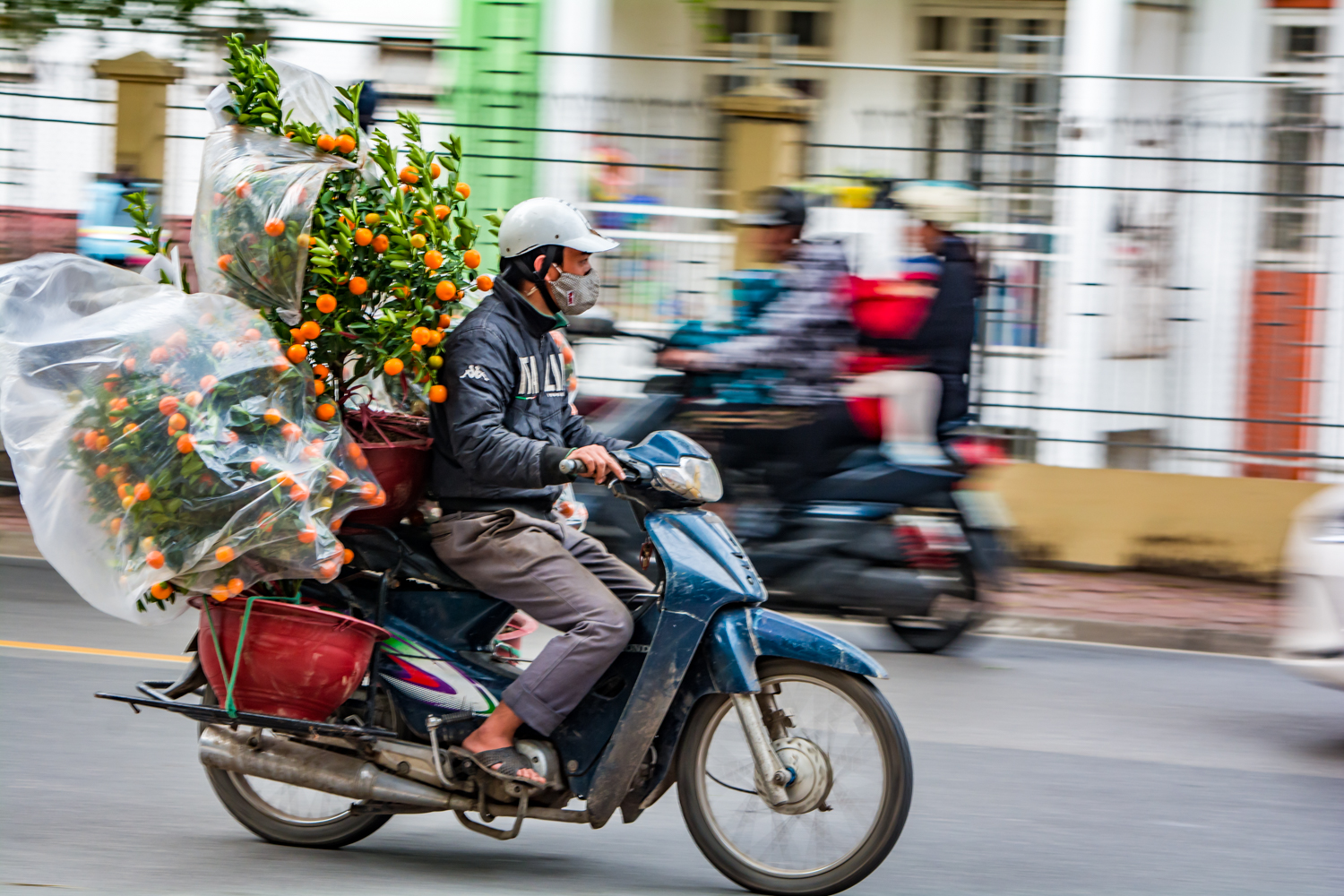 These orange trees are very important and symbolize to bring fruitfulness to the family throughout the following year. We have seen people transport large, expensive flat screen TV's without absolutely no packing materials or even a blanket to protect the screen. But these orange trees and other plants, must be wrapped and protected.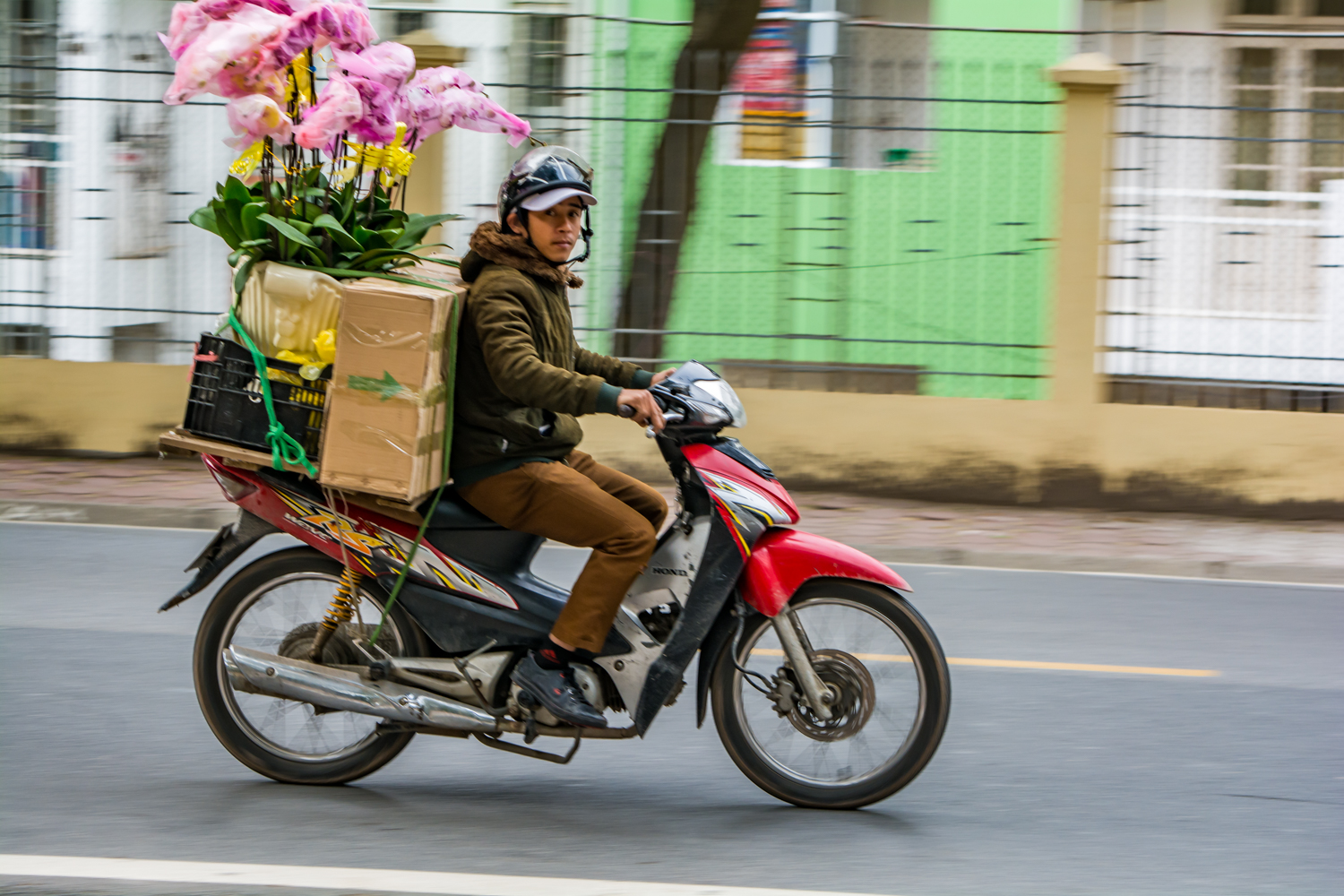 See – those are orchid flowers all nicely protected and wrapped.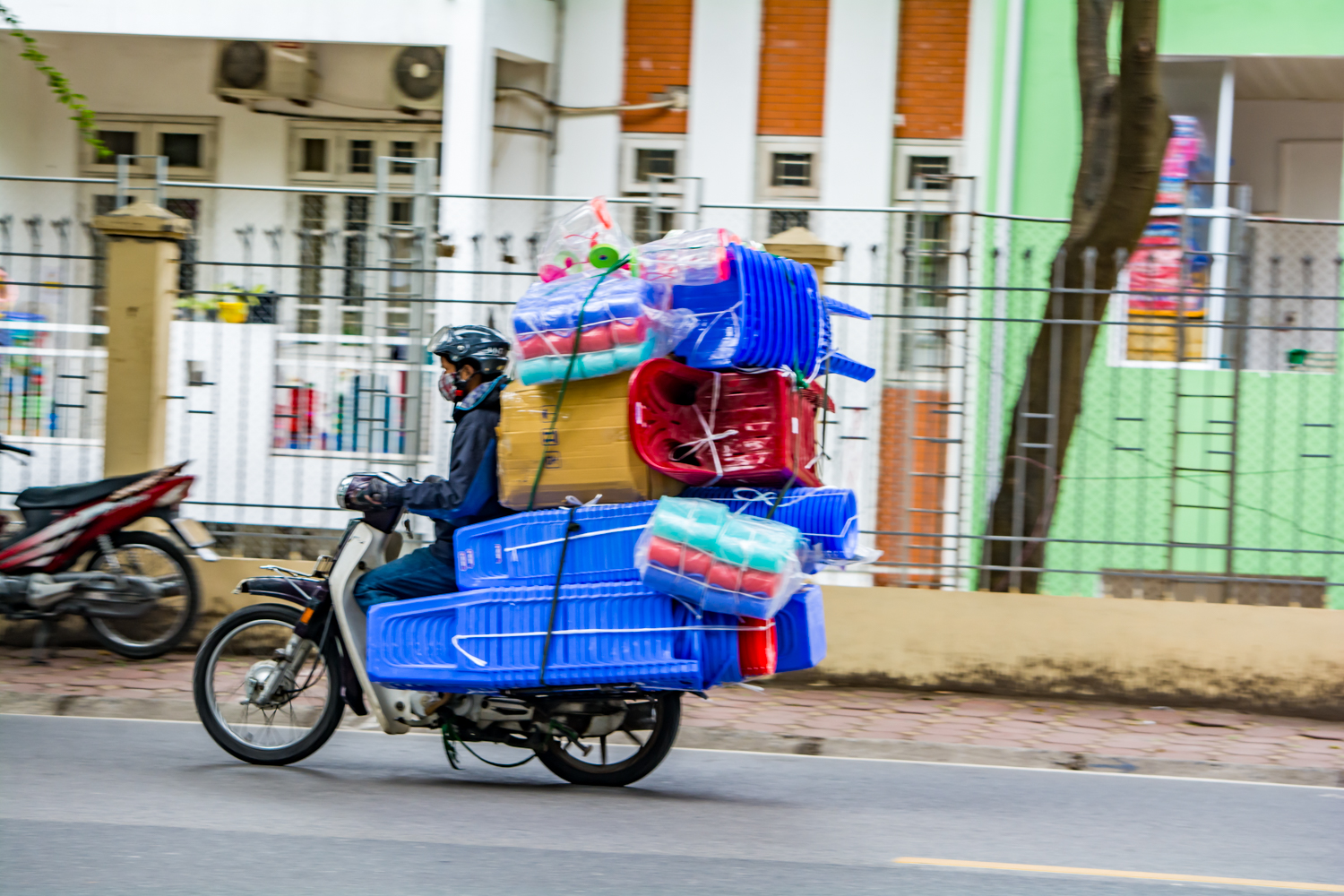 This guy looks like he is delivering new plastic chairs to somewhere. Sometimes this might be an entire restaurant on wheels, but this was new plastic wares to be delivered somewhere.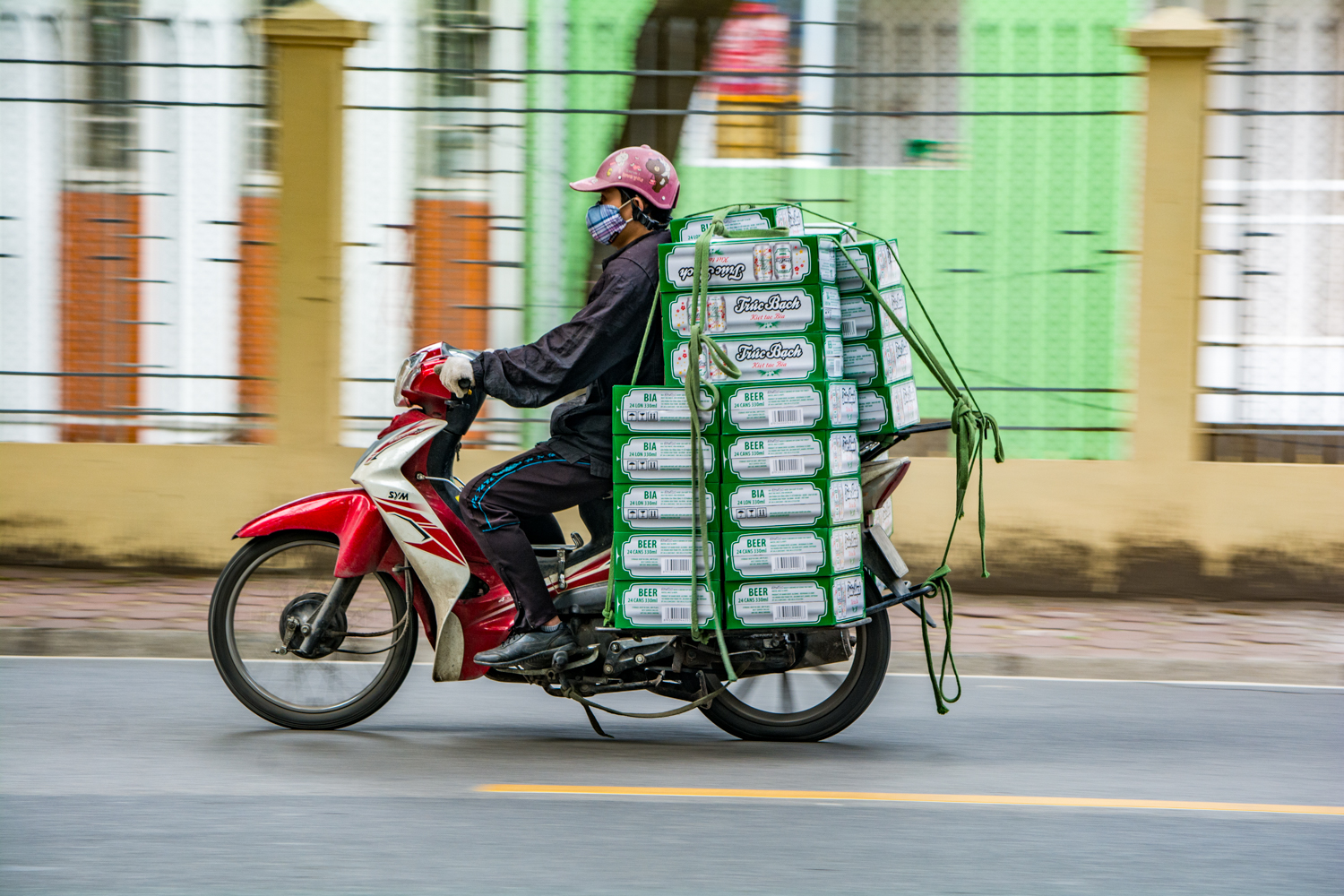 And right behind him is the beer run. In case you are wondering, "But why don't they just make deliveries with a truck or something?" Well, especially in Hanoi, there are so many small streets. It is barely possible to get a car down some of them. Delivery by motorbike is really the only option.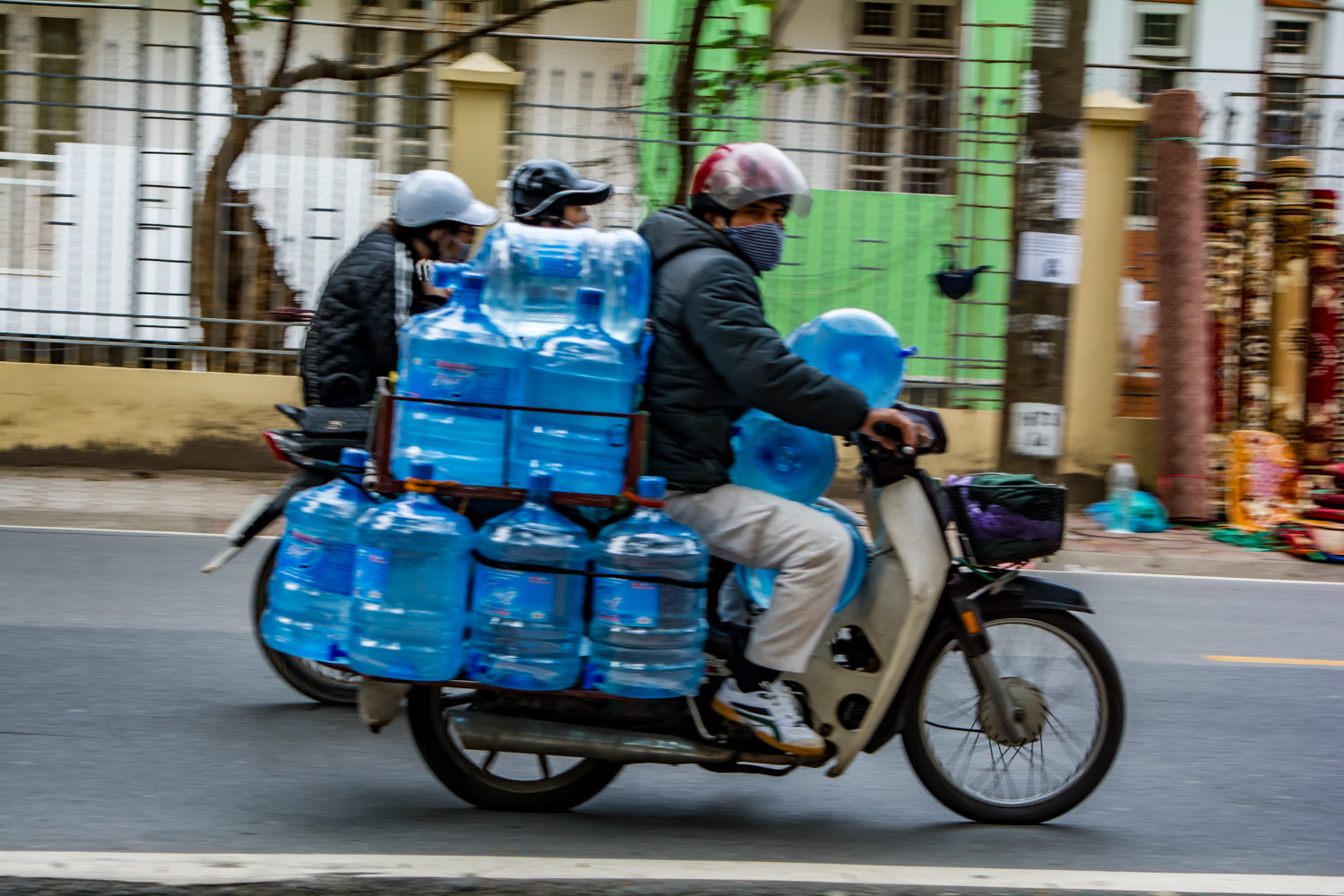 So just look at this picture for a second. Count how many FULL water jugs he has on his two wheeled bike and that he has THREE in front of him. That is a lot of weight to balance. I can barely just balance the scooter when I am wearing a backpack. This guy has mad skills.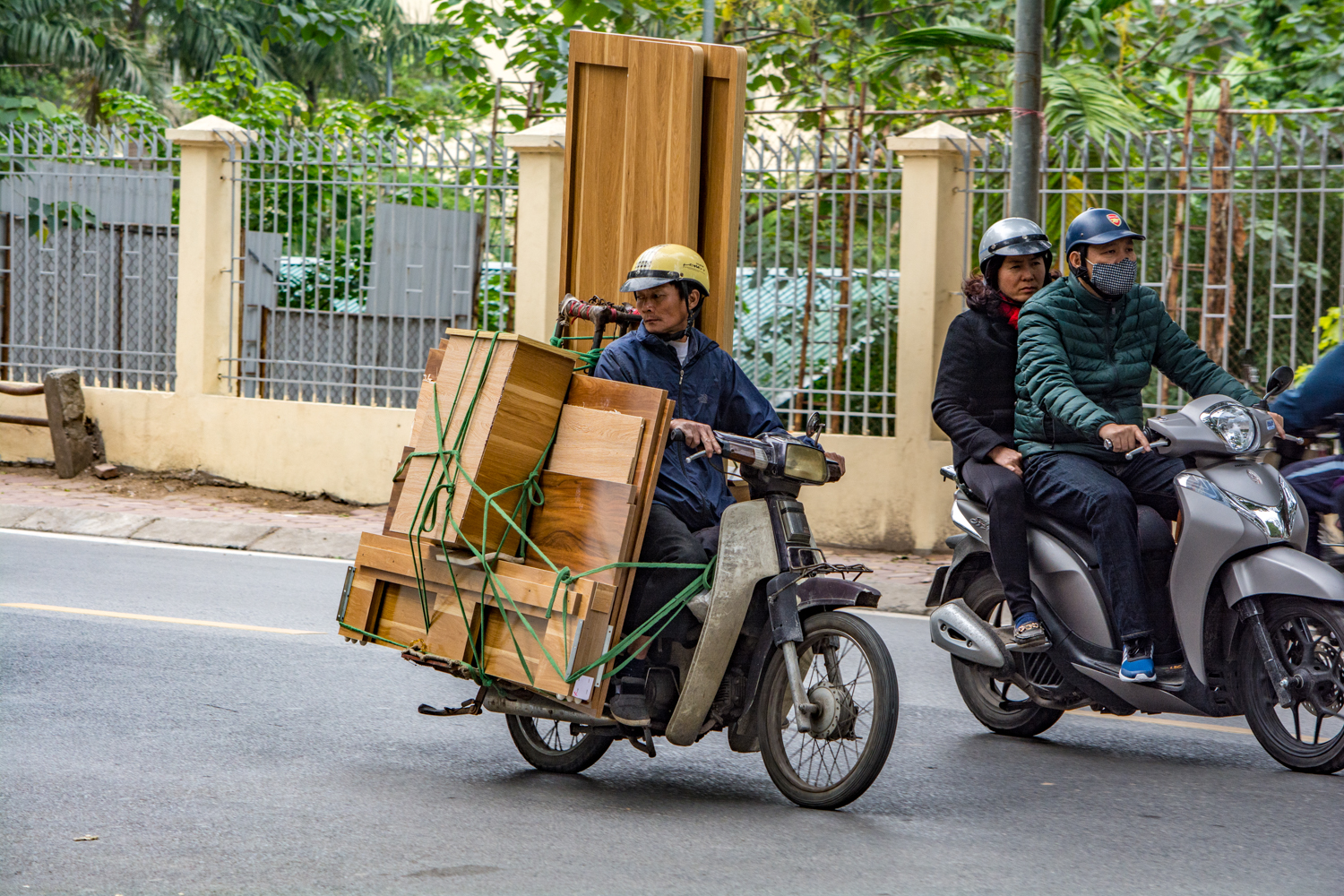 Same for this guy. He is practically tied in there. That wood would have been so heavy and able to cause balancing issues, yet he was driving like it's nothing.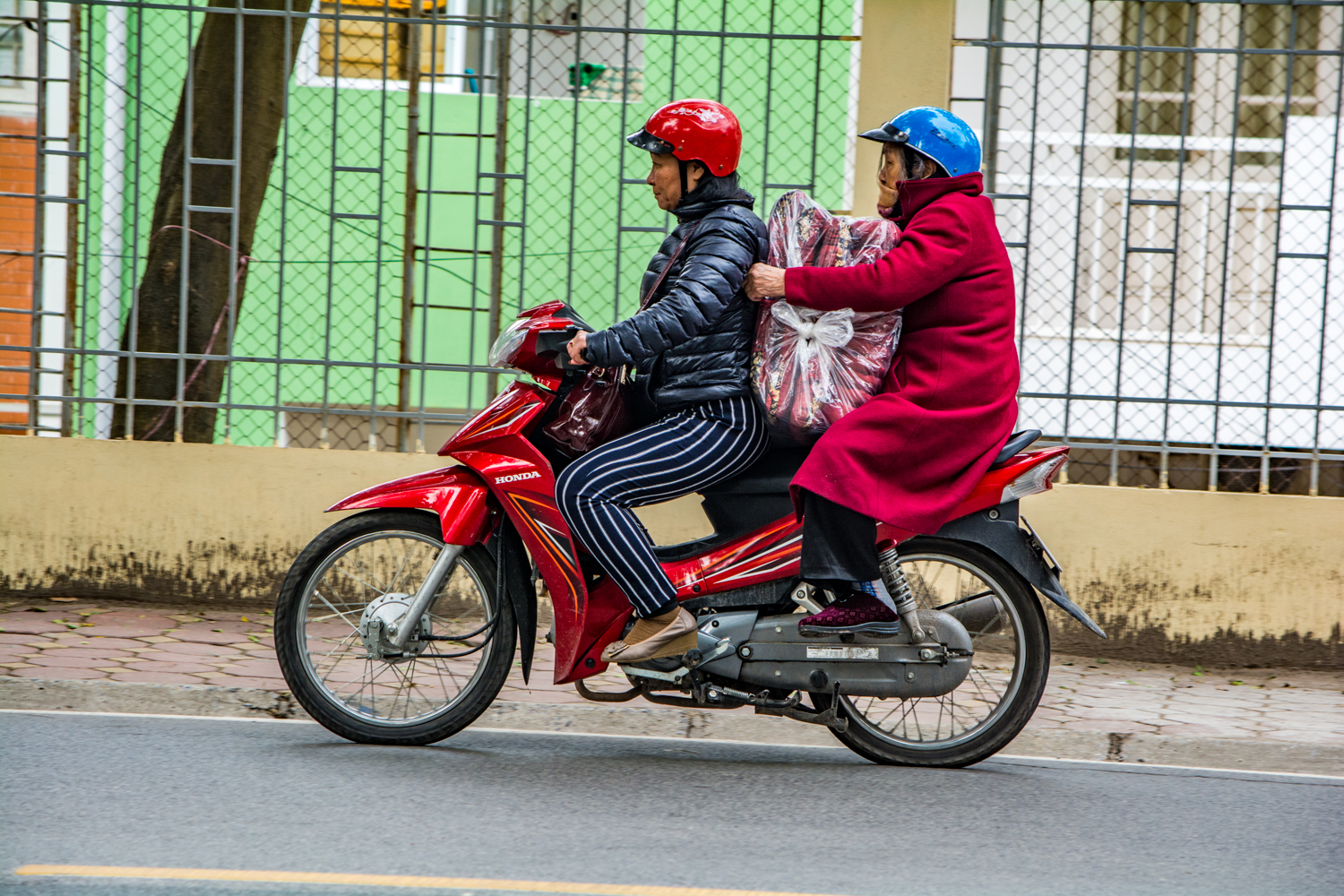 Now, during the time we have been street watching, the carpet selling lady has been bumping with business. Walking by and casually observing the carpets, I thought how many people actually stop here to buy a carpet? Apparently a lot! These two ladies shopped forever looking at all these different carpets. Finally, once they made their selection it took forever trying to tie it on the scooter. I don't know how old the lady on the back of the scooter was, but the way she moved it wouldn't have surprised me if she was 80 or 90. A guy had to help stabilize them and help the older lady on the back, where she could then take her mighty little fists and grab onto the woman's (probably her daughter – that's half of the fun of street watching is guessing all this) jacket in front of her and away they went.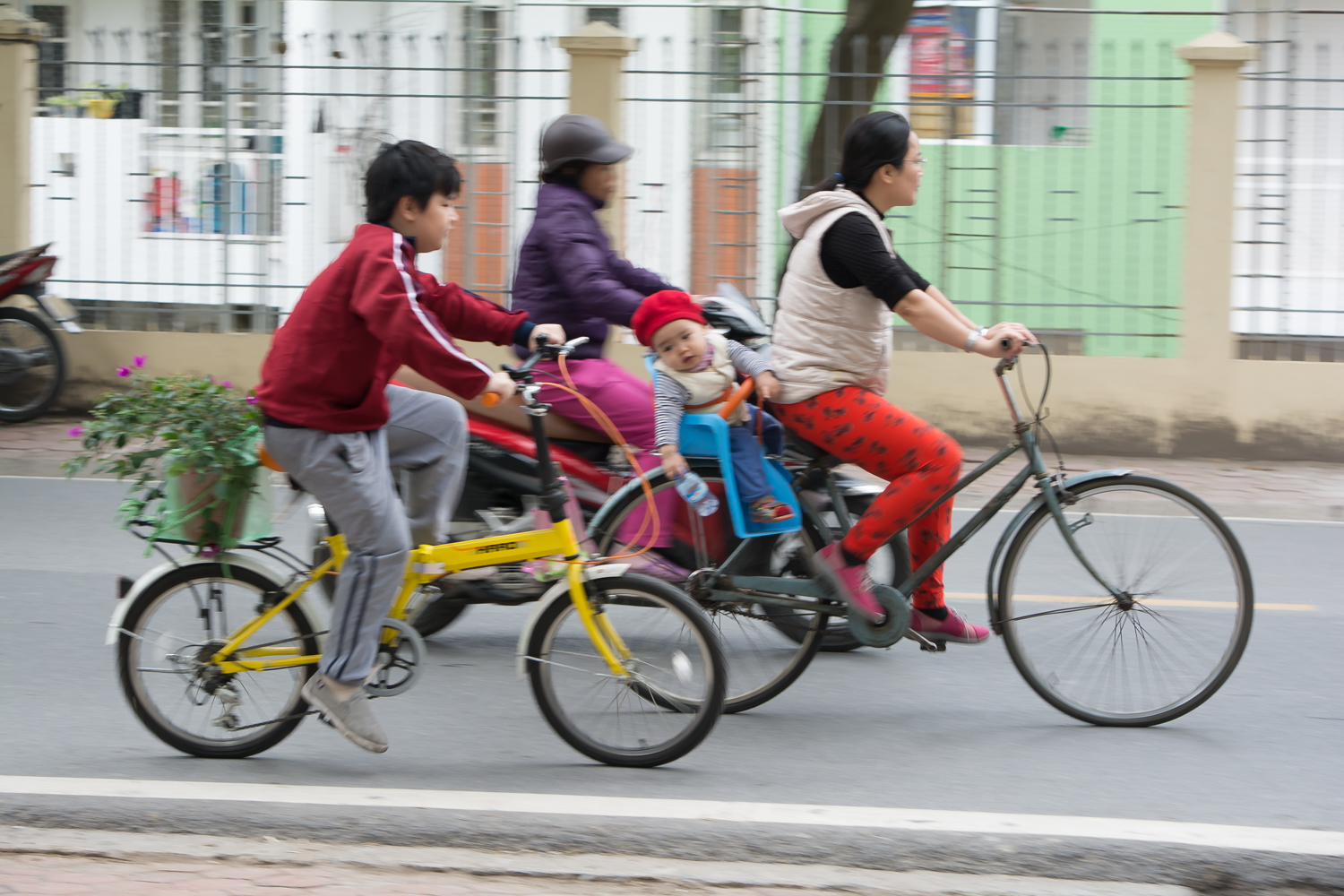 People on bicycles kept on peddling by as well. I so wish this photo was crisper, but I had to share it anyway. That baby didn't change his expression the entire time! It was the funniest thing and he/she never dropped that water bottle either. It was so precious.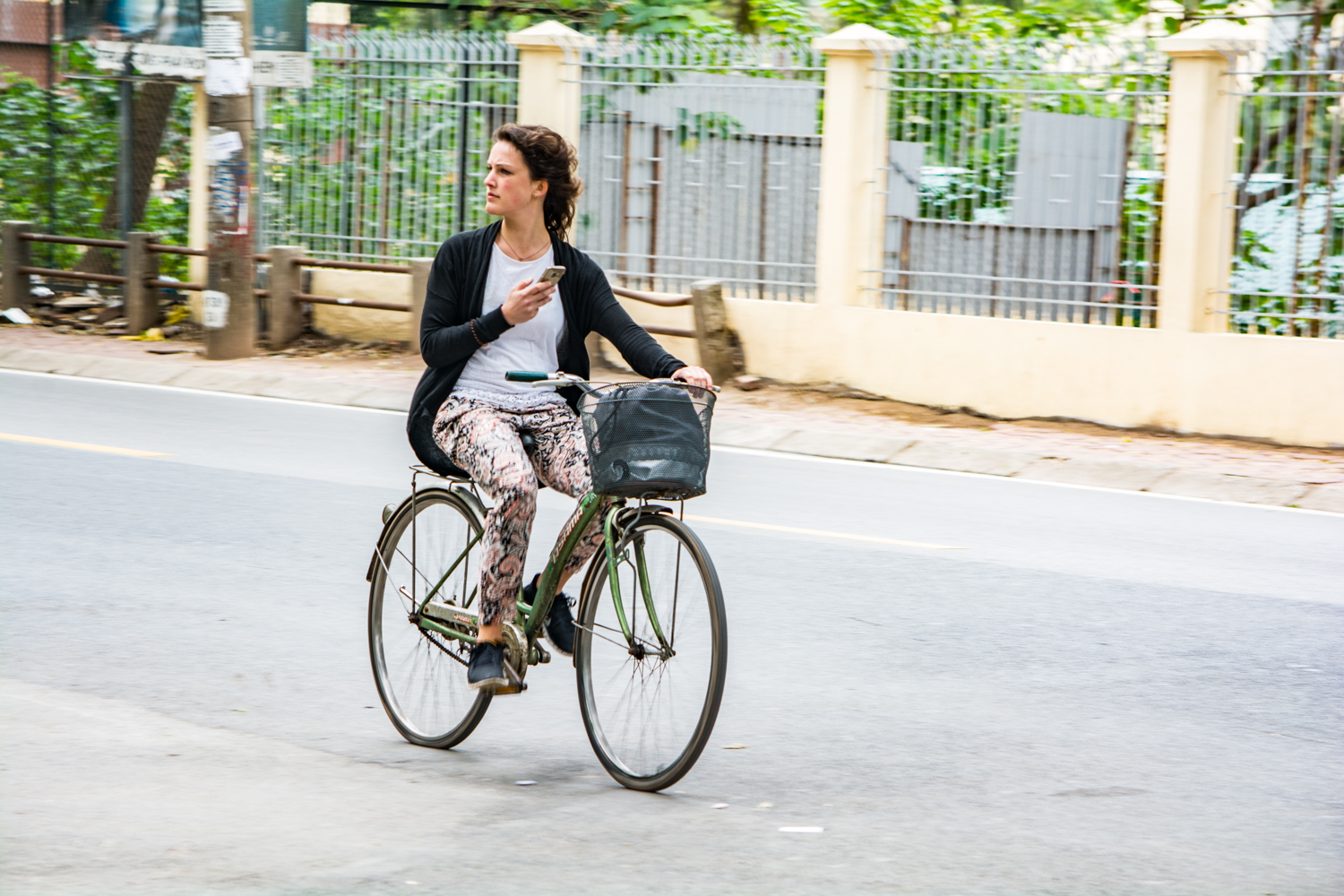 Also biking by were tourists. We just loved this one girls expression of determination – 'I will find where I need to go!'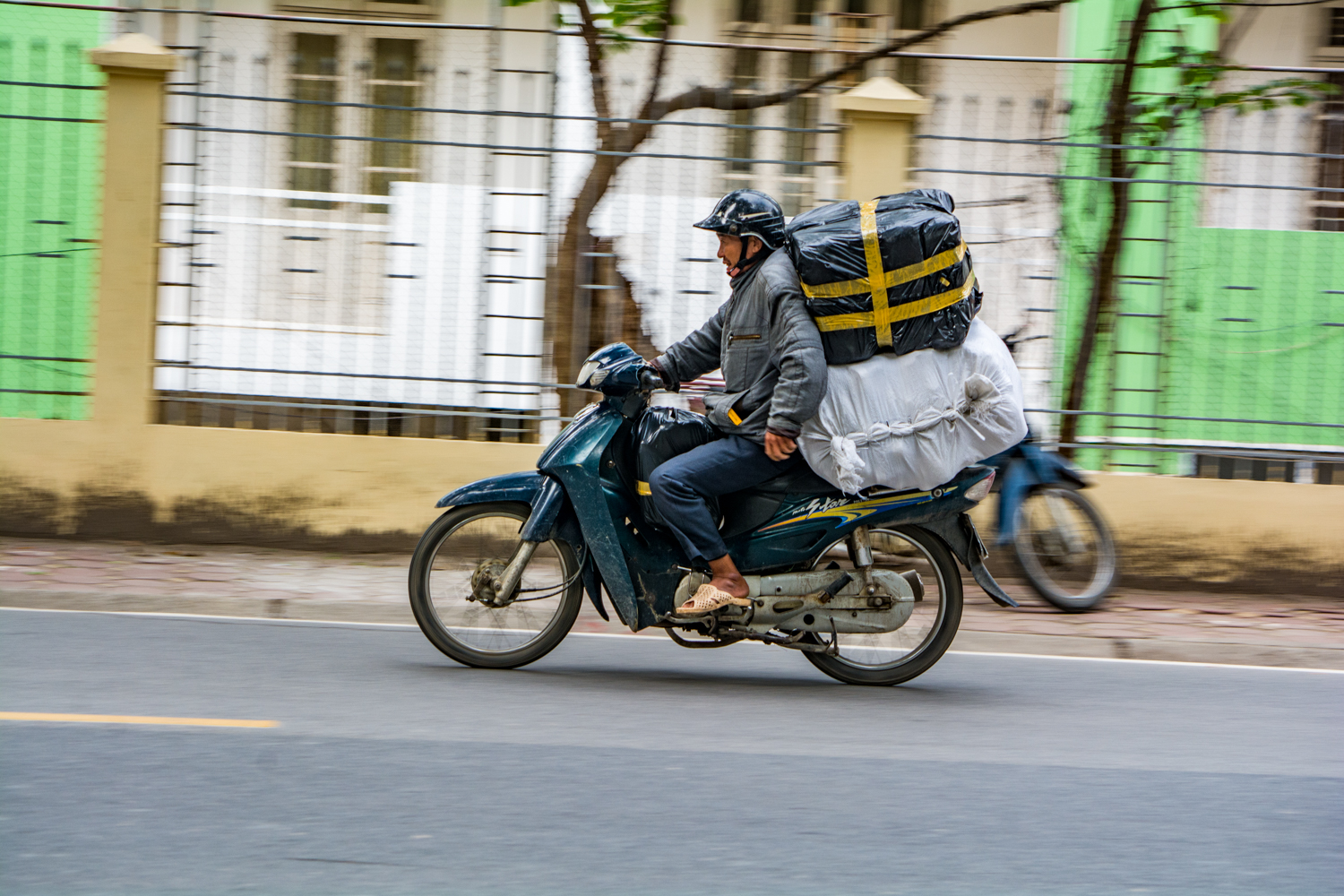 And the motor bikes kept coming. I have no idea what this man was transporting, but if I had to title this picture I would call it, "Scooter man with big boxes." Now it won't come as any surprise to those of you who know us that as Chris read the draft of this post and what I titled the photo above he goes, "No Way! How could you ever title it that! Clearly it would be, "Man with Heavy Load." Come on Tiff – just look at the concentration on his face. So now I ask you: What would you title the photo above? Tell us in the comments below. 🙂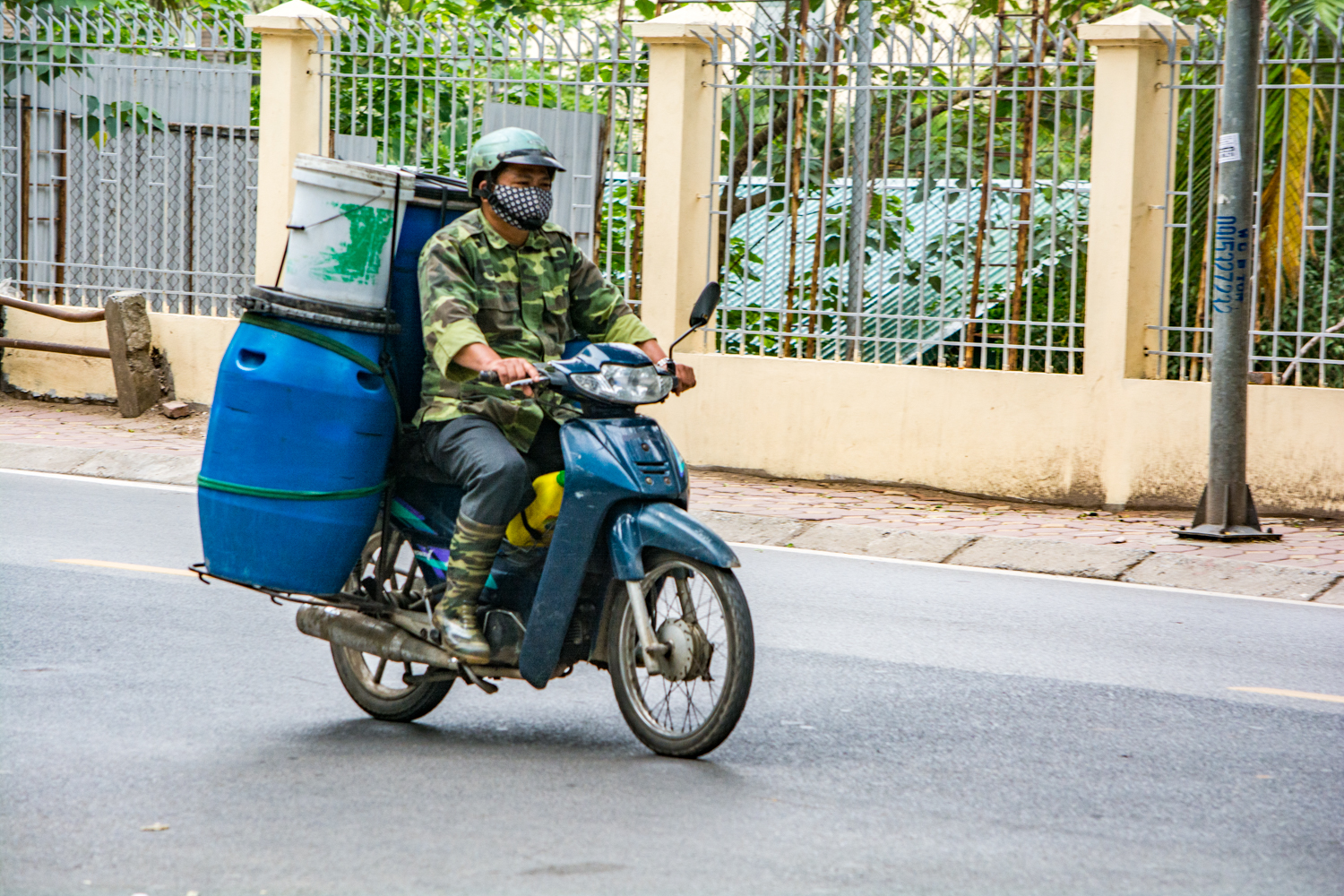 Any idea what this guy was carrying and doing? At first we had no idea either. Then while eating in restaurants, we'd notice people come in with 5 gallon buckets and make several trips back and forth with food scraps to feed to pigs or other animals. So they go around the city collecting food waste and then bring it to farms. Way to go Hanoi!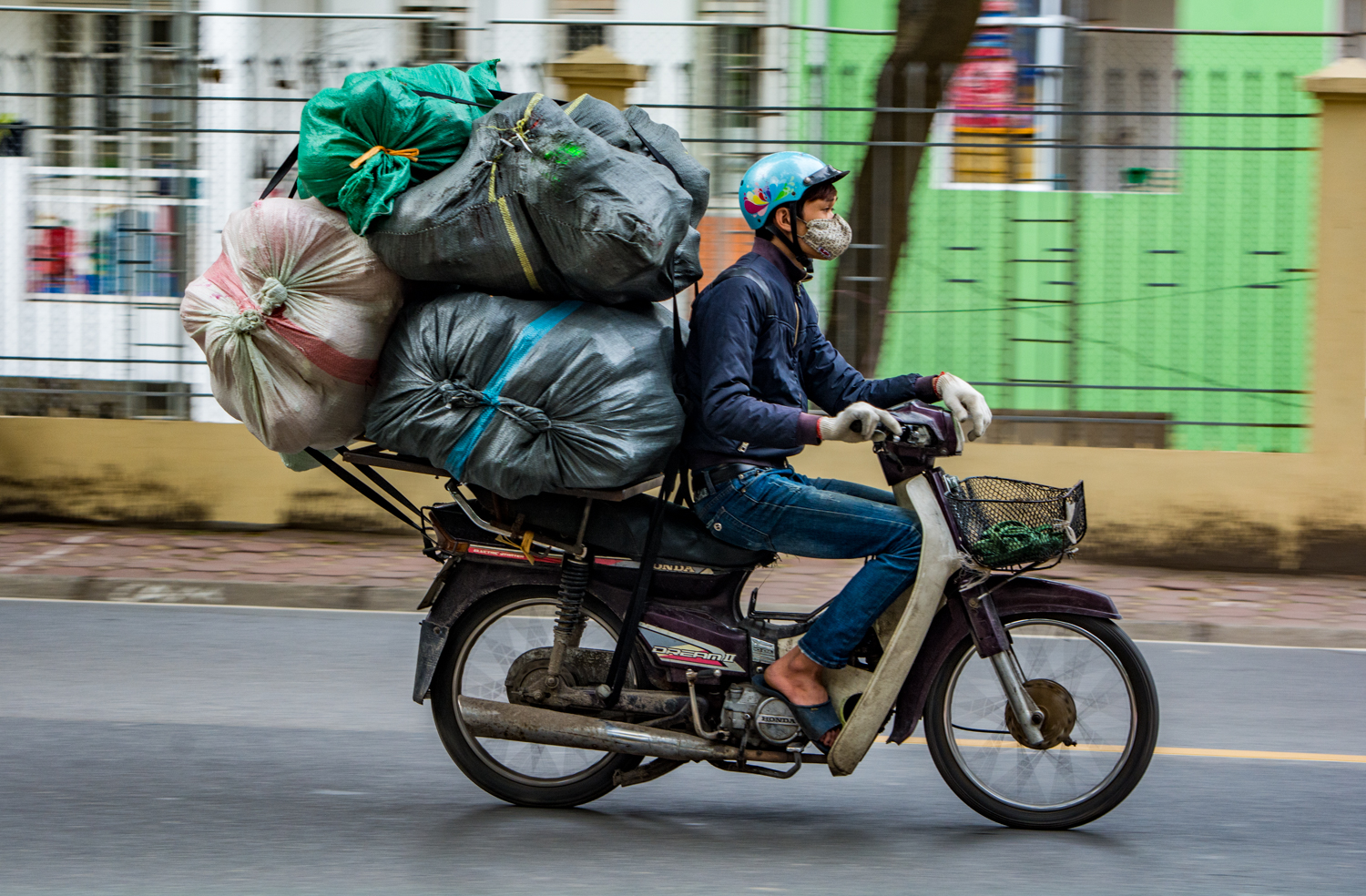 This man was transporting plastic bottles for recycling. I have tried on multiple occasions to get more info on how and where plastic bottles get recycled, but I have not gotten very clear answers with the language barrier. A lot of people go around all day picked bottles out of garbage. That said, there are still tons of plastic bottles laying around everywhere.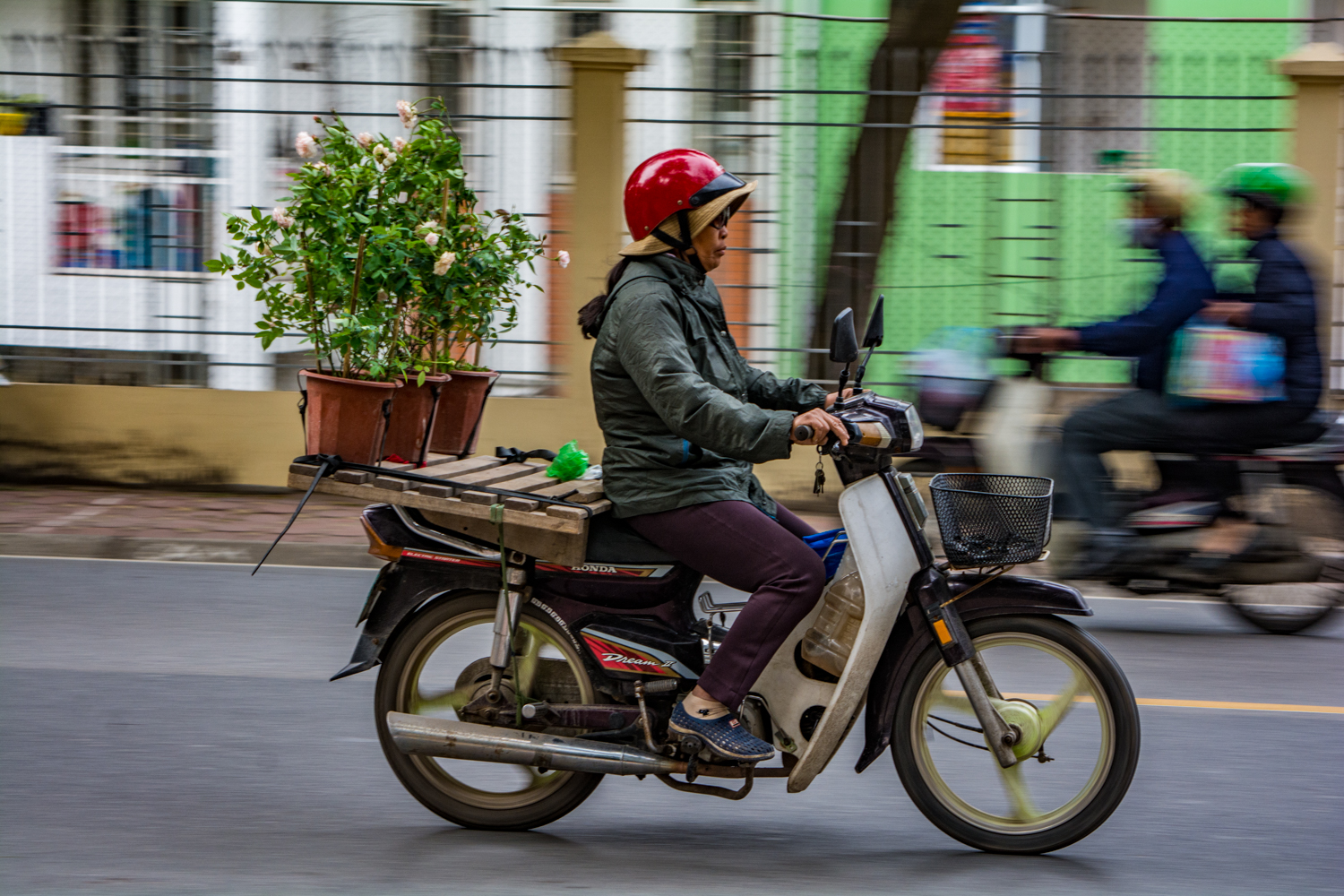 More flowers going by except this lady had to drive slower because her flowers weren't wrapped.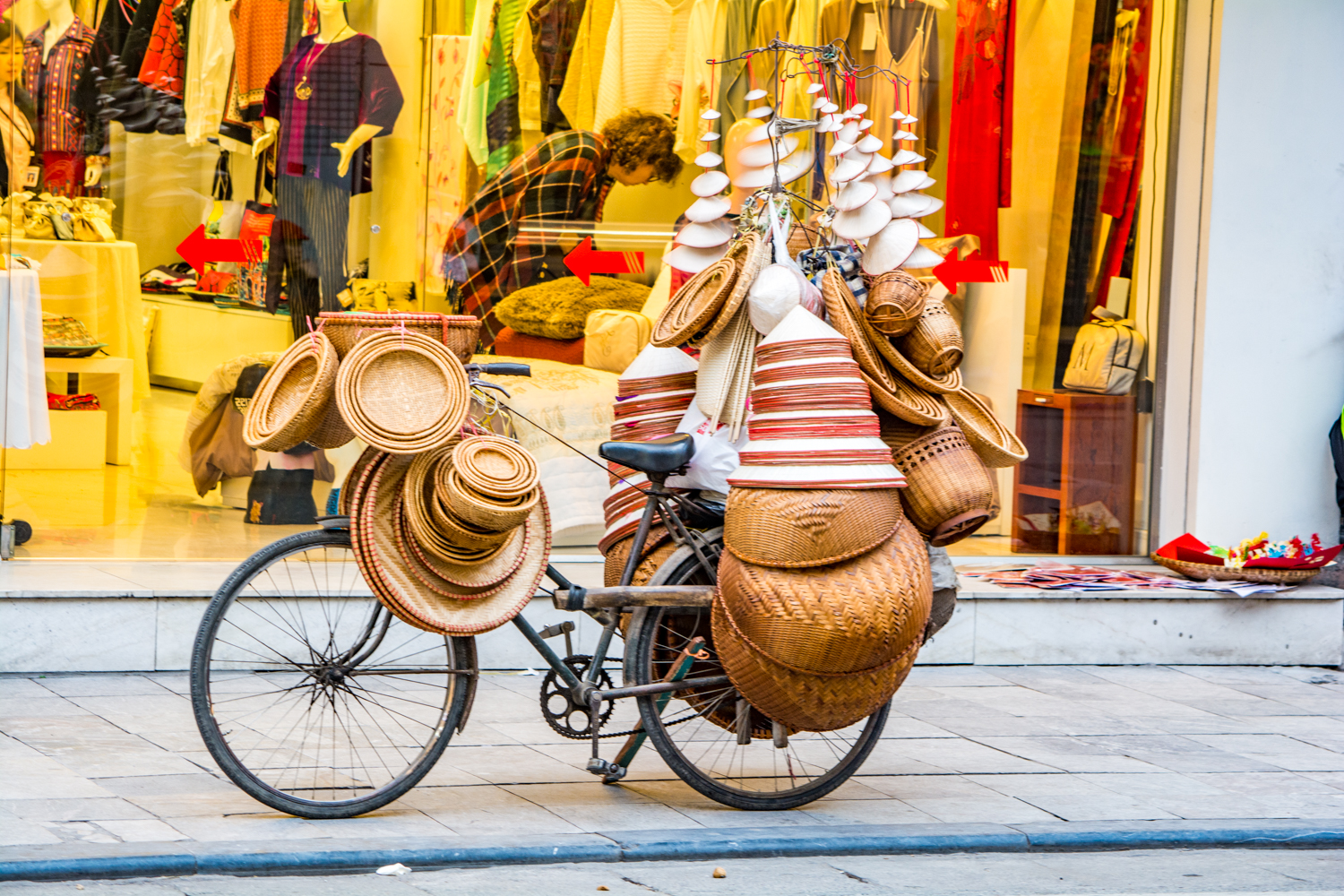 I loved all the basket wares on this bike.
And our final lady, although she was on a bicycle and not scooter, this was such a feat! I can't imagine how heavy all those ceramics were to balance and yet she just walked down the street with all those wares as if it were nothing. I think I would have clamored them all together and broke them if it were me.
Scooters are a huge part of the Asian culture. On this trip, Chris and I both rode a scooter for the first time ever. It will always be a special memory to me that on our first day of riding we happened to be walking around a temple and a Buddist monk named James offered to bless us. Just prior it had started raining and Chris and I were so nervous because we were already inexperienced scooter riders and now it was raining and had gotten darker. Yet, with some well wishes from James the Monk, we made it back safely and have continued to enjoy many a more hours of both scooter watching and riding. It is a very local thing to do. 😉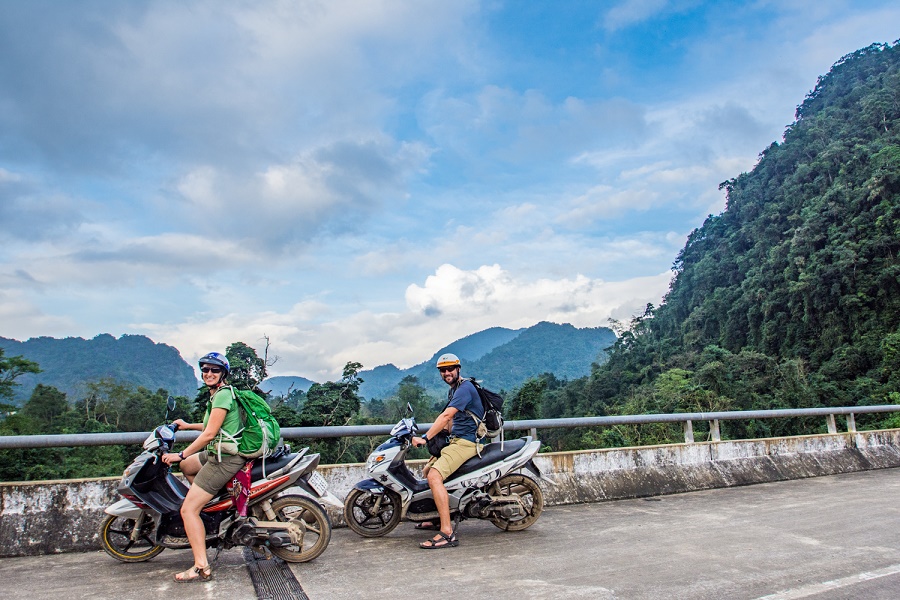 I hope you too get a chance to go to somewhere in Asia and watch people living their daily lives while going around on scooters. If not, then thanks for coming on this mini trip with us today!
***
If you go:
Find a side walk cafe, order coffee and just watch the world go by you.
A word of warning: Locals make riding a scooter look so easy. They go fast. They zip in and out of small areas like it's nothing. It's easy to not get carried away with the excitement and as a tourist, just want to jump on a scooter and zip around "like a local." Be careful! We saw SO MANY tourists injured with broken wrists, feet, leg, beat up faces and the worst road rashes you've ever seen. One of the easiest ways to minimize your risk on a scooter is to go slow. Be careful, keep yourself in check and always be extra careful when renting scooters.
For more crazy traffic or think you want to go to China, check out this post about the traffic in China. Now there's another cultural experience.
***
** Plan on traveling soon or making a purchase from Amazon? Please consider using the links on our resource page. At no cost difference to you we will earn a small commission to help keep this site running. Thank you so much for this thoughtful gesture.