"Oh my gosh! There! Can you see them – Pygmy Elephants!" We're all trying to be quiet standing on a small floating wooden dock along the Kinabatangan River in Malaysia, Borneo as we peer into the early morning mist. "I see more! There's more coming down and oh my gosh, there's babies!"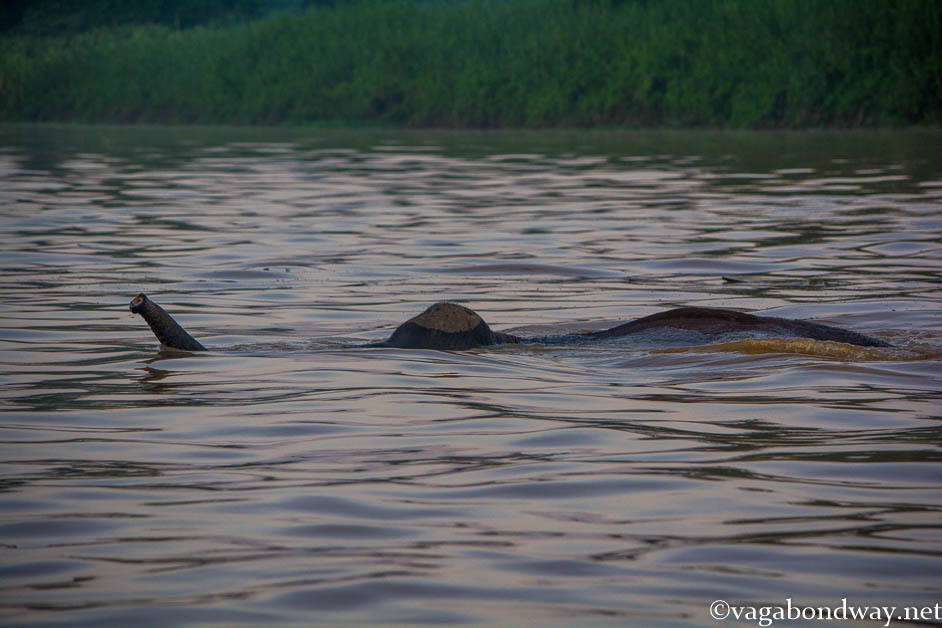 Over the next twenty minutes we watched over 30 pygmy elephants swim across the Kinbatangan River. We later realized just how lucky we were as the guides in the area had not seen elephants for 1.5 months. Prior to that it had been 3 months since a sighting. In terms of wildlife viewing, we just had been given a winning lottery ticket.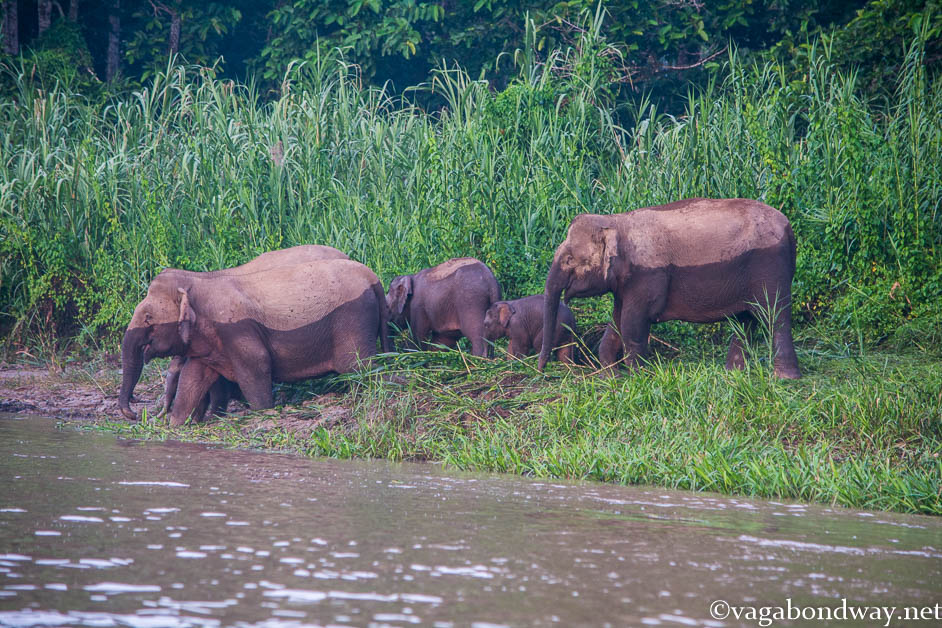 If you are ever able to get yourself to Borneo, Malaysia, go! If not, then here is a 4 minute video where you can see or hear at minute:
0.17 a big grunt
1.48 you can see a lot of action and noise as they start to enter the water
2.20 a female splashes into the water
3.00 you can really see all the heads bobbing in the water
3.40 you can hear a huge call
Let's have a closer look at this unique animal species.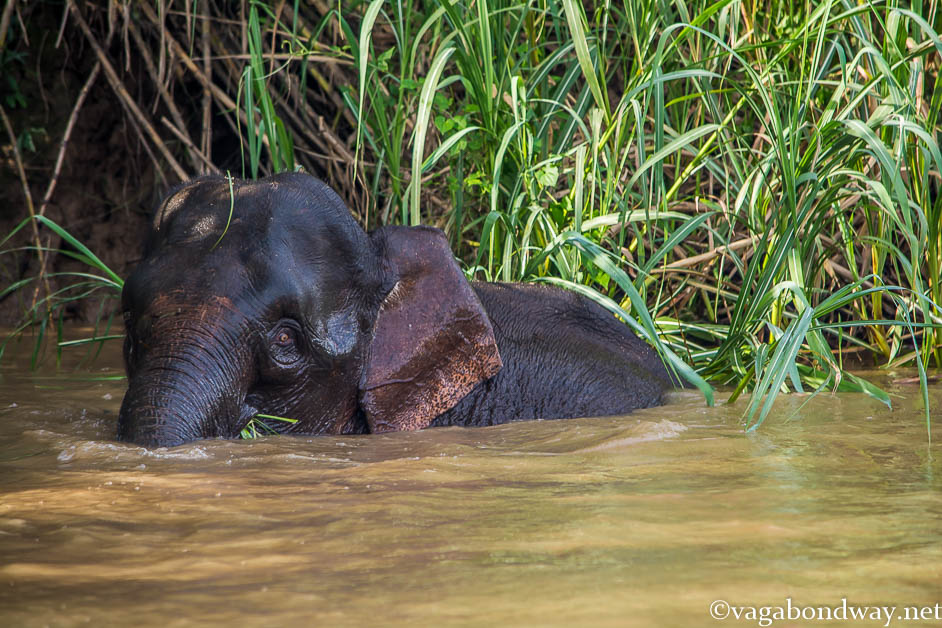 Worldwide there are two main species of elephant: the African and the Asian. The pygmy elephant is a sub-species of the Asian elephant and is a genetically different species.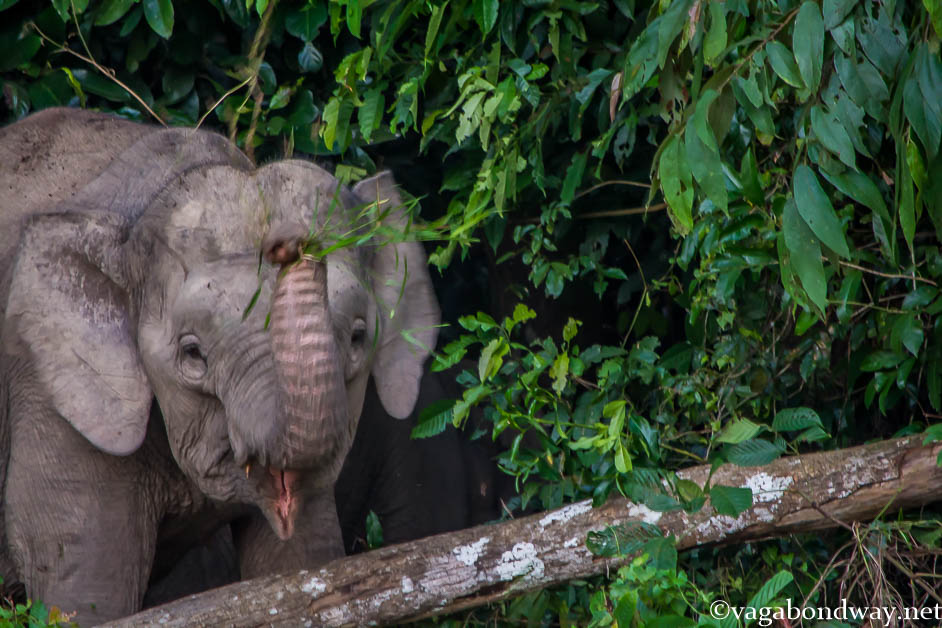 Borneo Pygmy elephants are found in Borneo, Malaysia.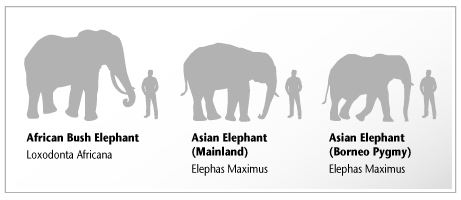 They are the smallest of all elephants species. Pygmy elephants only grow to about 5-9 feet while their counter parts, the African elephant can grow to 10-13 feet.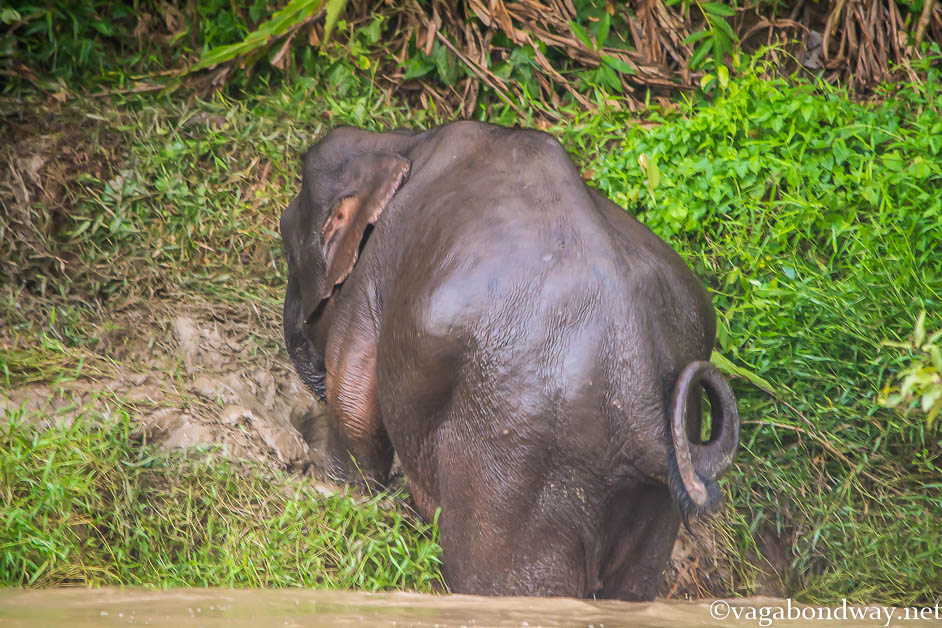 What makes them different than the other species is their plump bellies, baby faced head with over sized ears and their long tails which sometimes might even drag on the ground.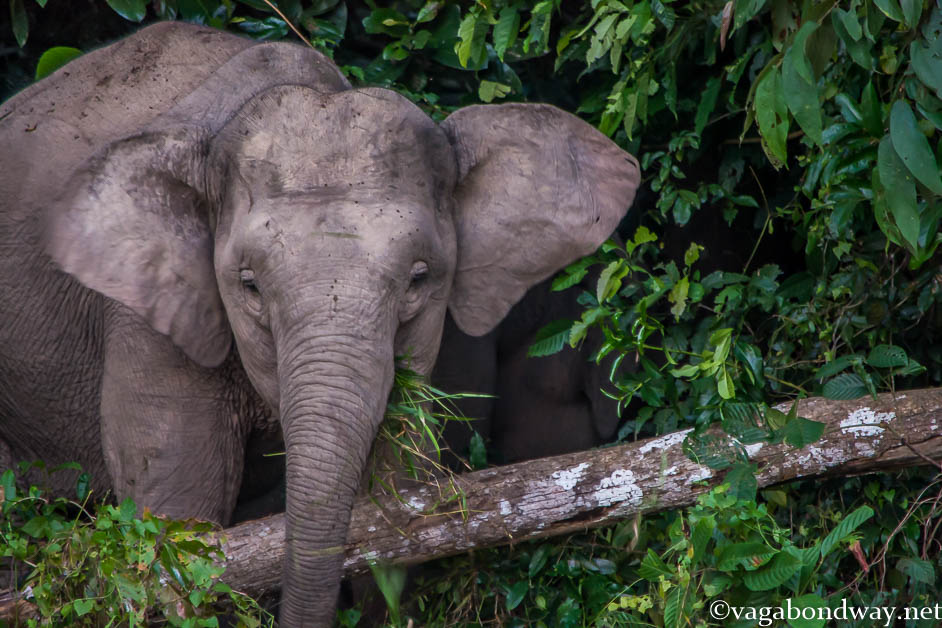 As this World Wildlife article stated, "Walt Disney himself could not have crafted a cuter elephant."
There are approximately 1500 pygmy elephants left in the wild and their conservation status is endangered.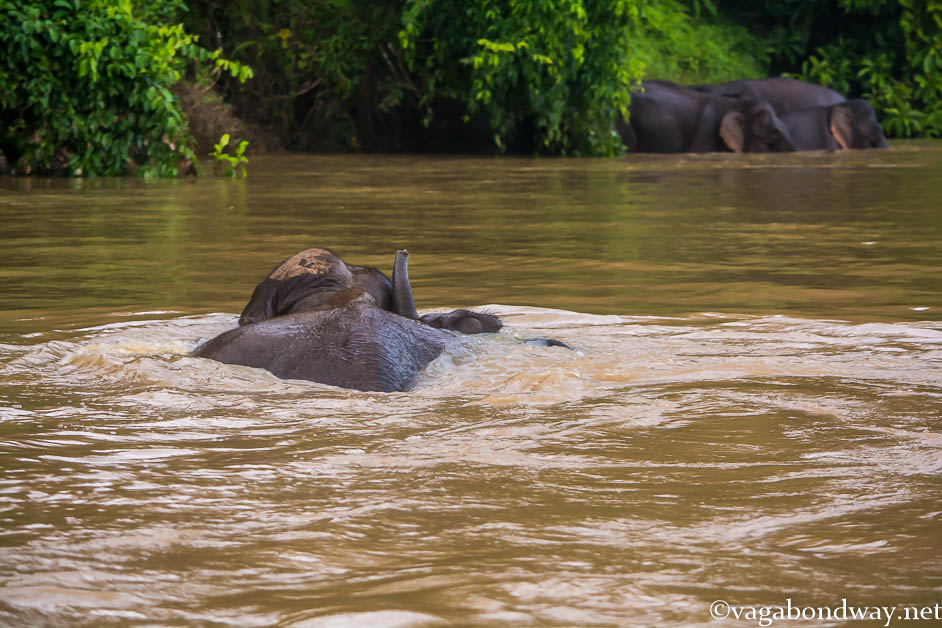 A single calf is born every 4-5 years after a gestation period of 22 months, the longest of any mammal. Raising a baby elephant is a huge investment to the entire herd and a strong social hierarchy ensues.
While crossing babies stayed upstream of their moms so they wouldn't get swept away by the strong current.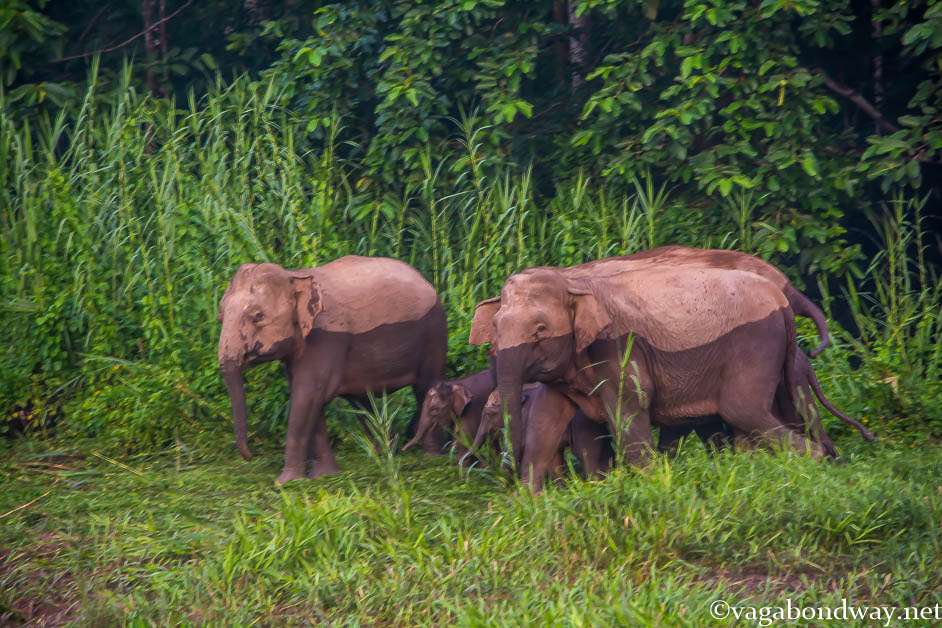 We went to the Kinabatangan River hoping to see these elephants. Once we got there we realized how lucky we were to have the sightings that we did. As you can decipher from the water mark in the photo above, these elephants were on the move from one water way to the next.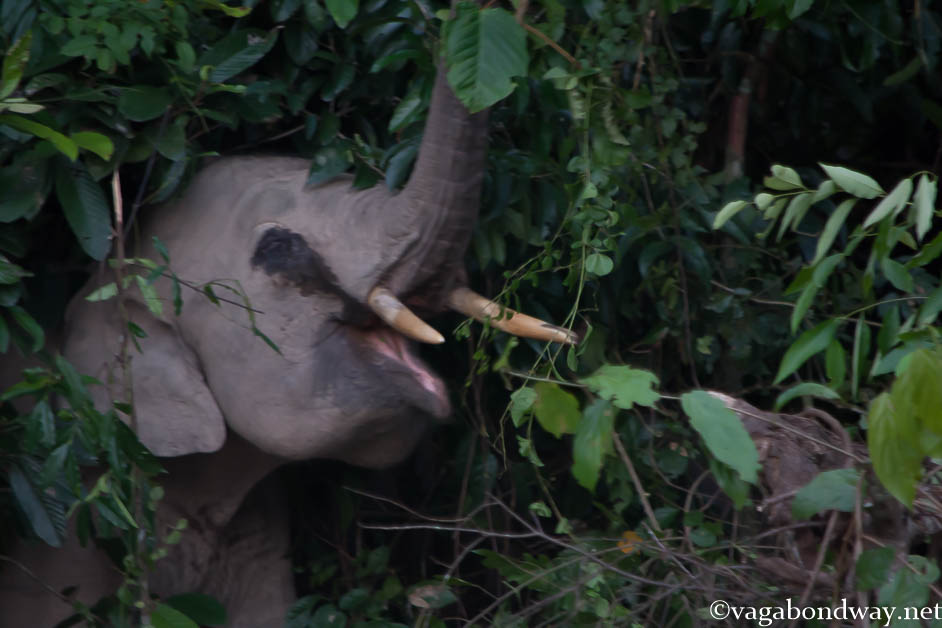 I know the photo above is a little blurry, but it is a cool look into the mouth as this male was reaching for food. The main threat to pygmy elephants is the loss of continuous large blocks of forest.
All elephants need large swaths of forests. The forests become more fragmented as development happens for logging, expanding agriculture and palm oil expansion and elephant habit shrinks.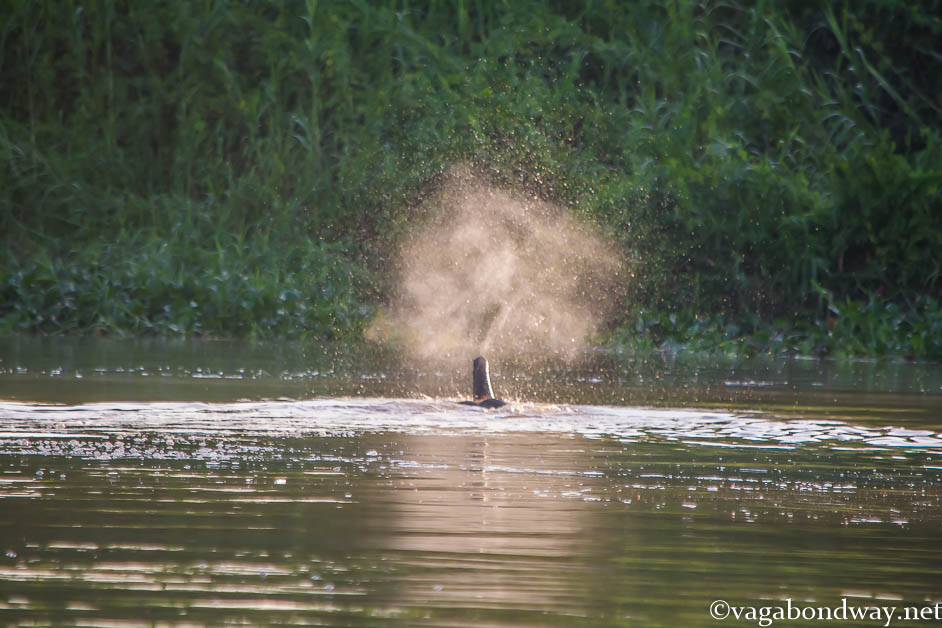 And just like that, our time along the river had come to an end and it was time to say goodbye to the pygmy elephants. I hope you enjoyed this mini journey looking for pygmy elephants. They are just so cute, aren't they? 😉
***
Oh  my gosh – I just feel in love with the world's smallest and cutest elephant. What can I do to help?!
Get involved with your government at a local level, no matter where you live. The policies stronger and more developed countries implement sends a message of priorities and values to the rest of the world. Many of the people that make those decisions at higher levels, start their careers in their home towns and pursue their way up the ranks. Make sure they are the type of people we are collectively proud of and want advancing.
Remember, everything you do has a cause and effect. You don't have to donate tons of money or chain yourself to trees. Take simple, every day actions that help sustain the planet as a livable space:

only use biodegradable dish soap
grow a garden (heck, just growing a couple tomato plants is awesome)
turn off extra lights
hang dry your clothes

Find ways to keep yourself motivated and your spirits high. I know so many people that speak of being discouraged for the state of the world and many of our leaders. Find people and actions within your control so you can find ways to cultivate the type of world you want to live in. #WhatWeDoMatters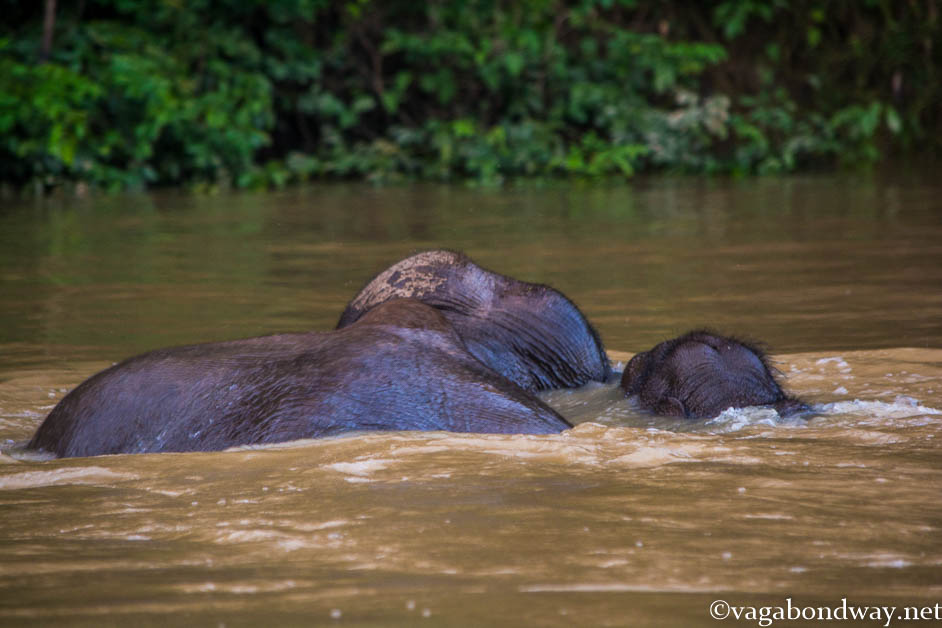 It looks like the baby elephant above is saying, "Mom, do you think the forest will still be there when I am big and strong?" Hopefully baby elephant, hopefully. I am not giving up. 
***
If you go:
We stayed at two different places along the Kinabatangan River.
First we opted to go on an organized tour with Nasalis. When we got to Kota Kinabalu and walked around town, so many of the offers were crazy high. Nasalis had the best deal running of $428 MYR (about $98 USD) pp 3D/2N. This included four river cruises, two night walks, all your meals, transport and accommodation in a four bed dorm. For our initial two nights we did this (you can pay more to upgrade if you want) and were very pleased with them. I don't know if the promotion is long running, but at least that gives you a base idea.
After there we went further down the road and stayed at Greenview B&B. This was, from what we found, one of the best budget options along the river. For a nice private room with bathroom and AC we paid ~$30 USD per night. In comparison, most other lodges along the river were much higher than that.
The folks at Greenview were so nice. We just signed up for how many cruises we wanted to go on each day there.
Cruise prices were $60 MYR pp (about $14 USD pp) and could either do early morning, afternoon or night cruise. We did all of them because different animals are active at different times. If you are going on multiple cruises, ask the office because they will likely give you a discount.
They also had trekking and night hikes on offer, but we didn't do any there.
Breakfast in included and just let the reception know if you would like to order buffet lunch ($20 MYR) or Dinner ($25 MYR) We didn't realize this until the last night, but you can also order a simple plate dinner for $10 MYR.
There are multiple other small restaurants nearby and a great way to spread the tourist dollar around by supporting them as well.
For transport away, Greenview will bring you out to the end of the road for $25 MYR pp. You can grab a bus heading north back to Sandakan or south to Semporna. If you know the day before, the office can book your ticket to Semporna. If not, just get any bus to Lahad Datu ($10 MYR) and from there get a mini bus to Semporna for $25 or $29 MYR. All of this was very easy to do.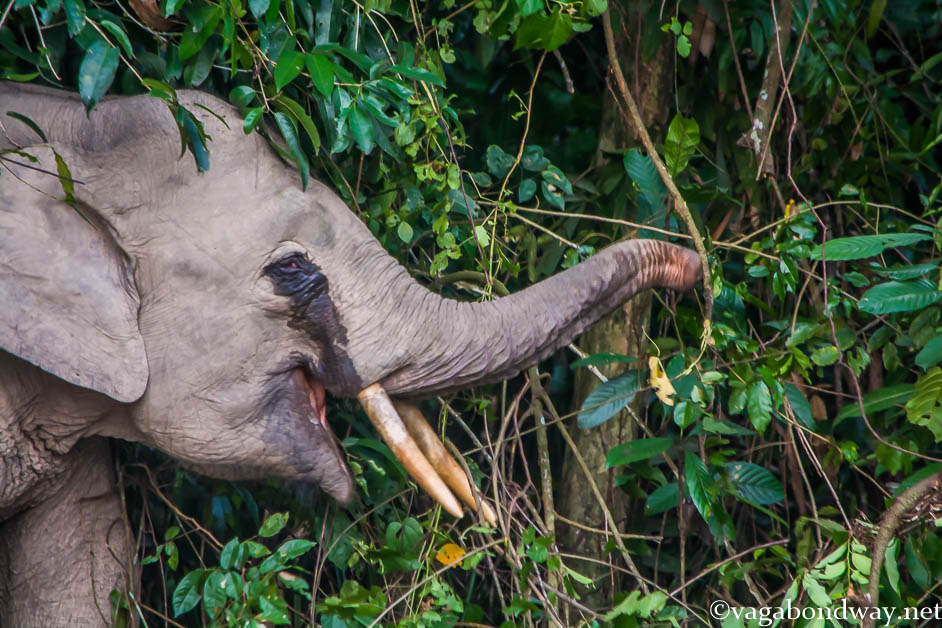 ***
You may also enjoy these posts from Borneo:
Kubah National Park A Frog Lovers Dream Borneo Malaysia
How to Hike Unique Pinnacles at Mulu in Beautiful Borneo Malaysia
Exciting Racer Cave Adventure in Mulu National Park
***
** Plan on traveling soon or making a purchase from Amazon? Please consider using the links on our resource page. At no cost difference to you we will earn a small commission to help keep this site running. Thank you so much for this thoughtful gesture.