Hi Everyone! This week here is an amazing post by author and traveler Rebekah Dawson. Bek and her partner, Dave, spent three months traveling around in Vietnam and fell in love with pho! You might remember the picture below from Christmas time? 😉 Travel and food go hand in hand and Bek's piece below is so well written. Chris and I had pho, but nothing as extensive as this reporting. Please take a trip with Bek and enjoying learning what pho is as you eat it and journey around Vietnam! 🙂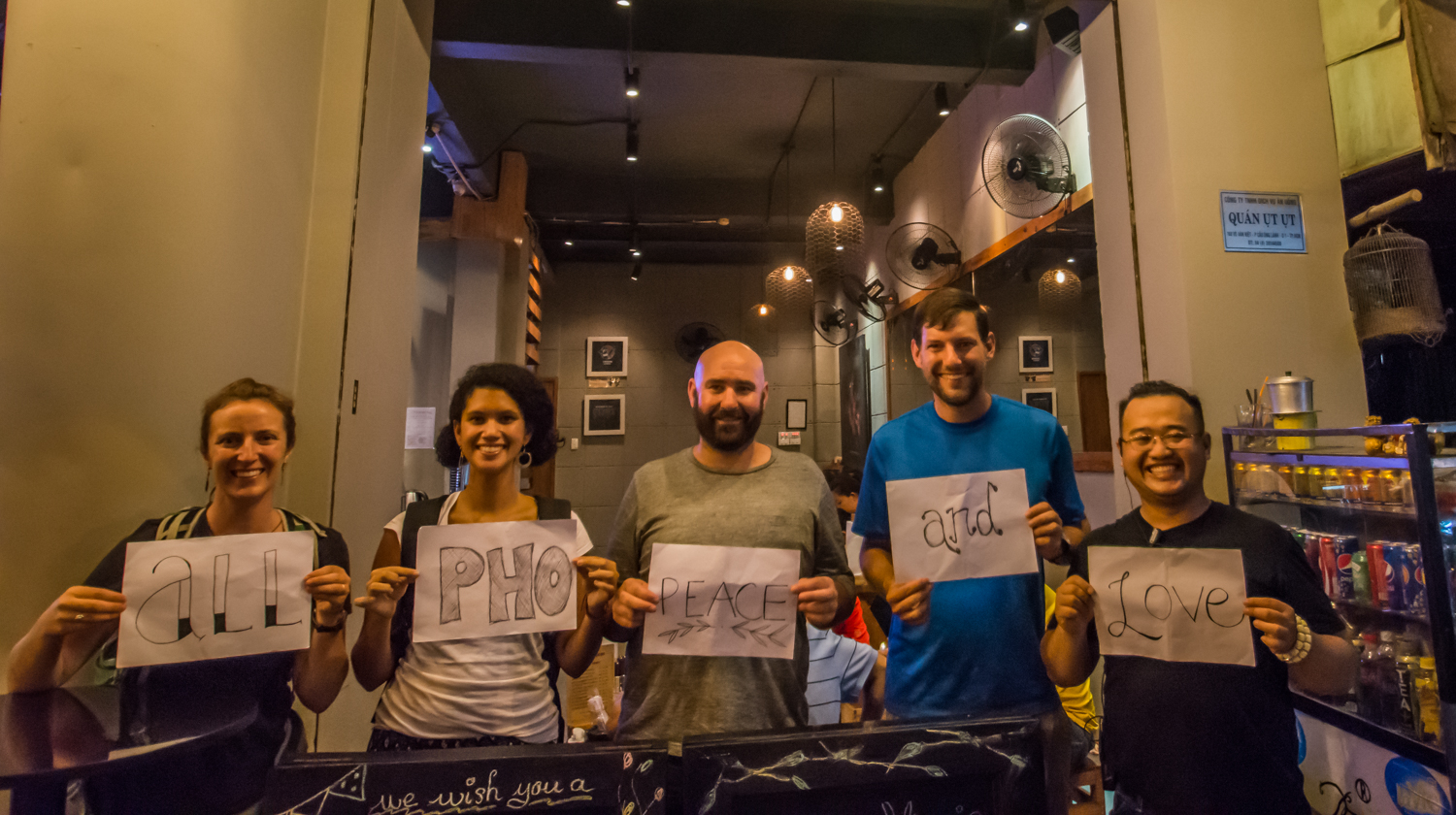 ***
The streets are quiet, the smog has not yet risen, and we are weary. Blares from horns are few and far between; the day is still young. We have been travelling at a fast pace for the last forty days up the coast of Vietnam and exhaustion has permeated every part of our beings. As people start emerging from behind every street corner, a deep, visceral hunger begins to rear its head. Not a metaphorical hunger, but a real, deep, need to eat. As this all-consuming appetite takes over, we descend from our fourth storey room to the dawn landscape of Hanoi's Old Quarter. Hungry and tired, we begin our search for the constant comfort in our lives: a tasty bowl of pho bo.
Sounds over-romanticised? Well, you clearly have not taken pho as your mistress.
How we fell in love with pho
My love affair with pho began in January 2012, when I first came to Vietnam with a group of mates during our summer break from Uni in Western Australia. One of us had read up about a 'must-visit' pho establishment in Saigon, and the rest is history.
When my Uni mates (that is Australian speech for: my university friends) and I returned home to Perth, it wasn't long before we hunted down the prime pho spots around town. Luckily for us, we have a very large Vietnamese population in Perth, so we didn't have to look too hard. When I returned to Vietnam with my partner Dave in late 2016, he was keen to taste pho in it's mother country.
Our first meal in Vietnam on this trip was a steaming bowl of pho in Saigon's District 1.
As the days went by, we realized we were eating pho pretty much every other day, and that's where the concept of the pho-a-thon began. Being the goal-orientated folks that we are, we challenged ourselves to eating at least 100 bowls between us in 90 days! Spoiler alert: we made it, smooth sailing, clocking up 102 bowls before crossing the border.
The challenge grew into much more than that, and we became obsessed! As our obsession took hold, we started consuming pho at least once a day (yes, some days we ate two bowls).
Kind of a record-keeping freak, I began to write down where and when we ate our bowls of bliss with some tasting notes and photos, and this post was born.
What I learnt from my ninety-day pho-a-thon in Vietnam
What pho is:
To most of us we think of pho as a bowl of rice noodle soup – usually beef (bo), but sometimes chicken (ga) – served with a variety of accompaniments (sprouts, herbs, chilli, lime, various sauces).
The cut of beef that you receive varies from north to south, whereas the chicken is always shredded poached chicken.
The soup is a clear, bone-based broth that is enhanced with spices that vary from region to region.
Pho, generally pronounced 'ferr', but pronunciation varies from region to region, actually refers to the rice noodles only.
In Vietnam, these rice noodles are almost always freshly made, but vary in width and length depending on if you are having pho nam (from the south) or pho bac (from the north).
You will also find some vegan pho options in Saigon, Da Lat, Ha Noi, Sa Pa, although I can't vouch for any of these incarnations of my favorite meal on the planet. I did, however, have a vegan pho in Can Tho that did not disappoint!
Pho varies greatly from region to region:
Northern-style pho/pho bac
Pho bac is the simplest and least convoluted version of pho you'll find in Vietnam. The noodles are usually longer and thinner, and the accompaniments are kept to a minimum. Pho bac will leave any the broth purist begging for more.
Your bowl will usually have well-cooked beef (unlike the choice of raw, medium or well cooked beef in the south) and will contain sliced brown or red onion, sliced green onion (scallions/spring onions), freshly grated ginger, and plenty of pho (noodles).
While your bowl will be brimming with tasty noodles, you will usually only have lime wedges and maybe fresh chilli to alter your broth. Some places also offer pickled garlic slices, a sriracha-style chilli sauce, and maybe some pickled chilli.
This is a far cry from the extravagant array of fresh vegetables and herbs you get in central and southern Vietnam.
Southern-style pho/pho nam
The flashiest of the pho varietals in Vietnam, pho nam is a whole different experience from pho bac of the north.
Usually pho nam will have slightly wider and shorter noodles, and your bowl will have plenty of space for the many accompaniments you will get when you order your soup. Your bowl will have plenty of chives and spring onions to get your mouth watering!
In Saigon, we often received blanched bean sprouts, saw tooth coriander, Vietnamese mint, sweet basil, fresh chilli, and fresh lime, amongst the fresh options for flavoring our soup. In addition, hoisin sauce, sriracha, chilli and garlic sauce, fermented soy bean sauce, fish sauce, pickled chilli, pickled garlic, and dried chilli, all make for a plethora of tasty pho combinations.
In the south you will often see locals make a sauce mix in a small dish to roll and dip their pieces of beef into. I took to this method, as it made for tasty combinations without altering the broth.
In Da Lat we were also met with various lettuce and tendy, leafy crucifers to mix into our bowls.
The broth in the south is more pepper-driven and sweet compared to the north. We found that the use of aromatics (clove, cardamom, coriander, all-spice) varies from establishment to establishment. The pho bo broth can also be pimped up with chicken, fatty cuts of beef and sometimes dried squid to give it an extra depth of flavor.
In the south, not only does the cut of beef vary, but you can also get minced beef balls, beef tendon, tripe, and other tasty goodies to beef up your bowl!
Central-style pho
We experienced a few differences in central Vietnamese pho that we didn't see elsewhere in Vietnam.
In Hoi An we were served papaya salad with our pho, which was a delicious surprise.
In Hue and Dong Hoi we were often served pea sprouts mixed with bean sprouts in addition to some sweet basil.
The experience of eating pho
Where to eat pho:
Pho is best consumed at any time of the day, although it is a breakfast staple for many Vietnamese. We only ever eat pho from a place that has pho as the star of the menu. Don't expect your life to be changed sitting in a restaurant and ordering pho from the 40-something page menu. Find a place that looks like pho is the only option and you'll be set!
My favorite bowl was eaten out the front of a lady's house in a sleepy fishing village named Tuy Hoa, where the bowls were plastic, and the pot in which the broth boiled looked older than my mum.
How to eat pho:
When you are faced with a steaming bowl of this rejuvenating elixir, please take a taste of the broth first, before going nuts with the additions. I am a purist, and you'll almost never see me sully the flavor of the broth with sauces and lime juice.
Next, make sure to move the noodles (and if in the south, the raw beef) through the broth.
After this, add herbs and vegetables (if served) and work through the broth, before adding sauces and juices. Slurp up and enjoy!!!
Some quick in-pho-mation
Cheapest bowl of pho: 20,000 dong (approx $0.87 USD), although I'm sure it was 10,000 for the locals! We had a few bowls at this price from side-of-the-road establishments in Central Vietnam.
Most expensive bowl of pho: 70,000 dong (approx $3.07 USD) in Saigon, at Pho2000, where Bill Clinton himself first tried pho bo. It was worth it for the view of traffic near the Ben Thanh market roundabout, but not much else.
Best pho in Saigon: It is a close tie between Pho Vuong (near the river in District 1) and Pho Quynh (near Bui Vien Street). Visit Pho Vuong at lunchtime during the week to see Saigonites pop in for a midday meal. Pho Quynh boasts a beefy bowl of soup, and THE BEST Vietnamese sweet iced coffee (café sua dua) in Vietnam.
Best pho in Ha Noi: Pho bo Ly Beo, the side of the road on Hang Non in the Hoan Kiem Lake district, but there are tasty bowls to be found everywhere!
Best pho in Da Nang: Pho 29, near the cathedral, these were the best noodles we had during our time in Vietnam. These noodles were chewy, gelatinous, and super tasty. The star of the bowl!
Best pho in Phu Quoc: Pho Phuong Truong for the adventurous, or Pho Saigon or Pho Bung for the beginner. All three of these establishments can be found on the same road as the Post Office and the Superdong Office near the Night Market.
Best location we ate pho: At the top of Mt Fansipan, in Sa Pa, on a cold November afternoon. Even at the resort owned restaurant there, this bowl only came in at 58,000 Dong.
******
Being able to have this totally Vietnamese dish daily made us feel like we had a truly authentic experience every time we ate it.
Food is always a source of comfort, and we think that pho is the ultimate comfort food in Vietnam; be it for a nomad or a local.
Whether it is in Vietnam, or in your home town, we hope you find comfort in a bowl of pho too!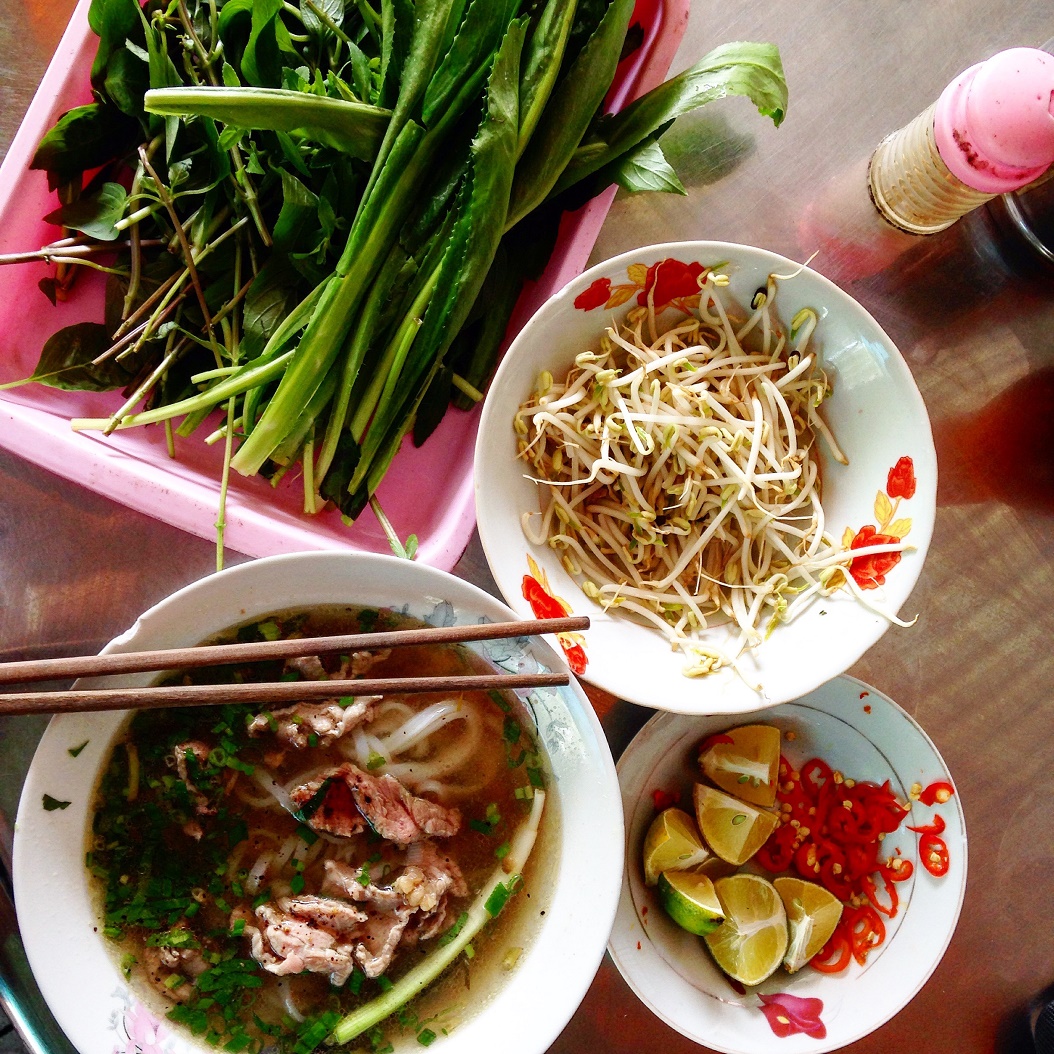 ***
So are you planning your trip to Vietnam yet to try pho? 😉 
***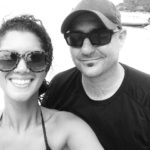 About author: Rebekah Dawson
A lover of all things travel, Bek, and her partner Dave, left Perth, Western Australia with nothing but a camper trailer and a 4WD, about a year ago. Since leaving home they have spent nine months exploring the top end of Australia, before commencing the overseas leg of their open-ended adventure. The last few months have seen them visit the Gili Islands, Peninsular Malaysia, and southern Thailand, with twelve more months of Asia on the horizon before they intend on returning to Australia. Bek and Dave met the creators of Vagabond Way during her first week abroad, and haven't stopped discussing all things travel with them since.