In Borneo Malaysia, Kubah National Park sits as a little known gem. Visited mostly by hot, water seeking tourists for its waterfall, the park boasts an impressive number of nocturnal frogs. For those keen on unique wildlife experience or lover of frogs, this park is a must visit spot.
Chris did a bunch of research and we learned that we could stay overnight in the park hostel. We got ourselves ready and hopped on a bus with the plan to stay for two nights.
If you are a quiet, respectful and self-reliant traveler or wildlife enthusiast, this place is for you! Atop a very steep 1 km hill, lays a frog pond. Every evening dozens of species of frogs make their way down to the pond. The different frog calls fill the night air as each evening this orchestra ensues.
So many times people hear frogs, but they don't actually get to see them. The ribbits and croaking calls come from deep within some reeds or undetected in a marshy bog. At Kubah, the frogs slowly emerge from the dense forest and are on display to show their beauty. They might just be sitting on a leaf or tree for a while, calling, and then eventually jump or fly down another 10 feet and repeat as they make their way to the water.
Even if you may have never considered yourself a frog lover before, I can't help but wonder if your opinion will be altered after taking a look at these species below. Some of these frogs we could identify and some we are just not sure of.
This is why we loved the frogs of Kubah National Park:
The Eyes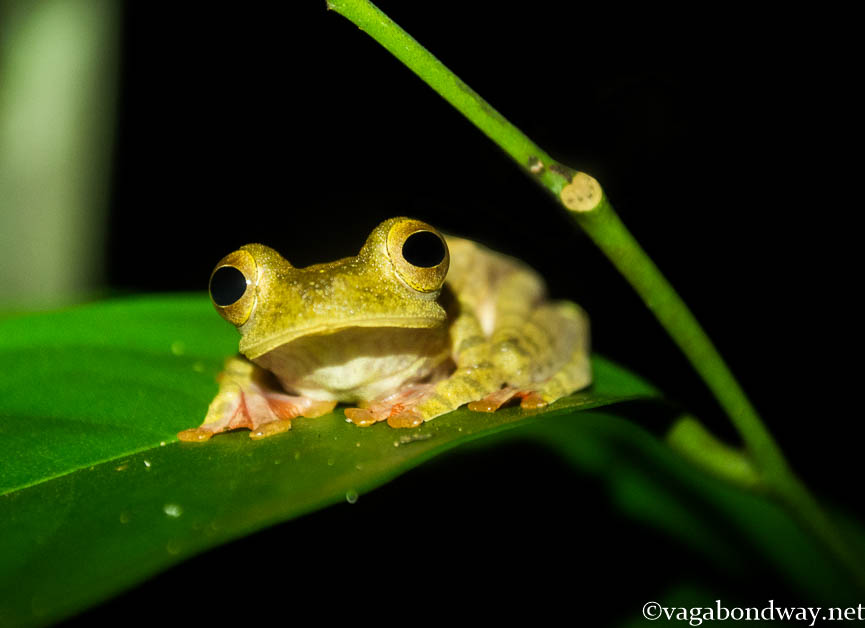 Hello looking into those big beautiful eyes!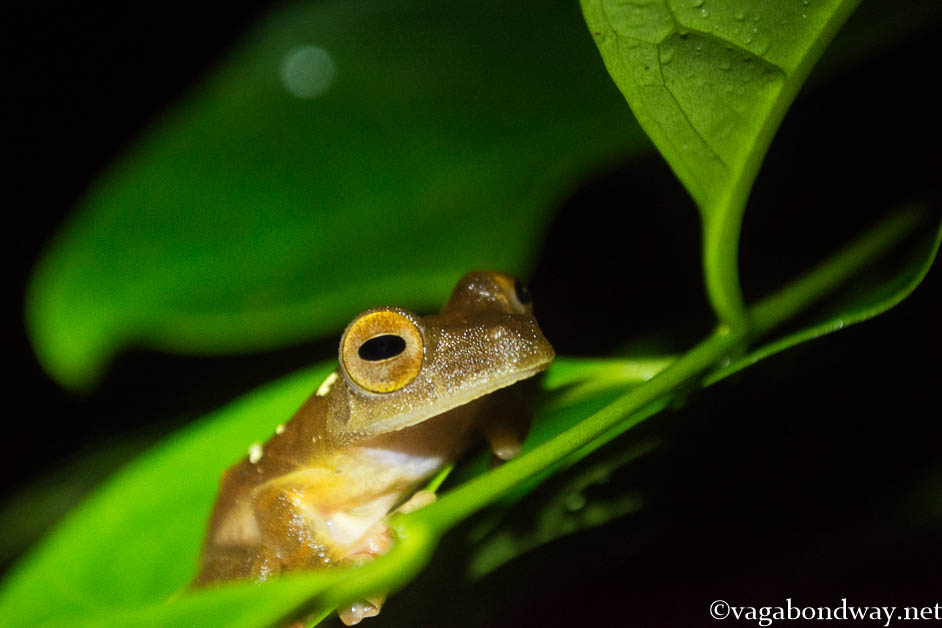 The bulging eyes of most frogs allow them to see in front, to the side and partially to the back.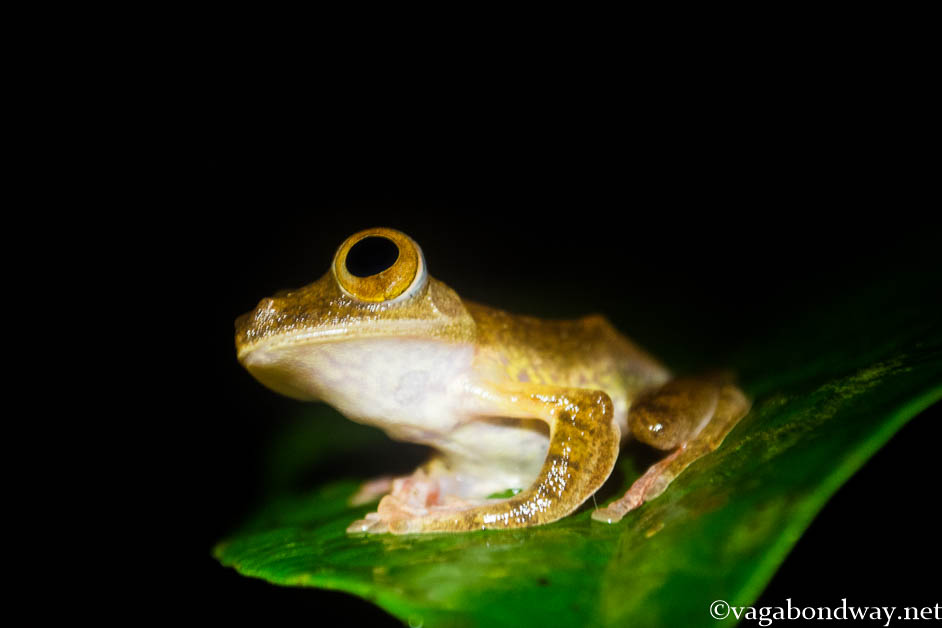 When a frog swallows it's food, it blinks and pushes it's eyes down into the roof of it's mouth. This helps push the food down it's throat.
The Feet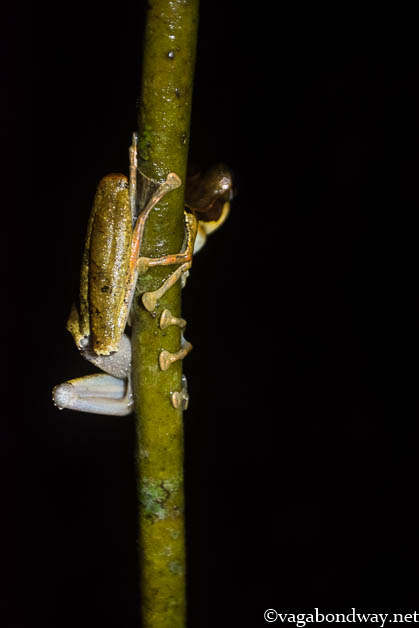 The feet! Look at these amazing, gripping feet!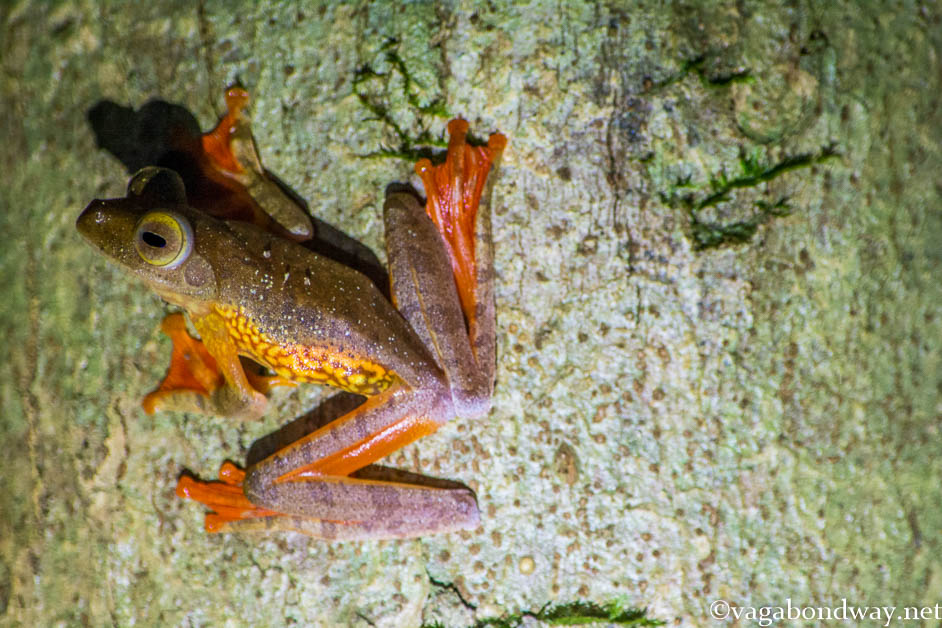 So in Kubah National Park there is an estimated 55+ species of frogs in just this park alone. We are pretty sure this was the Harlequin Flying Frog, but we are not frog id experts as there can be a lot of variation so if you can confirm some of these species, please do so in the comments!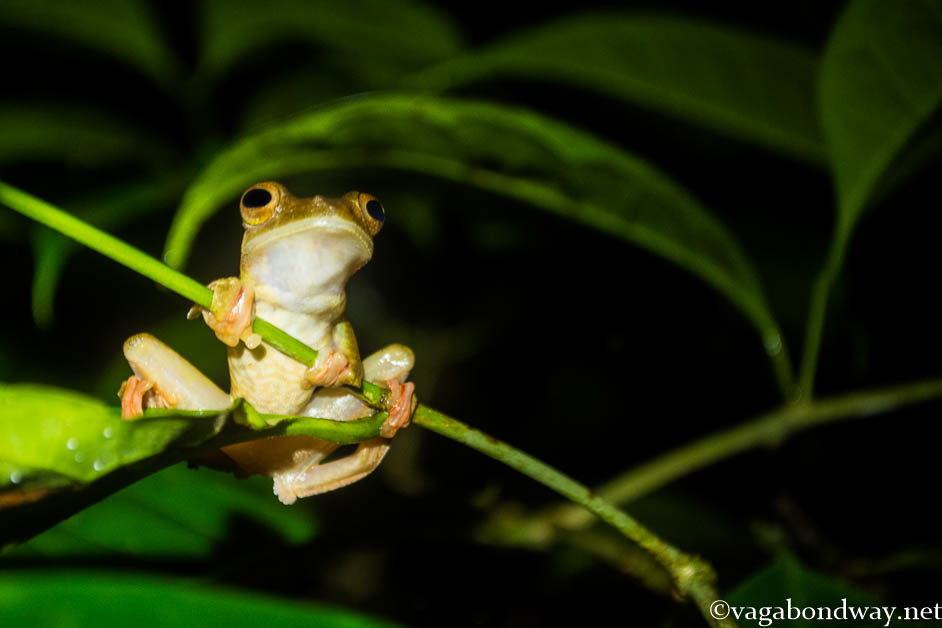 It is just amazing how they can hang on.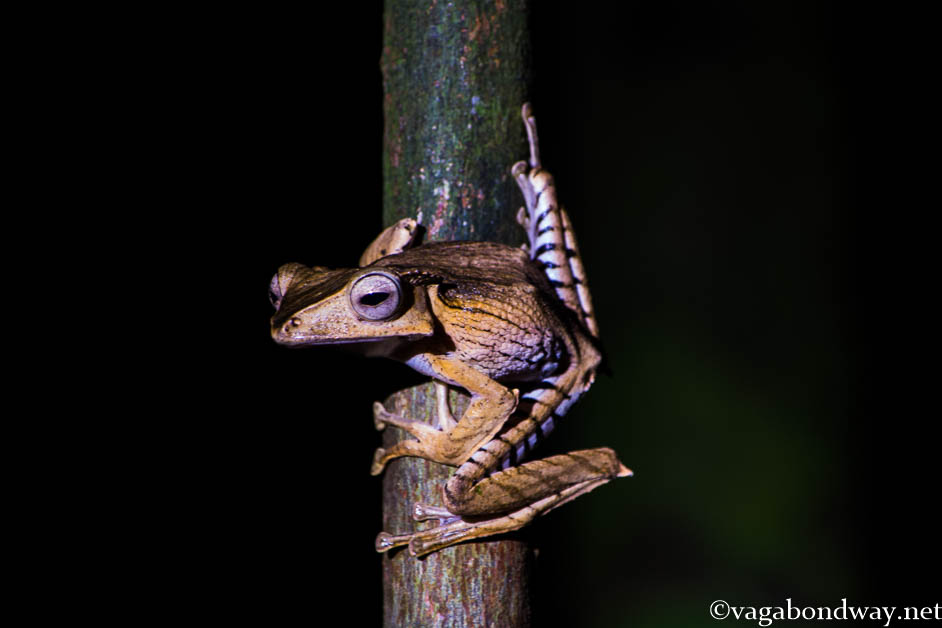 Many frog feet have little 'sticky pads' on their toes. A mucus is secreted from the toes that enables them to grip to a variety of surfaces.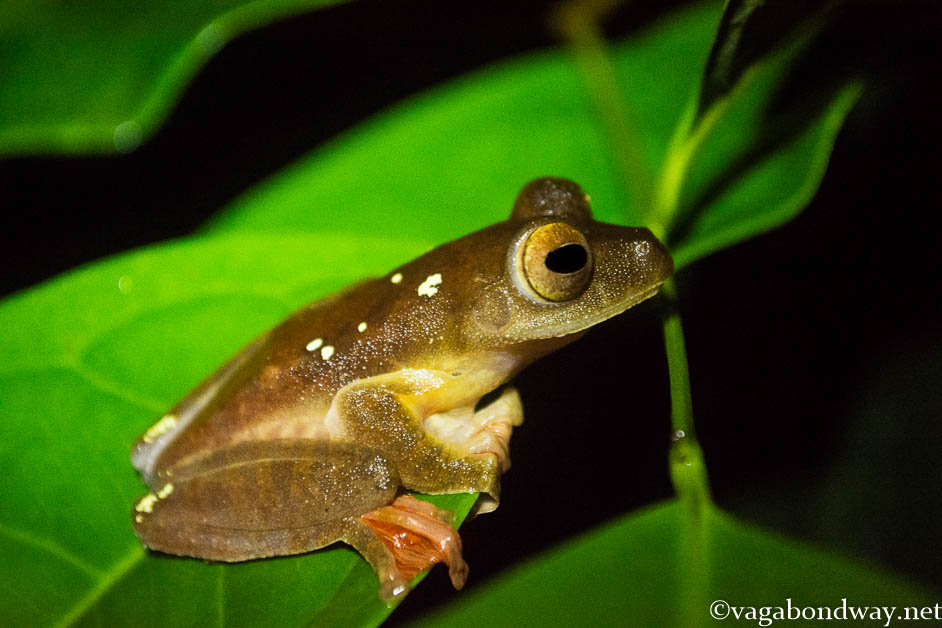 The delicate membranes just amazed me.
The color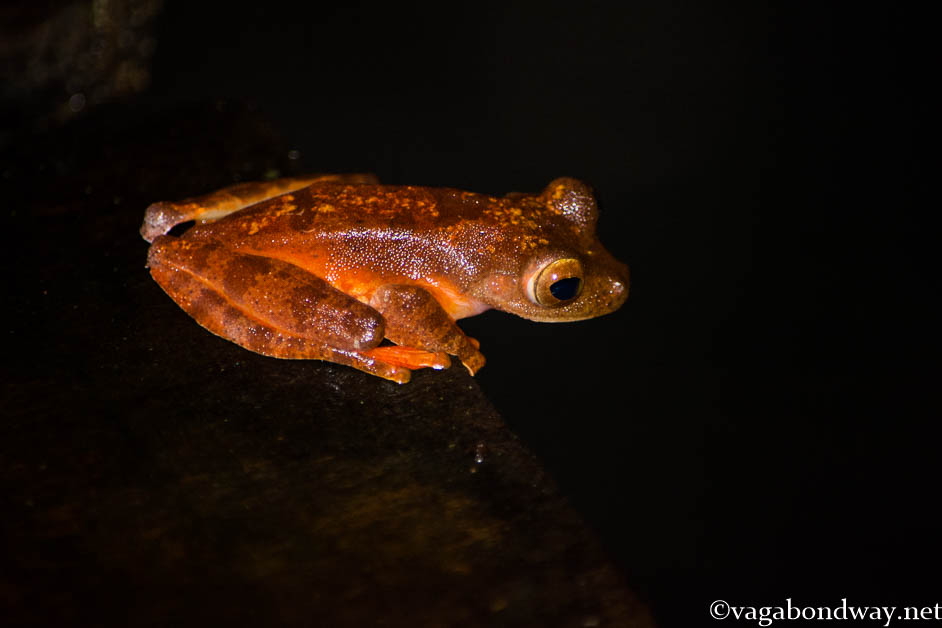 I just loved this red frog. Each frog was so unique both in appearance and body structure.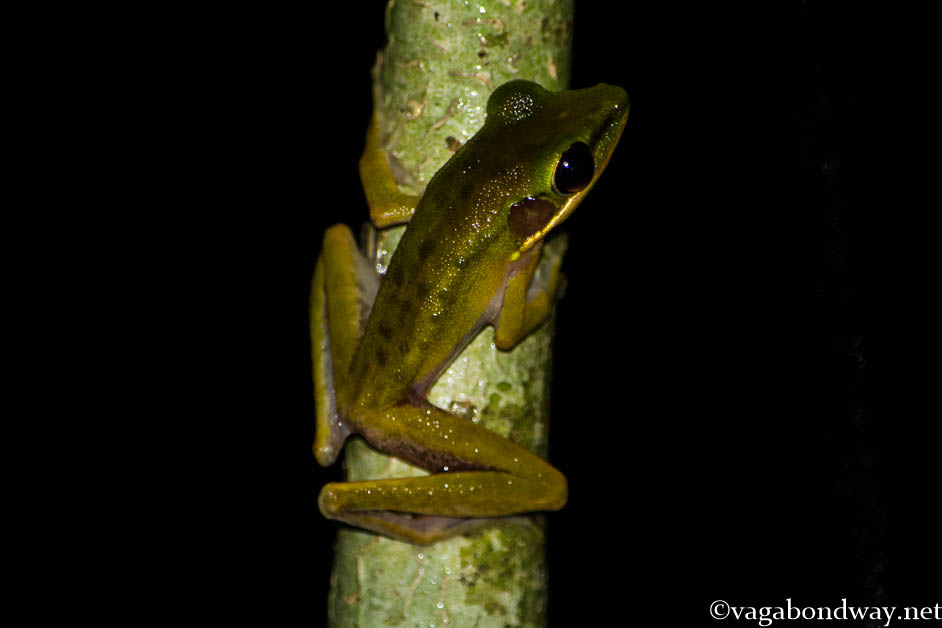 We believe this green frog was the copper cheeked frog or also called the white lipped frog.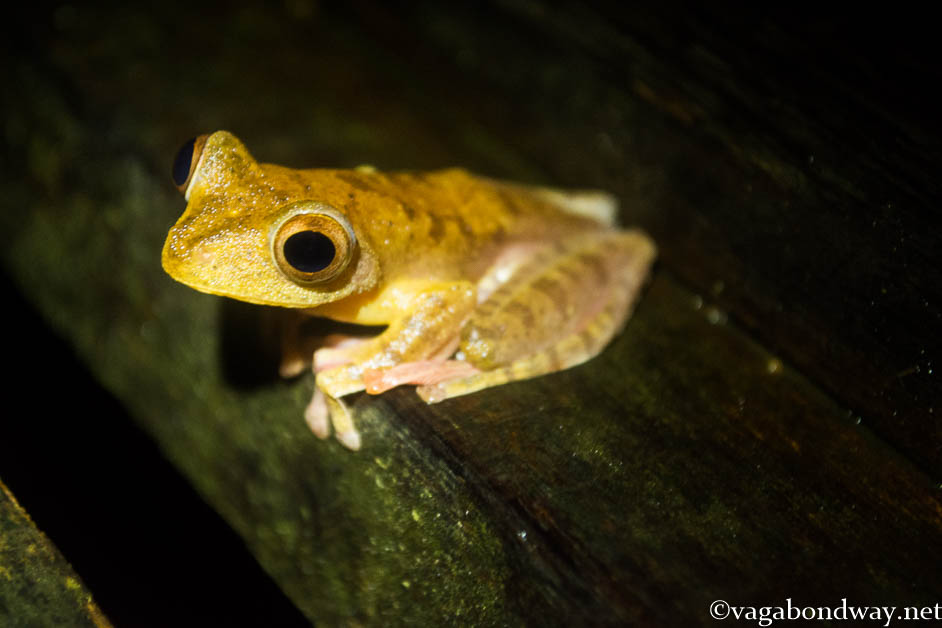 Interesting fact to help you win your next game of trivia: a group of frogs is called an army.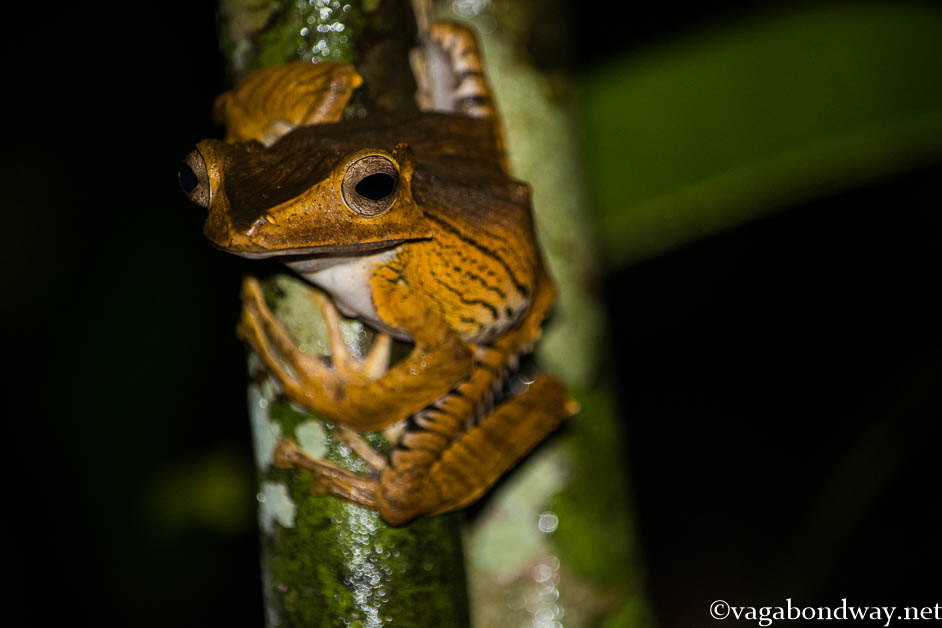 We believe this frog from Kubah National Park was either the File Eared Tree Frog, or also called the Borneo Eared Tree Frog.
The Wow Factor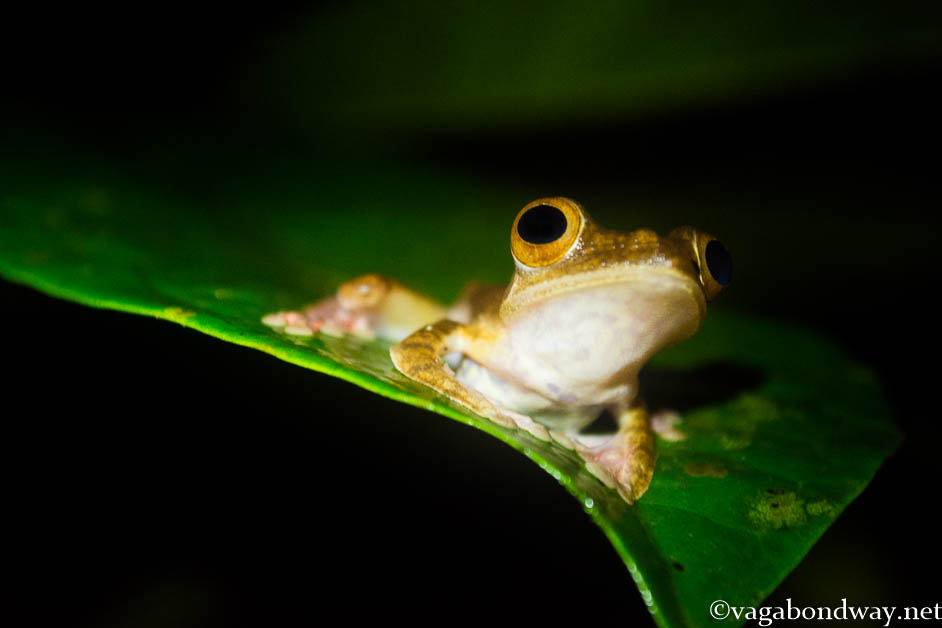 Just plain and simple, these frogs are like 'wow.' Look at those little feet above!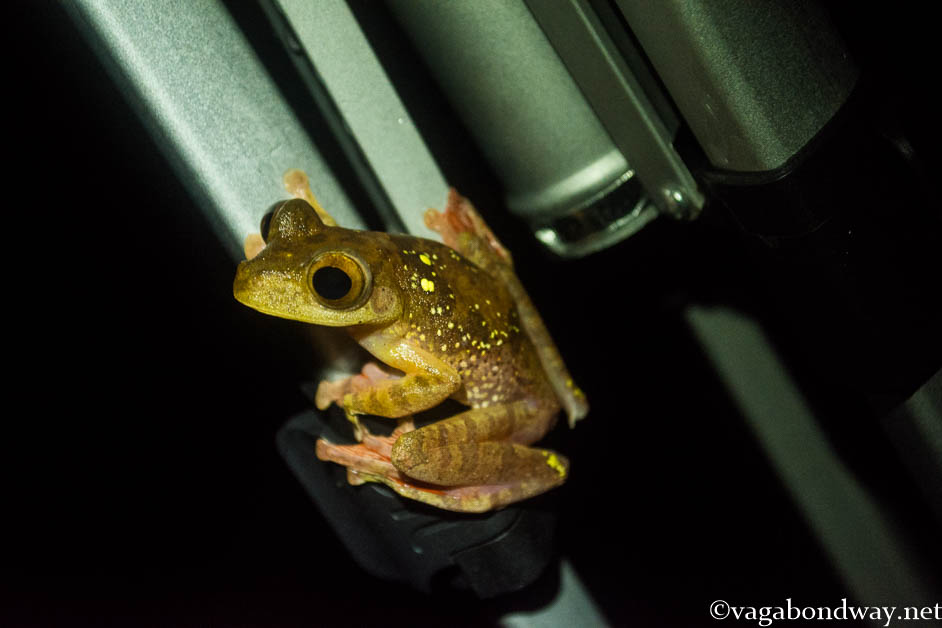 I thought it was note worthy how the frogs didn't fear us. They had no reason to think we were a threat and they just did their thing. This one just hopped onto our tripod, called for a little while and then hopped down. I think there is a life metaphor here!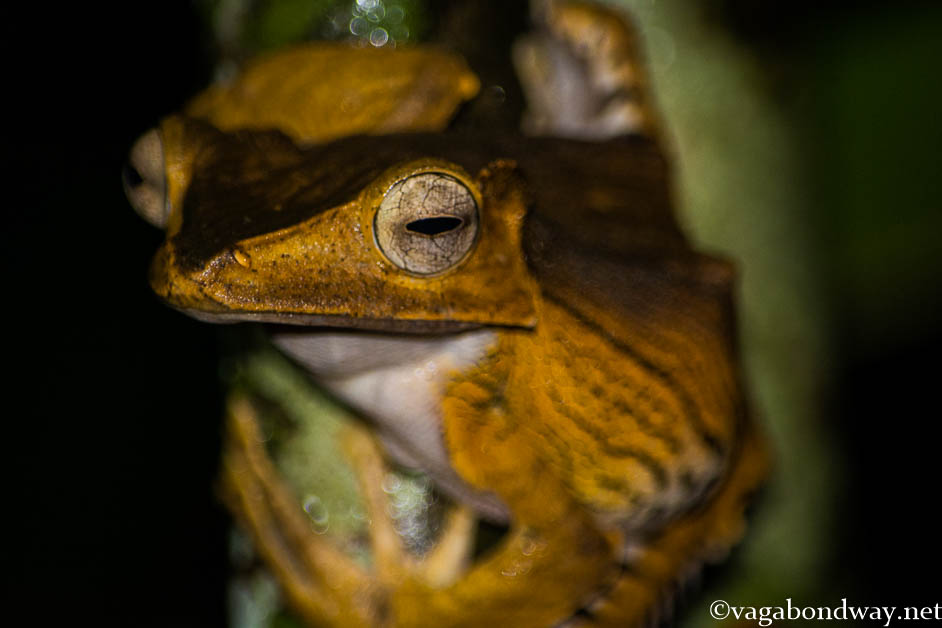 At no other time have I been able to closely study the features of so many different frogs like this. Sure, while in Costa Rica we got to have great sightings of the red eyed tree frog, but only in Kubah National Park have we seen this many frogs, this close up.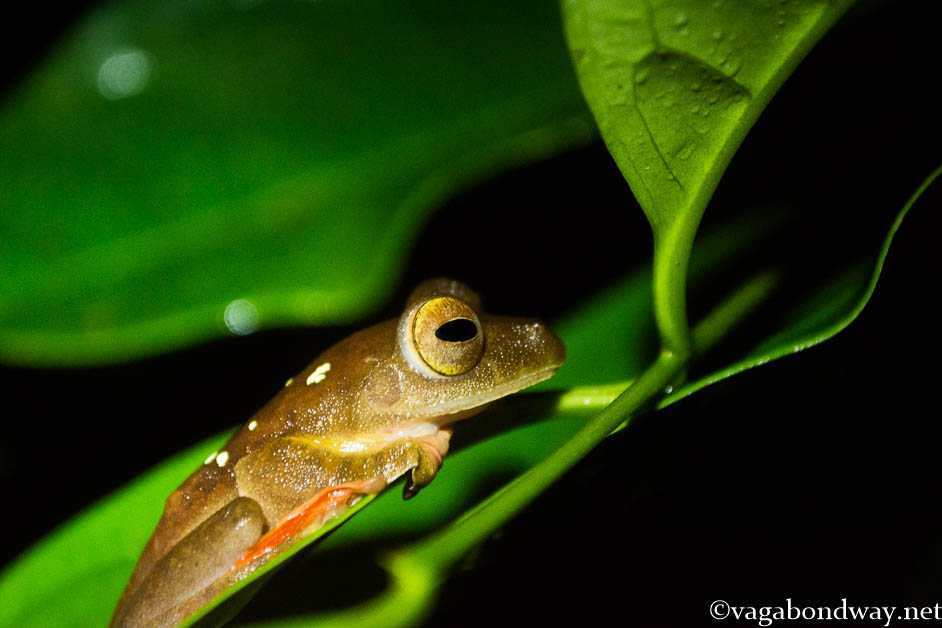 Each frog has a call that is unique to their species.
Because they are so cool!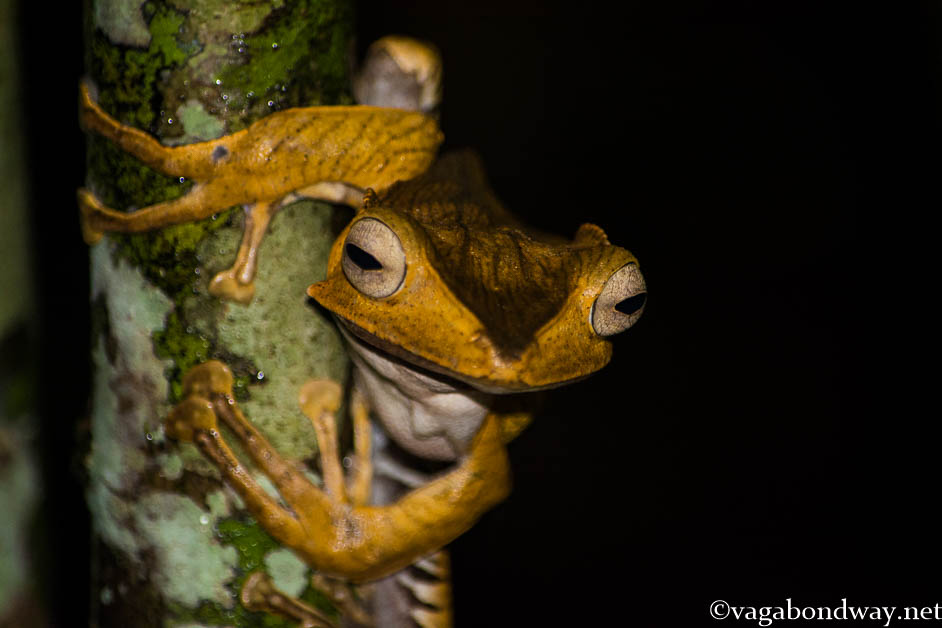 Yep, frogs just moved up a notch in my book.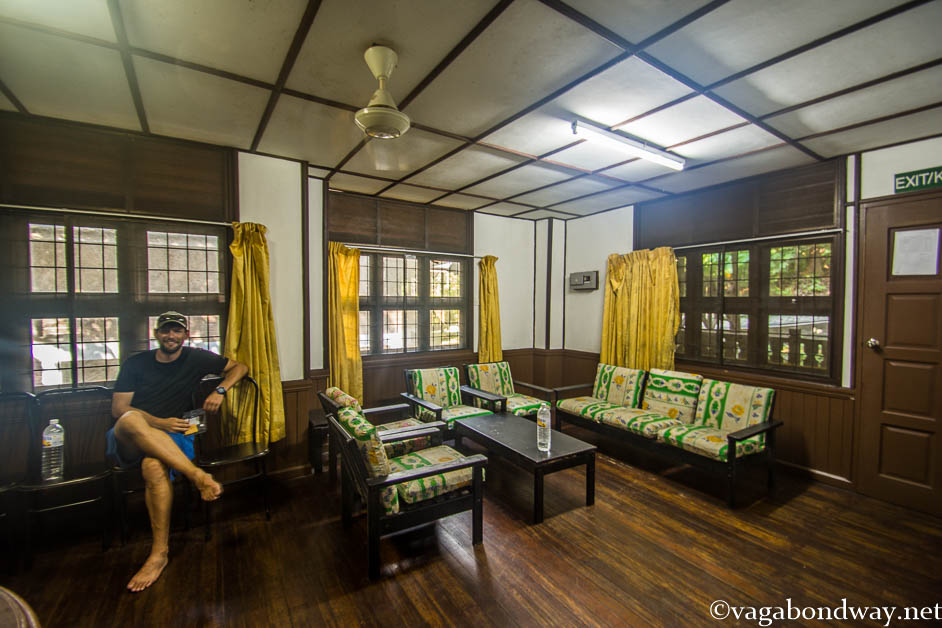 I certainly came to appreciate our little frog friends a lot more after spending a couple nights with them up in the forest. This was the living room of the forest hostel.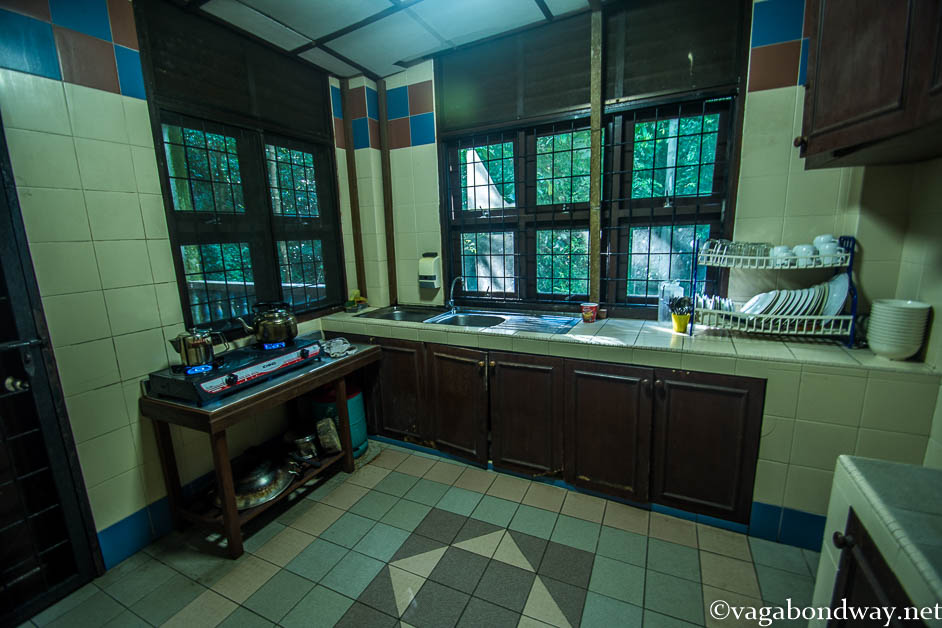 Above shows the kitchen area where there was a nice stream running out the back – nature's music!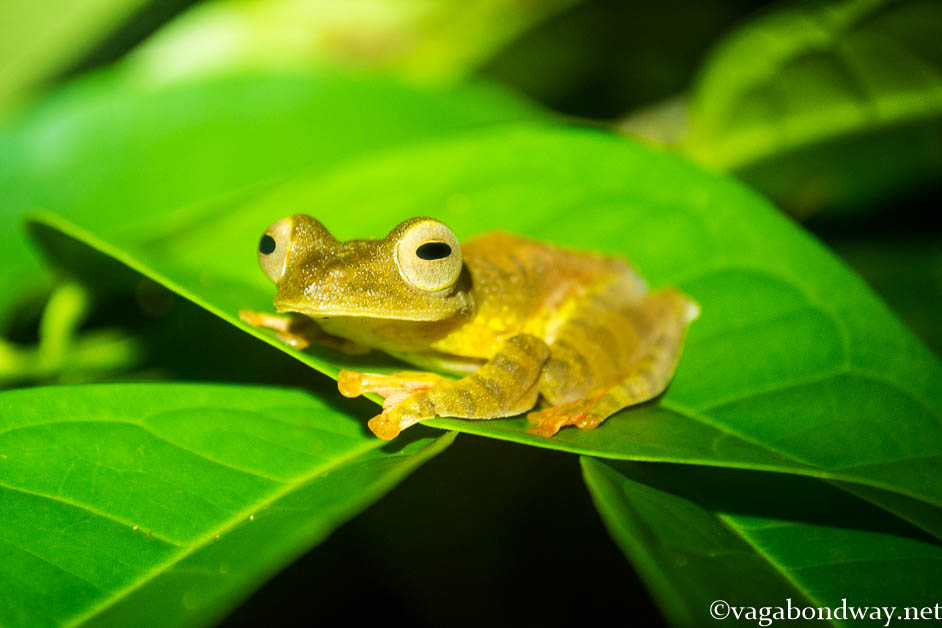 I hope you enjoy looking at these frogs. Had we realized just how cool and easy this park was to visit, we would have chosen to stay a third night. Kubah National Park is a nocturnal photographers dream park. I certainly hope this post has awed you just a little bit with our leaping friends beauty.
Ways anyone can help frogs anywhere they are in the world:
Frogs are very sensitive to pollution – Do not use any chemicals on your lawns or toxic fertilizers on your lawn. Ask if your place of work is using chemical fertilizers, if they are, ask them to stop. Sometimes all it takes is one person to make a request and a change can happen.
Stay on hiking trails – it makes a big difference in reducing erosion and not destroying small habitats you might not even realize you are walking on
Continue your education – before moving to Vermont I didn't even know what vernal pools were. (Do you?) Basically what happens is every spring, as the snow is melting, scattered throughout forests, pools of water will remain a little while longer than anywhere else. By the time summer comes and if you were hiking through the forest, you'd have no idea they were there. But these pools play a critical role in helping frogs and other animals have enough habit and food sources so they can move about through the forest, look for mates, keep genetic diversity high and thus keep species alive. If these vernal pools are not recognized and the habitat gets developed, frogs and other animal habits become drastically reduced, inbreeding occurs and the species will eventually die out. All this back knowledge then becomes a lot more meaningful when perhaps in your town, there's a vote or debate about whether or not vernal pool mapping should be included in a town's budget. (Um, yep, it should.)
If you go:
In Kuching, we stayed at Marco Polos and loved our stay there. We also checked out the facilities and heard from other travelers they enjoyed their stay at Singgahsana Lodge.
I tried to book online here  for the park and was unsuccessful. So I just called up the office (+6) 082 248088 and made the booking no problem. They have hostel rooms which are very affordable at 15 MYR per bed, per night. Or you can rent forest lodges which do cost more.
TIP: If you are a couple or single traveler even, request Room 3 as it only has two beds in it! Then for 30 MYR you have your own room – score!
At the time of our visit it did not seem like it was very busy to stay over night, so maybe you'll have the place to yourselves anyway!
Entrance fee for non-Malaysian: 20 MYR pp
Unlike some of the other parks that have canteens, you have to bring all your own food. This was not a huge deal as we just did instant noodles, crackers and granola for the morning and brought snacks. They have a fridge, stove and sink.
You can boil all your drinking water there with the kettle. We did this and had no problems.
***
Looking for another great park near by? Please check out this post: Bako National Park – Home of Proboscis Monkeys. We based out of Kuching to go to this park too.
***
So what do you think? Did your love of frogs just jump up?
***
Plan on traveling soon or making a purchase from Amazon? Please consider using the links on our resource page. At no cost difference to you we will earn a small commission to help keep this site running. Thank you so much for this thoughtful gesture.