In a remote section of the Borneo rain forest at Mulu National Park a unique formation of limestone rocks called The Pinnacles jut up from the earth. Piercing some 50 meters into the sky, rock formation has been about 5 million years in the making. You know, no big deal mother nature!
For those seeking adventure and work out there is a 2 night/ 3 day hike to reach the view point of The Pinnacles. For those wishing to actually do the hike, all the information is at the bottom. For those wishing to join vicariously via the world wide web, get ready, here we go!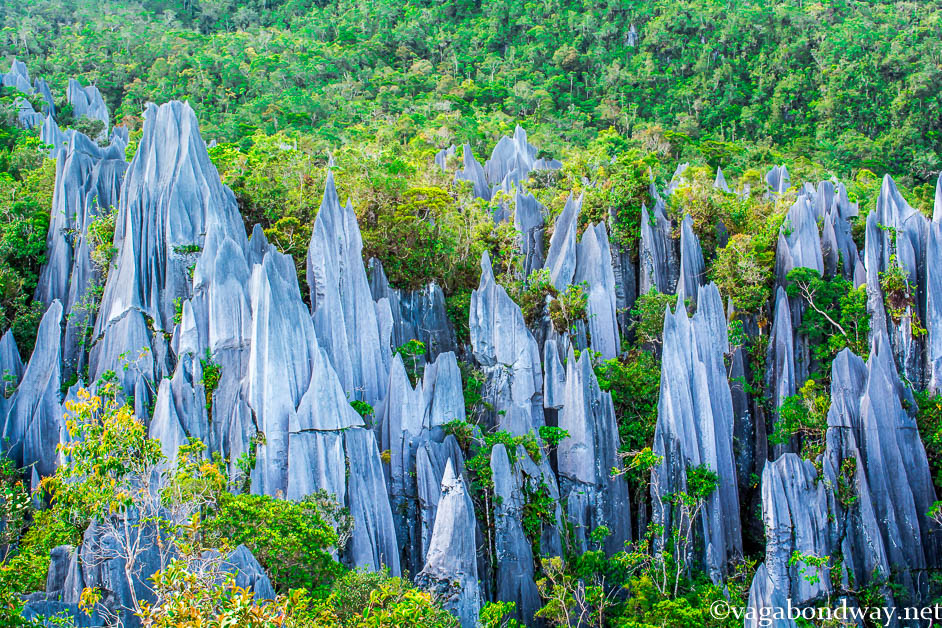 This hike is not for the faint of heart. Although the main part of the hike is only about 2.4 kms uphill one way, it took our group a good eight hours plus to complete the hike there and back. Elevation gain is 1200 meters and with the steepness, heat and humidity there are some that just can't make it to the top.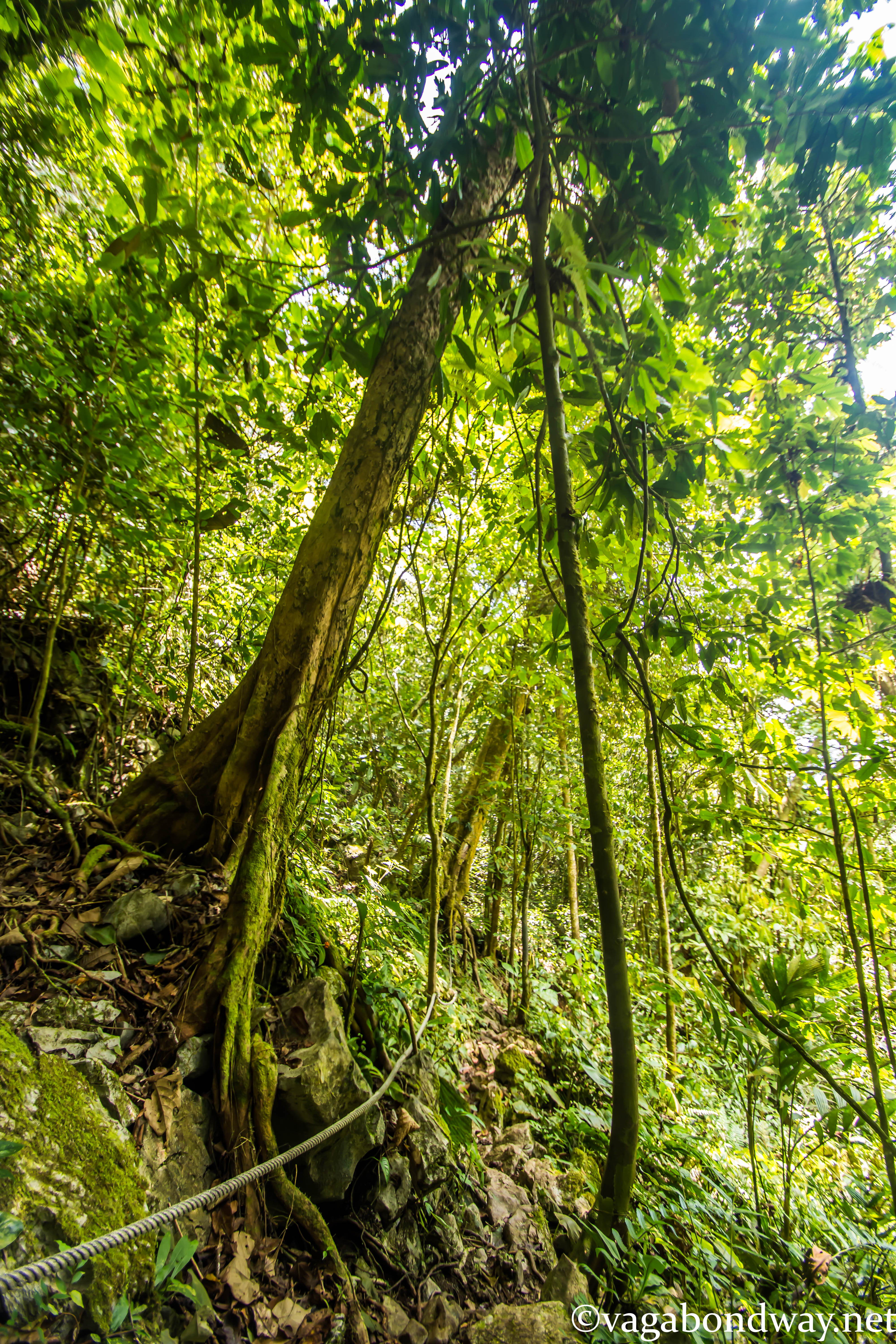 Although it's hard to show just how step the incline is, many sections of trail had ropes for climbers to either pull themselves up or steady themselves on the way down.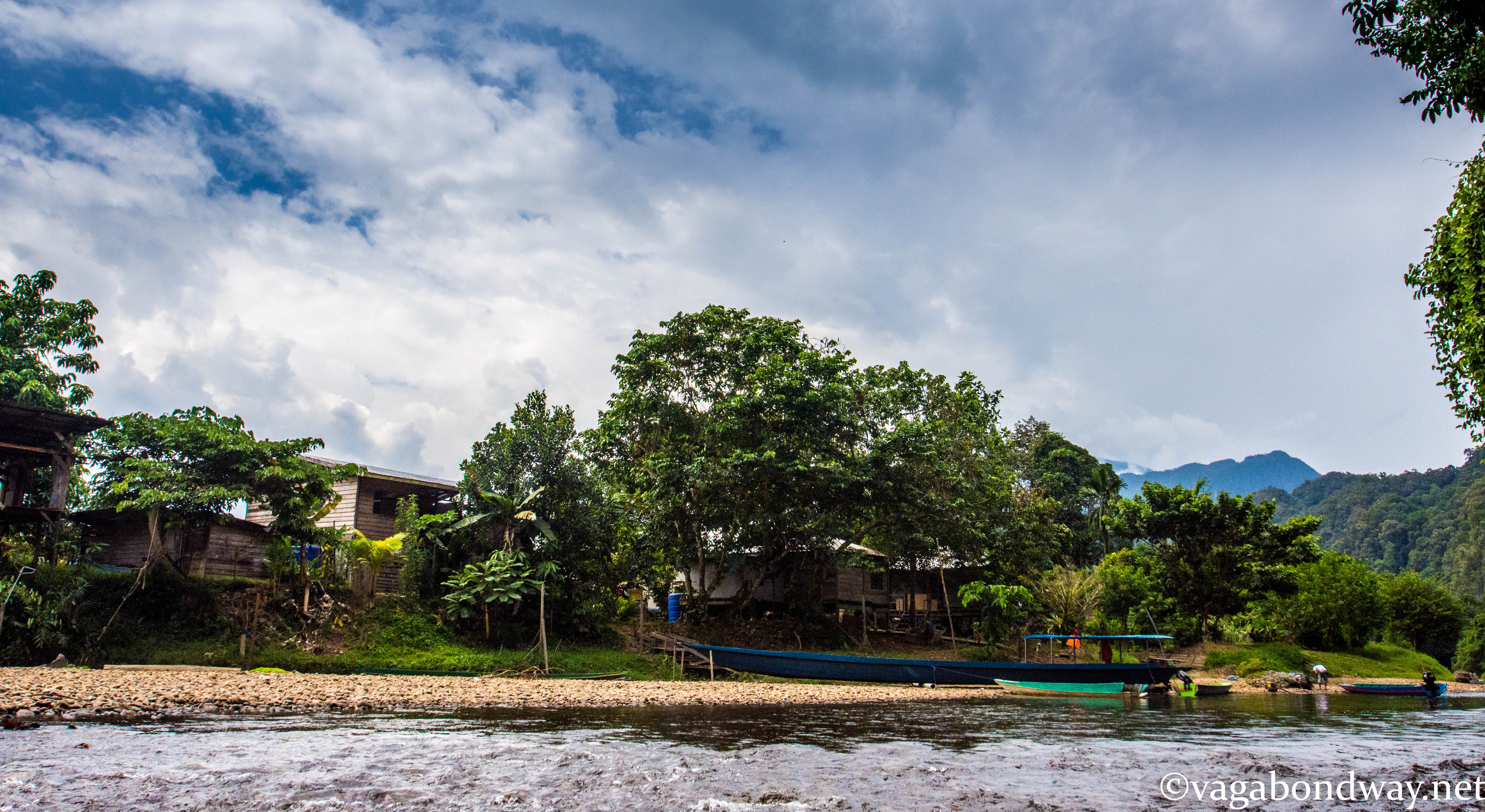 Leaving the small village behind, you reach the start of the hike by jumping into long boats.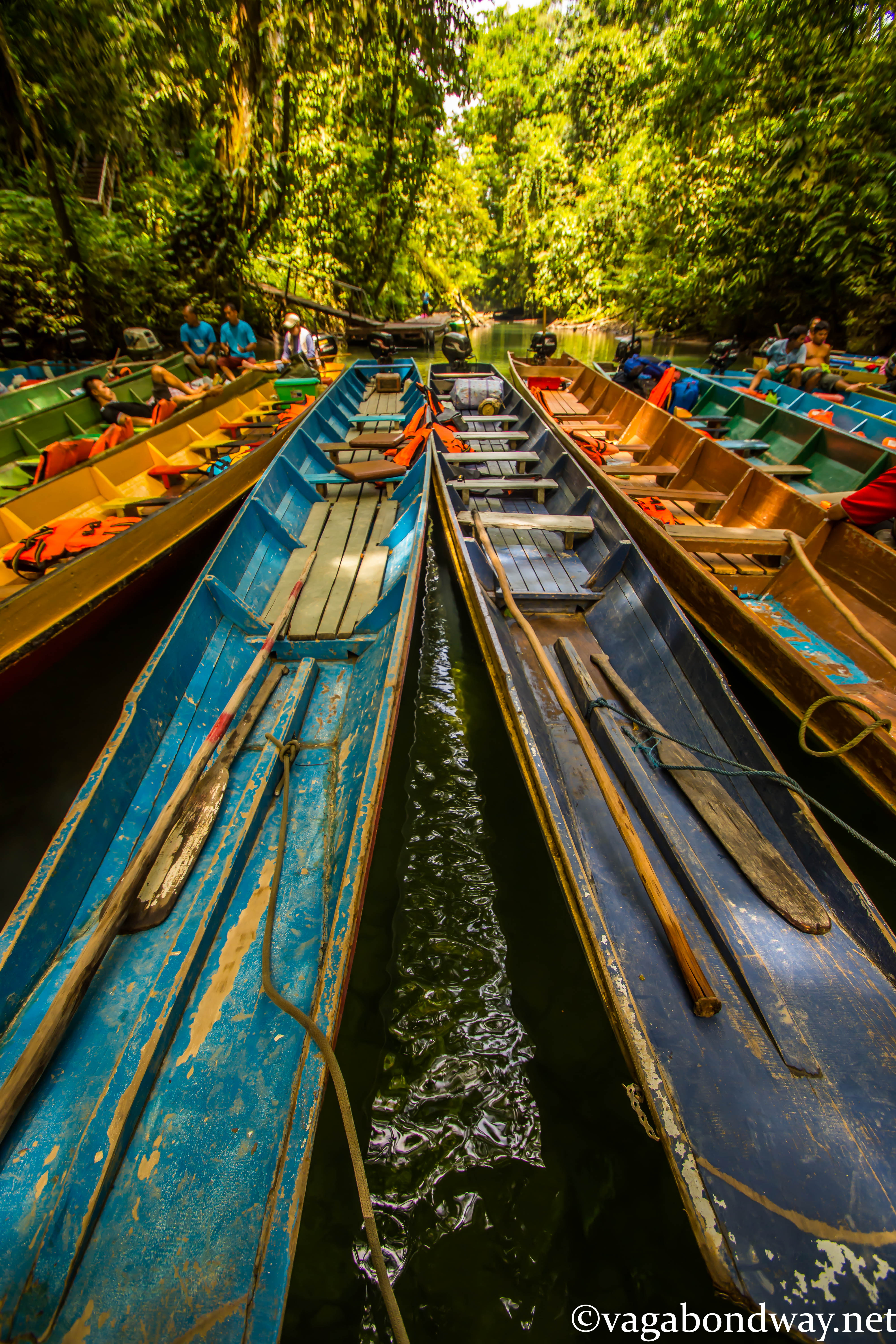 I loved the bright and vibrant colors. But oh my gosh, getting upstream to the start of the hike was one of the hardest things of the whole hike! We were in Mulu in July and the water level was rather low. Add in the extra pack weight and the boats were constantly hitting the bottom. So everyone would have to jump out of the boat to help push it up stream. People were slipping and falling on the rocks and thus getting dunked in the water (although it felt good because it was so hot.) It really gave us a great appreciation for how hard of work it was to get those boats up and down stream. Our leg muscles were sore for days.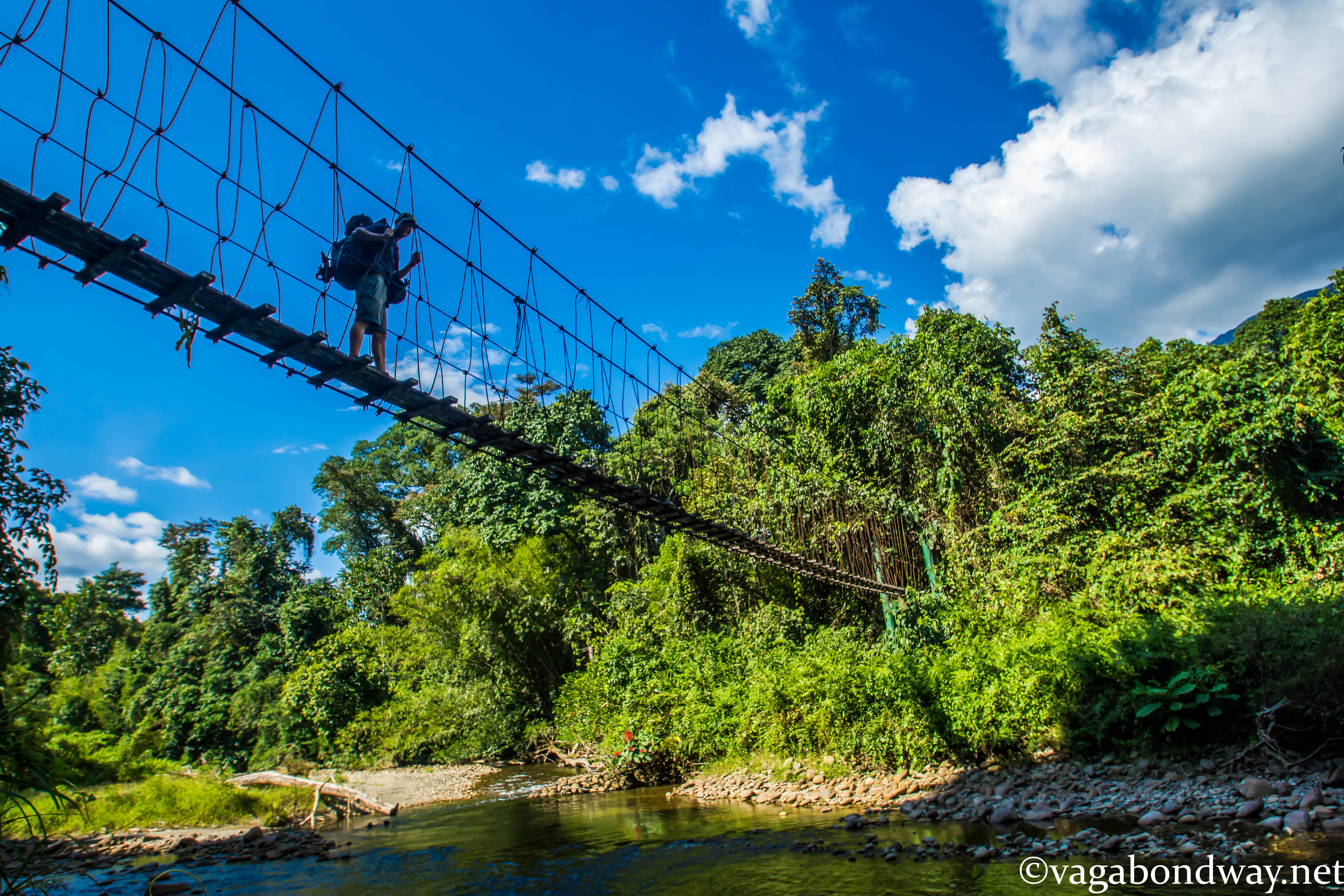 When the boats drop you off everyone walks on their own about 8 kms to the camp at your own pace. It's a well marked path through the Borneo rainforest that is almost a straight shot. Everyone in our group was anxious to go but Chris and I had not yet eaten our packed lunches and were hungry. So we stayed behind to eat our lunch as everyone else took off down the path. What ended up happening is we got to slowly walk through a pristine piece of remote jungle all on our own with no other sounds, distractions or worries. It was one of my most favorite and peaceful times of being in Borneo. Sometimes it pays to not follow the group and be content to be the last one into camp.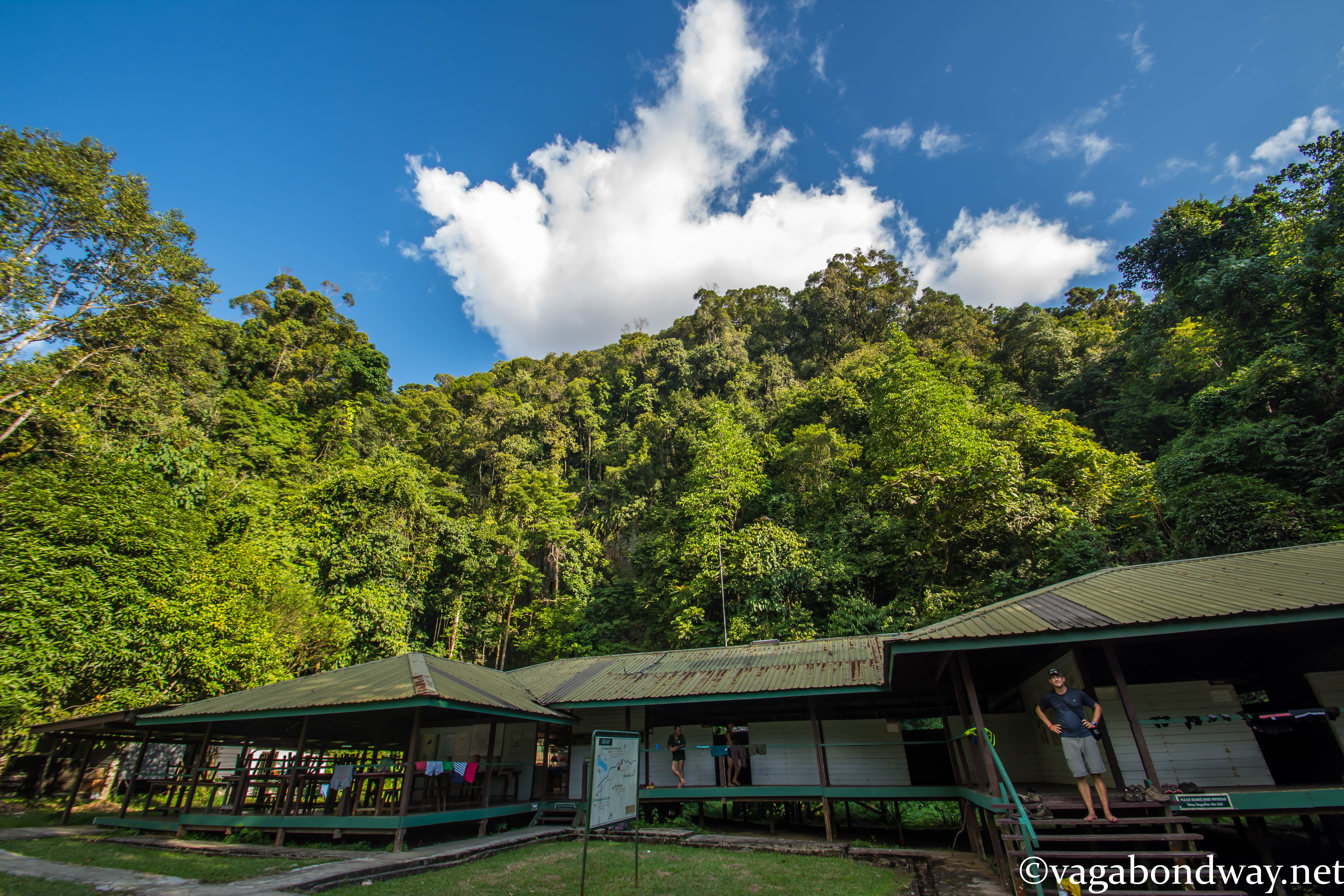 And what a camp it was! I will say hats off and great job Mulu National Park service for the excellent management of this facility. Everything about this hike was so well organized. There are multiple types of groups that use the camp from private tours to people (like us) who just booked with the national park directly. Everyone had an assigned little sleeping quarters. There was a big and clean kitchen to use, tables for everyone underneath the cover and the bathrooms were very clean and functional with western toilets. The number of people allowed in camp every day was strictly limited and this made for a very pleasant experience for everyone. Especially in these high demand areas like this, if it's not well maintained they can great gross so fast. Mulu National Park was doing a superior job in keeping this nice for everyone and in turn visitors also treated the area with respect.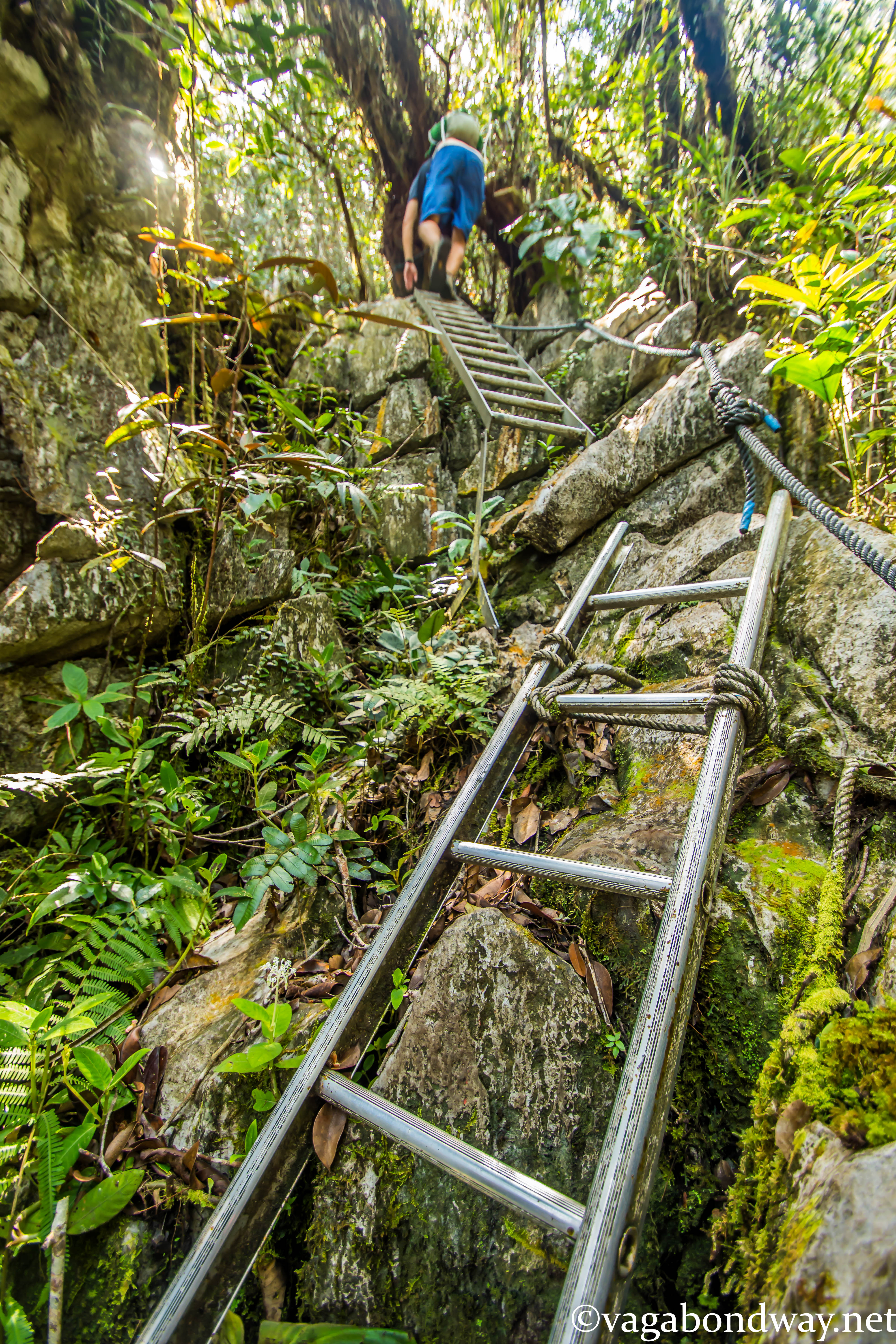 Then the climbing to the Pinnacles starts.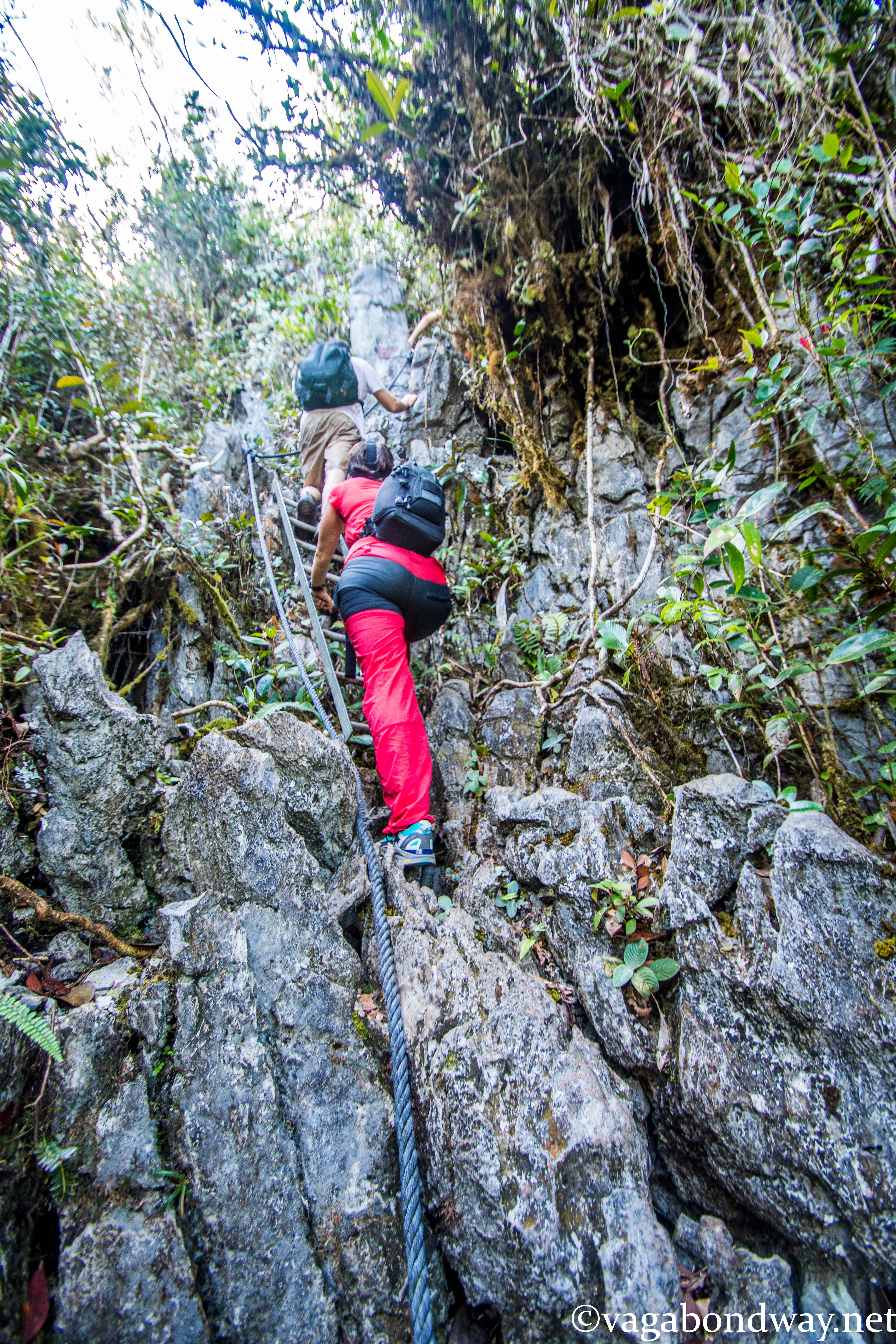 For the first kilometer or so it's just intense hiking up, which each person must do within a certain amount of time to be allowed to carry on. Then the ladders start. Hikers have to take turns as they must navigate at least 15 ladders, rock scrambling and continued climbing.
With all this climbing, let's take a break and here is a video giving a bit more first hand look into the hike.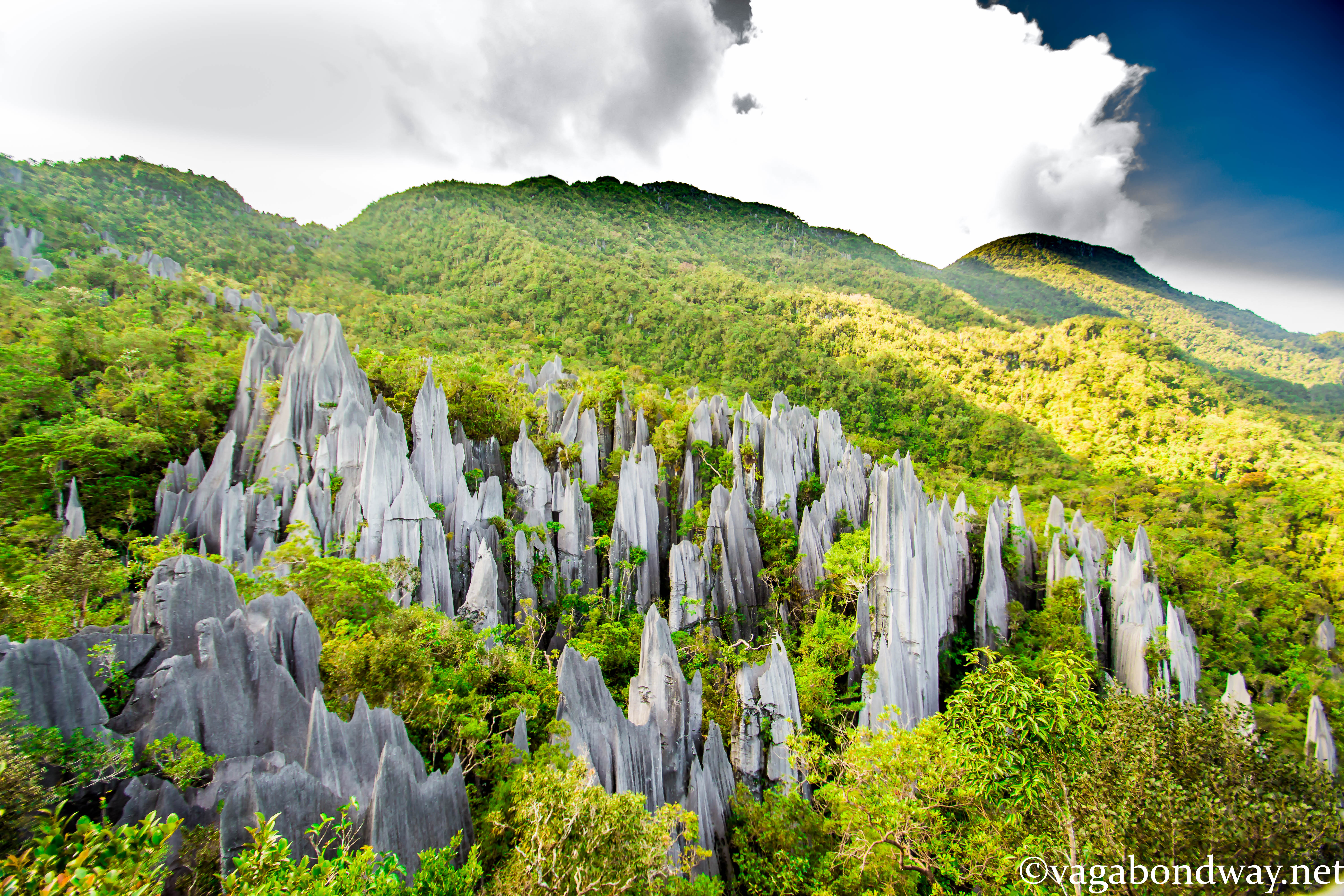 Once we make it to the top look at that reward – wow!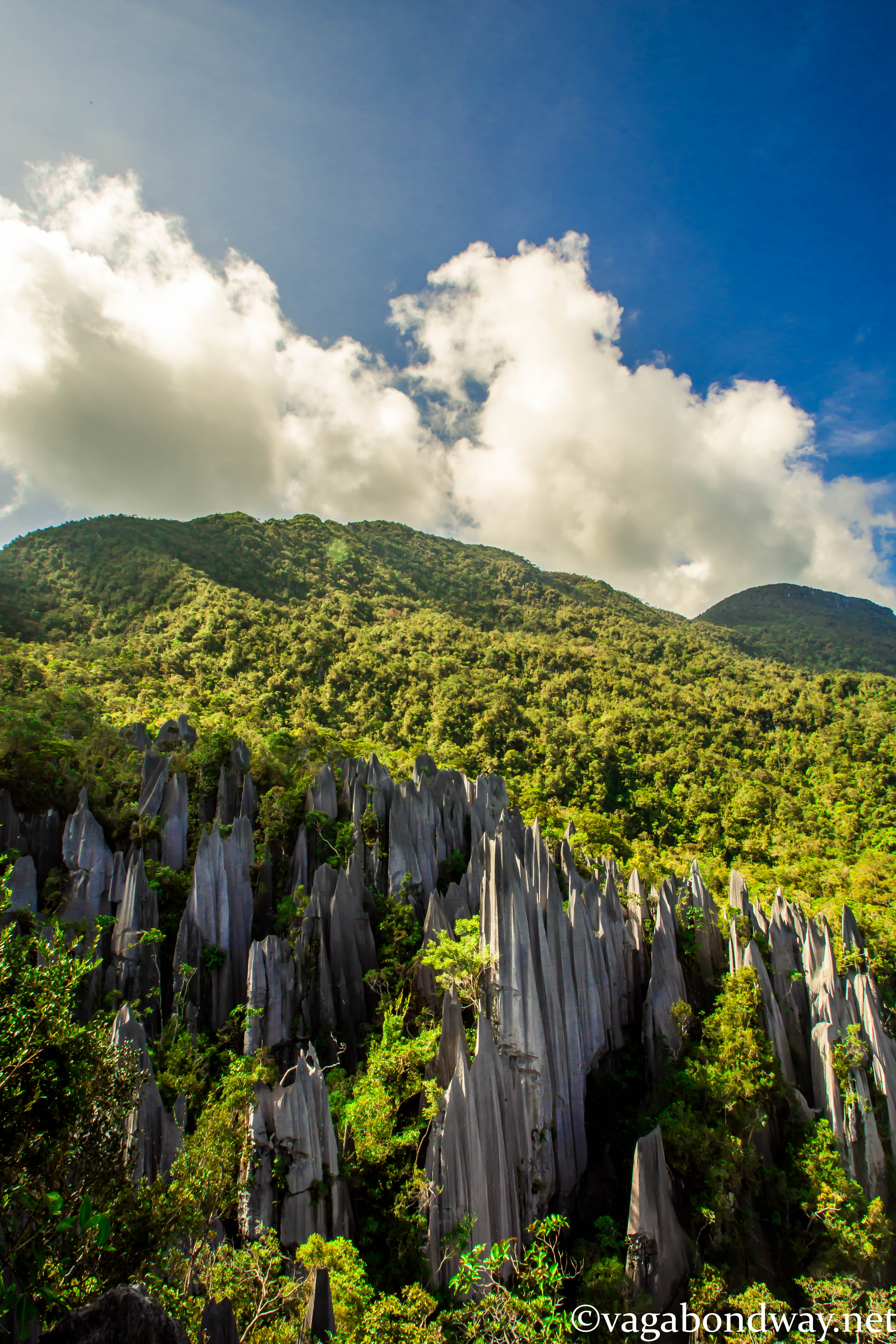 Jutting up out of the earth, centuries of water have eroded these limestone features called The Pinnacles to the razor like spikes they are today.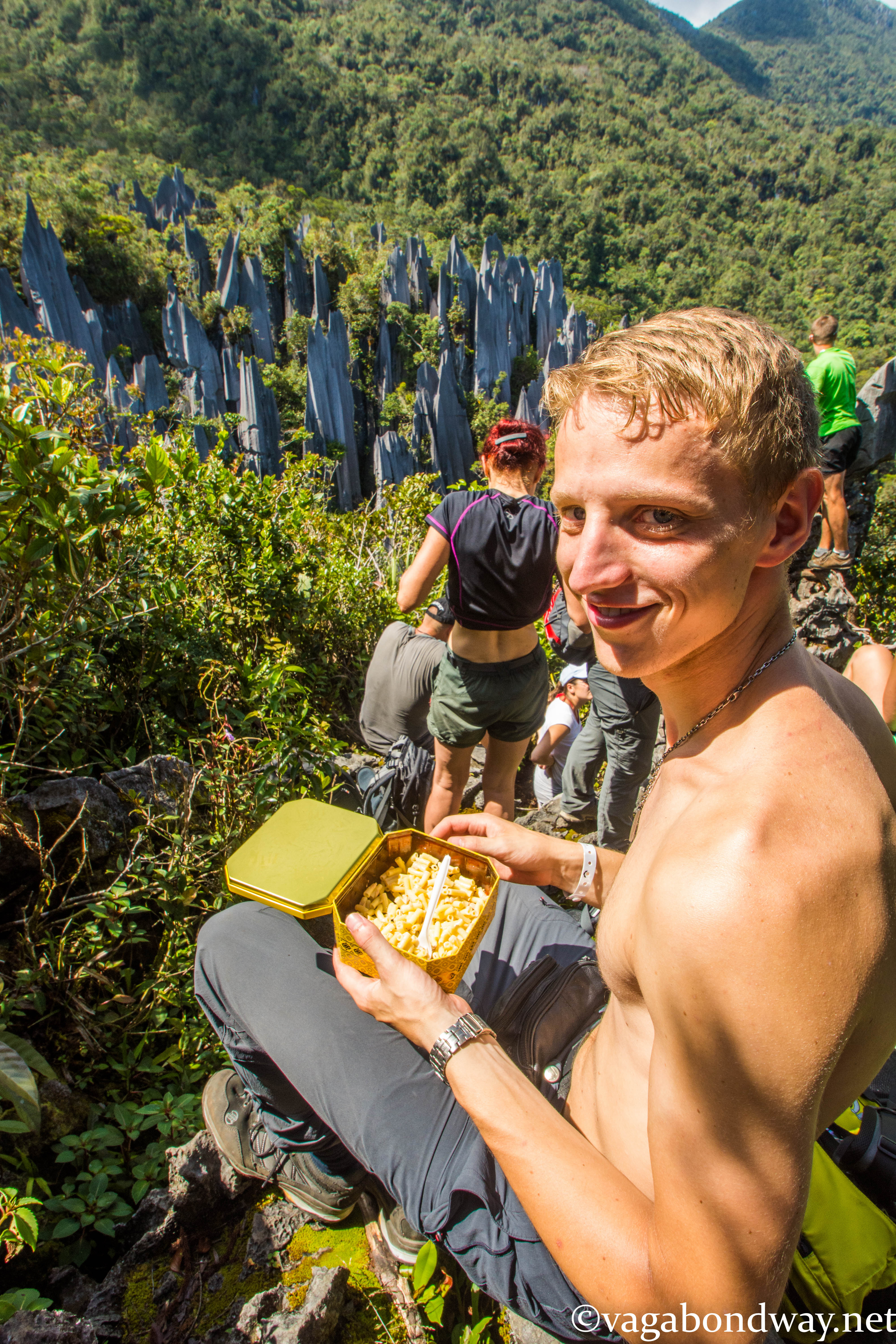 Enjoying our lunches, we couldn't help but notice the box this guy in our group was carrying around to use as a lunch box. When asked about it, turns out the box was a gift from the Sultan of Bruni! He had been able to go to the palace for the Sultan's birthday, shake his hand and was given this box originally with a fruit cake in it as a present. Very cool.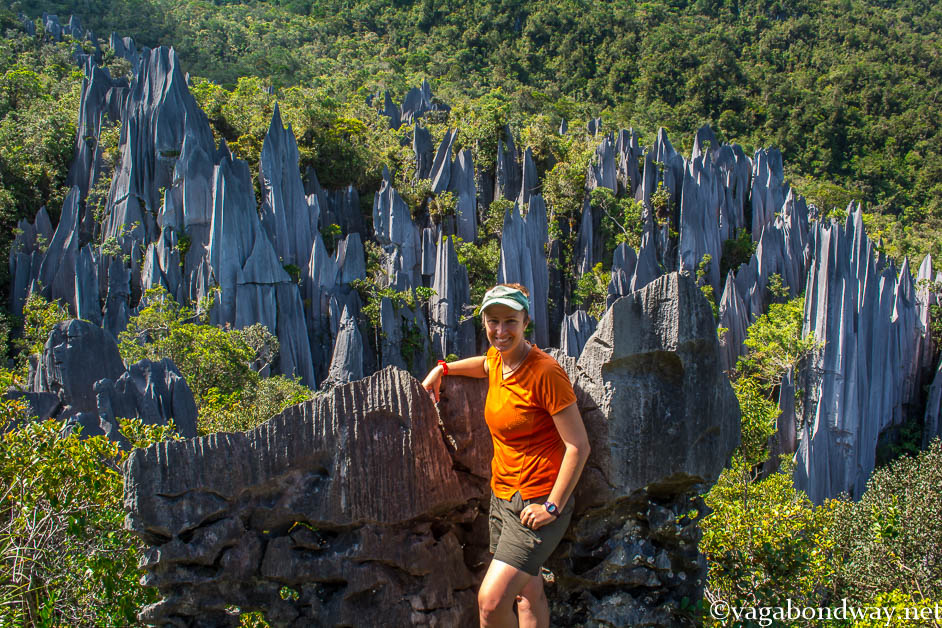 After enjoying the view of the Pinnacles we all started to make our way back down the mountain. That was definitely the hardest part for most people. The intense down, down, down used those upper thigh muscles way more than any regular hiking so it caused for quite a lot of sore muscles.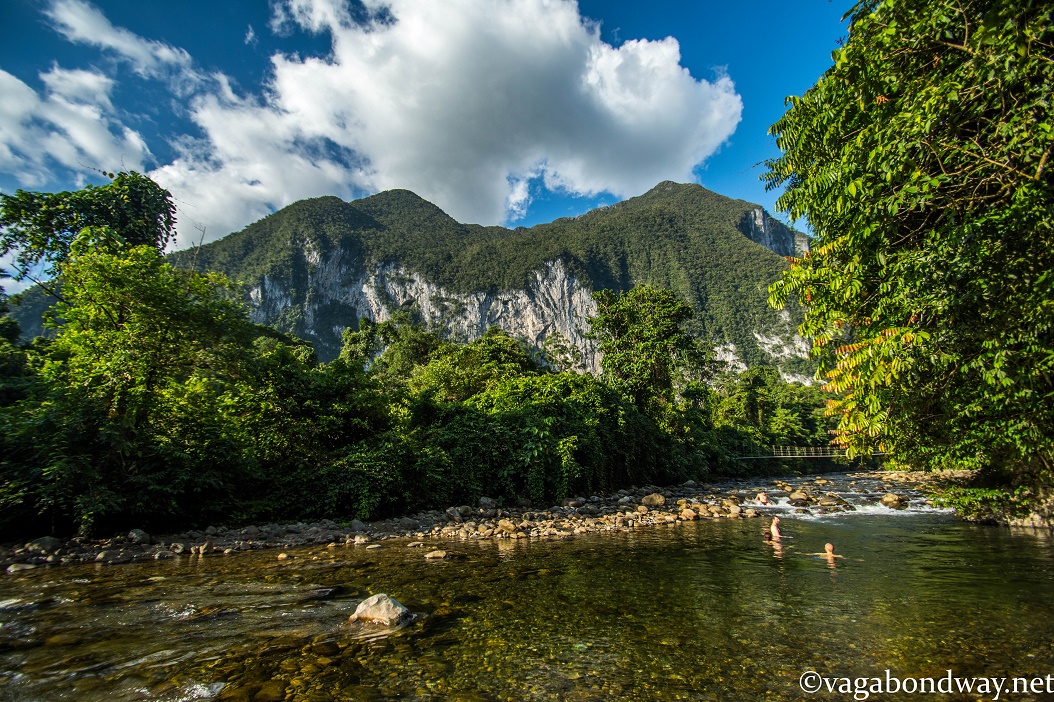 Luckily however upon getting to the bottom most of us jumped straight into the river. It was so refreshing on the body after sweating so much on the hike.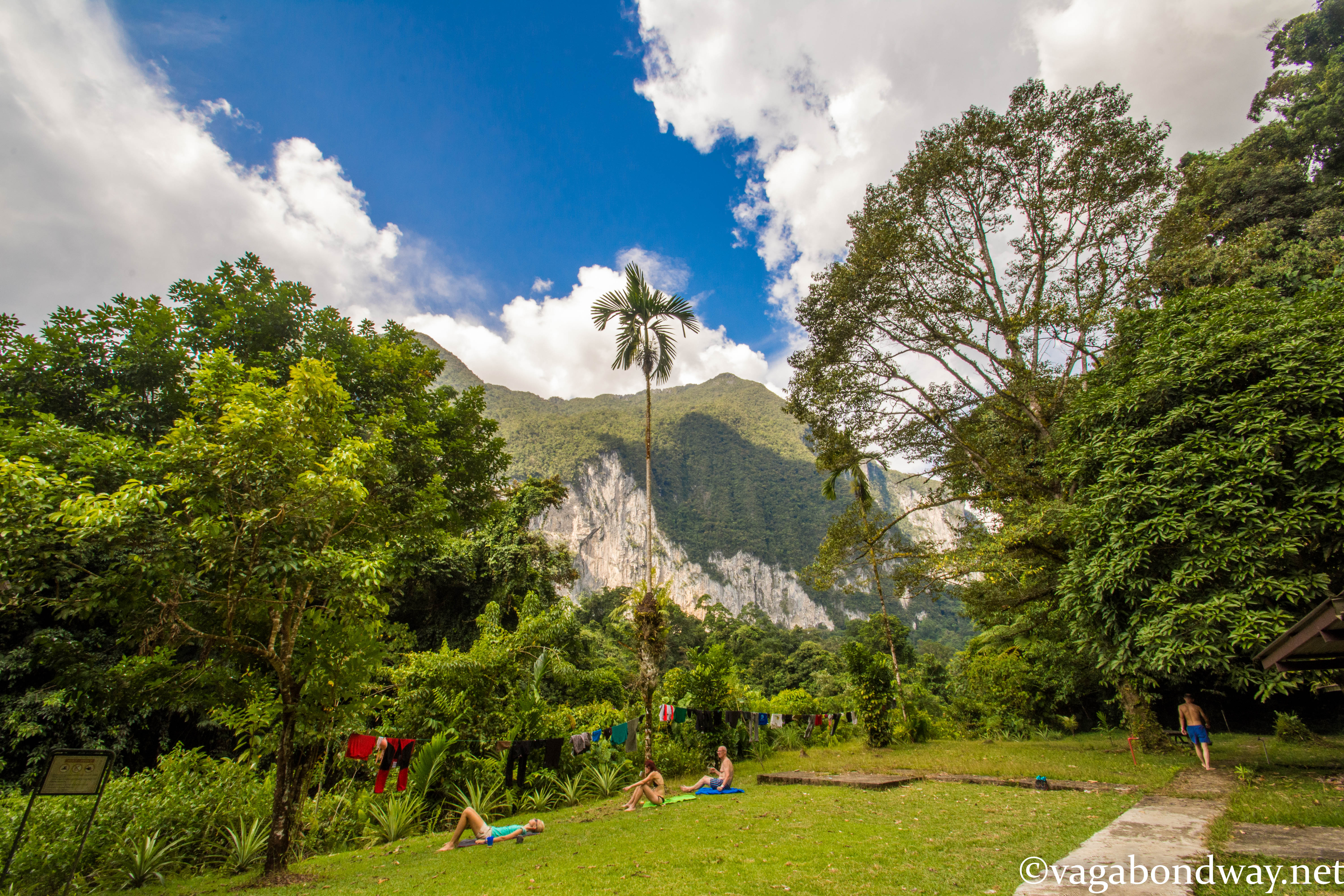 Then people came to lay out, relax and rest their weary muscles after the hike.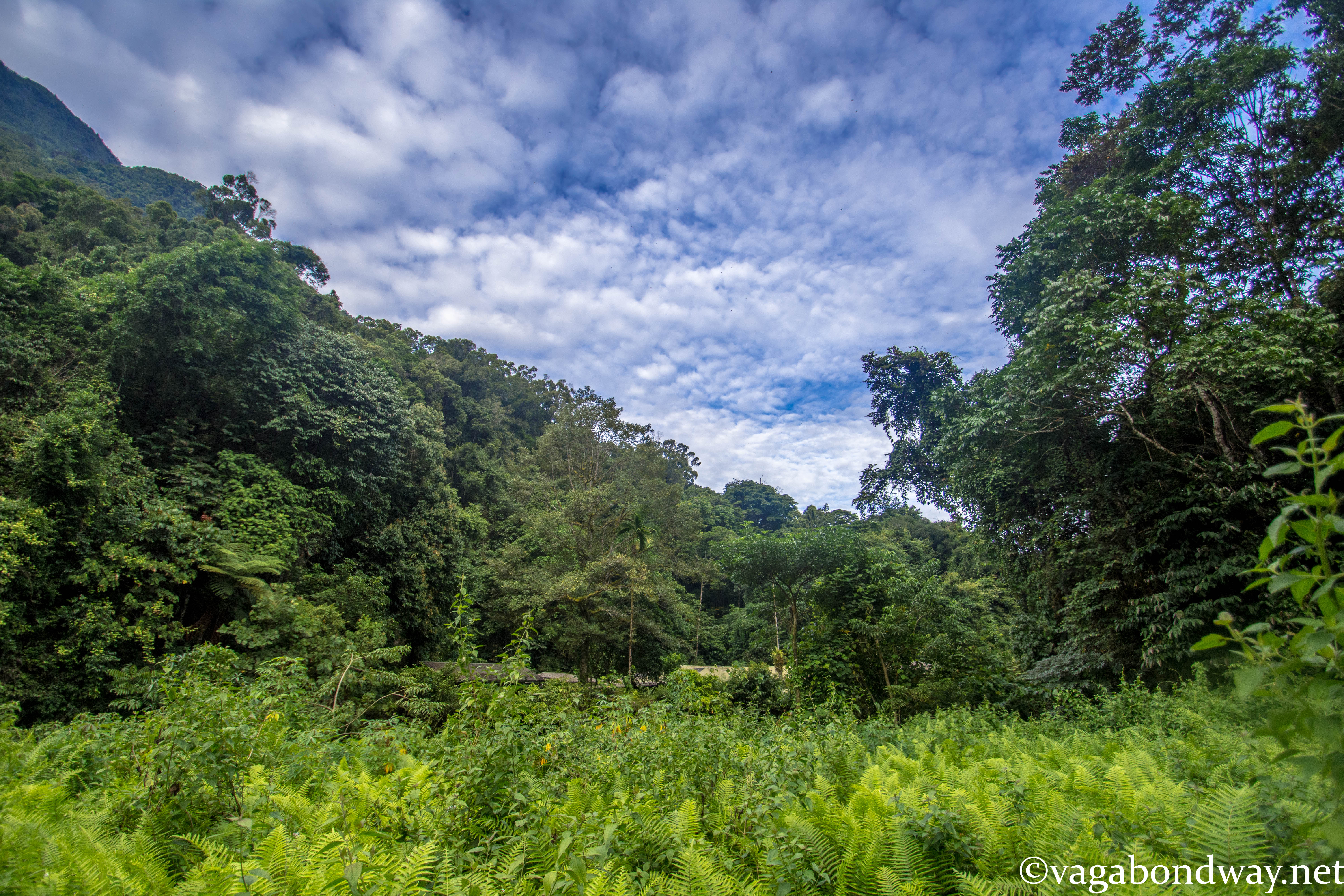 Chris and I went across the river and this was the view of camp. If you look closely you can just barely see the brown roof of the building. I love how blended in camp was, yet another sign of excellent vision and low impact camping executed by the parks service.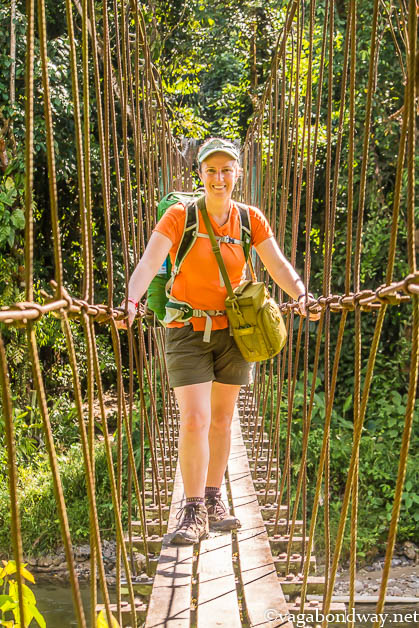 After some heart pumping hiking we all readied ourselves to hike back through the forest to the boat pick up point. There were multiple swing bridge crossings like this to go over.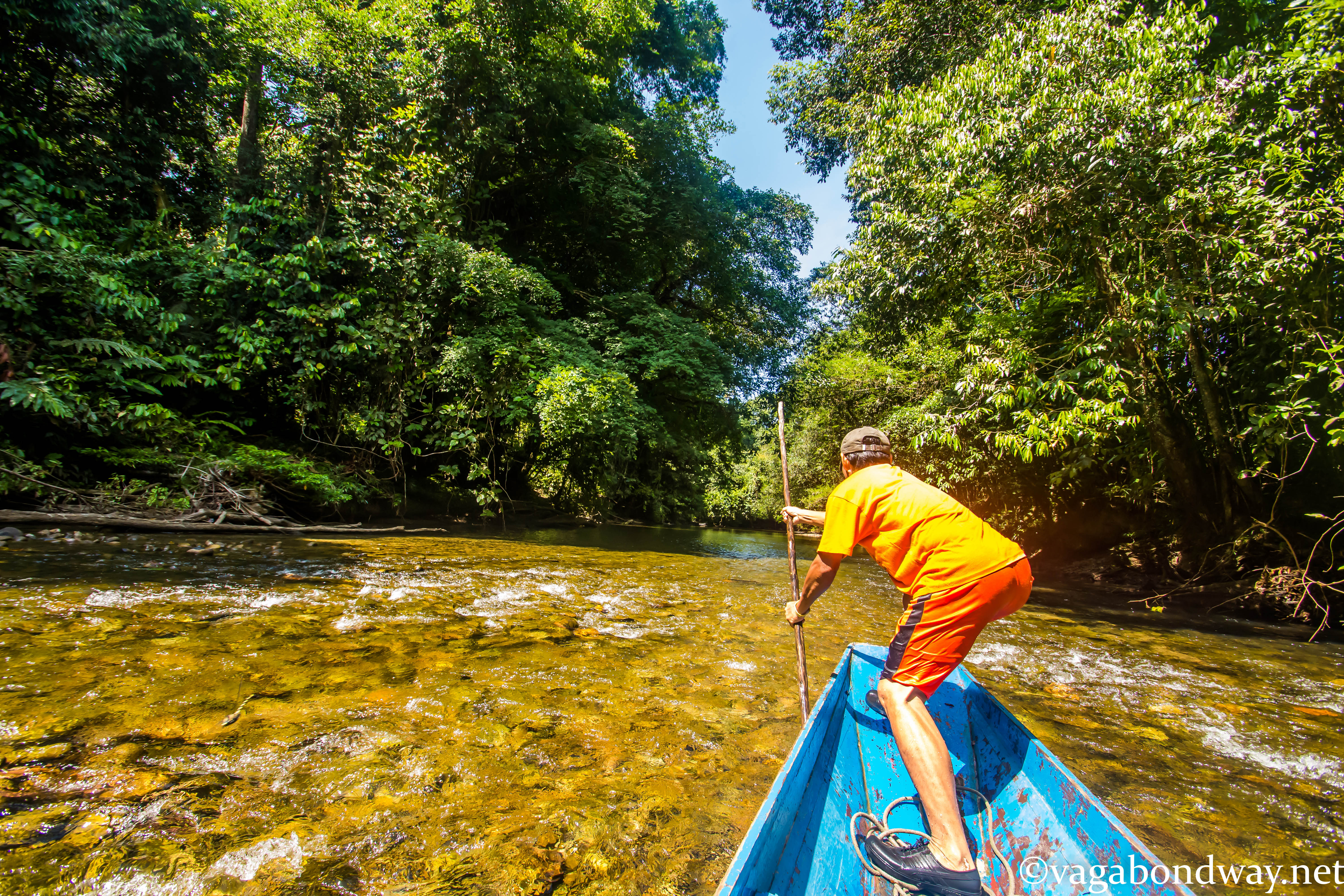 We all piled back into the long boats as our skilled boatsmen got us down stream. Pleasantly we didn't have to jump out as many times to return.
Hiking the Pinnacles Hike in Mulu National Park was one of our highlights from our time there. Thank you for coming along on this virtual hiking tour and if you get a chance to go there yourself, let us know how it goes and please say hello to Dina and Robert for us! 🙂
***
If you go:
Check out Mulu National Park website – this is the official park website. (There are a couple websites that look really similar and they can be easily confused.)
If you are traveling peak season or with limited time, book ahead via the park office for caving and activities. Space is limited and does fill up.
Accommodation:
Unless you do a multiple day hike in via the Headhunters Trail, you will need to take MAS Wings to park. Do NOT cut yourself short on your flight days! While we were there they often cancelled the flights and/or changed the times. It's not a big deal if you have the time, it is a big deal if you booked your flight out of Mulu and an international flight the next day. Save a lot of stress and give yourself a BUFFER day.
We stayed at D'Cave Homestay and highly recommend this as our first choice. You can stay in the park, but it's a lot more expensive. Staying in a homestay just outside the park (D'Cave is about a six minute walk) is a great way to help support the local community. There are a handful of options leading up to the park, D'Cave is one of the only ones that leaves the generator on all night from about 6 pm to 6 am – which means you'll have a fan all night long. Best if you can call them at 01115085990, 0128729752 , 01115117599 or email beckhamjunior40@yahoo.com (there may be a delayed response via email because of a lack of internet.)
Food:
Plenty of little restaurants just outside the park and again, great way to support the local community. We just ate a different place each day and sometimes ate at the park canteen.
You can buy simply snacks/supplies and there is a small shop if you were to walk towards the Marriot. You shouldn't need anything major foodwise while you're there as the restaurants are sufficient, but if you were hiking the Pinnacles for instance, better to buy your food before hand and bring it with you.
Money and Internet:
There are NO ATMS so come prepared with cash. If you read the park website it says cash advance can be done at the office for a fee, but the entire time we were there it was unavailable.
Don't plan to need internet. The park office says they have it, but we couldn't get a page to load. Perhaps it would be better if you were just using a phone. If you get in a pinch, you can go to the Marriot and either buy a meal or pay to use internet there, but again, it's not a guarantee it will work. Book any plane tickets and pay your credit cards ahead of time to avoid stress.
Arrival/Departure Cities:
You can fly out of Kuching, Miri or Kota Kinabalu in Borneo, Malaysia. These are the places we stayed in any of those cities.
Miri:
Next Room Backpackers – had the nicest rooms, but the men's bathroom was kinda gross. Ladies bathroom was fine.
My Homestay – nicest kitchen facility to use and super nice bathrooms, but the rooms were cell like and not appealing.
Kota Kinabalu:
We stayed at Red Palm Hostel and were pleased there.
Kuching:
In Kuching, we stayed at Marco Polos and loved our stay there. We also checked out the facilities and heard from other travelers they enjoyed their stay at Singgahsana Lodge.
Related Posts:
Exciting Racer Cave Adventure in Mulu National Park
If you need good travel gear or clothes for hiking The Pinnacles, check out this post.
Enjoy your time at Mulu! It was one of our favorite parks! 🙂
***
Have you ever gone to a park so remote you had to hike in, take a small plane or boat to?
***
** Plan on traveling soon or making a purchase from Amazon? Please consider using the links on our resource page. At no cost difference to you we will earn a small commission to help keep this site running. Thank you so much for this thoughtful gesture.