Want to go on an adventure to the hottest, driest and lowest national park in the USA? See this open road ahead? Grab your bags, ok, or maybe get ready to scroll your mouse…we're going to Death Valley National Park.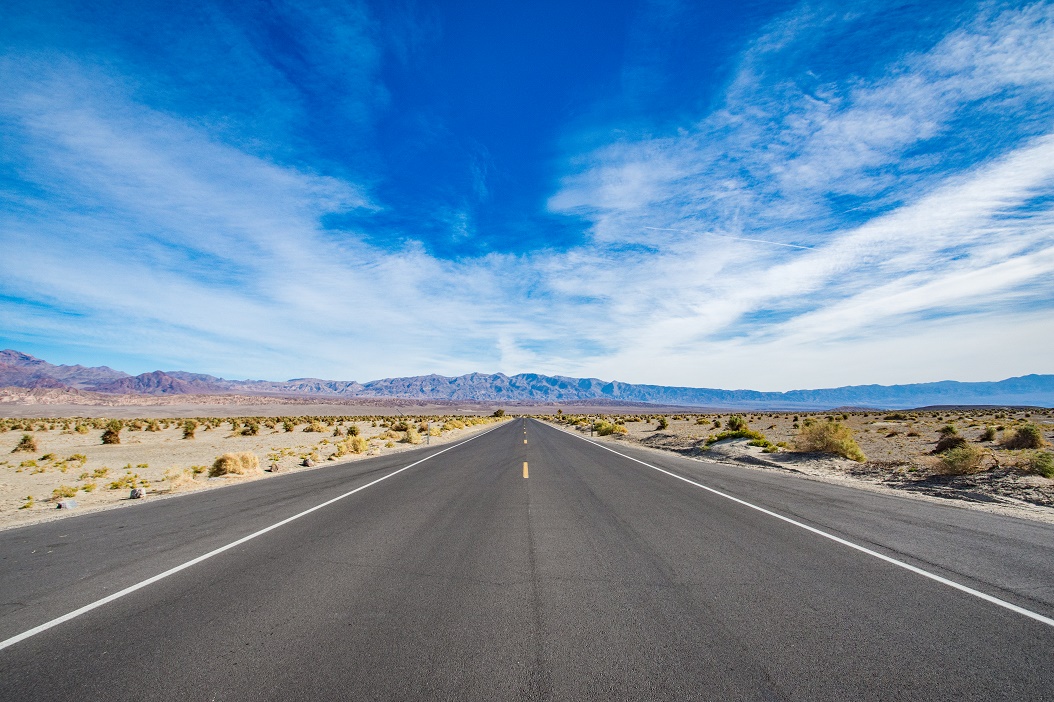 Located in southern California Death Valley is a land of contrasts. Prior to going there I pretty much knew Death Valley to have sand, heat, cool desert features of some sorts and just really knew of the place through name recognition.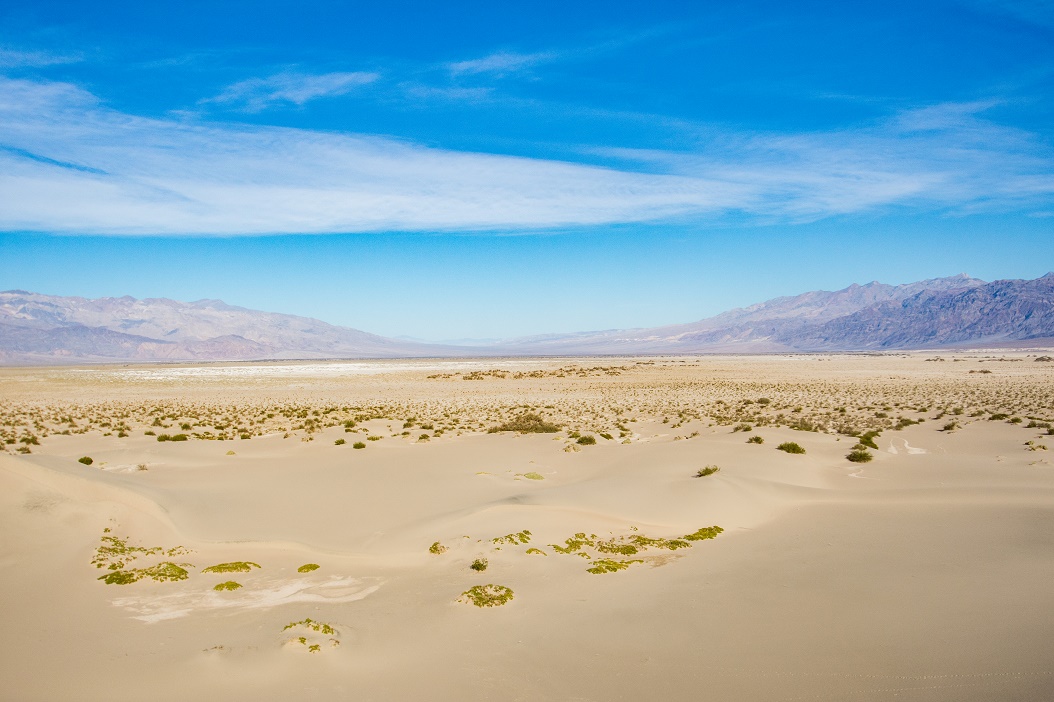 As what often happens to me, after I went there in person to see the landscapes, touch the ground and get a sense of the place, I was totally blown away by how amazing Death Valley was and how little I really knew of it.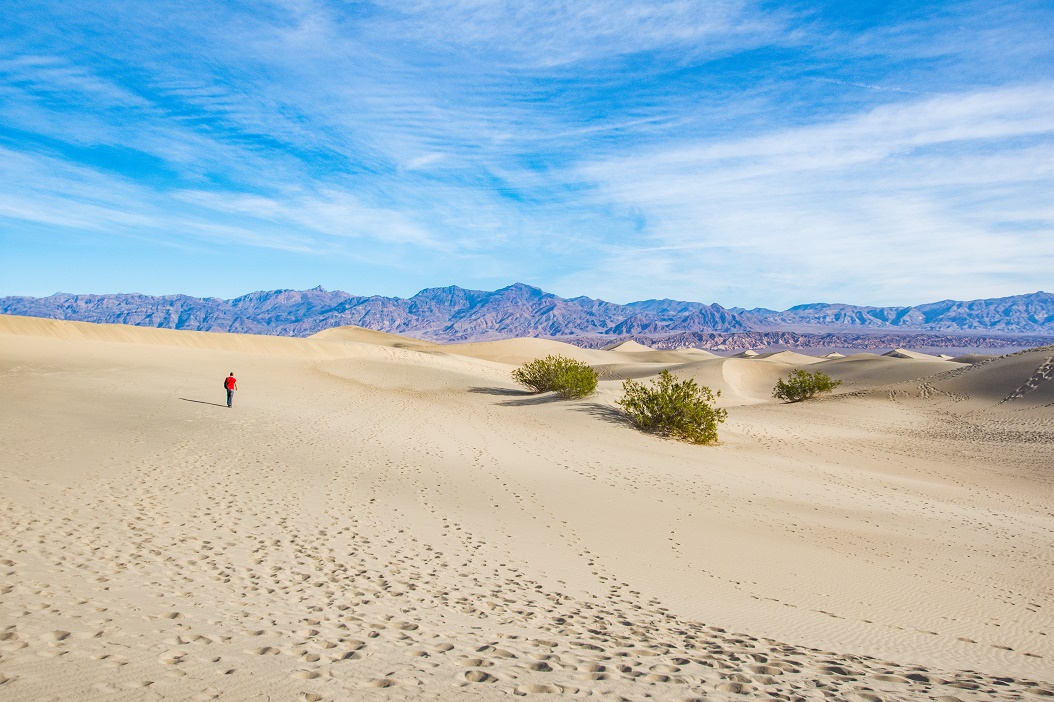 For instance there's mountains. Big mountains. If you look out into the distance beyond where Chris is walking you can see mountains. I don't know why it didn't occur to me before, but as our car's engine whirled up and down through it's gears, I realized to reach the lowest point in North America of course it would only make sense we'd have to go down in elevation.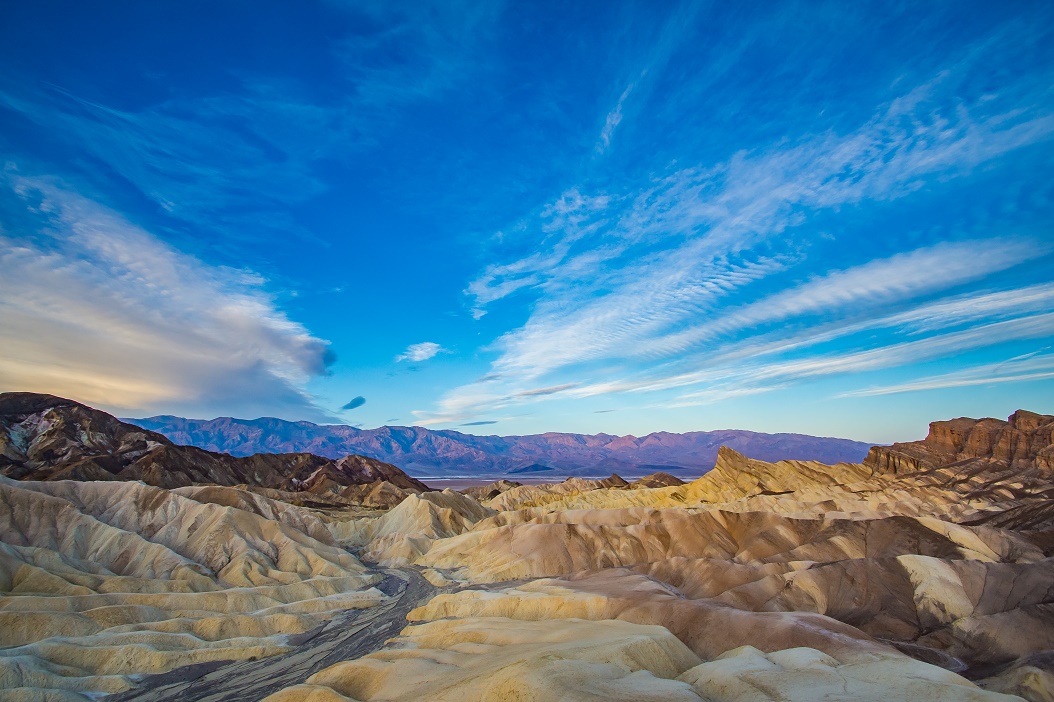 The highest point in Death Valley is Telescope Peak in the Panamint Range. (It's not shown in this picture as we didn't go there, but you can still see a big ridge of mountains to get the idea.) At 11,043 feet/ 3366 meters in elevation, the peaks in that area see snow about half the year. That was not something I knew before going to Death Valley.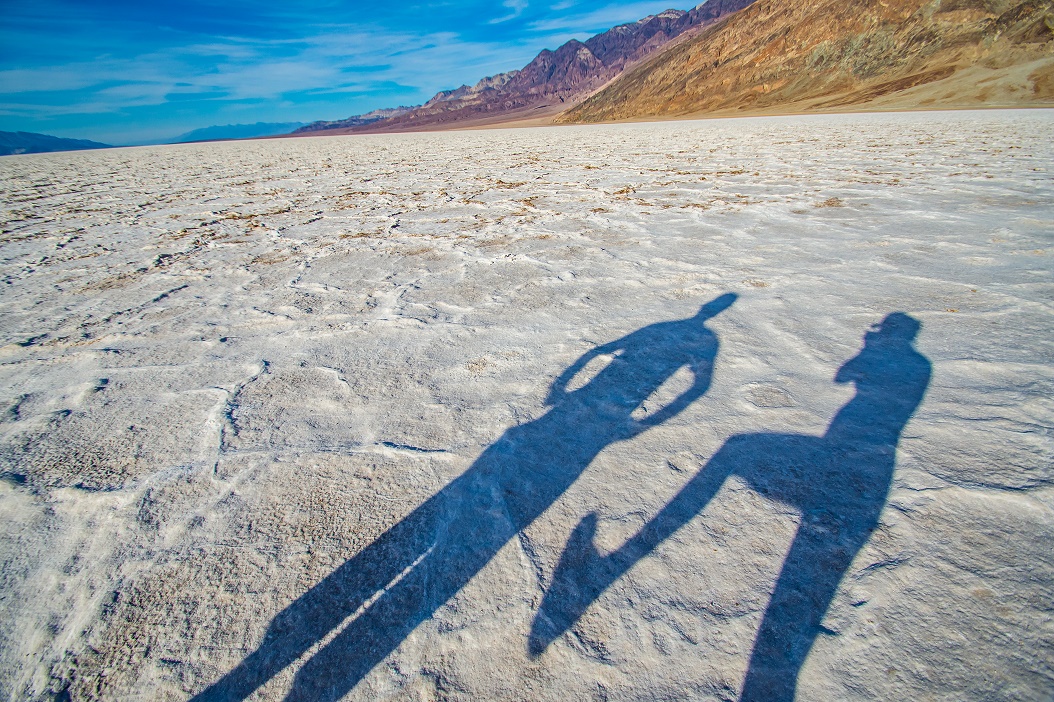 What I sorta knew was that Death Valley had a very low point of elevation. I wasn't quite aware it was the lowest point of elevation in the continental United States. We were getting a kick out of being there. (Haha!)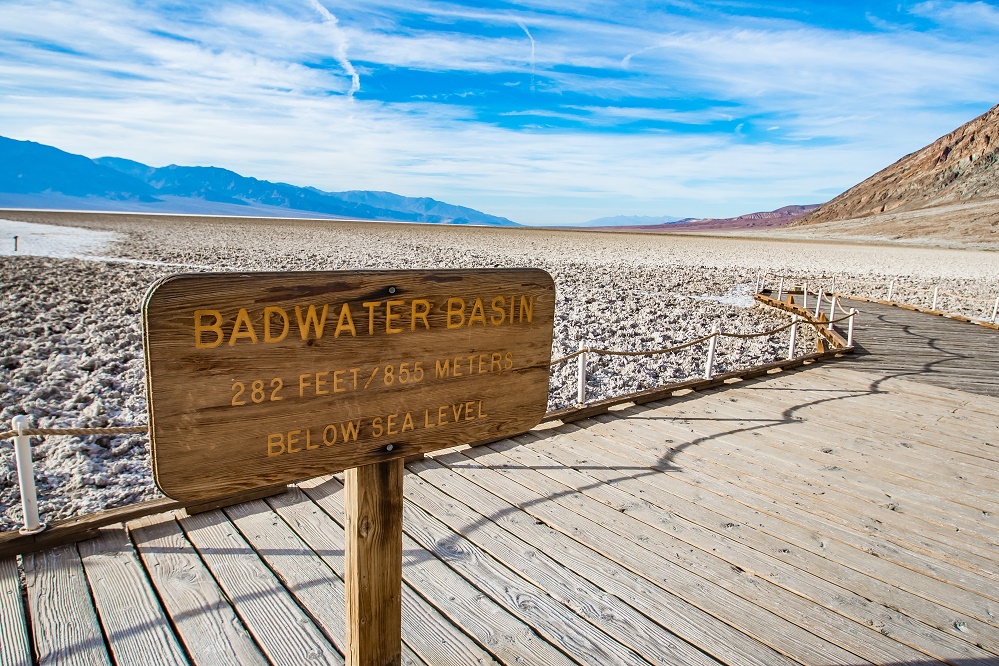 All the white you see is salt deposits. An early day explorer came to the area and became ecstatic when he had found a small pool of water there. But his mule wouldn't drink any of the water.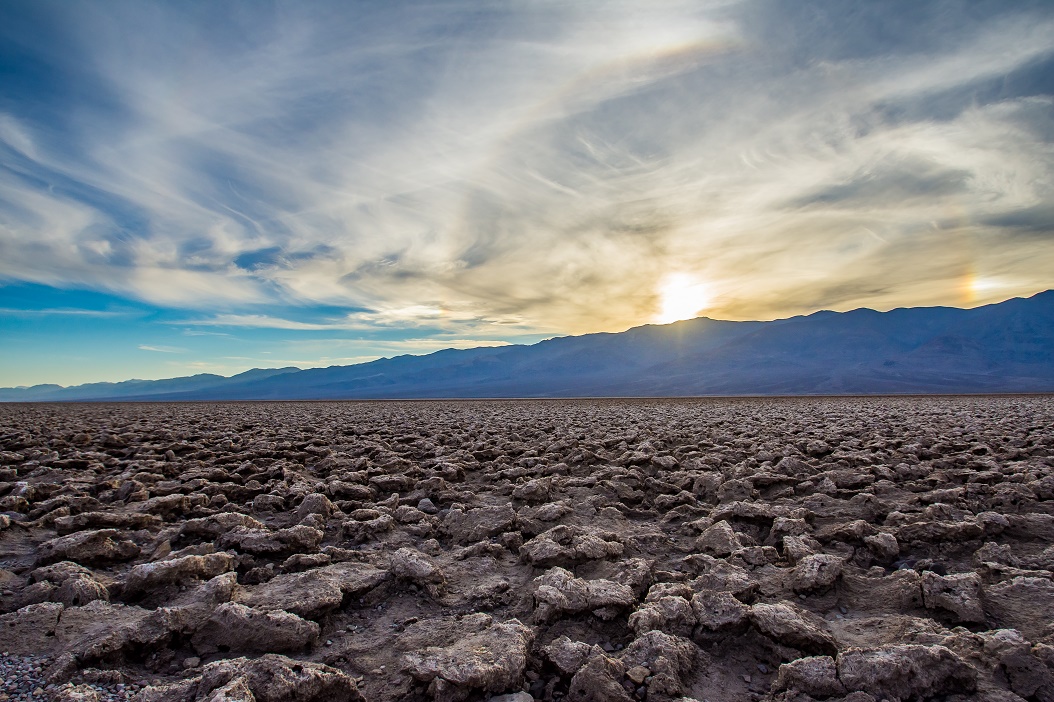 Exasperated the man is reported to just have kept saying, "Bad Water, Bad Water," due to the very high level of salt and minerals there his mule would not drink the water. Hence "Bad Water Basin" became the name for the lowest point of elevation in continental North America at 282 feet/ 85.5 meters. If you don't have a thirsty mule in desperate need of water, Bad Water Basin was a pretty cool spot with it's own unique beauty.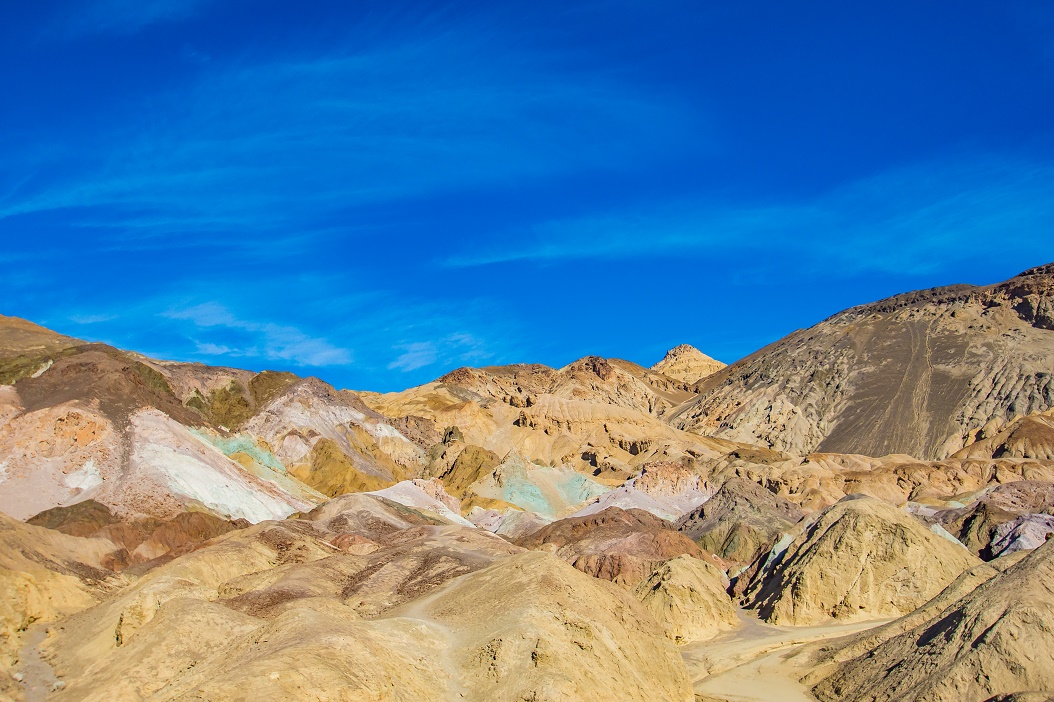 Another area of unique beauty was called Artist's Palette. I have never seen colors quite like this and here is another example of something I didn't even know existed until we went exploring there.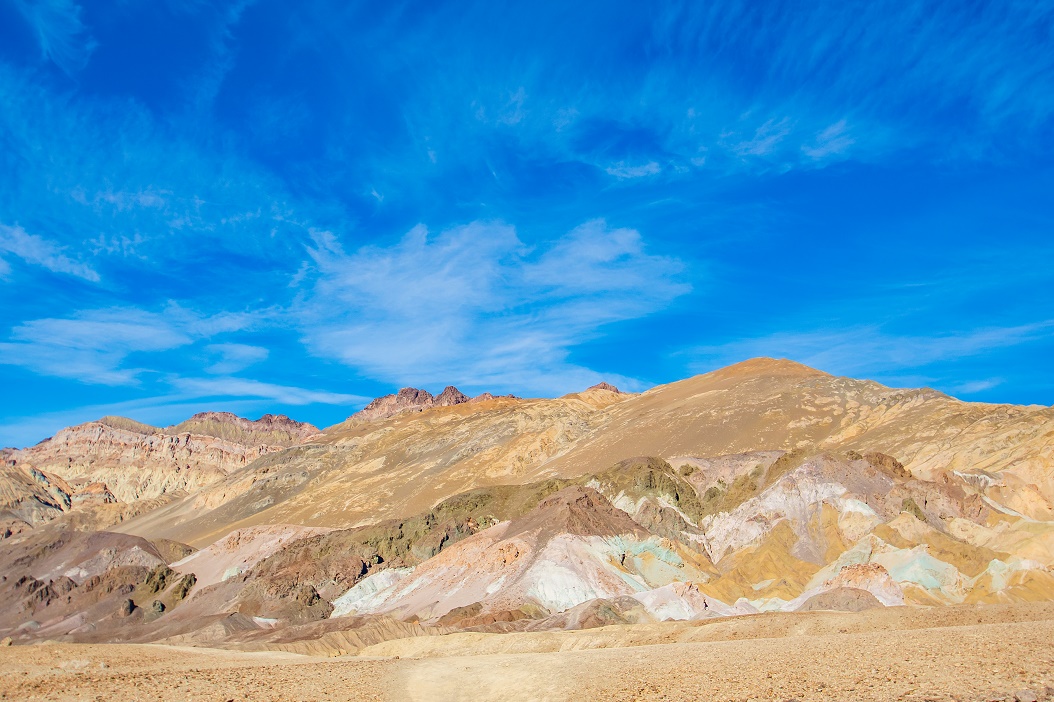 The colors of the rocks are caused by the oxidation of different metals. Iron compounds produce red, pink and yellow while the decomposition of tuff derived mica produces green and magnesium produces the purples. Seeing this unique feature it was easy to understand how it got the name Artist's Palette.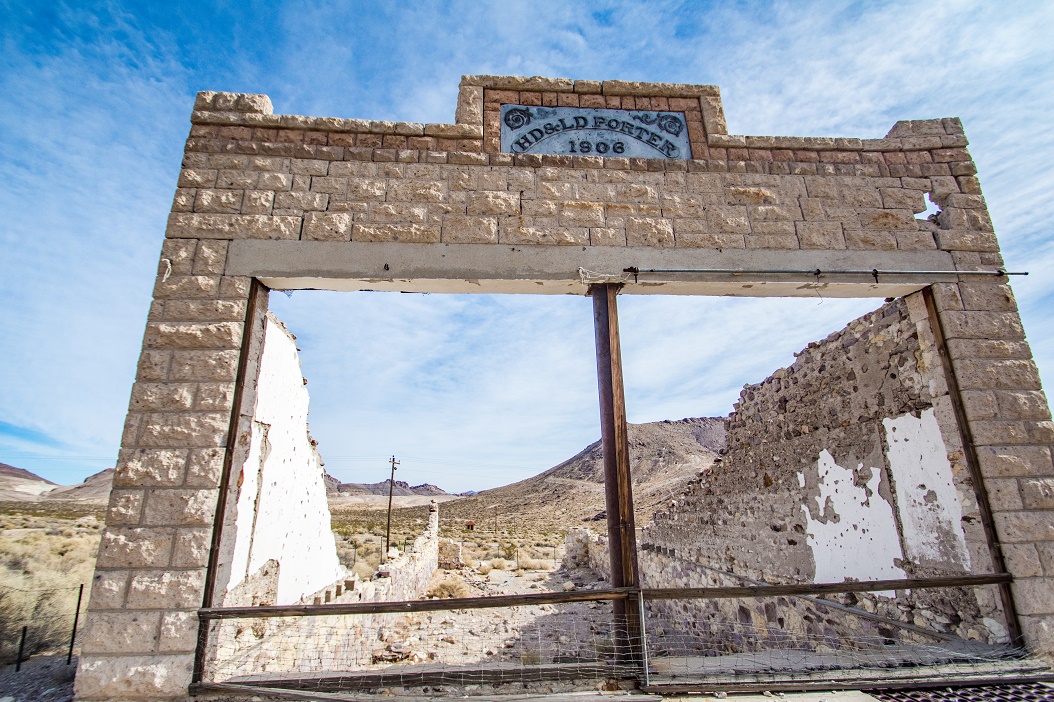 The remains of several ghost towns can also be found and we wandered around Rhyolite Ghost Town.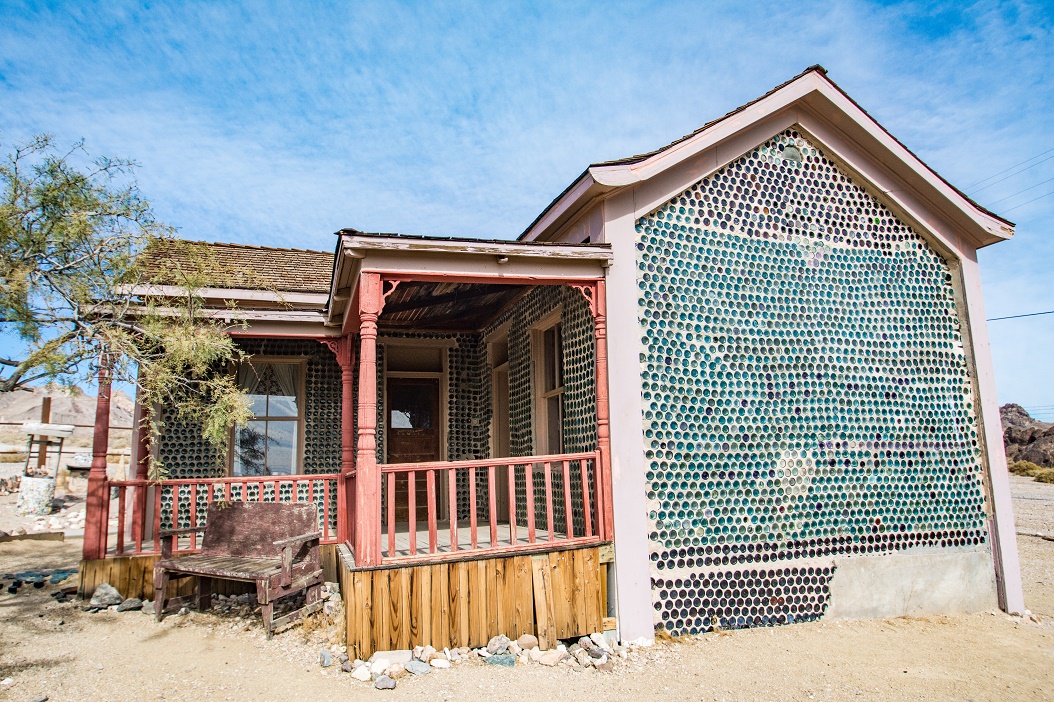 Near to there one can also view the Tom Kelly Bottle House.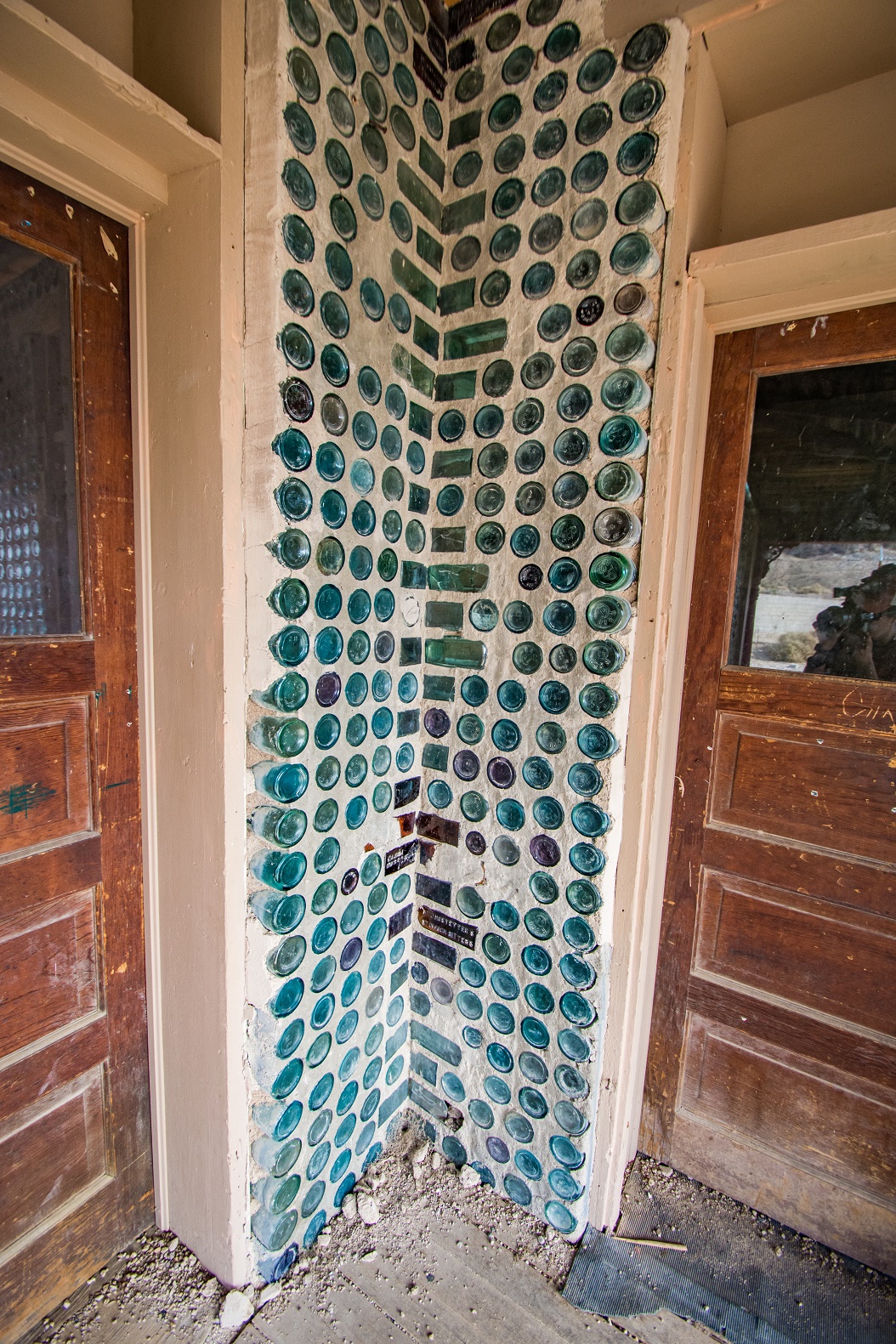 The whole building used glass bottles for the walls.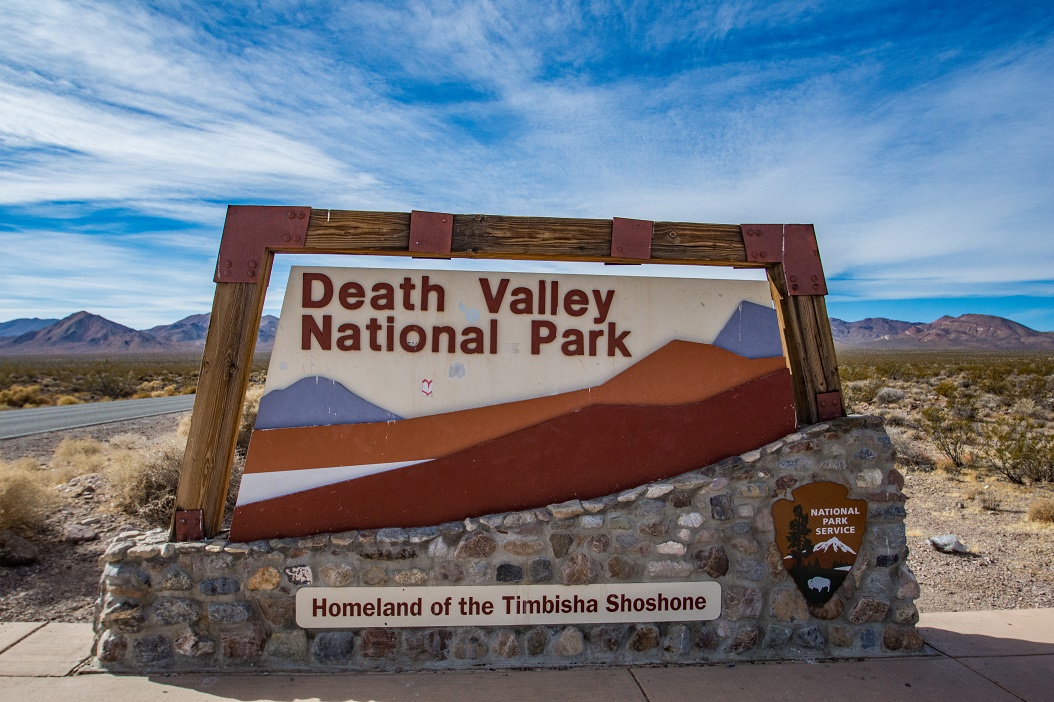 The local people of the land are the Timbisha Shoshone who maintain their native home here. If you are interested, there was this piece printed in The New Yorker November 2016 about some of our current government's impact on national parks and this tribe.
Death Valley is a massive park and driving around is just one of the ways to absorb the beauty.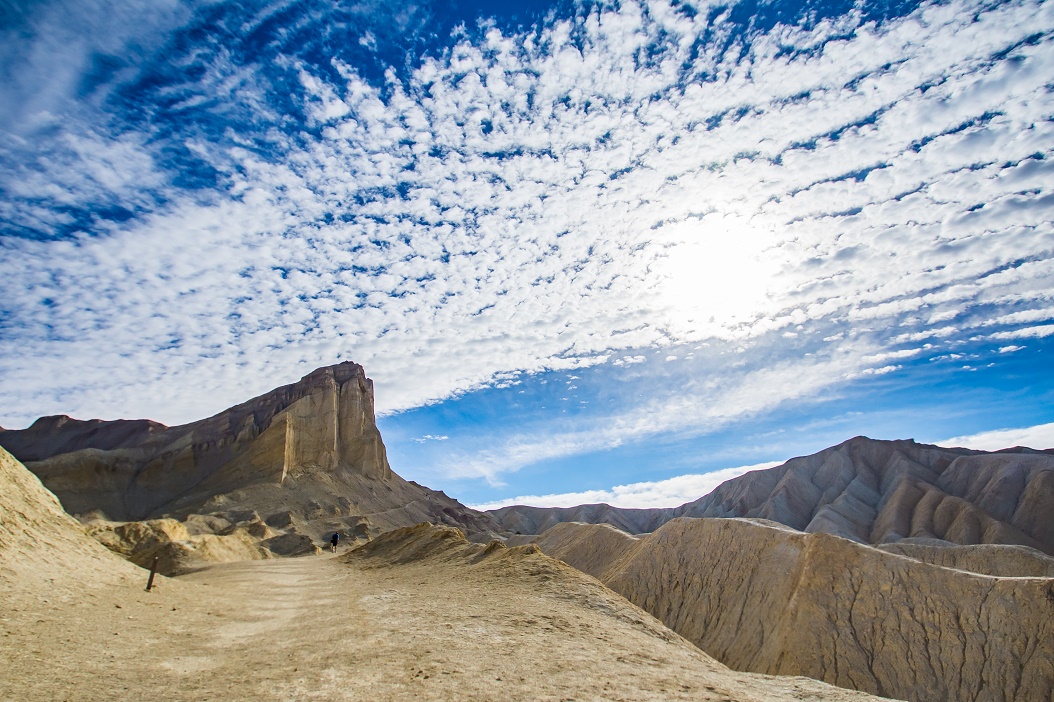 For the well prepared, plenty of hikes are there to delight. Can you see Chris' shadow cast figure hiking ahead of me there? (Hint: if you look at the tallest peak in this photo and draw a line down, he's right there.)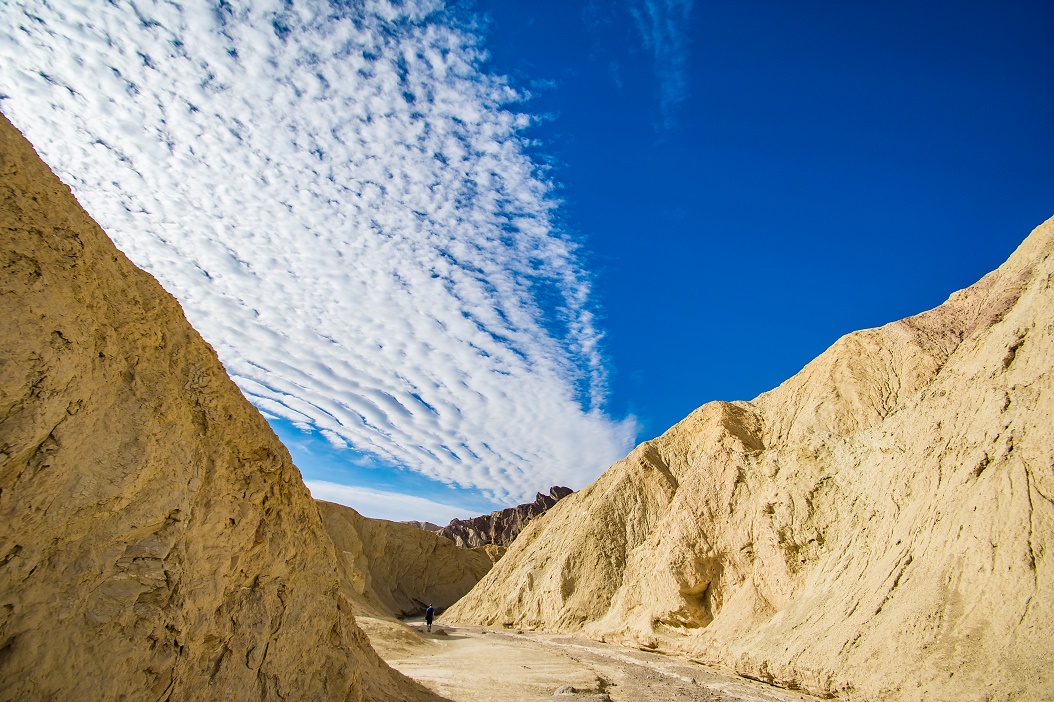 This photo you can see him a littler easier as we wound our way through canyons.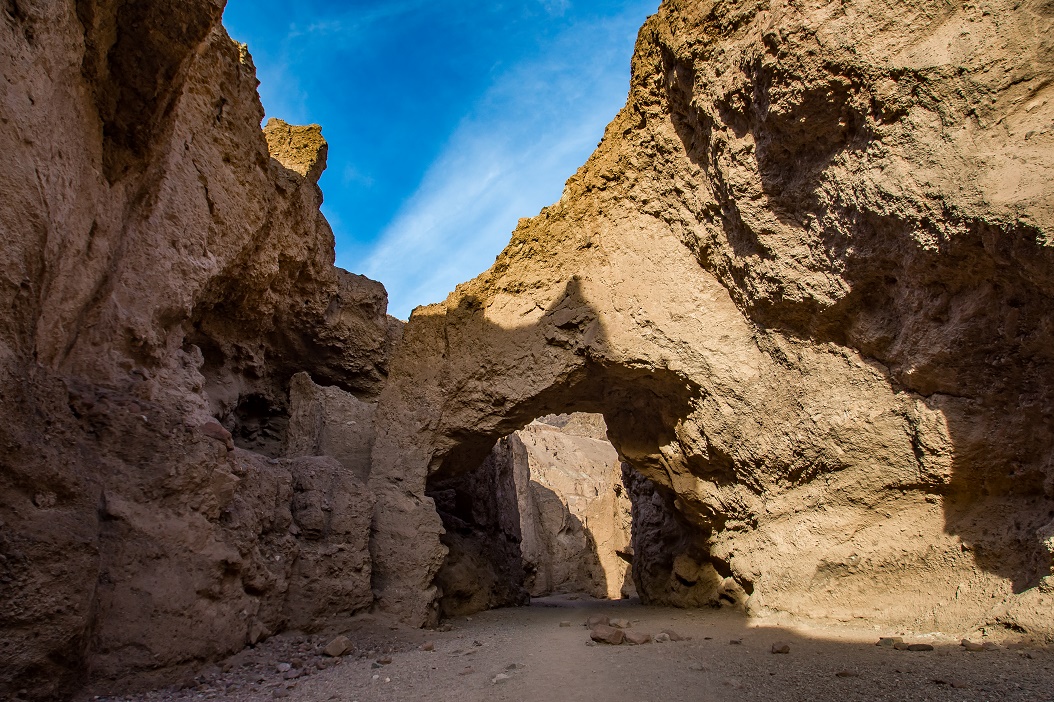 Impressively big, Natural Bridge Canyon was a short walk from the parking lot. The way sun goes, this canyon is mostly shady in the afternoon so this is a good hike to do mid-day if you need to.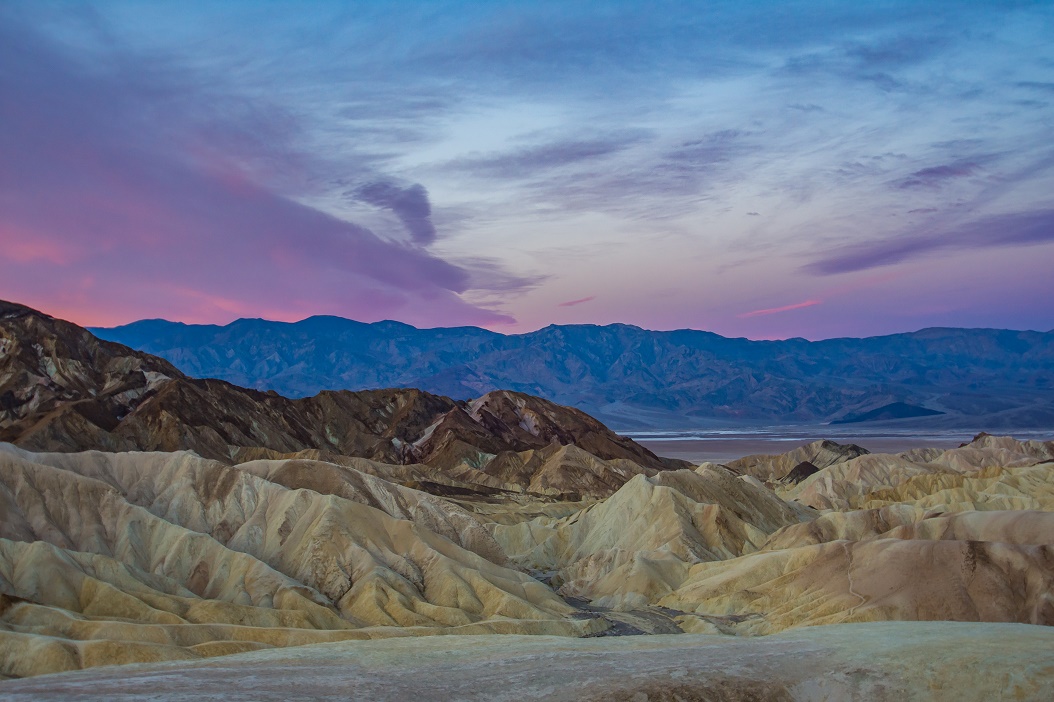 The rest of the time we caught the sunsets…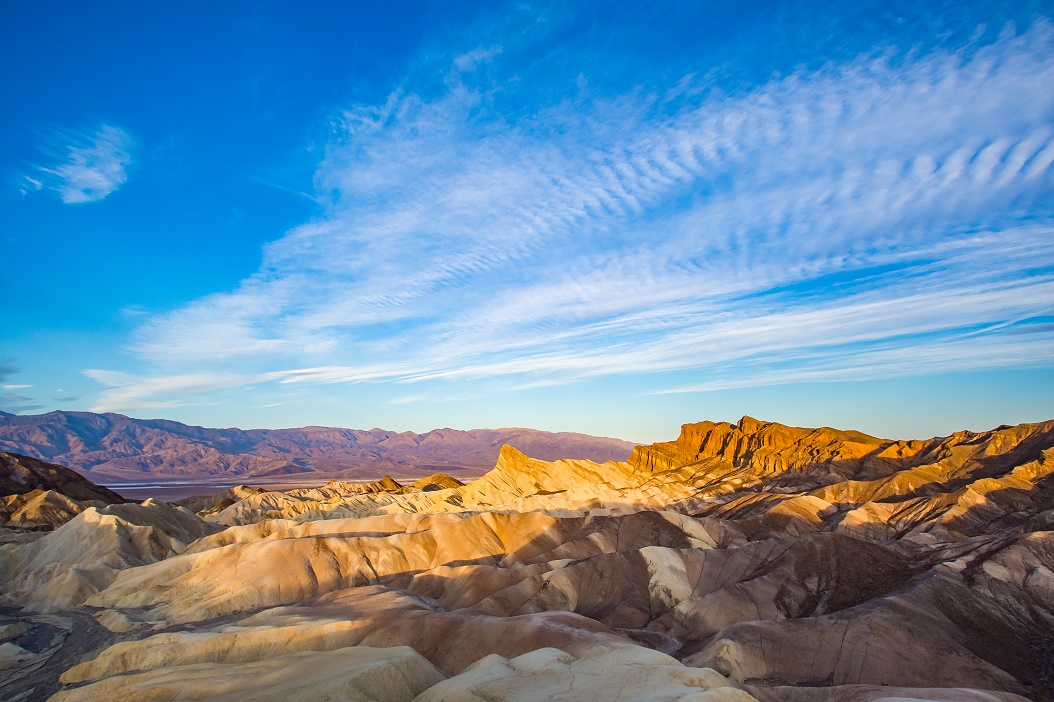 …and sunrises.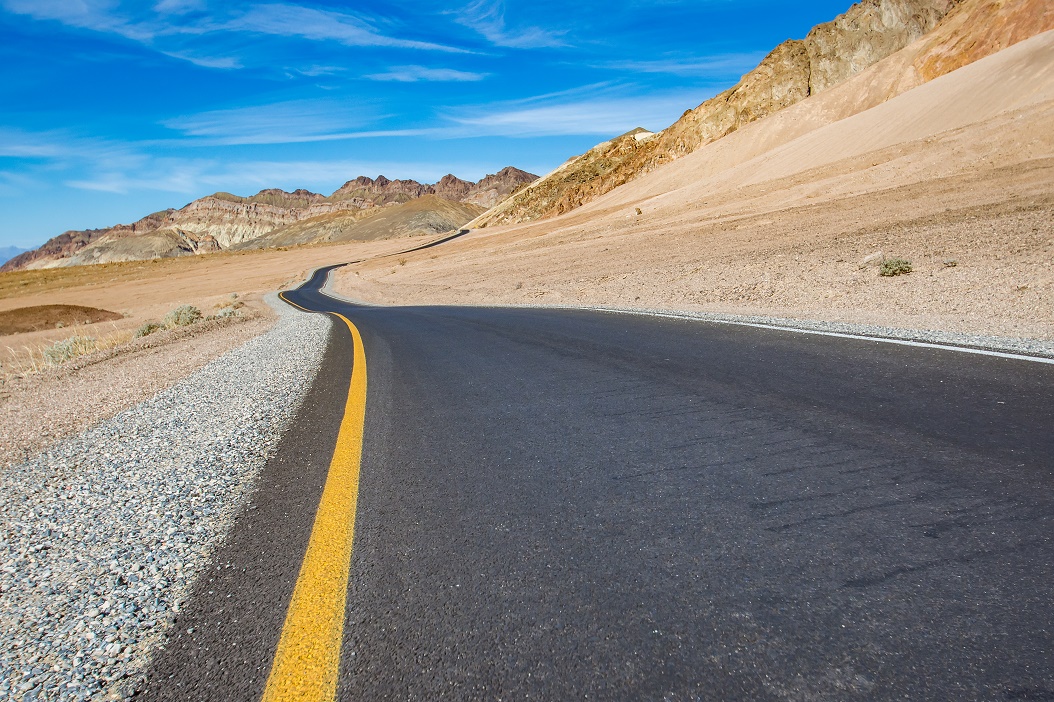 As we traveled these roads…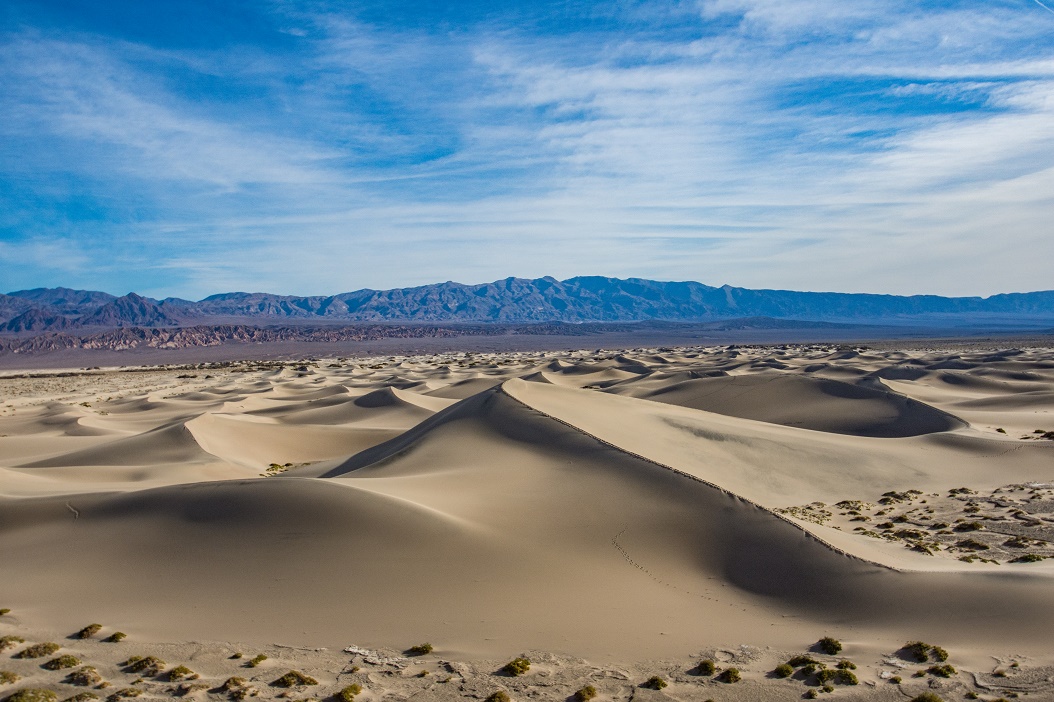 …traversed sand dunes…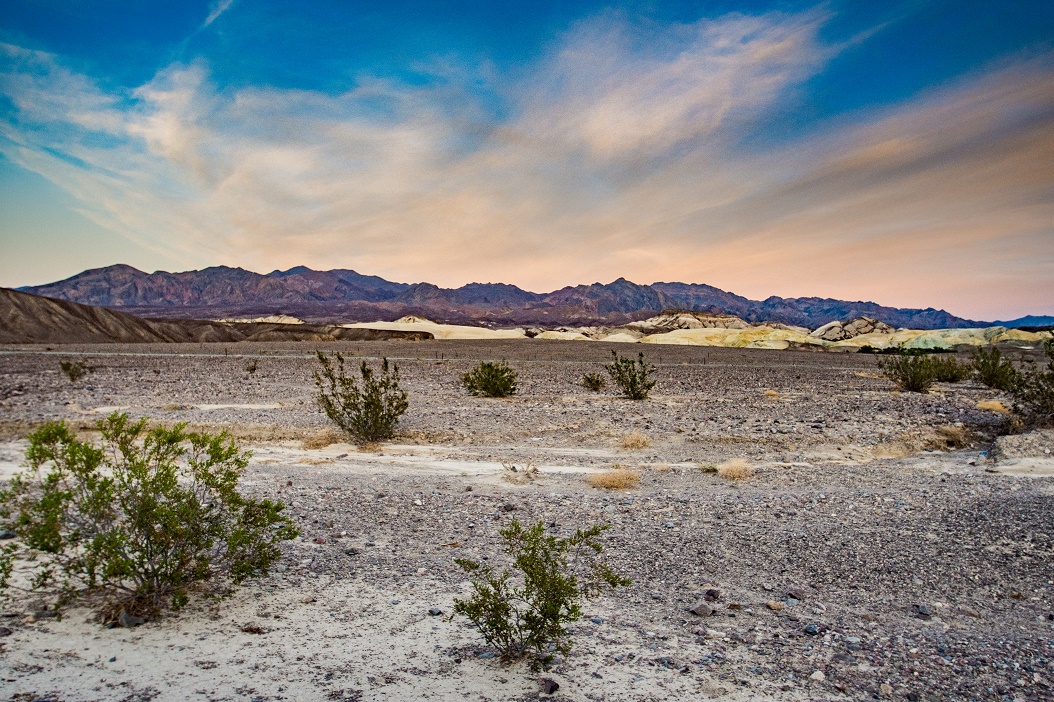 …we found Death Valley to be a place of outstanding beauty.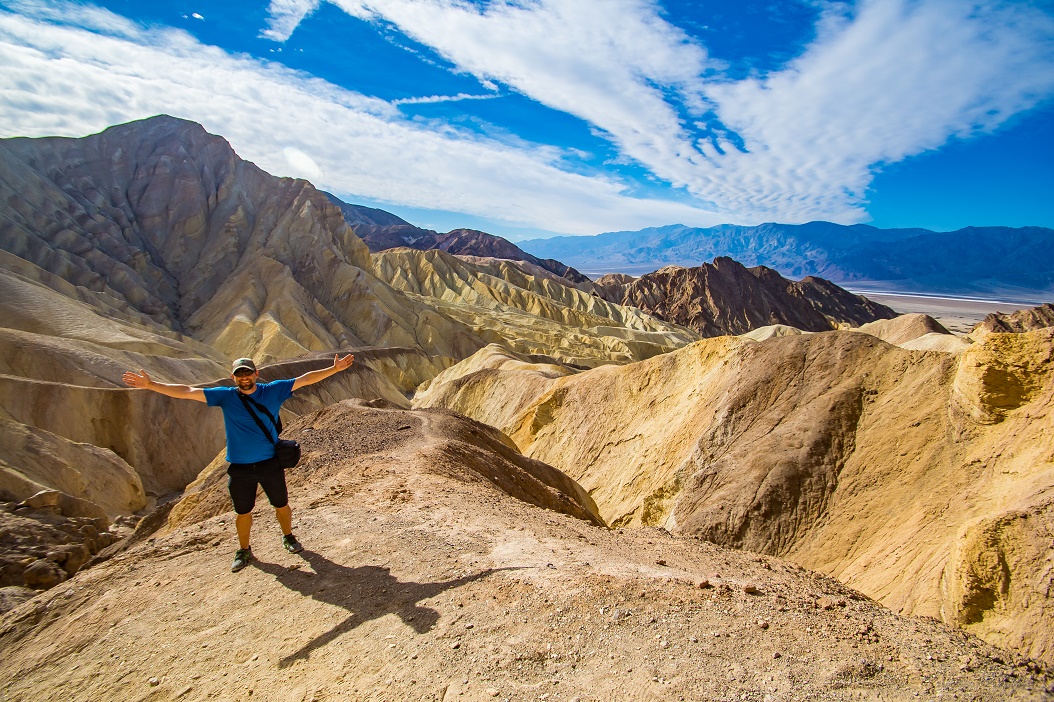 Oh boy! Chris hopes you had this much fun coming on this photo journey with us.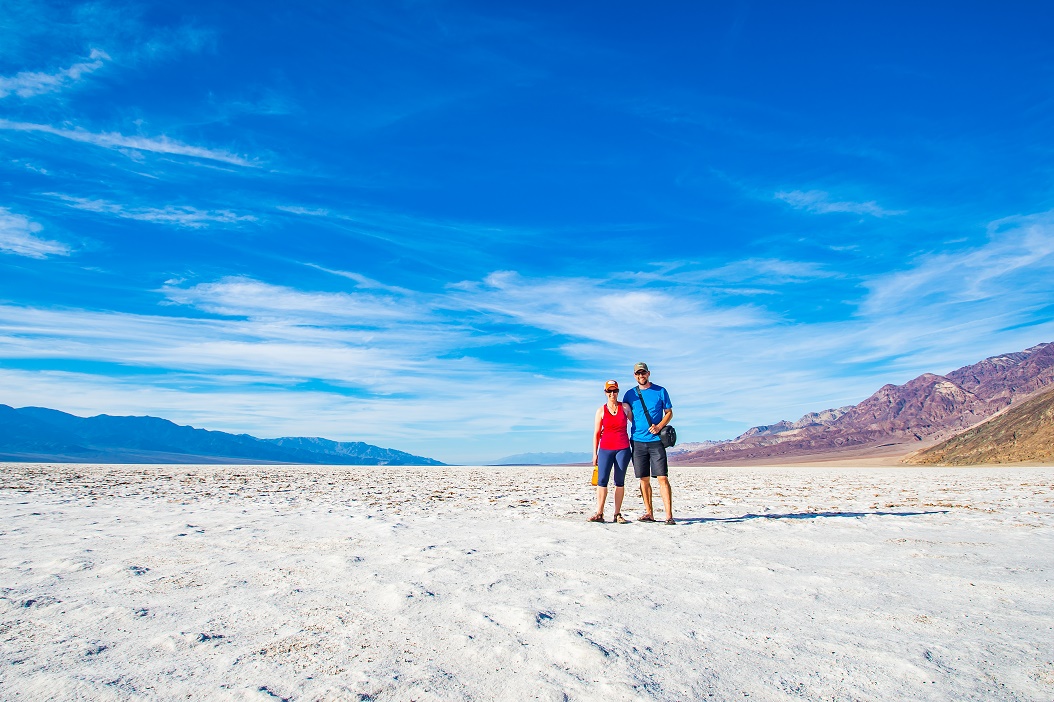 I hope you enjoyed this tour through Death Valley and should it be on your own personal wish list to get there yourself, I hope you attain that goal. If you do go, tag in your photos and tell us all about! Sharing the journey is half the fun of travel and thank you so much for all sharing ours. Now…if you'll excuse me, I am awfully parched and I must go drink some water after all that. 😉 😉 😉
***
If you go:
Check out Death Valley's official park page here. Road closures, flash flooding and extremes of many kinds are 100% for real risks in this remote park. Make sure you check all the conditions and ask for any important safety and road information before going on any ambitious hikes or drives.
There are several campgrounds throughout the park. Distances can be far so you may want to stay in a couple different areas. We stayed one night at Emigrant Camp which was free and for tents only. We stayed two nights at the concession run Furnace Creek Ranch near by the visitors center. It was $21 and included fairly decent wifi and use of the shower and pool (which we did not have time to use.) Just know not all the campsites have a picnic table.
Always prepare for the unexpected. I can't stress this enough. You are in one of the hottest places on earth! Always carry more water, more food, more first aid, more anything that you might need in case for any reason your car breaks down or you get stranded. Yes, a lot of people do visit Death Valley every year, but that doesn't mean that you still won't find yourself in low traffic areas. Be prepared to take care of yourself should anything unexpected happen.
This post highlights some of our absolute favorite travel gear we used on the trip.
A Photo Journey Through Theodore Roosevelt National Park  is another post we wrote if you would like to go on another photo journey!
***