If someone asked you where are rhinos found, probably your first answer would be, "Africa!" While that is a correct answer, but there are also a few other places in the world where rhinos are found.
It's no secret that the threat of extinction is very real for rhinos. Poaching is a huge issue as the demand of rhino horn continues to persist. For an animal that the majority of people can identify and love, it's also interesting how many people only think of rhinos living in Africa.
During our time in Nepal we were so lucky and saw over a dozen rhinos. As we were posting our photos it brought up a lot of questions about this ancient animal. A lot of views assumed we were back in Africa. So let's take a look and find out if rhinos do really live in Nepal.
Do rhinos live in Nepal?
Yes. Rhinos live in India and Nepal as well as Africa, Malaysia and Indonesia.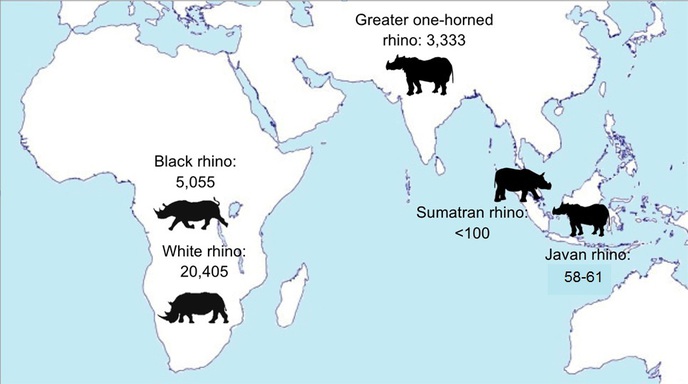 Are you kidding with me?
No. They really do live in Nepal and India. Here is a photo of a wild rhino in Nepal.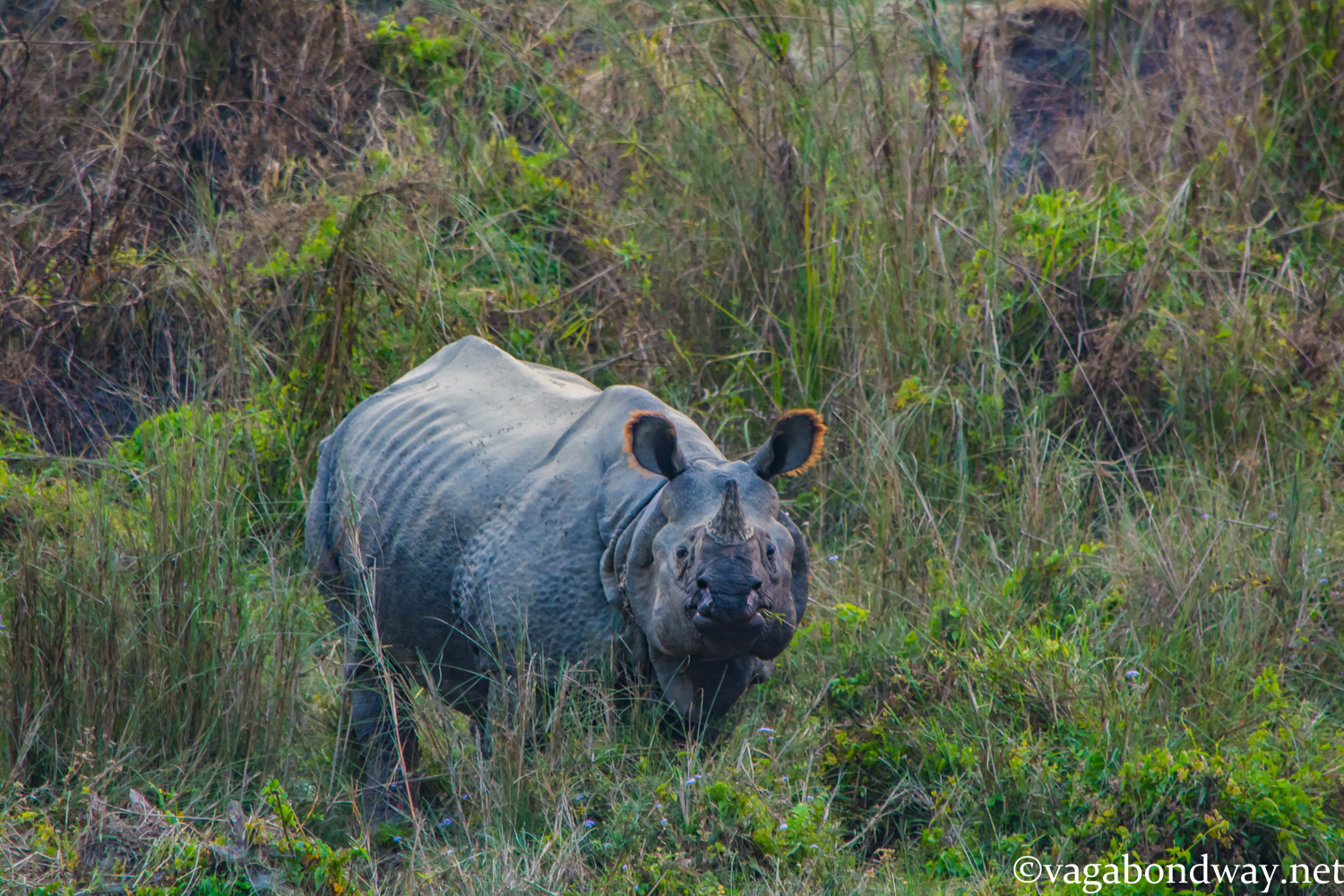 What species of rhino is it?
This rhino is the Asian greater one horned rhino. In Africa we saw the white rhino and the black rhino. In the photo below you can see how much more armored the Asian rhino looks.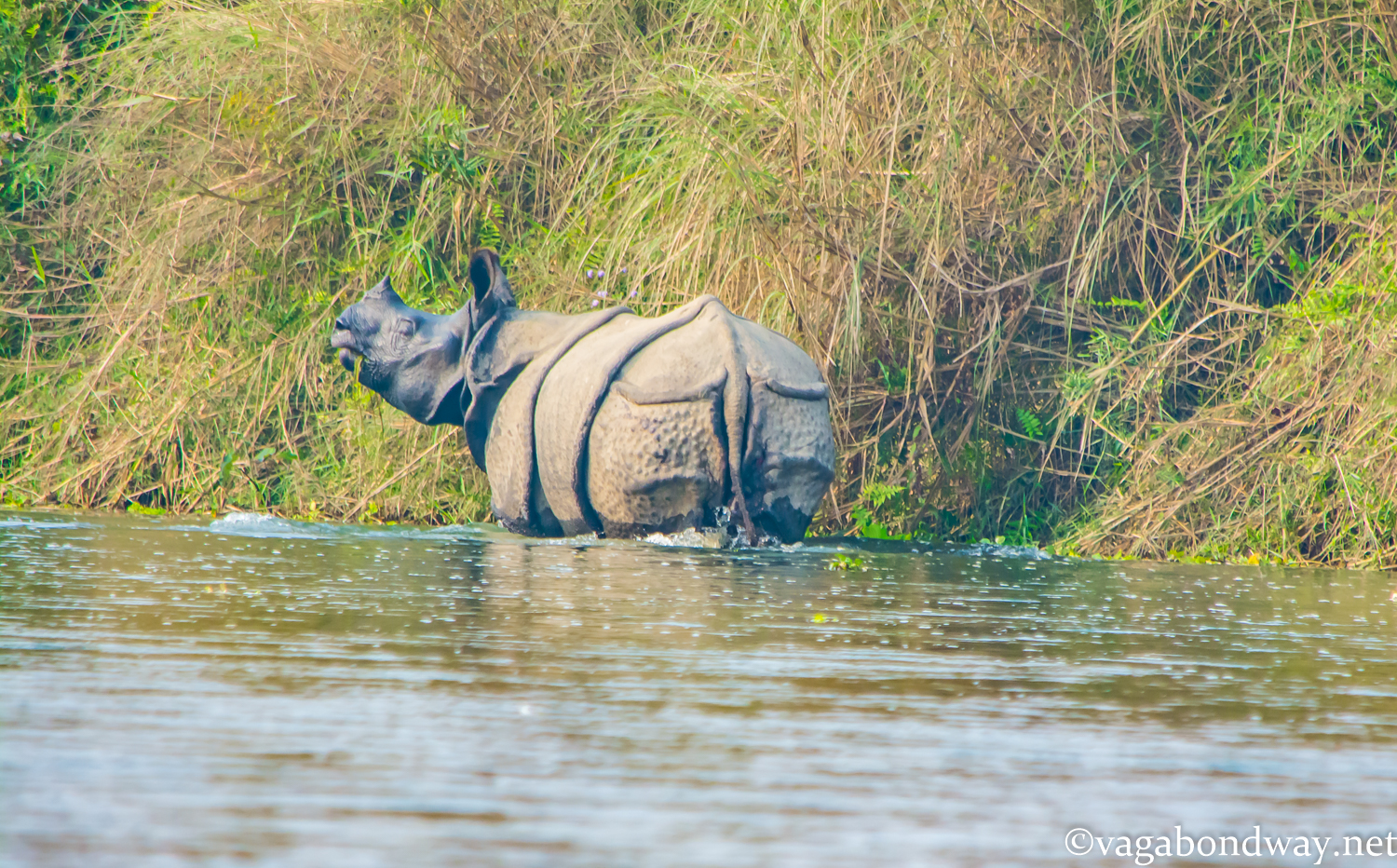 How many species of rhino are there in the world?
World wide there are five species of rhino: white, black, greater one-horned, Sumatran and Java. You can check out this article by World Wildlife Fund if you would like more info.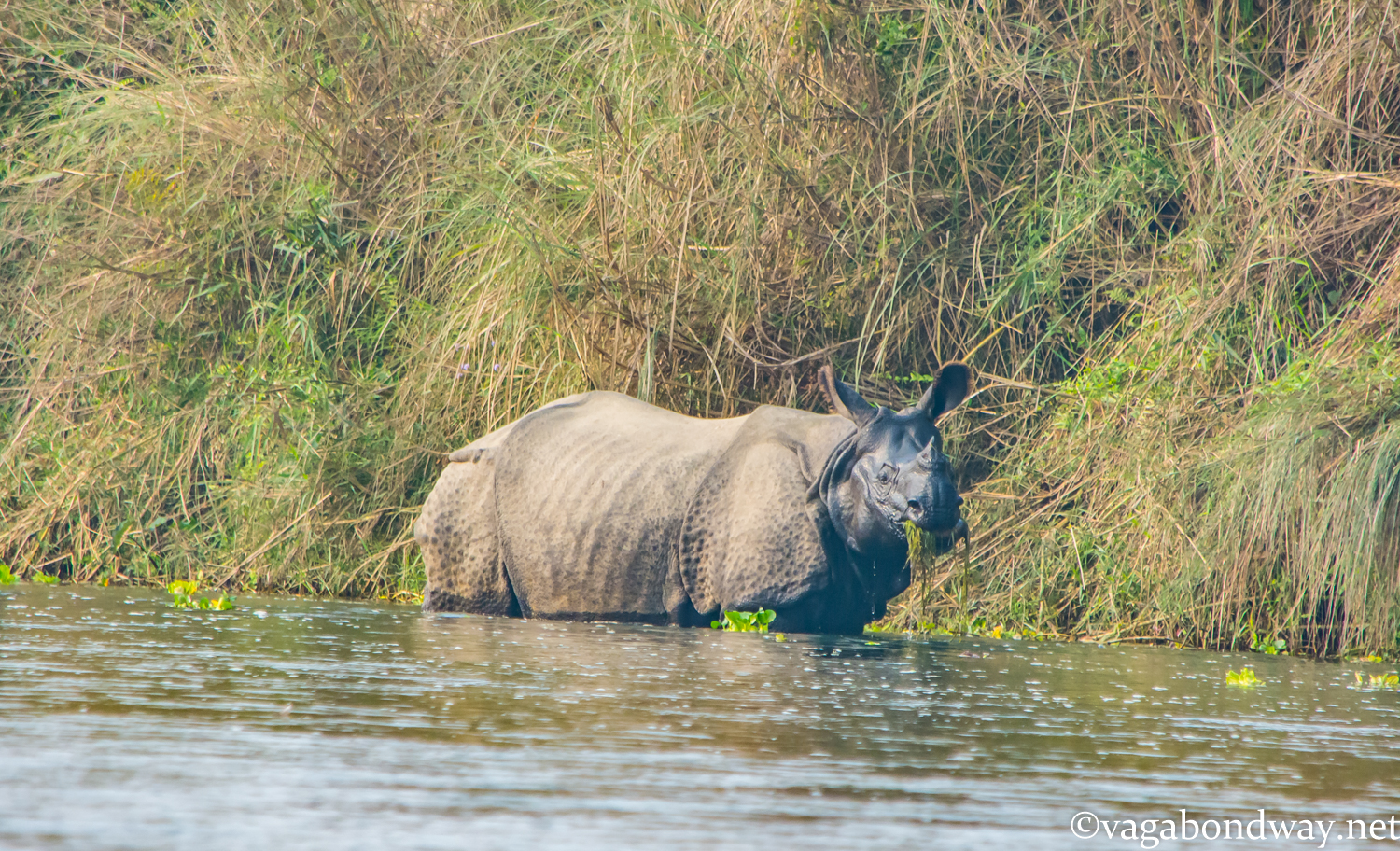 Where did we see rhinos?
We saw rhinos both in Chitwan National Park and Bardia National Park in Nepal. Our best sightings were in Chitwan. We were especially pumped to get this video below of two male rhinos fighting! Listen closely at the end. The "loser" rhino runs off towards the left making a grunting noise while the "winning" rhino is on the right and makes a whistle like sound. So the winning rhino whistles! We loved it!
How many rhinos did we see?
One day alone we saw nine rhinos! We lost count of how many rhinos in total we saw. But I can say we spent three days hiking in Chitwan and four days hiking in Bardia and within that amount of time we saw at least 15 different rhinos.
But I thought Nepal was all about mountains. What other animals are there?
I know! I have to say I usually think of images of mountains and snow when I think of Nepal, but it really is a diverse country.
During our time we also saw sloth bears, gharial, deer, and lots and lots of birds.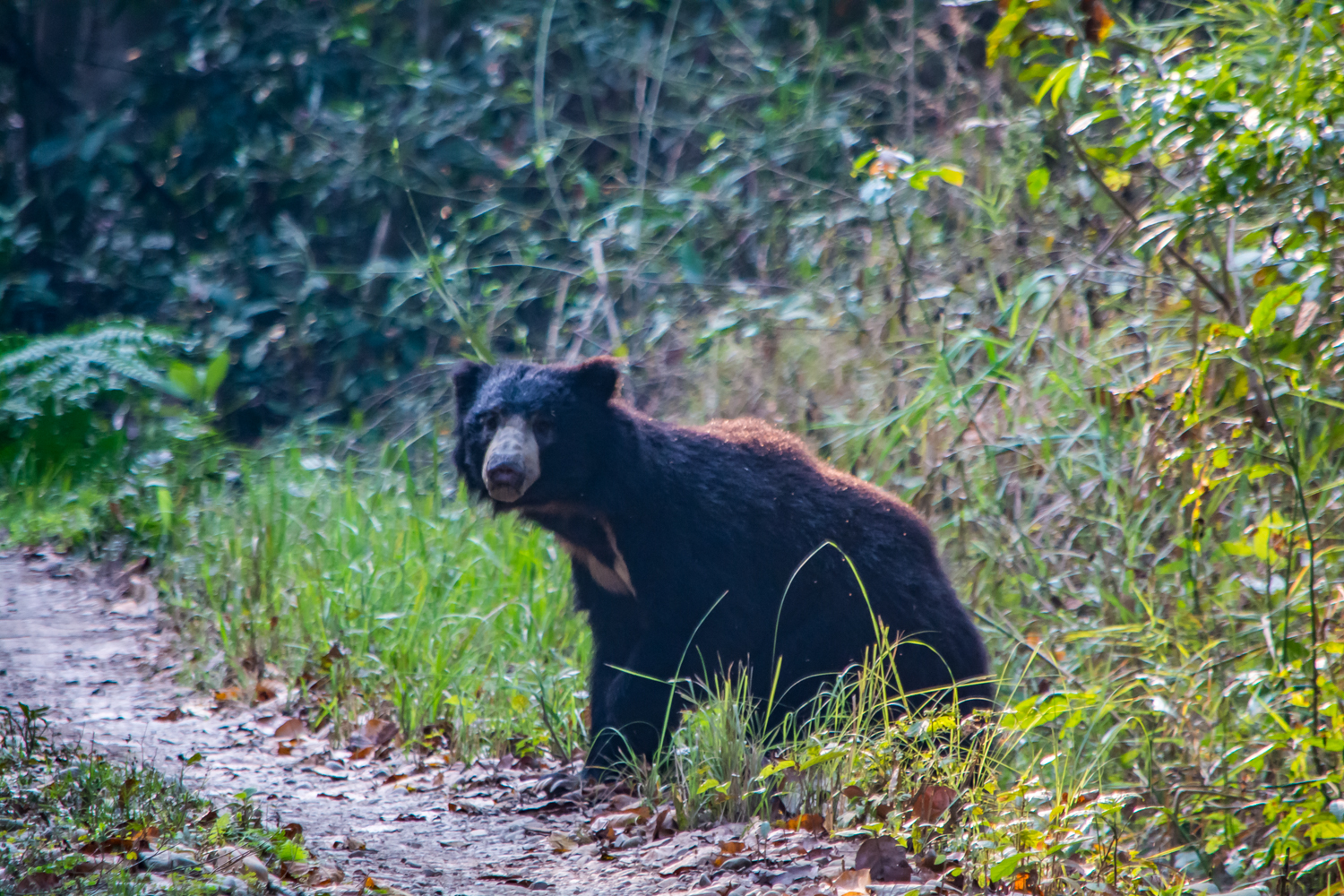 Whoa that's really cool. I had no idea.
I know! That's one of the reasons traveling is so cool! Nepal is home to some amazing animals and luckily they seem to be doing a fairly good job conserving wildlife at least in these two locations.
What were the safari's like in Nepal?
In Nepal you had the option of either walking safari or jeep safari. We opted to do all walking safari's (with the exception of one time a jeep was offered to us.)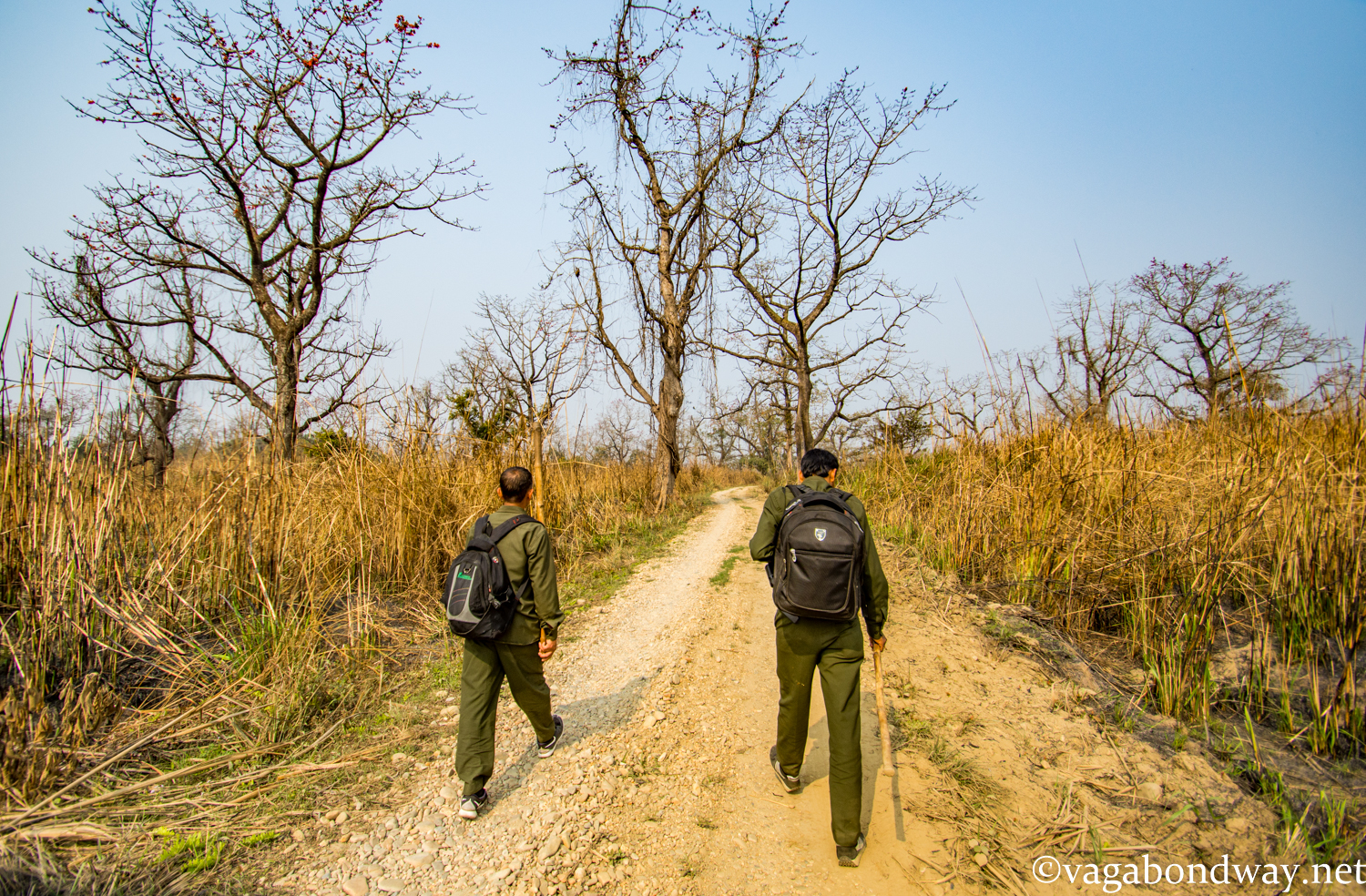 Walking safari's seemed to offer the best viewing opportunities, so we were really happy with went with that choice and definitely recommend walking if you can. Those were our guides above.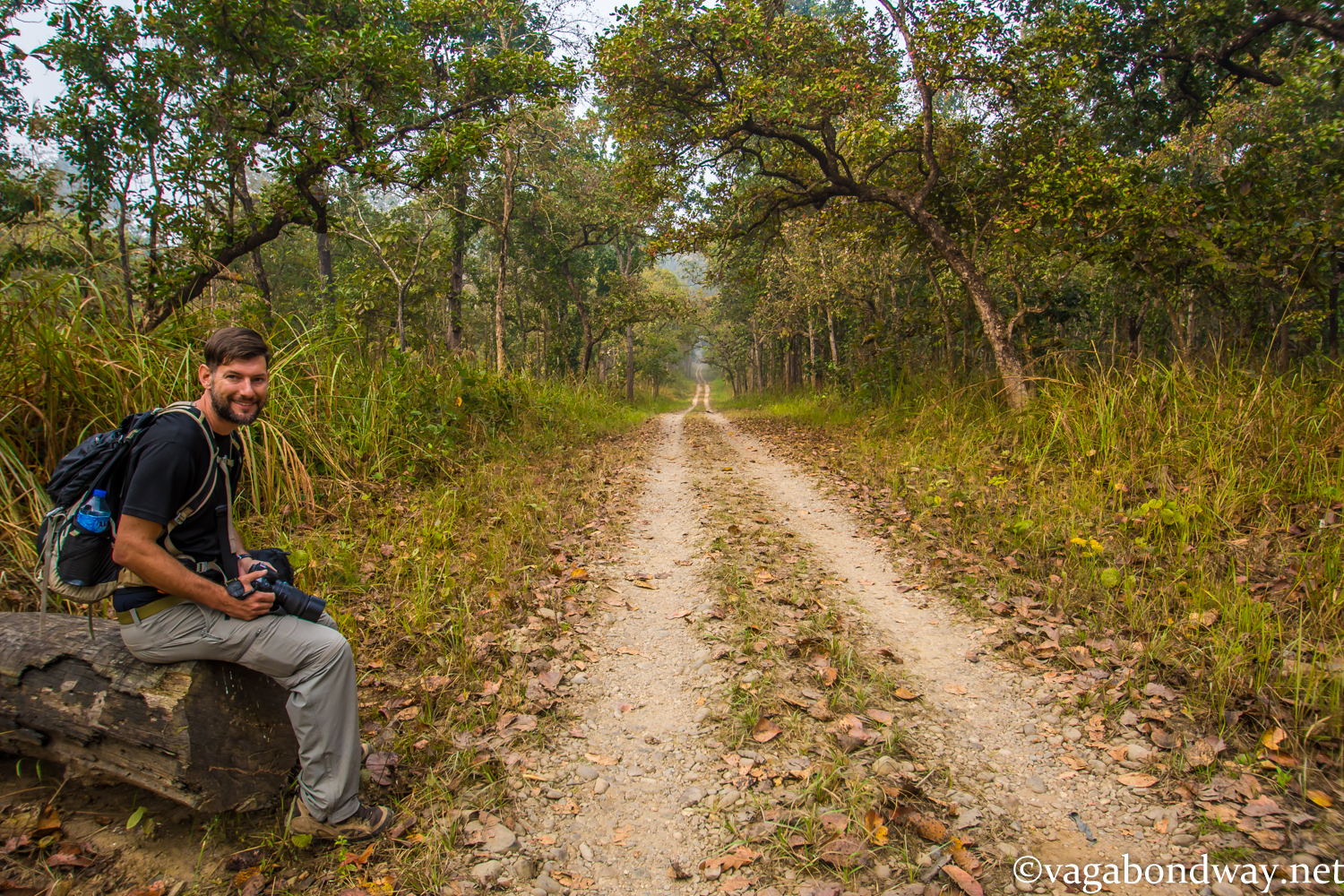 There's Chris looking for wildlife. The long stretches of road were great for having a long line of sight in the hopes of spotting something.
Do you think a sloth bear would eat me?
Haha, no, although sloth bears are known for being aggressive and can attack. All the sloth bears we saw were just doing their thing…eating termites, scratching their backs and doing sloth bear things. The short video below shows one itchy sloth bear standing up and rubbing his back against the tree and then scratching his foot.
Ok, but this trip must have been really hard to plan out, right?
No! It was incredibly easy. It's as simple as these 3 steps:
Book flight to Kathmandu
Book room for a few nights
Book bus to Chitwan
If you have already booked your accommodation ahead I think every lodge in Chitwin offers to pick you from the bus stop, which is only about 2 km from most places in town. If you haven't booked ahead, you will have plenty of people offering to take to you to their place.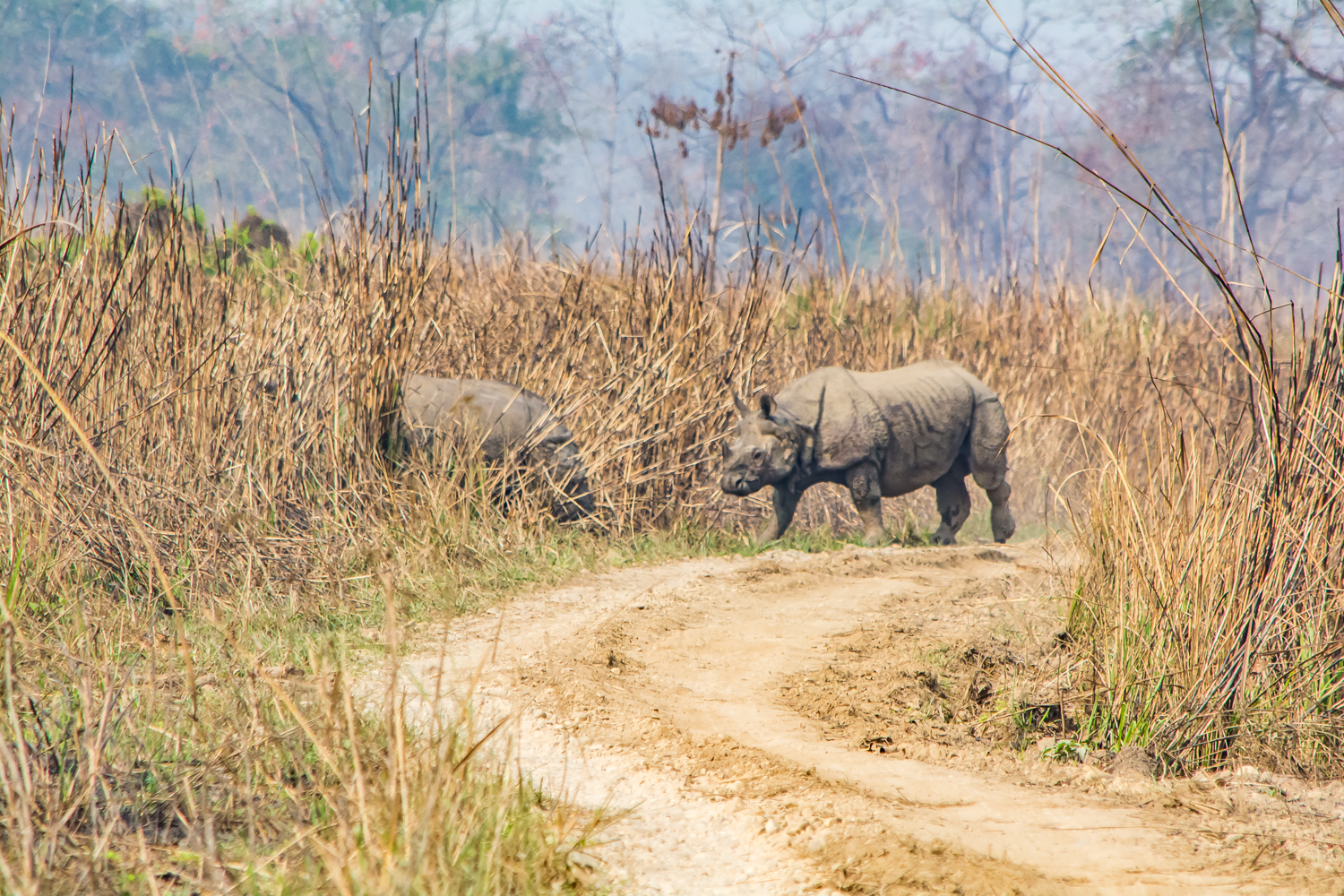 I want to help rhinos. What can I do?
Consume less
Recycle
Turn off lights (Seriously, any little bit of consumption reduction we each can do anywhere on the planet, benefits us all. What we do matters.)
Get kids pumped for wildlife
Consider donating to a worthy organization like World Wildlife Fund
Travel and support programs that encourage travel
You may also consider donating to a scholarship fund for international travel. The more any of us travel (and yes, some of it can be vicariously – thank you dear readers) but the more we learn and keep learning about this world, the more John Muir's quote makes sense:
Thank you so much for reading to find out if rhinos live in Nepal. I hope this post has helped increase your knowledge of wildlife and maybe given you a next destination place to put on your list! 😉 Happy Travels!
***
What else?
If you need more inspiration read this post.
If you want to know some of our favorite gear for these adventures read this post.
If you want to know some of our favorite electronics for these adventures read this post.
***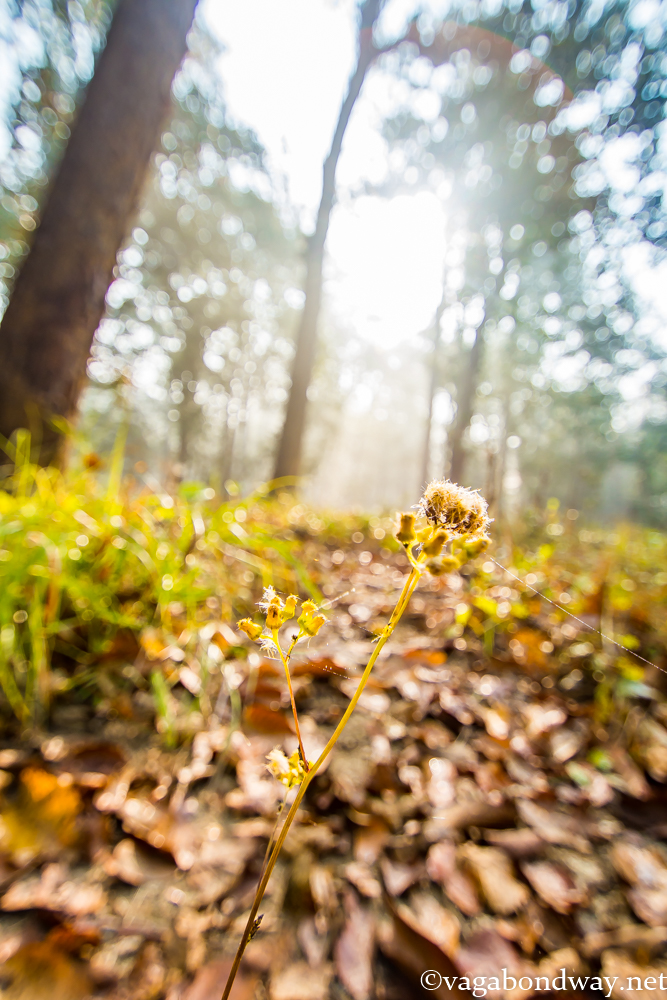 ***
Did you know rhinos lived in Nepal before reading this post?
***
If you go:
In Chitwan we stayed at Chitwan Gaida Lodge and absolutely loved it there! It was so dreamy with a nice garden, fast wifi, decent breakfast and a staff committed to wildlife conservation and community development. We extended as long as we could there.
In Kathmandu we stayed at Hotel Bright Star. For budget accommodation this place was great. Good wifi, clean and the family was just so nice. We would stay again without hesitation.
***
** Plan on traveling soon or making a purchase from Amazon? Please consider using the links on our resource page. At no cost difference to you we will earn a small commission to help keep this site running. Thank you so much for this thoughtful gesture.