When I visit one of the Seven Wonders of the Natural World that is also UNESCO World Heritage Site, I usually don't expect to have the place to myself. When we went to view Victoria Falls in Zimbabwe, Africa, that is almost exactly what happened.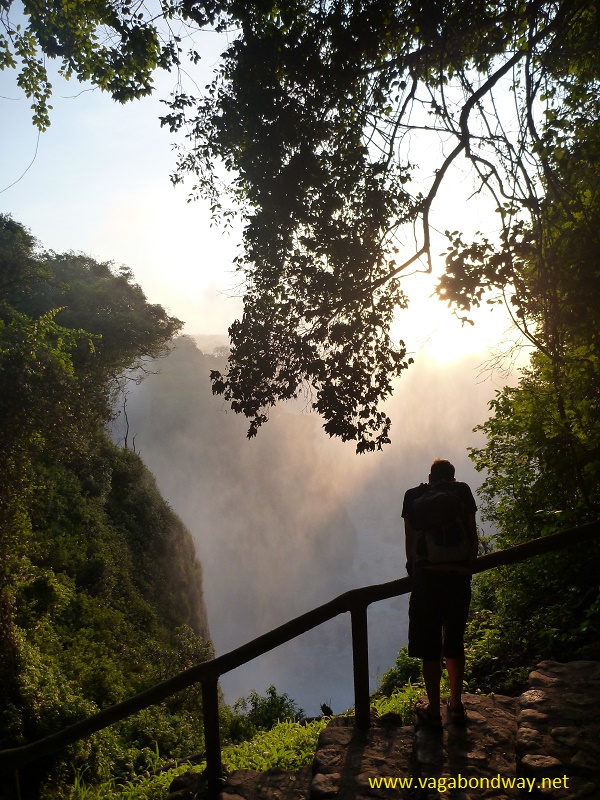 Victoria Falls borders both Zambia and Zimbabwe. We were staying on the Zimbabwe side and our friends and us decided to wake up early together in hopes of catching the sunrise at the falls.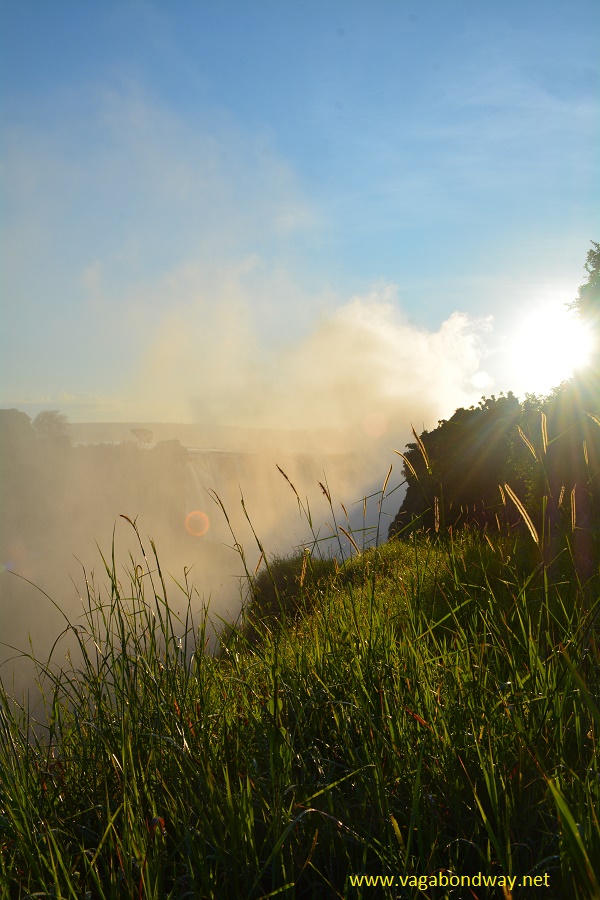 We were not disappointed. Part of the reason for Victoria Falls to be listed as UNESCO site reads as follows: this waterfall is among the most impressive to be found anywhere in the world. If one is judging the highest waterfall in the world on continually falling water, Victoria Falls is it.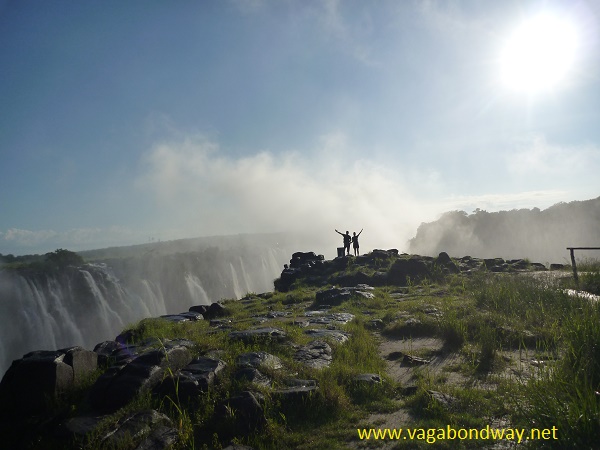 This view point staring down into the Batokda Gorge with no barriers was mesmerizing and a once in a life time experience. It's not often one can stand face to face with a force of nature like this without a dozen warning signs, chain link fences, barb wire, razor wire, etc., holding you back. There was a warning sign, and then the visitor was left to themselves to enjoy the vantage point using their own judgement to not fall off the cliff. And we had this spot for half an hour before any one else even came along!  How lucky was that!?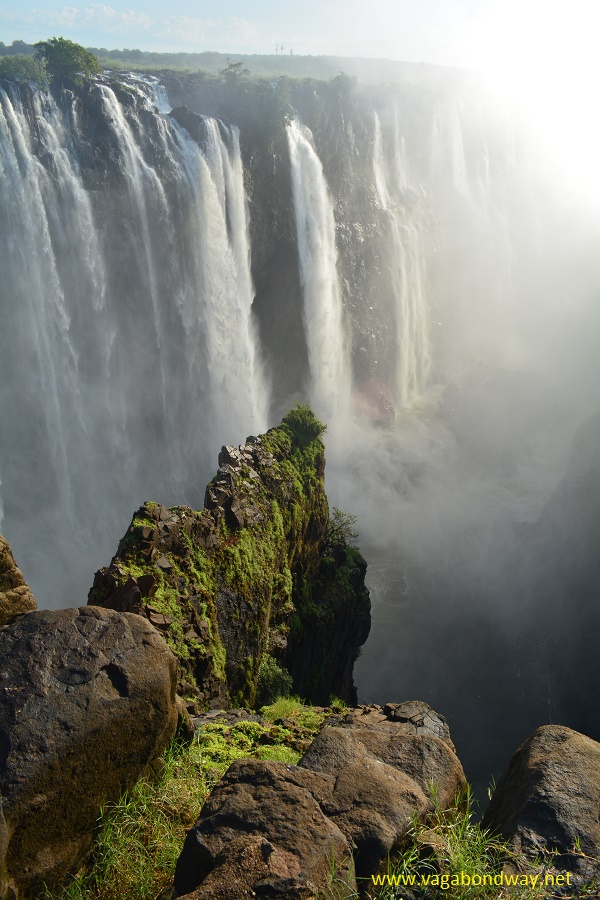 The morning light show was out of this world and we just kept thinking, where were all the people?! The average depth of the Zambezi River above the falls is 3-5 meters. Below the falls in the Batoka Gorge the water lever can fluctuate between 30-50 meters!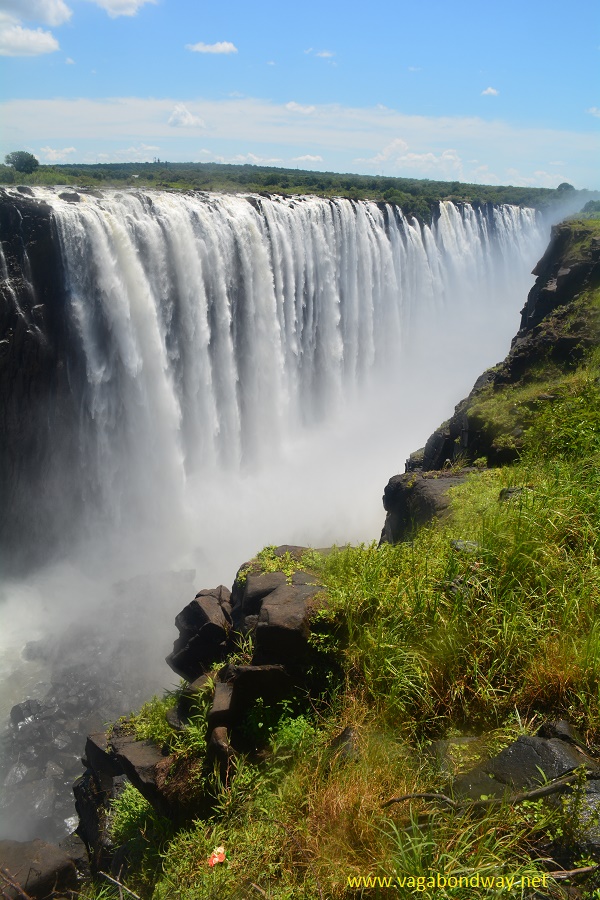 Our friends left and we decided to have a leisurely breakfast at the Rainforest Cafe with the biggest plates we have ever seen. You can see a picture of the plate here.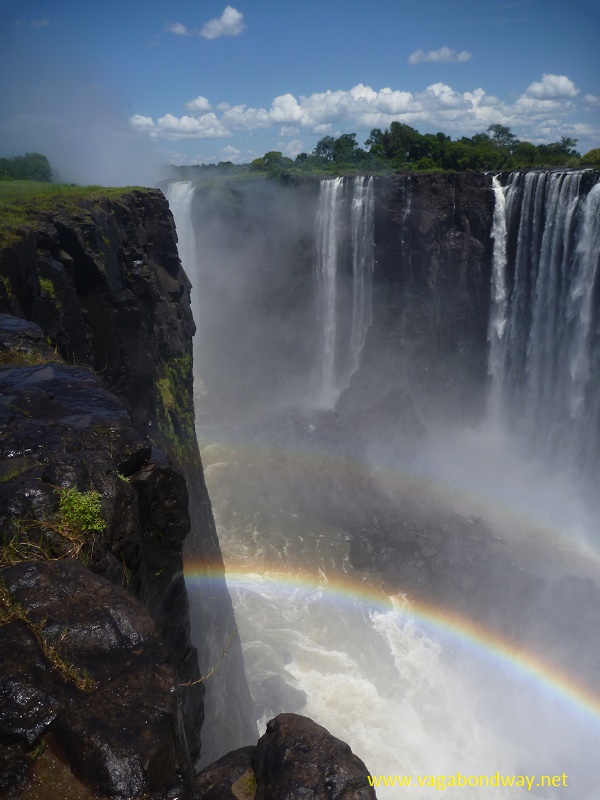 After breakfast we went to walk by the falls again. The whole atmosphere changed completely from the calm morning. Warmer air temperatures were pushing misty water up from the gorge. A lot of rainbows and double rainbows were glistening in the rays.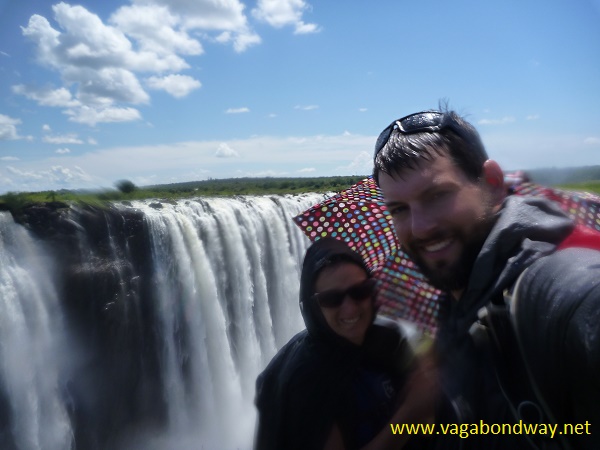 But boy was it wet! We had stood in this same exact spot a few hours ago with barely a drop of water on us.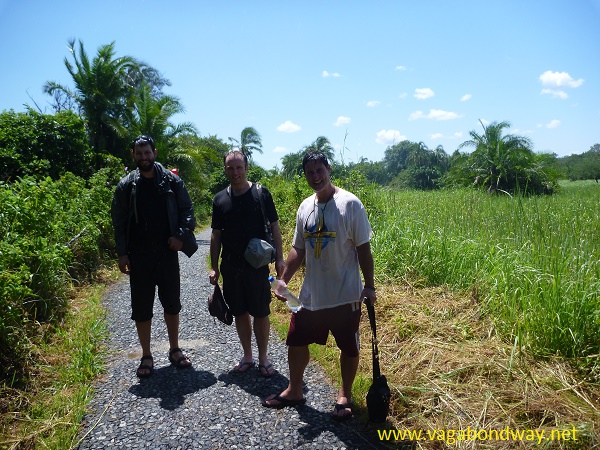 We crossed paths with two more of our friends and together got completely soaked.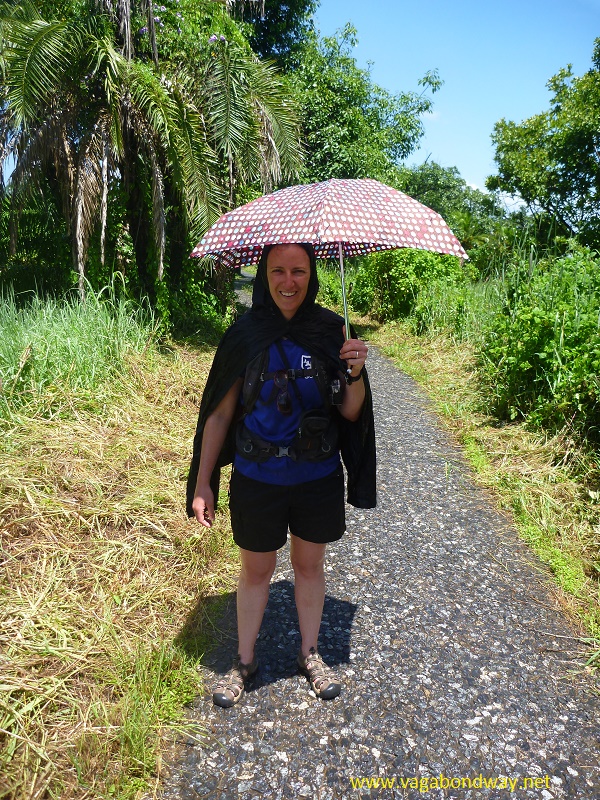 Except me. I was prepared for the mistiness. During the falls peak flow in April and May, the annual water consumption of New York City goes over the falls in just three and a half days! Crazy right!?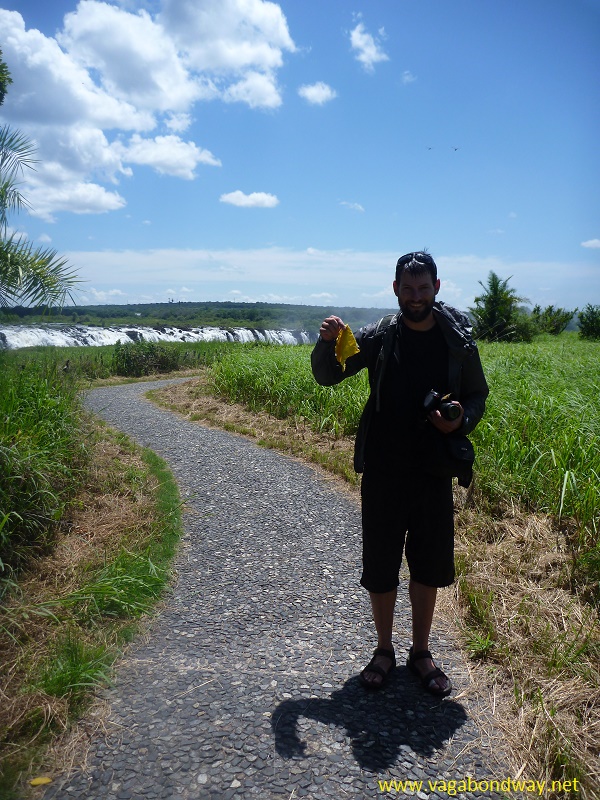 No matter how prepared though, we still had to go out into the sun and wave our lens cleaning cloth around a bunch to get it dry so we could keep cleaning our lenses.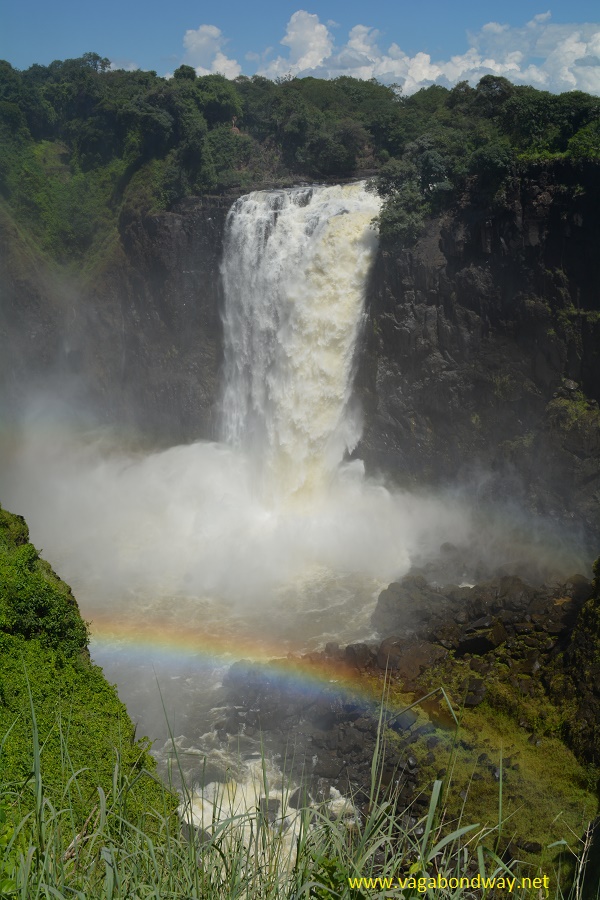 One thing I liked about Victoria Falls on the Zimbabwe side was we could, more or less, walk along the top and see how much the falls and gorge changed at each vantage point. From this photo above, one would keep walking to the right and keep going past fall after fall.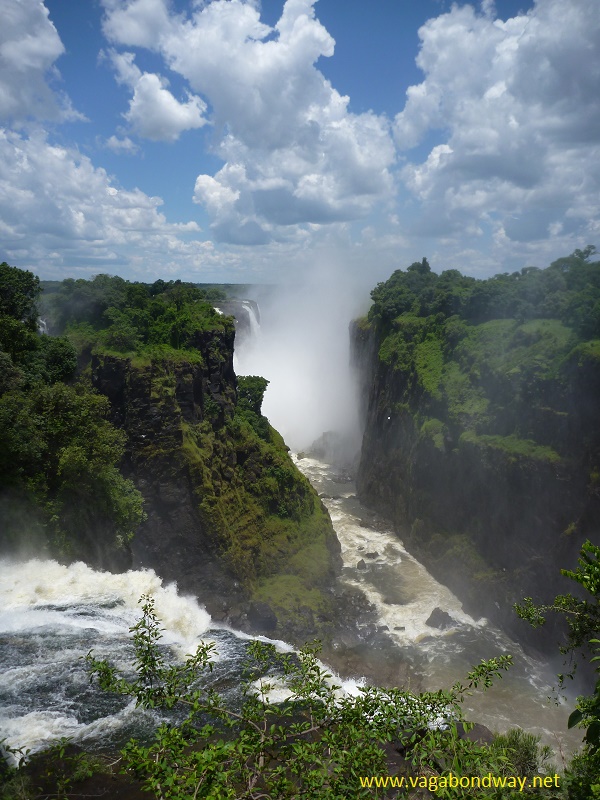 I walked away from Victoria Falls in awe of the beauty (of course), but more so I walked away in more awe that hardly any one was there. If there is one thing I learned from this Africa trip: people that have not yet been to Africa are scared of the continent. People that have been to Africa are in constant awe and wonder that not everyone is flocking to these amazing places. So if you've ever thought about how wonderful it would be to see Victoria Falls for yourself, book a ticket now! It's amazing. It's wonderful. It's awe inspiring and it's waiting for you.
*      *     *
If you go:
We stayed at Victoria Falls Rest Camp. It is conveniently located (you can walk to the falls), secure and had clean facilities.
Here's a link to the Seven Wonders of the Natural World and UNESCO listing for Victoria Falls.  If you are not familiar, UNESCO is specialized agency of the United Nations Educational, Scientific and Cultural Organization which helps to preserve and protect spectacular features all over the world.
We were so pleased to wake up early and be at the falls for 6 a.m. open time. The falls were significantly different from early morning and then walking around again around 11 a.m. We splurged a bit and went to breakfast the Rainforest Cafe (no actual link to restaurant, this link gives you a good idea about both these restaurants) but it was so worth it. Really nice breakfast and coffee. Perfect re-energizer after getting up early. Across the road from the campground, was also Shearwater Cafe. We got coffees there everyday and they had good, free wifi.
Lots of tour operators in town and an adrenaline junkie's paradise. Shop around for the best deal.
Town has pretty much everything you may need, although it's pleasantly small. There is a large craft market, and it can be a little pushy compared to what one might be used to. Don't get put off and miss going in the entrance by the rhino made out of recycled pop cans. There are some really nice displays inside. And that's where I traded that hat for a bag!