This is our second time visiting Indonesia. This island country nation with over 17,500 islands can take a while to explore. That is a lot of ground and water to cover and transportation costs can add up quick. The good news is once you are over to Asia, Bali is a great main transportation hub. It's easy to get flights in and out of Bali and usually for a good price. We usually pick about three areas to go. This time around we visited the Flores region where we lived on a boat for a few days and saw komodo dragons. We also found ourselves pleasantly stuck on Gili Trawangan Island off the coast of Lombok.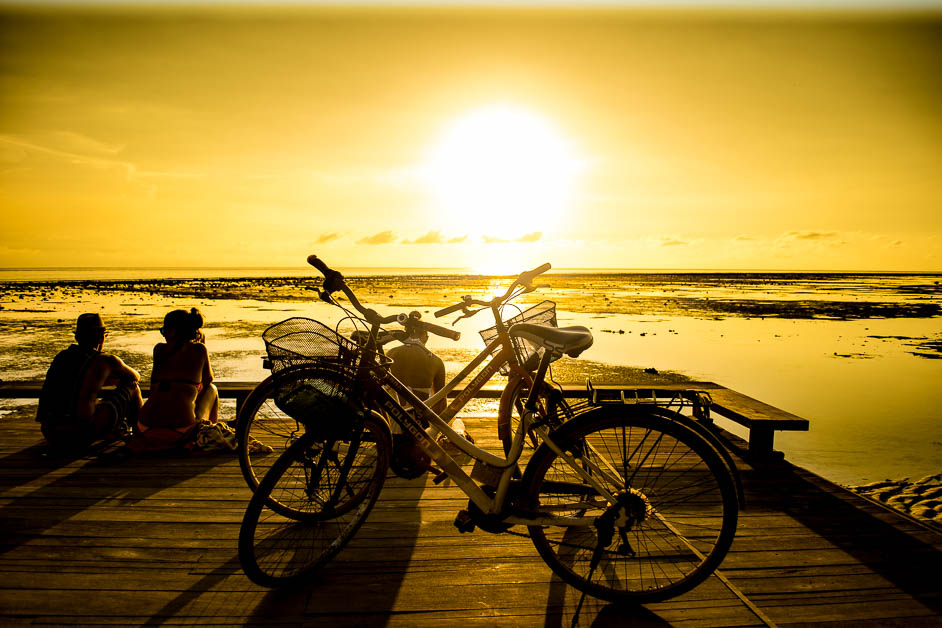 The Gili's, as they are referenced, are a combination of three small islands off of Lombok. A short 45 min slow ferry ride by wooden boat will bring you to where the red arrow is below.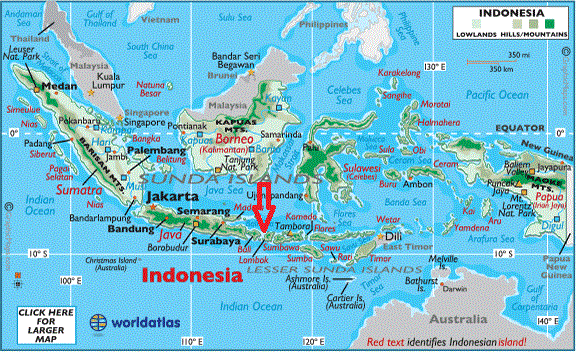 Lots of people go to the Gili's and we weren't sure how we'd like them. Turns out we liked them.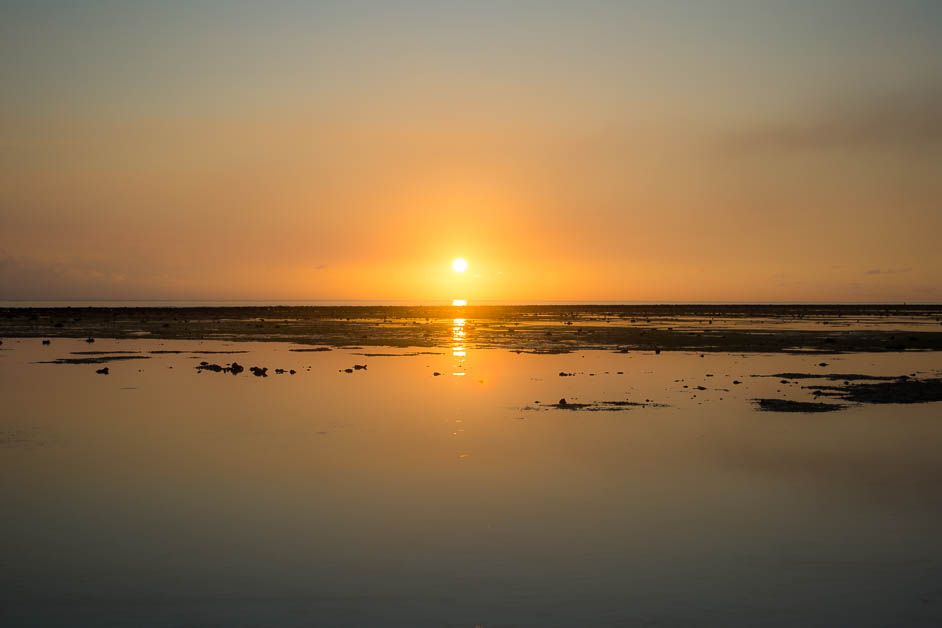 We went out to Gili Trawangan thinking we'd stay three nights. We ended up staying eight.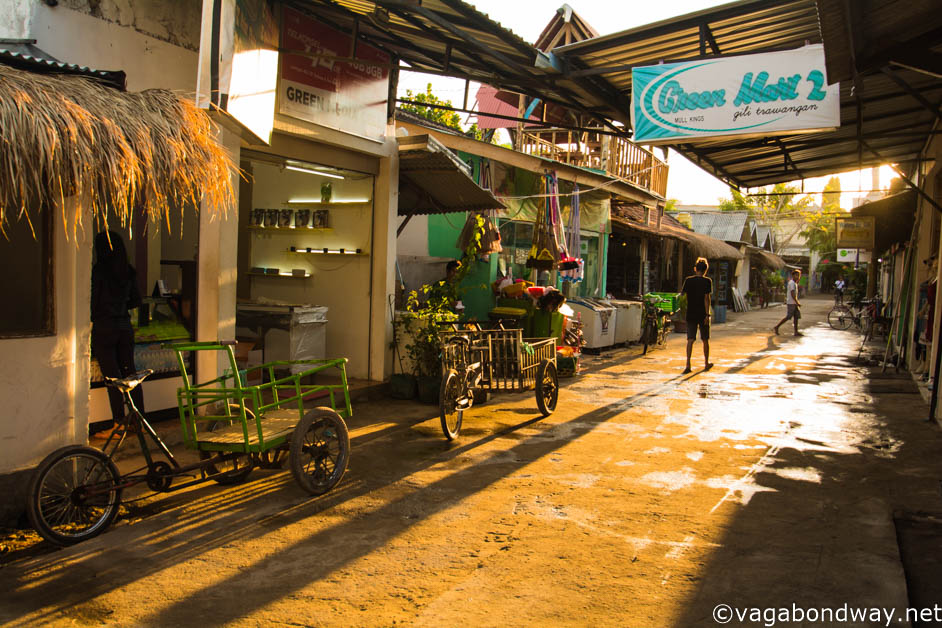 There is just something so inviting about living on an island. On the Gili's there's no cars. Just walking, bicycles and horse carts.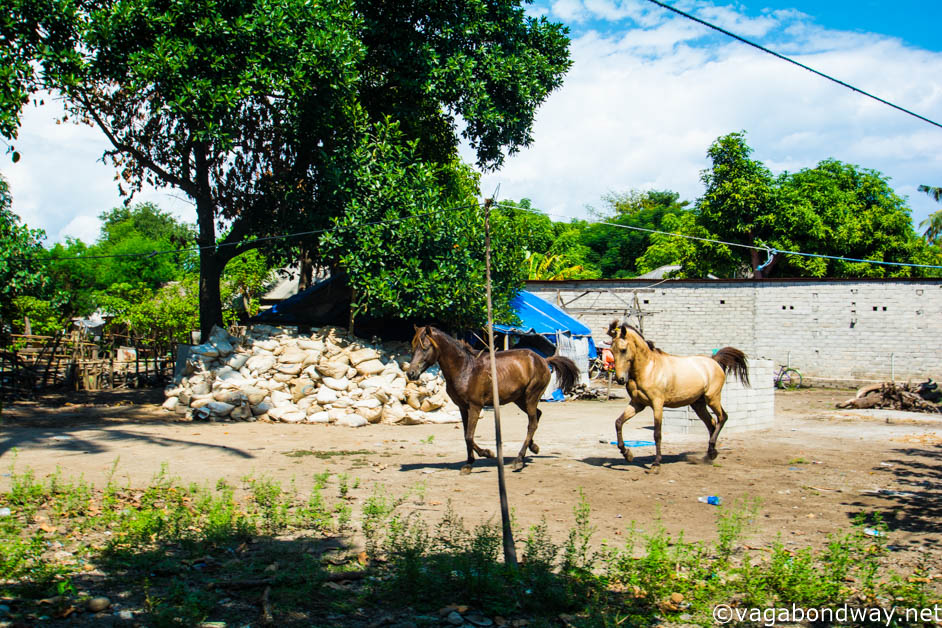 These horses got loose and were having a run around the streets. Like anywhere in the world, some of the horses looked healthy and well cared for while others were so sad to see. I wouldn't feel any pleasure in riding around in those carts, called cidomo's, but I do understand it is how a lot of people earn a living on the island. I can only hope the ones with less than appealing horses are able to put the money they earn toward helping keep their families and horses healthy.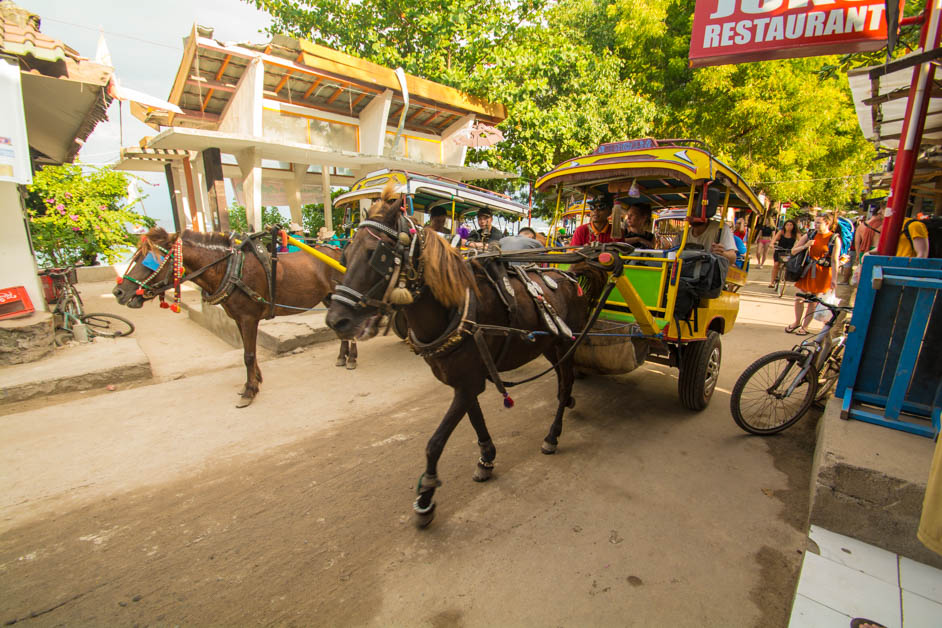 Gili Trawangan is the busiest of the three islands.
When I say busy, take a look for yourself. Depending on your style and likes, that scene above could really energize you, or make you want to just curl up into a little introverted ball. I almost collided with someone at .26 seconds!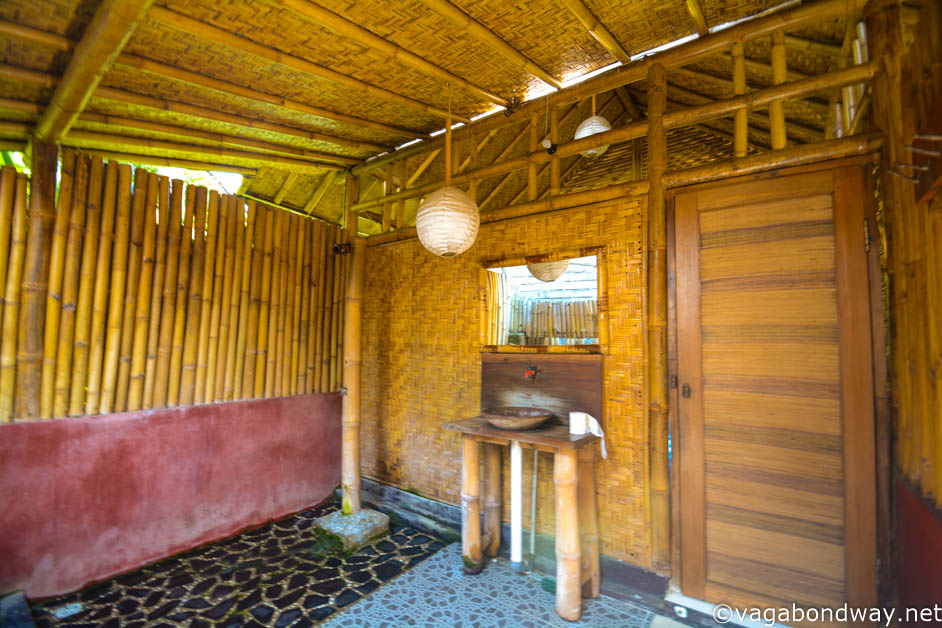 These sorts of scenarios tend to overwhelm me and drain my energy. Gili Air and Gili Meno are smaller and less busy and I thought we may have made our way to those islands. With good luck, we found a place that was off the main drag, was so relaxing and had a sweet outdoor shower.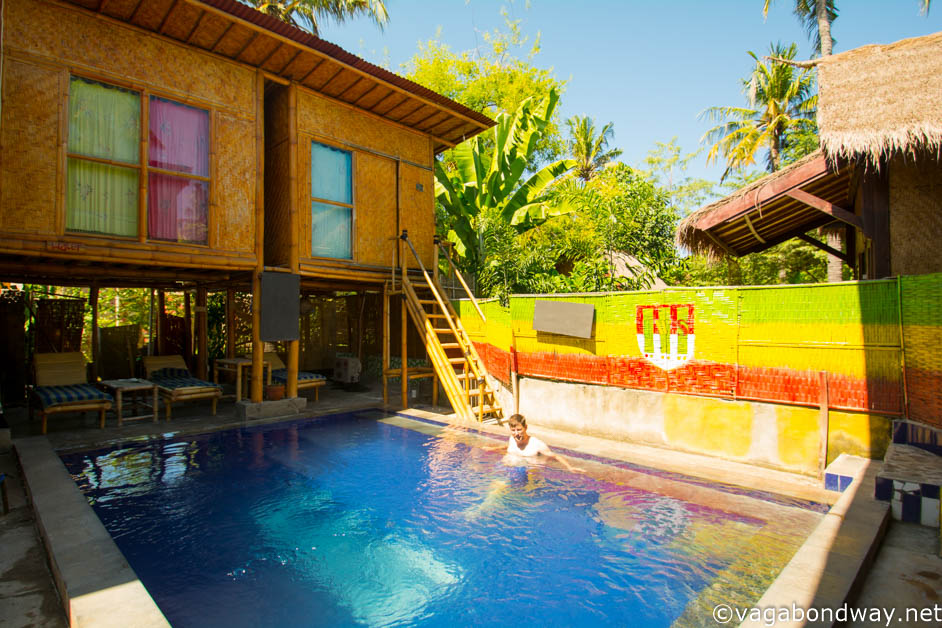 And it had a pool. It was so hot on the islands and having such a nice pool made it really hard to want to leave.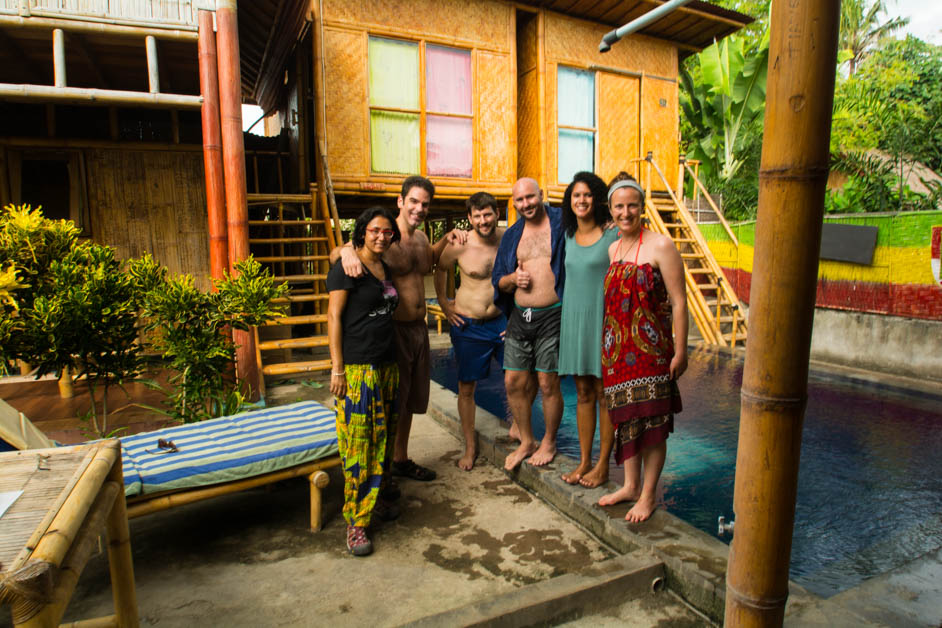 We made nice friends while we were there. Having a pool gave a central spot for everyone to hang out and swap life stories.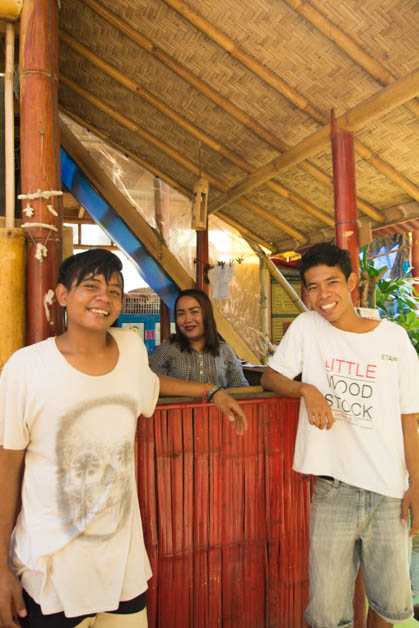 The staff were super friendly and worked really hard. They served a delicious breakfast to your porch every morning.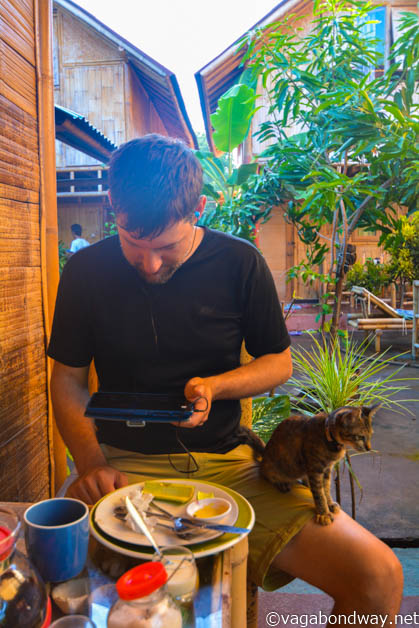 And they had this crazy cat, whom I called Little Cat and shared my breakfast with every day. Knowing how hard the staff worked here and how competitive it is to try and get customers, I always cringe to write less than glowing words about a hard working business. But I also endeavor to write honest observations as well. So in case any of you might go and stay there, just know it is a thatched hut and is not full proof at keeping insects/bugs out. We stayed there eight nights and most people extended their stay there. So you would have to make your own assessment, but we wish them nothing but the best and enjoyed our stay there.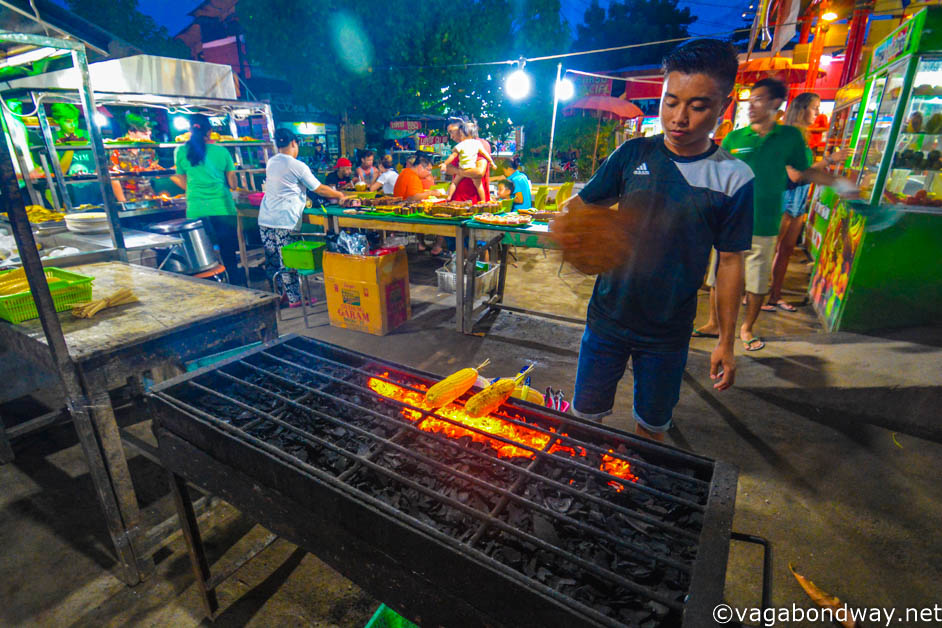 The other reason it was hard to want to leave Gili Trawangan was because they had an amazing night market.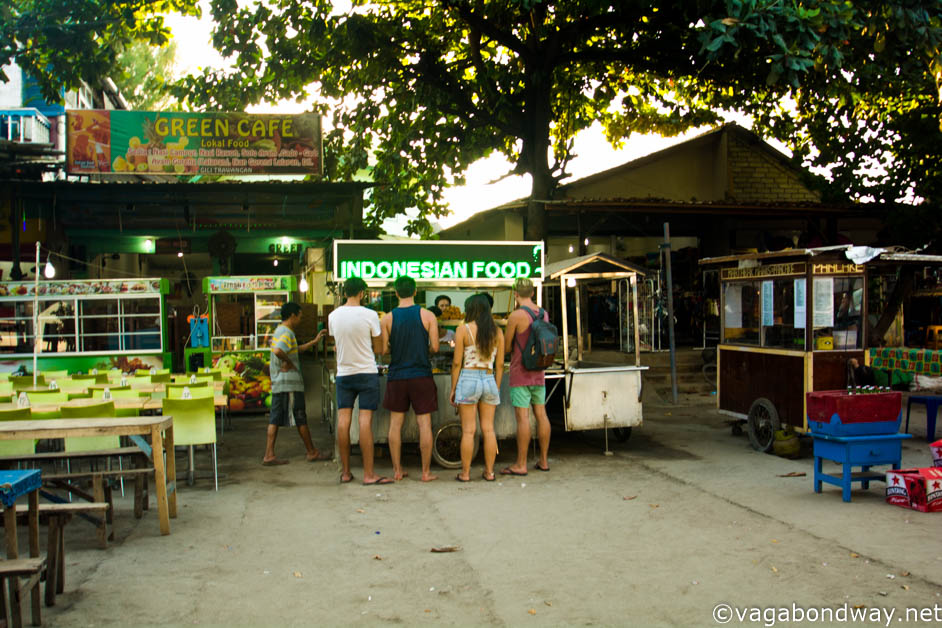 During the day, the square near the harbor was mostly an empty lot to stroll through. As darkness fell tables, chairs and food vendors popped up all over the lot. The photo above was when they were just getting set up. That vendor above, Green Cafe, seemed to be one of the most popular ones. Once they were set up, there was just a line of people all night long. Chris and I joked there was something about the flashing green neon lights that just drew the tourists in. 😉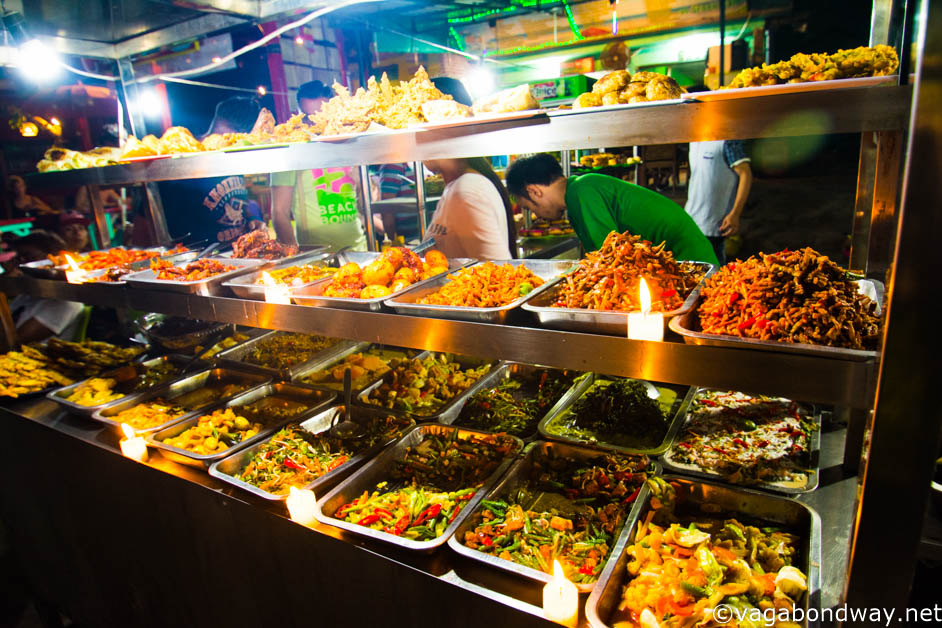 Dishes upon dishes of local food were put out on display. The best part was you didn't have to know how to say the dishes, all you had to do was point at what you wanted.
Some places charged by the item, while others let  you pick five items for $20,000 IDR or about $1.50 USD.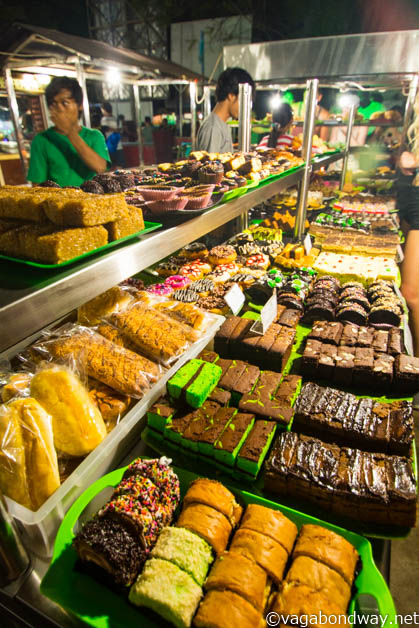 This dessert table grew every night it seemed to three impressive layers. There was always something different at the night market.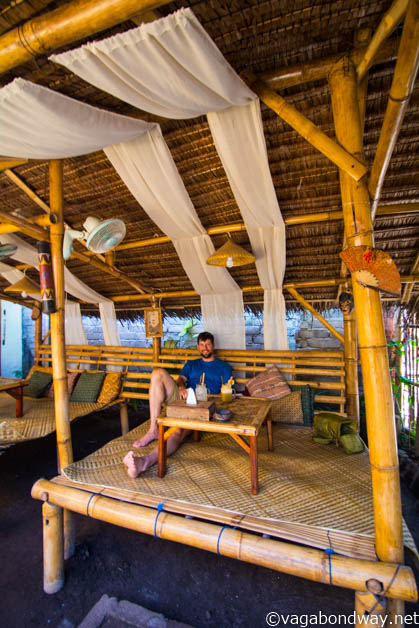 Another place we ate at that is a must go to was Pituq Cafe.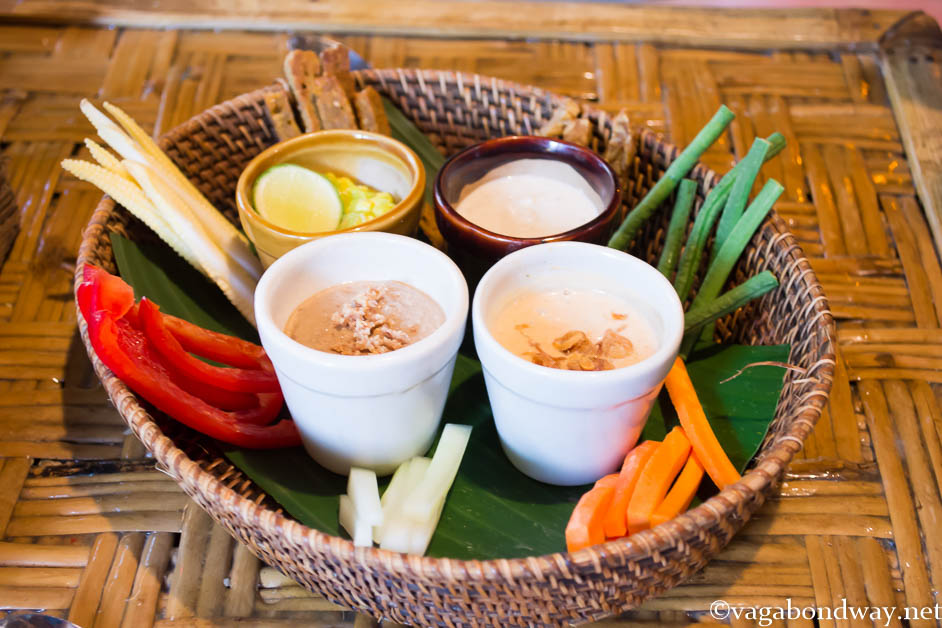 This cafe serves only vegan food and, o.m.g., it was SO good! The cafe uses a lot of healthy food and the juices were so tasty. If you have any items or clothes you no longer want, you can also bring them to the cafe and they will either sell the items and use the money for needy families, or just give the items directly to people who could benefit from them. A great place to support.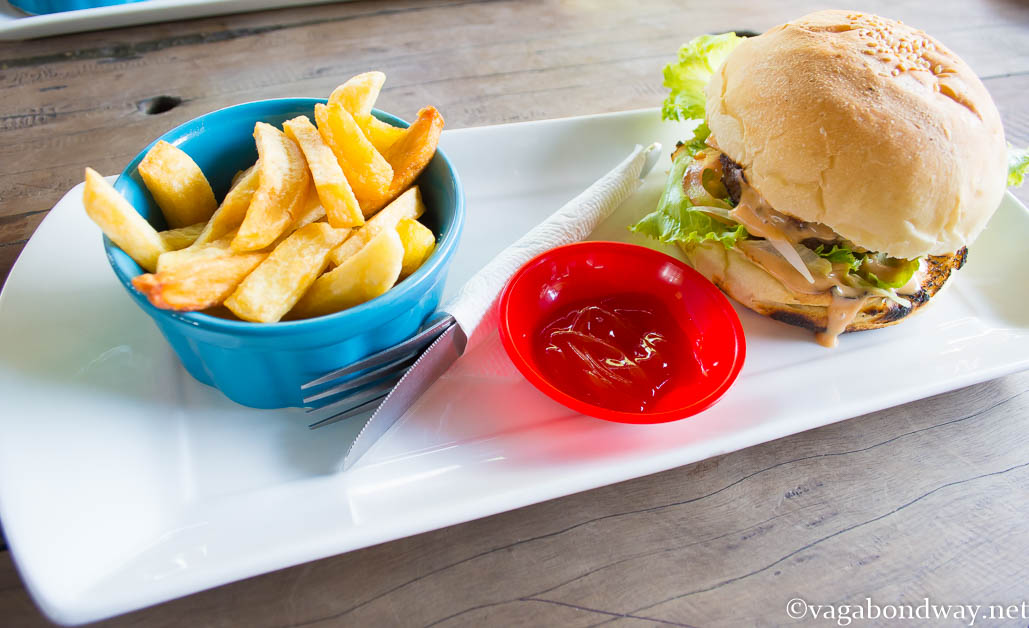 Run by a French lady, we also ate at Le Petit Gili. It's nice every now and then to get a taste of home, and it can be equaling interesting to see how an island off of Lombok might serve a burger and fries. Le Petit Gili served an amazing burger and fries! They were rated the best burger on Gili by Trip Advisor.
There are endless streets to wander. I couldn't believe how many random guest houses and accommodation options there were.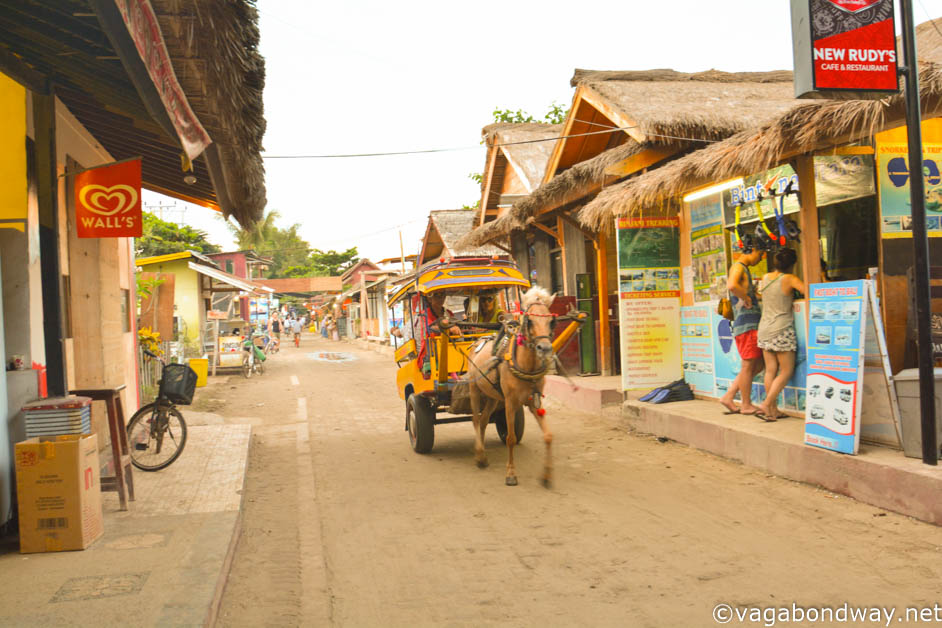 There was always something happening in the streets.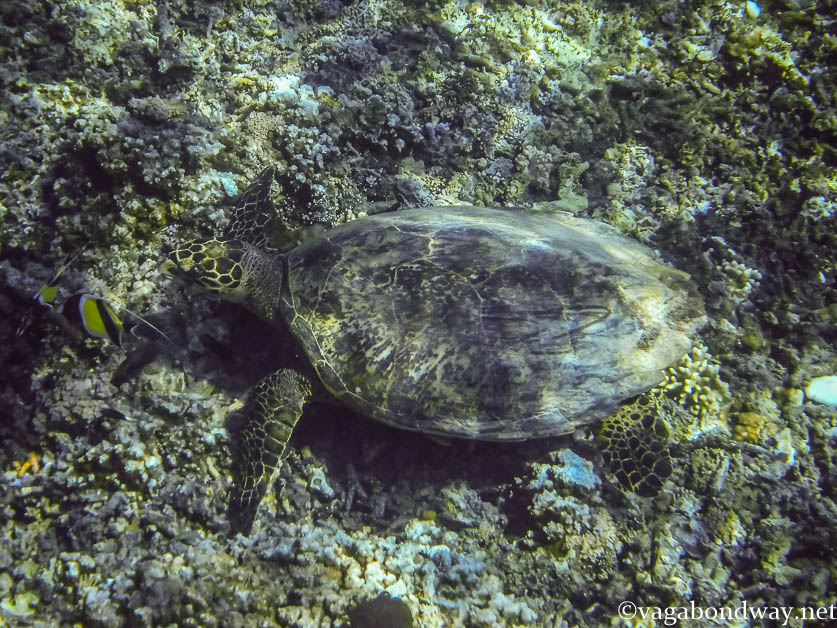 You can rent snorkel gear almost anywhere around the island. We just walked off the beach near turtle point and had good luck to see turtles. We also went on the snorkeling boat day trip to spots around the three islands. So if you don't have much snorkeling experience, you might think this was awesome. And indeed, the water is so pleasant to be in and  you can see some nice fish and coral. But there is so much bleached and deteriorating coral. Although around the Gili's there is much, much less garbage than a lot of places in Indonesia, pollution in the water is a problem.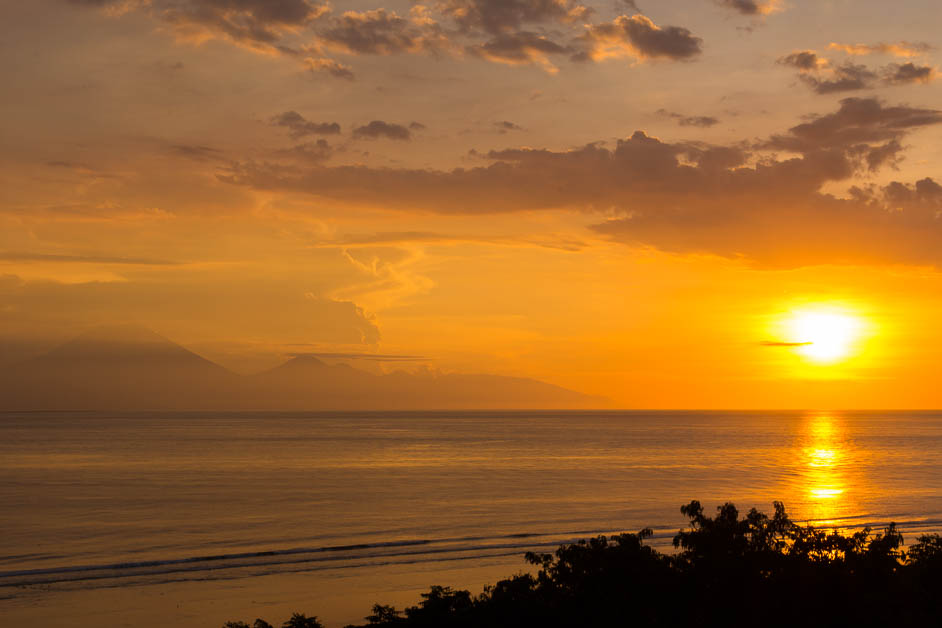 As the our last sunset came to be, so ended our time on Gili Trawangan. It was so relaxing to spend time out there and that was one of the things we had hoped to find in the beginning of our trip. We thought we would have made it over to the other islands as well. We didn't. But there's always next time. 🙂
***
If you go:
These are all the places we ate and they were awesome. You will find these all around the front harbor area or a block or two inland from the outer edge.
Le Petit Gili – burgers and fries
Green Cafe – awesome local food
Gili Amor– amazing frappocino (this link is to the hotel, as the restaurant is attached)
Intal Inn Hotel – nice, cheaper food option
Pituq Cafe – healthy & vegan & amazing
Little Italy – really good, big pizzas. Just get one and share.
Little Woodstock Homestay – Gili Trawangan, Lombok NT B +62 82340341967 reza_jab@yahoo.com We booked our first couple of nights through Agoda, then you can just keep extending if you like it.
Getting to Gili Trawangan or any Gili Island –
Ok so there was a bit of shady business with this. So traveler beware of this scam. In Sengeggi, there are agencies all over selling the shuttle/ferry ticket combos. Advertised price is usually $75,000 IDR. When I asked BC Inn about the prices, the guy at reception told me the ferry ticket cost $35,000 IDR for tourist and $15,000. This was not true and a reminder that people lie for their own benefit. I am almost completely sure he intentionally mislead me. We liked staying at BC Inn, but all around they were no good for booking anything through.
But what happens with all the tourists who book the shuttle ticket, is just before the ferry, they drop you at a little restaurant for food and bathrooms if you want. Then you sit there and wait. You give your ticket to a guy as you walk through, which all of us looked at each other because we thought that was odd. Then someone will come get you and tell you the ferry is leaving and to get on the little horse cart. Chris started getting a wary feeling about this and asked, "Is this horse cidomo included?" The guys were all saying, 'The ferries leaving, the ferries leaving.' The horse cidomo is not included and they will way over charge you for this. A few other tourists and us formed a small group and said no, we're not paying for that. We walked to the ferry which took less than ten minutes. We eventually found the guy who had our tickets and we all got on the ferry. Other tourists ended up buying additional ferry tickets and paying almost double for this. There was bad energy all around with this. Typically when tourists buy tickets combos like this, it's a straight forward event. There were a handful of long term travelers in our newly formed group and all of us remarked this scenario was a surprise.
So if you buy the shuttle ticket, don't give your ticket to anyone and just walk down to the ferry.
If you can create a group of four people, it would be way cheaper to just pay your own way. We did this on the way back. Ferry ticket $15,000pp and split the $100,000 IRD car transport back to Senggigi was $25,000pp = $40,000 pp total.
Have you ever spent time living on an island? What is one of your favorite things about
living on islands?

***
PS – It's #TravelLinkup time! I'm joining Kana at Life in Wanderlust and Chloe from Time Travel Blonde for their blogger linkup this week.
***
* Announcement! We're starting a new series on the site called My Story. What kind of traveler are you? How long have you been traveling? Do you maximize your vacations? Have you been able to take time off work? We want to hear from you and share your story! Please email: tiffany@vagabondway.net for more details. 🙂 
** Plan on traveling soon or making a purchase from Amazon? Please consider using the links on our resource page. At no cost difference to you we will earn a small commission to help keep this site running. Thank you so much for this thoughtful gesture.