Entering the lobby of The Hulo Hotel and Gallery my eyes start dancing as I see all the shiny things to greet me. Teking, the door man, graciously held the chrome plated doors open as Chris and I walked in gazing at the six gold mannequins, multiple chandeliers and art work displayed around the entrance. Being an art major, my head started dancing around with the quality of work I was seeing. After our bus journey took two additional hours longer than expected, this was a wonderful way to be welcomed into The Hulo.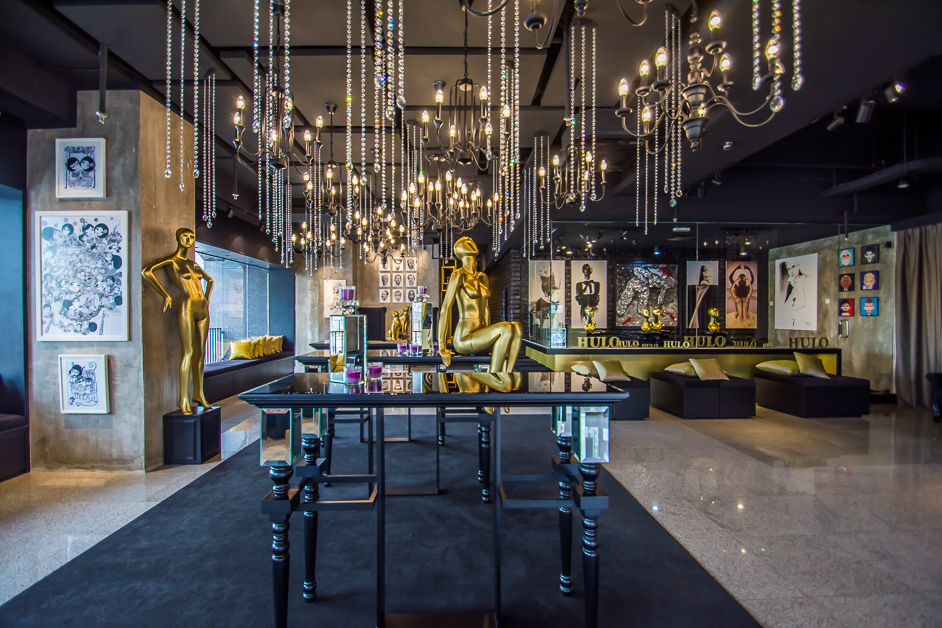 As we were shown to our room it quickly became apparent that the quality of art work displayed on the walls was topnotch. Were we in a hotel or a gallery?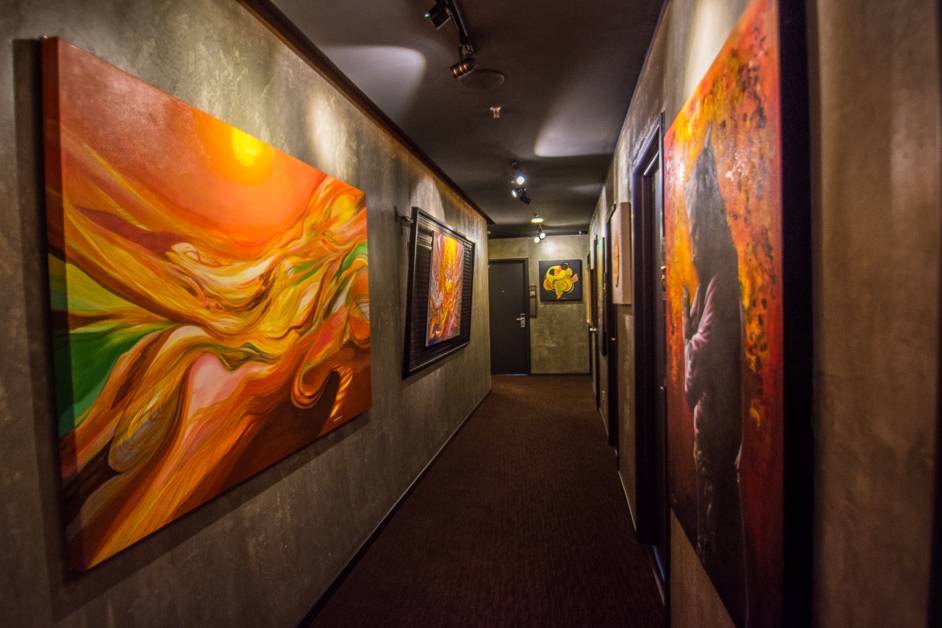 Both. We were at The Hulo Hotel and Gallery.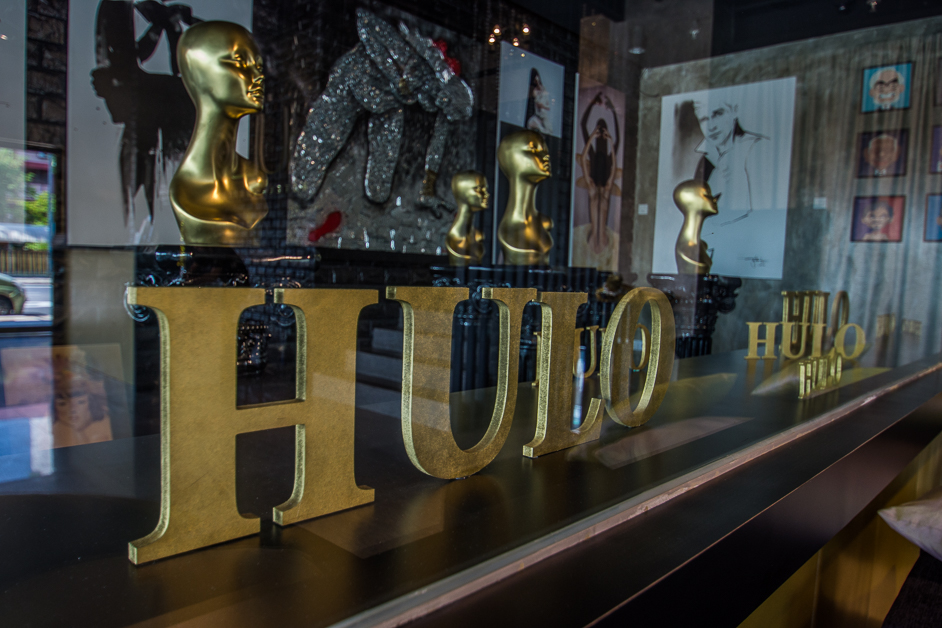 The first of its kind in Malaysia, The Hulo is a completely different concept of a hotel. It combines the idea of providing high quality accommodation at reasonable prices while…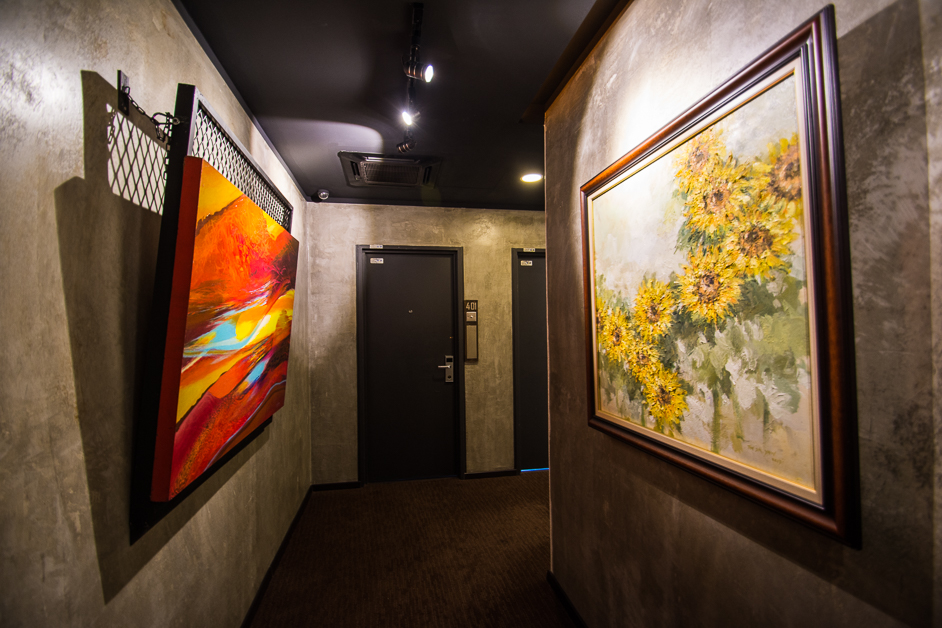 …displaying exceptional art work.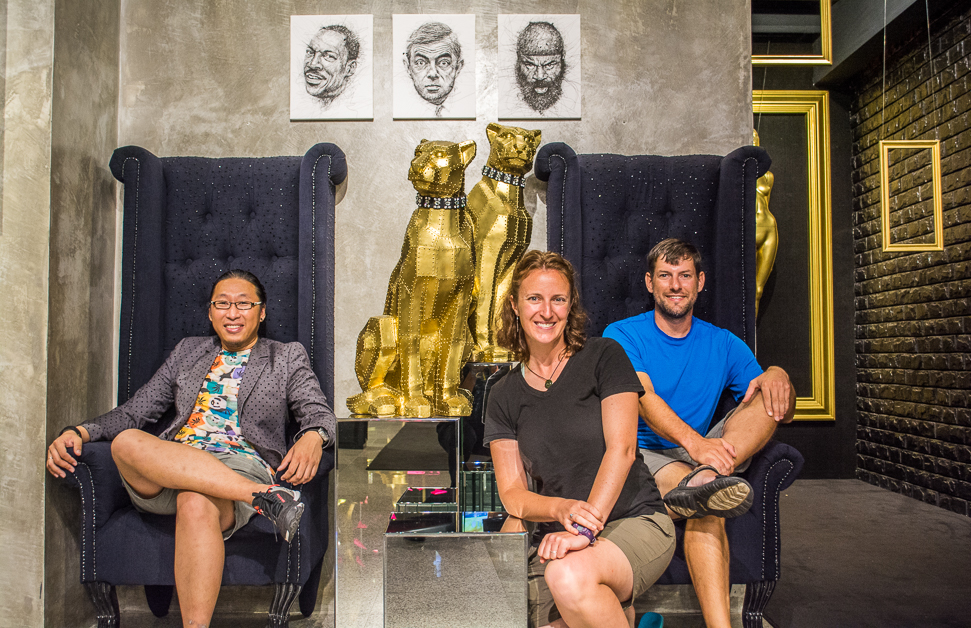 During our stay we were so fortunate to talk at length with Charlie Yap, the co-founder and Creative Director. Meeting Charlie and the passion, generosity, humbleness, enthusiasm and vision he has for life and how to share that with others was inspiring. Meeting people like Charlie is one of the reasons we travel.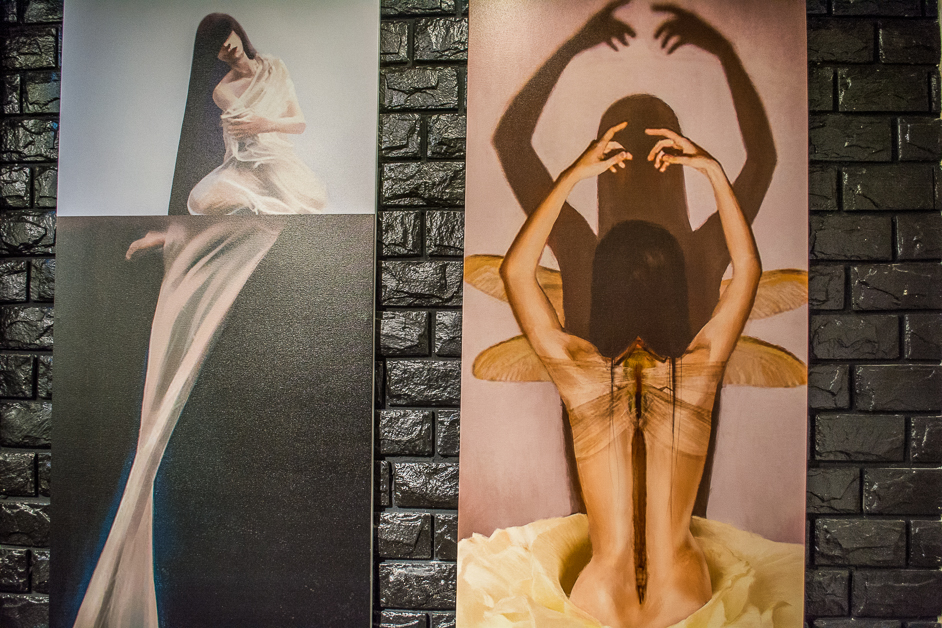 We found more than just a place to lay our head, we found a space that is making a bold statement for all Malaysian artists and is doing something that has not been done before.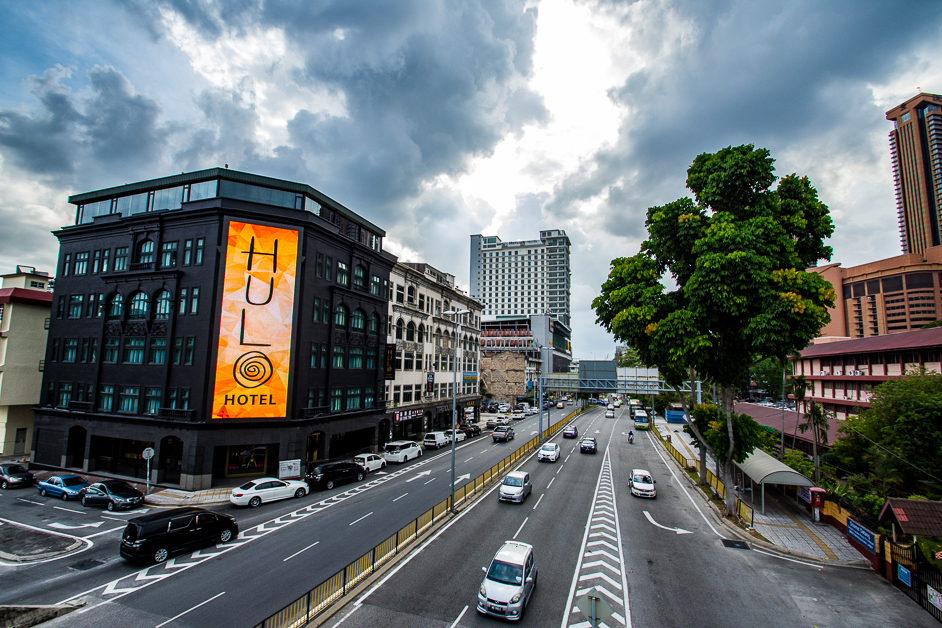 This is the story of The Hulo.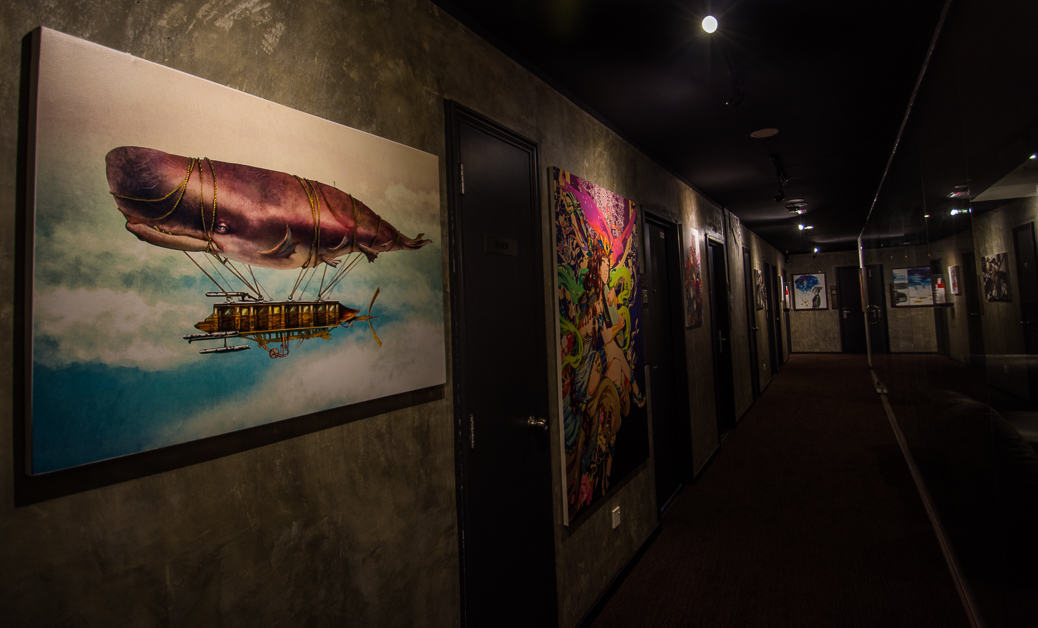 I asked Charlie how he came up with the concept for The Hulo Hotel and Gallery. A frequent traveler all his life, Charlie would check out the luxurious side of travel by staying five star hotels. After a while he said, "They just were all the same. So I switched to cheap hotels. Weird hotels. Hotels that inspired me." While traveling in Brussels, the city spoke to him and he loved the artistic expression of the city combined with its art.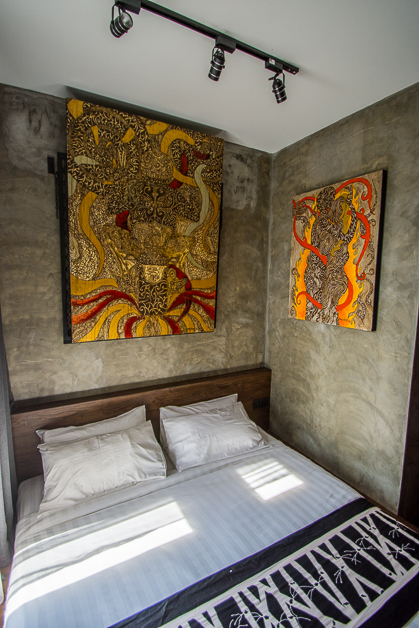 Charlie told us how he had this idea about ten years ago to combine both the hotel with a high quality gallery. The catch: it would be free for the artists to display.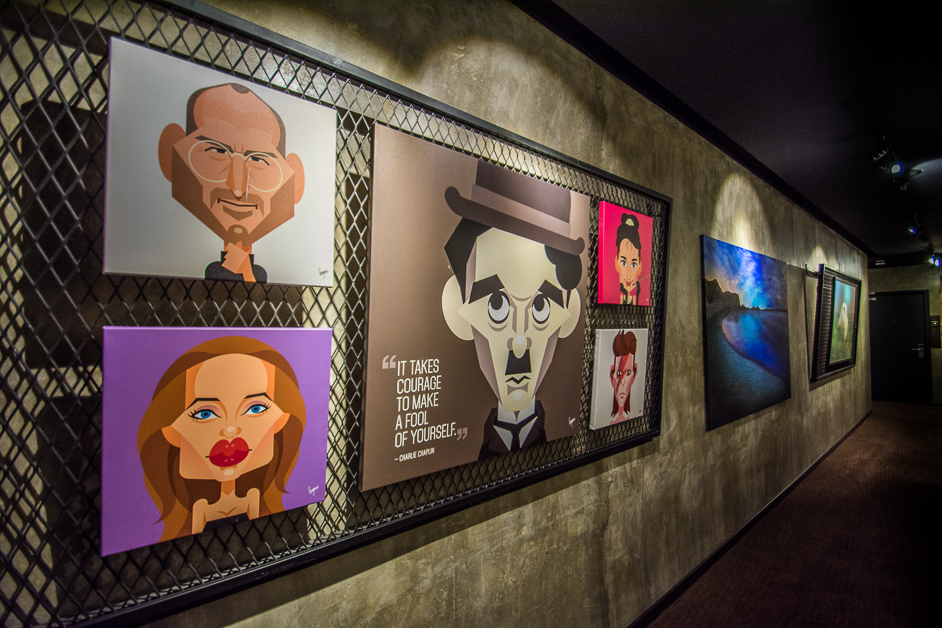 When he started pitching this idea to others he kept getting the same response – this guy is crazy, but he's also serious.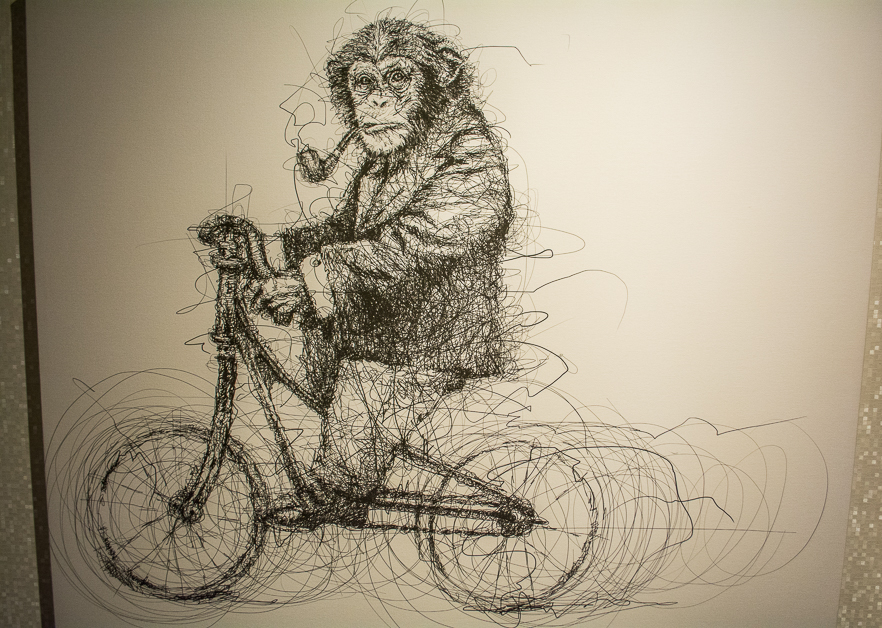 Fast forward ten years and there we were in a hotel filled with art work from Malaysian artists who are at the top of the craft. Sitting on big square, gold seats music softly filled the background and I looked behind the glasses and into the eyes of this man whose eyes seem to sparkle as much as the lobby. Clasping his hands together as if trying to contain his energy, Charlie says, "I'm just a bloke – but the passion is there and I just collect art. I love it. I don't know what I'll do with it, but I collect it," speaking to life long passion of being around art.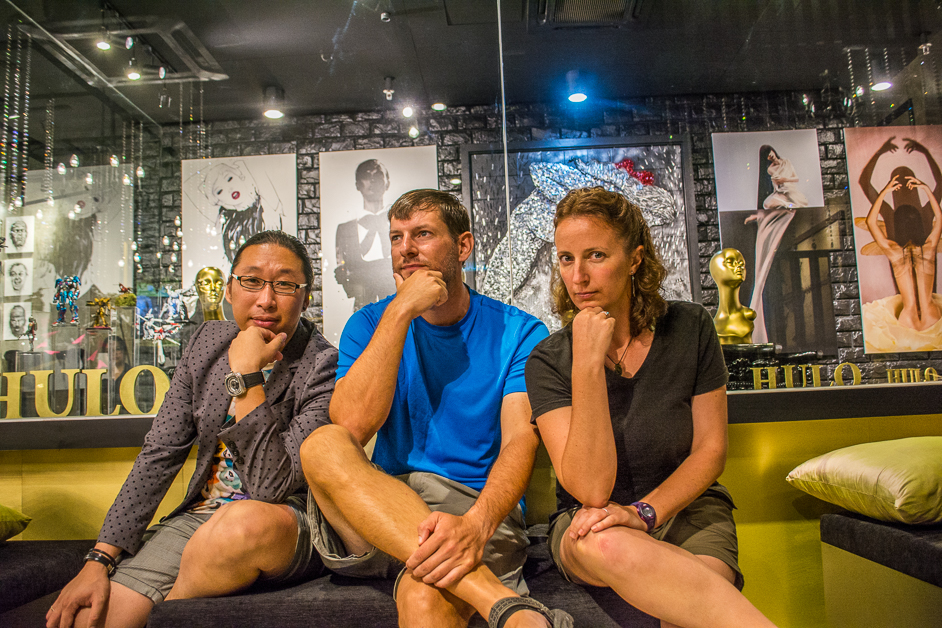 His tone quiets and shoulders sag as he talks about how the Malaysian arts scene has died over time and the real life struggles of trying to be an artist in Malaysia. "Here (in Malaysia) we seldom refer to artists as artists. We call a piano player a pianist a painter a painter. We don't call them artists."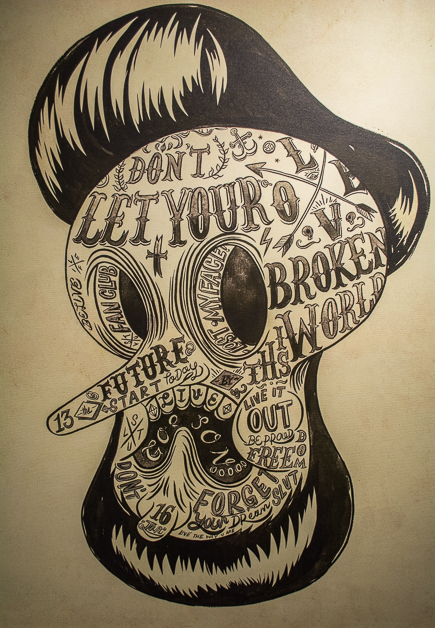 The three of us talk about how in Penang there is a lot of street art, but a lot of it was done by foreigners. When people like Charlie question the agencies to say, 'Hey, where are the local artists and why aren't more them participating?' the response is often rhetorical, 'Where are the local artists?"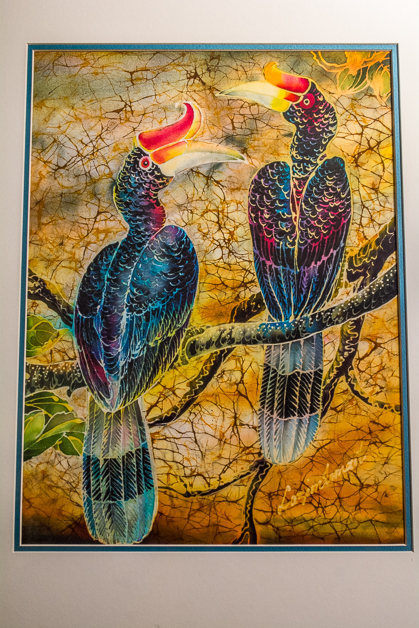 It's particularly difficult to be an artist in Malaysia. Copyright laws do not favor the artist and enforcement is essentially nonexistent. It can be extremely discouraging for an artist to work so hard, develop their talent and try to find an outlet to sell their work. They might be at a market trying to sell their art next to key chains and reproduction prints that cost a fraction of what original art should be appraised at.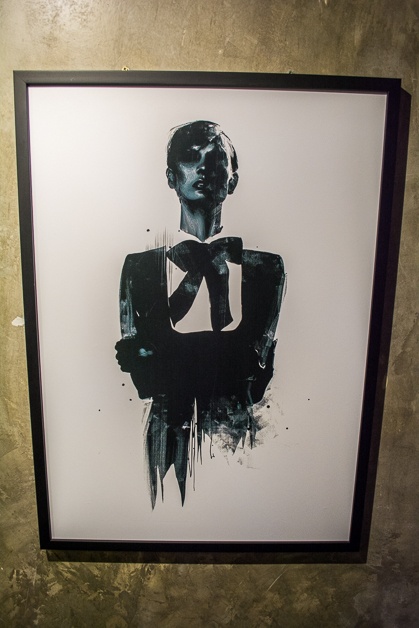 At The Hulo, the art is inside. It's not on the street, subjected to constant under evaluation or other restrictions. The space is provided for the artist to display and people to enjoy. If someone wants to buy they can and if not then that is fine too.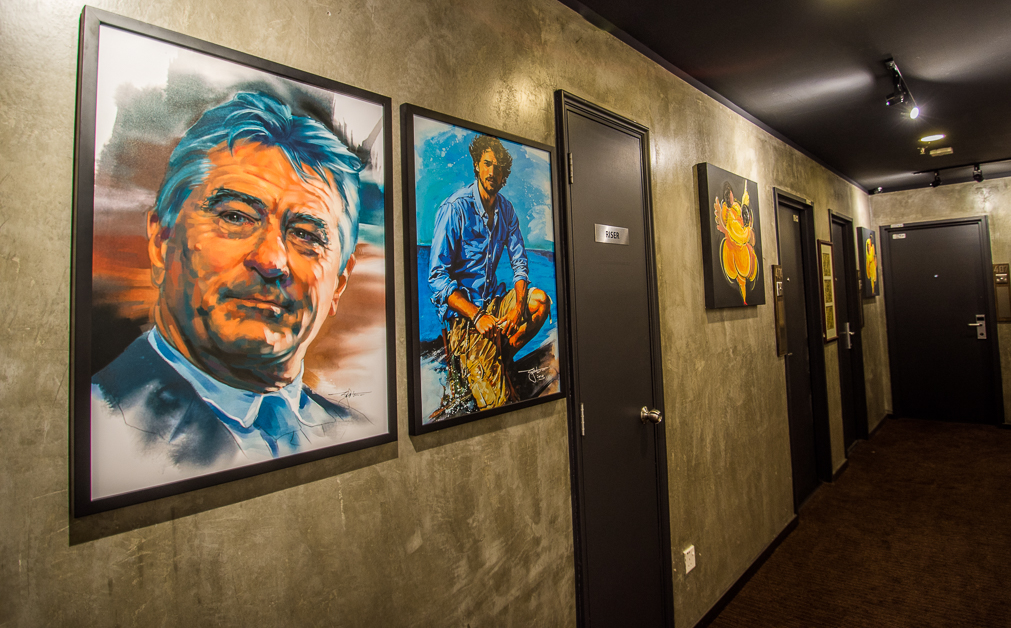 This is when Charlie perks up again. This hotel concept solves two problems at once. The Hulo creates a place for Malaysian artists to display and a place for art lovers and collectors to find it.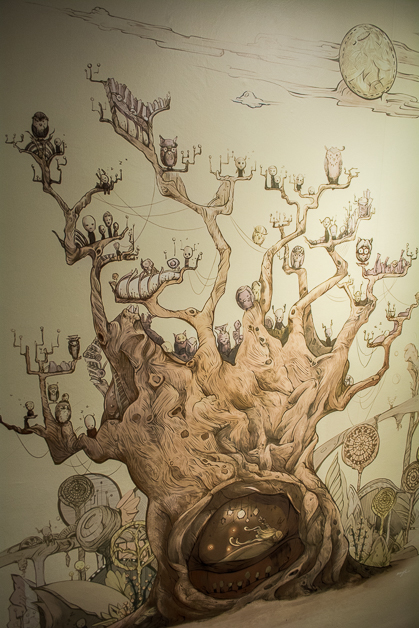 And there's a little bit of everything. From classical painting, to sculpture, to animation, to 3D art, there was an impressive amount showcasing different mediums.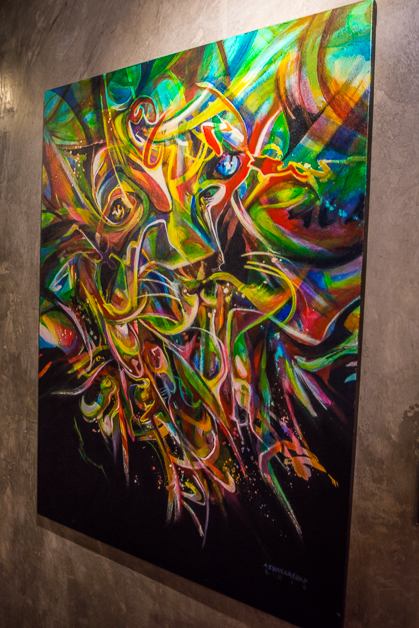 Charlie did comment he had many requests from international artists to display at The Hulo. Although he is open to the idea, at the start he wanted to keep it for Malaysian artists first.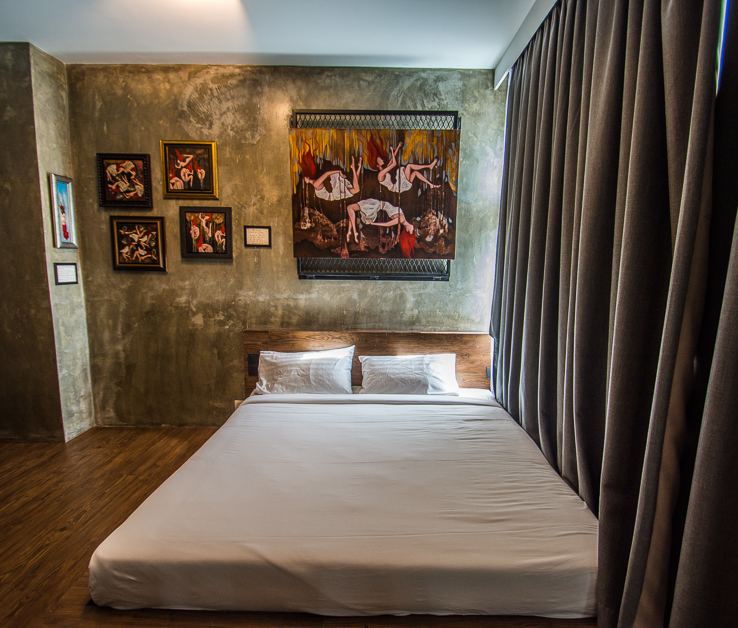 Only opened since July 2016, The Hulo is still getting some its wish list items completed. On the third floor, the final touches for The Hulo Hangout are being complete. So often, hotels don't have a communal area to meet fellow guests. The idea with The Hulo Hangout is guests have a place to meet each other, talk about the art in each of their rooms and have the opportunity to form some connection to the travelers around them.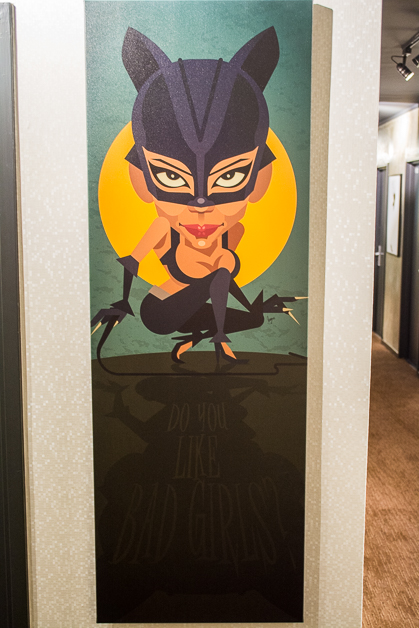 A write up about each artist with their bio, their work and how to purchase the art is currently in the works as well.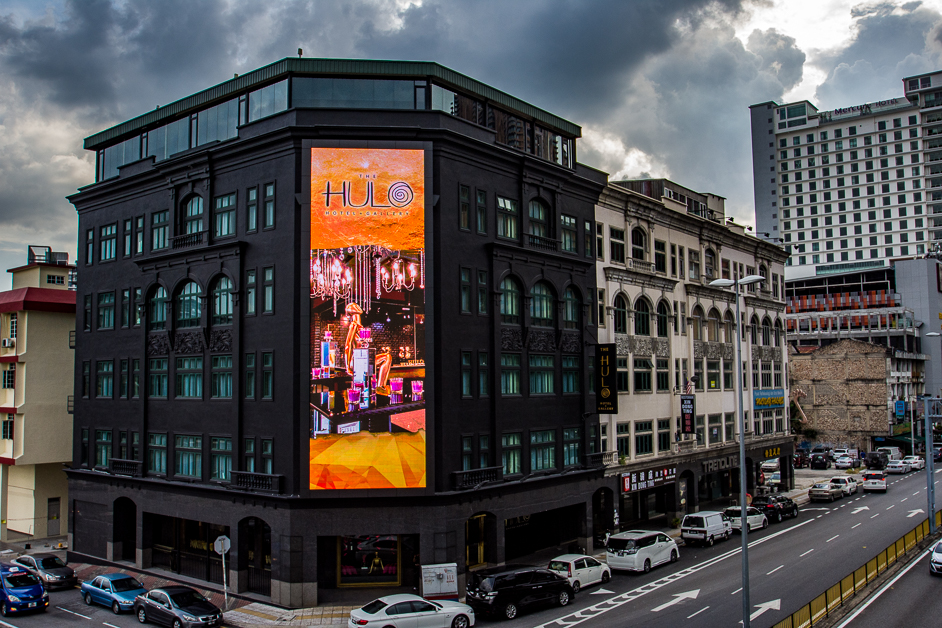 Ultimately, the vision is for The Hulo Hotel to become an icon and a landmark place for art lovers to both stay and visit. Given that the hotel has essentially done zero marketing thus far (smart – they are working out all the kinks before they put themselves out there to the masses), the rooms were fully occupied during our stay.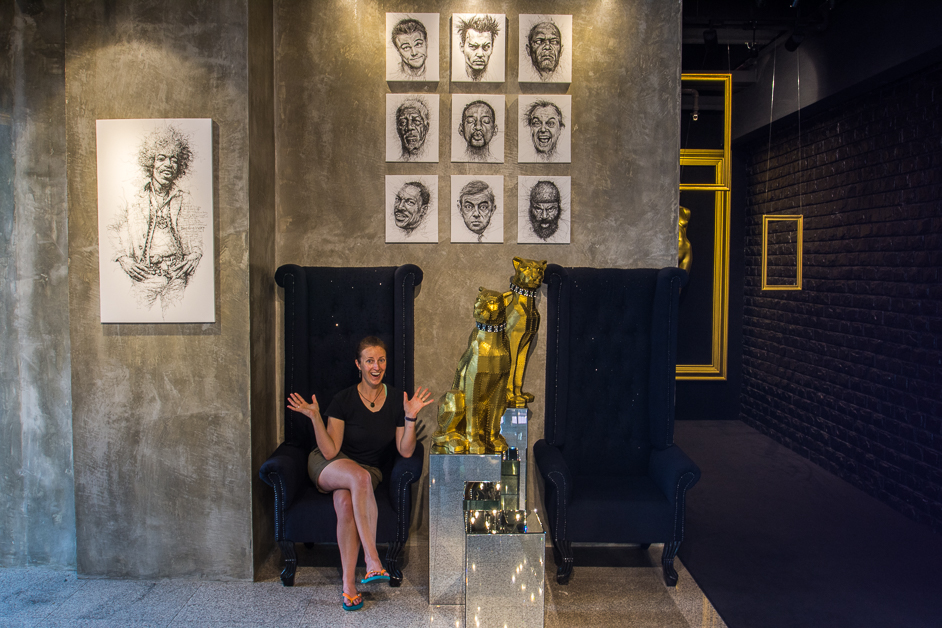 "What other hotel have you ever stayed at where the guests take selfies of themselves in the hallway?" Charlie says with a look of satisfaction.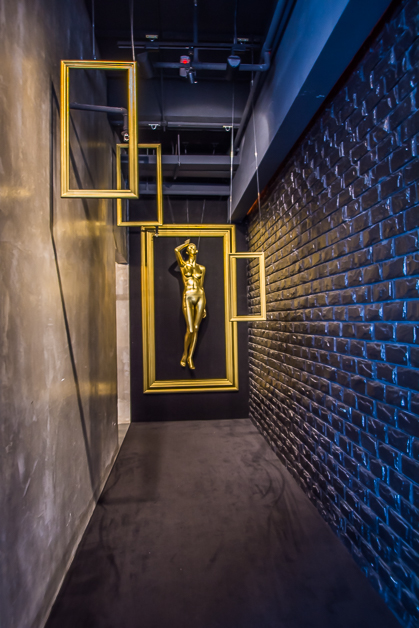 During our stay we saw guests going all around the hotel taking photos of everything and themselves. And it's true, I've never taken so many photos of a hotel hallway before either.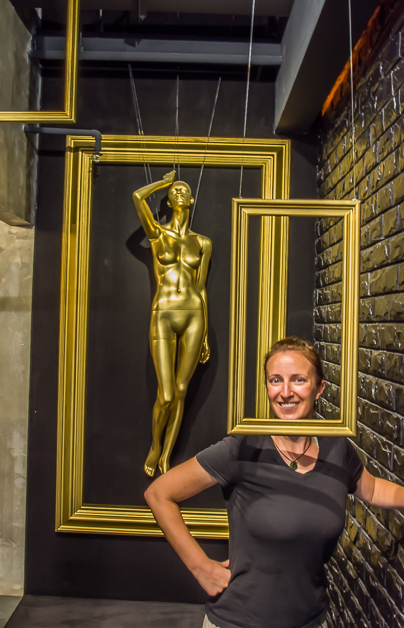 I was standing on my very tippy toes for this picture.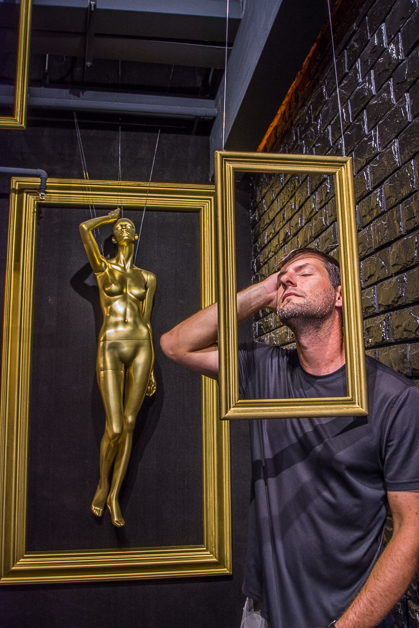 Chris fit in the frame a bit better and he was really feeling the art vibe.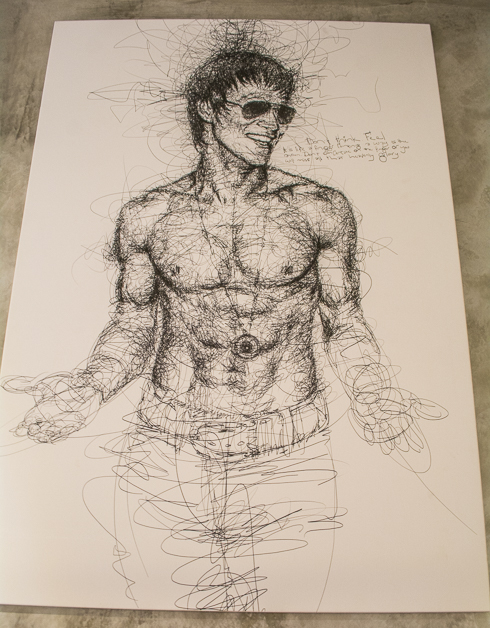 Chris was so excited so have the Bruce Lee room and as we pulled the comfy duvet over us he was like,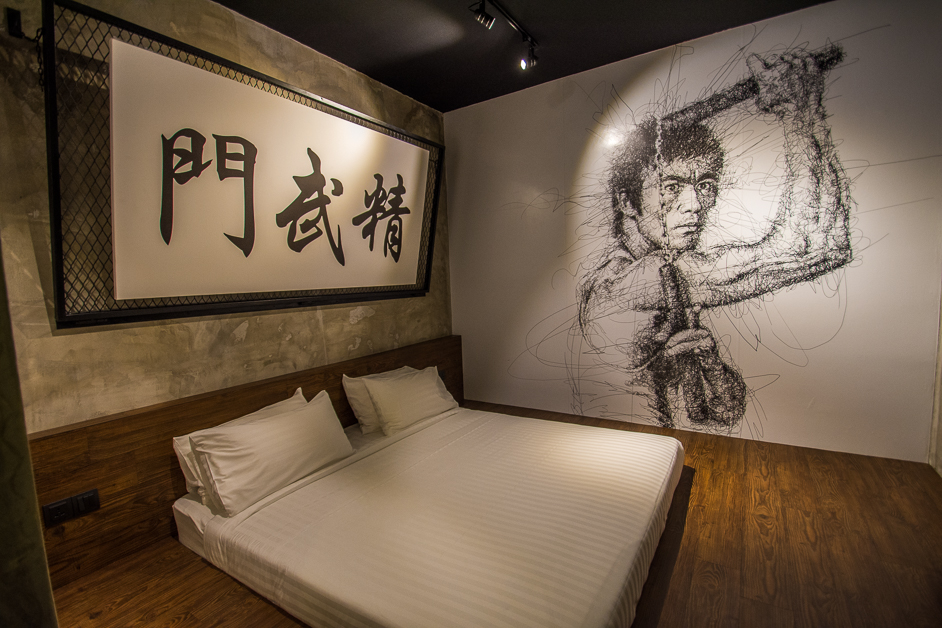 "This room is awesome."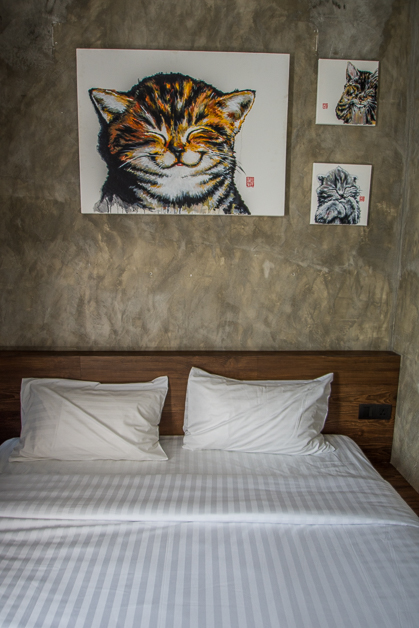 I loved this cat room and thought it would be so neat to keep going back to The Hulo and each time stay in a different room. What really sets The Hulo apart is each room was designed by an artist and is essentially a mini-gallery showcasing that artists work.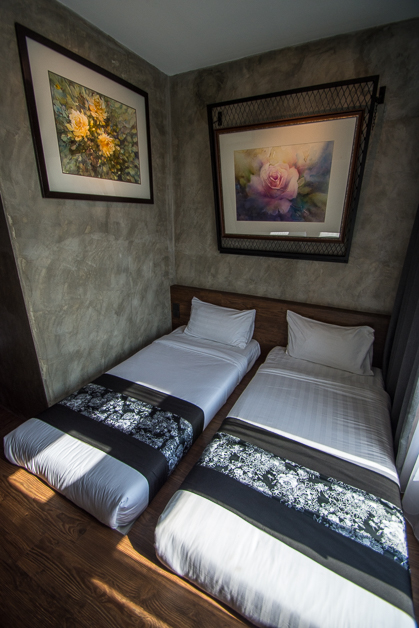 I just wanted to drink English Tea in the rose room.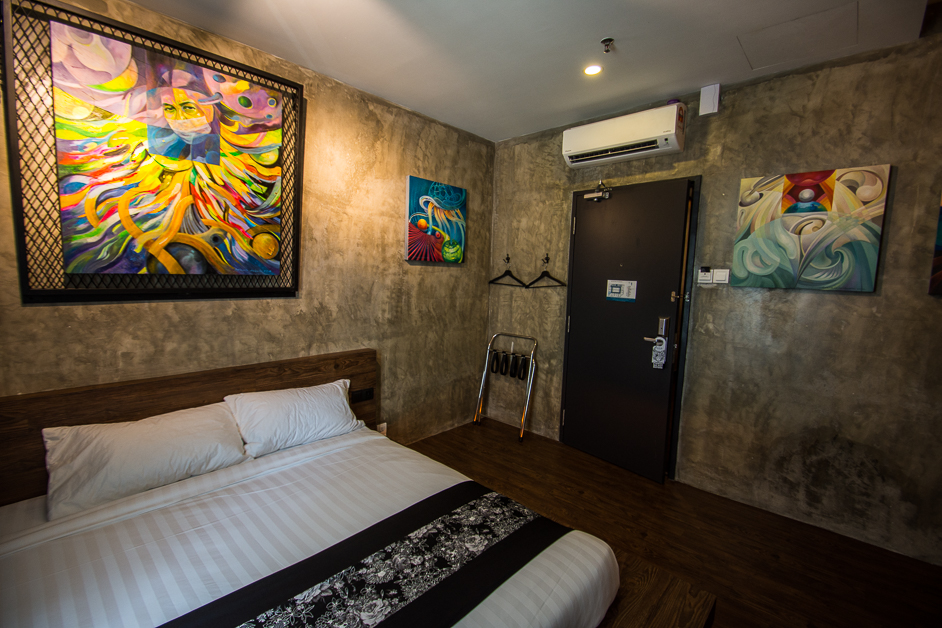 It is just in my excitement that I am calling the rooms the Bruce Lee room or the Cat Room. There are 63 rooms in the hotel and they are all numbered and vary in size depending on if you request double, twin, family, etc.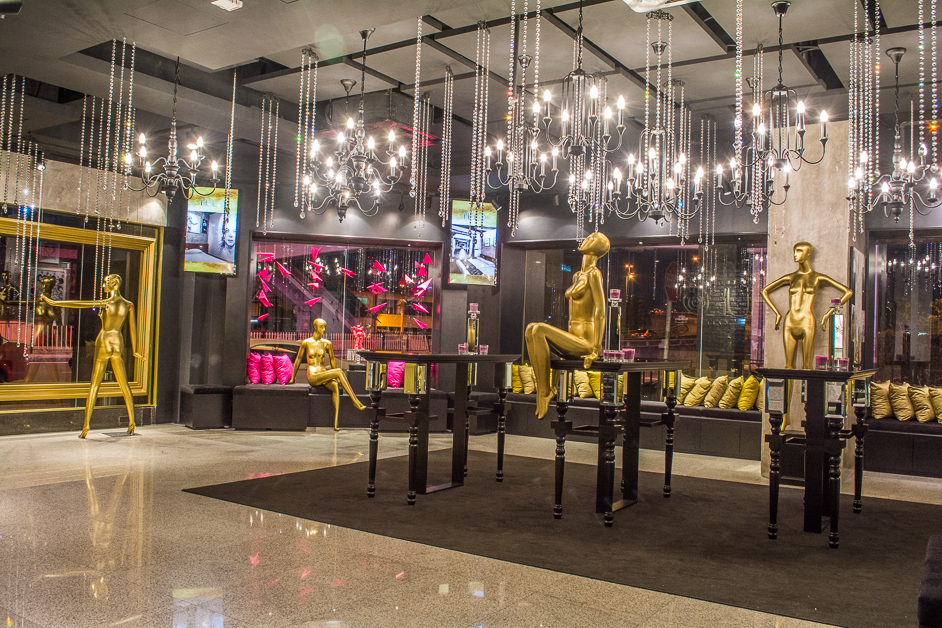 As an artist myself and someone who has worked in hospitality and run an Inn, I was so inspired by Charlies drive and commitment to excellence.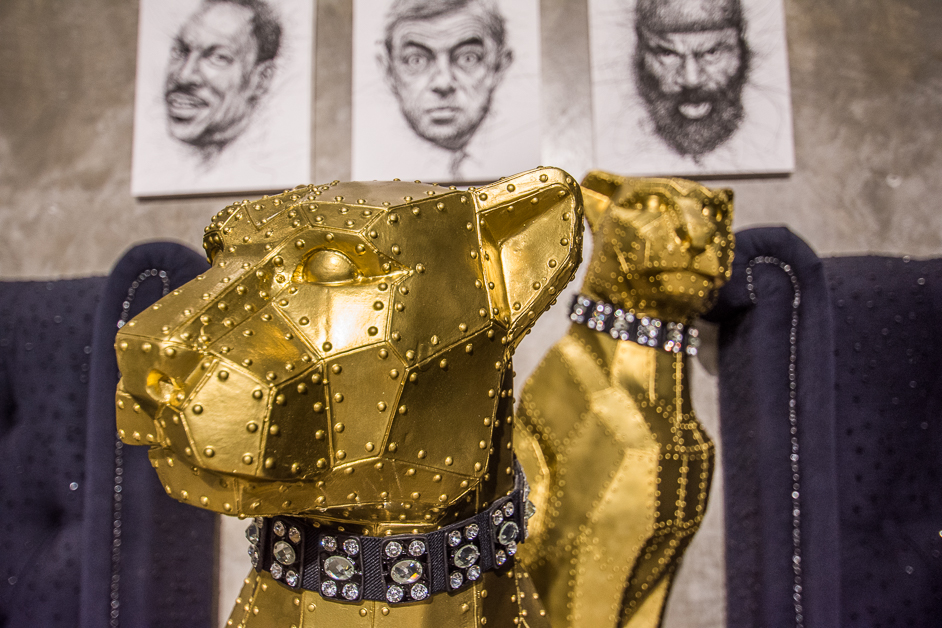 And I mean,with golden leopards in the lobby alongside an amazing portrait of Mr Bean how can one not just stop and say, "Now this is really something different."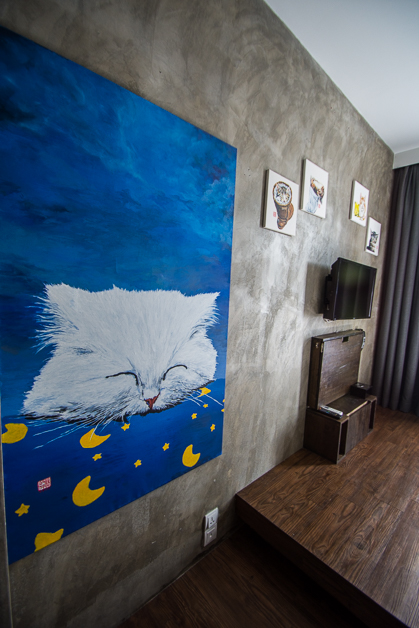 Once it's final touches are complete the fourth floor will be reserved for celebrities to showcase their arts and crafts, although guests are welcome to walk the hallway.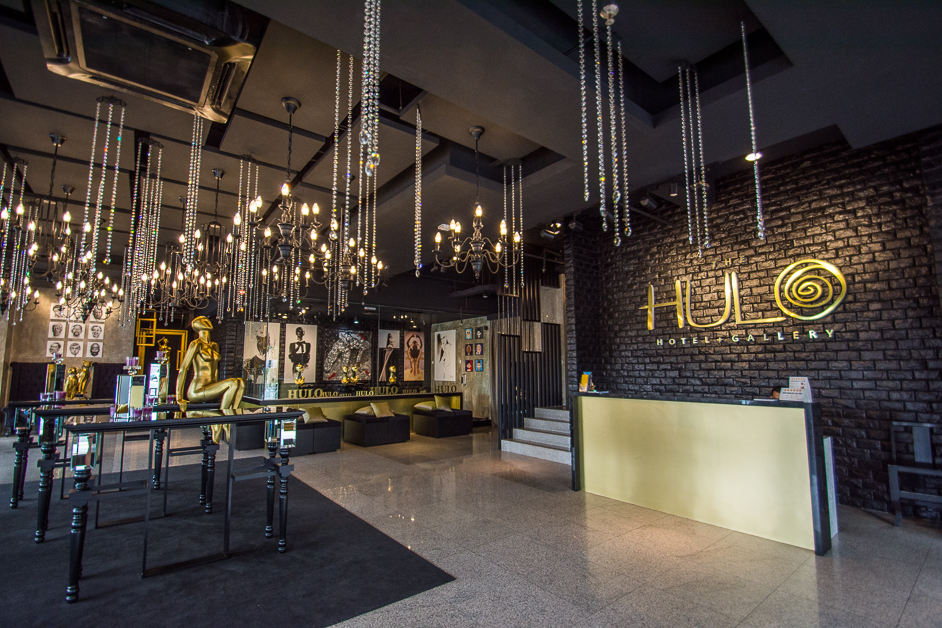 With wish lists and visions that seemed to no know no limits, Charlie appeared like the type of person with a brain that never stops thinking.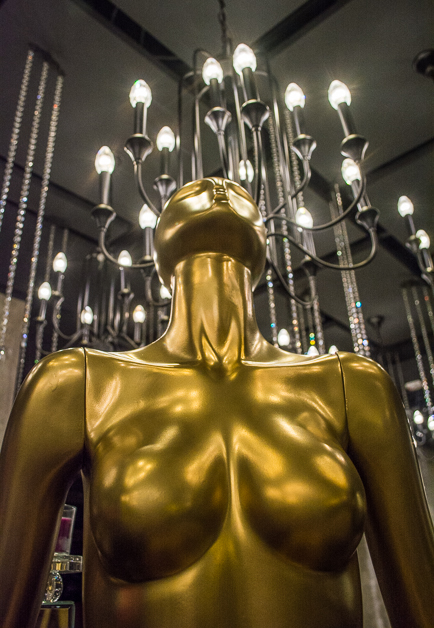 From our perspective, it appeared like The Hulo was just the beginning of many great ideas to come. With a serious, humble and driven perspective, Charlie says how hard they have worked to set The Hulo up for greatness, put the artist on the forefront while providing guests with the best possible experience as well.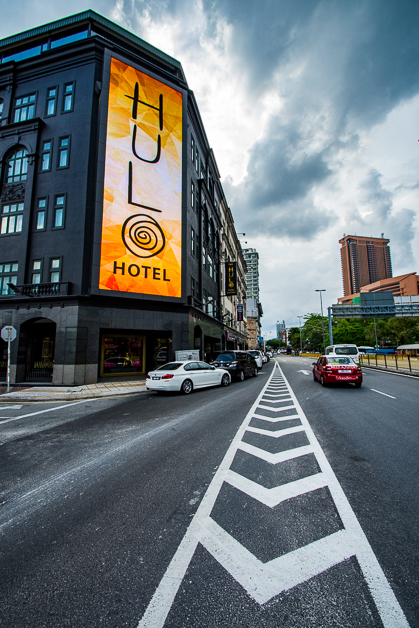 The Hulo appeared to be posed to take off as a niche hotel where art lovers will flock.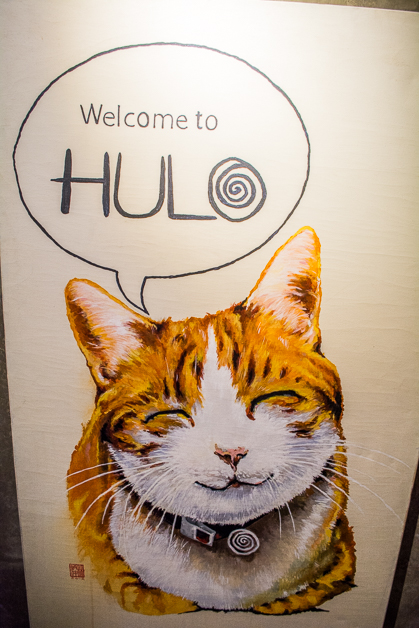 Eyes alighting again Charlie exclaims that even the choosing of the name "Hulo" was intentional. Hulo means the beginning of a river. In Malaysian culture everything good begins from the river. With pride and passion Charlie remarks, "That is why we are doing this. We want something good to happen to Malaysia."
If you go: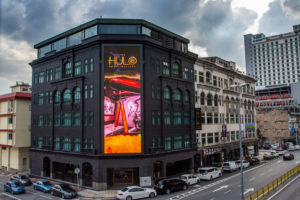 The Hulo Hotel and Gallery
You can book on Agoda, Bookings.com and other various booking websites.
On the giant screen was our Bruce Lee room!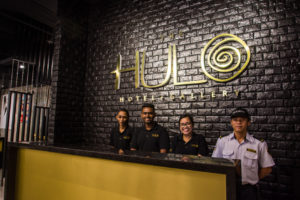 The staff were exceptionally nice and well trained to handle guest relations.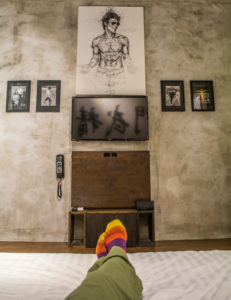 Make sure you explore your room thoroughly! I didn't realize the first day that we actually had a tea kettle in the room! I kept going up to The Hangout lounge to use the one located there.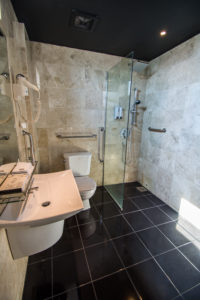 The use space is interesting and we heard that some guests used to come to the reception to ask where the bathroom was. Big mirror doors and creative uses of space make for little surprises. So look around because you have a private bathroom in there somewhere!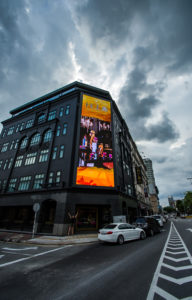 It took us about six minutes to walk to the metro station or you can take a taxi for the short ride. From our experience, a lot of areas in KL are fairly spread out, so to get to places anyway, we had to take the metro, so we found the location to be fine.
Because I just couldn't stop taking pictures all around this hotel, here are a few more to share.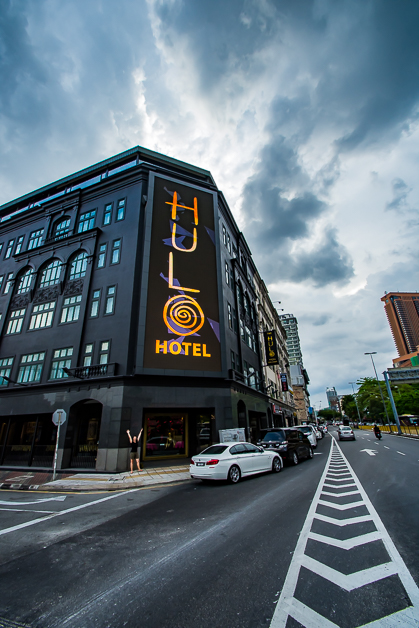 Hey – more pics of The Hulo Hotel!
See what I mean – there were so many different perspectives of the lobby.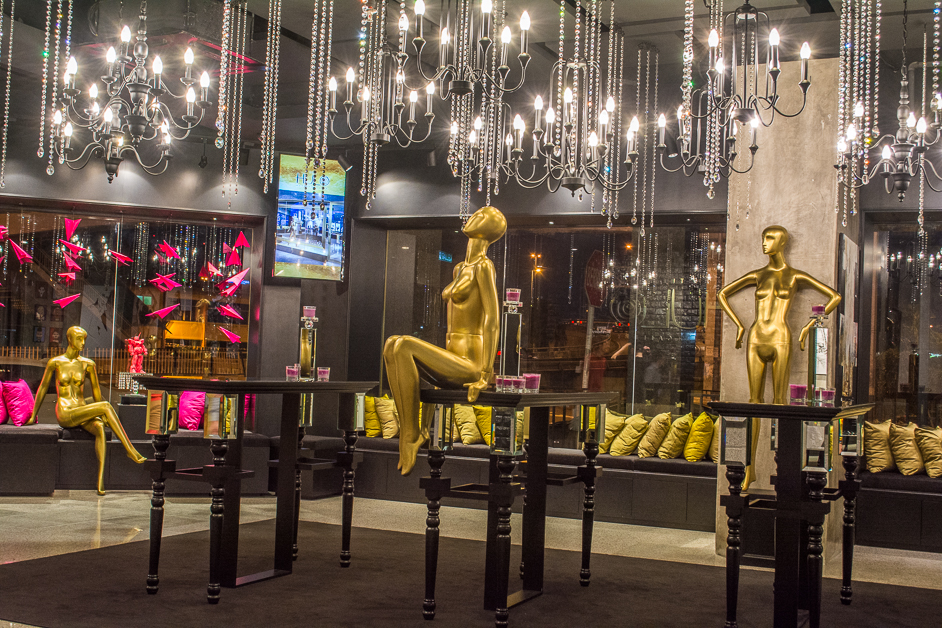 I gotta say having all the gold around we felt quite glitzy.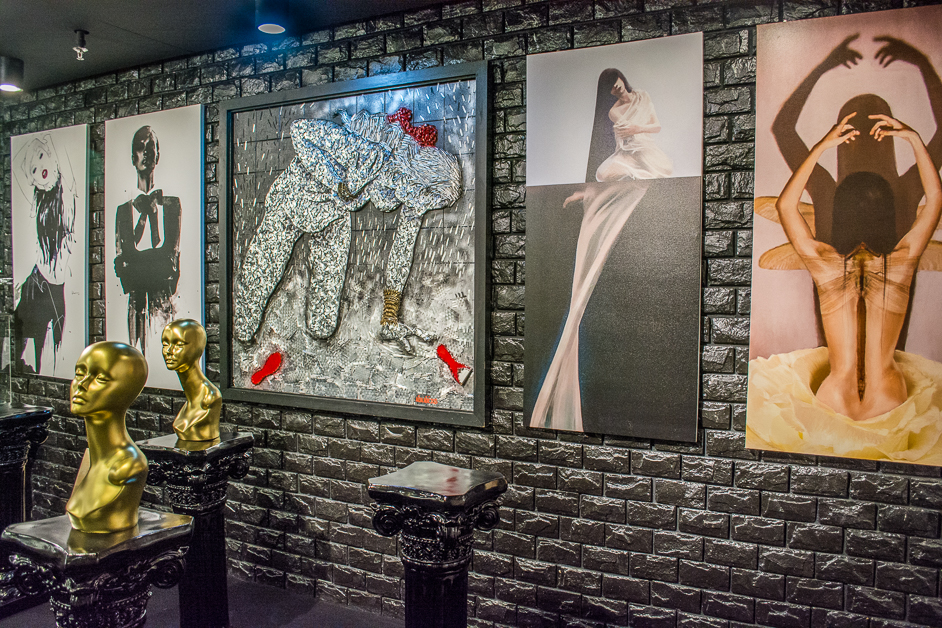 Many of us might take the right of expression for granted. In Malaysia there are many places that would not display some of these expressive pieces of art and the artists may face fallout from their community for creating it.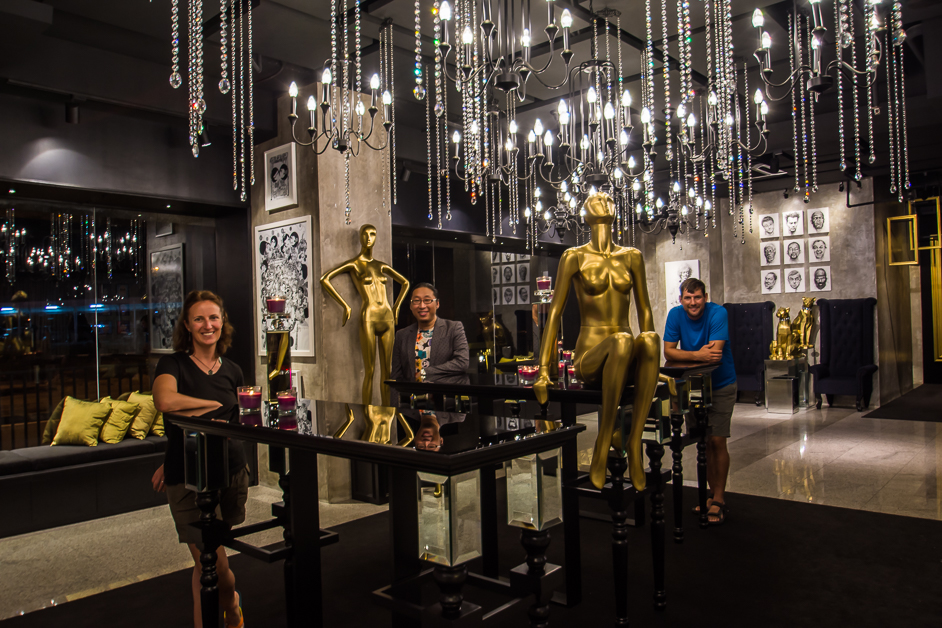 I need to disclose that our stay at The Hulo Hotel was complimentary and we always give honest reviews. Learning the back story of The Hulo was so inspiring to us and I am so thankful to be able to share it with you all. I hope that you too can go there and feel like you are on the cutting edge of the art scene in Malaysia. Thank you Hulo and to you and all the artists on display we wish you the highest levels of success.