Our friend Jess sent us a link the local Seven Days paper did on food in the Northeast Kingdom of Vermont and says, "We want to do this, can you join us? And can Chris plan it?"
We responded, "Sure."
And thus began the planning and implementation of our own version of the Northeast Kingdom Food Tour. Like many great adventures, they often start with a question. Who knows what's out there or where that question will lead us. It's our job to find out – or in this case Chris'.
The Northeast Kingdom is the region that encompasses Orleans, Essex and Caledonia counties that was first dubbed by VT Governor turned U.S. Senator George Aiken during a meeting at the Darling Inn in Lyndonville. According to his widow Lola Aiken she recalls, "He said it just came out of his mouth one day. After he thought about it, he thought the name was perfect for the area. The Northeast Kingdom was just one of his favorite places in the world. He always loved the people up there. He used to say that many of the people didn't have much of anything, or have big jobs, but they were always happy. They didn't complain as other people would complain in the same situation. They just made do with what they had. The people up there didn't put on 'airs' and they always welcomed you."
Our day together touring The Northeast Kingdom turned out to be better than we could have expected. So good that this has become a two part post. Here is a look at Part 1 of our version of the Northeast Kingdom Food Tour: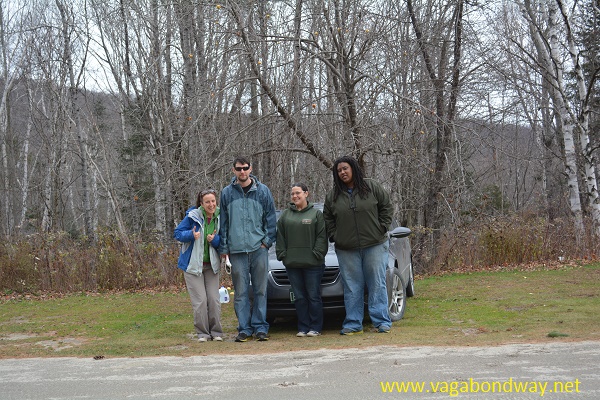 Oh boy, here we go. Everyone was really excited!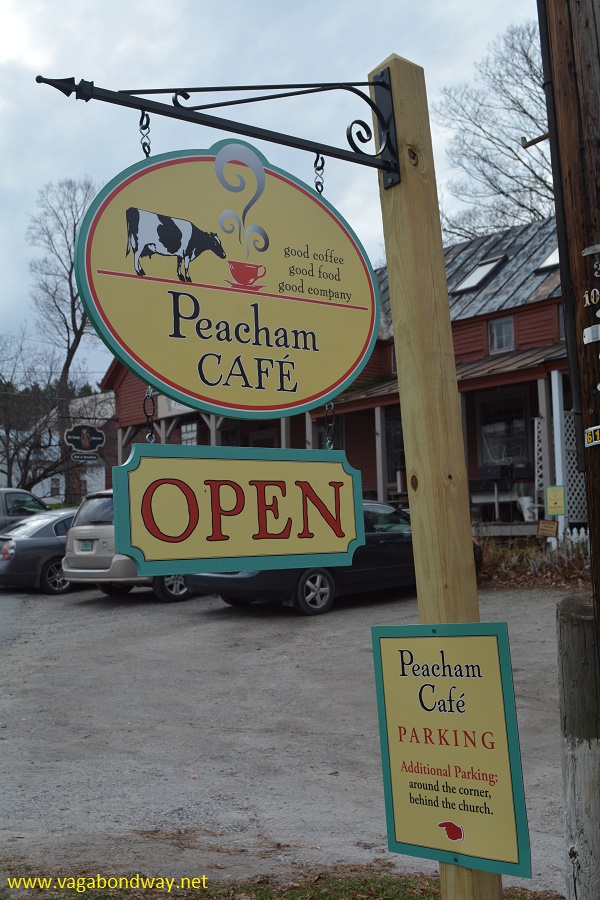 First stop the surprising and wonderful: Peacham Cafe.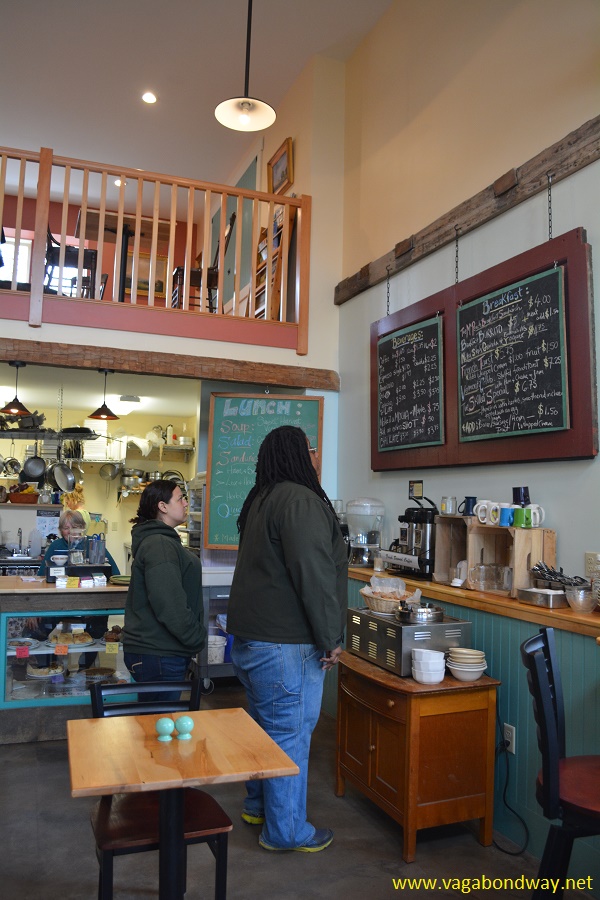 Jess and Shannel reading the board.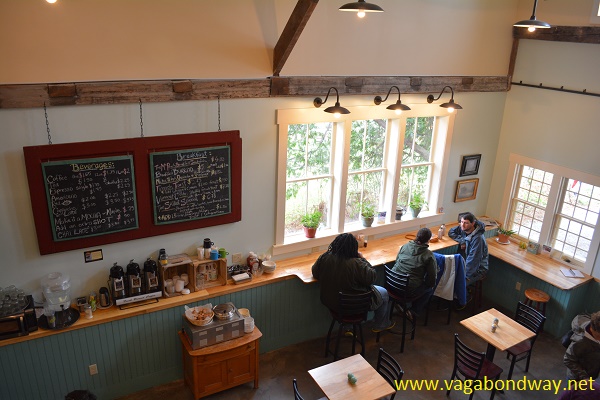 Tell me you don't wish you could be sitting by those cute little potted plants in this light and airy cafe?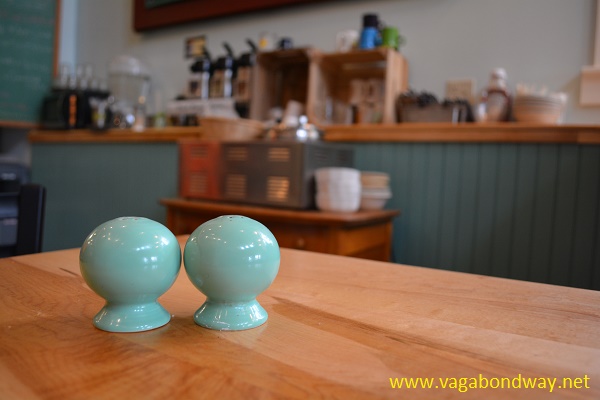 One of the things I loved most was the salt and pepper shakers. They had different styles of shakers all over.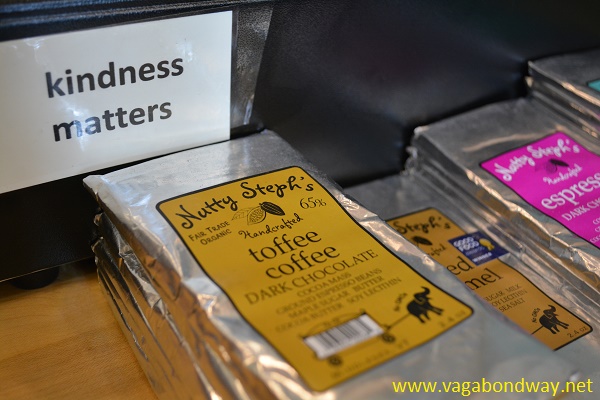 Just a little note to remember 'kindness matters' while you are buying some local chocolate.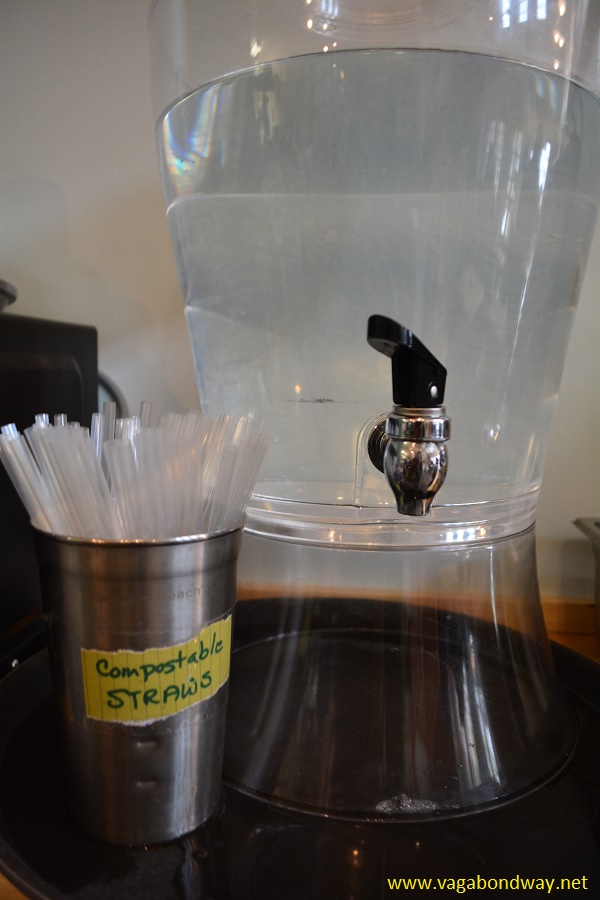 Compostable straws – awesome.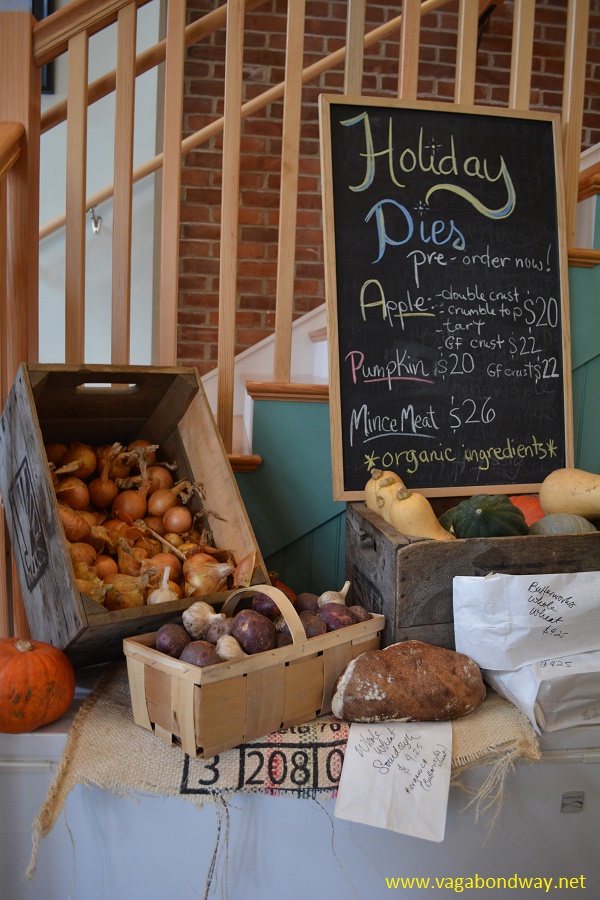 I thought this little farmers' market presentation inside was just picture perfect.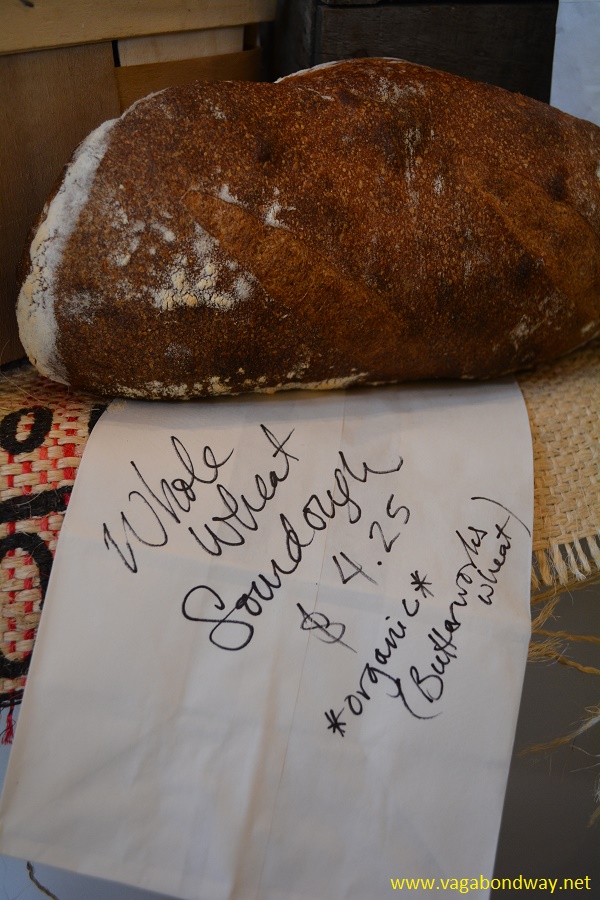 And what a good price for this bread!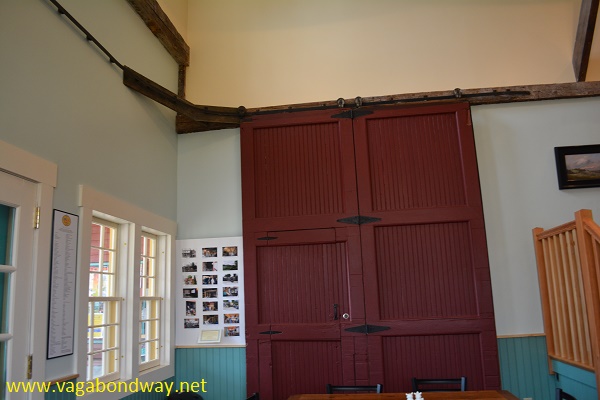 Aside from the food, the people, the salt and pepper shakers and decor, one of the coolest things about the Peacham Cafe is its story. The building was an old abandoned barn from 1867. The creating of the cafe was a true community effort. Locals and other businesses donated money for the refurbishing of the building to turn into a community cafe. Mother and daughter, Crystal and Ariel own some of the kitchen equipment and the town owns some. Crystal and her daughter manage the cafe, but the cafe belongs to the community. Focusing on local and organic food, the atmosphere was so light, airy and delicious. The back story only made me want to go back as many times as I can.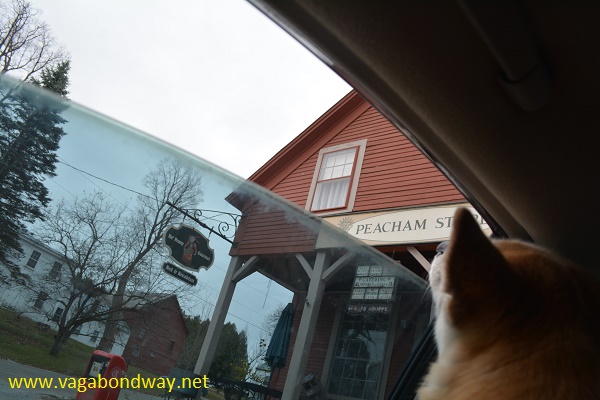 Peacham was so lovely and the dog had to get the very last sniff she could before we left.
We arrived next to St Johnsbury and after drinking so much coffee from the cafe needed the bathroom rather badly. The library was not open so it lead us to Eastern Main Market Deli.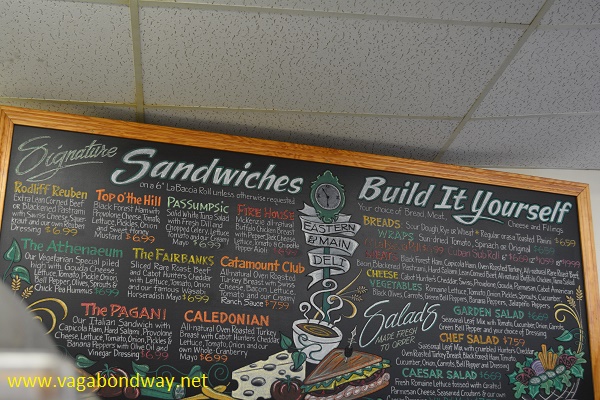 The ladies were very nice and let us use the bathroom. Although all that was bought was a tea, what a beautiful board! The woman said when she has to update the board she calls in a local artist girl. The girl might move out west and the lady was not too sure on that, because, I mean, who would update her beautiful board. Although I can't say personally, it looked like a great place to grab a sandwich on the go.
We wanted to check out the library and had some time to kill before it opened so I asked the group if we could walk to this castle.
Everyone said, "Um, Tiff that is not a castle."
I said, "I know, but I wanted to walk to it anyway and calling it a castle sounded way more exciting and it did look kinda like a castle."
Everyone said, "Oh, well it's still not a castle."
I said, "I know."
Then we walked in silence for a moment.
Then someone asked, "What actually makes a castle a castle?"
None of us knew.
Maybe when we go to a real castle I will be able to report back on what it takes to be called a castle.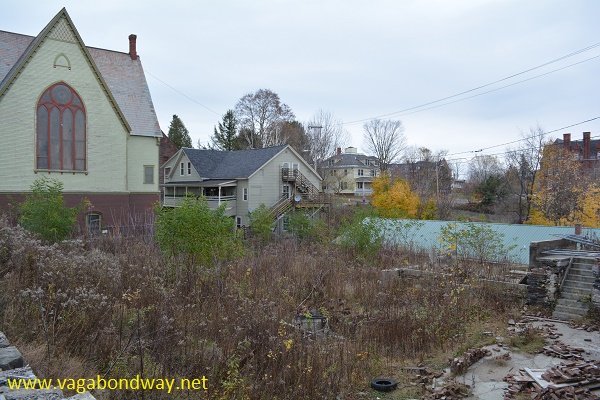 On the way to the castle we passed this deserted lot.
Then we stumbled upon this bookshop.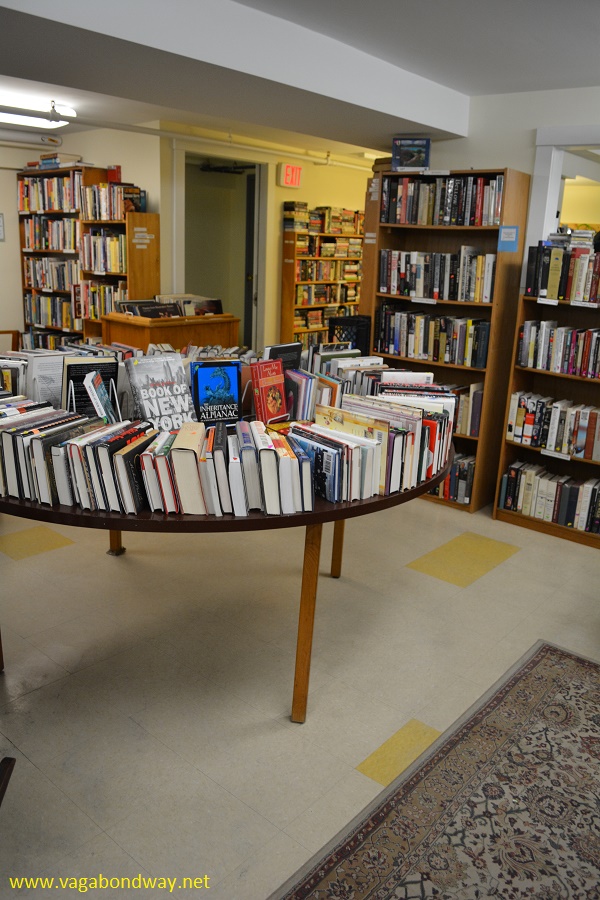 Jess loved the round table and made sure I had a picture.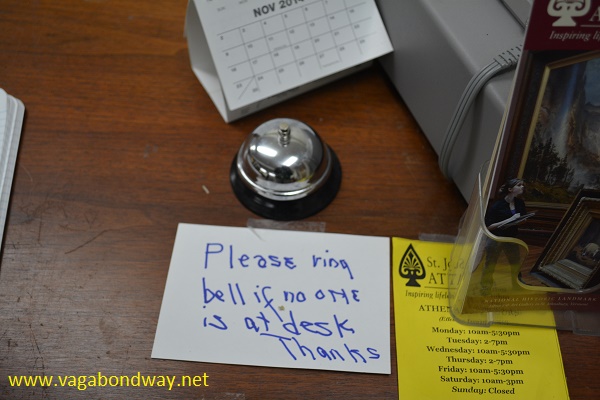 What a sign – but all the books are donated and the money helps support the library.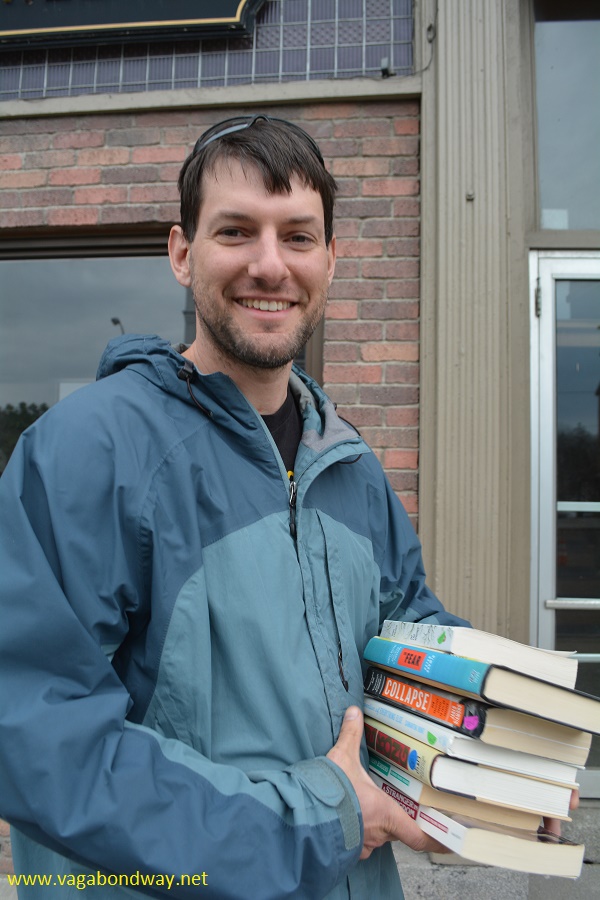 We did not plan to buy books, but everyone came out of there with a stack of books.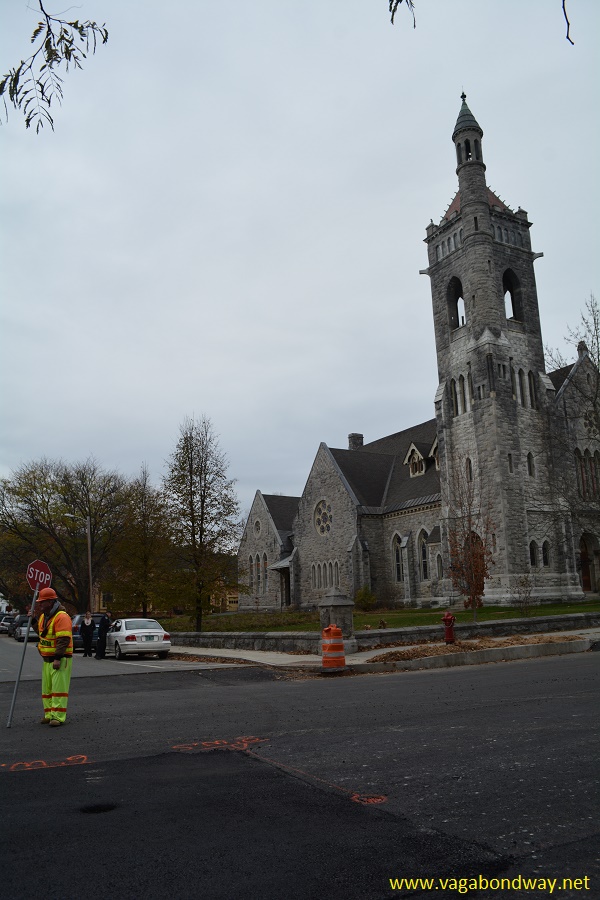 St Johnsbury was having what seemed like one of the most annoying and loud city road construction ever. The workers looked miserable and it was very loud all over the place. But we still noticed this officer trying to break into this poor woman's car parked by the castle.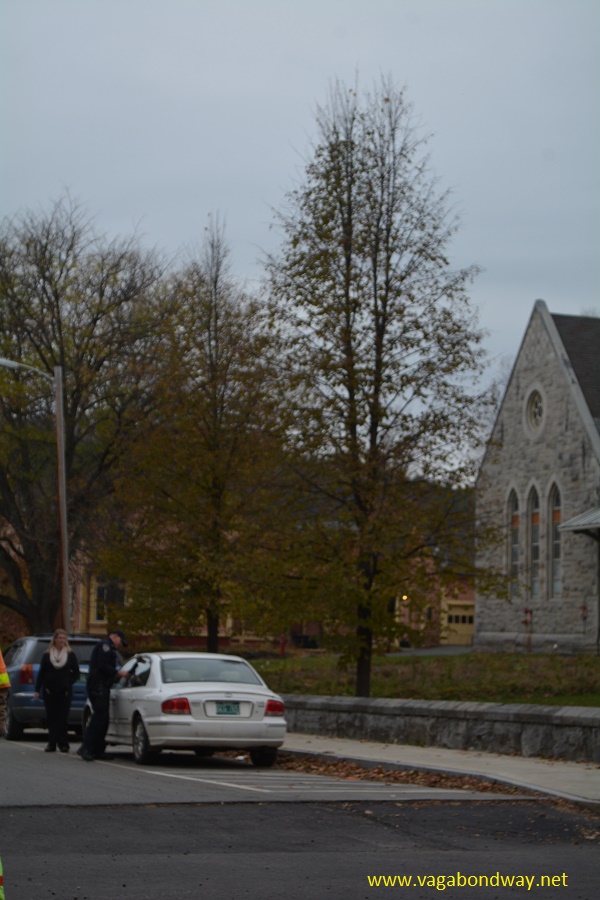 Ok, of course he was trying to let the poor woman who locked her keys out of her car back into her car. I felt like the paparazzi and then I got all nervous that I shouldn't take the picture and got camera shake and got a blurry picture.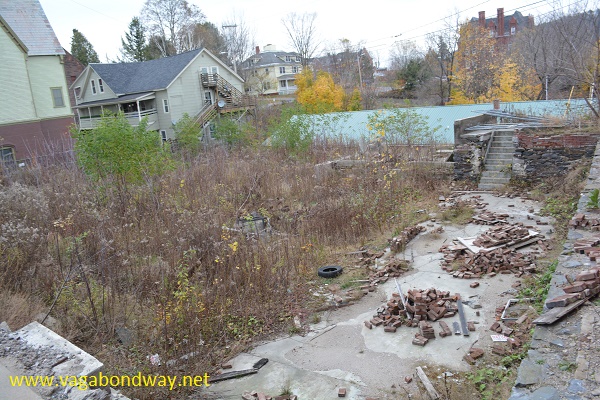 Remember that deserted lot? Basically across the street from this was: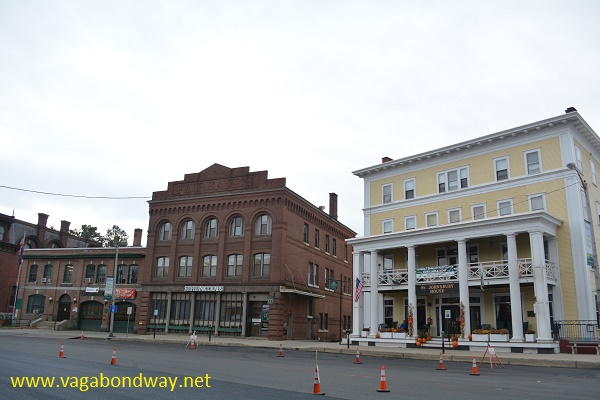 These beautiful buildings. St. Johnsbury has some stunning architecture and also some not so stunning architecture.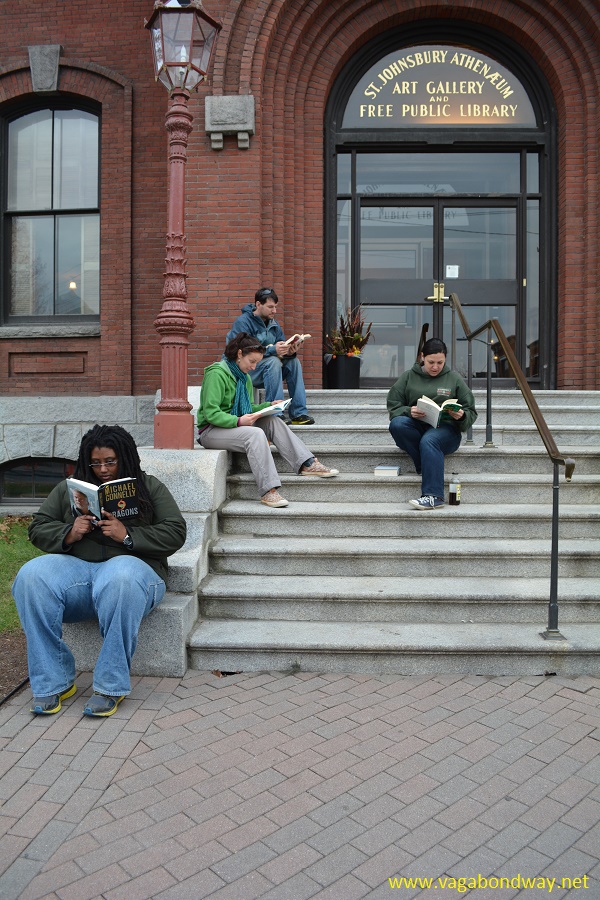 We still had about ten minutes to wait, so we all sat outside and read our books.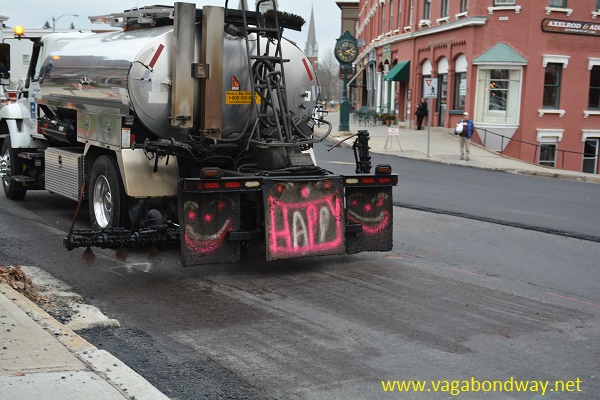 It wasn't really this happy because this loud truck, was spraying road chemicals while driving back and forth, back and forth in front of us the entire time.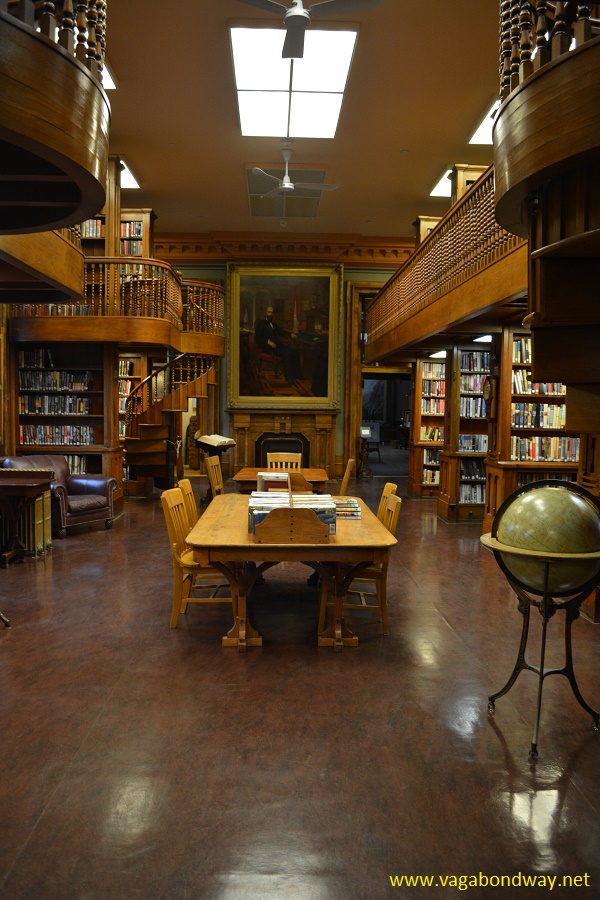 But it was worth the wait!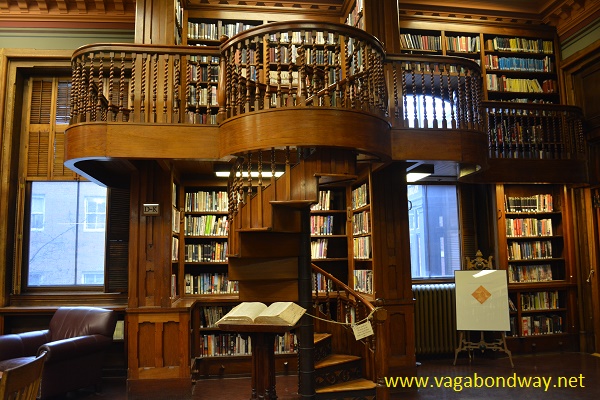 Look at this place!
(Side note: we didn't know it at the time, but later in the day we will meet the artist of the print on the right in Part 2.)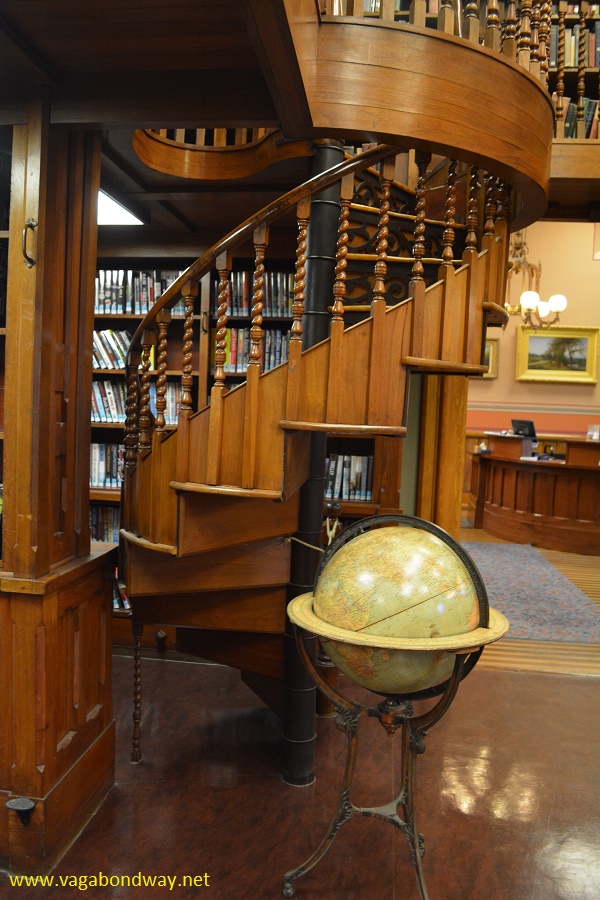 One of the things I loved most was globes placed all around the building.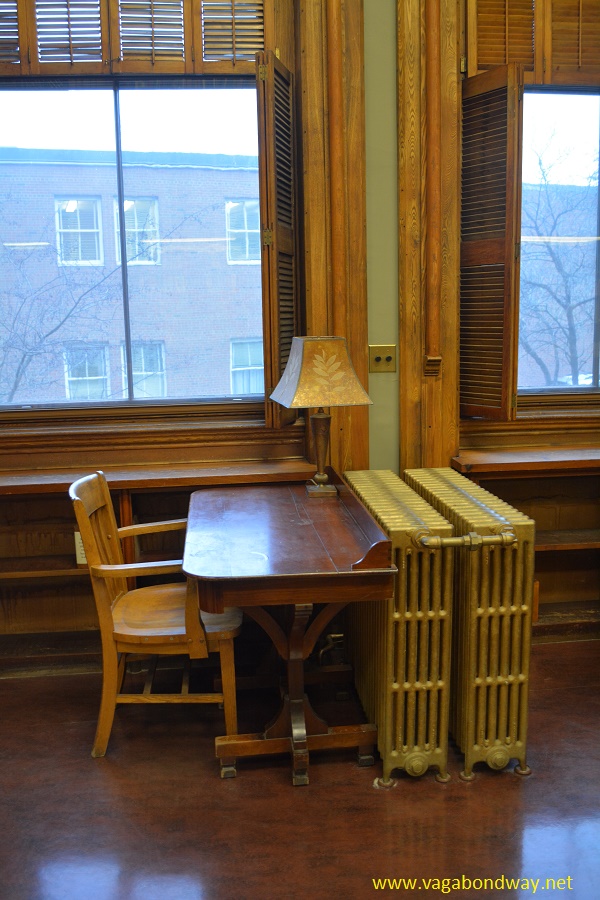 Just seeing that desk made me want to sit there and write and read all day with towers of papers and books all around me. Libraries are just awesome!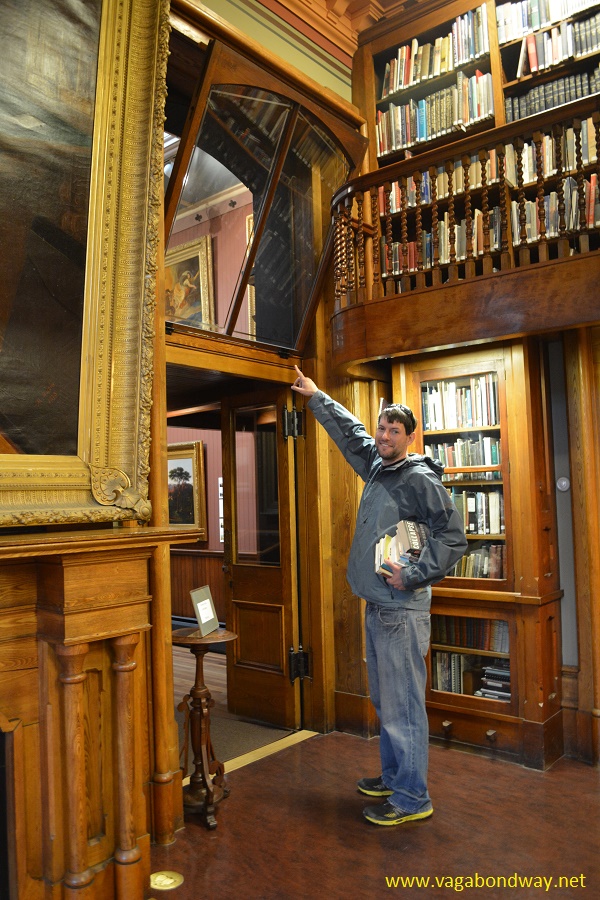 The architecture was stunning.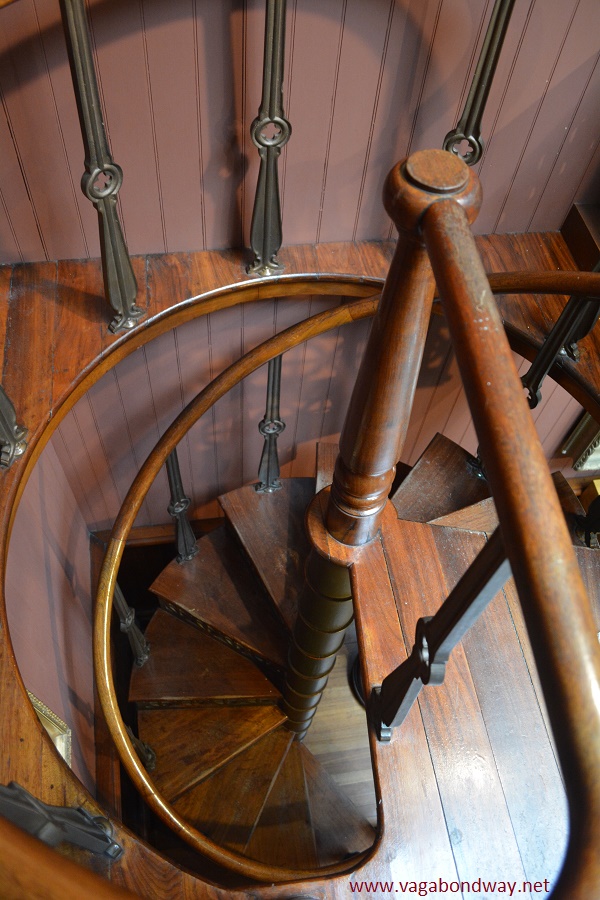 You were allowed to go up these spiral stairs to get a better view of the gallery.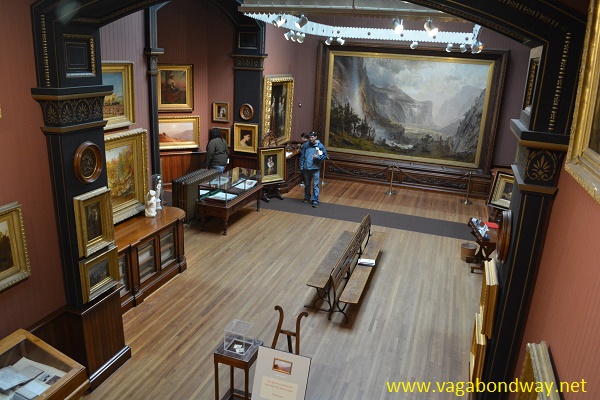 The library had an impressive gallery –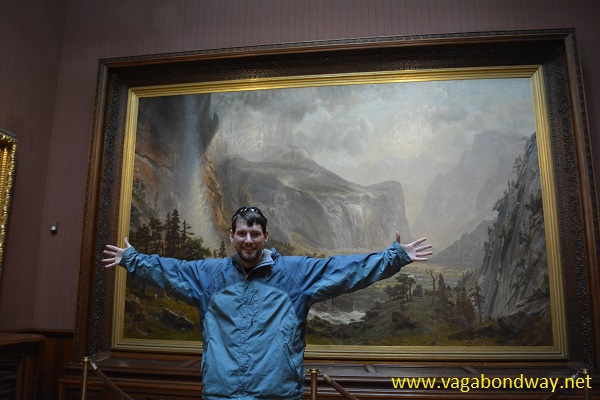 – including this massive painting by Albert Bierstadt of the Domes of Yosemite. To emphasize this, Chris has a six foot wing span and the painting is bigger than that. Now that is a big painting.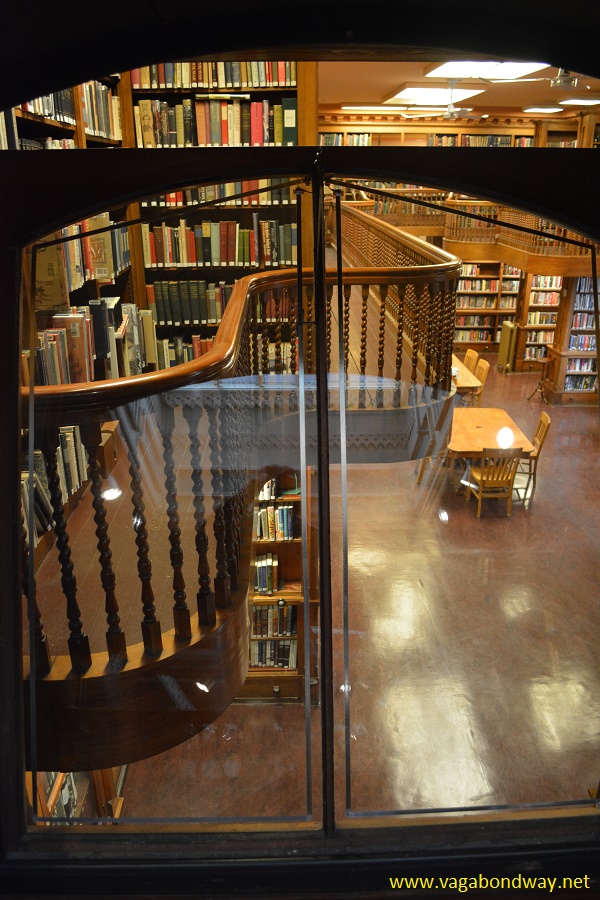 Go ahead – it's ok to drool a little over these architectural lines.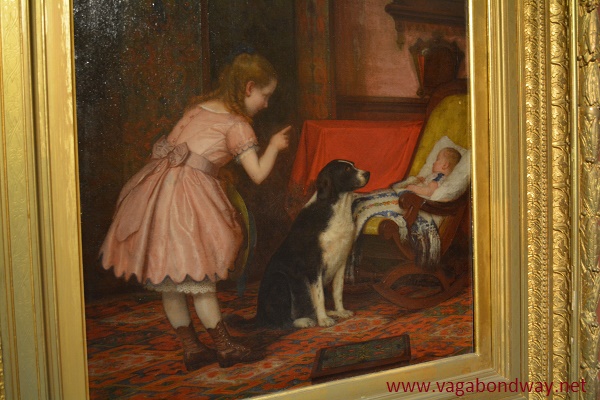 As I went to walk down the stairs, there was this portrait which I interpreted that the girl was telling the dog he had better not eat that baby. I laughed out loud and liked it so much I unfortunately never looked at which artist created the piece.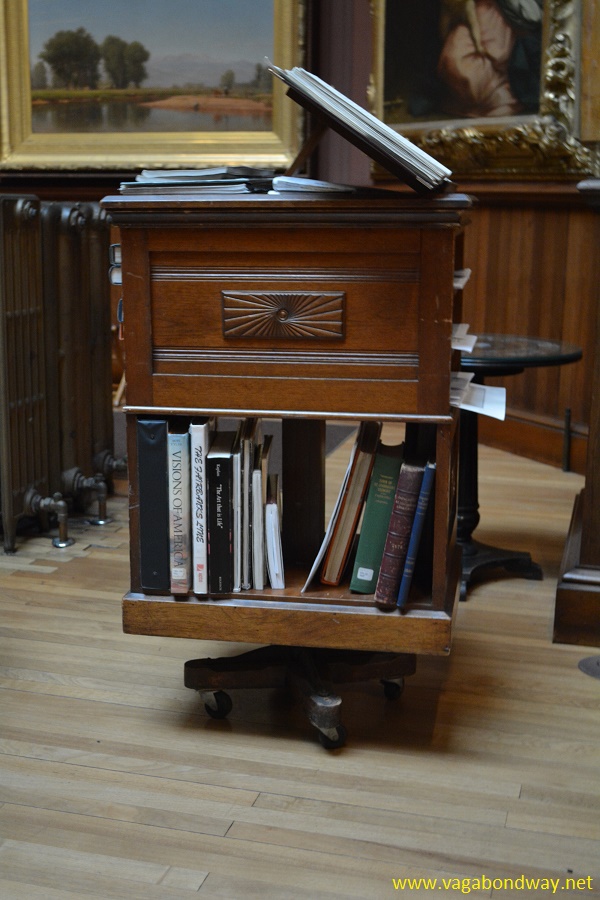 Little book case on wheels.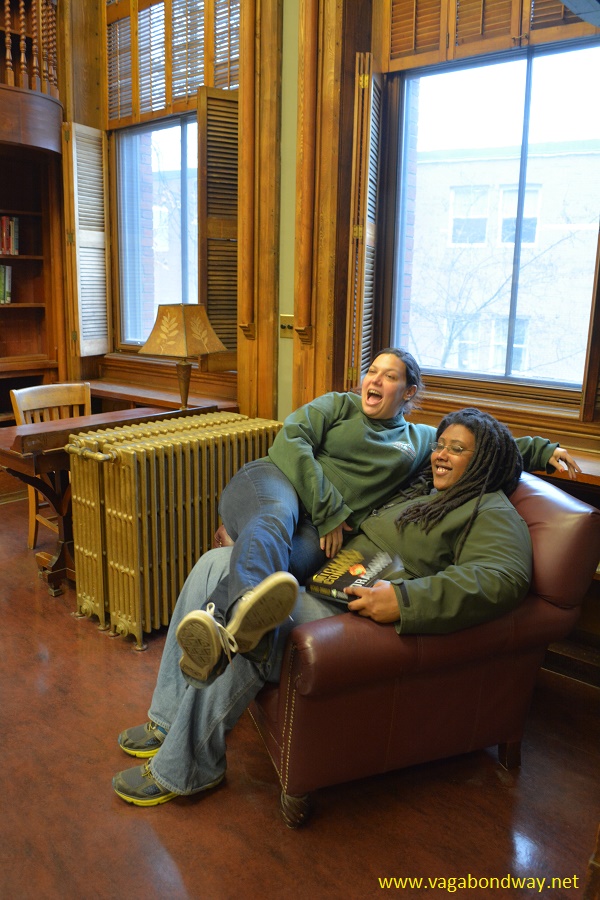 Everyone was having such a great time in the library.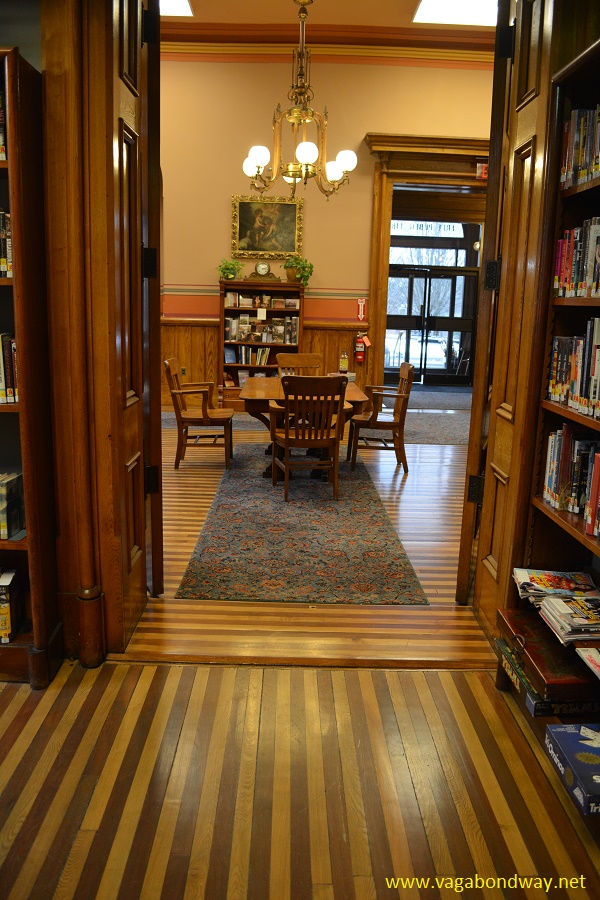 It was all just beautiful.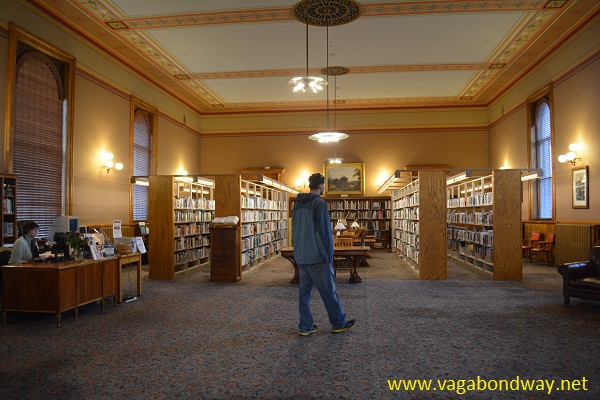 And upstairs was row after row with more books. A readers paradise.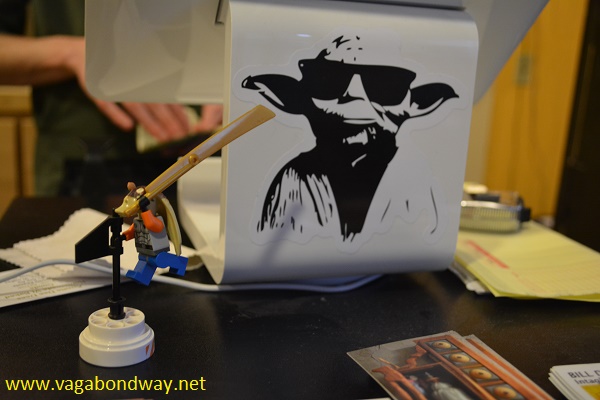 And this is where our tour will pause until Part 2! There was just too much goodness from the day to put it in one post. Details are below for Part 1. Until next time…eat well and wonder where next on the tour this yoda picture was taken.
*     *     *
If you go:
Peacham Cafe – 643 Bayley Hazen Road, Peacham, VT 05862, 802-357-4040, www.peachamcafe.org
Hours currently: M/T 6-2, W/TH closed, F 6-2, S/S 9-2
Eastern Main Market Deli – 1194 Main Street, Saint Johnsbury, VT, 802-751-1171
Hours: Weekdays 7 am – 10 pm, Sat 8 am – 10 pm, Sun 8 am – 8 pm
Secondhand Prose – 1222 Main Street, St. Johnsbury, VT, 802-748-9222
Hours: M/T/Th/Sa 11-3, Wed 1-5, Fri 11-5
St. Johnsbury Athenaeum 1171 Main Street, St. Johnsbury, VT 05819, 802-748-8291, www.stjathenaeum.org
Hours: M-F 10 am – 5:30 pm, Sat 10 am – 3 pm (4 pm in the summer)