Hiking around in the Himalaya Mountains of Nepal was a dreamy wonder. Last week we talked in depth about hiking to Poon Hill, Nepal. That post was full of how to info if you think you may ever want to go there yourself. If you think you may not make it there yourself or want to get a bit more of a behind the scenes look, this weeks post is a selection of images showing what it was like to hiking around Poon Hill in Nepal.
If you have ever wondered what life is like around 3000 meters/ 10,000 feet up in the Himalaya Mountains let's take a little hike together. Lace up those hiking boots, guzzle some water and let's set off….there's a mountain calling with our names on it.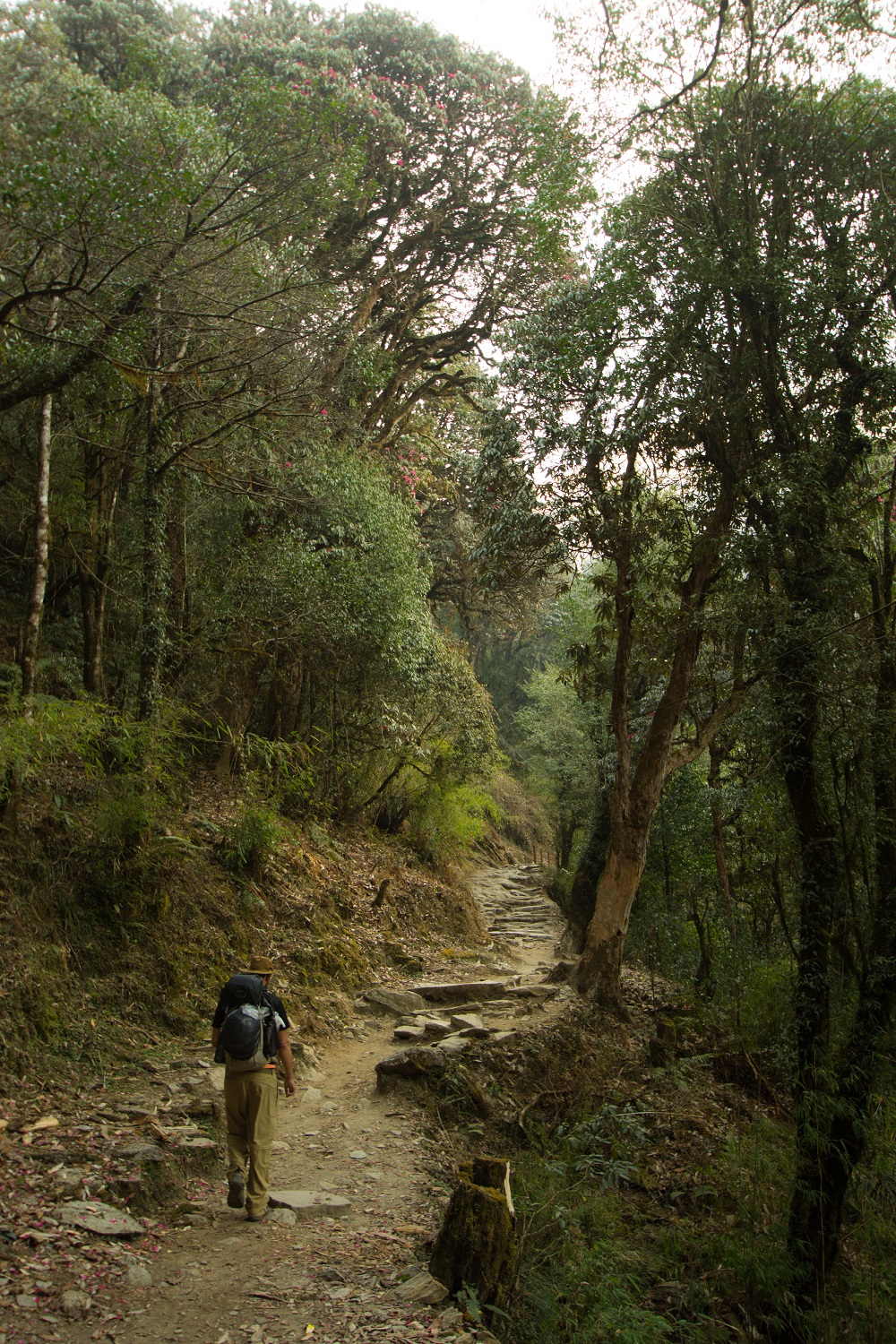 Ah…we're hitting the trail with a varying landscapes of tropical to alpine vegetation.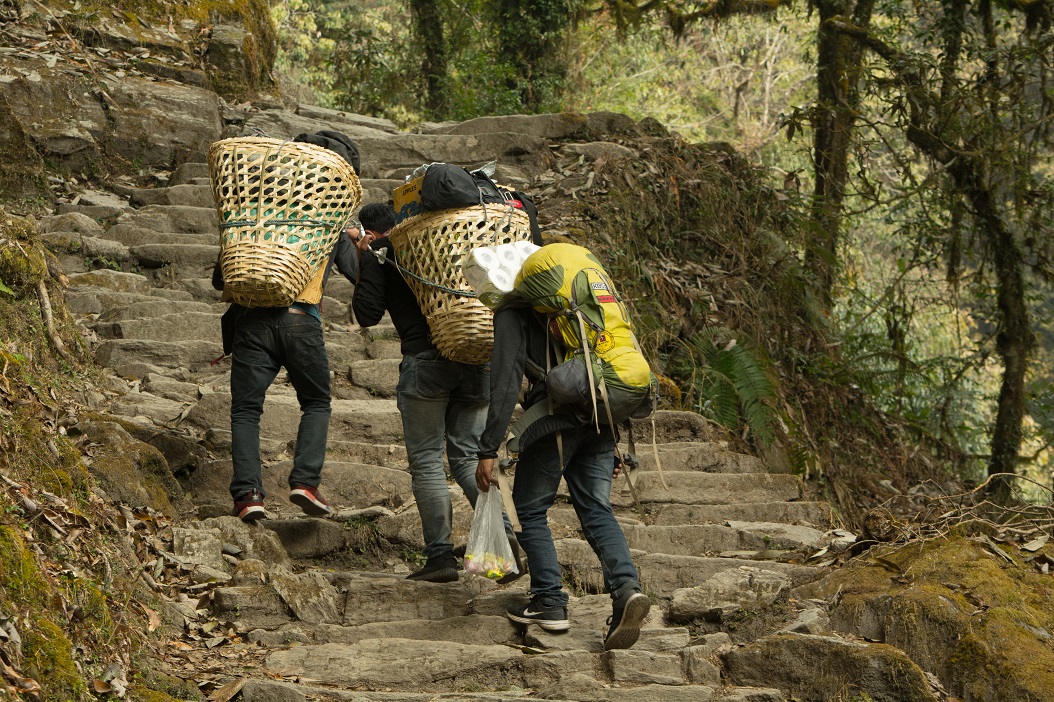 We were feeling like we had done a good job packing light for the trail to help propel us along – and then we got passed by porters carrying way bigger and heavier loads. The hand woven wooden baskets were the way most of the locals carried the items they needed (or that the tourists needed – toilet paper being essential!) 😉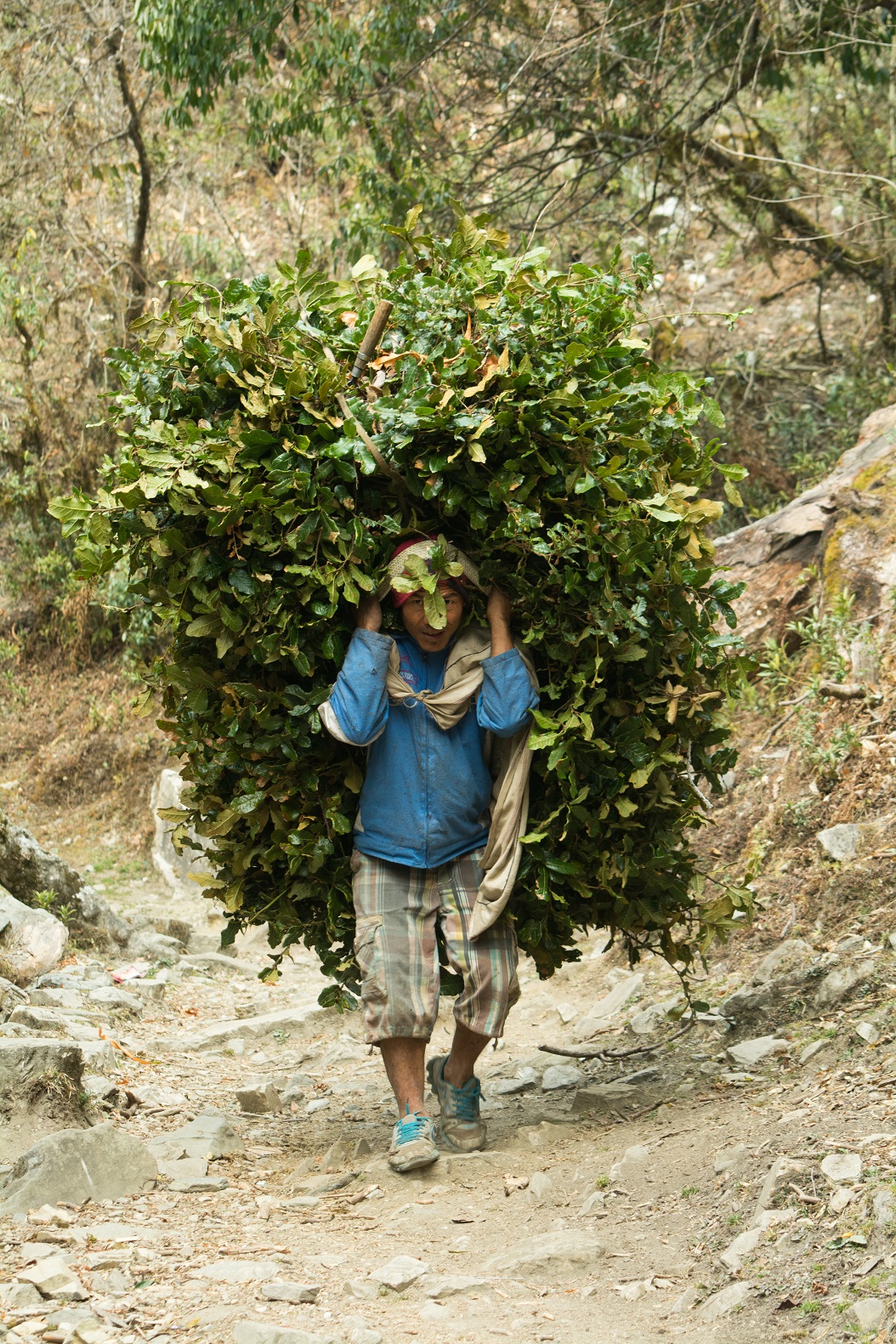 We passed more friendly locals who once again put us to shame with the size of loads they were carrying.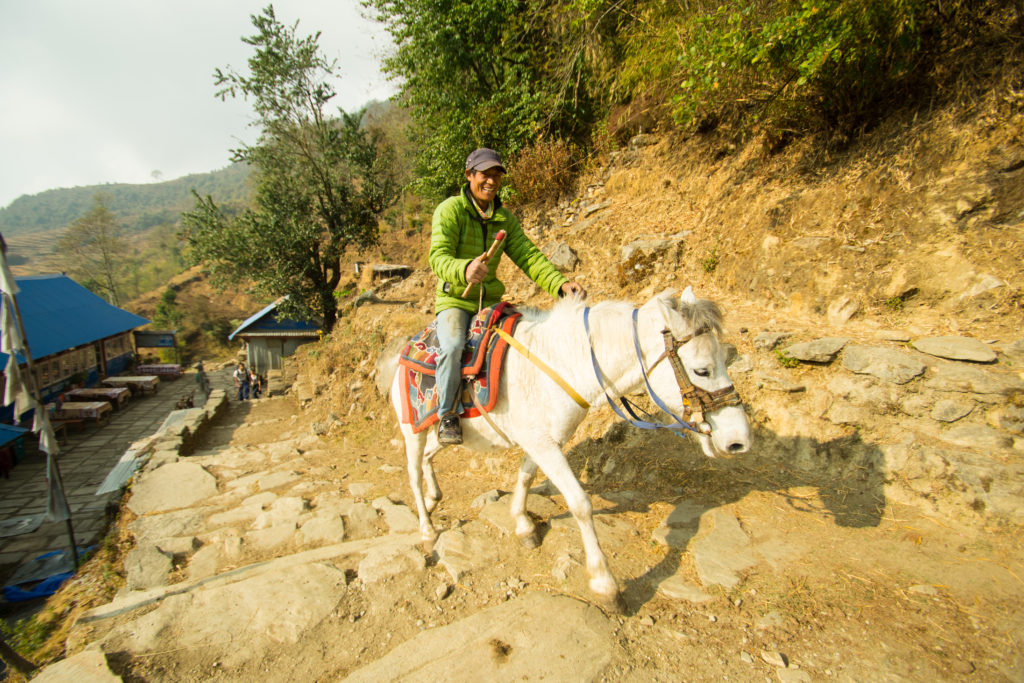 There were plenty of mountain ponies and mules up there that locals used to ride around on too.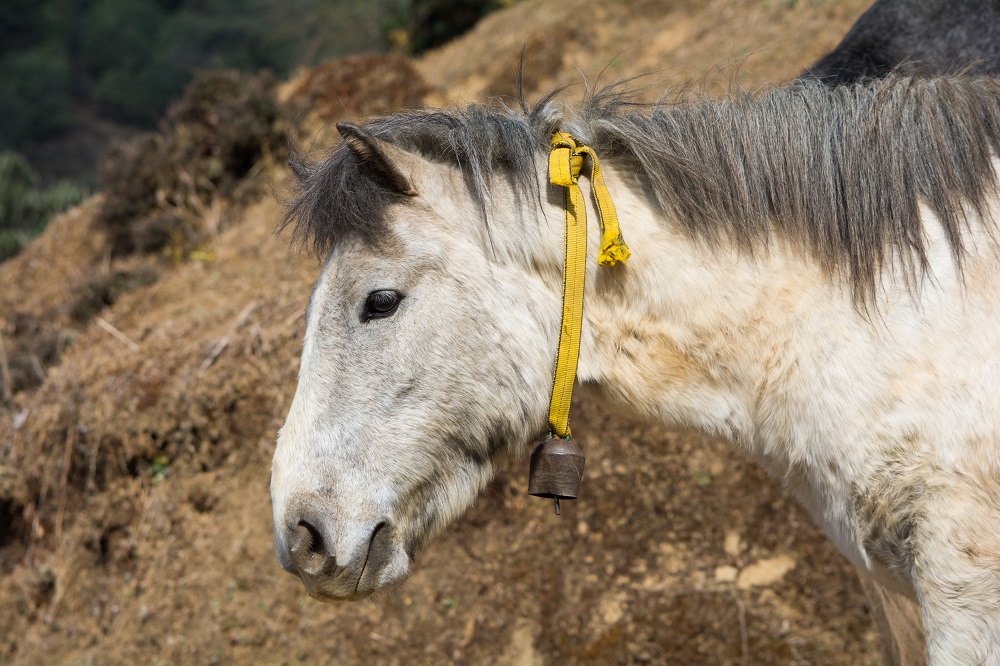 All the horses and mules wore a bell around their neck. This was so if they were off grazing they could still be found. It also meant that while hiking we heard the musical line of bells of all different pitches throughout the mountains.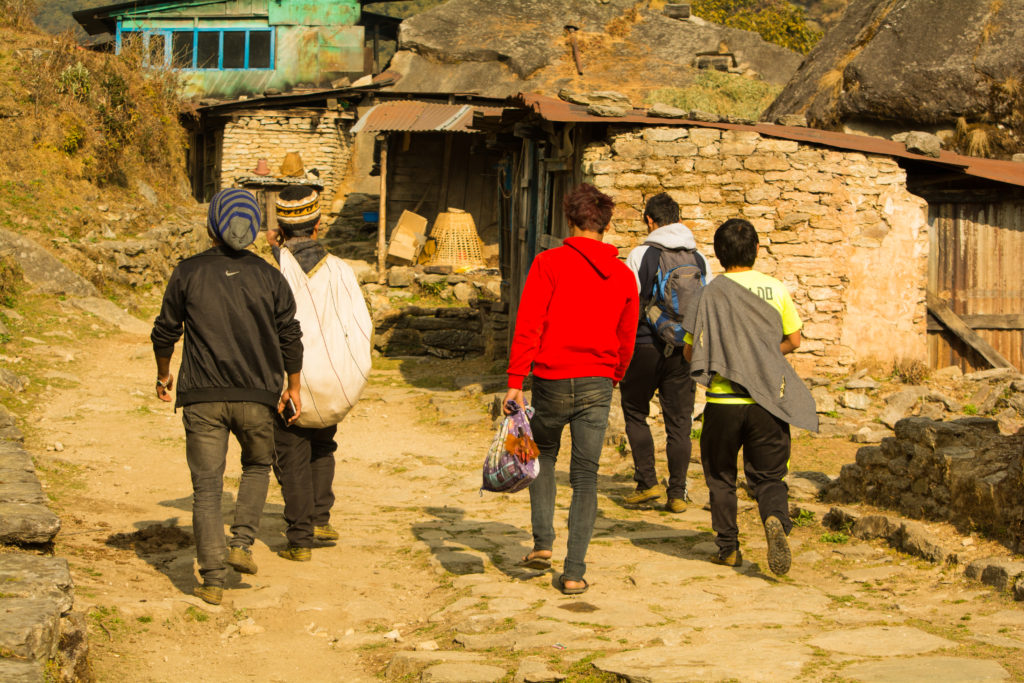 As we passed through tiny villages we would see the locals way of life.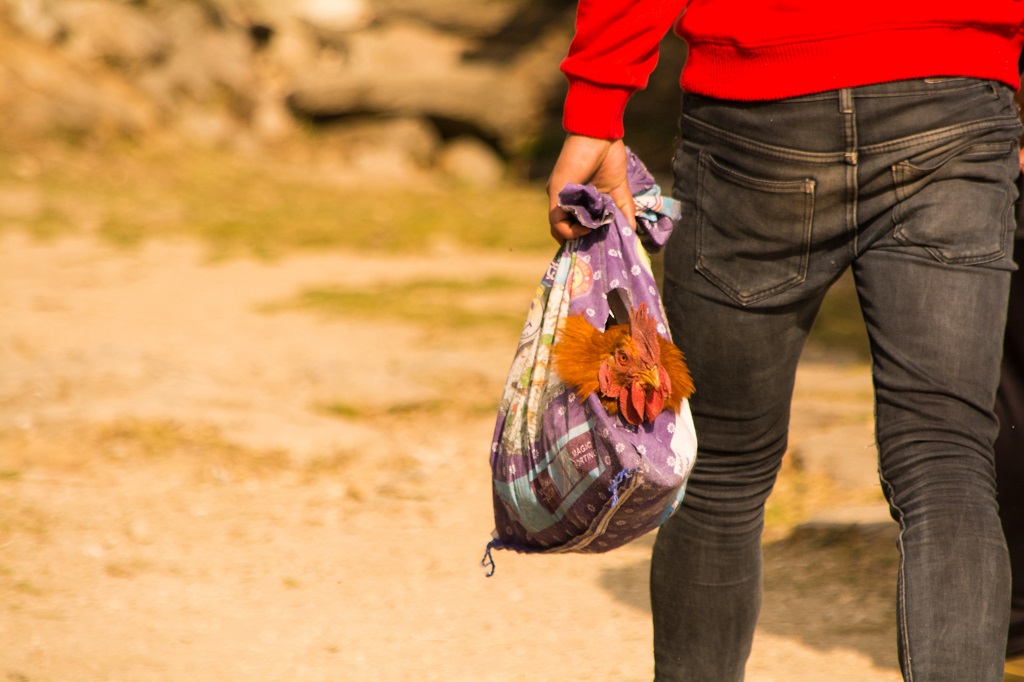 I presume that is chicken to go Nepal style!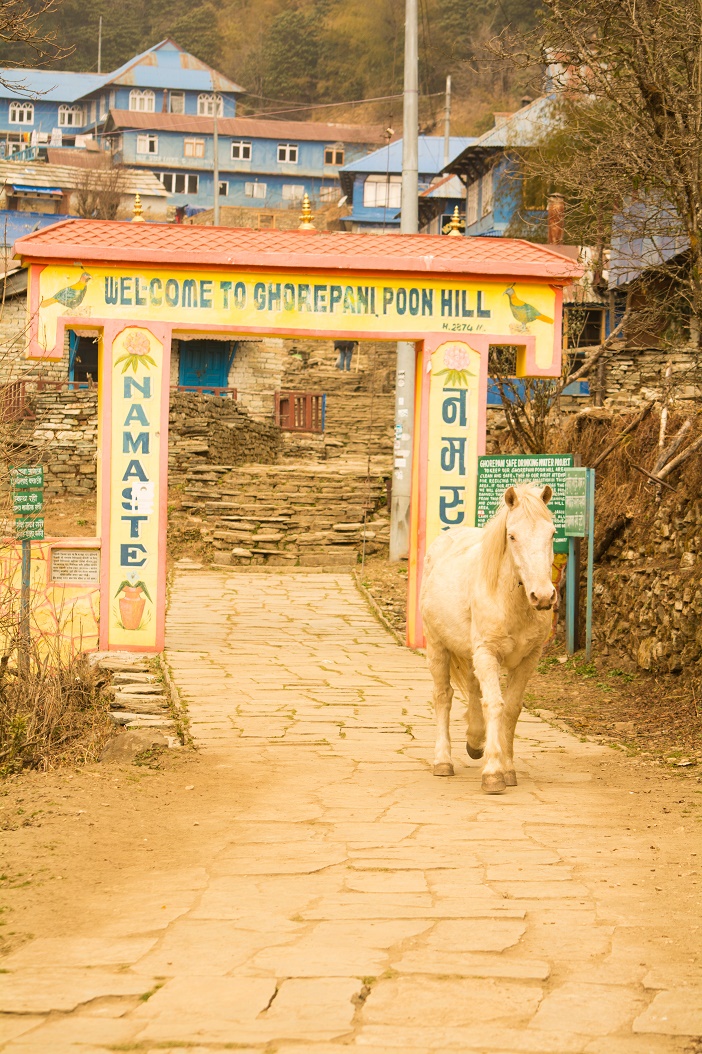 And then we would make it to our intended village for the night. We thought it was quite fitting to be greeting by this white horse as we entered the village of Ghorepani.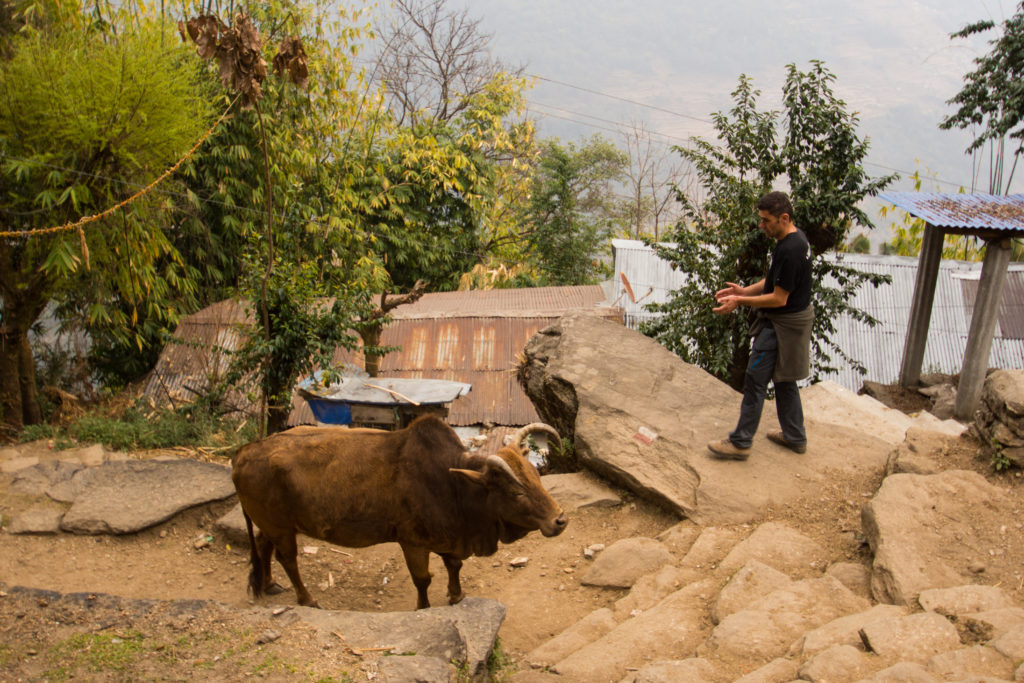 Although not every tourist was as certain about the local residents that were greeting them. This man wanted to get by this cow and kept doing the shuttle step back and forth, clapping and jumping. The cow did not move.
We called this photo: Tourist vs. Cow.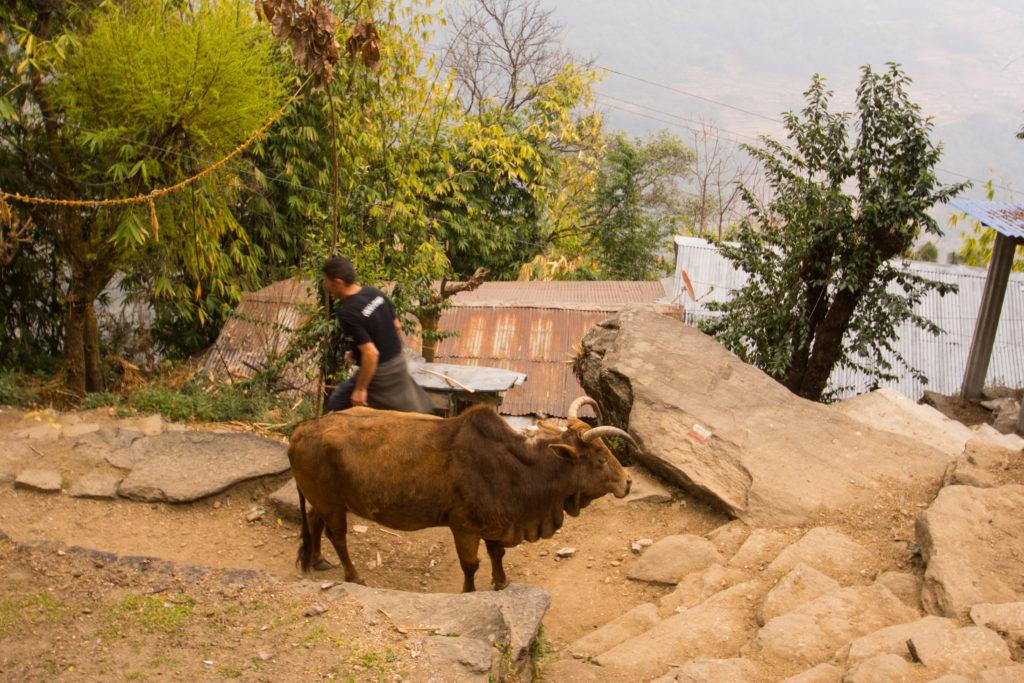 Eventually he mustered up the courage and made one mad dash past the cow. The cow continued standing there.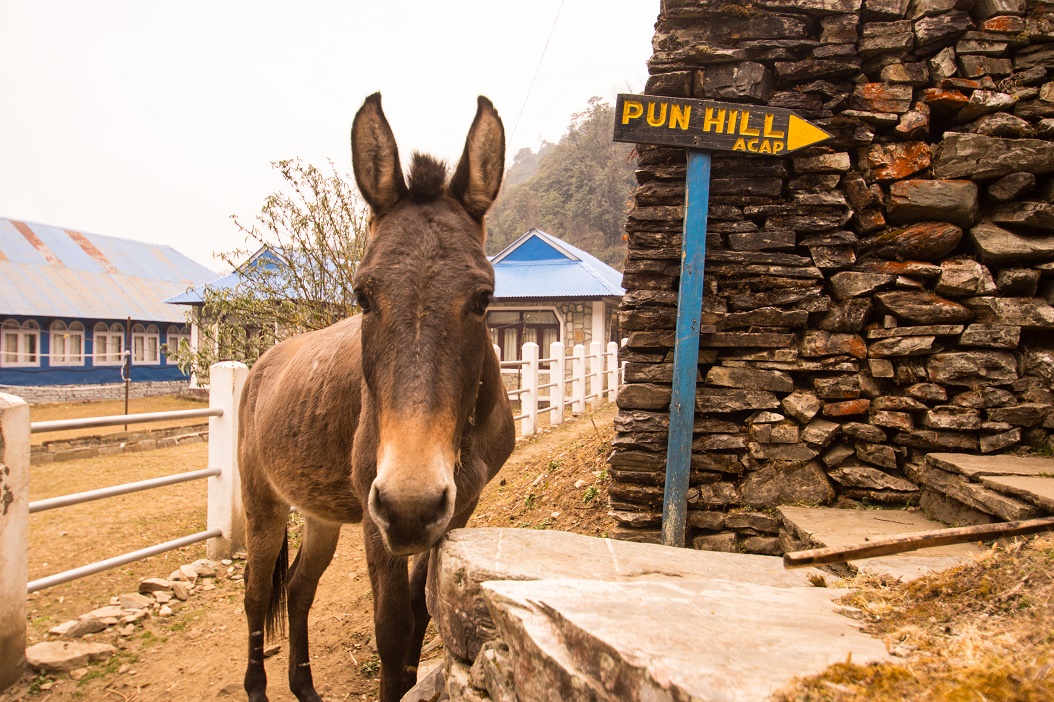 Just like people animals each have their own unique personalities. Most of the animals roam freely around the villages. This mule was content to say hello and pose for his picture.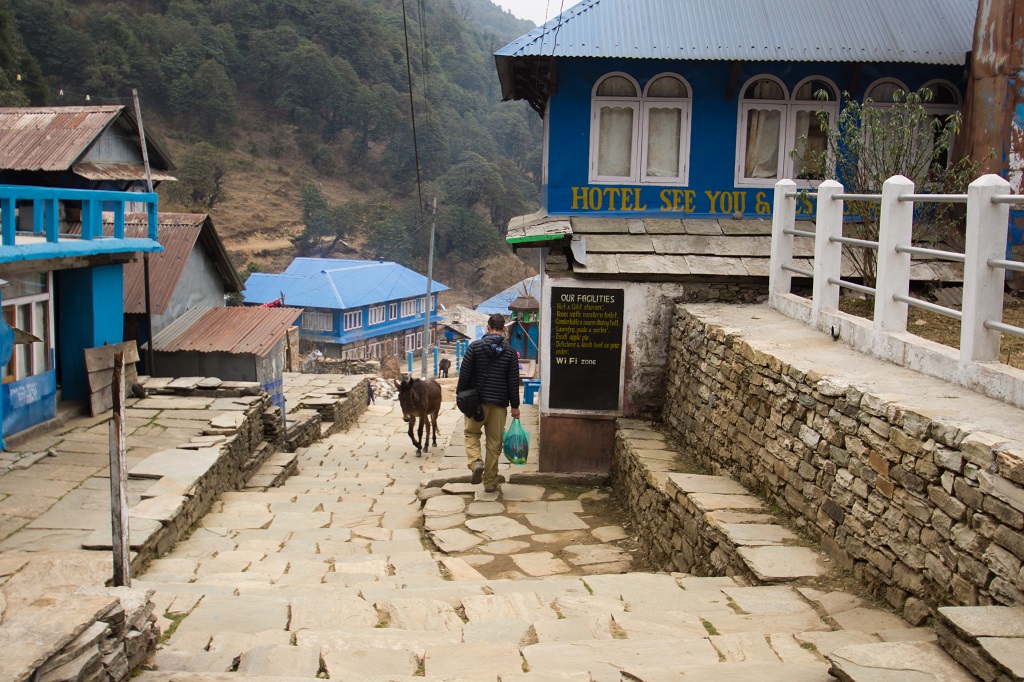 Walking around the village.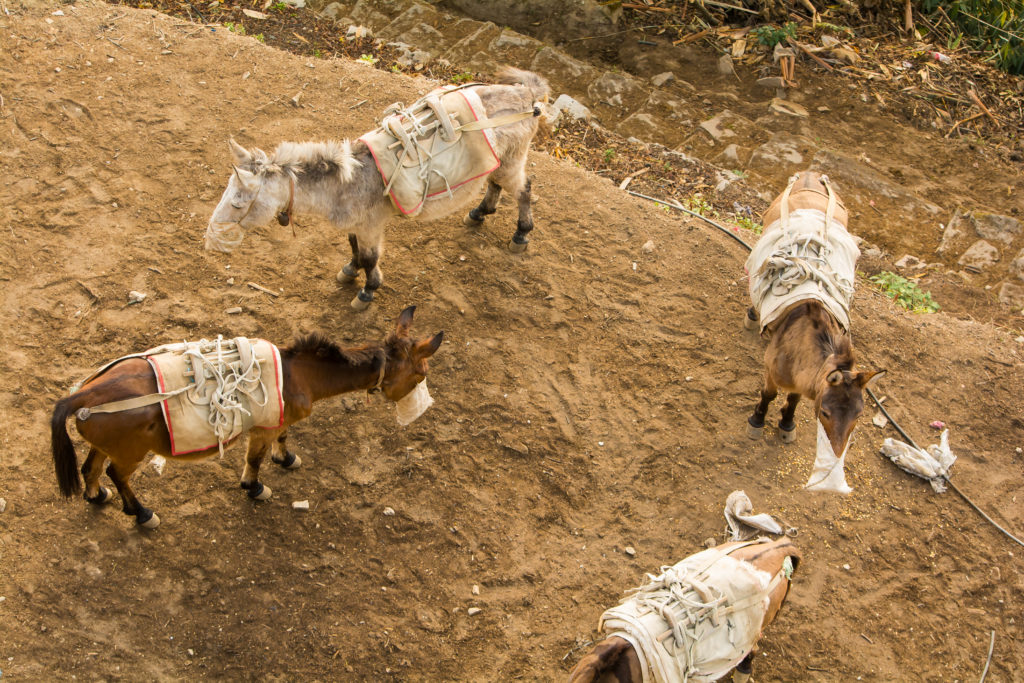 Feeding time! We were pleased to a general standard for the care of the animals on the mountain. I think having tourist come in has helped increase the animal welfare. We saw several signs posted reminding caretakers to give animals water breaks, adequate salt licks and feed. We did not see any obvious signs of extreme neglect or abuse of animals while in the mountains of Nepal. This helped us feel happy and even better about being there and choosing to spend our tourist dollars on local, small businesses.
I did make this friend. While hiking our third day this buffalo befriended me and followed me all while hiking through the village. I meet this buffalo while we had stopped for a water break. We had made eye contact and I said something like, "Hello there buffalo." As I started walking away I heard these buffalo foot steps behind me. I would stop, the foot steps would stop. I would keep walking the foot steps were right behind. If I sped up my pace the foot steps quicken too. When I stopped to look back and say, "Buffalo what are you doing back there because I have no food to give you,' he would look away as if I couldn't see him. If buffalo's could whistle that buffalo would have been whistling. Eventually we went up some steep steps to Hotel Excellent View and the buffalo was not able to follow us up there. From our hill top vantage point we continued to watch the buffalo wander down the narrow and stone laid streets. Eventually we saw him make his way home where his owners put him in a little pen and fed him some hay.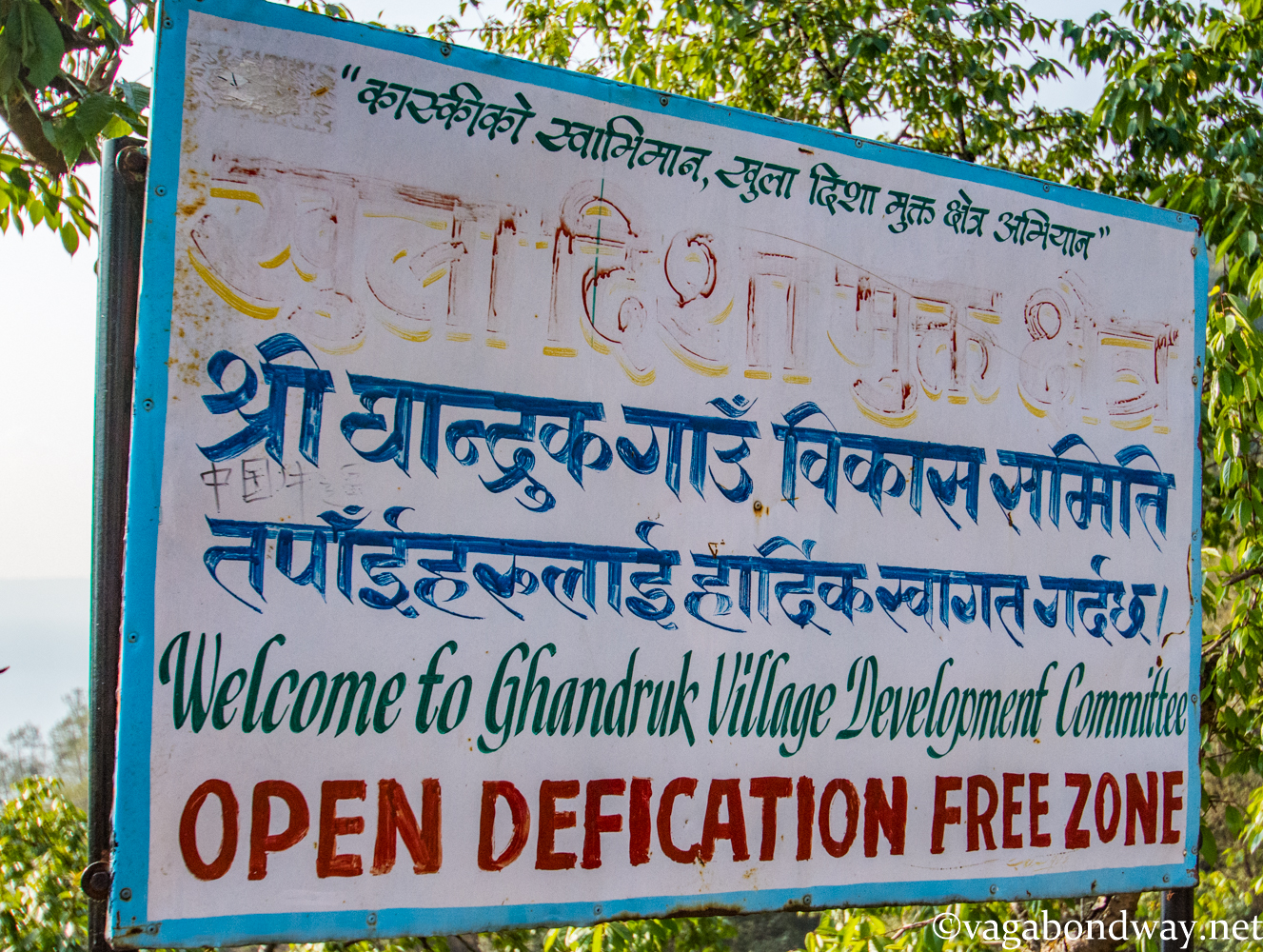 A big movement that has been implimented up in the mountains is the use of functional bathrooms. Using designated bathrooms was encouraged to all people up in the mountains. Guest houses had bathrooms available for passing hikers to use either for free or a very small donation.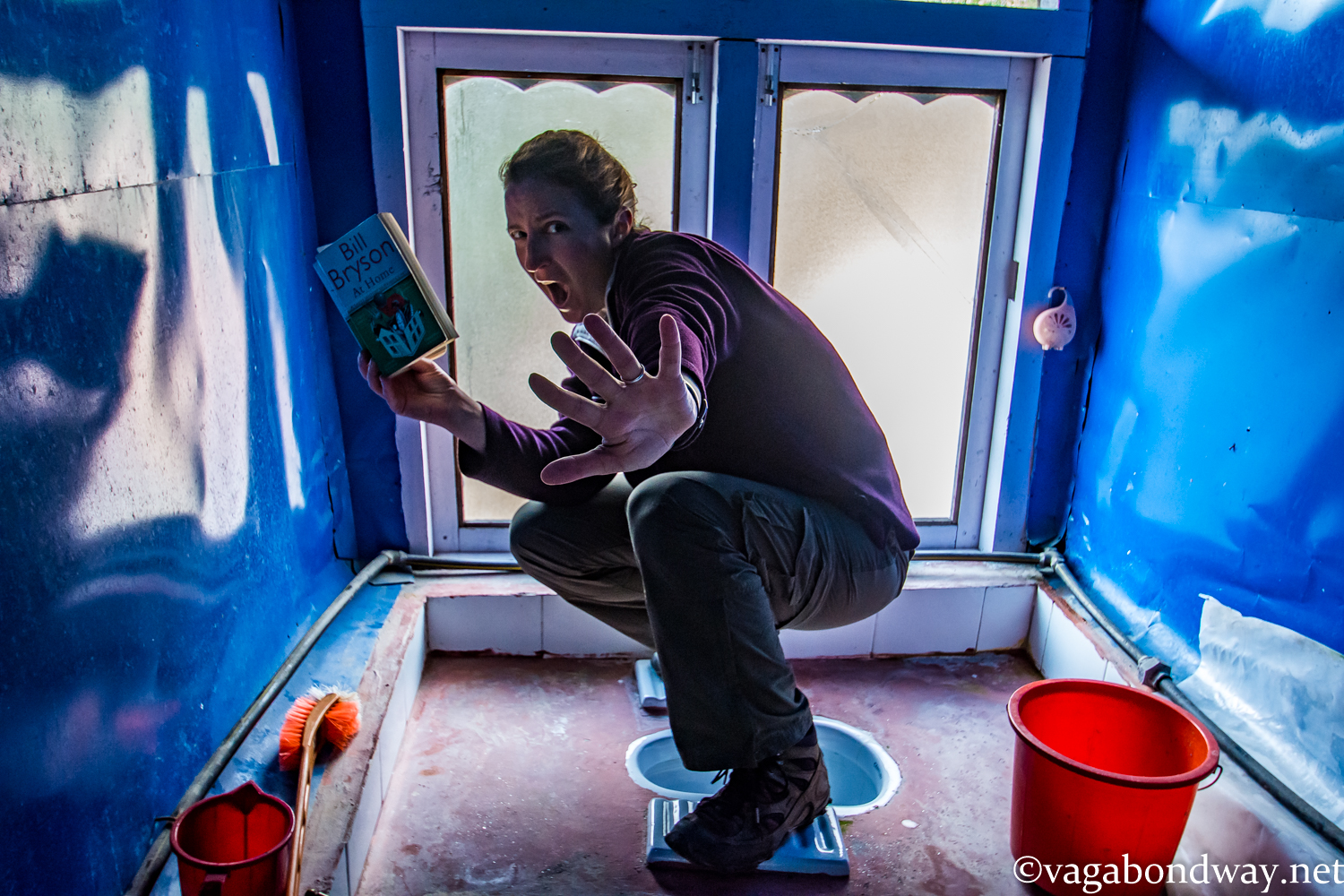 This is what one of the squat toilets looked like in our guest house. Not shown in this photo and near to where Chris was standing to take this photo was a regular Western toilet. This guest house was so amazing that it had installed both squat toilets and Western toilets for it's visitors. We had western toilets (the type you sit on and probably have in your home) the entire time.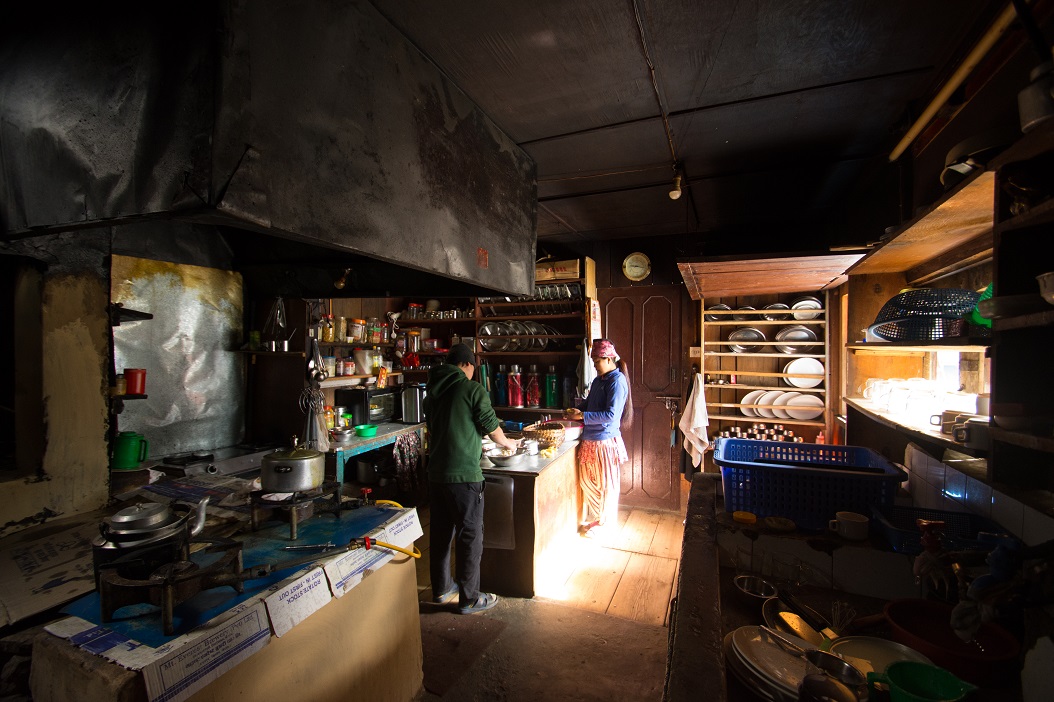 One of the best meals of mac and cheese (a hikers dream meal) we have ever had was served out of this kitchen. I asked if I could take a picture. This was the family that ran Ghorepani Hotel at Lower Ghorepani where we stayed our second night.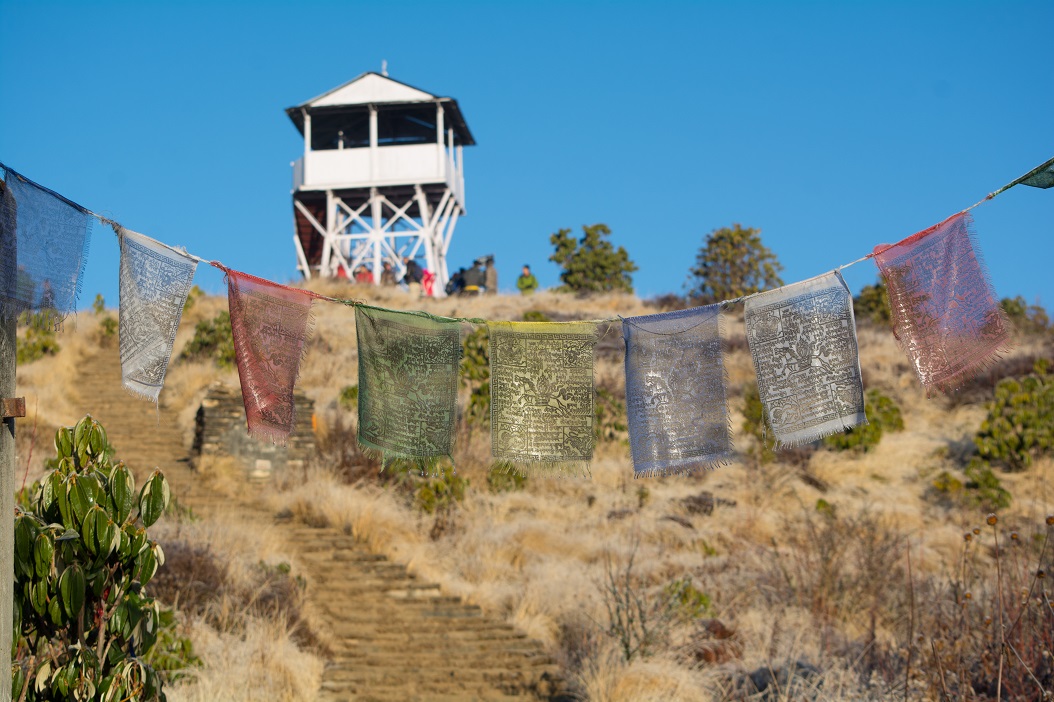 Well after the sun had already come up, this was the view a top Poon Hill. Prayer flags were everywhere up on the mountain because when they blow through the breeze the hope is they bring good fortune and health to all people.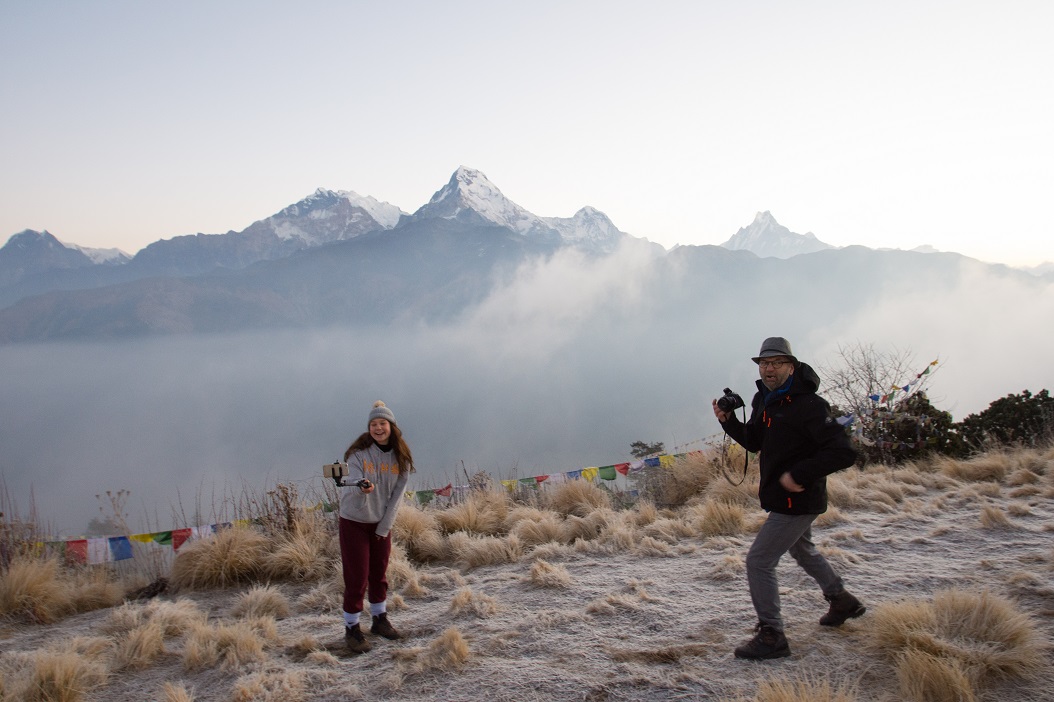 All sorts of people had made the hike to summit Poon Hills. I caught what I think was a European father and daughter having a goofy moment. You know, no big deal, just dad and daughter jumping on a mountain top some morning in Nepal.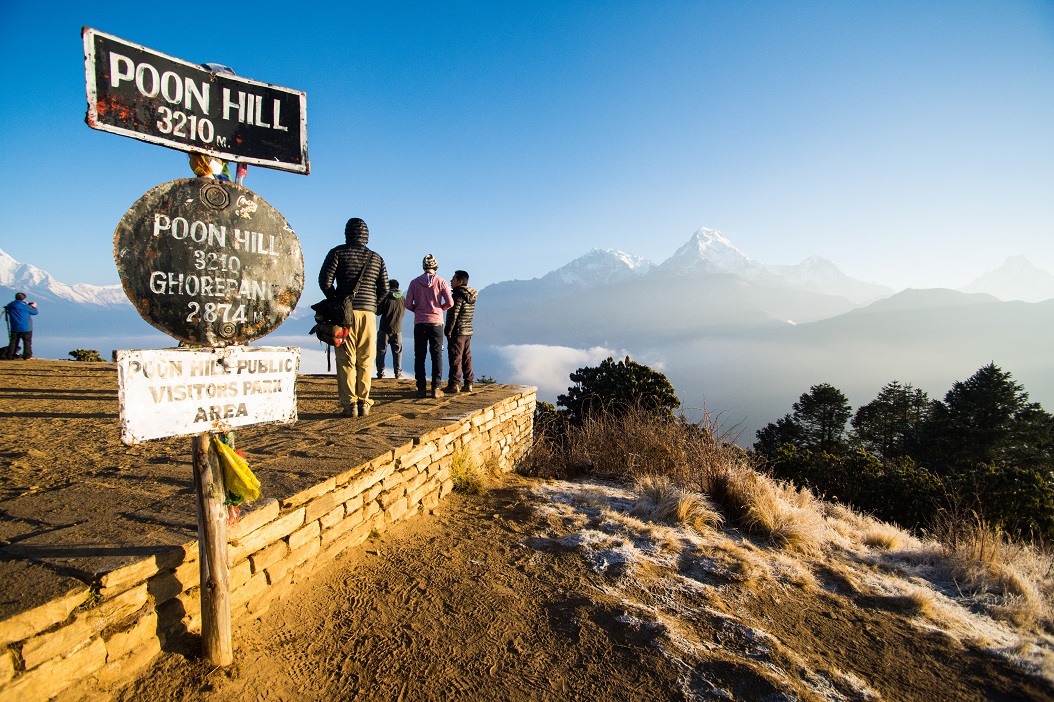 And with what became another image for the memory banks we said good bye to Poon Hill. Thank you so much for coming on this hike with us.
Oh man, writing a post like this to share with you all reminds me that life just goes so fast. These moments go so fast. Whether your adventures are flying across oceans to go to other continents to climb mountains or to raise a family and climb a mountain in your backyard, I hope we all remember that even if life feels like it is going fast, we have the ability to make the moments rich and intense.
If you have kids they'll be out of both diapers and college in the blink of an eye. If you seek to climb mountains your body will remind how quickly you got old as the knees begin to hurt and all of a sudden there is a big difference between a one inch sleeping mat vs a two inch sleeping mat.
By choosing to define and follow our individual goals in life we are daring to take hold of one of life's greatest responsibilities: the quest to live an intentional lifestyle. Within those days our memories might be filled with the merry sound of bells tied around horses necks slowly jingling up a mountain side or that moment when your kid asks for you to kiss their boo boo. Either way life might feel like it moves fast, but when we do our best to intentionally live in our moments, what a full life that can be.
***
Thank you so much for reading. If you enjoying this post you may also enjoy the nitty gritty details of making it all happen by reading this post with all the details on how to hike Poon Hill. If you find yourself all the way over in Nepal and enjoy wildlife I must encourage you to also visit Chitwan National Park and find out for yourself if Rhinos live in Nepal.
***
** Plan on traveling soon or making a purchase from Amazon? Please consider using the links on our resource page. At no cost difference to you we will earn a small commission to help keep this site running. Thank you so much for this thoughtful gesture.